Welcome to Mockba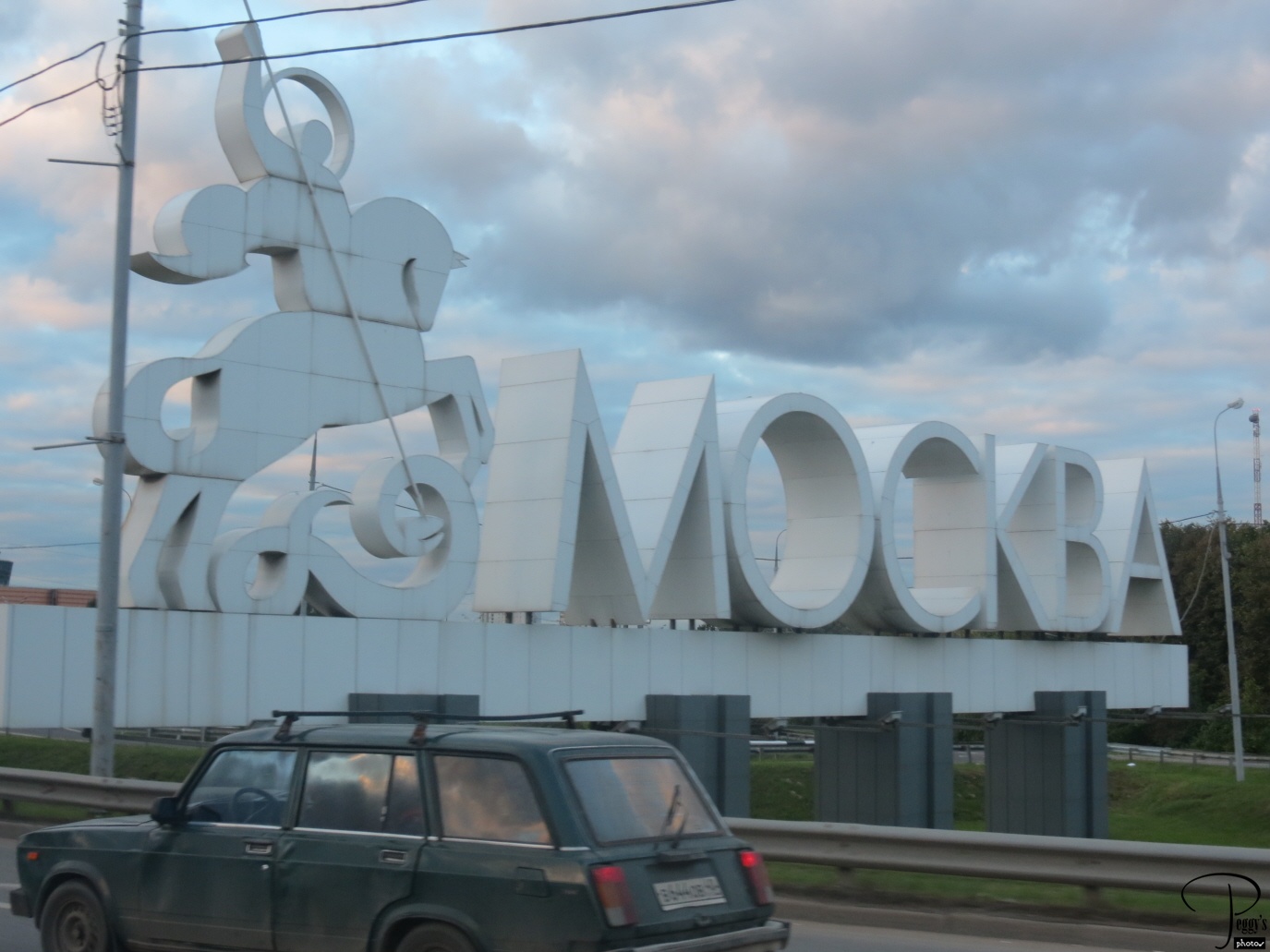 Mockba is Moscow in Russian. I left Los Angeles at 2:50 p.m. on Sept. 9, 2012, on Lufthansa, and arrived in Frankfurt, Germany, at 10:30 a.m. on Sept. 10. My seatmates were a young woman from New Zealand, who slept most of the way to Europe, and a young man from India who was on his way home after 8 months at sea working on cruise ships. At the Frankfurt airport, I had my usual wonderful cup of European coffee at my usual cafe (I'm beginning to feel like a regular there). I departed Frankfurt at 1:25 p.m. to Moscow, arriving at 6:35 p.m. Moscow time, which is two hours ahead of Frankfurt time and 11 hours ahead of Los Angeles time.

Welcome to Mockba
On the Way to Our River Boat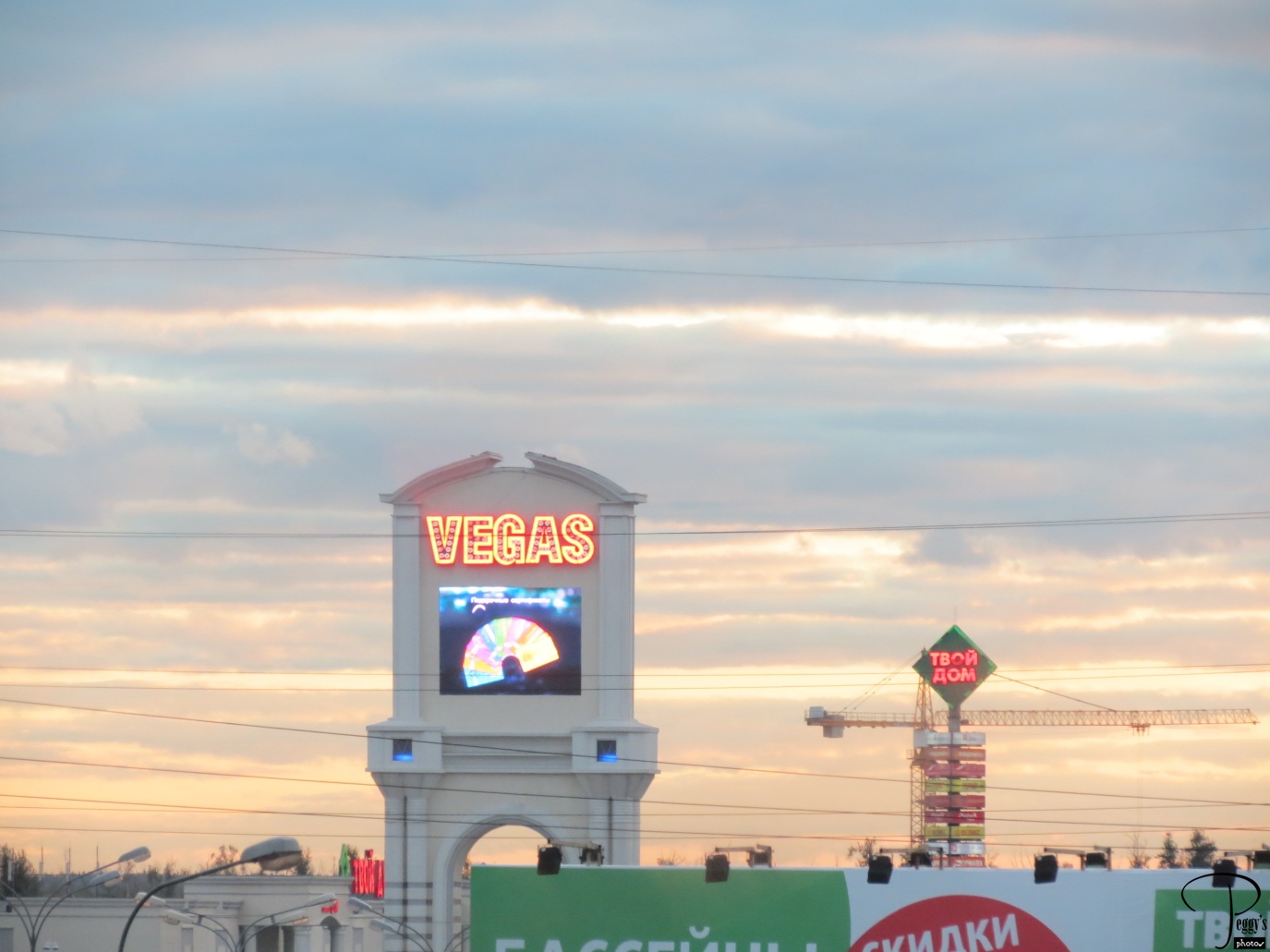 There were four of us on the Frankfurt to Moscow plane on my Gate 1 river boat tour from Moscow to St. Petersburg, though we didn't know this until we were met by Alina, our on–board guide, at the airport. Alina told us it would be about a 3–hour drive to our boat––not because the distance between it and the airport was so great but because the Moscow traffic is so horrendous, making any journey very slow going. The transfer cost from the airport to the boat was $172.03. On the way to the boat, we were given a virtual night tour of Moscow. We entertained ourselves by talking and taking photos. We also bonded and the four of us––Dave and Joyce from Denver, Stu, and I––plus Lyn, a friend of Stu's, all from Southern California––hung around together and also ate together. I felt very lucky to have such great travel companions. The photo: the Vegas sign. A casino maybe?

On the Way to Our River Boat
Modern Russian Building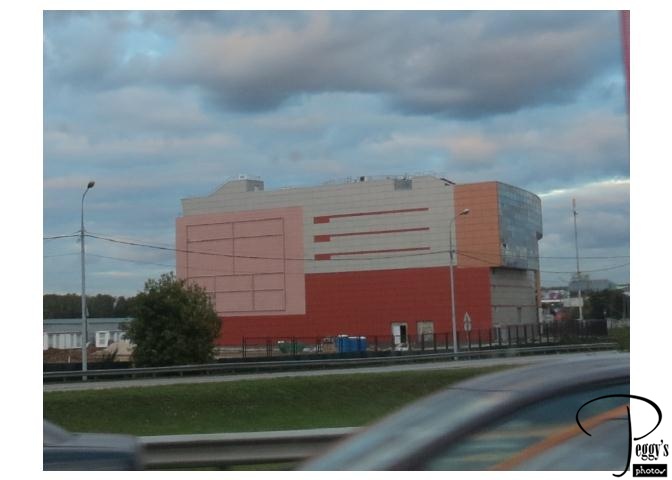 We saw a good number of modern–type buildings in Moscow.

Modern Russian Building
Old Russian Buildings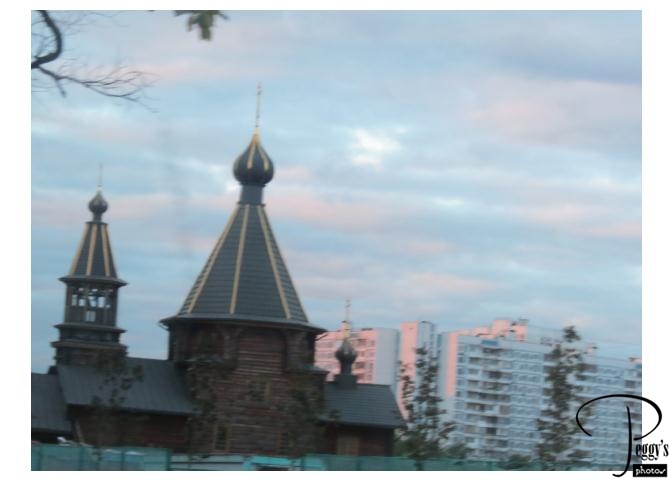 But we also saw many great old buildings in Moscow. This one is a church.
Old Russian Buildings
Another Modern Building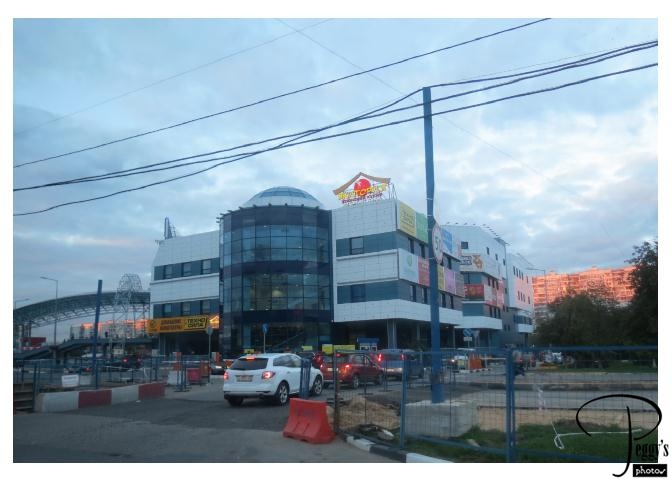 A shopping center.

Another Modern Building
An Old Church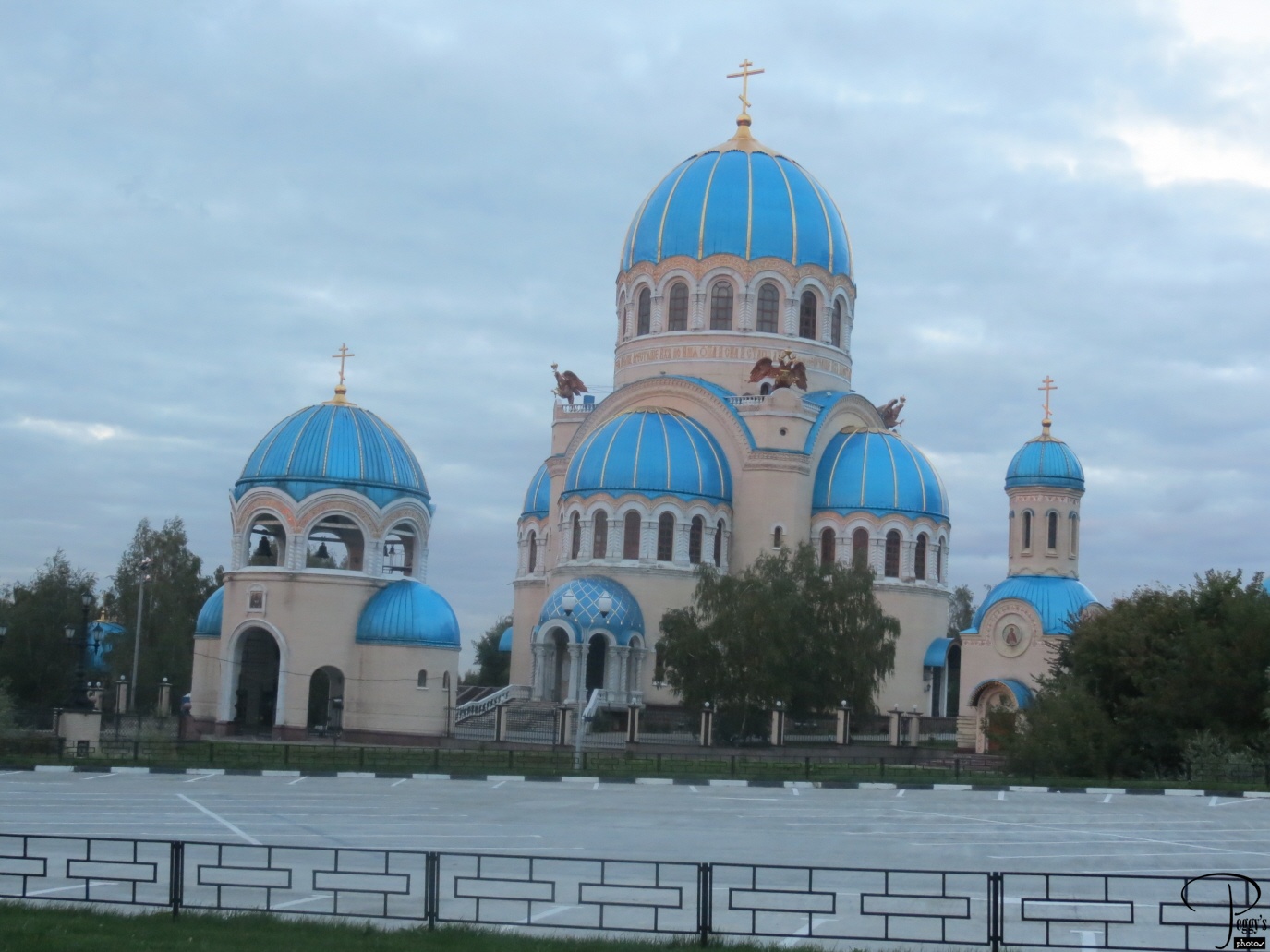 And then our next view would be of another old church, this one with cap domes. The churches are Russian Orthodox.
An Old Church
The Old Church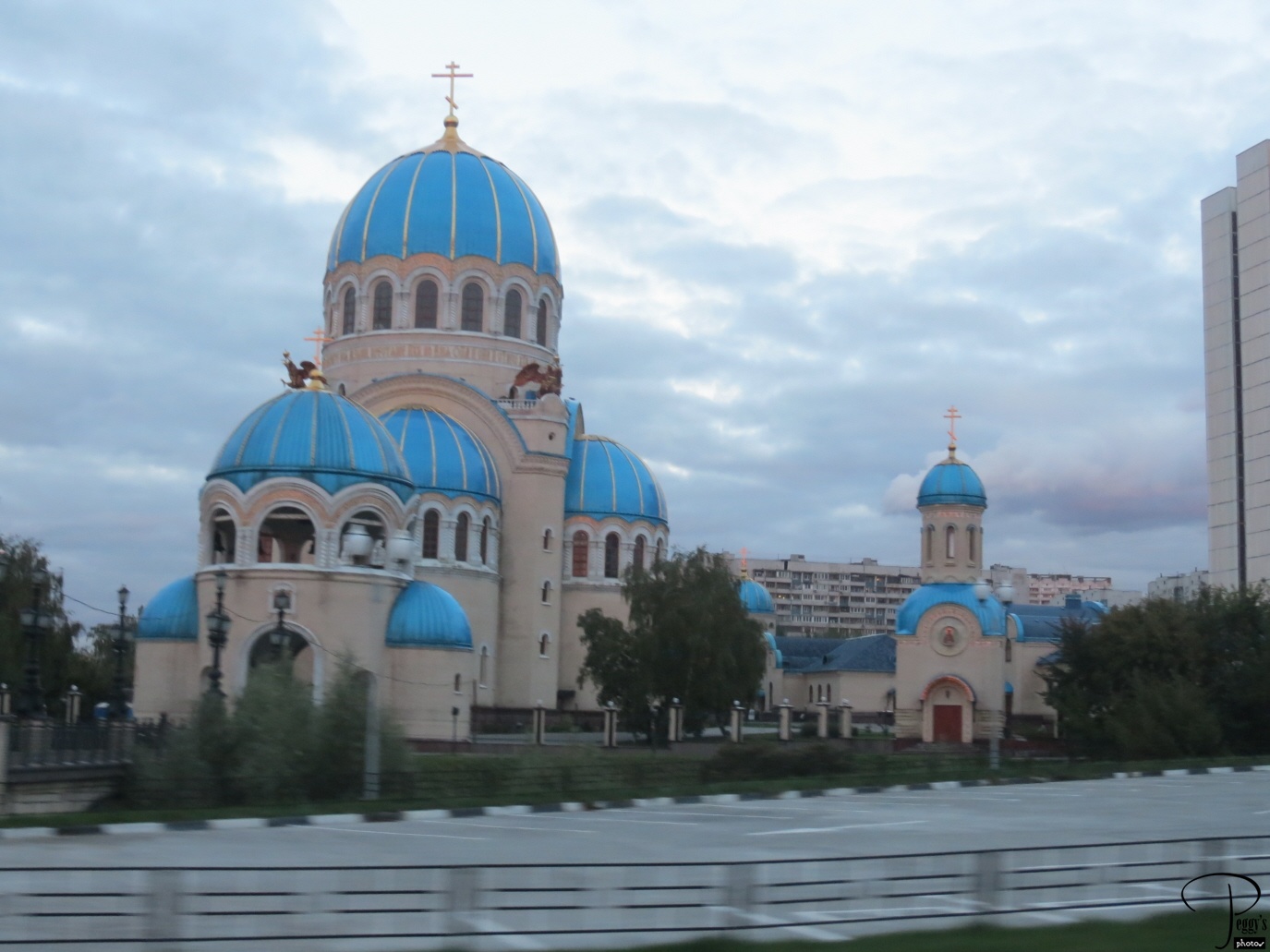 Another view of the church.
The Old Church
The Moscow River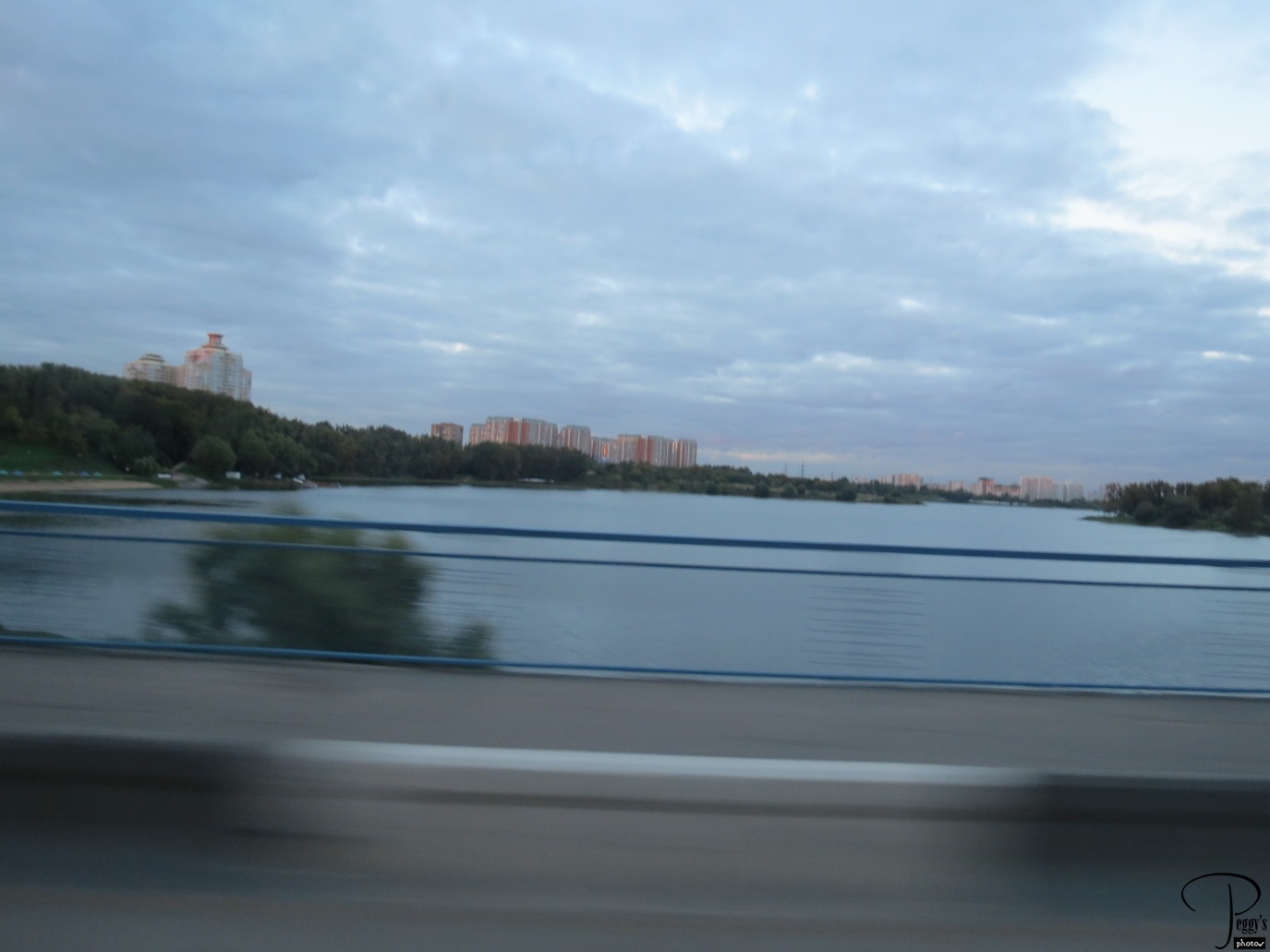 Crossing the Moscow River.

The Moscow River
Romanov Summer Palace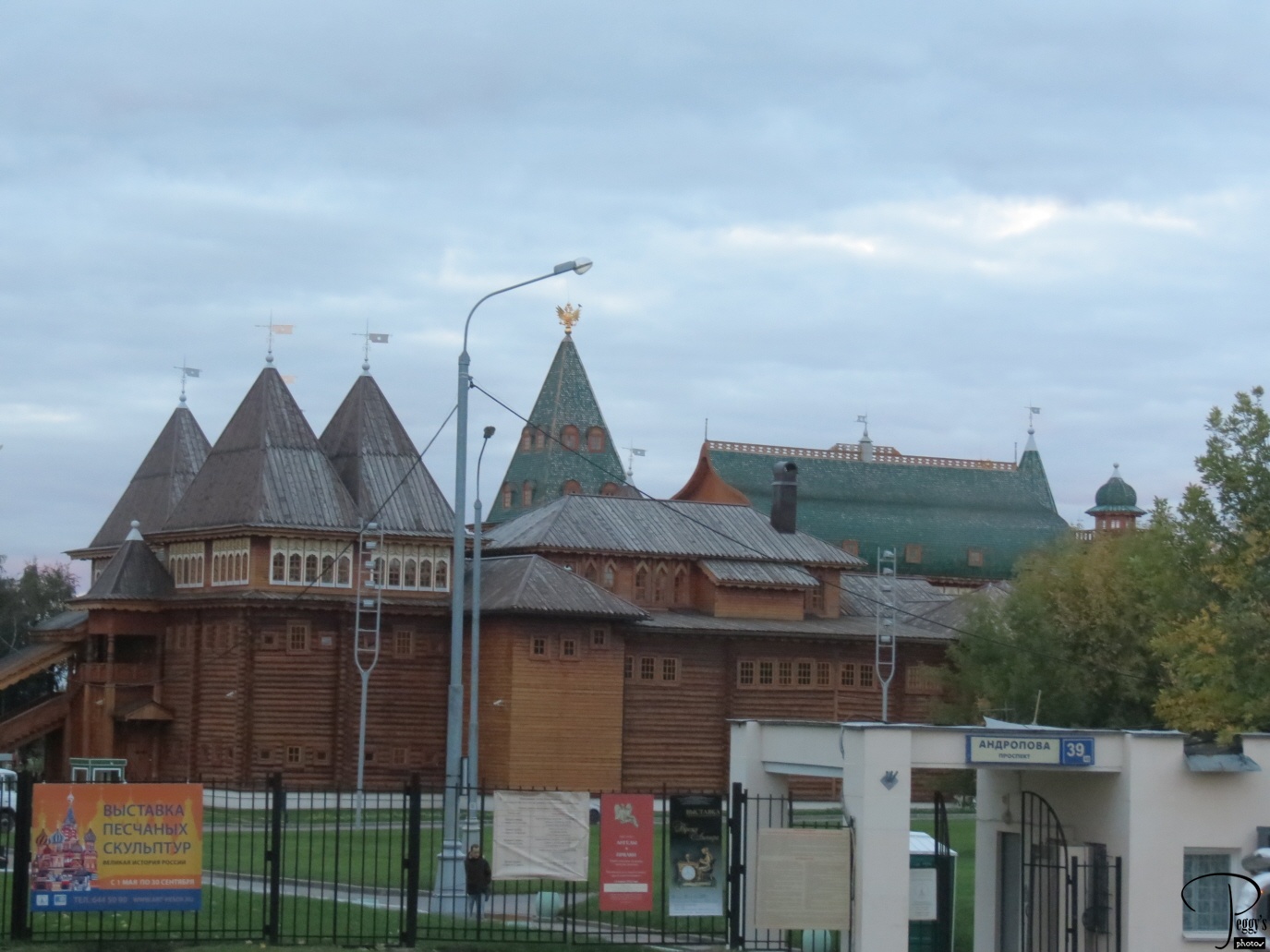 We passed the rebuilt wooden summer palace of Tsar Alexis Mikhailovich of the Romanov family. It can be visited, though we didn't.

Romanov Summer Palace
Moscow Sunset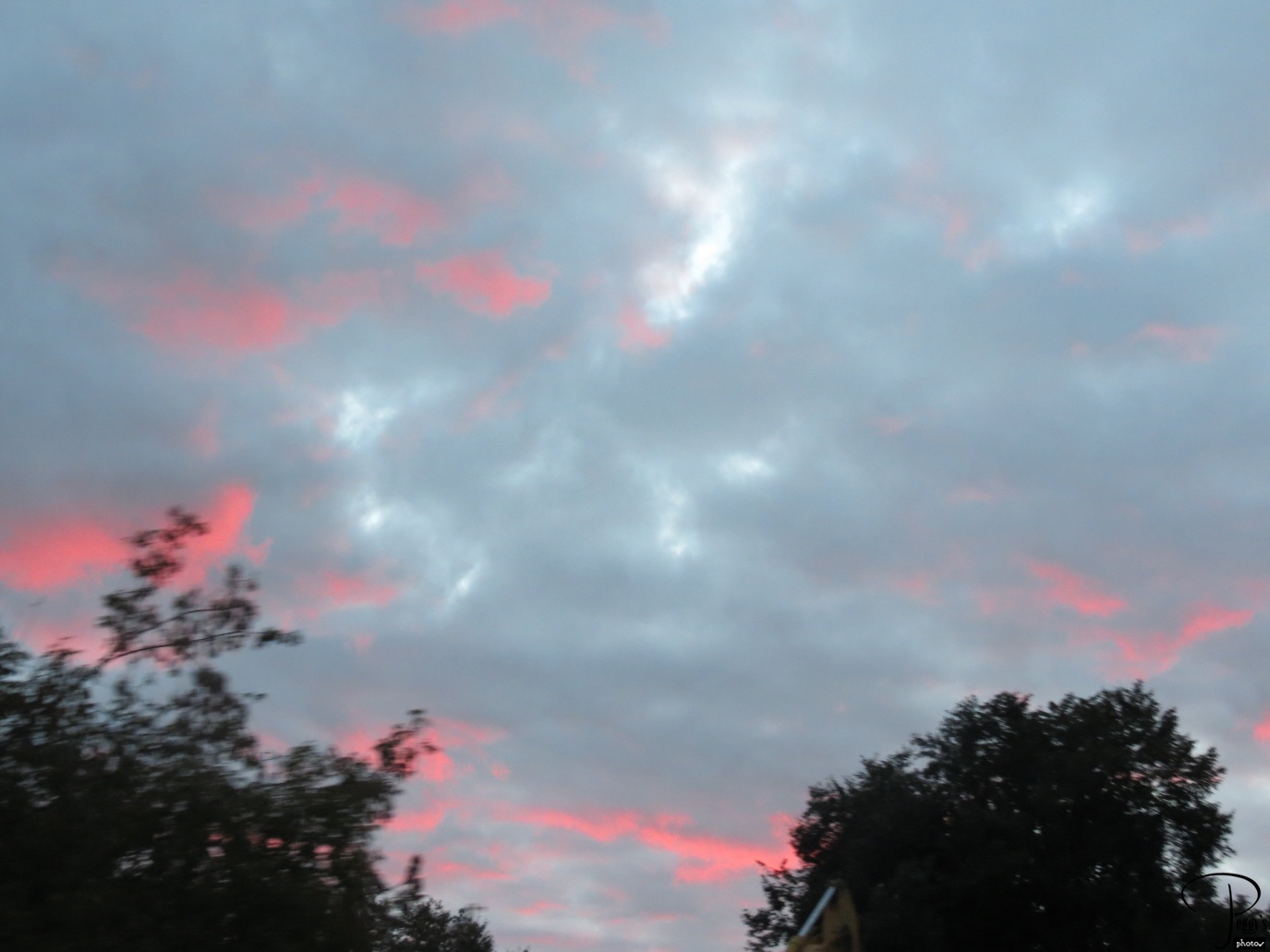 Colorful sunset in Moscow.
Moscow Sunset
Sunset on Buildings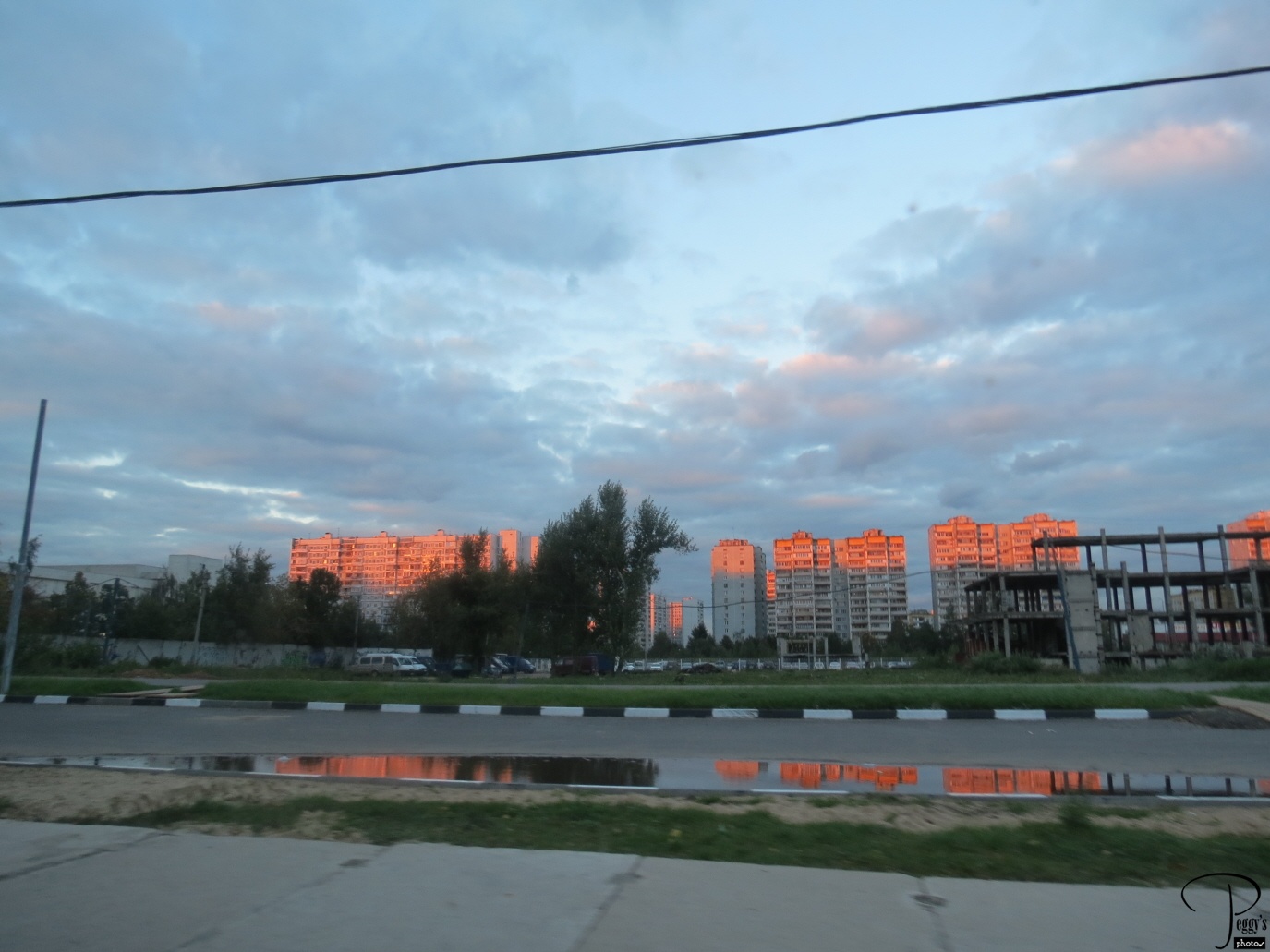 Sunset on modern apartment buildings.

Sunset on Buildings
Stalin's Skyscrapers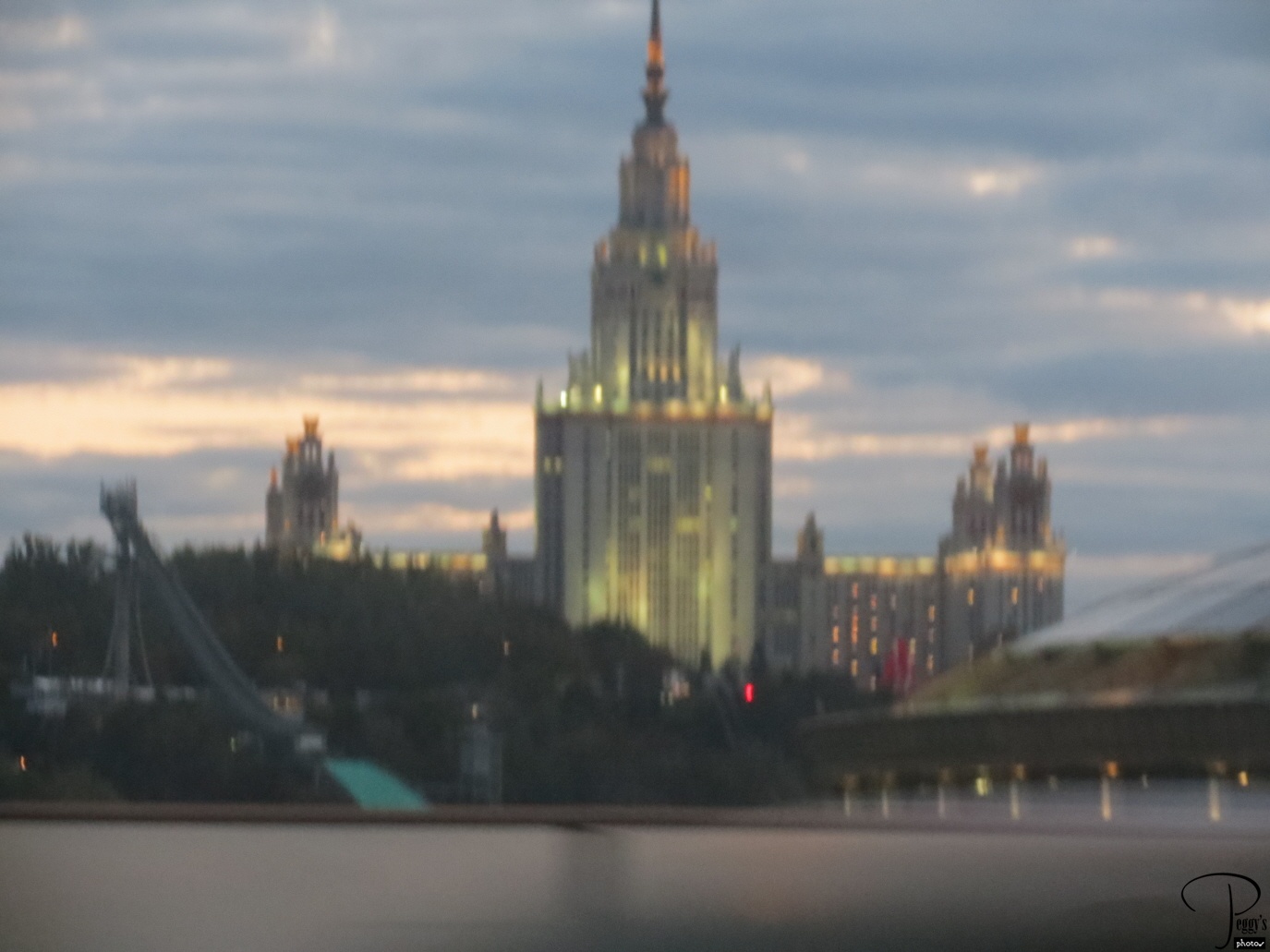 One of Stalin's Seven Sisters skyscrapers built in the Stalinist style––a combination of Russian Baroque and Gothic––built between 1947 and 1953. They are quite impressive and you usually see at least one in many views of Moscow.

Stalin's Skyscrapers
Stalin's Skyscrapers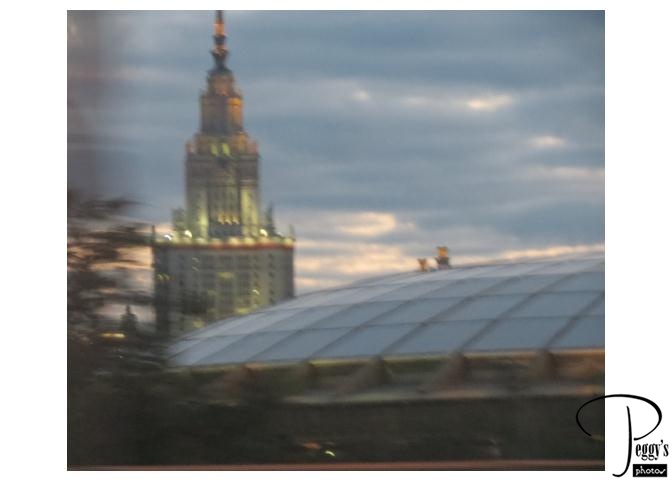 You are never sure if you are seeing another of the Seven Sisters or the same one. This view of one of them is behind a soccer stadium.
Stalin's Skyscrapers
Another Church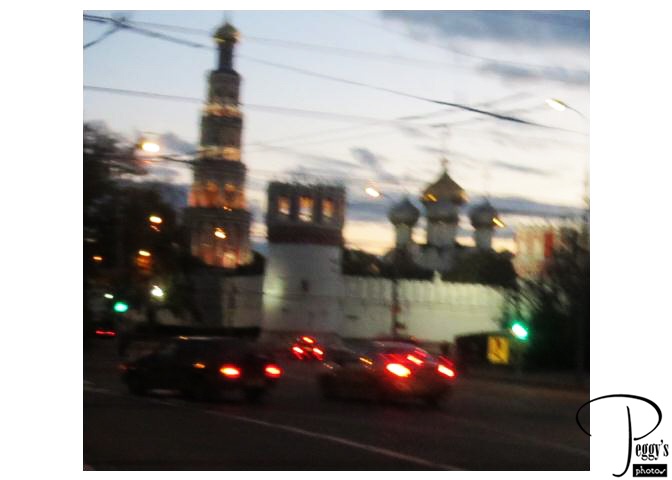 Another Russian church seen on our way to our boat.

Another Church
The Radisson Royal Hotel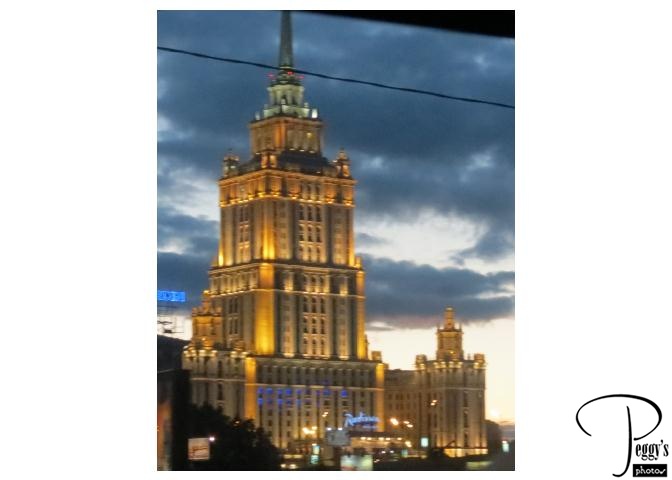 The Radisson Royal Hotel is one of the Seven Sisters skyscrapers. It was built in 1953 as the Ukrainia, an Ukranian hotel. The Radisson is a five–star hotel and one of the most expensive in Moscow.

The Radisson Royal Hotel
A Bit of Mexico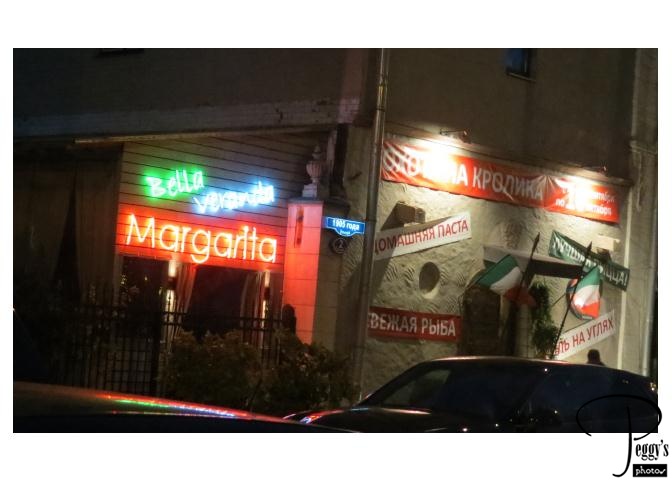 Margaritas are served here. A green, white, and red Mexican flag is on the building.

A Bit of Mexico
Mushrooms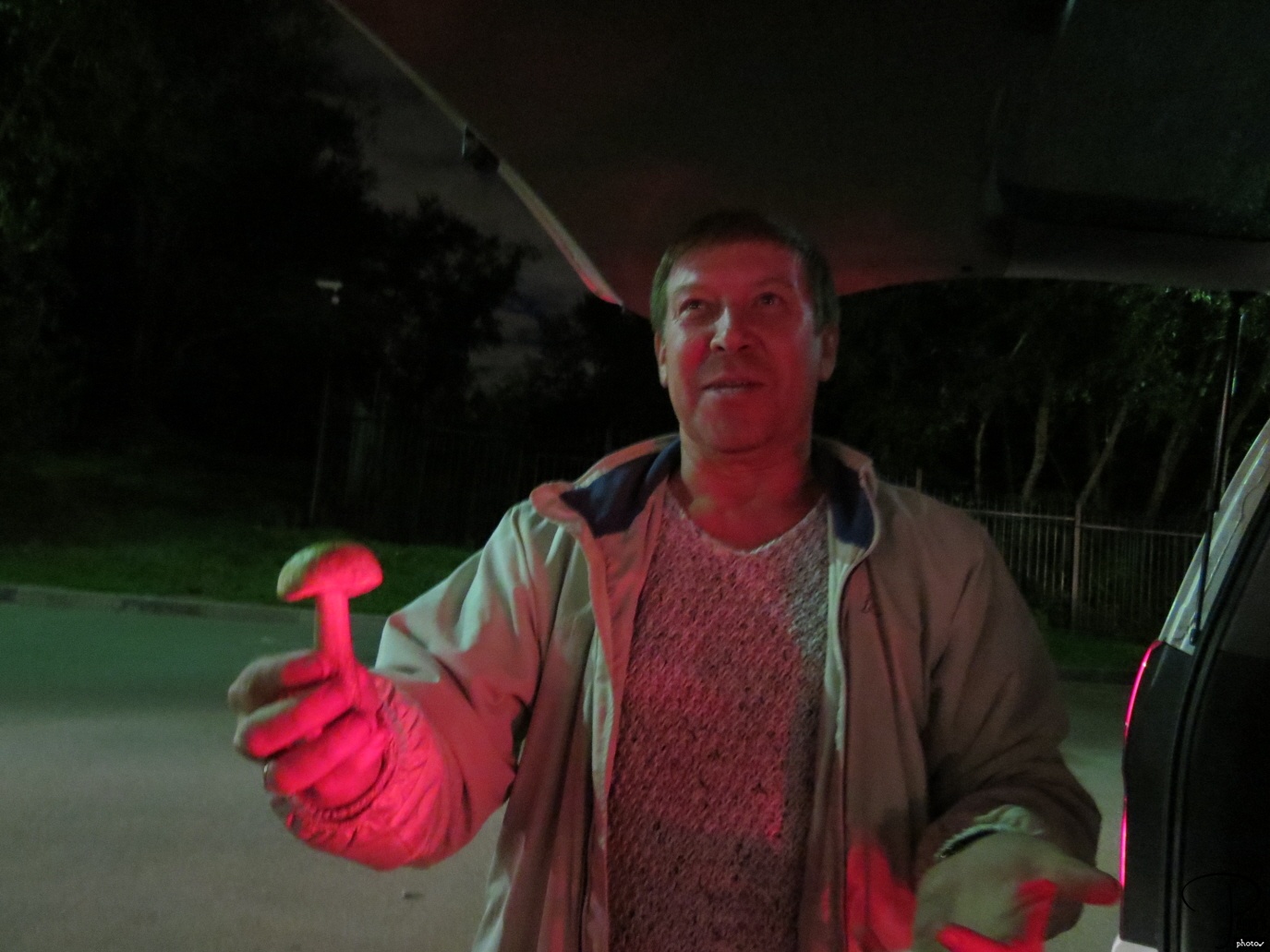 We have arrived at our river boat somewhat after 10 p.m. This is our driver showing one of the mushrooms he had collected earlier that day.

Mushrooms
At the M.S. Lenin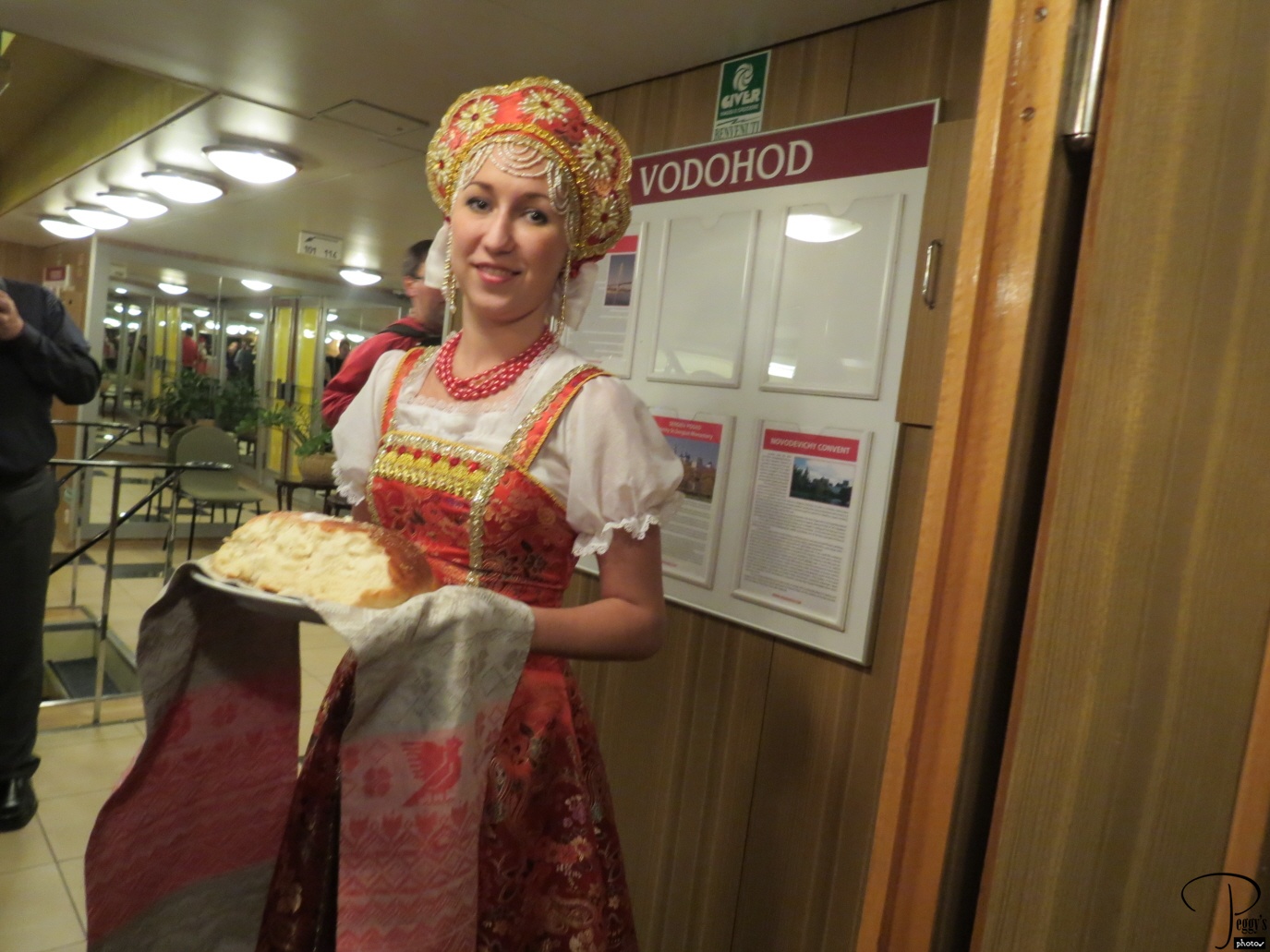 We were greeted at our river boat, the M.S. Lenin, by Irina, one of the dancers/singers on the boat. We were to take a small piece of bread to eat. The bread symbolizes welcome or hospitality.

At the M.S. Lenin
Irina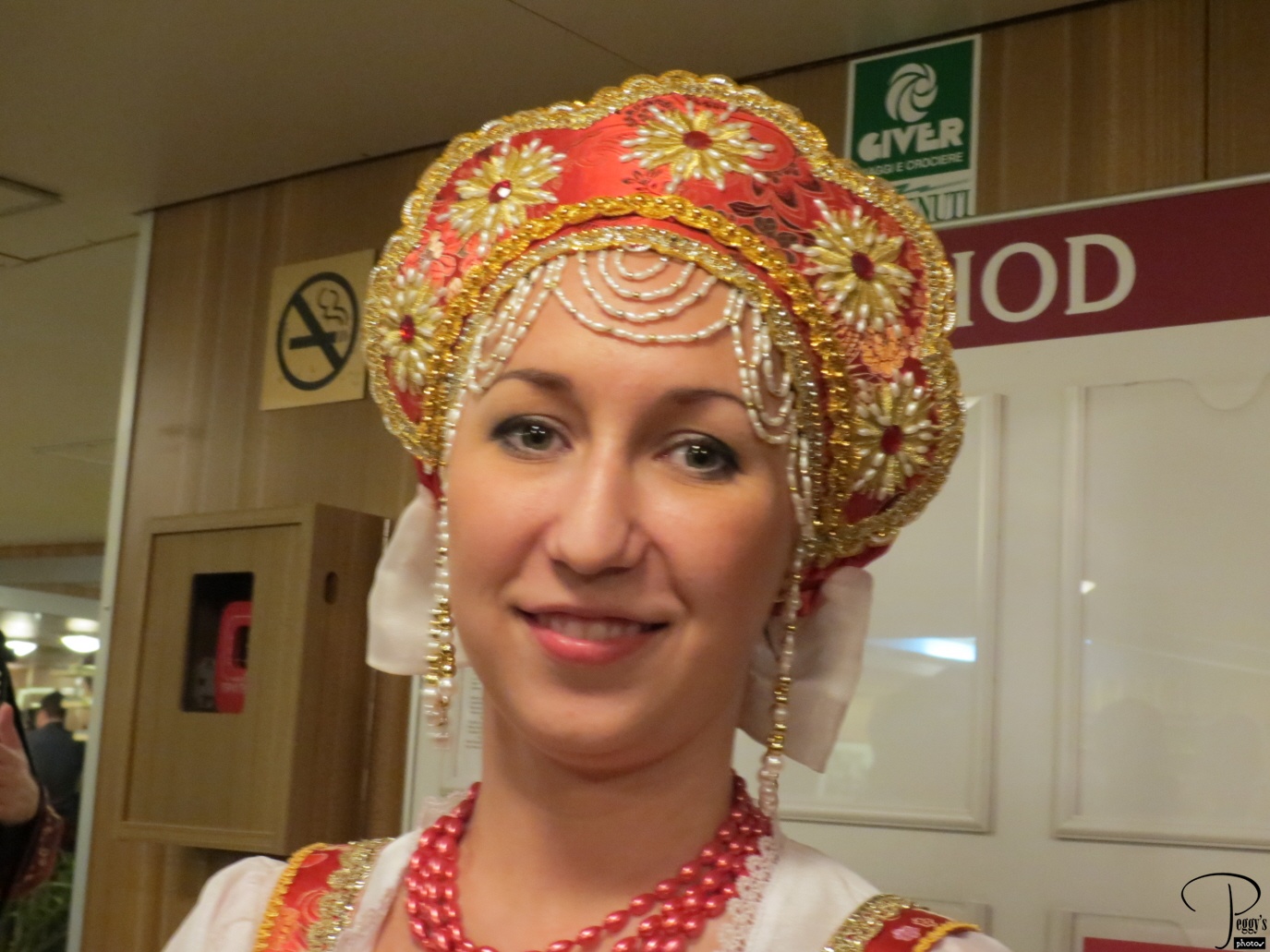 Close–up of Irina.

Irina
Musicians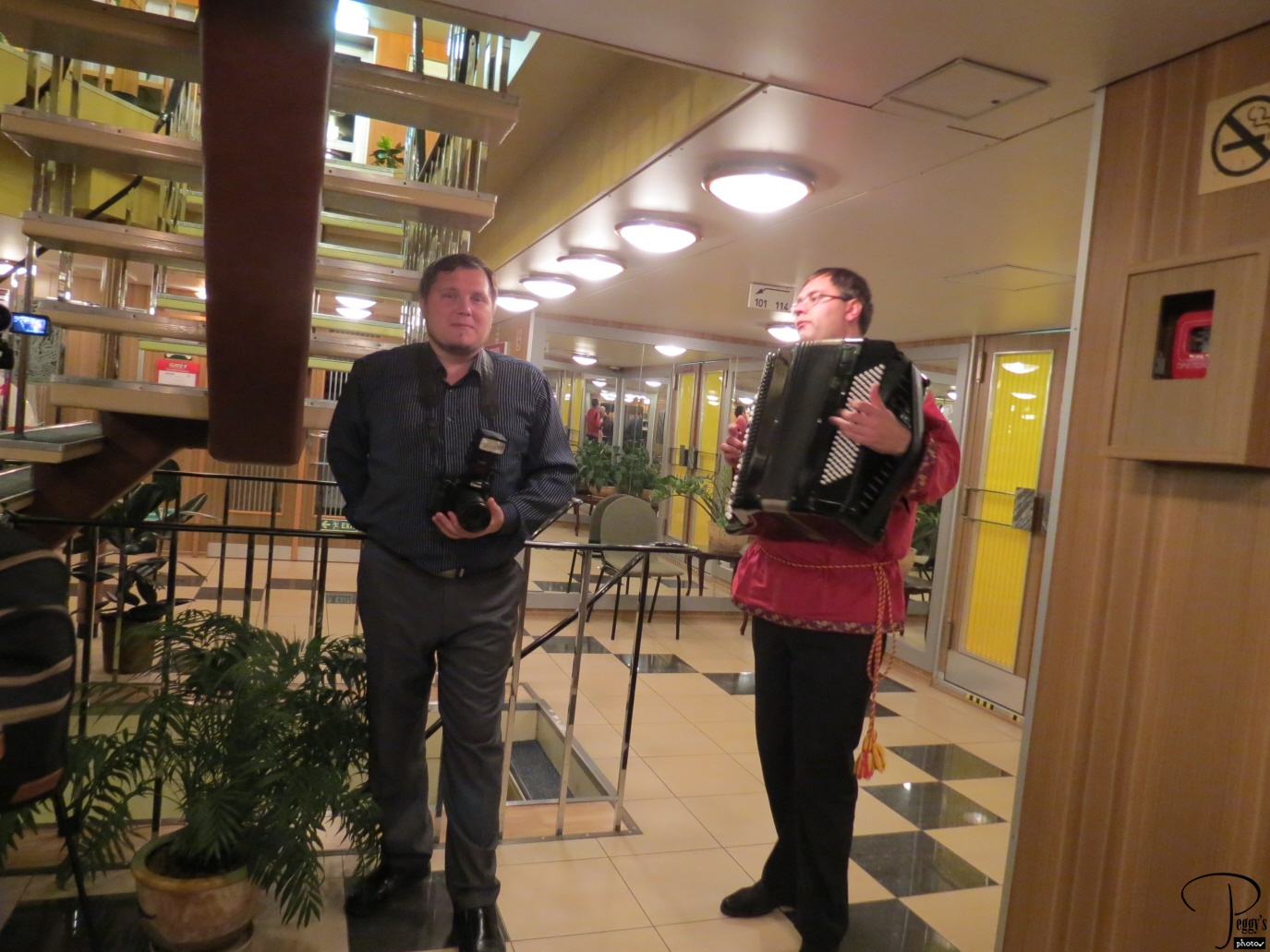 We were also greeted with Russian music. Both were musicians––Pavel and Dmitry––and both also doubled as the ship's photographers.

Musicians
My Cabin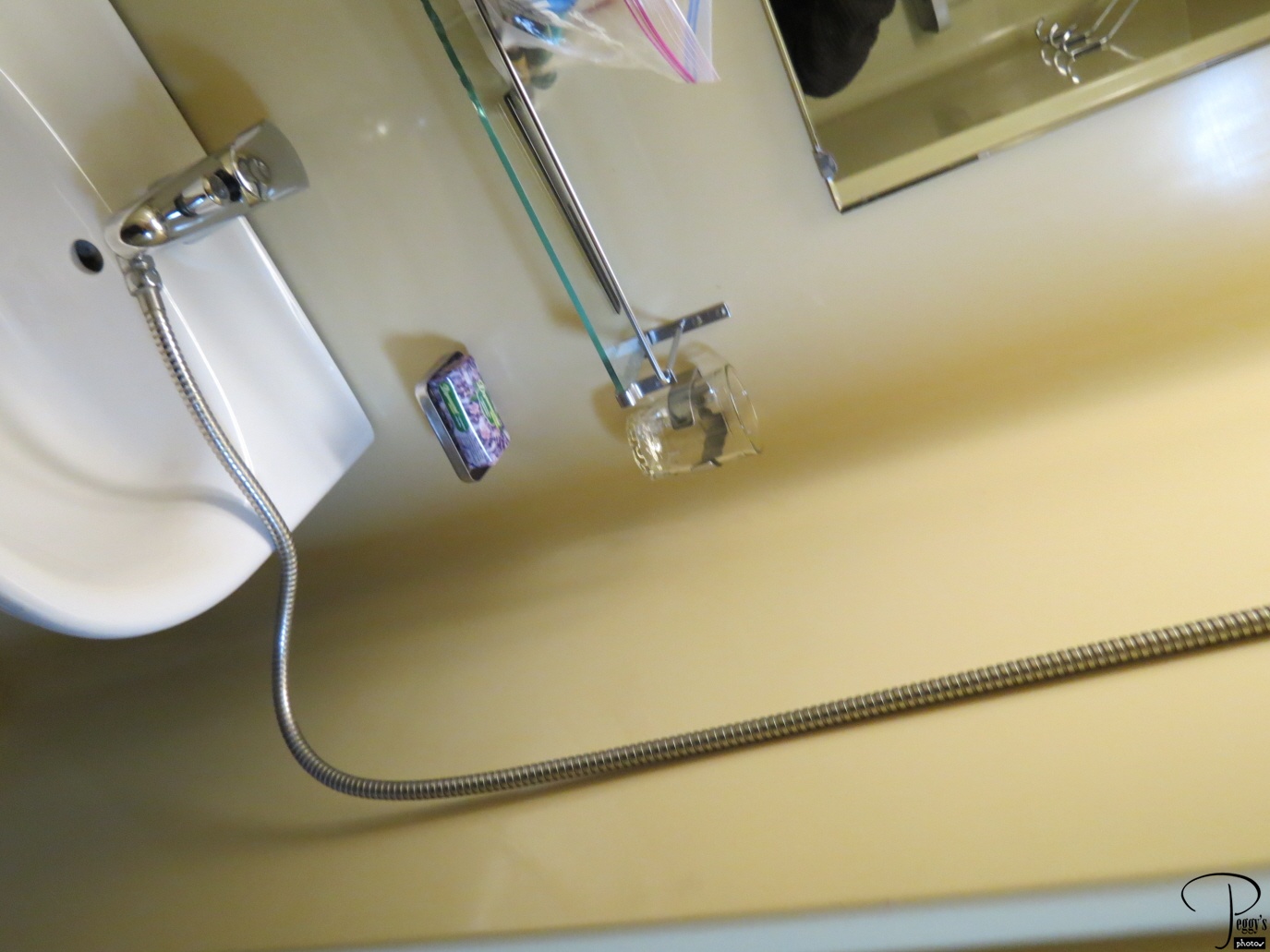 We had time to rush to our staterooms before we had to go to an orientation meeting. I forgot to take a photo of the stateroom, but it was very small and basic––okay for one person but I think the two–person rooms were the same size, which would have been cramped. I had heard about the shower arrangement before but never thought I would ever see it. The hose for the showerhead was attached to the sink faucet. You got the water temperature right, then lifted the lever for water to come out of the shower head. I couldn't move the showerhead so that I could continuously run it, so I had to remove it, run the shower, stop the shower, wash, wash off, etc. However, I had almost instant hot water, which was very nice. I used bottled water when brushing my teeth, as the tap water in Russia is not pure enough to use.

My Cabin
The Showerhead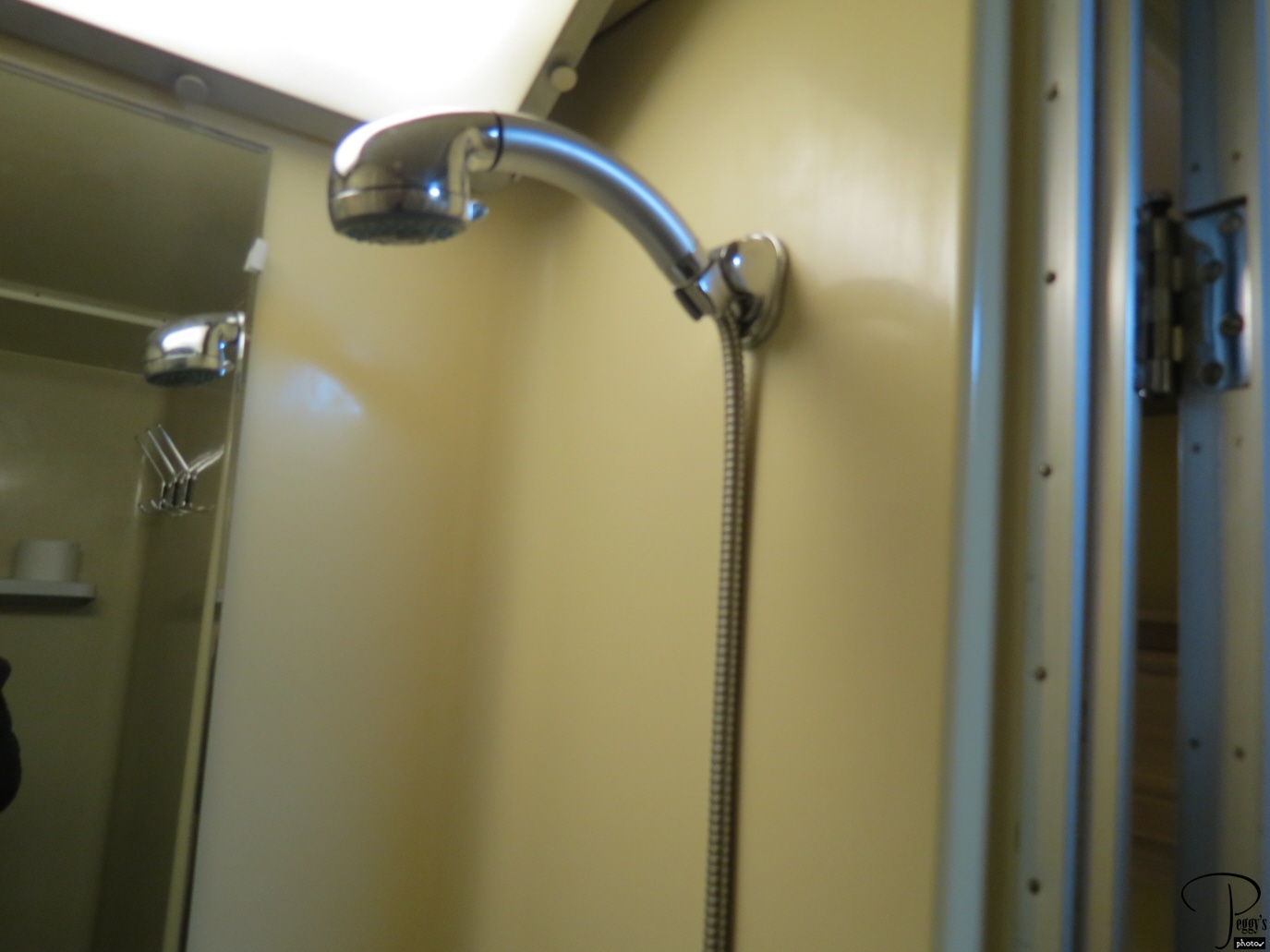 There was a shower curtain that protected the toilet from getting soaked when taking a shower but the sink did get wet.
The Showerhead
The Shower Drain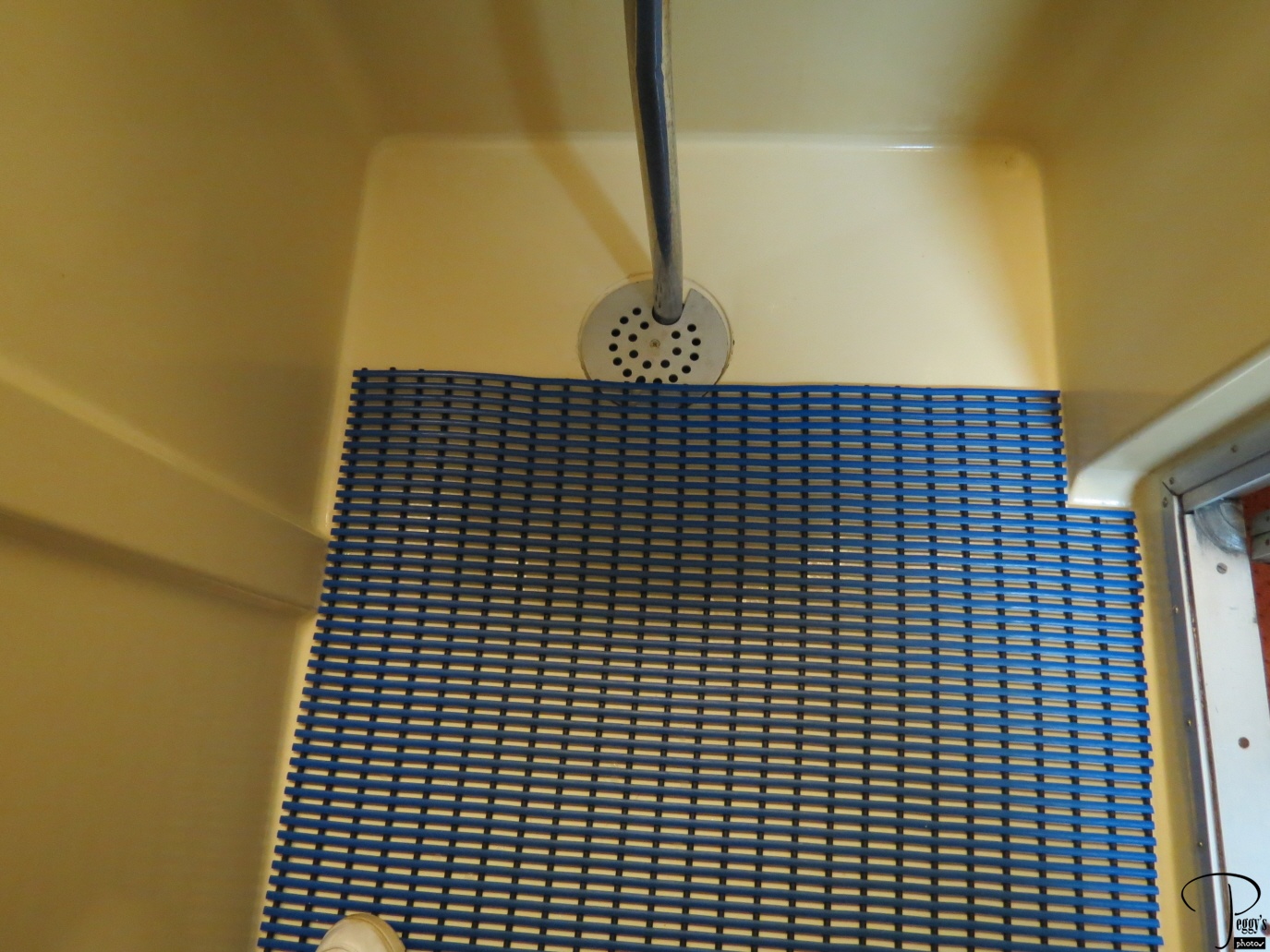 The shower drain was under this mat. Of course, there are much more elegant river boats to take and at more money. I didn't expect a fancy boat so I wasn't disappointed, except that the shower arrangement really did surprise me.
The Shower Drain
Orientation/Dinner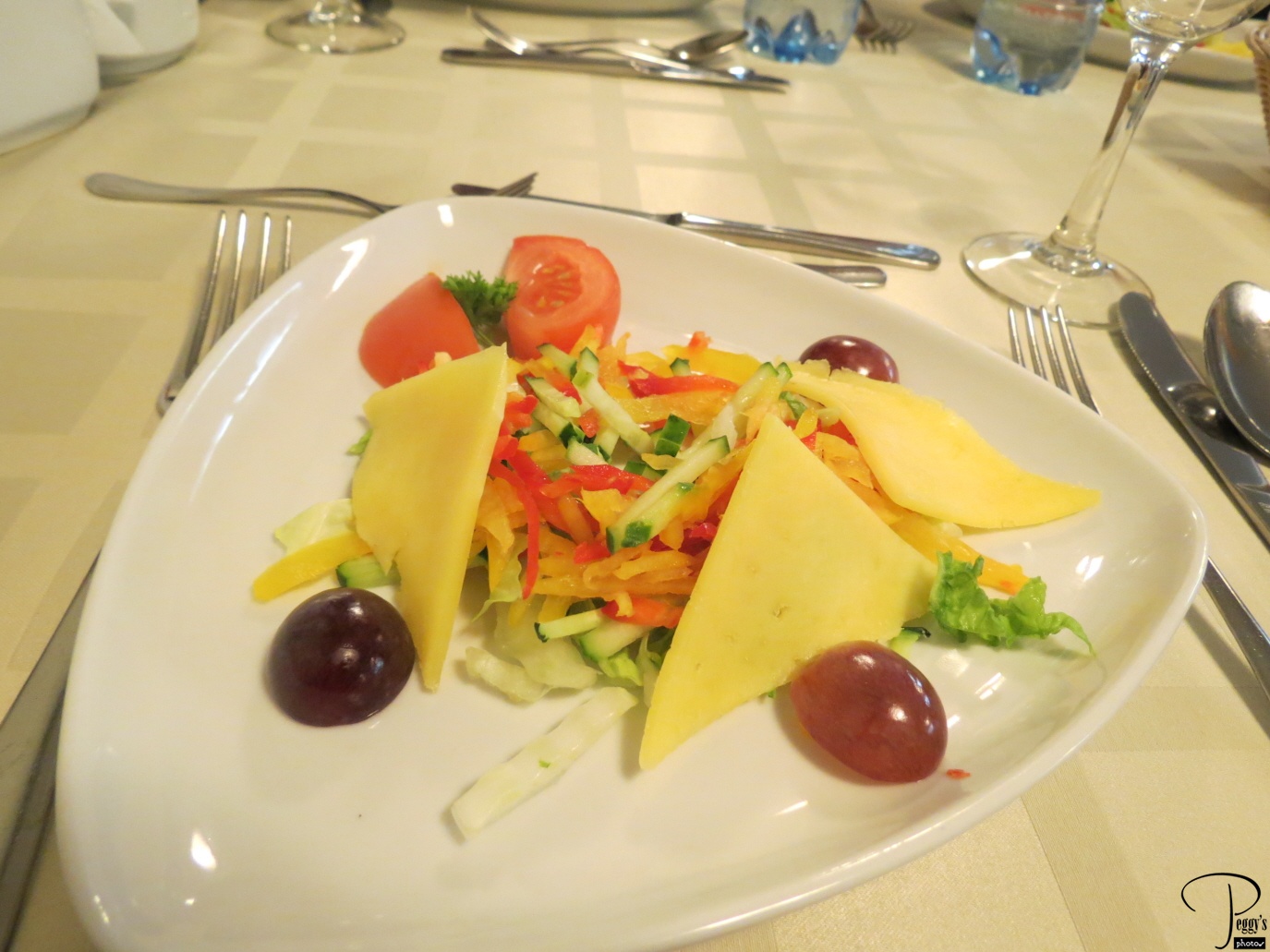 Our tour director, Tanya, decided we should have our group orientation before we were served dinner. There were 120 on our tour. River tours seem to be different from the 25–45 person bus tours. We were divided into four groups for day touring purposes, which did work well. There was one group of about 40 from the San Diego, California, Navy League. Out of the 80 people left, there seemed to be a majority from Southern California, for whatever reason I cannot determine. Gate 1 is an American tour company, and on the other two tours I took with them, people were from all over the United States.
Tonight, we had dinner sometime after 11:30 p.m. For the first two days, we had open seating for all meals, then on day three, we had assigned seating and we could order what we wanted to eat from the menu for the next day. But at every meal we had a special salad, which was usually very good. The meats served were usually uninspiring and so were many of the dishes, but some were very good, especially the ice cream. We ate a lot of ice cream on the cruise. Again, if you pay more for a Russian cruise, perhaps the food would also be better.

Orientation/Dinner
Dinner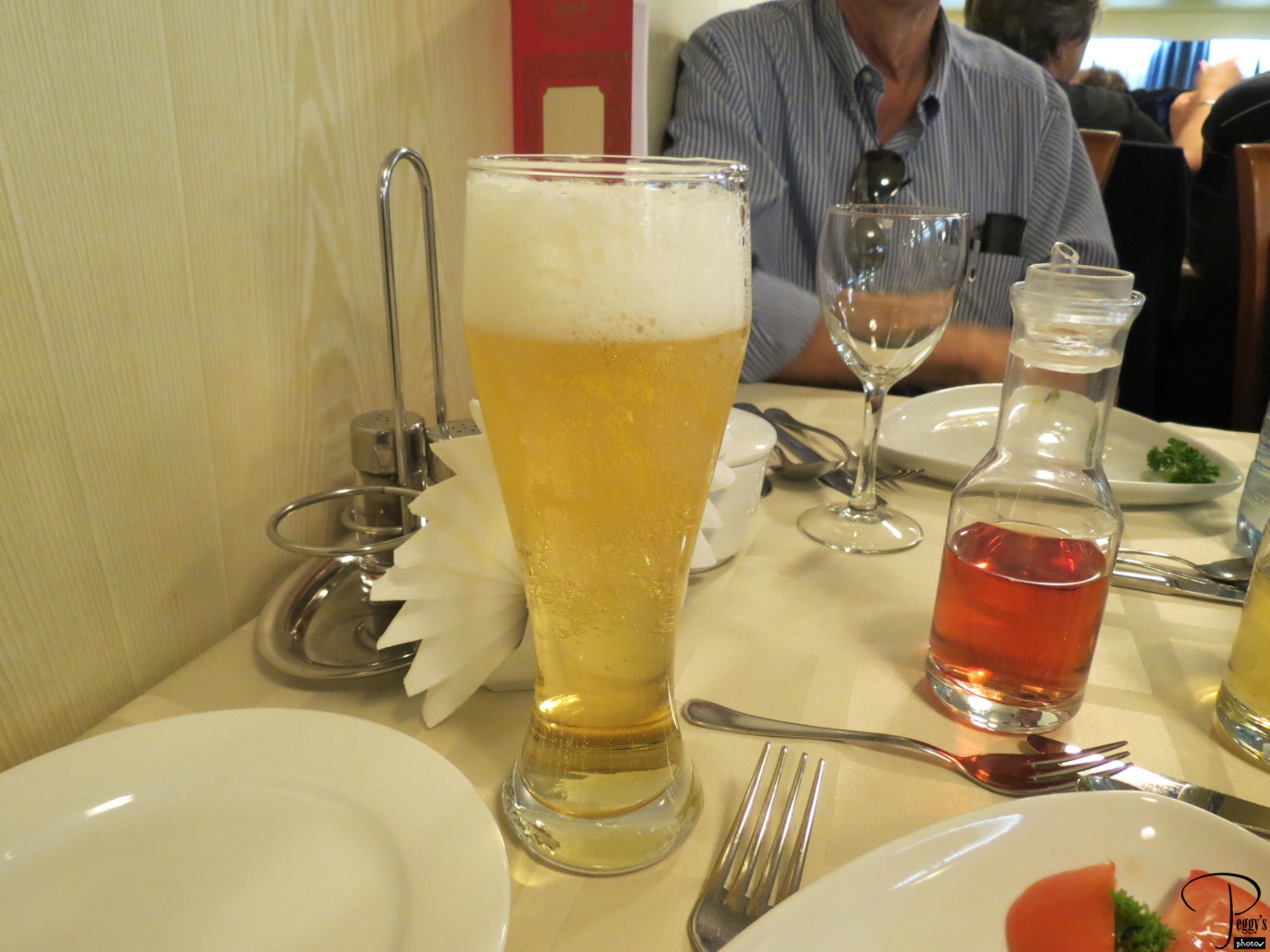 I ordered a glass of red wine to go with my dinner and was served this beer. I quickly learned that our waitresses had very little command of the English language. The next day we had a "wine steward" and pointing on the wine/drink list as to what you wanted worked.
After dinner, unpacking and setting the alarm for a early start for the next day's adventures.

Dinner