Breakfast
We had time to eat a good buffet breakfast at our hotel this morning as Pink Tours was not going to pick Meg and me up until 10 a.m.  for a day trip to the Valley of Fire.  Photo: One of buffet dining rooms.
When we came into Las Vegas on Friday, the guests at our hotel were about 80% young men in their 20's and 30's who were in Vegas to bet on the March Madness games. But on Monday morning, the clientele changed from young to very much older. Foreign tour groups were at the hotel on Tuesday morning, changing the hotel's atmosphere once again.

Breakfast
Map Showing the Valley of Fire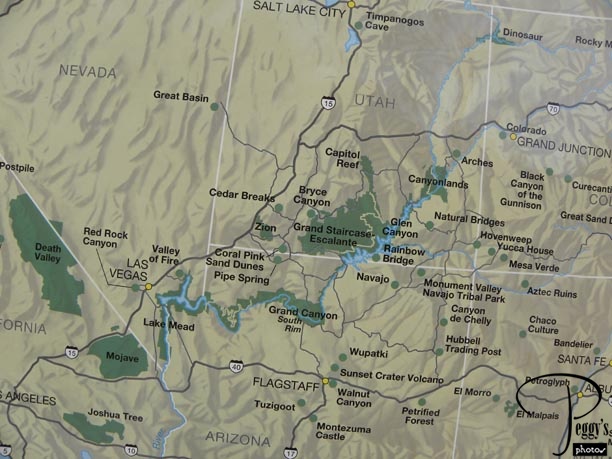 The Valley of Fire is only about one hour's drive from Las Vegas and an 6–hour tour via Pink Tours. I had already visited the Valley of Fire about 8 or 9 years ago, but was just as thrilled by it as I was my first time here. It's strikingly beautiful. If you want to make the trip a short one to and from Las Vegas, you have to backtrack out of the park the same way you came in. My late husband and I decided to continue south to Lake Mead and found it a very time–consuming way to get back to Vegas. We thought there was a scenic road along Lake Mead, but in order to see the lake, we had take many access roads off the main highway.

Map Showing the Valley of Fire
Drive Through Las Vegas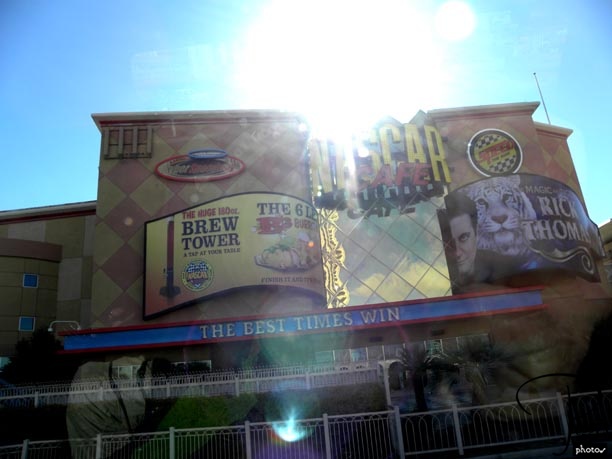 There were four of us on this tour––Meg and me and a couple from New Jersey. Ken was our tour guide. Ken took us for a short drive around Las Vegas. Here we are passing the Sahara Hotel, which opened in 1952 and which is slated to close this May. This hotel is a great part of Las Vegas history as it was the haunt of Frank Sinatra and the Rat Pack among many other entertainers. The Sahara recently added the Nascar Cafe with its 6–pound burrito.

Drive Through Las Vegas
Drive Through Las Vegas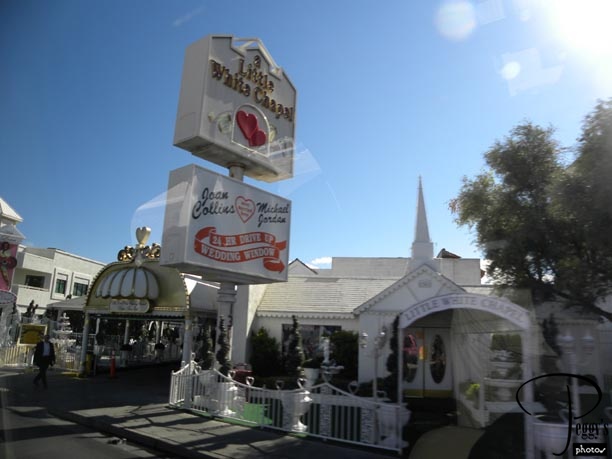 We also passed the Little White Chapel that offers a drive–up wedding window––a couple  would still need a Nevada marriage license. Since many American couples get married in foreign countries in ceremonies not always recognized by the U.S. and, hence, they still need to make their marriage legal, then a drive–up ceremony doesn't sound so off the wall.

Drive Through Las Vegas
Driving Through Las Vegas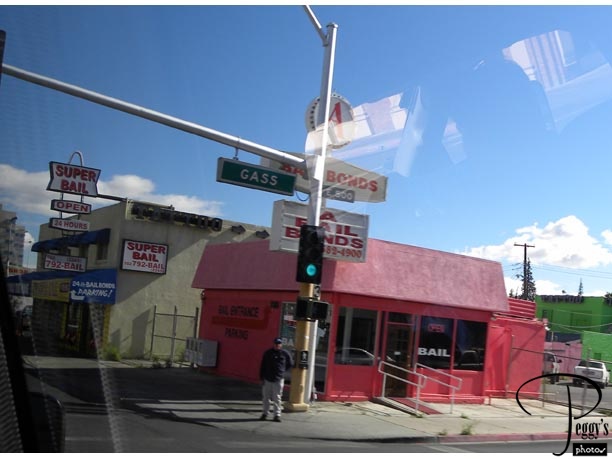 Since I have never watched the reality TV series "Pawn Stars," I didn't at first know which building I should take a photo of. Actually, the Gold & Silver Pawn Shop, where the series takes place, is the gray building. It gets many visits from tourists.
Driving Through Las Vegas
Driving Through Las Vegas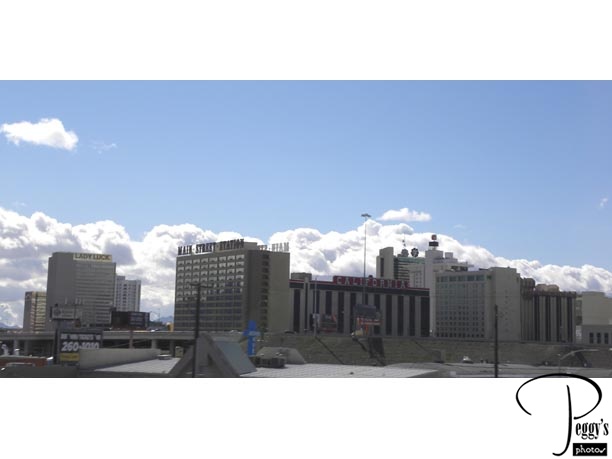 We passed Fremont Street, a major artery of Downtown Las Vegas where the old casinos are located and also where there is a night light show (the Fremont Street Experience––maybe a visit there on my next Vegas trip). I was sitting on the wrong side of the bus to get a good photo of it, but was able to take this one of Downtown Las Vegas when we were on the freeway. The Lady Luck casino is now closed.

Driving Through Las Vegas
Break Stop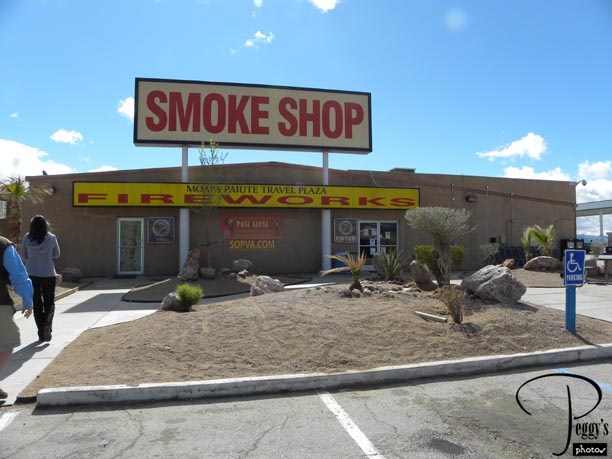 We stopped at the Paiute Travel Plaza owned by the Paiute Indian tribe. The Paiutes also own golf resorts and smoke shops in the area.
Break Stop
Break Stop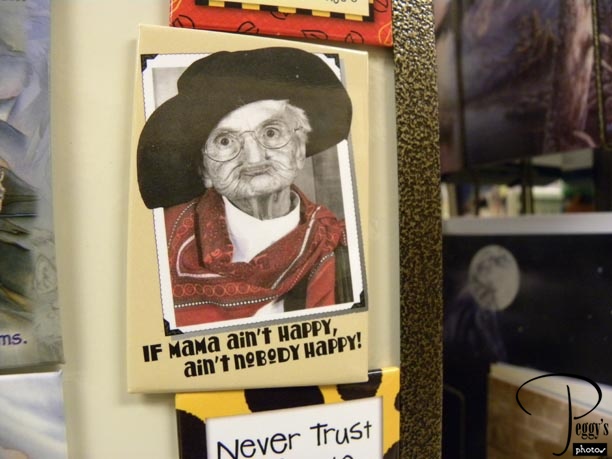 I always find the sayings on magnets that are often sold in these stores amusing and others very sweet. I took photos of some of them.

Break Stop
Break Stop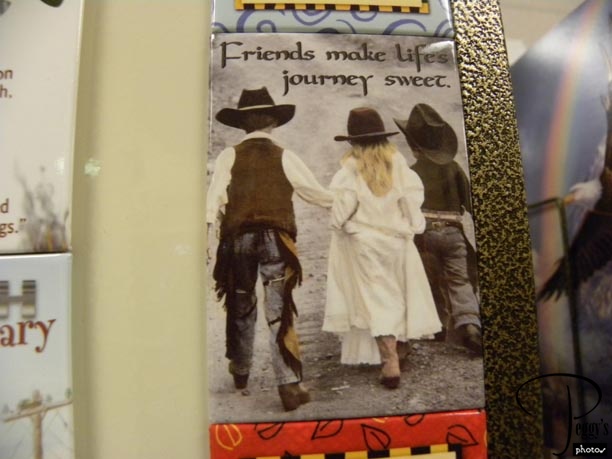 Break Stop
Break Stop

Break Stop
Break Stop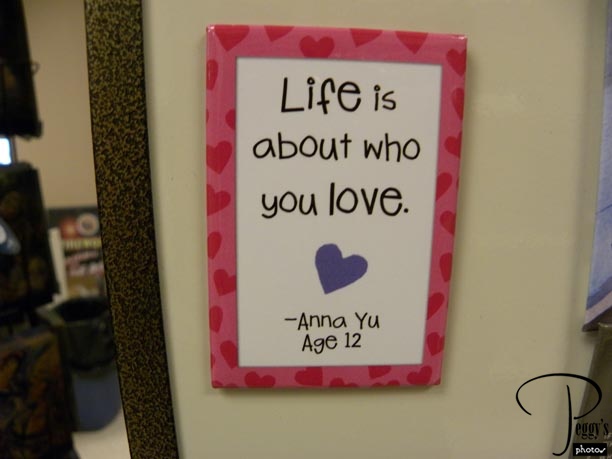 Break Stop
Break Stop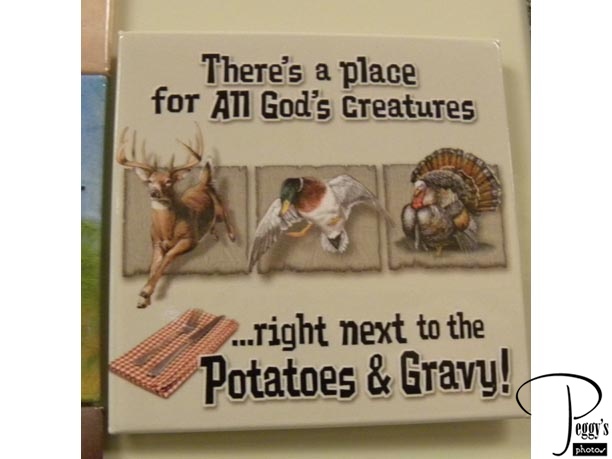 Break Stop
Break Stop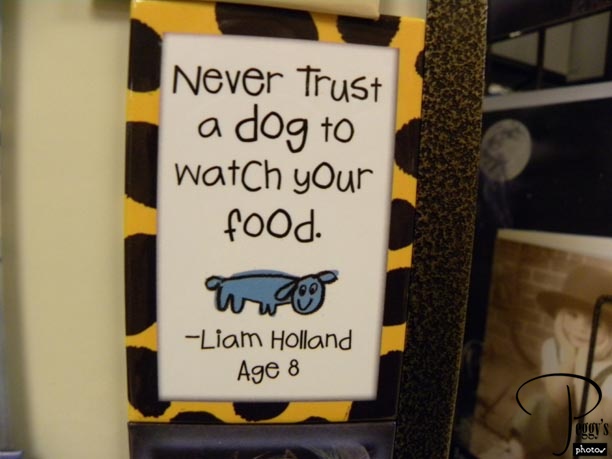 Break Stop
Break Stop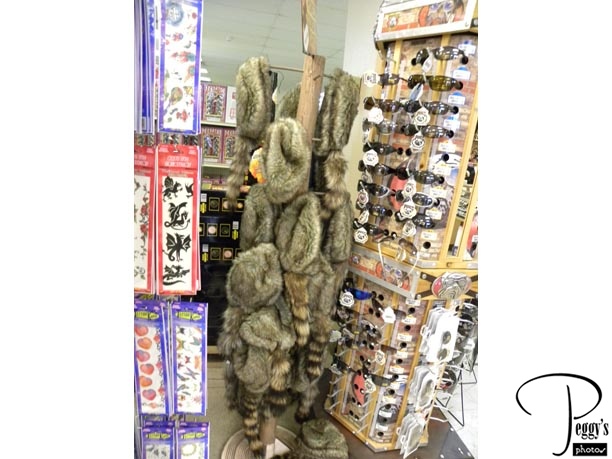 If you wanted to know where you can still buy a coonskin cap.

Break Stop
Break Stop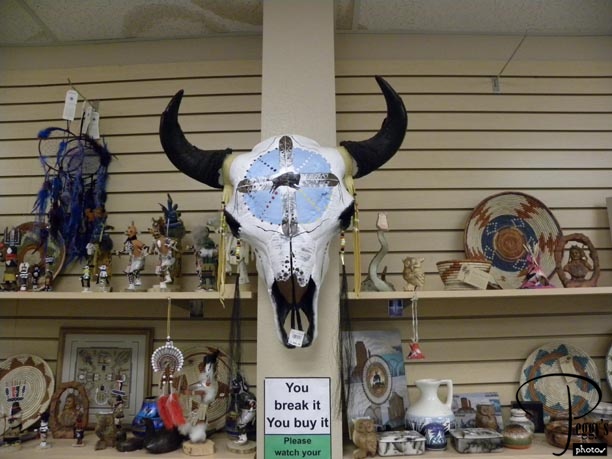 A selection of Indian handicrafts and jewelry was also on sale here.

Break Stop
The Valley of Fire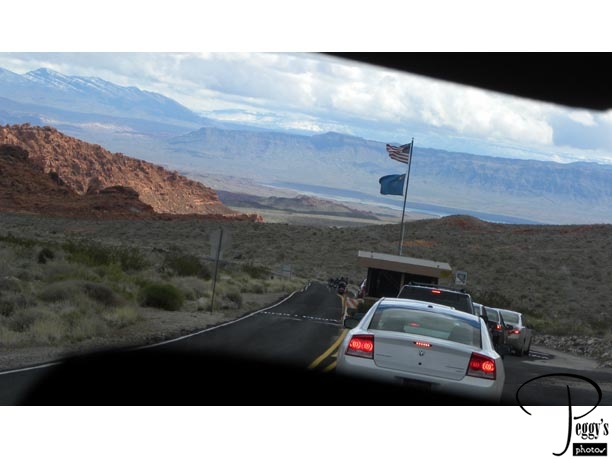 We have arrived at the entrance to the Valley of Fire, a Nevada State Park. The park gets its name from its red sandstone formations, formed from sand dunes about 150 million years ago. There are also limestone, shale, and conglomerate formations. Native Americans have lived here since prehistoric times: first, Basket Maker people and later Anasazi Pueblo farmers. They have left rock art on the sandstone formations. The rest of my Valley of Fire photos are on two slide shows under Slide Shows, Las Vegas Side Trips.
Ken, our excellent and very enjoyable tour guide, warned us about the rattlesnakes that we might encounter––watch where you are walking and where you sit. Thankfully, we didn't see any snakes and the only "critters" that we saw were chipmunks. Go to Valley of Fire in the winter months to avoid seeing a snake.
Meg and I both left Las Vegas the next day after having a very good time here.

The Valley of Fire
© Copyright 2017 Peggy's Photos