Modern Marrakech (See Slide Show)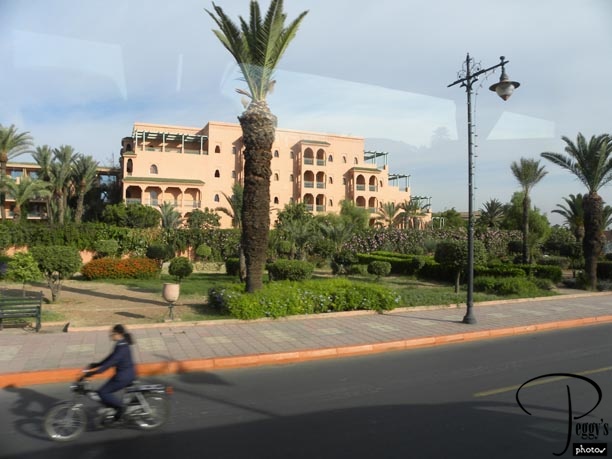 This album will explain the photos on the slide show entitled Marrakech," which appears under Slide Shows, Morocco on this website. Photo: To give you an idea of how modern, and quite striking, parts of Marrakech are. There are many modern condos/apartments and hotels. Many French and other foreigners have homes in Marrakech. Still, you can find much local color in the city as well
Modern Marrakech (See Slide Show)
Koutoubia Mosque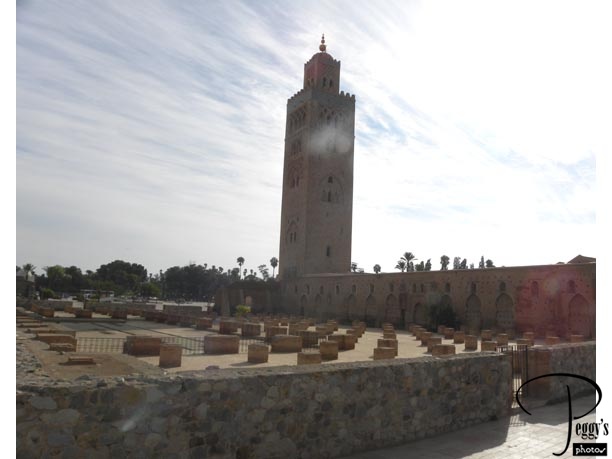 The first place we stopped to view was the outside of the Koutoubia Mosque, built about 1147 by Sultan Alod el–Moumen in celebration of the victory of the Almohads over the Almoravids, two of the dynasties of rulers in Morocco. The sultan wanted to build the largest mosque in the Western Muslim World. However, he had to rebuild it as its "qibla" wall (the wall in the direction of Mecca) was wrongly oriented. The columns in the photo are the foundation of the original mosque. The sultan also built a very tall minaret––230 feet high, and in accordance with Almohad architecture, its height is equal to five times it width.

Koutoubia Mosque
Palais Bahia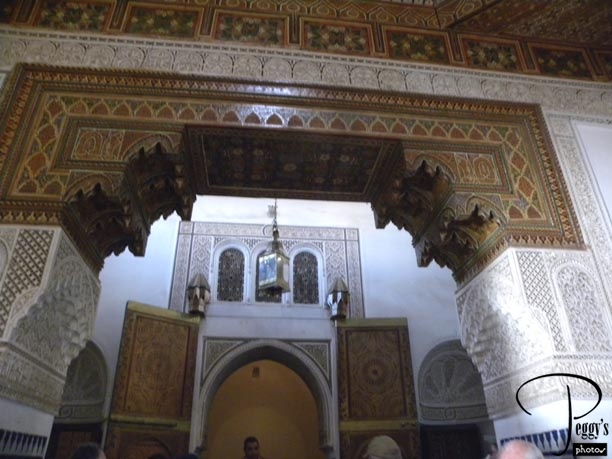 The Palais Bahia ("Palace of the Favorite") was built at the end of the 19th century in two parts. The first part was of apartments arranged around a marble–paved courtyard. The newer part was a huge, beautiful palace.

Palais Bahia
Bah Agnaou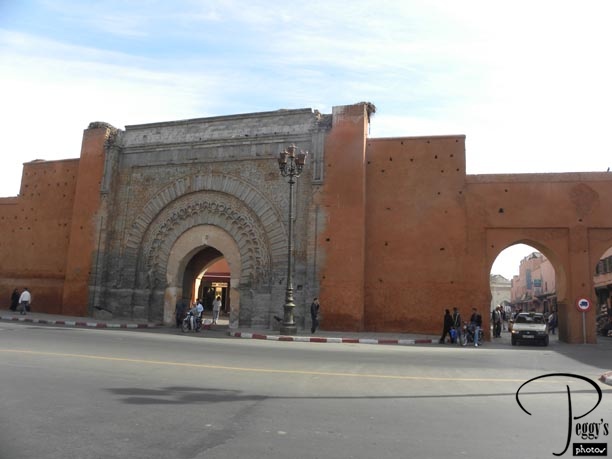 Bag Agnaou is the royal entrance to Almohad Palace. We went through the entrance to the right.

Bah Agnaou
Saadiah Tombs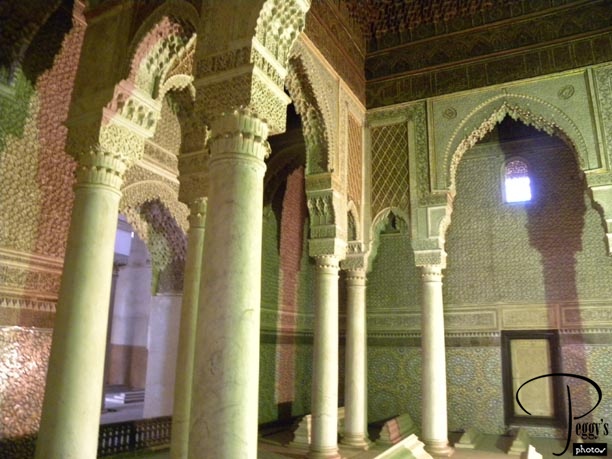 However, after going through that entrance, I don't think we visited the palace itself, but, rather, the Saadian Tombs, built from the late 16th to the 18th centuries. We only got to peek into one of the rooms.
Saadiah Tombs
The Herb Store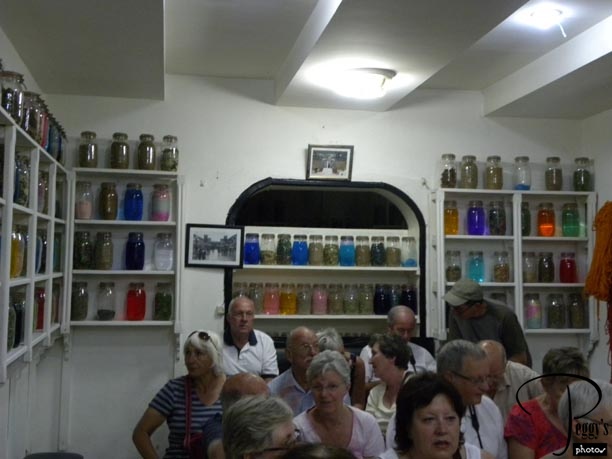 This store had a cure for everything, from dry skin to aphrodisiacs. The most unusual item for sale was a green lipstick that turns various shades of red after being applied––the redder it gets, the "hotter" you are.

The Herb Store
Place Jemaa-el-Fna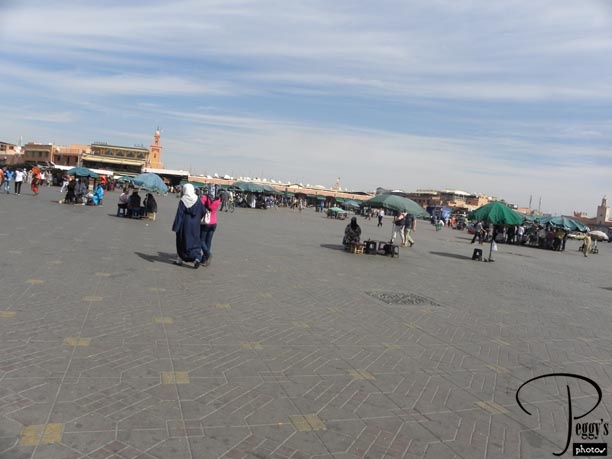 The Place Jemaa el–Fna, the famous market square, the center of life in Marrakech, although at night, not at midday. At night, there are musicians, dancers, storytellers, dancing monkeys, and snake charmers. During the day, there are dancing monkeys and snake charmers among some other performers. I asked Rachid where the snake charmers were and carefully avoided them. I also avoided the dancing monkeys because you never know if there could be a snake charmer near by. Other members of our tour group went to see the snake charmers, but since no one wanted to pay money to the snake charmers for a performance (probably wise as it is rumored that they like to put their snakes around your neck), no one had a photo of them that I could borrow. They couldn't even sneak a photo as there were watchers to make sure they didn't.
Place Jemaa-el-Fna
The Medina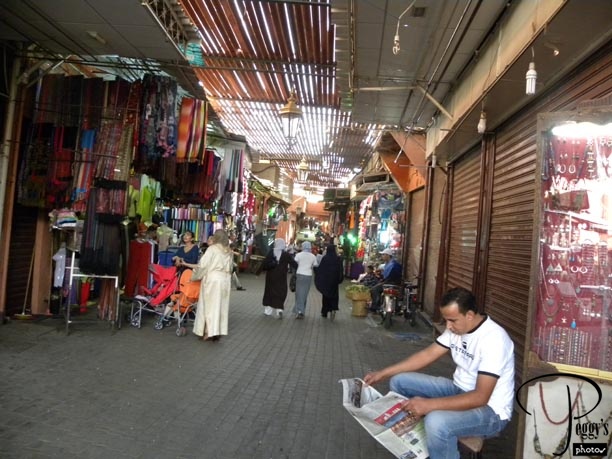 I was walking around on my own, but ran into some of the tour group in the medina. All of a sudden I saw two snake heads looking at me and I screamed––snakes seem to be following me around. But they were not real snakes––just fake ones being sold by a young boy. I got a couple of admonishing looks from some of the Moroccan ladies––I guess it is considered very unladylike to scream in a medina. So I disappeared from view by going into a rug store. Anyway, I had decided to buy some rugs beforehand and came out with some nice very small ones. I told the rug dealer that I was still looking for T–shirts (almost impossible to find a tourist T–shirt in Morocco) and nougat without flies on it. He offered the services of one of his employees, for 50 Dhs––about $6––to lead me a store that would have T–shirts and another for nougat and the young man also would carry my heavy bundle of rugs. One store had a very small collection of T–shirts and it wanted an unreal price for them. I told them what I would pay for one and that is what I paid. My helper led me out of the medina into the marketsquare and since I didn't know where he was going to take me I told him that he could go back. But he wanted 100 Dhs instead of the agreed upon 50 and I told him no. But the situation ended right there as Rachid had sent one of the men on the tour to find me. We were told that we could either go back on the bus at a certain time or take a shuttle later. I thought I was back too late for the bus and was going to take the shuttle, but either I was not included in the "you can take a shuttle back" instructions because I was walking around on my own or Rachid asked people if they had seen me and someone said yes––we last saw her when she was screaming in the medina after seeing two fake snakes.
The Medina
Friday Prayers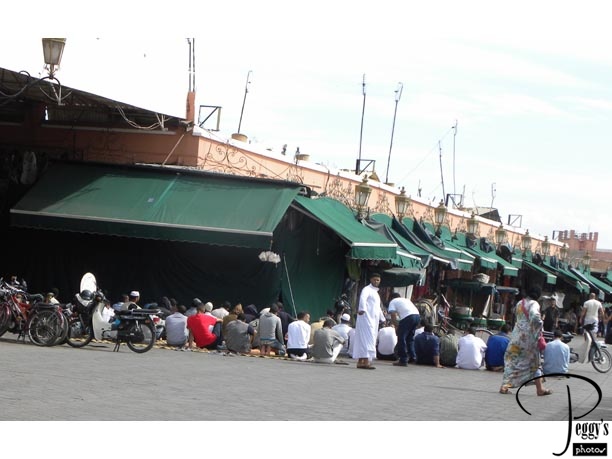 Rachid thought that many of the shops in the medina would be closed as it was time for Friday prayers. However, most of the shops were open, I guess because not everyone is religious enough to feel the need to attend them, even though a Friday prayer service was being given in the market square.
Friday Prayers
Carrefour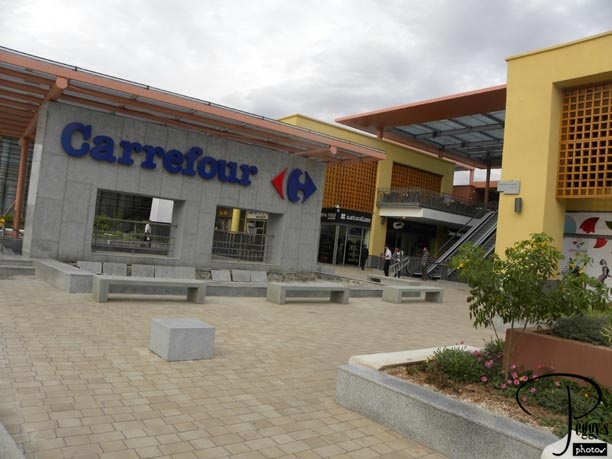 I walked from our hotel to Carrefour, a modern hyper–market (what they call a supermarket which also sells many other types of items) and shopping/dining center. Carrefour is owned by a French company and there are Carrefours in many foreign countries. I was shopping there along with other Westerners and women in Islamic dress, including some with face veils and mittens to cover their hands. What a strange, but interesting, experience. There are other hyper–market chains in Morocco as well.
Carrefour
© Copyright 2017 Peggy's Photos