Five Summer Place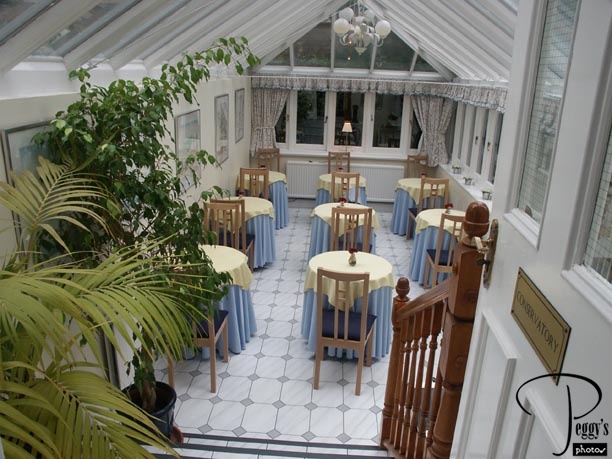 Britt and I started our last day in London by eating breakfast at our B&B, Five Summer Place. This photo shows the cute breakfast room. Served this morning for breakfast were overcooked poached eggs and cut up frankfurters. I asked to have bacon and scrambled eggs and were served them. We got a chance to talk to some of the other guests and found that they were all Americans, one from California.

Five Summer Place
Five Summer Place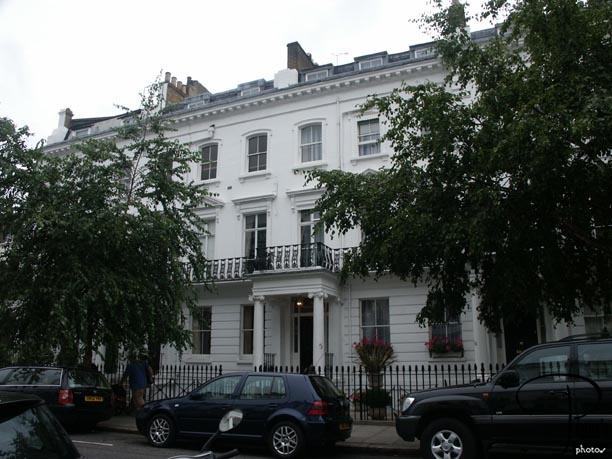 From our B&B (in the photo), we took the tube to Buckingham Palace. Our tour time was 10:15 a.m.
Five Summer Place
Buckingham Palace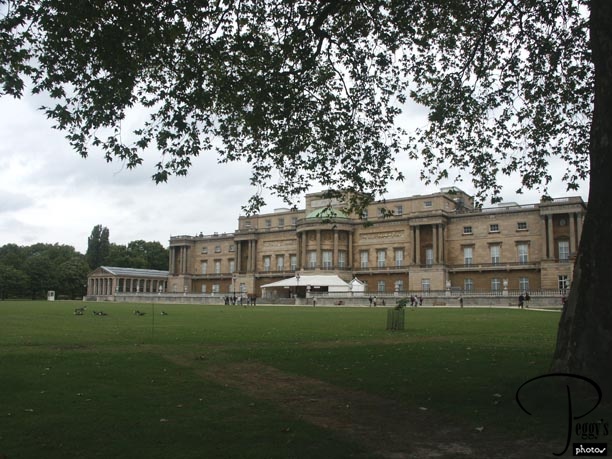 We were directed to a side of the palace to begin our tour. After orientation (no photography allowed in the palace), we were give brochures of The Royal Collection––A Selection of Gifts from the Official Royal Residences––somewhat tacky to hand this out. Then we had to put our belongings through an X–ray machine and next were given headphones and tour tapes. The tour was of the State Rooms, where guests are greeted, wined and dined, and sometimes knighted. The State Rooms were decorated by John Nash, who had previously decorated music halls. The State Rooms had a music hall flavor. Britt thought they were opulent. I thought they were somewhat gaudy. A description of them could be 'somewhat gaudy opulence.' But the tour was very interesting and you did get the feeling of being let in on a bit of the royal life. Tours of the palace are only given during the summer tourist season. This photo shows the back of Buckingham Palace. It looks like it needs a cleaning. There were no flower gardens or anything else to brighten up the grounds, except for some more Royal Geese on the lawn.
Buckingham Palace
Buckingham Palace Shop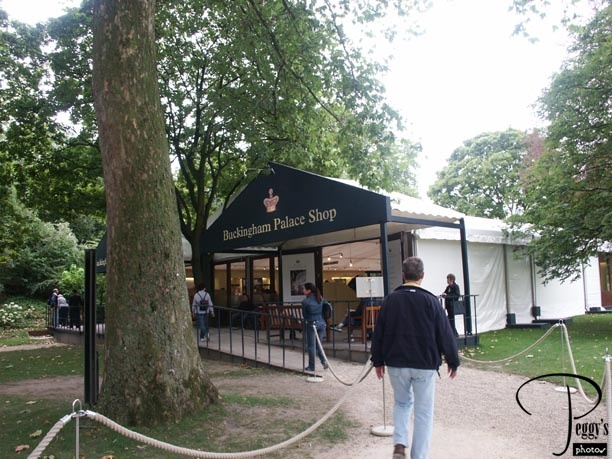 The Buckingham Palace Shop was located on the path out of the grounds. Actually, it had many very nice items to purchase, but most were breakable and we didn't want to try to take any home with us. Many of the items are on sale at their website––www.royal.gov.uk. Click on Art and Residences, then On–line Shop. Then click on the UK button. The North America one doesn't have many items in it.

Buckingham Palace Shop
Buckingham Palace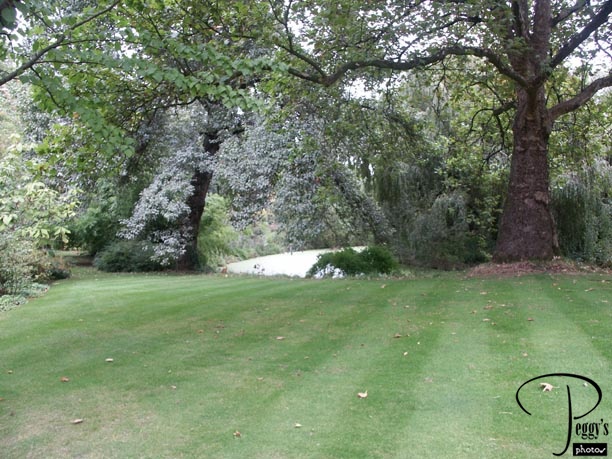 The Royal Gardens. This is many acres of a royal private park. From what we were allowed to view, it appeared to be of trees and grass.
Buckingham Palace
Marble Arch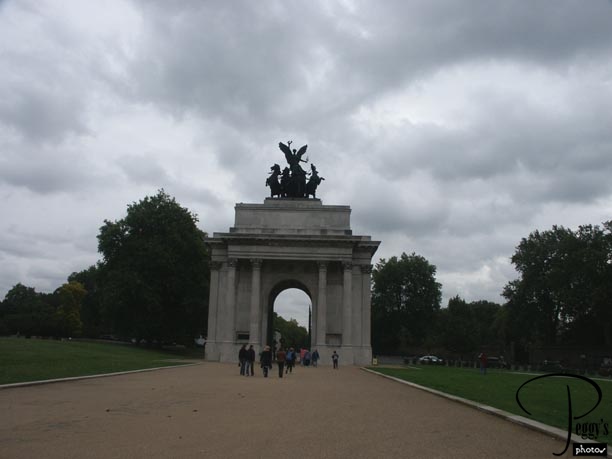 From where we exited the Royal Gardens, we found that we were near the Marble Arch. This is a better photo than the one I put on this site previously. It is at the entrance to Hyde Park.

Marble Arch
The Tube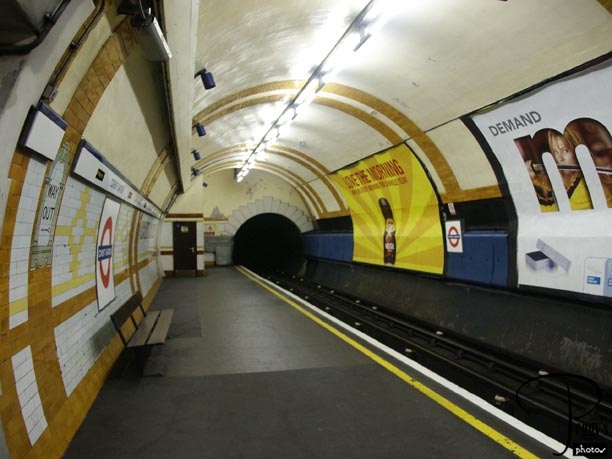 The London Tube. In this photo, you can see that the stations are shaped like a tube. On the left you can also see the Way Out sign. I wonder why they use this term and we use the term Exit. We took the Tube to Convent Garden.

The Tube
Convent Garden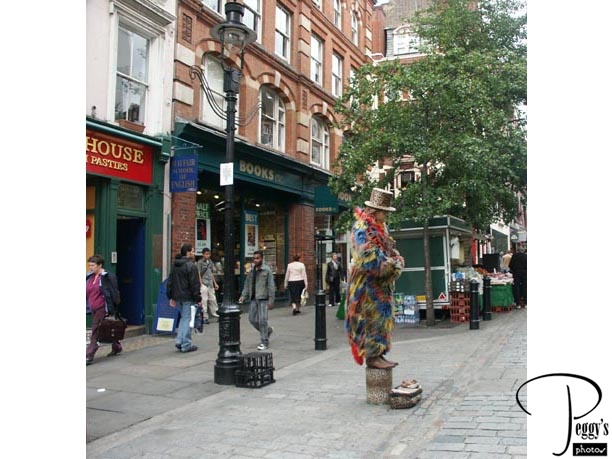 Our tour guide yesterday on the Big Bus told us that Convent Garden was a great place to shop and to eat. We decided to eat lunch here. Up to the 1970s, Convent Garden was London's wholesale fruit and vegetable market. When it closed, it was converted to a shopping, eating, and entertainment area. We found most of the stores here uninteresting and many of the goods for sale were not of good quality, but I was able to pick up some souvenirs here which I hadn't seen for sale elsewhere. The restaurants that we first found didn't appear very appetizing, but I was hungry and had a sandwich at The New York Deli––not very good. Britt waited to eat and we did find a very good French restaurant here as well. The area is somewhat festive and this photo shows one of the street performers.

Convent Garden
Convent Garden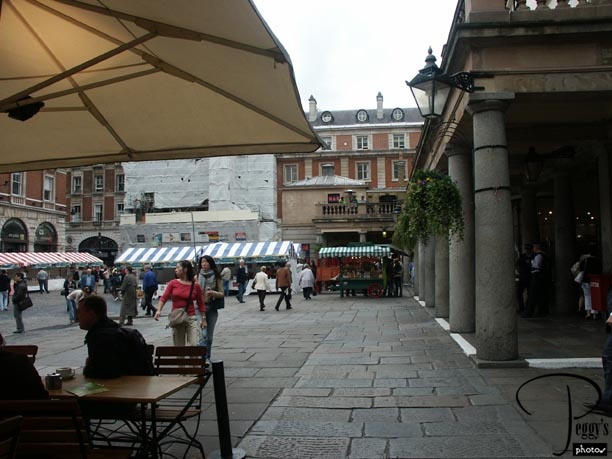 One of the inside shopping/food areas here.

Convent Garden
Convent Garden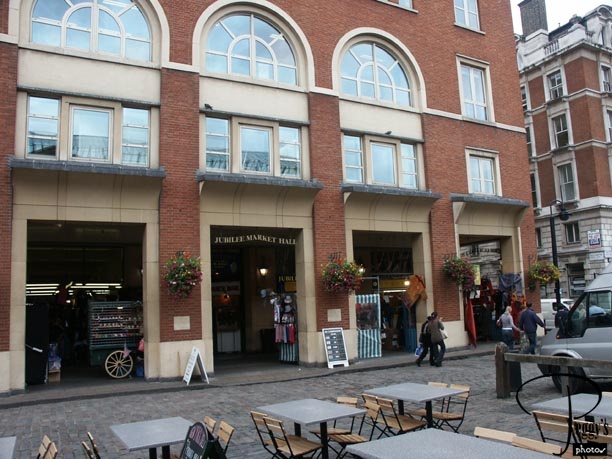 Another photo of Convent Garden.

Convent Garden
Convent Garden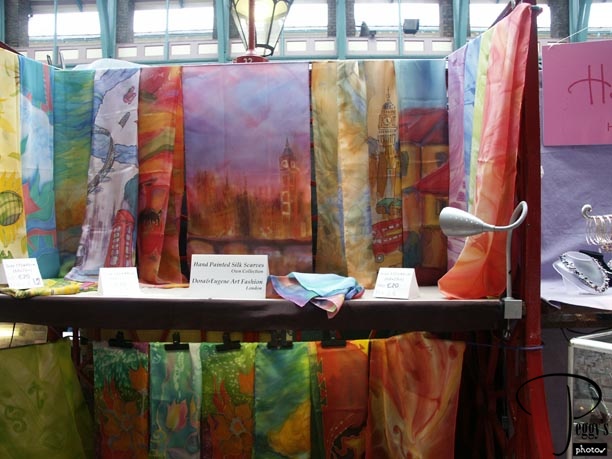 But I did find this great stall there and bought the blue and yellow scarve on the right. I also went to the Mark and Spencer Department Store around the corner to buy a lightweight wool sweather. The mornings and evenings in Europe were getting chilly and I didn't bring the right kind of warm clothes. I had begun to need four layers of clothing––shirt, wool sweather, light jacket, and heavier jacket, plus a wool scarve. After leaving Convent Garden, we too the Tube back to our hotel, picked up our luggage, and took a taxi to Waterloo Station to pick up the Eurostar for our trip back to Paris. Our cabbie seemed to know every one–way street in London that didn't have a traffic light. He took us on quite a high–speed thrill ride around twisting streets to the station. I was glad to get back to my wonderful hotel in Paris.
Convent Garden
© Copyright 2018 Peggy's Photos