Day 6, Western Cape Winelands Tour
Western Cape Winelands
I took an optional full–day tour to the Western Cape Winelands not too far from Cape Town. The scenery of the mountains and vineyards together was very beautiful.

Western Cape Winelands
Fairview Wine & Cheese Farm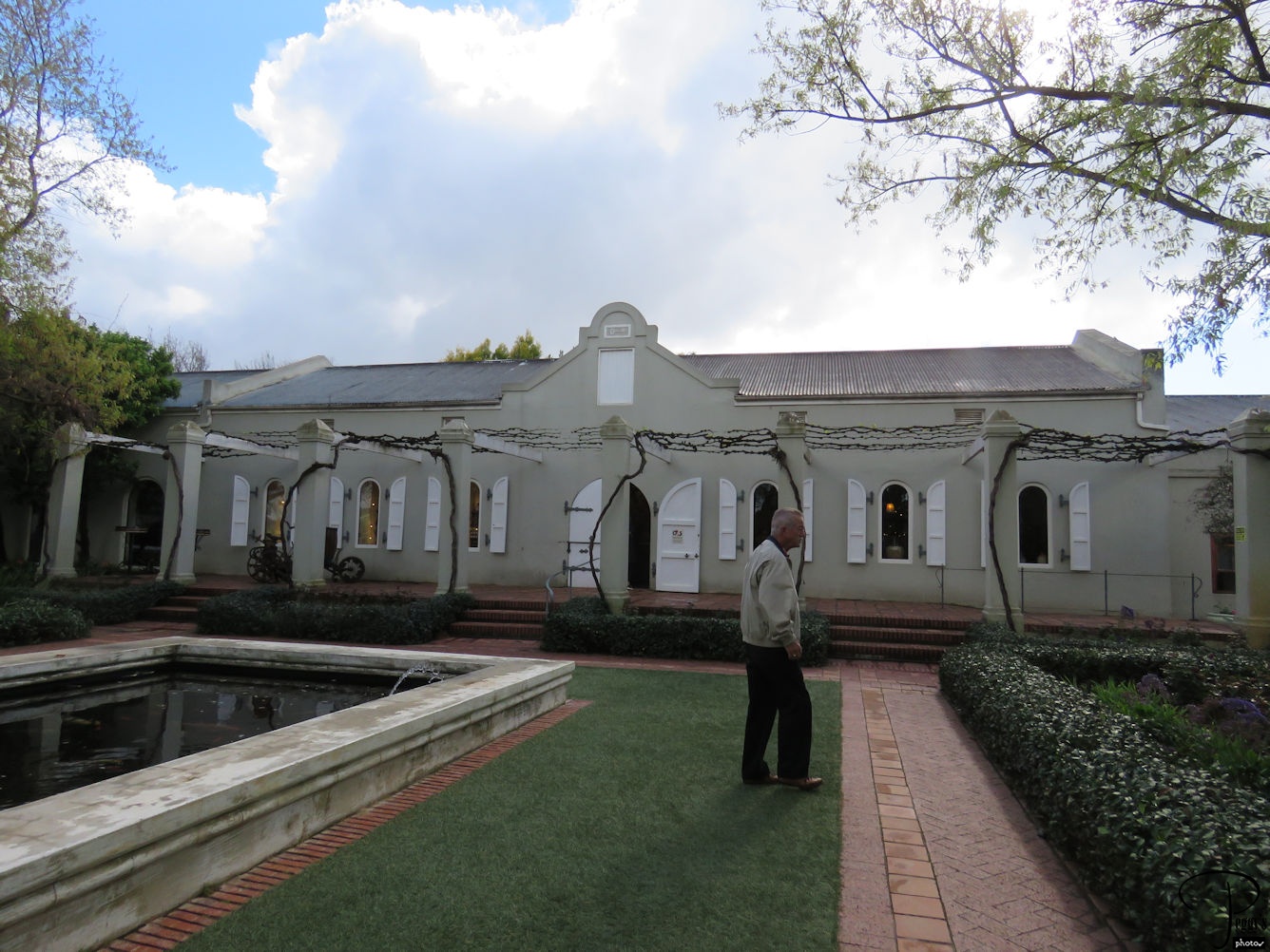 Our first winery was at the Fairview Wine & Cheese Farm. The first wine produced on this property was in 1699. In the late 1600s, French Huguenots immigrated to this area from France when they would no longer be protected from religious intolerance of their Protestant faith. The Dutch farmers were already here. With the Huguenots' wine–making know–how and the Dutch's farming know–how, wine started being made in this region.

Fairview Wine & Cheese Farm
Fairview Wine & Cheese Farm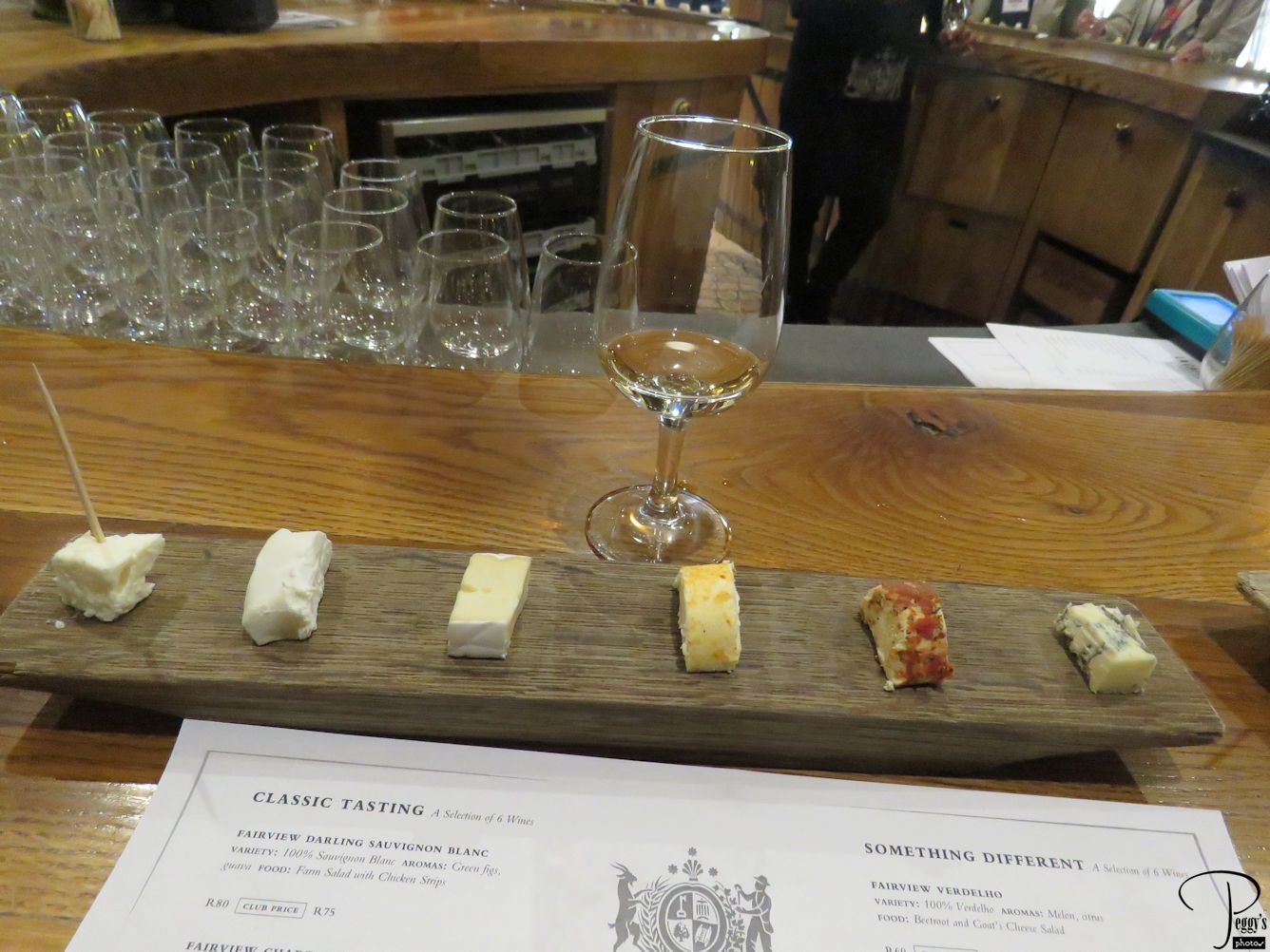 We had an interesting wine and cheese pairing. I was looking for a wine special enough to ship back home. I asked about the shipping cost and found out that it was horrendous. It was suggested that we buy the wine and carry it in our suitcase. U.S. customs allows in one liter of wine per person without duty, then a duty of $1–$2 per bottle for additional bottles. But this was not the time to buy wine as we would be flying domestically the next day and we had only a 44–pound (20–kilo) checked bag allowance. Even one bottle of wine could put us over the allowance.
Additionally, neither here nor at the other two wineries that we visited, I didn't find that special wine that I would want to take home. Also, both the first two wineries distribute their wines in the U.S. and so should be able to find there. I don't know about the third one.

Fairview Wine & Cheese Farm
Drakenstein Correctional Center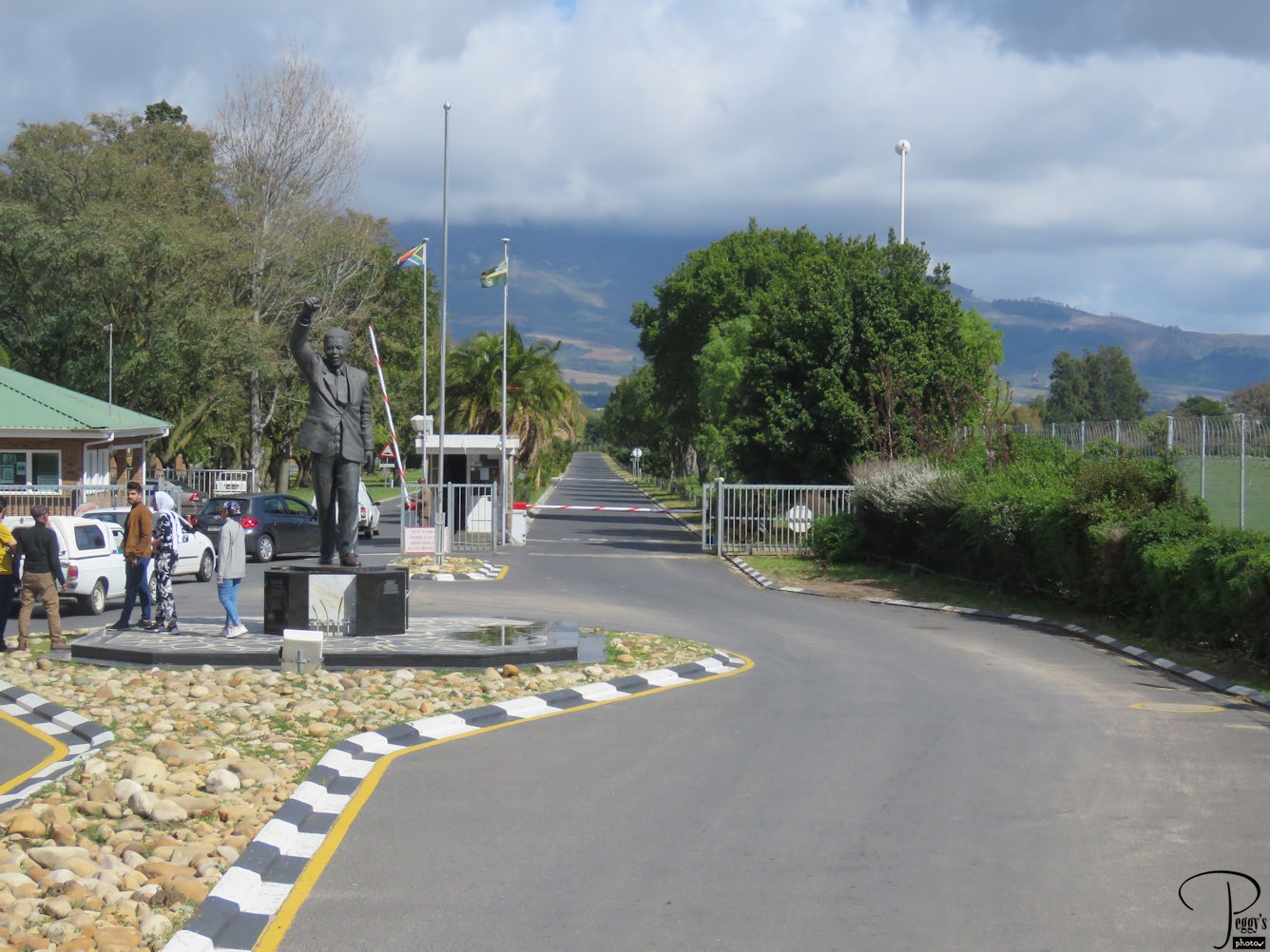 In this area was the Drakenstein Correctional Center, where Nelson Mandela spent the last part of his imprisonment. He served 14 months in Drakenstein until his release on February 11, 1990. I asked our bus driver what it was like here when Mandela was released. He said a huge crowd was taking up every space available on the roads and hills.

Drakenstein Correctional Center
Long Walk to Freedom Statue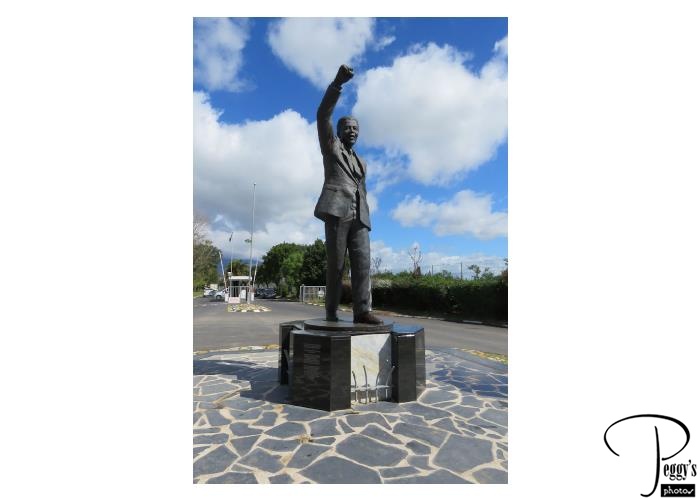 In front of the prison is the Long Walk to Freedom Statue of Nelson Mandela.

Long Walk to Freedom Statue
Vineyards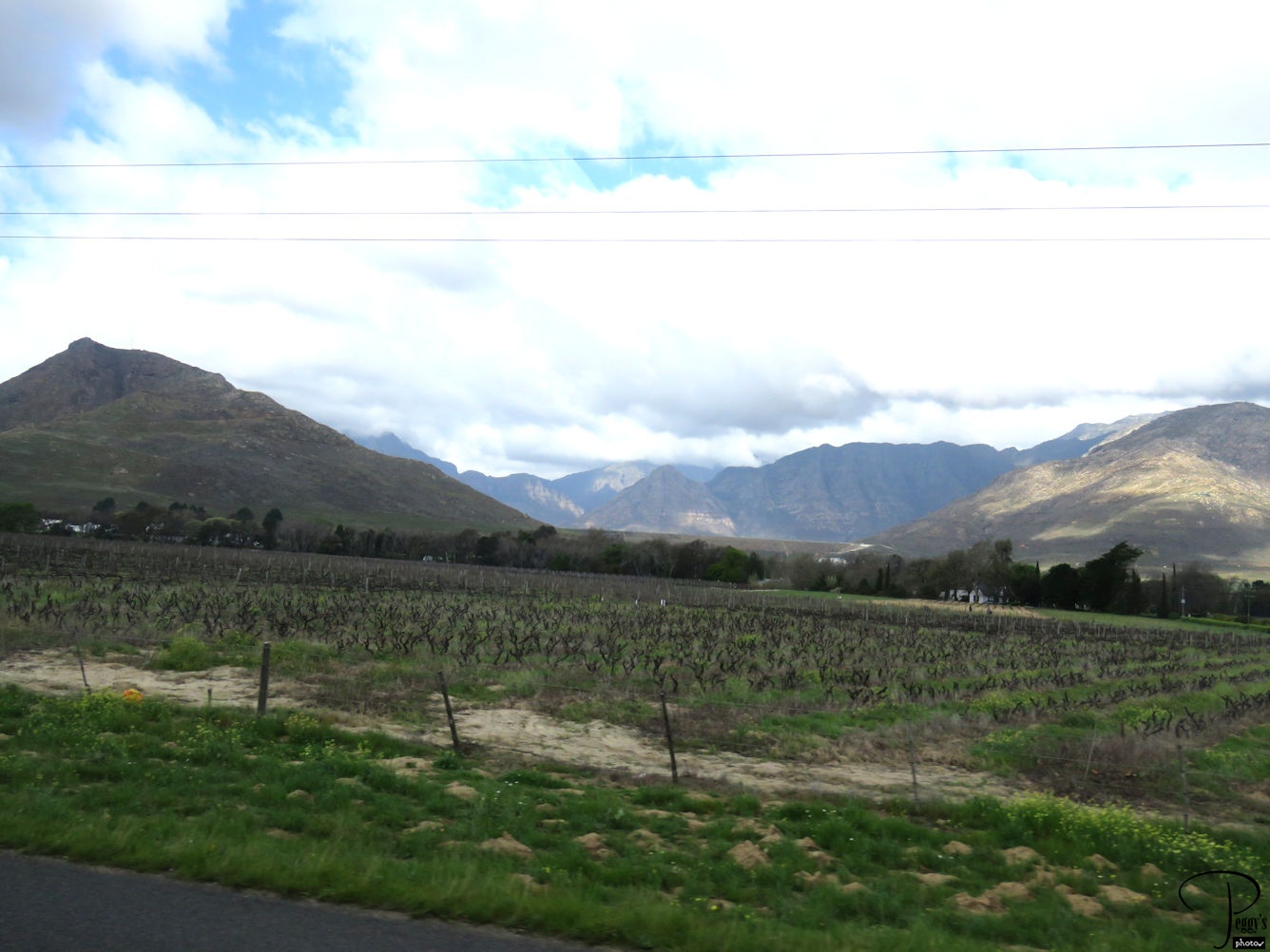 More vineyards on our tour.
Vineyards
Huguenot Memorial Monument
This Huguenot Memorial Monument in Franschhoek is dedicated to the cultural influences that Huguenots brought to the Cape Colony after immigrating here in the 17th and 18th centuries.
Huguenot Memorial Monument
Huguenot Influence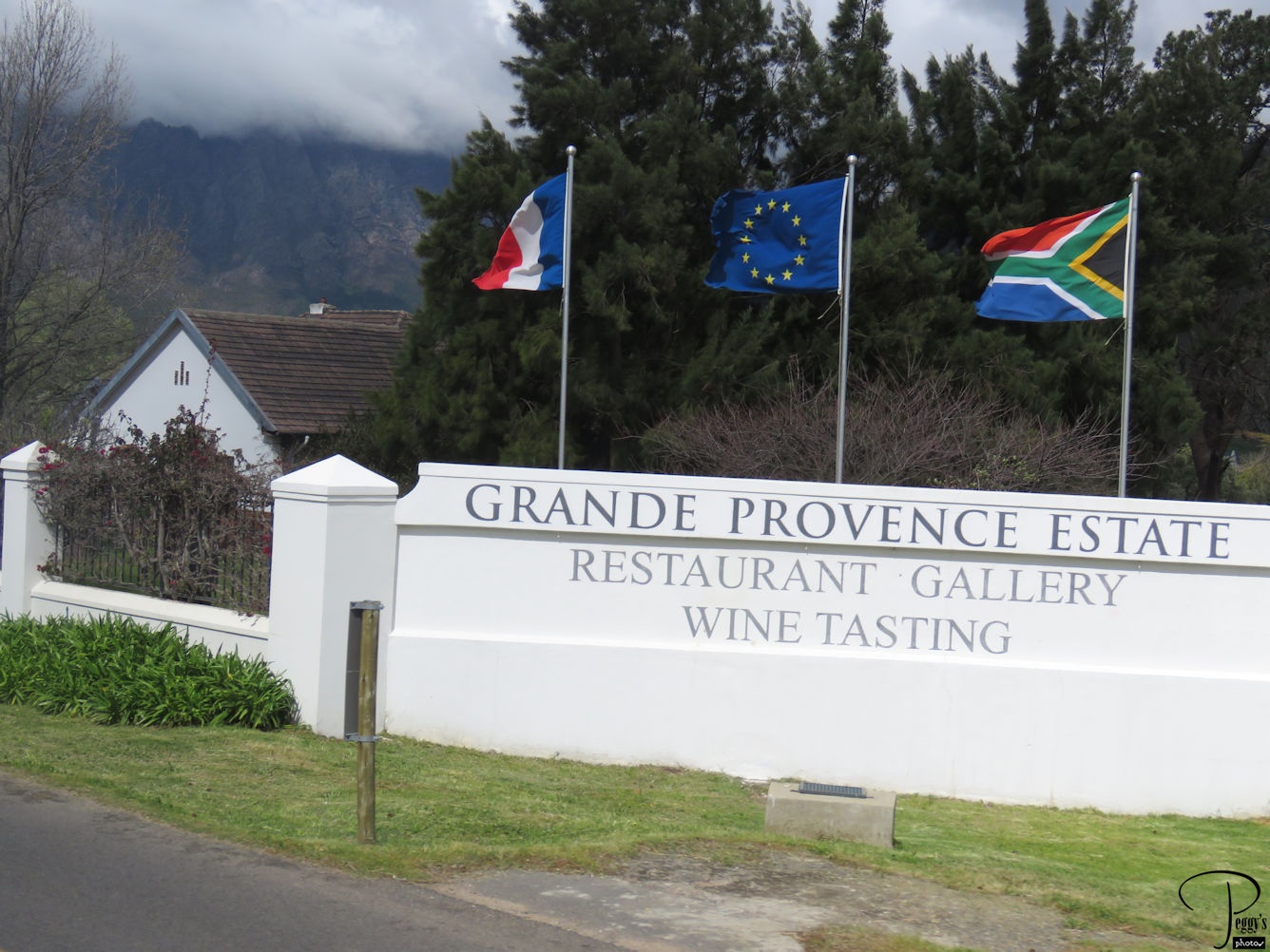 Many Huguenots immigrated to the Cape Colony and to the Franschhoek area and were alloted farms to which they gave French names. You see many French names and words in Franschhoek such as the Grande Provence Estate.

Huguenot Influence
Dutch Reformed Church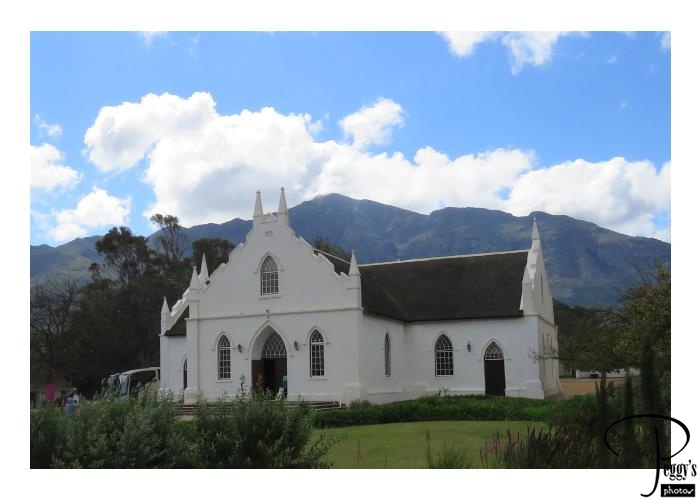 Since the Huguenot influence was so strong in Franschhoek, I assumed that this was a Huguenot church, but it turned out to be a Dutch Reformed Church built in 1847 in Cape Dutch architectural style.
Dutch Reformed Church
Spier Winery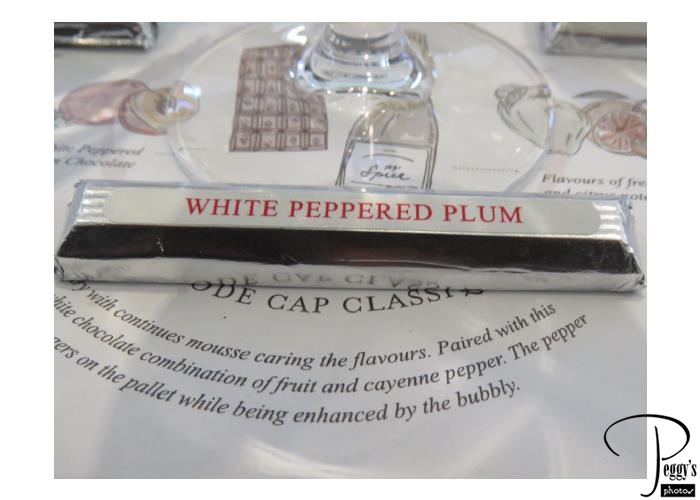 Our second wine tasting was at the Spier Winery founded 1692 and one of the oldest wineries in South Africa. Here, wine was paired to chocolates. An interesting idea.

Spier Winery
Spier Winery Mosaic Kraal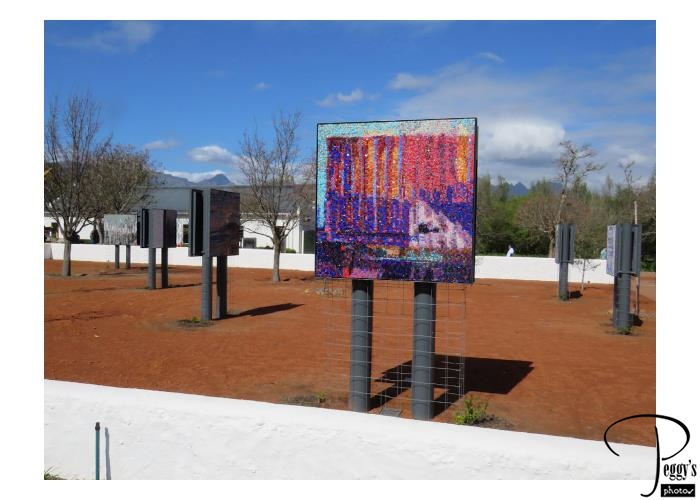 In front of the Spier Winery was a Mosaic Kraal with 15 intricate mosaic works.
Spier Winery Mosaic Kraal
Vergenoegd Winery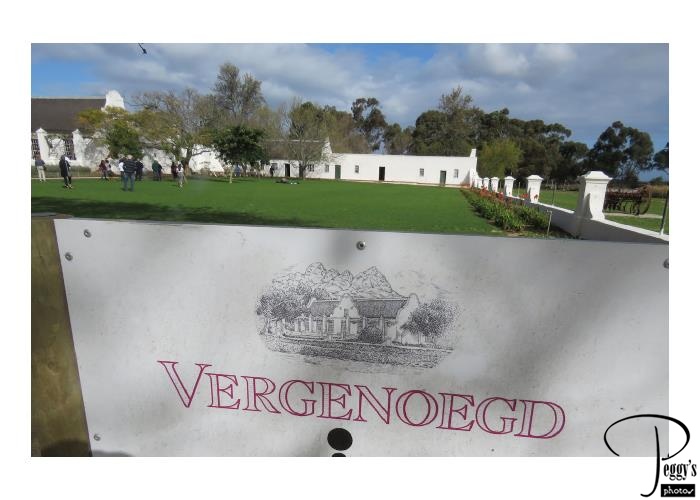 Our last stop was at the Vergenoegd Winery, established 1773.

Vergenoegd Winery
Vergenoegd Duck Parade–MOVIE
An unusual treat was had at the Vegenoegd Winery––a duck parade. Vergenoegd has hundreds of Indian runner ducks that help them with their farm as they eat snails and other pests and help fertilize the land. We went back to Cape Town after visiting this winery.
YouTube: https://youtu.be/ocRuC2Xfe0I
I have put my photos of the Western Cape Winelands Tour on a slideshow. Go to
http://www.peggysphotos.com/western–cape–winelands–tour/
(Slide Shows, Southern Africa, South Africa, "Western Cape Winelands Tour").

Vergenoegd Duck Parade–MOVIE
© Copyright 2018 Peggy's Photos