Spain, Day 3, Cordoba and Madrid
Cordoba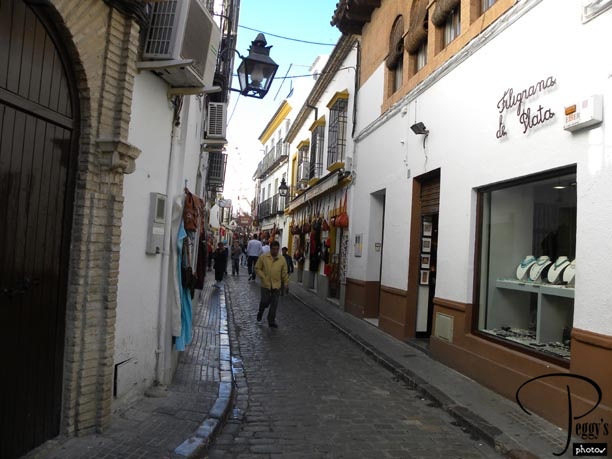 This morning I took an early high–speed train from Madrid south to Cordoba (pronounced with the accent on the first syllable), about a 1 3/4–hours trip. I took a bus from the train station to the Mezquita–Cathedral in the historic district. I recommend taking a taxi instead as the bus left me too far from where I wanted to go. Cordoba dates back to the 8th century. It was part of the Moorish empire in Spain and one of its major centers. Its historic district is charming with iron work and cobbled streets.

Cordoba
Cordoba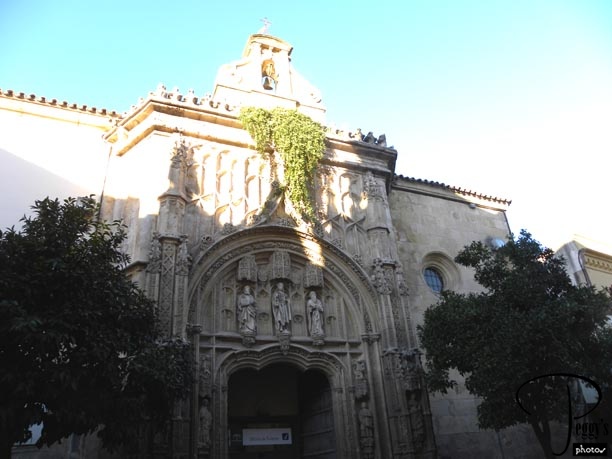 Cordoba's main sight is the Mezquita–Cathedral (Mosque–Church). The mosque was built between 785 and 787 by the Moors (Muslims from North Africa), who were driven from Spain at the end of the 14th century. In the 16th century, the mosque was converted into a Roman Catholic church.

Cordoba
Cordoba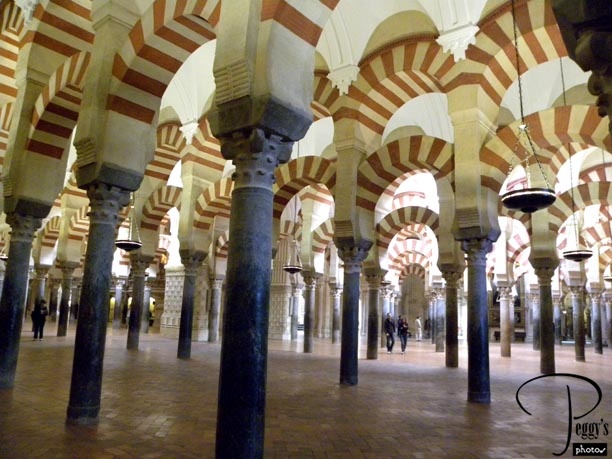 The Mezquita–Cathedral has over 850 columns and arches. They are exquisite. I spent much time walking around here, totally entranced.

Cordoba
Cordoba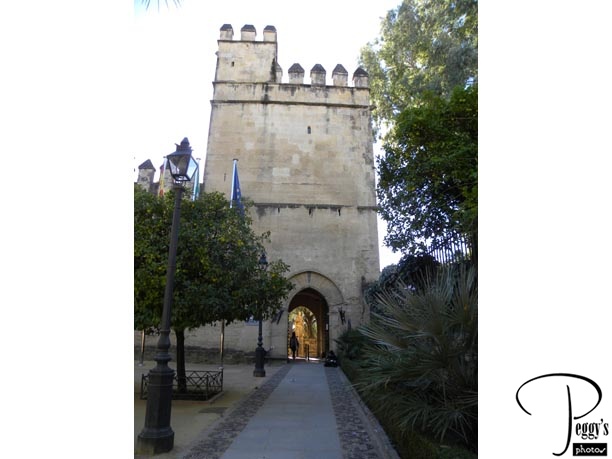 Where to go next? I had wanted to take a walking tour of Cordoba but was told that it wouldn't be held that day, so I was on my own. I next went to the Alcazar de los Reyes Cristianos (Palace of the Christian Kings), easy to find as it was close to the Mezquita–Cathedral. It was the palace–fortess of the Catholic monarchs and built in the 14th century. The inside of it is quite plain and there is not much to see. However, its gardens, Moorish in design, were a pleasure to stroll around.

Cordoba
Cordoba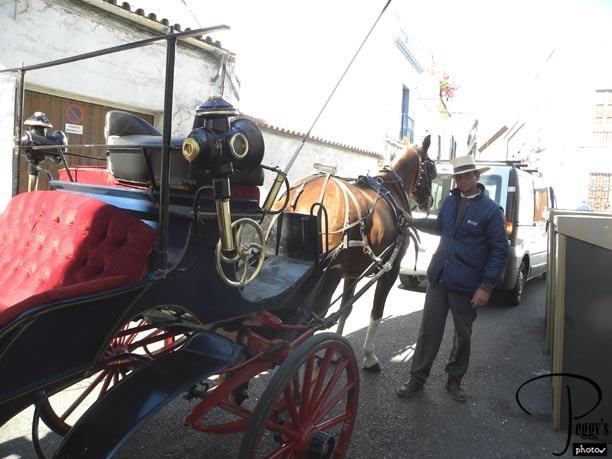 I tried to walk to the Roman wall but, even with a tourist map, did not quite know how to get there. I saw a foreign–language tour group heading in the direction I thought the wall was. I could either follow them or take a carriage ride to another place I wanted to visit––the Palacio de Viana. I decided on the carriage ride (I was tired of walking and the palacio was a distance away). I thought it would be an interesting ride through the historic district but the driver took me out of the district and we traveled along streets in the uninteresting modern part of Cordoba.

Cordoba
Cordoba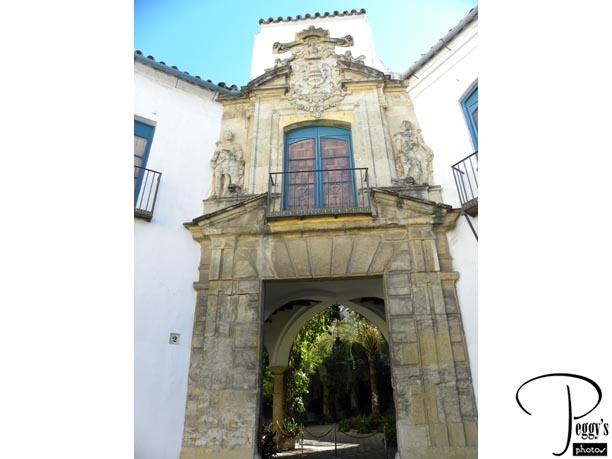 I took both the palace tour and the garden tour of the Palacio de Viana. No photos were allowed on the palace tour, which was interesting. However, we could take photos of its gardens, which were quite nice.

Cordoba
Cordoba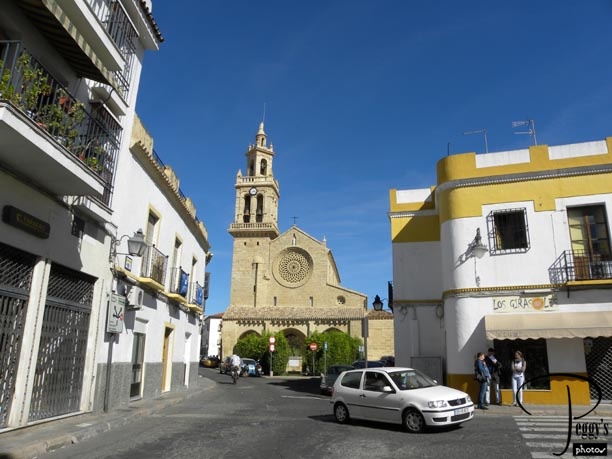 I wanted next to go to the main square and asked someone at the palacio to mark my tourist map with the route. However, after some walking, when I found myself at the Church of San Lorenzo, I realized that I was lost. I didn't have enough time to backtrack and find my way as I had a train to catch. I saw a taxi sign with an arrow on it and I walked in that direction. The sign didn't really indicate that there would be a taxi stand about 1/4 mile away but that you would reach a main street where you could flag down a taxi, which I did after about 15 minutes of trying. If you go to Cordoba, it is a city worth more than part of a day. There are so many ways to get turned around in Cordoba as streets go off in different directions and end abruptly as well––with two days, you should be able to find your way about. It would be a very interesting city to explore without a strict time limit. I have put my photos of Cordoba on two slide shows: Go to Slide Shows, Western Europe, Spain,  "Cordoba–1 and –2."

Cordoba
Madrid Tapas Walking Tour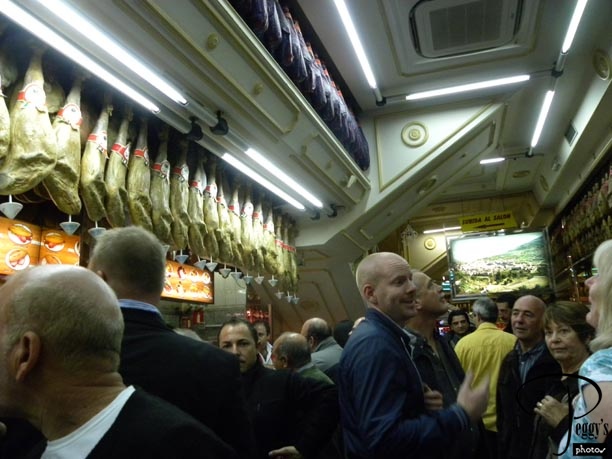 The tapas night walking tour I took after I got back to Madrid from Cordoba was so much fun that it is worth a special trip to Madrid just to go on it. It was given by Adventurous Appetites. We were six: our guide, Liam, from Ireland who has lived in Spain for four years, a couple from Edinburgh (the man was a taxi driver there), a couple from the U.K. (the man was somewhat high up in the British military), and me. We bonded and hugged at the end of the tour––perhaps we may have all been a bit tipsy as well. The tour price was almost $56, which covered the food and drinks at the first tapas restaurant) and then we all chipped in 20 extra euros each (about $26) for food and drink at three more restaurants. Not a cheap tour but it was a great one. I have put my photos of this tour on a slide show: Go to Slide Shows, Western Europe, Spain,  "Tapas Walking Tour, Madrid."  That's our group on the right of this photo.

Madrid Tapas Walking Tour
Madrid Tapas Walking Tour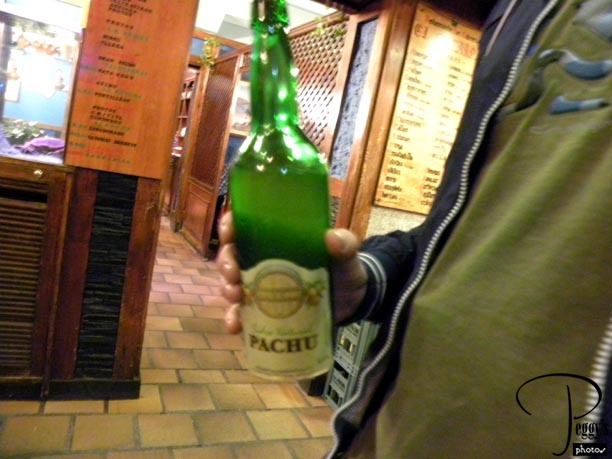 At our first tapas restaurant, we had a cider called Pachu. To serve it, you cut part of the cork out without removing the cork. Then you make a sweeping movement, with the cider "sweeping out" of the bottle while you do it. You then "sweep" it into a glass. I was able to walk to the Puerto del Sol to meet my tour group at 8 p.m. at the bear statue, but Liam got a taxi for me to get back to the hotel––I arrived back at 12:30 a.m. I was too tired to pack for my flight home later that morning, so I set my alarm for 5 a.m. I was ready for the shuttle to the airport at 8 a.m. United Airlines uses Aer Lingus (the Irish airline) for their flights from Madrid to Washington, D.C. (doesn't actually make much sense). I highly recommend Aer Lingus––good food, good service, and each seat has its own video screen. I had a great trip––Morocco and Spain––but I was ready to go home. I was a tired tourist.
Madrid Tapas Walking Tour
© Copyright 2018 Peggy's Photos