Casablanca (See Slide Show)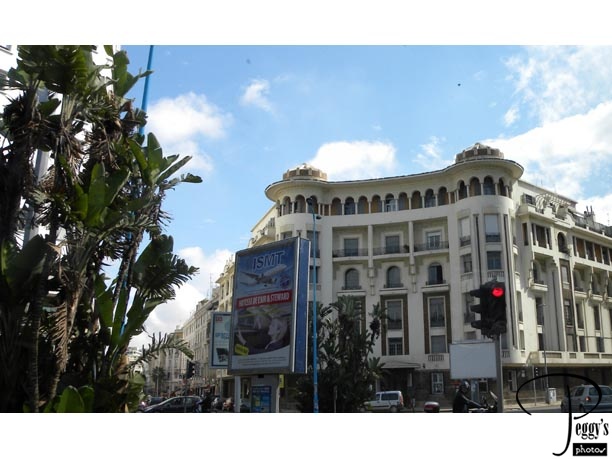 This album will explain the photos on the slide show entitled Casablanca under Slide Shows, Morocco. Our tour group split up this morning, with the U.K. people flying back home from Marrakech. We were down to just 9 of us: five Americans, two Australians, and two New Zealanders, plus Rachid and a new bus driver, so we now were riding in a very small bus. We said our good–byes last night at dinner. We left a very good group of fellow travelers. Our drive from Marrakech to Casablanca was 156 rather uninteresting miles. Casablanca (meaning White House in Spanish and having mostly white buildings––quite a contrast from the pink salmon buildings of Marrakech and most of the rest of Morocco) is the commercial and financial capital of Morocco and was built up by the French. You will see buildings from the 1907 onward in many styles: neo–classical, art nouveau, art deco, and Moorish among others.

Casablanca (See Slide Show)
Pigeon Park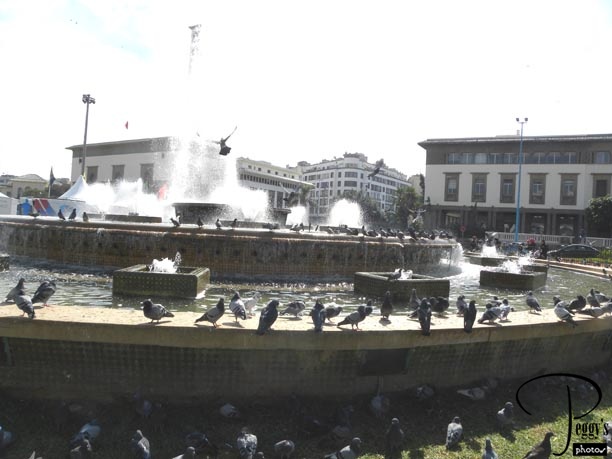 Our first stop in Casablanca was at the Pigeon Park where you can feed or just watch the pigeons.

Pigeon Park
Clock Tower and Old Medina
The clock tower was built in 1910, demolished in 1940, and then identically rebuilt. When it was first built, it was a symbol of French colonial rule that indicated to the Moroccan people that they should now keep time with an industrial society. When the French arrived in Casablanca at the beginning of the 20th century, there was little here except the Old Medina and a few thousand residents. Interesting, the clock tower was built right in front of the Old Medina.

Clock Tower and Old Medina
Rick's Cafe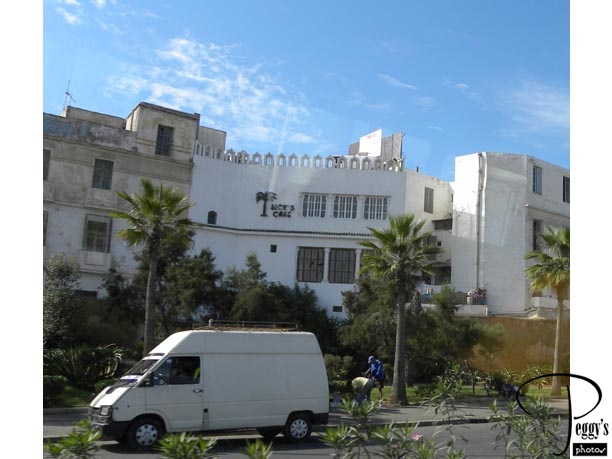 We passed by Rick's Cafe, a re–creation of the Rick's Cafe in the movie "Casablanca," a cafe that didn't exist. The entirety of the movie was filmed in Los Angeles, with its Paris scenes taken from stock footage. An American woman has re–created Rick's Cafe with a piano bar and an international menu. It opened in 2004.

Rick's Cafe
Mosque of Hassan II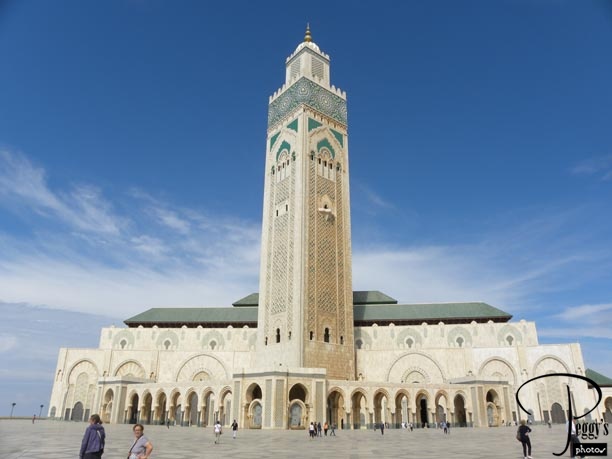 The Mosque of Hassan II, father of the present king of Morocco, is the second largest religious building in the world, second only to the mosque in Mecca. Its prayer hall will hold 25,000 people. 35,000 craftsmen worked on the mosque which opened in 1993. Its minaret is 656 feet high. We didn't go inside it, but my travel guide says that non–Muslims can.

Mosque of Hassan II
La Corniche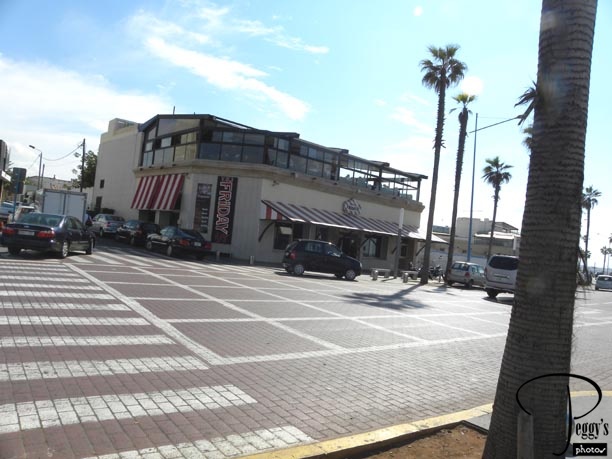 La Corniche is the walkway along the Atlantic Ocean, where we stopped for lunch. In the near vicinity was a McDonald's, a T.G.I. Fridays, and a bar overlooking the ocean. Three of us chose Fridays. Ah, finally, a full menu in English, one that I could read. I ordered, without thinking about it, a bacon cheeseburger. When the waitress told me "no bacon," I realized that Fridays had not revised their American menu to exclude pork products. Rachid and our new bus driver also ate here. Two couples ate at McDonald's and somehow the other one picked up a take–home pizza.
La Corniche
Ce Temple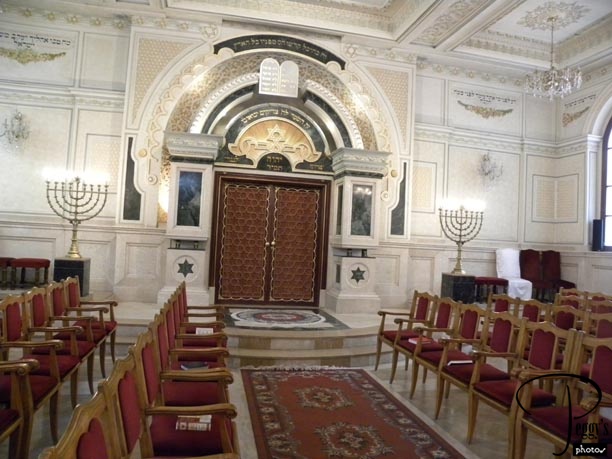 We next visited the Ce Temple, a synagogue, with beautiful stained–glass windows. I don't know when it was built.
Ce Temple
Notre Dame de Lourdes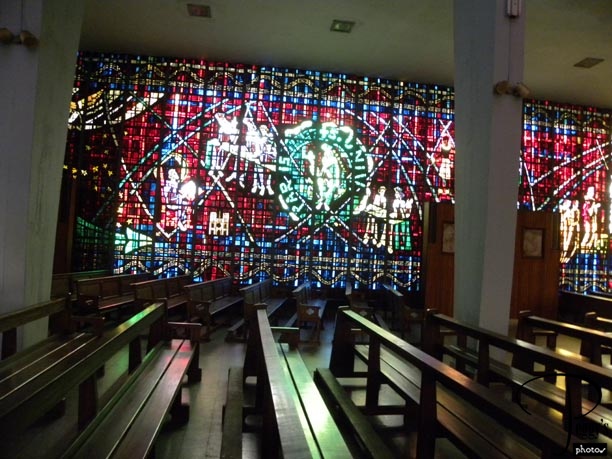 We rounded off our visit to a mosque and to a synagogue with a visit to a Catholic Church, the Notre Dame de Lourdes, completed in 1956 and also boasting some of the most beautiful stained–glass windows that you may ever see. They covered two entire walls. I was in awe, so much so that I missed the shrine to Our Lady of Lourdes outside the church.

Notre Dame de Lourdes
Cathedrale Sacre-Coeur de Casablanca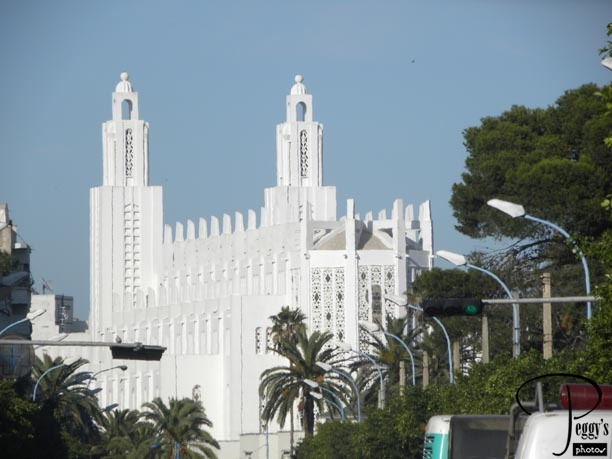 We didn't visit the Cathedrale Sacre–Coeur de Casablanca, but saw it towering over the city on our drives. It was built by the French in 1930 but stopped functioning as a church in 1956 and is now a cultural center.

Cathedrale Sacre-Coeur de Casablanca
Our Hotel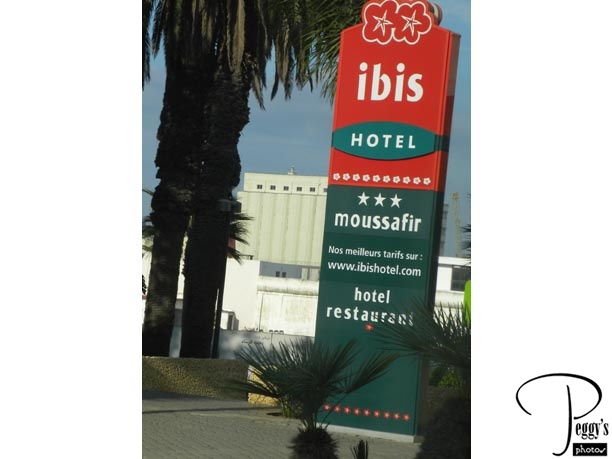 We were supposed to stay at the Prince de Paris, the hotel that we stayed at when we were first in Casablanca, but there were so many complaints about its too slow elevator that we were upgraded to the Ibis Moussafir, a very modern hotel, which we very much enjoyed. Some of the group went out to shop at the medina (our hotel was close to it), but I was running out of dirhams and didn't want to change any more money and have a bunch left if I didn't buy anything and the exchange rate back to dollars is not good.

Our Hotel
Pizza Hut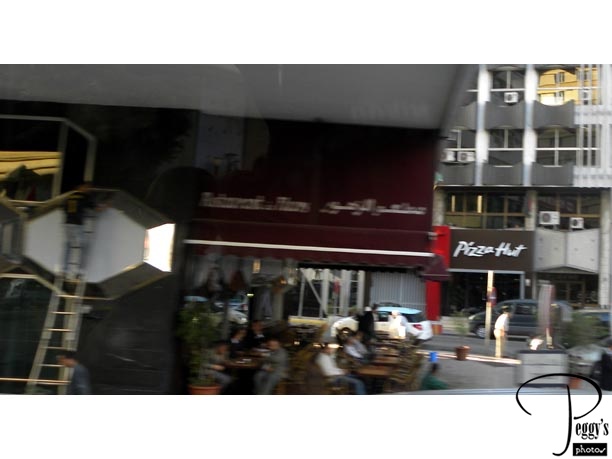 Rachid had discovered a Pizza Hut near our hotel and invited anyone who wanted him to join him to do so. Kathy, Rose and hubby, and I did. Neither Rose nor I had ever been in a Pizza Hut before––might as well do it in a foreign country. Actually, the pizza was very good. Rachid, our tour guide extraordinaire, went out to find me fly–free nougat so I could take some home with me. The next day, I flew to Madrid and spent three nights there. Morocco was so unlike the world that I live in that it will take me quite a while to process it. What an adventure! I am so glad I went on this trip.
Pizza Hut
© Copyright 2018 Peggy's Photos