Walk to Kampong Glam and back to Serangoon Road
Singapore: Merlion Statue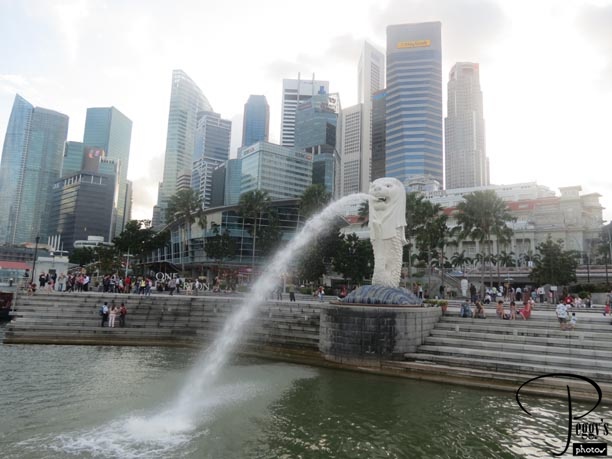 I took a 24–day trip to Southeast Asia, leaving Los Angeles on January 6, 2012, and arriving back home on January 30. First,  five nights in Singapore, then four nights in Kuala Lumpur, Malaysia, and two nights in Phnom Penh, Cambodia, before joining a Gate 1 tour that started in Phnom Penh, traveled north to Angkor Wat, then to Ho Chin City (formerly Saigon) and north to Hanoi, Vietnam. Quite an adventure.
I flew on Singapore Air aboard the new A380 that can carry up to 525 people. I was seated on the upper deck––we had our own waiting room at LAX and always a separate entrance and exit, so boarding and deplaning was quick. The front of the upper deck was business class and the back was economy––where I sat. We never  felt we were on a gigantic airplane. We stopped in Tokyo (13 hours), went through security, then boarded the same plane about 1.5 hours later, with another 7–hour flight to Singapore. A very long flight. The seats started to become uncomfortable because they are new and not broken in yet, but the service was excellent, including free Singapore Slings. I sat in a two–person row––my seatmate was a very pleasant young man from Mexico who works in the oil field and who was traveling to Singapore for training.
The Merlion statue is the symbol of Singapore. I did not go to the area it was in until day 3. Day 1 I was on my own, but for days 2–4, I had the most wonderful personal guide: Min Lee, who I had met on my tour to Portugal in 2008 and who lives in Singapore. We have kept in touch through my website. I got the insiders tour to Singapore. Thanks so very much Min.

Singapore: Merlion Statue
The Moon Hotel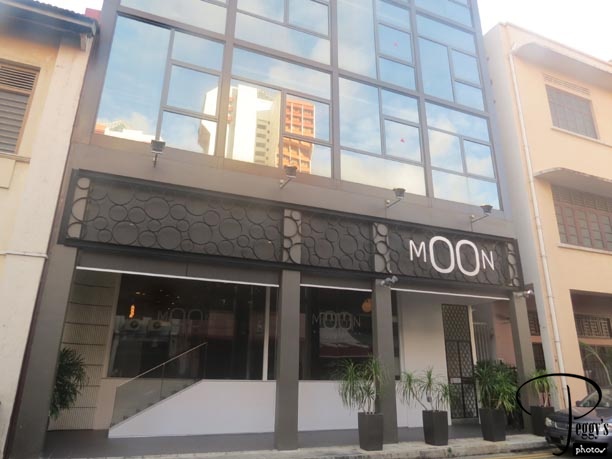 I booked this hotel in Singapore in its Little India section after finding a recommendation for it in Westways, AAA's West Coast magazine. It sounded nice, especially the price, which was about half the price of hotels in Singapore, which are quite high–priced. It is a new boutique hotel, which I actually liked except for the area it was in, one that I considered close to being a slum and I didn't want to walk out at night from it. I had to climb onto a platform to get into the bed, but the bed was so very comfortable. There was an overhead showerhead, which I also liked. Wifi in the room, six free drinks a day in the fridge, and just enough room to open my suitcases.  But I was angry at Westways for not telling me about the area it was in and now will not consider any of their hotel recommendations in the future. But I was in Little India and I probably would not have explored as much as I did of it if I hadn't stayed there.

The Moon Hotel
The Moon Hotel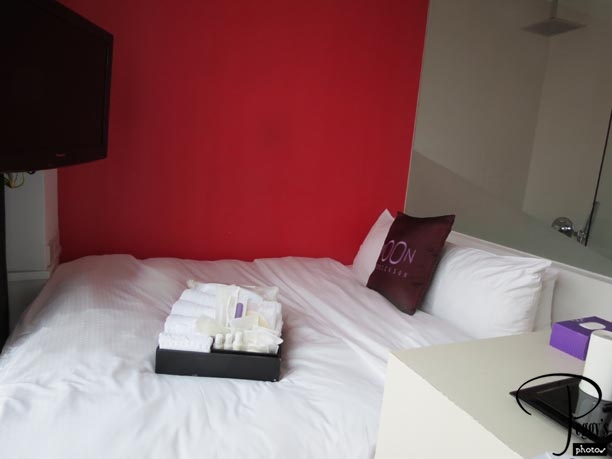 The bed.
The Moon Hotel
Moon Hotel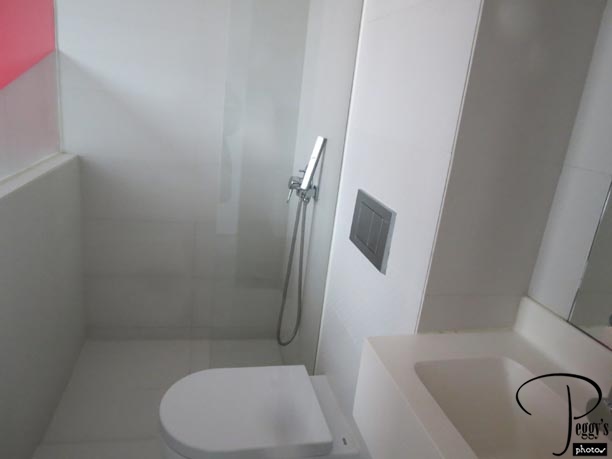 The bathroom.

Moon Hotel
Moon Hotel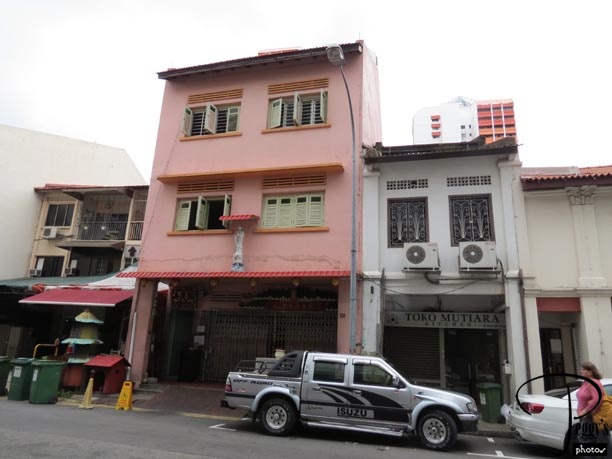 The view from my window. It looks better in the photo than in real life. These are old shophouses, which you will find in many areas of Singapore. People live on the top floors and their shops on are the bottom level. Most of the shophouses have been beautifully restored––these haven't been.

Moon Hotel
Moon Hotel
Statue on the shophouse across the street.

Moon Hotel
Singapore Walk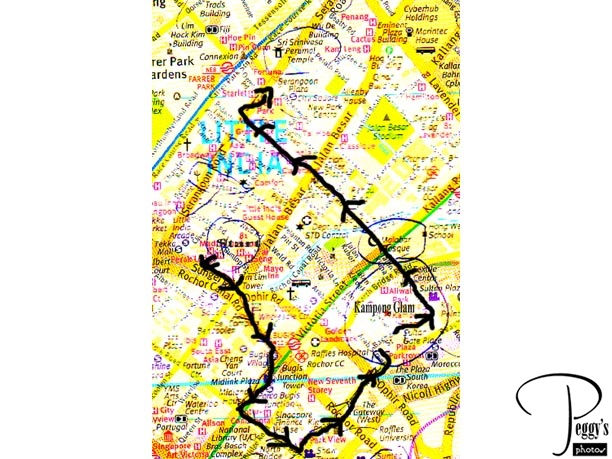 I arrived at the Moon Hotel about 4:30 a.m. on Sunday, January 8. I had booked my room from January 8, not thinking that I should have booked it from January 7, but the hotel did have a very tiny room available for that morning and then changed me to a larger room. I took a shower, then a nap, and I was ready to go explore. I walked to an area that I didn't think Min would be taking me that seemed interesting. I was heading to the Kampong Glum area, which I thought would be Indian Muslim since it was in Little India, but it was mostly Chinese Muslim with some Turkish flavor. Singapore is multicultural and one ethnic group seems to run into another and sometimes they are mixed up in an area.  From the map, I now know where I made a wrong turn. Reaching Kampong Glum took me much longer and many more steps (miles?) than it should have. The map is also deceptive––the distances are much longer than I thought they would be. But I saw much of interest on my unintended detour, including the Chinese New Year's market in the Bugis area. I went out with just my camera around my neck, my camera case with its strap across my chest, an umbrella (it rains periodically in Singapore), my map, my guide book, and a walking stick to hit pickpockets with. I was able to get a plastic shopping bag to put my umbrella, map, and guidebook in and no one bothered me. Singapore is a safe city, but as I was walking by myself and I would rather not take chances.  The map shows the route that I took.
I have put my photos of the day on two slide shows on this website. Go directly to
http://www.peggysphotos.com/singapore–walk–day–1a/
and
http://www.peggysphotos.com/singapore–wallk–day–1b/
or to Slide Shows, Asia, Singapore, "Singapore Walk––Day 1(A)" and "Singapore Walk––Day 1(B)."

Singapore Walk
Merlion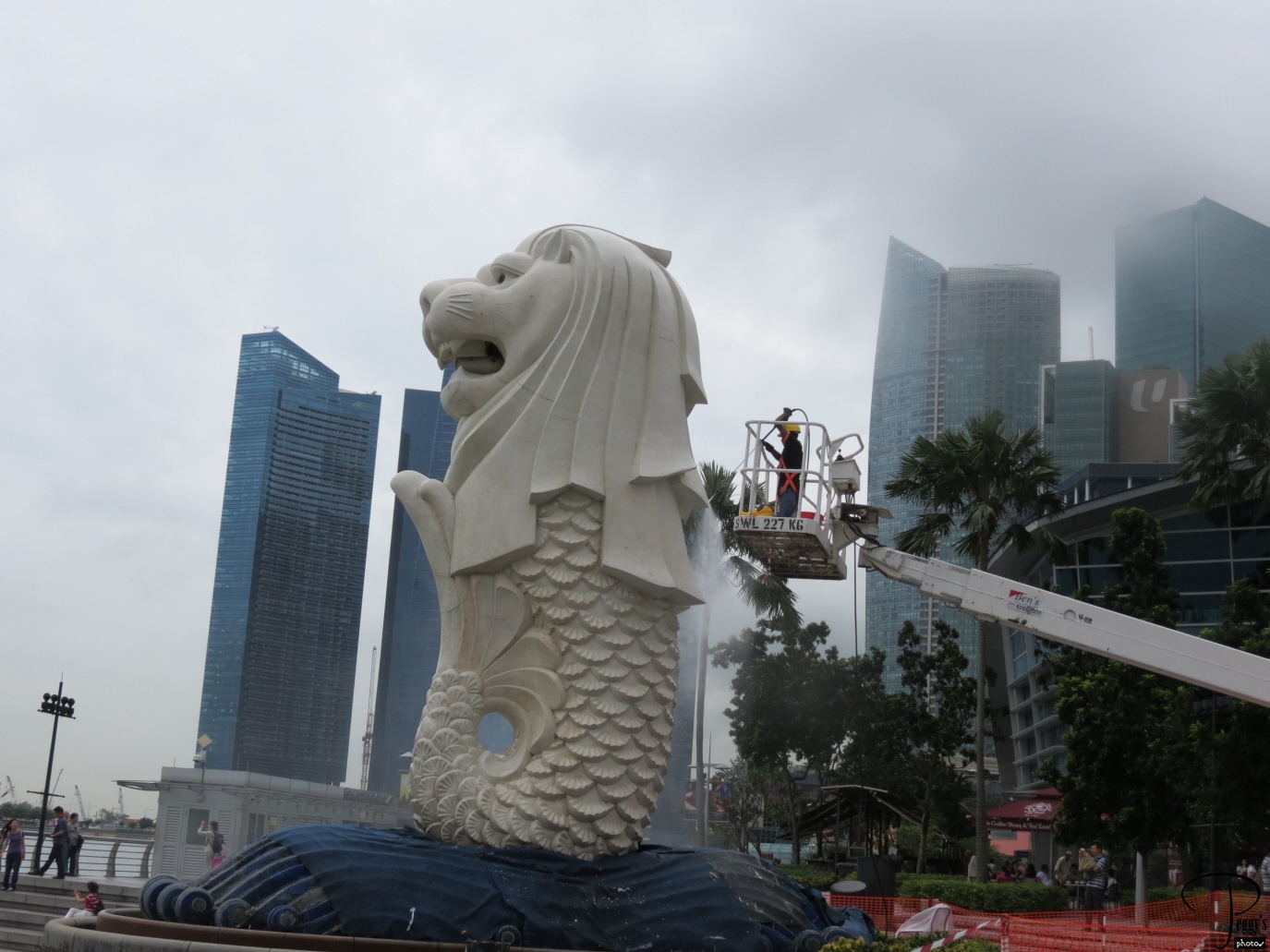 Another view of Merlion.

Merlion
© Copyright 2018 Peggy's Photos