Day 1: Arriving in Iceland and a Walk in Reykjavik
Plaza Hotel, Reykjavik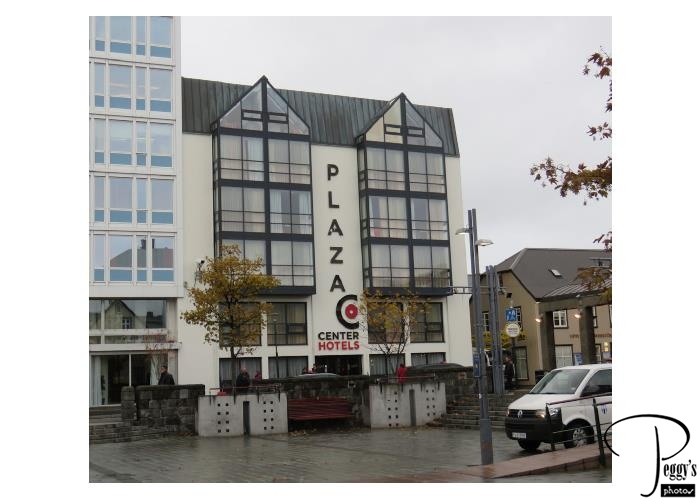 I flew from Halifax, Canada, at 10 p.m. to Iceland on Icelandair, arriving at 5:30 a.m., a four–hour time difference between the two countries and a 3–hour 15–minute flight, all meaning that I didn't get much sleep that night. My friend, Lyn, and I would be visiting Iceland together. I waited at the airport for her to arrive––she flew from Los Angeles to Seattle on Alaska Airlines and then from Seattle to Iceland on Icelandair (Icelandair doesn't fly from Los Angeles).
We had vouchers from On the Go Tours, a British travel agency, for the Flybus from the airport to our hotel, for our hotel, and for our tour. The Flybus is a large bus which takes you from the airport to a bus terminal in Reykjavik, then you retrieve your luggage and put it on a smaller bus for the ride to your hotel.
Our hotel, in the photo, was the Plaza. We couldn't have had a better location for our hotel as it was near the harbor and also right in the old part of the city, except that it was also near the bar area which has a swinging, loud nightlife. Lyn asked for quiet rooms, which we were given. The rooms in the Plaza are very small but the hotel's location made up for the size. Many tours book their groups at this hotel.
Plaza Hotel, Reykjavik
Reykjavik Walk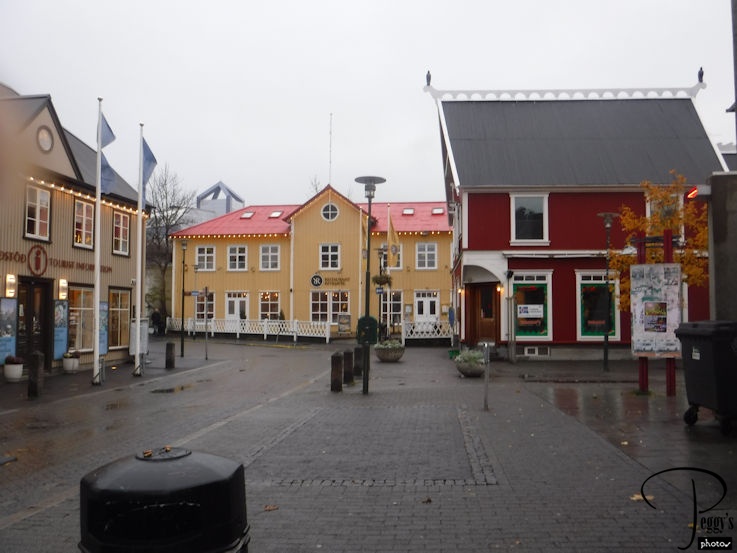 Our rooms weren't ready yet, so we went out for breakfast and then for a walk around Reykjavik. For the first part of our walk, it was raining and also very cold and very windy. Lyn came from the warm California sun and I came from sometimes rainy, cold, and sometimes windy weather in Canada to sometimes rainy, much colder, and much windier weather in Iceland. However, the weather in Los Angeles was so hot this last year that we both found the Iceland weather refreshing––most times.
The first thing you must do in Iceland is to learn how to pronounce Reykjavik. It is close to Rey–ka–vek. And you next have to learn to pronounce it very quickly as the Icelanders do. Best to go to one of the many internet sites that will pronounce it for you.
Photo: the square across from our hotel.

Reykjavik Walk
American Bar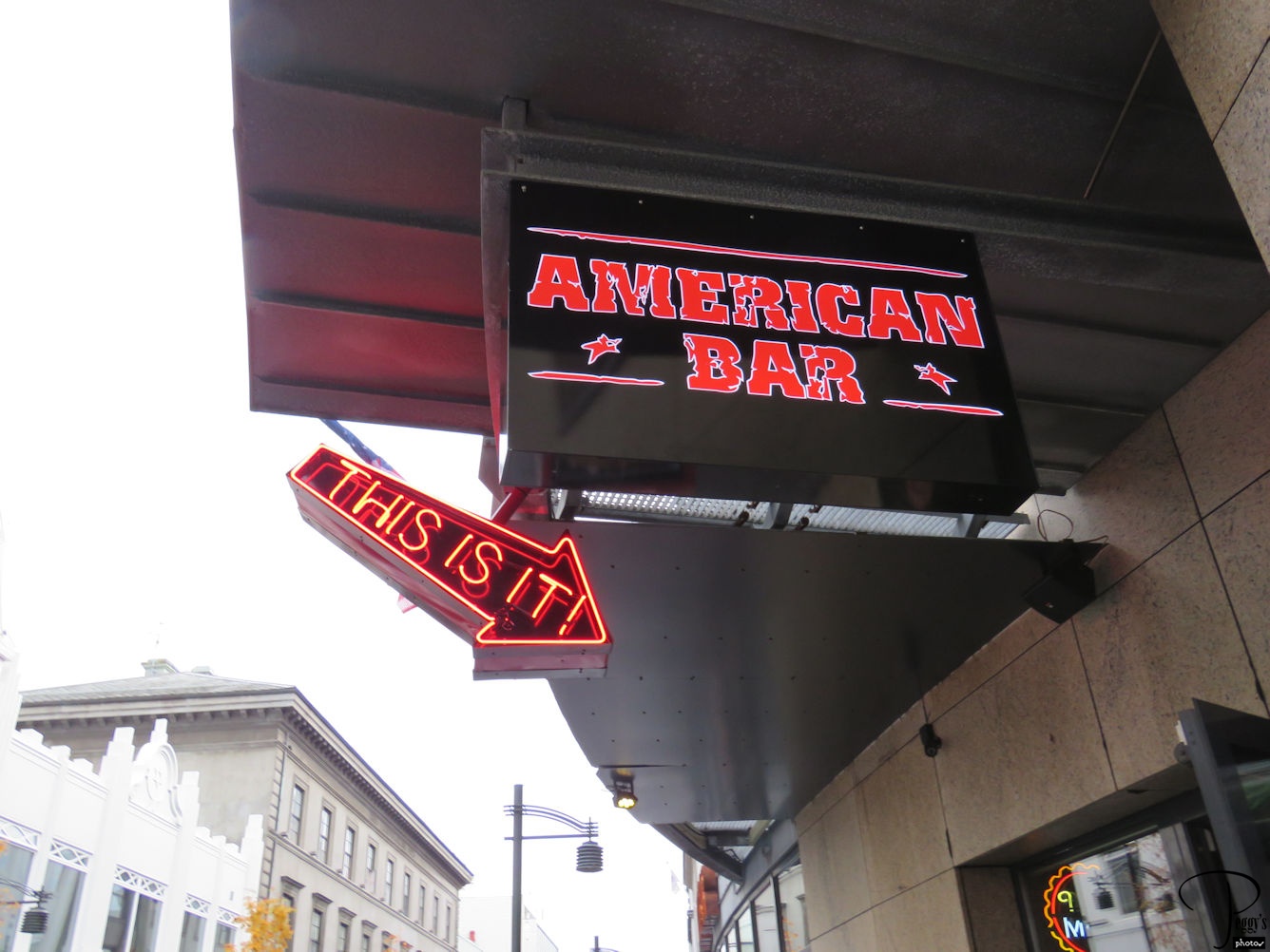 On our way to breakfast, we passed the American Bar, one of many, which included the Brooklyn Bar, the English Pub, and Viking among others.
Iceland, an island country close to the size of the state of Kentucky, has a population of only about 320,000, with about 200,000 living in the greater Reykjavik area. But it will have over 1 million visitors in 2015.

American Bar
Kebabhusid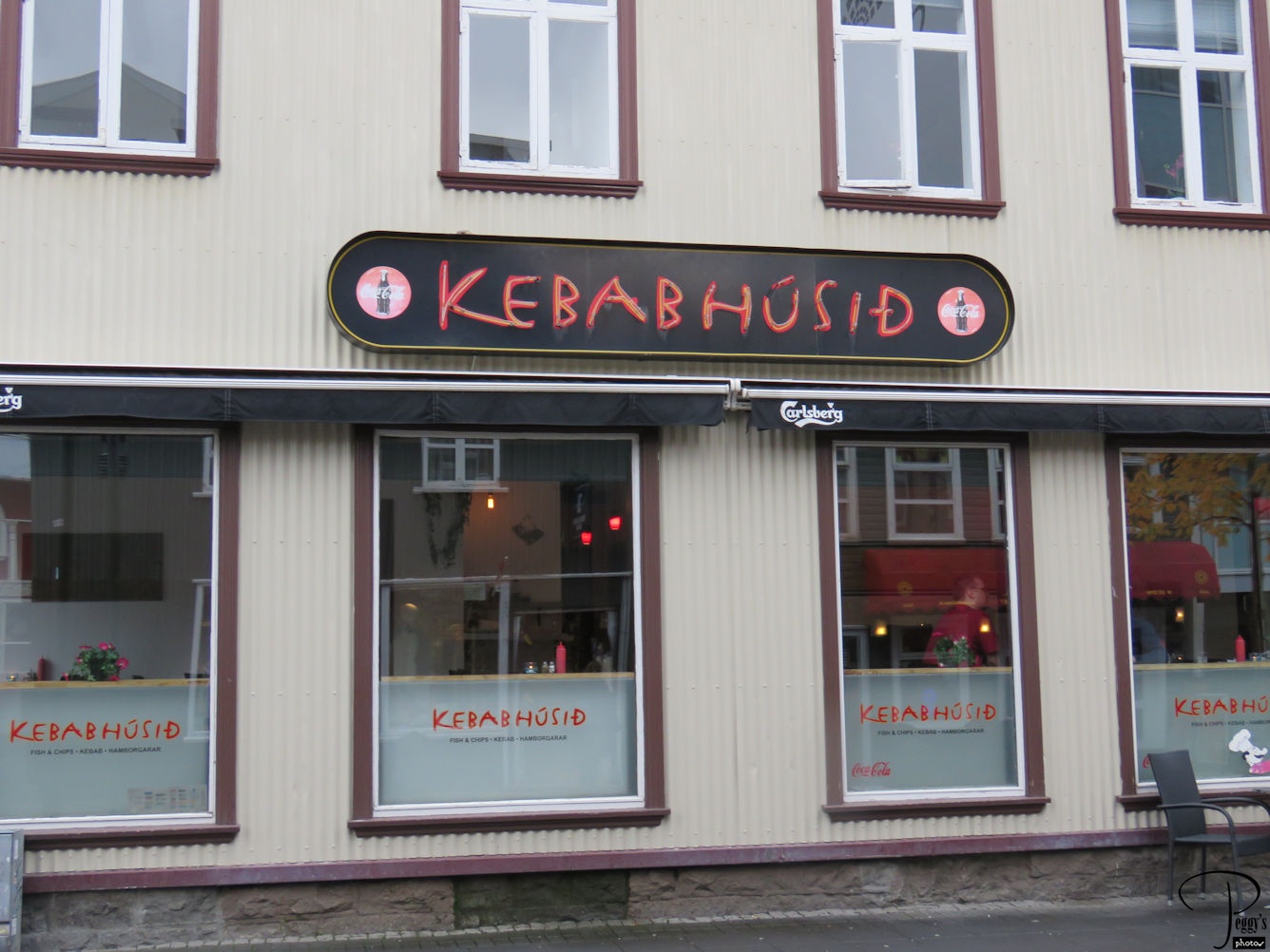 There were many, many restaurants in this area as well, an international cuisine as well as of Iceland. Here, the Kebabhusid (husid means house).

Kebabhusid
Lamb Soup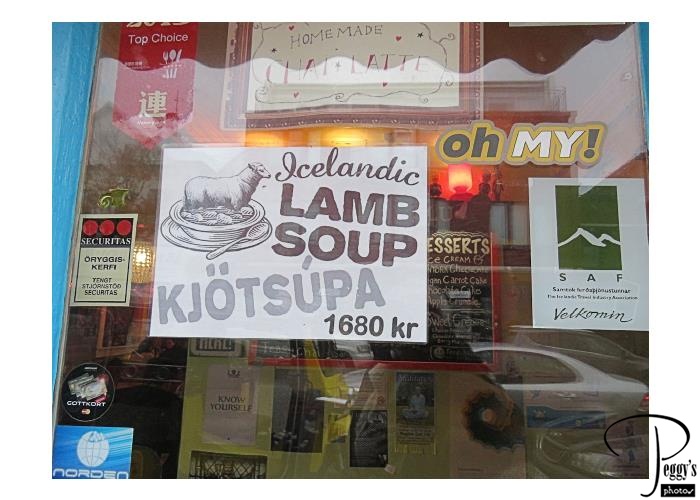 Icelandic restaurant serving lamb soup, about US$12.70.
Lamb Soup
Coffee House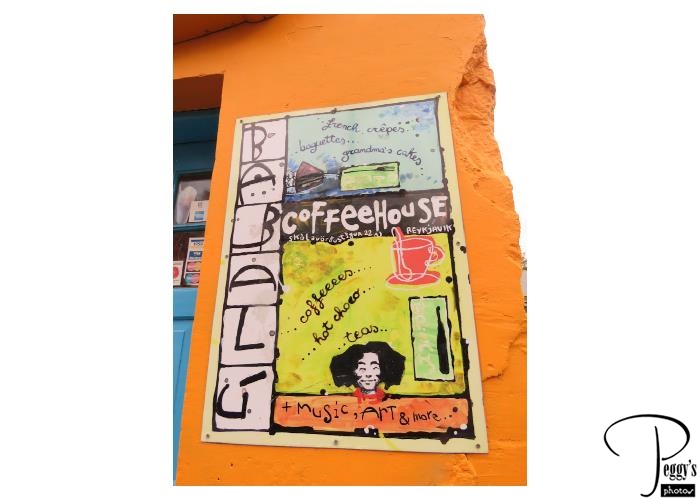 Along with the numerous restaurants are also numerous coffee houses.

Coffee House
Icewear
There were also numerous stores, many selling cold–weather wear and others selling Iceland and Nordic products.
Icewear
Icelandic Trolls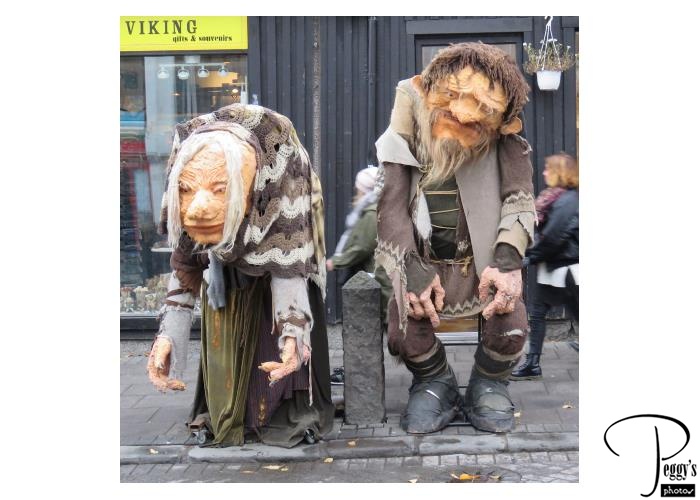 The best public art in Reykjavik: the Icelandic trolls.

Icelandic Trolls
Reykjavik Houses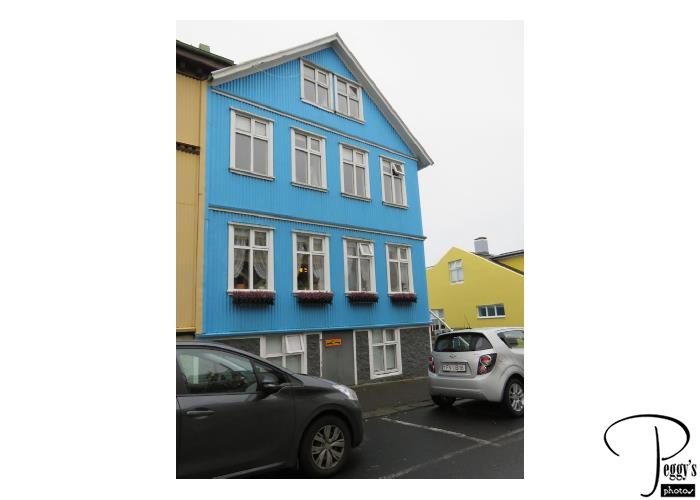 Many brightly colored houses in Reykjavik.

Reykjavik Houses
Hallgrimskirkja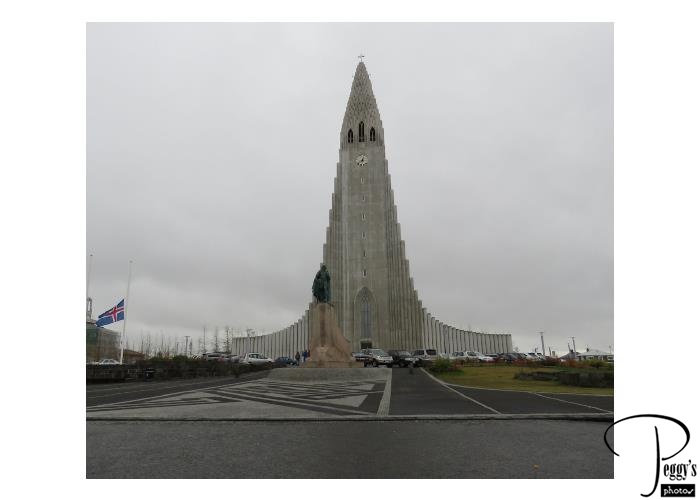 Reykjavik's landmark, the Hallgrimskirkja, a Lutheran Church, 244 feet tall (73 m) towering over the city.

Hallgrimskirkja
Rainbow Street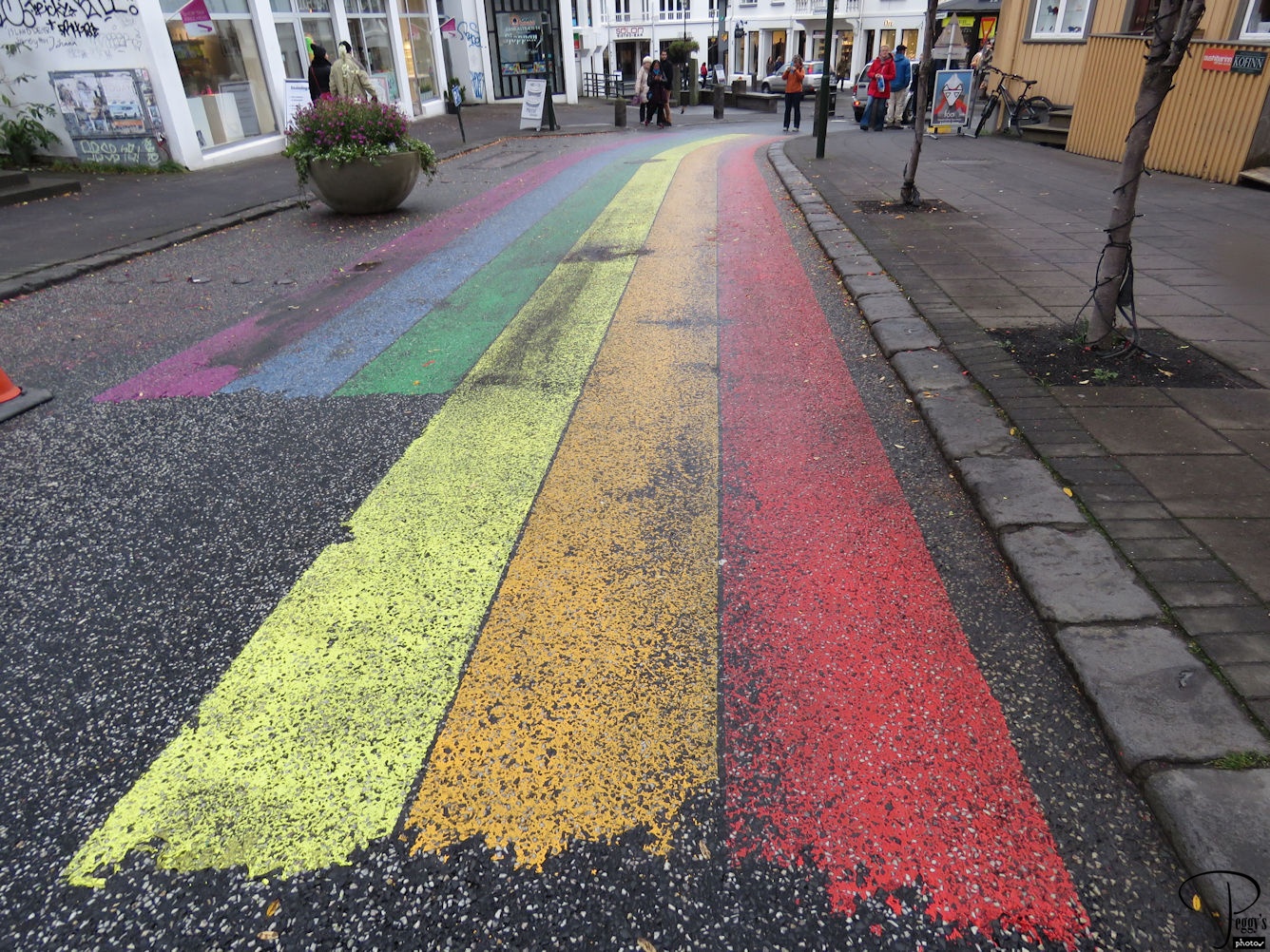 Reykjavik's Rainbow Street, celebrating the city's Gay Pride Festival.
I have put my photos of our Reykjavik walk on two slide shows. Go to
http://www.peggysphotos.com/reykjavik–walk–1/
and
http://www.peggysphotos.com/reykjavik–walk–2/
(Slide Shows, Iceland, "Reykjavik Walk–1 and –2").

Rainbow Street
The Geysir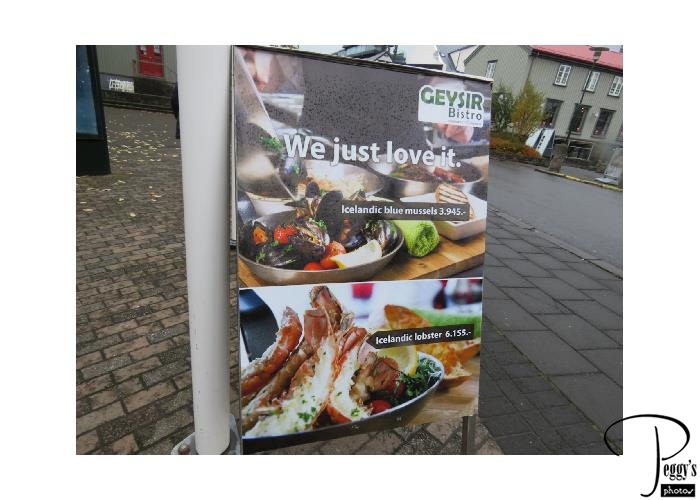 Our rooms were ready were we got back to our hotel and we took a much needed nap. Then out to dinner at the Geysir restaurant near our hotel.

The Geysir
Langostino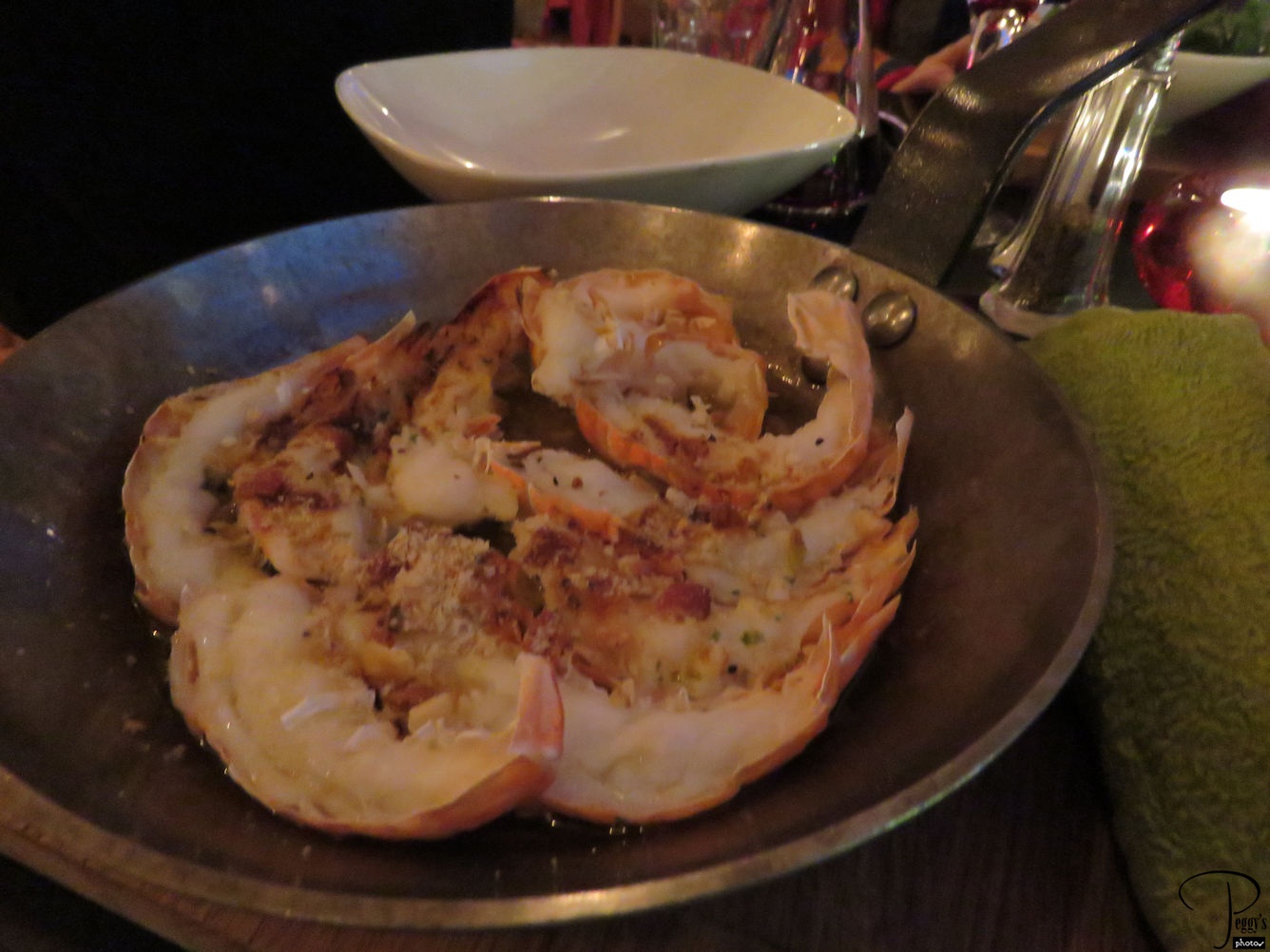 Lyn and I both ordered langostino in garlic sauce. It was so very good and we told our waitress that. She actually brought us more of it at no extra cost.

Langostino
Rice Pudding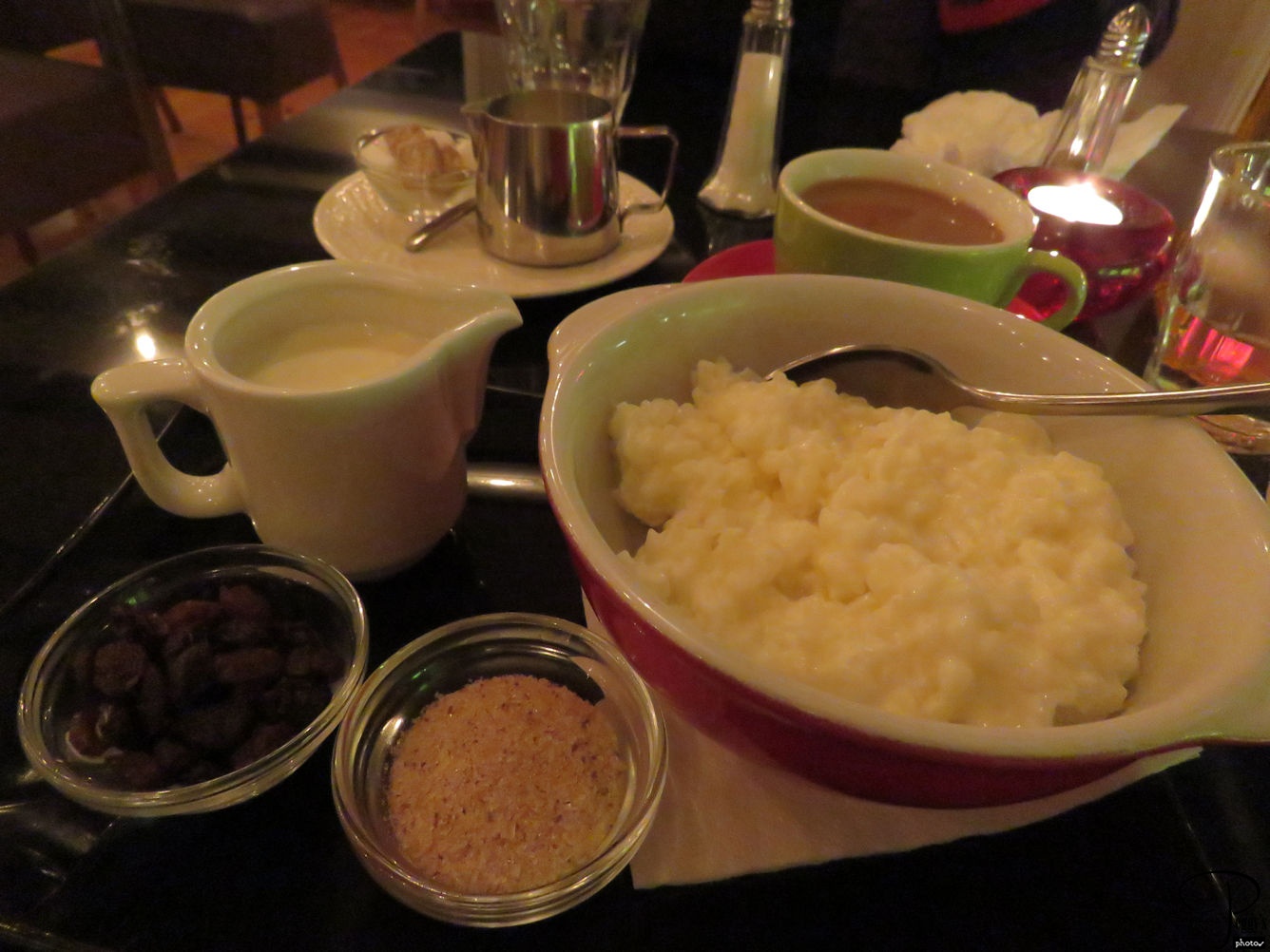 I had delicious rice pudding for desert––add your own milk, raisins, and cinnamon.
Rice Pudding
© Copyright 2017 Peggy's Photos