Go Ahead Tour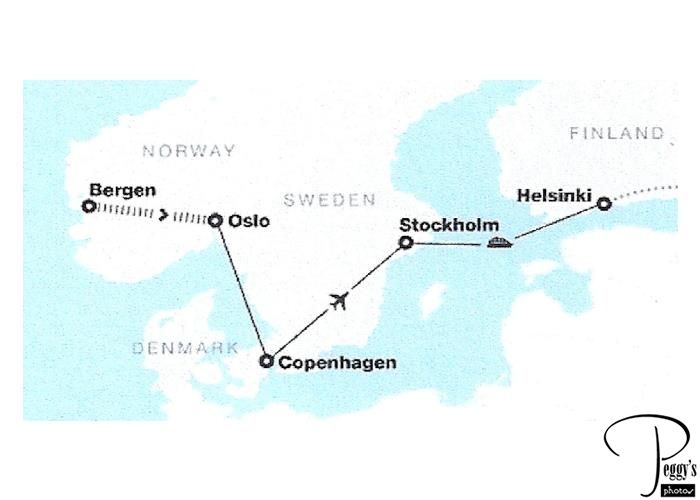 I took a Go Ahead tour named Scandinavia: The Capitals to the Fjords, which went to Norway, Denmark, Sweden, and Finland, with an optional trip to Estonia, a Baltic nation. There was also an optional extension to St. Petersburg, Russia, but no one on the tour opted for it (I had already been there). The tour started in Bergen, Norway, and traveled via buses, ferries, and trains.
To get to Bergen, I flew from Los Angeles to London to Oslo to Bergen. To get to the LA airport, I had a very scary ride on the Super Shuttle with a driver who drove too fast and too close to the car in front. After he almost hit the first car, you would think he would slow down and leave more room in front. No, he kept it up until he just barely missed a second car and only avoided hitting it by pulling partly into the lane to the right.
I had a couple from Sweden as my seat mates from LA to London and then a couple with a young baby from Bergen on my flight from London to Oslo, who actually was on my plane from LA. I got to hear about Norway's socialist system: a year off for the mother of a new baby with full pay and 6 months off for the father with full pay. They were coming back from a round–the–world trip via air. Add to the mix free health care and free public schooling including the university level. But the tax rate is about 50%.
At Oslo, I had 45 minutes to get off the plane, pick up my checked bag, take it through customs, drop it off, get a boarding pass for the next flight as I wasn't given one in LA, go through security, and then rush to the gate that was one of the farthest away from the security lines. But my checked bag did not arrive but I decided to report it when I arrived in Bergen. So I made it to my next flight in 44 minutes and was the last one on the plane.
I took a taxi from the Bergen airport to my hotel as to arrange a driver would have cost me $175. The taxi was under $50.
Go Ahead Tour
Bergen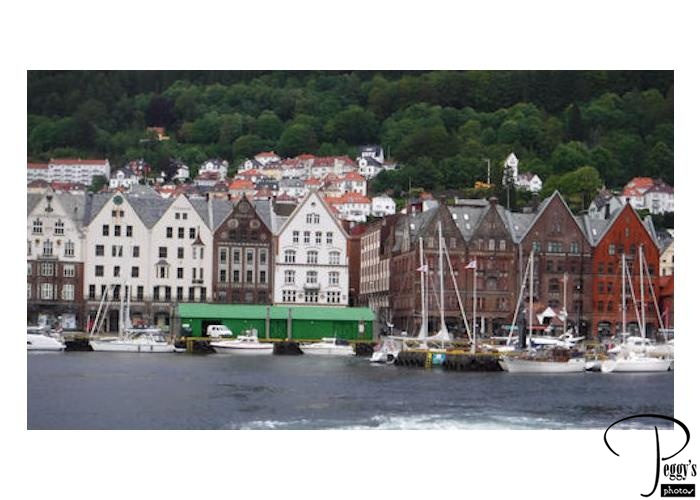 I arrived in Bergen one day before the tour started as I wanted to see more of Bergen. It is a World Heritage City and just delightful, except for the rain the first day I was here. It rains more than half of the days each month. I walked around, went up the funicular to Mount Floyen, and took a ride on the hop–on hop–off bus. While on the bus, it really started to rain heavily and part of roof tarp came loose, dumping a deluge of water on top of my head. I went back to my hotel looking like a drowned rat. I was starting to feel very sorry for myself. The clothes I had washed out from yesterday still had not dried and no news about my missing suitcase.
Photo: The old Bryggen area of Bergen, dating back to the German Hanseatic League, which controlled the trade here in the early 1700s.
Bergen
Our Tour Director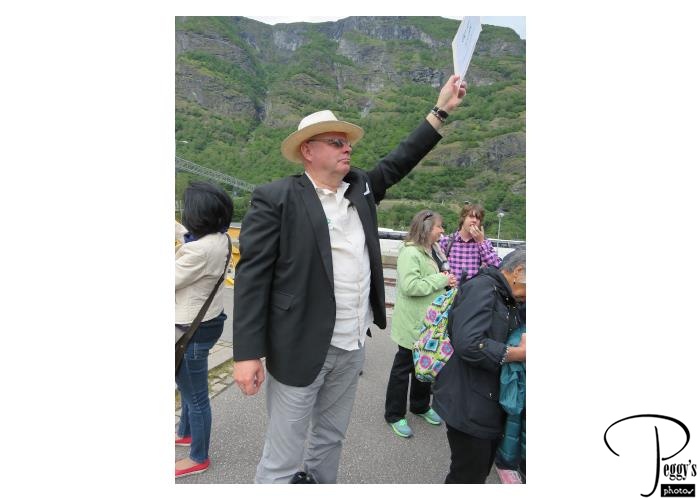 The next day I met my tour group and our tour director, Per (photo taken later). Also, my friend, Lyn, who was also taking the tour had arrived. I had someone's shoulder to cry on, but I didn't, I went out shopping for new clothes instead! My suitcase finally arrived the next day minus its TSA strap, so I knew that somewhere along the line my suitcase was searched. (One woman on my tour never got her missing suitcase for the entire trip, but that was probably due to her two canceled flights.) All was now looking up and no more problems occurred on the rest of the trip. I know I enjoyed the tour more than I would have had by having Lyn on the tour with me (and also a very good tour group).
We had 30 on the tour and plenty of room on the buses for seats near the windows. Most of my tour mates were either from California or New York, with four very familiar with my hometown on Long Island, New York, even knowing some of the people I had known. A special treat.
Our Tour Director
Bergen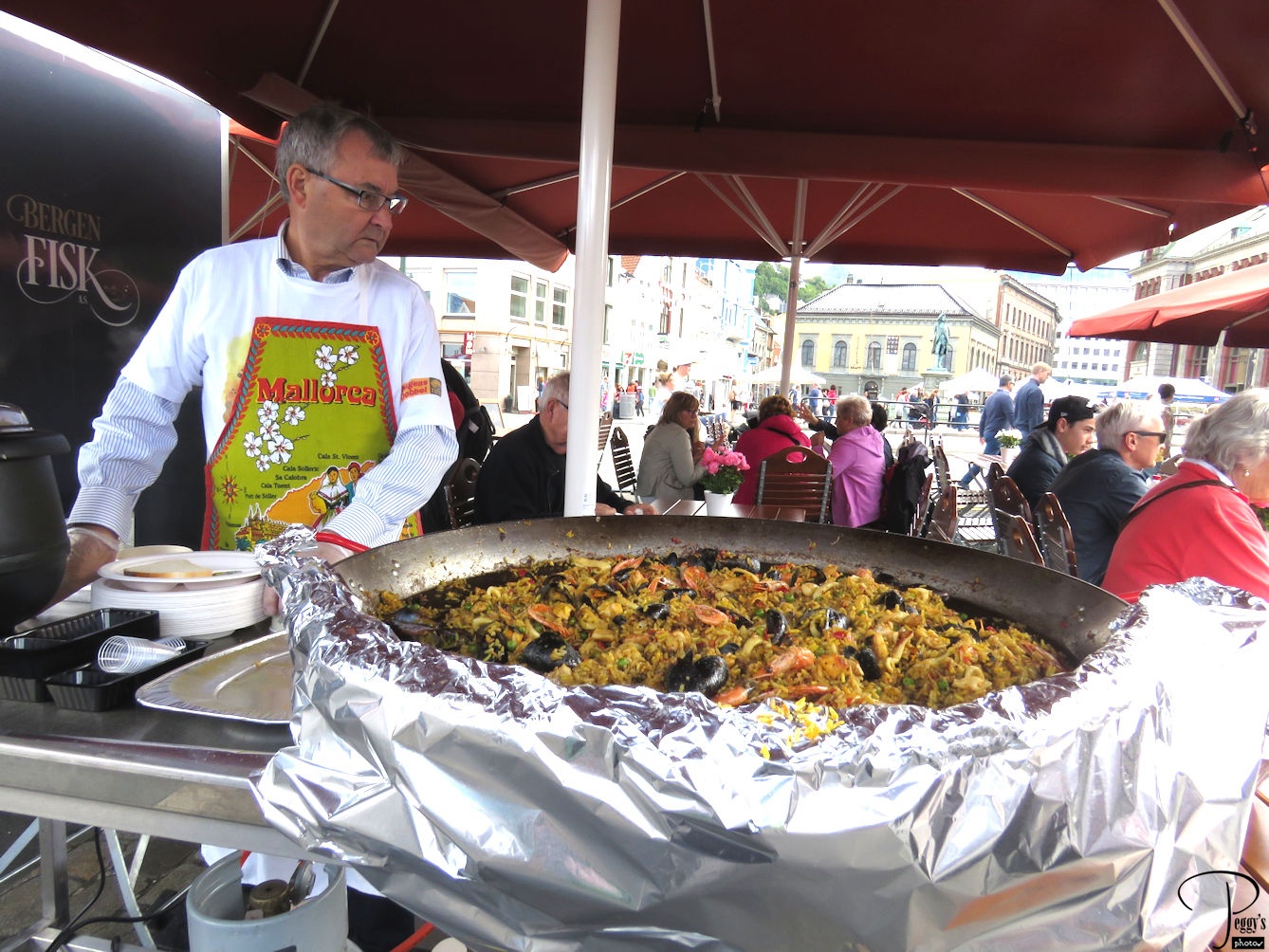 Some photos of Bergen: The Fish Market, both an indoor and an outdoor one. The market is really for the tourists as it doesn't get busy until about lunch time. You can eat all kinds of fish in Bergen, including very delicious lobster. You can also find moose and reindeer to eat.
We found food to be very expensive in Scandinavia, especially in Norway––about double what you would pay in the United States. In regard to the food prices, Per kept saying "It is what it is" and it definitely was.
Bergen
Trolls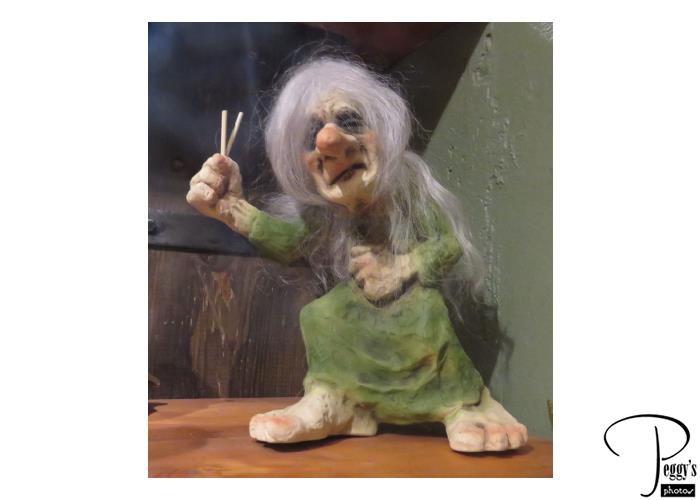 Trolls are supernatural beings of Norse mythology and Scandinavian folklore. They are known to be dangerous, ugly, and slow–witted. You see plenty of trolls in Scandinavia (for sale).

Trolls
Viking Past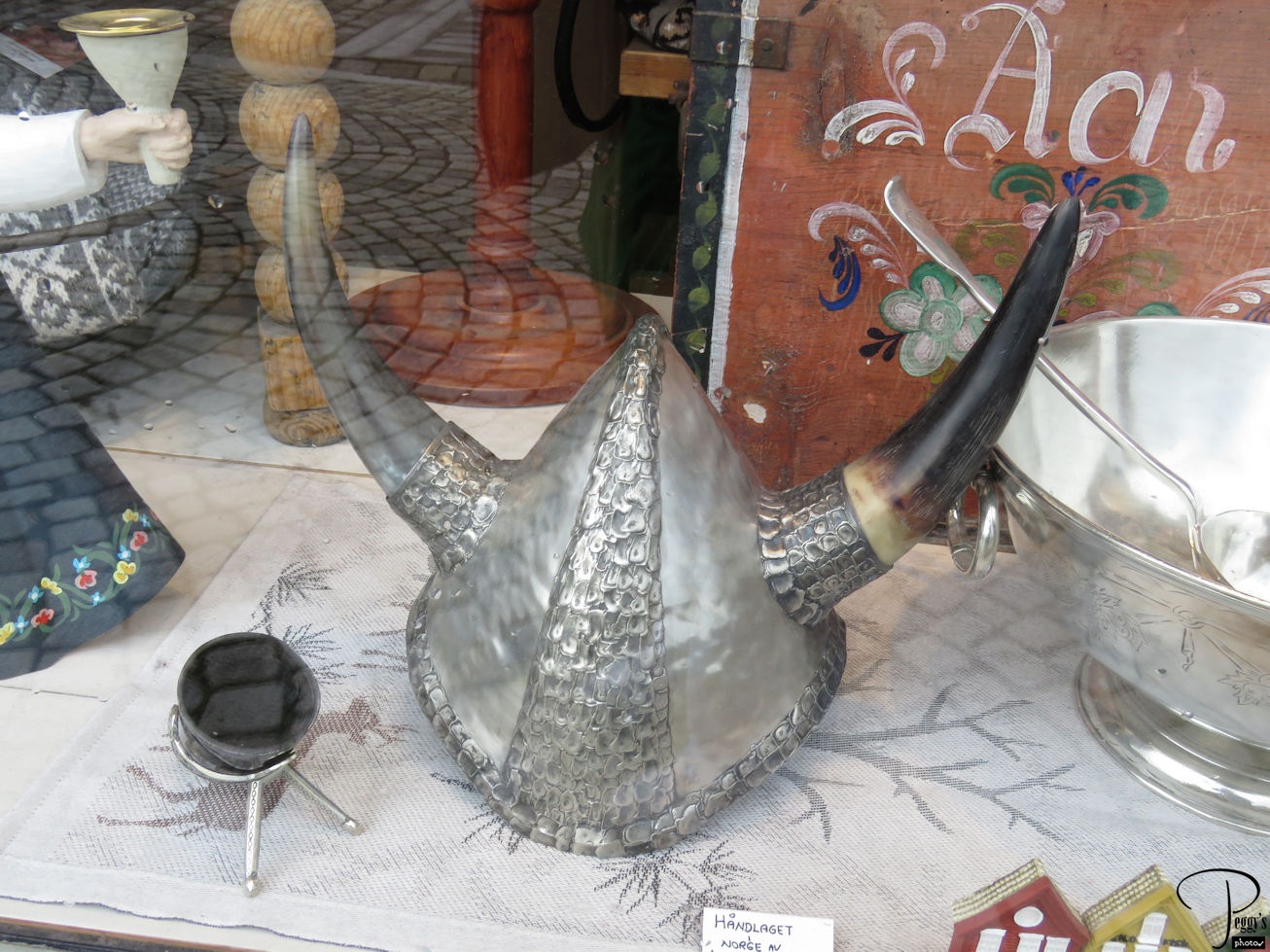 The Vikings were here in Norway from about 800–1050. They were also in what is now Denmark and Sweden. Many Viking souvenirs for sale.

Viking Past
Bergen from Above
A view of Bergen from the top of Mount Floyen reached via funicular. Bergen was a population of 240,000 and is Norway's second largest city, behind Oslo. The total population of Norway is about 5.1 million people. A small population but a country rich in oil. It is a constitutional monarchy with a king and a queen: King Harald V and Queen Sonja.
I have put my photos of Bergen on two slide shows. Go directly to
http://www.peggysphotos.com/bergen–part–1/
and
http://www.peggysphotos.com/bergen–part–2/
(Slide Shows, Scandinavia, Norway, "Bergen––Part 1 and Part 2")

Bergen from Above
Edvard Grieg's Home, Troldhaugen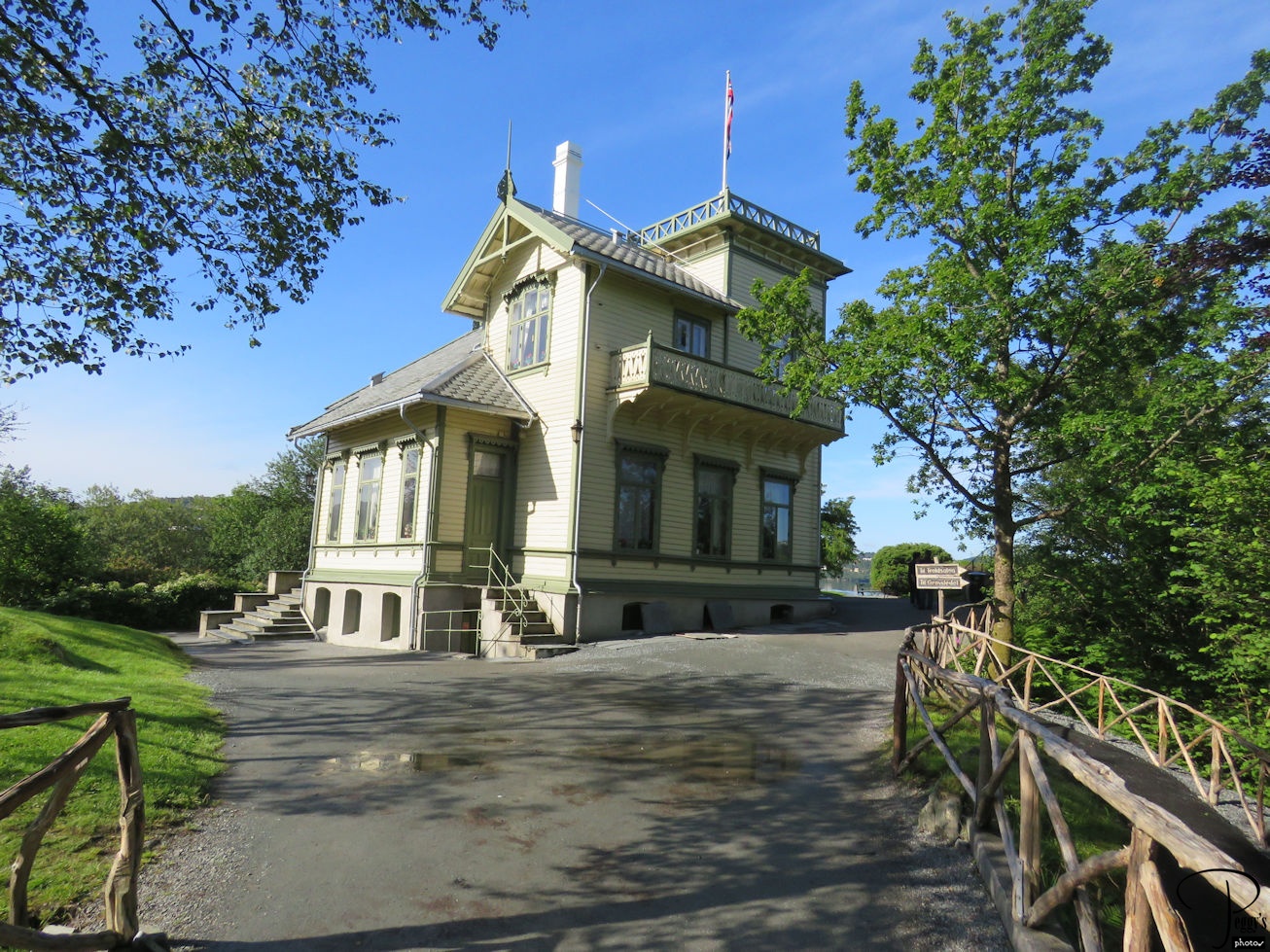 On our tour, we drove outside Bergen to Edvard Grieg's house. He is Norway's greatest composer.

Edvard Grieg's Home, Troldhaugen
Frantoft Stave Church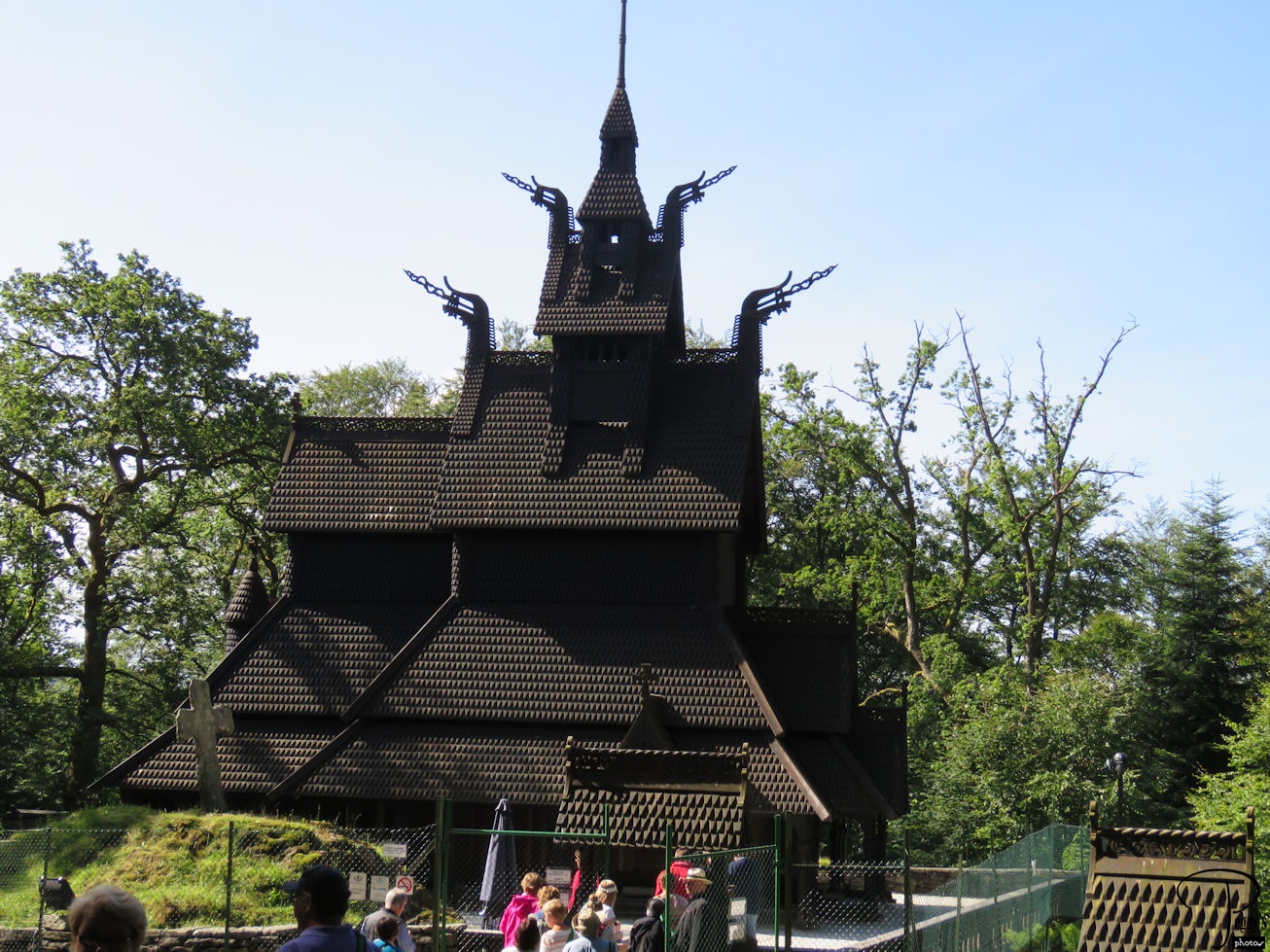 After visiting Edvard Grieg's house, we stopped at the Frantoft Stave Church. There are only 28 stave churches left in Norway, which are medieval houses of worship. I have put these places on a slide show. Go directly to
http://www.peggysphotos.com/outside–bergen/
(Slide Shows, Scandinavia, Norway, "Outside Bergen."
After visiting these two places, we had a short tour of Bergen.
Some notes:
I took some of my photos with a waterproof camera, a great camera to use when it rains, so I didn't have to worry about my regular camera getting wet.
I had brought some Norwegian money with me, but used an ATM in Denmark and Finland for small amounts of their currencies. The ATM charges from my bank were outrageous plus a small charge from the foreign banks. But everyone uses credit cards here, including for small items and to pay for taxi cabs. If your credit card company doesn't have a conversion fee, this is the more economical way to pay for items.
My hotel told me that many checked bags on flights from Oslo to Bergen are delayed. Much better to fly to Bergen from another city.
The temperature here in July was very pleasant, about what we would have in Los Angeles in the winter––that is, if we had had a winter this year. So I got to wear my LA winter clothes on my trip. But take a raincoat and an umbrella.

Frantoft Stave Church