Ho Chi Minh City, City Tour, Gate 1 Tour Day 5(B)
The Municipal Theatre (The Opera House)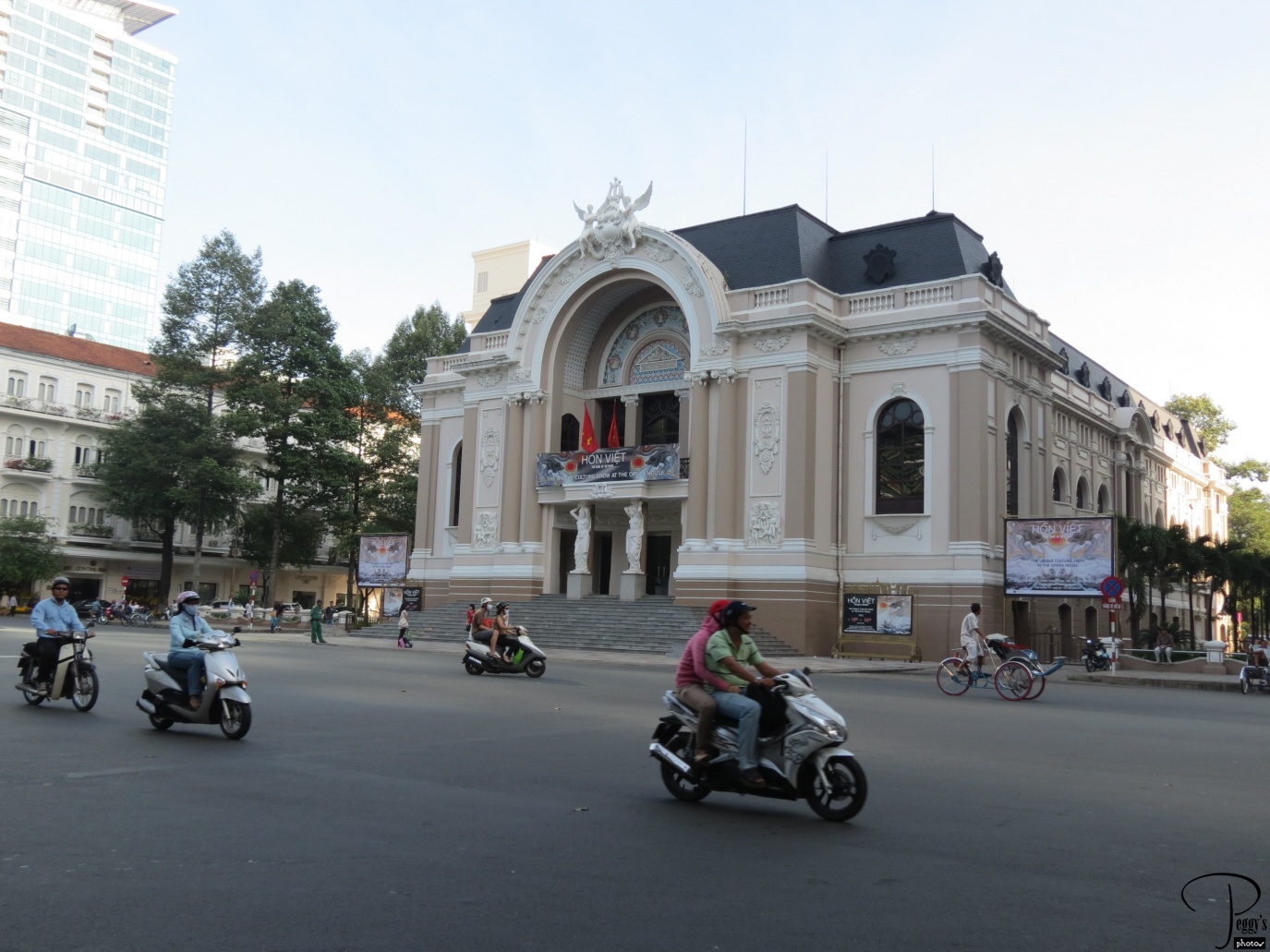 Today, we added the last two of our tour group––a couple from the best city in the world: Los Angeles. The man was a Persian–American and his wife was a Thai–American and a very nice addition to our group. We started our walking tour from our hotel. Tho told us that we had to stick together like sticky rice as it was (1) risky to cross the street in Ho Chi Minh City because of all the motorscooters and (2) there is often theft of belongings by those riding by on motorscooters.
Our first stop was a photo–op across the street from the Municipal Theatre, also referred to as the Opera House. It was built in 1899 as a concert hall for the French. In fact, most of the beautiful buildings that we were to see on our walking tour were built by the French during colonial times.

The Municipal Theatre (The Opera House)
Ho Chi Minh Statue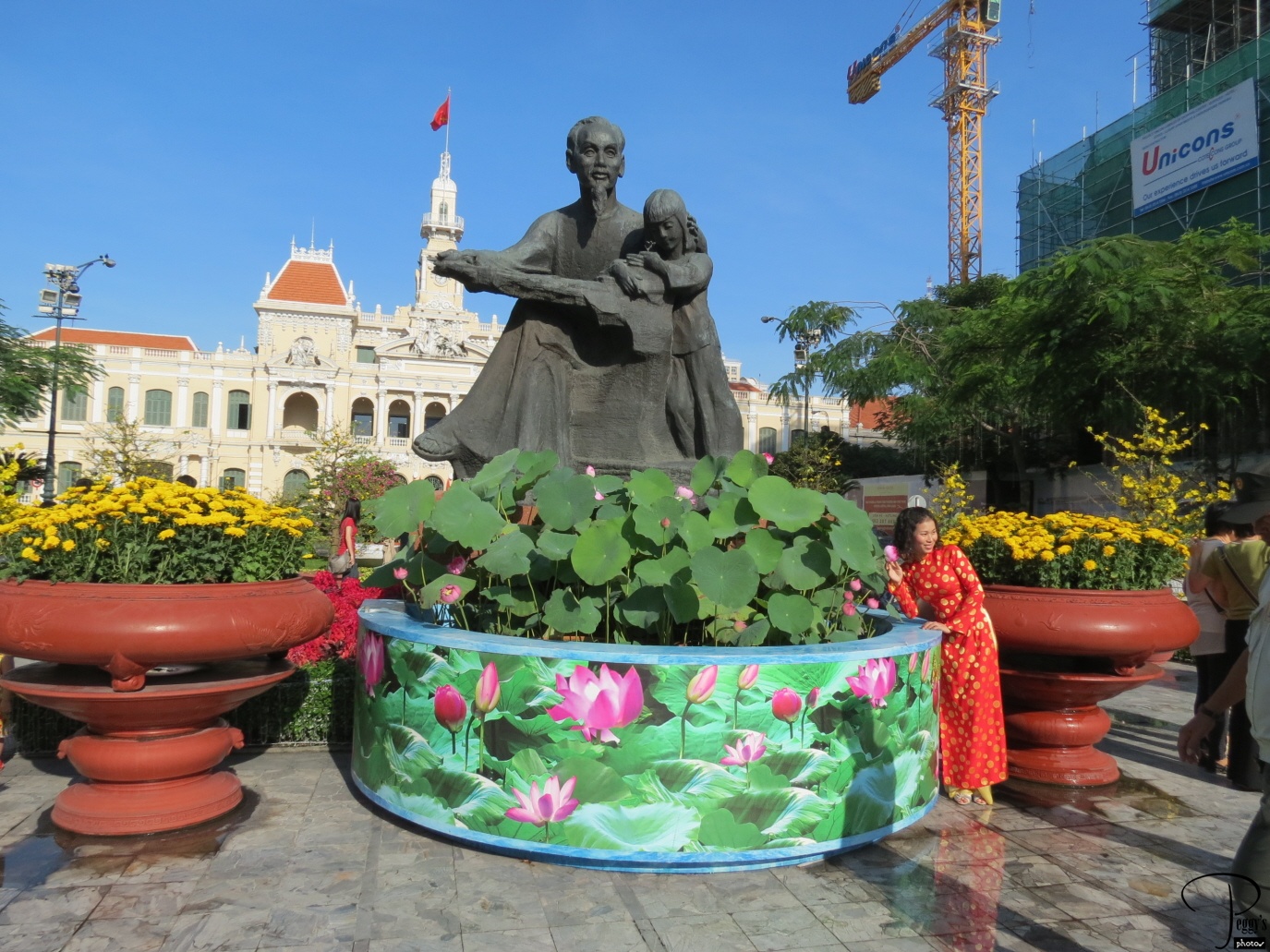 We stopped at the Ho Chi Minh statue in front of the Hôtel de Ville de Saigon. Ho Chi Minh is revered here because he was mainly responsible for the reunification of Vietnam––but as a Communist state. Saigon was renamed Ho Chi Minh City after Vietnam was reunified. To Americans, he represented what we were fighting against in the Vietnam War––the Communists. In Vietnam, this war is called the American War.
My feelings: we were guests here of the Communist Vietnam government––it issued our visas. We were not here to argue or to give our American viewpoints about the war, but, rather, to observe what Vietnam is today and also to visit some of the places that we heard about for 10 years on our nightly news programs or read about in our newspapers. We had no Vietnam veterans on our tour.

Ho Chi Minh Statue
Hôtel de Ville de Saigon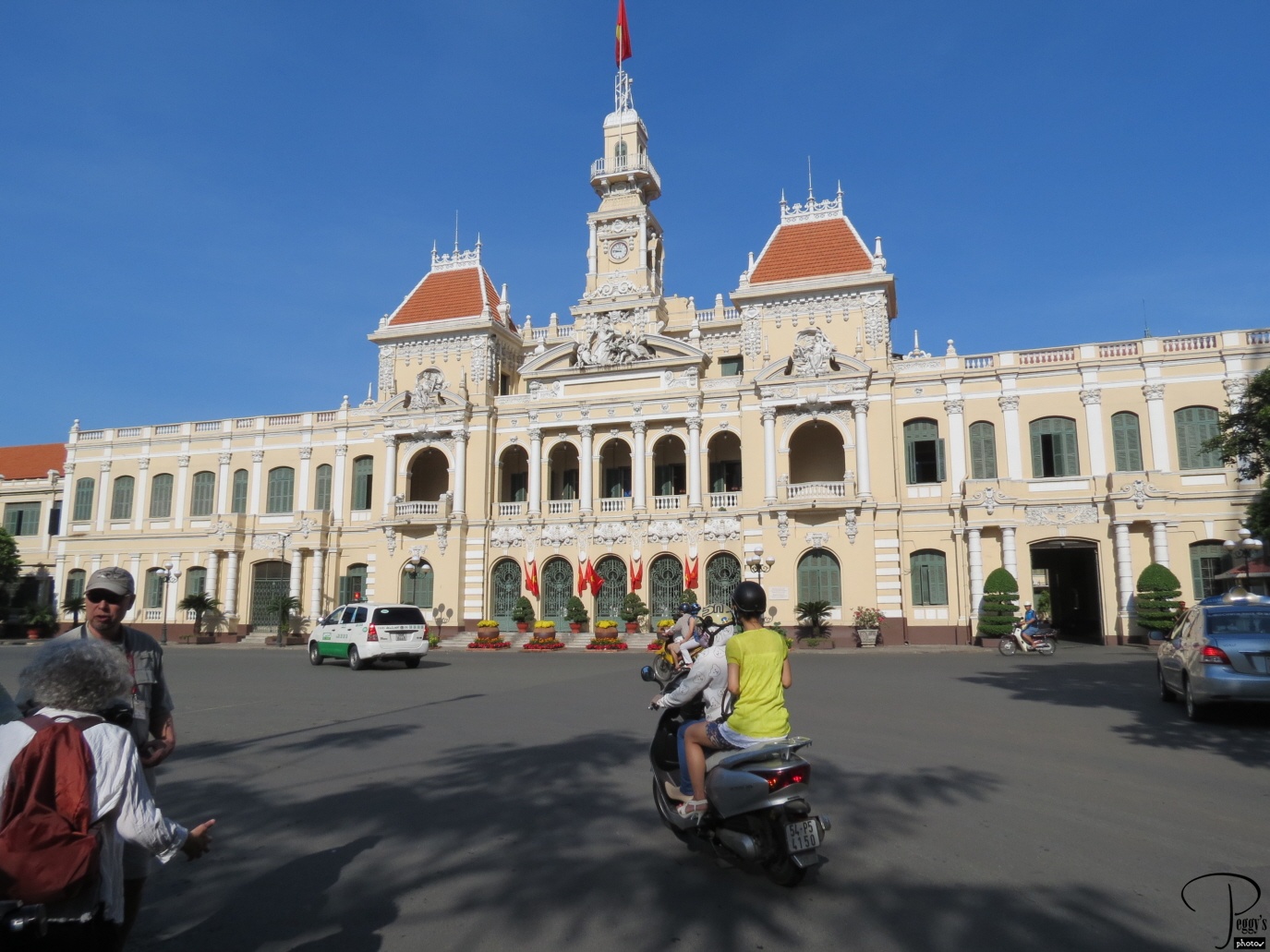 The Hôtel de Ville de Saigon, Hôtel de Ville being the French name for a city hall. It was built in 1908, modeled after the Hôtel de Ville in Paris. It is probably the most beautiful building in the city. It serves today as the Ho Chi Minh City People's Committee Head Office and I have read that visitors are not allowed inside it.
Hôtel de Ville de Saigon
Notre Dame Cathedral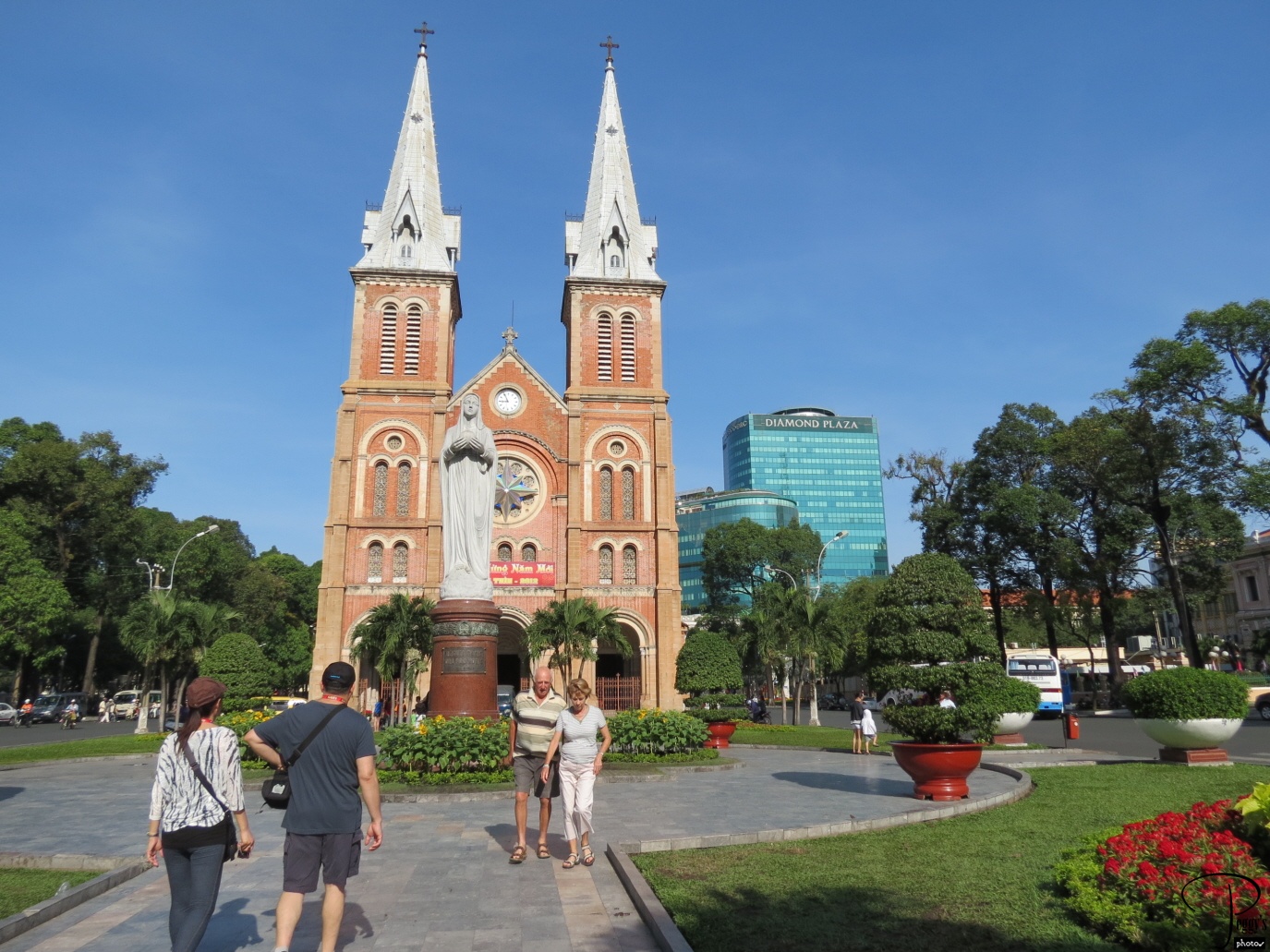 The Notre Dame Cathedral was built in the late 19th century, during French colonial times. When it was completed in 1880, it was the tallest structure in Saigon. There were a number of vendors outside the cathedral selling small art works––very nice.

Notre Dame Cathedral
General Post Office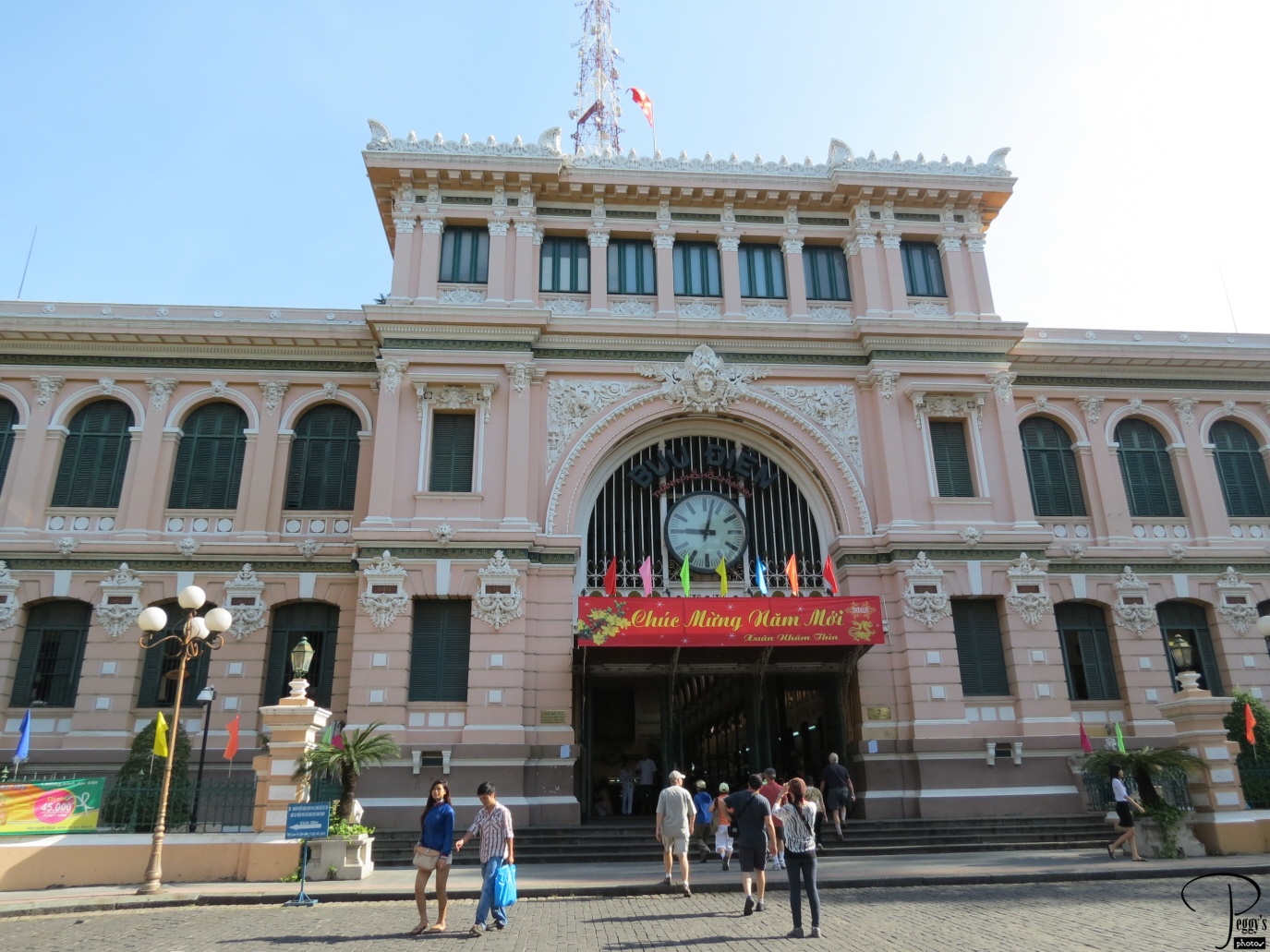 The General Post Office is also a French colonial building and was designed by Gustave Eiffel––of Eiffel Tower fame––between 1886 and 1891.

General Post Office
General Post Office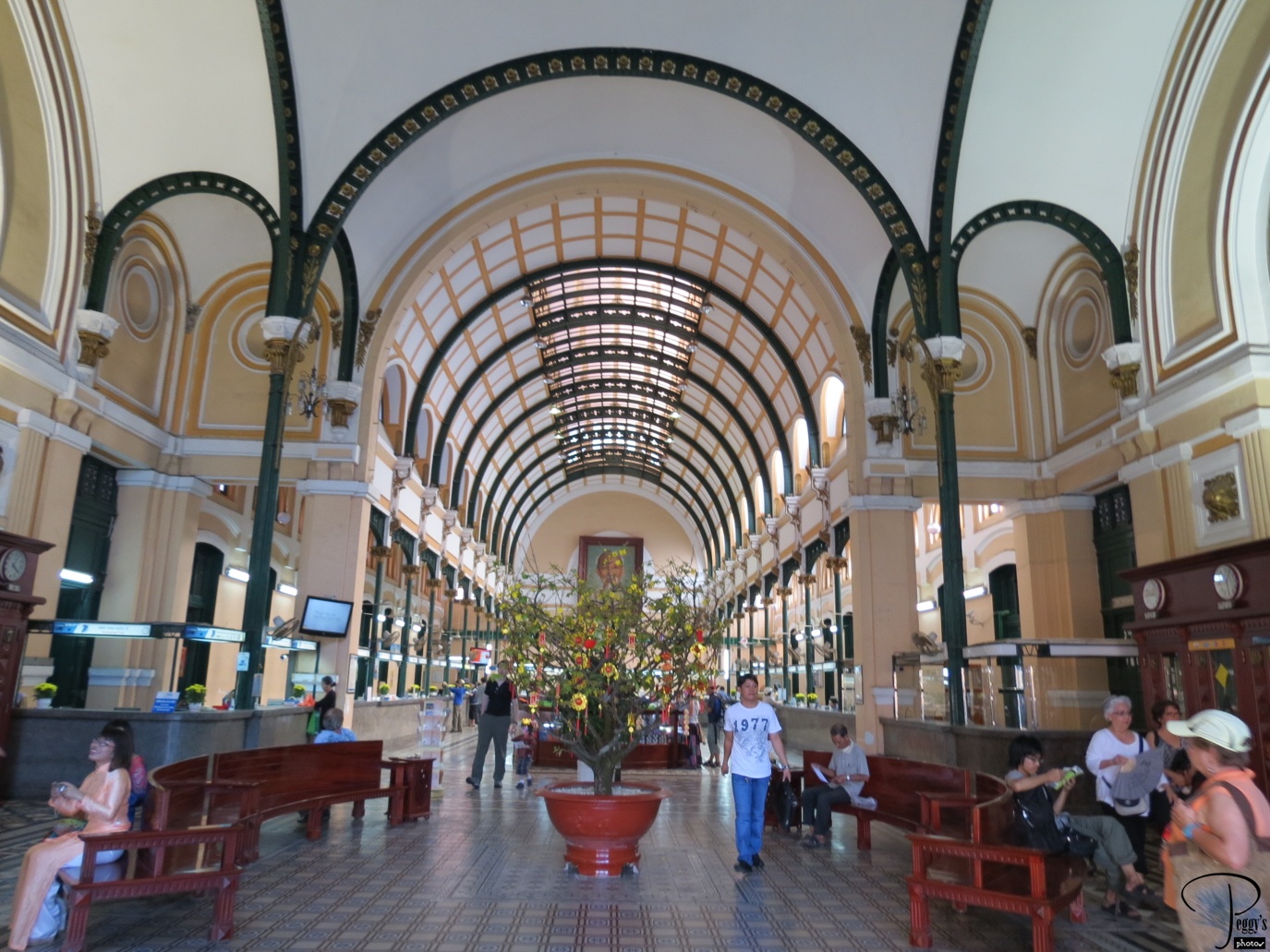 Inside it looks much like a railway station. Also inside, near the front and on both sides, are wonderful souvenir shops. We  didn't want Tho to rush us––we were having too much fun shopping. However, I bought a T–shirt here for a present––marked an XL which turned out to be an XS. I had bought another T–shirt in Siem Reap, also marked an XL, which turned out to be an XXXXL. Don't trust the size labels. Here and at most every other place we shopped in Vietnam the prices are in U.S. dollars. Tho told us that U.S. dollars are preferred to Vietnam dong because of the constant inflation of the dong. The U.S. dollar holds its value. Also, he told us that large U.S. bills are preferred as the exchange rate is higher for them. As I had changed all my money into dong, I again had to figure out the exchange rate of dong into dollars, rather than the other way around.

General Post Office
Lacquer Workroom and Shop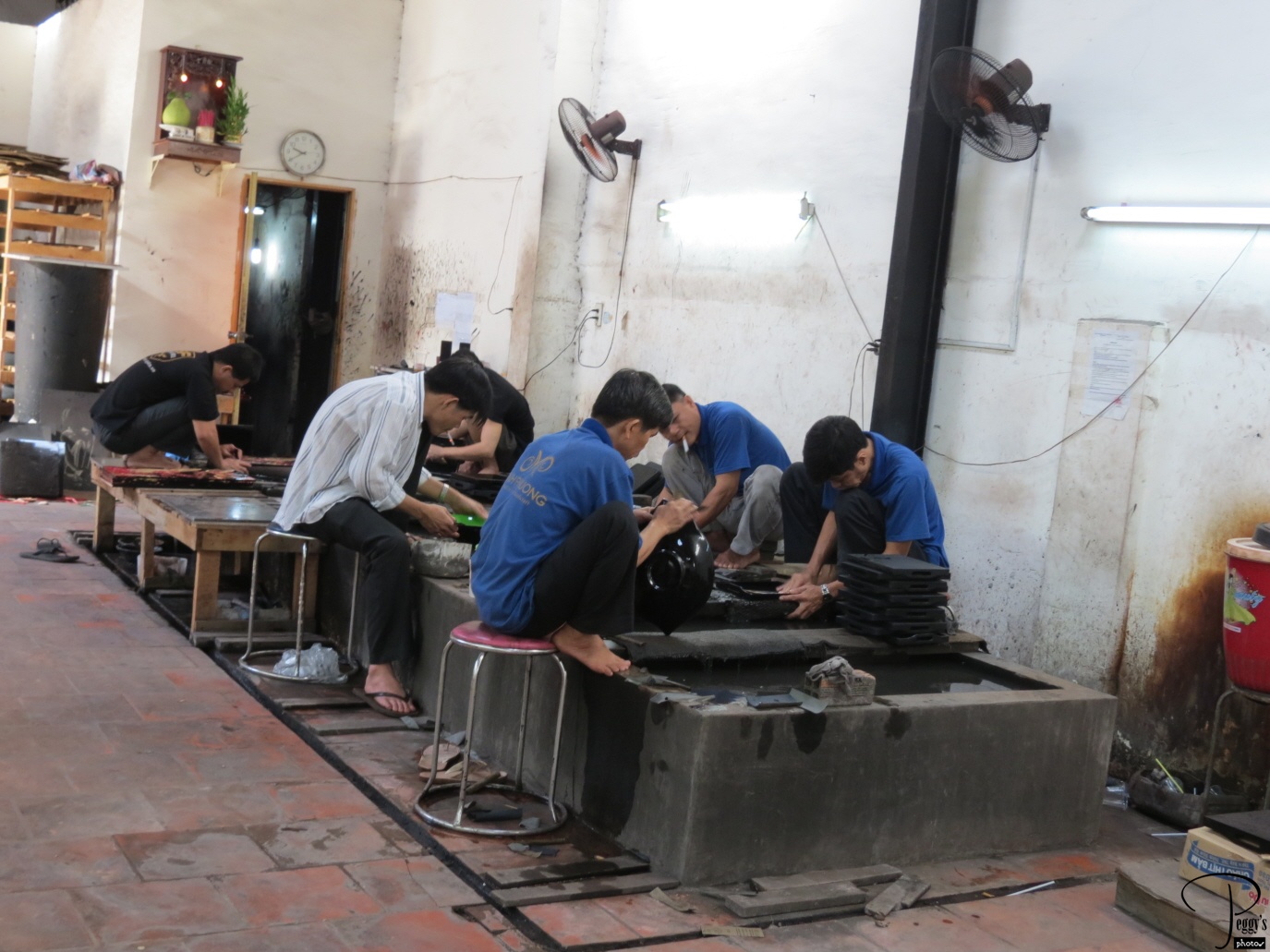 Our walking tour was over and we got on our bus. We stopped at a lacquer workroom and shop. We first was able to see how the lacquer designs were put on items. Some of it looked like pretty hard work.

Lacquer Workroom and Shop
A Lacquer Vase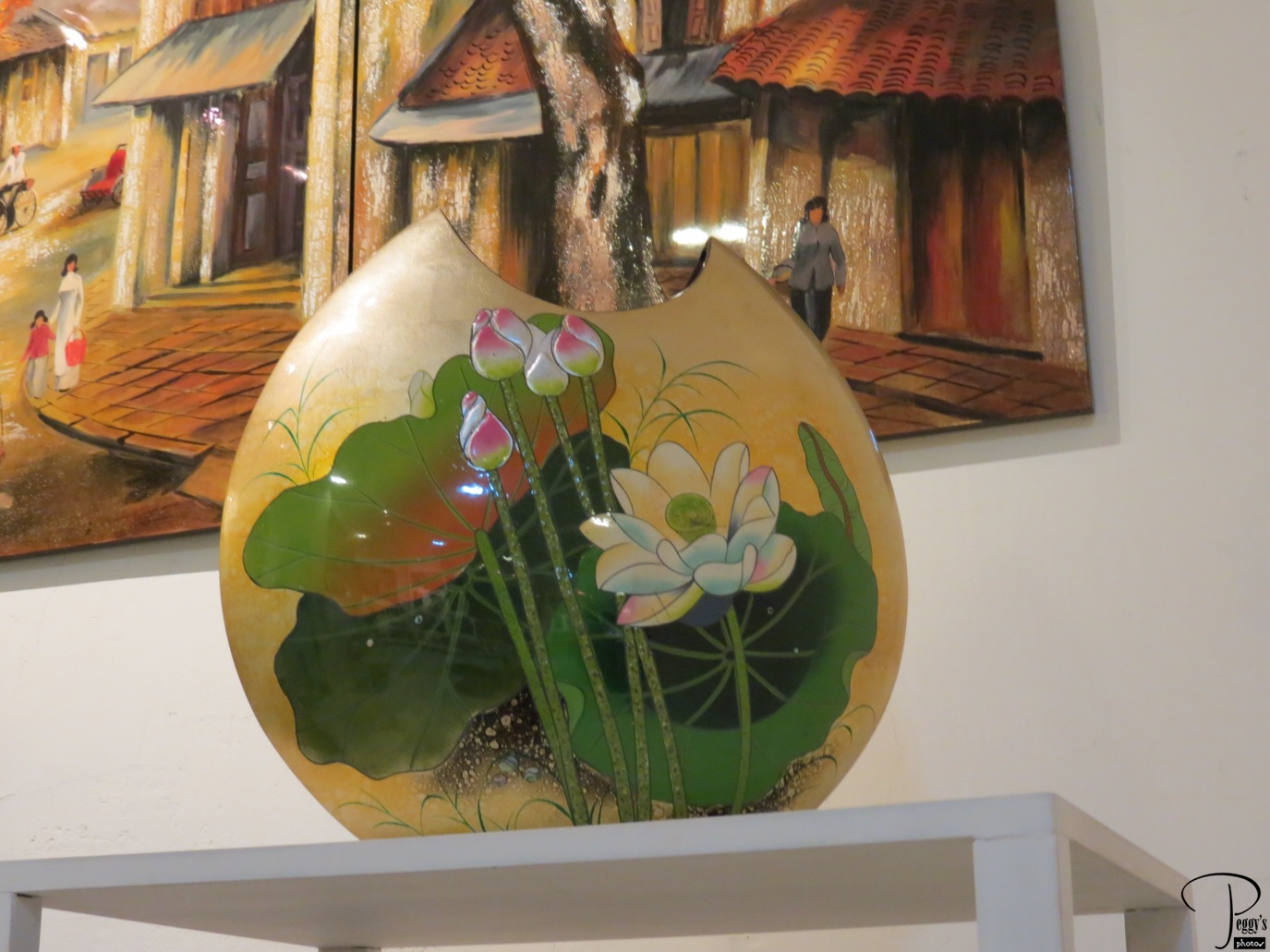 The lacquer items for sale were quite nice. I bought some of them. When I asked Tho who owned the store, he said it was privately owned. This surprised me as the nice stores that we were taken to in China were all government–owned. In 1986, Vietnam started allowing private enterprise.
A Lacquer Vase
Reunification Hall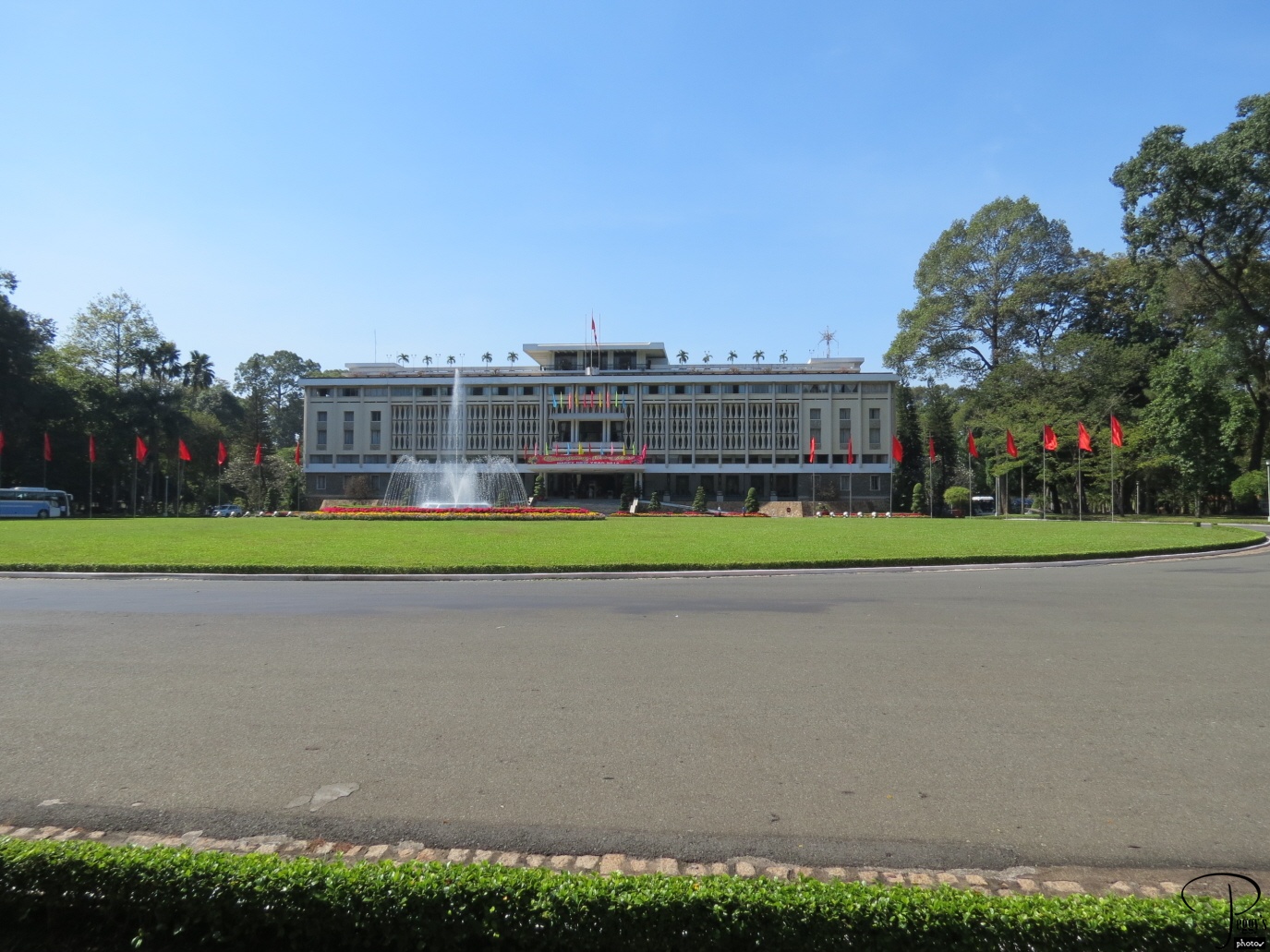 We stopped for a photo–op here. The facade of the Reunification Hall is a 1960s Vietnamese addition. In the 19th century, it was called Norodom Palace and was the residence of the French governor general. When Ngo Dinh Diem was president of South Vietnam, it was the Presidential Palace. In 1962, Diem's air force bombed it as an assassination attempt against Diem. It was rebuilt, but Diem died before he could re–occupy it. The next president, Van Thieu boarded a chopper here to escape before the North Vietnamese troops occupied Saigon and overtook the palace.

Reunification Hall
Ben Thanh Market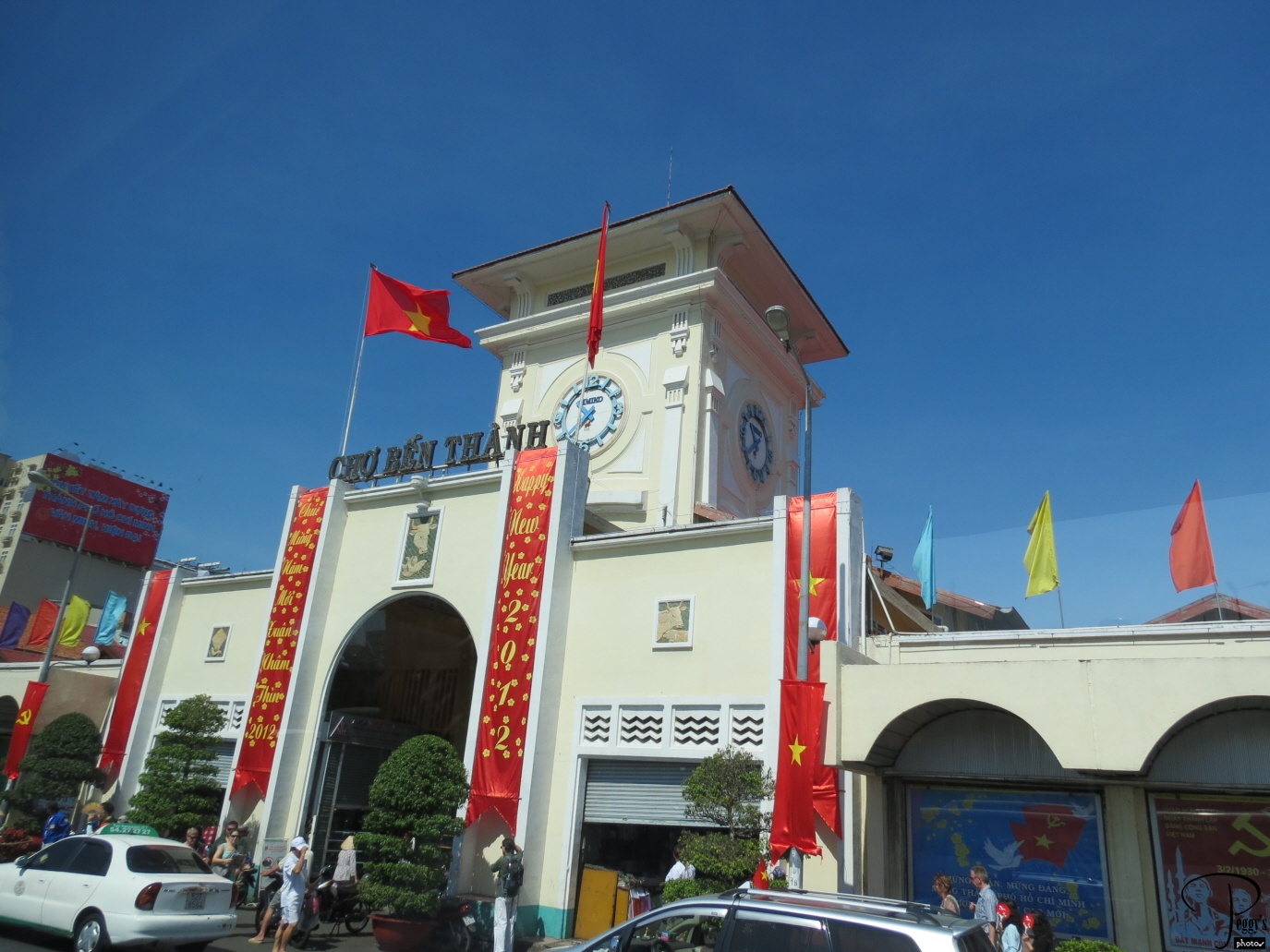 Our next stop was at the Ben Thanh Market, built in 1914 by the French. Several hundred shopkeepers have booths here. I found it claustrophobic and didn't stay long it but waited outside and took some photos.

Ben Thanh Market
Back to Our Hotel Area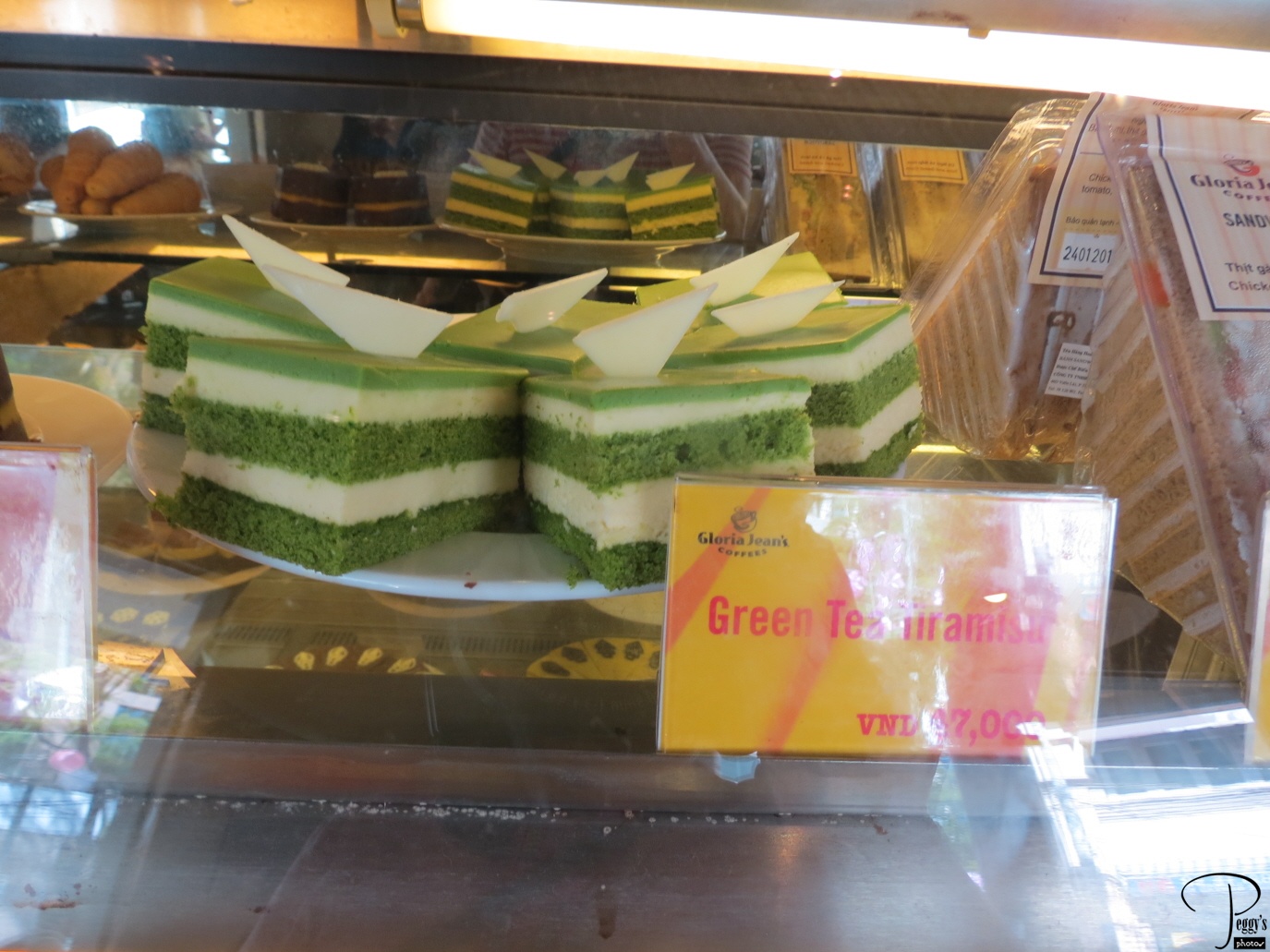 We had a break for lunch and then would have an optional tour to see the Cu Chi Tunnels. I ate at a cafe––a sandwich, ice tea (it came sweetened when I asked for it with no sugar, but when I realized there was ice in it, I stopped drinking it as I was unsure if the ice would have been made from pure water), and green tea cake. I like this cake, but it is hard to find, so I was enjoying myself, except for being yelled at by another customer because he thought I had cut ahead of him in line. Did I? I didn't think so, but maybe they line up differently here.
I also realized that I would be running out of dong before long, so I went to the ATM at a bank across the street from the hotel. But I got confused by all the big numbers on the screen and didn't realize I had asked for 8,000,000 dong. I almost panicked––how much money did I take out of my bank account? It took me awhile to figure out that it was $384.25. But I felt very rich!
I have put the photos I took on this morning's tour on a slide show. Go to Slide Shows, Asia, Vietnam, "Ho Chi Minh City: City Tour, Tour Day 4(B)" or directly to
http://www.peggysphotos.com/ho–chi–minh–city–city–tour–tour–day–4b/

Back to Our Hotel Area
© Copyright 2018 Peggy's Photos