Morocco: Day 4(con't), Fez: Fes el-Bali, 10-'10
Old Fort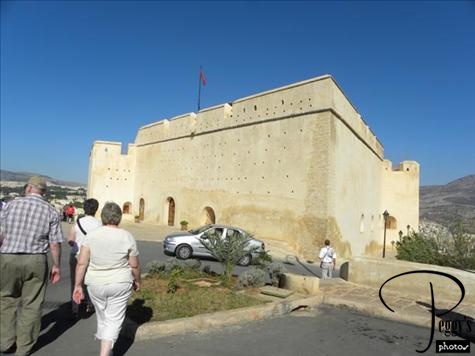 We drove up a hill to an old fort so we could get a view of the 9th–century medina that we would be going to next.

Old Fort
Countryside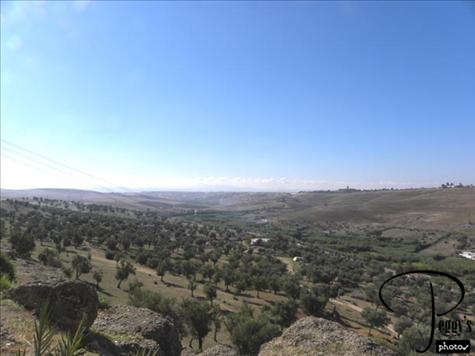 View of the countryside from the fort. Those trees may be part of a "green zone," zones that Morocco plants with trees to prevent overdevelopment in cities.

Countryside
Old Door
Old door at the fort.

Old Door
Old Fort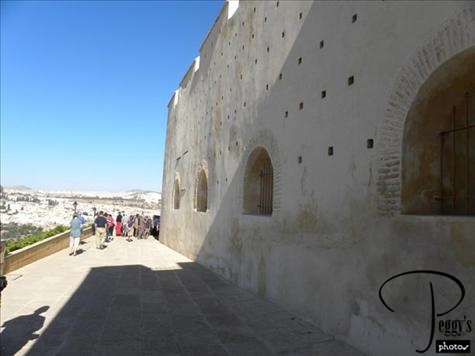 Walking to the front of the fort.

Old Fort
Fes el-Bali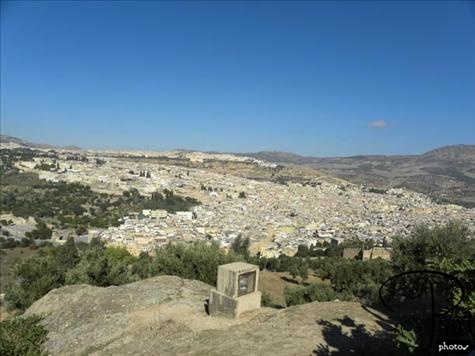 The Fes el–Bali medina below, built in the 9th century and little changed except for electricity, plumbing, and satellite dishes. (What do they watch?––some American TV shows: Oprah and Jay Leno among others.) The medina includes housing, souks (shops and workshops dealing with similar goods are together on separate streets or parts of streets), medieval madrases (religous schools), and mosques. The Fes e–Bali is huge: over 741 acres. It contains 13,380 historic buildings, a minimum number of 10,539 businesses (I was also given the number 120,00 shops), a minimum of 156,00 people living there (I was also given the number of one–half million), 68 mosques, and over 9,000 streets and alleys. Goods are brought into the medina only by donkey or carts or on shoulders. Cars are not allowed. The Fes el–Bali is known as the "medina of all medinas."

Fes el-Bali
Fes el-Bali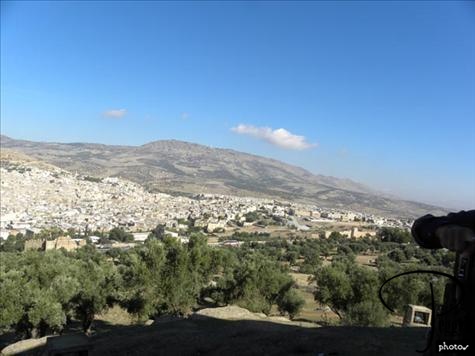 Continuation of Fes el–Bali to the right of the last photo.

Fes el-Bali
Fes el-Bali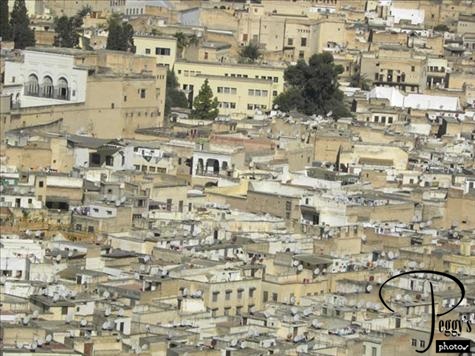 Close–up of Fes el–Bali.

Fes el-Bali
Fes el-Bali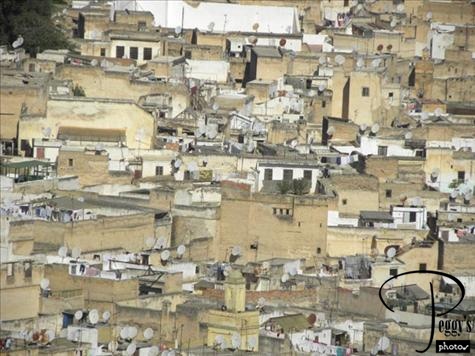 Another close–up.

Fes el-Bali
Fes el-Bali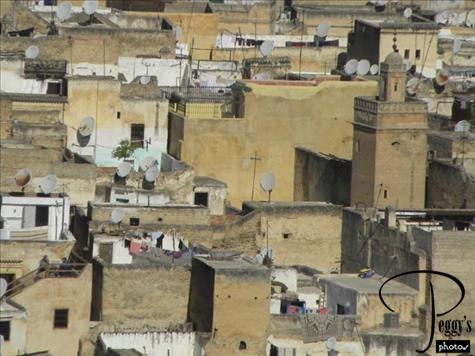 And another.

Fes el-Bali
Fes el-Bali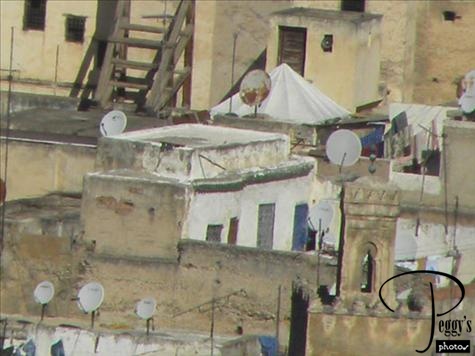 And one more.

Fes el-Bali
Fes el-Bali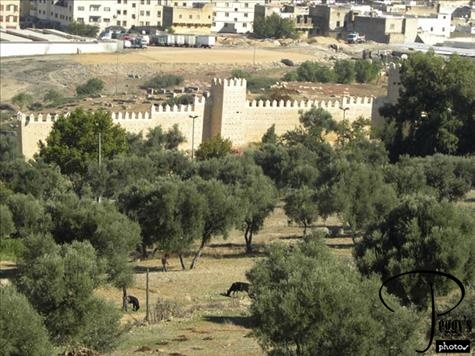 Part of the city wall around Fes el–Bali.
Fes el-Bali
Fes el-Bali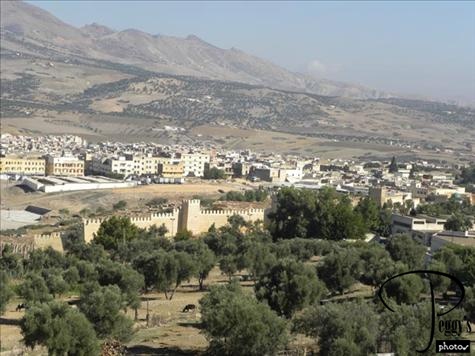 More of the city wall.

Fes el-Bali
Fes el-Bali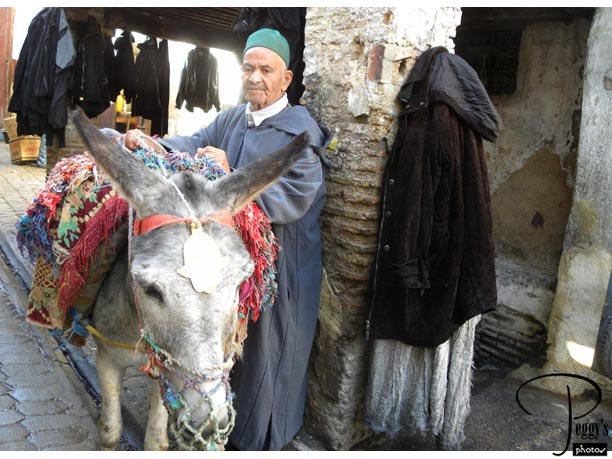 I have never had quite an experience as I did when visiting the Fes el–Bali. I felt that I was an extra in a movie and I was walking through a movie set––it is still hard to believe that this 9th–century medina is real life in the year 2010. Rachid was quite concerned that we didn't get separated from the group in the medina, in fact, I would say "freaked out" that one of us would be wandering lost along its 9,000 streets for eternity. So Mohammed, our local guide, led us (I think 41 of us), Rachid took the rear, and our assistant bus driver and a most pleasant very little man took the sides. No one got lost.

Fes el-Bali
Fes el-Bali
We made two stops: the first one at a rug store. If you know how to bargain, you can get a good price at the store for both Arab and Berber rugs––all sizes.
Fes el-Bali
Fes el-Bali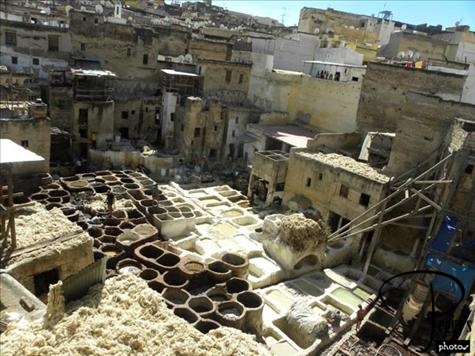 The second stop was at a 9th–century tannery. We had to climb up about 40 winding steps to its top to view the tannery. We were given mint leaves to smell if the tannery odor overwhelmed us. The tanning process entails removal of the hair and flesh from the hides of sheep, goats, cows, and camels. Then, the hides are soaked in vats, then dried and rinsed, and next dyed and made into leather items such as coats, handbags, and shoes. Tannery jobs are handed down through families.

Fes el-Bali
Fes el-Bali (See Slide Shows)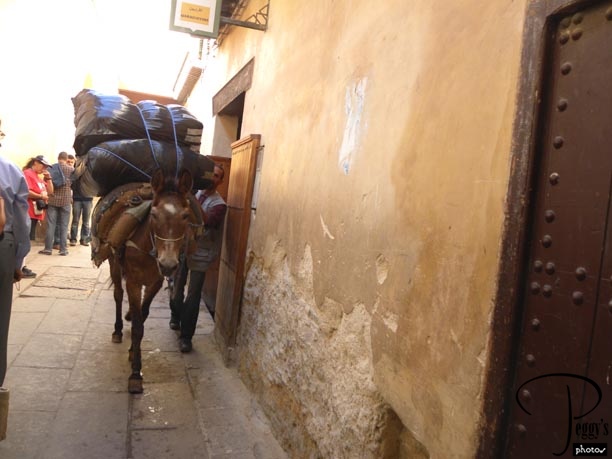 I have put my adventure in the Fes el–Bali medina on two slide shows. I have kept the exact order that I took my photos in the slide shows except for the rug store and the tannery, so you will be able to see how quickly the scenery changed. We had to be very aware of the Arabic words for something like "Watch Out" when a laden donkey or a cart was coming along a narrow alleyway––often we had to hug the wall to avoid being run into. Go to  Slide Shows, Morocco,  "Fes el–Bali Medina, Fez, 1 & 2."

Fes el-Bali (See Slide Shows)
© Copyright 2018 Peggy's Photos