Cartagena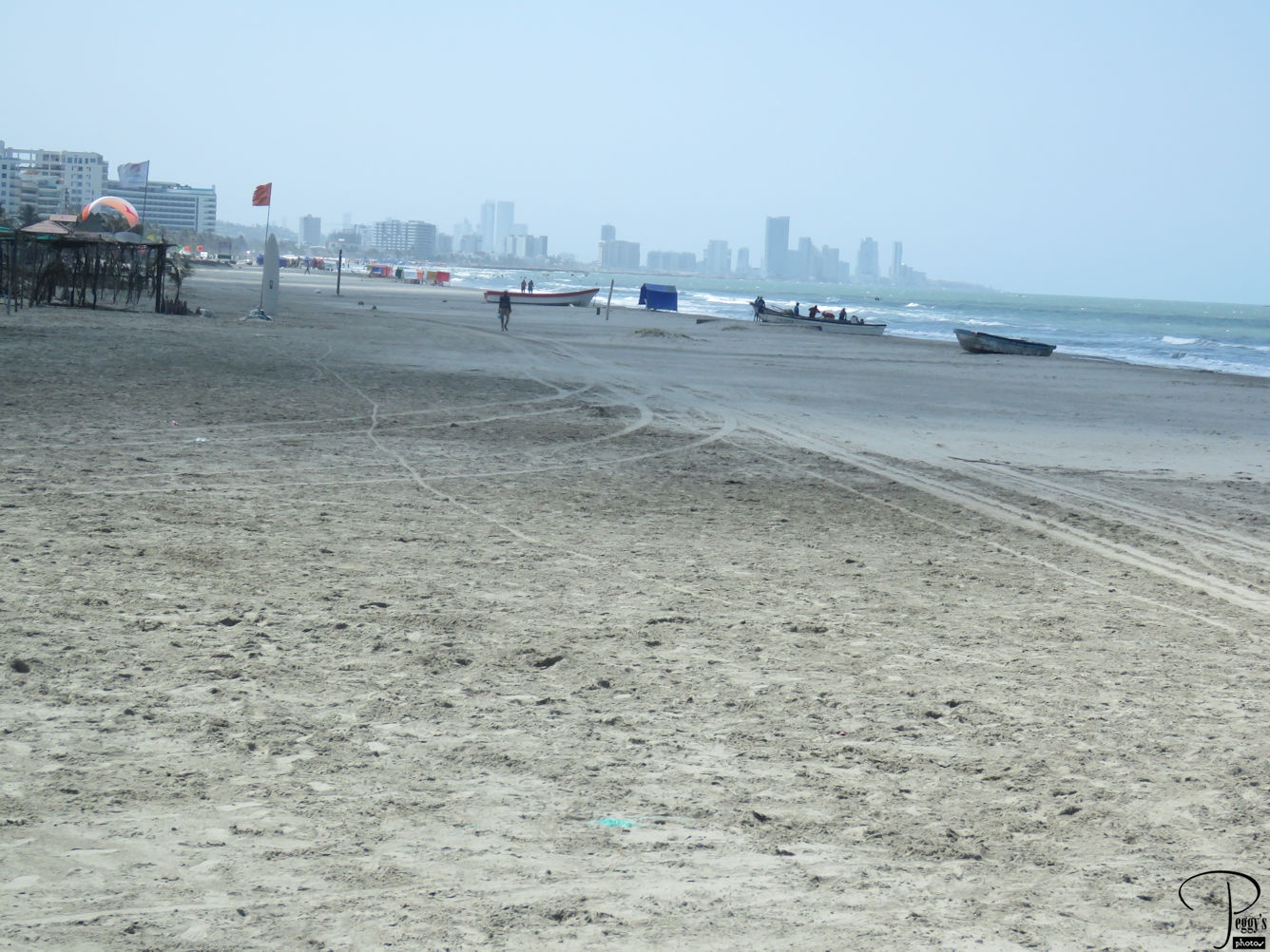 Days 11–13 (Days 7–9 Gate 1 tour). Day 11: This morning we flew from Medellin to Cartagena (pronounced in Spanish similar to "kahr–tah–he–nah"). Cartagena is on the Caribbean and was hot––about 90 degrees and is so year–round, making it a resort. It is also a popular cruise port.
Up to this time, our group was "special" as few tour groups venture to Colombia. Our tour director, Leon, said what wasn't important was what photos we took in Colombia, what we bought, or what we ate. What was important was that we were there, on the streets, so that Colombians could see that visitors thought Colombia was now safe to travel to and that their country was back to normal. But in Cartagena, we were just some of many tourists. Photo: the beach, the Caribbean, and the resort hotels.

Cartagena
Our Local Guide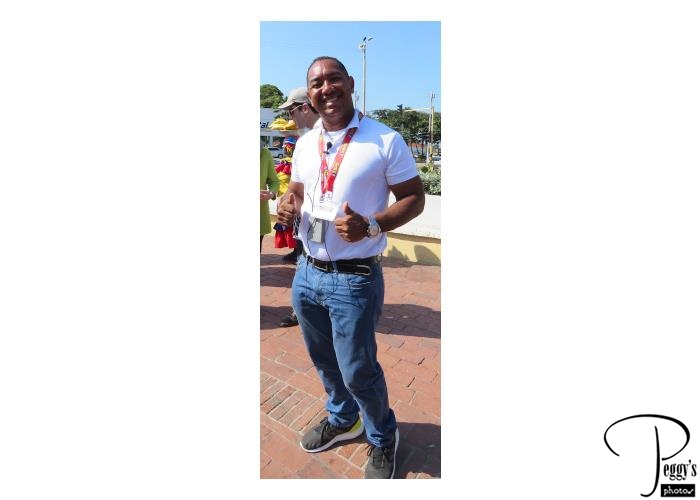 We had a new local guide for Cartagena. If I remember correctly, his name was Daniel.

Our Local Guide
New Light of Hope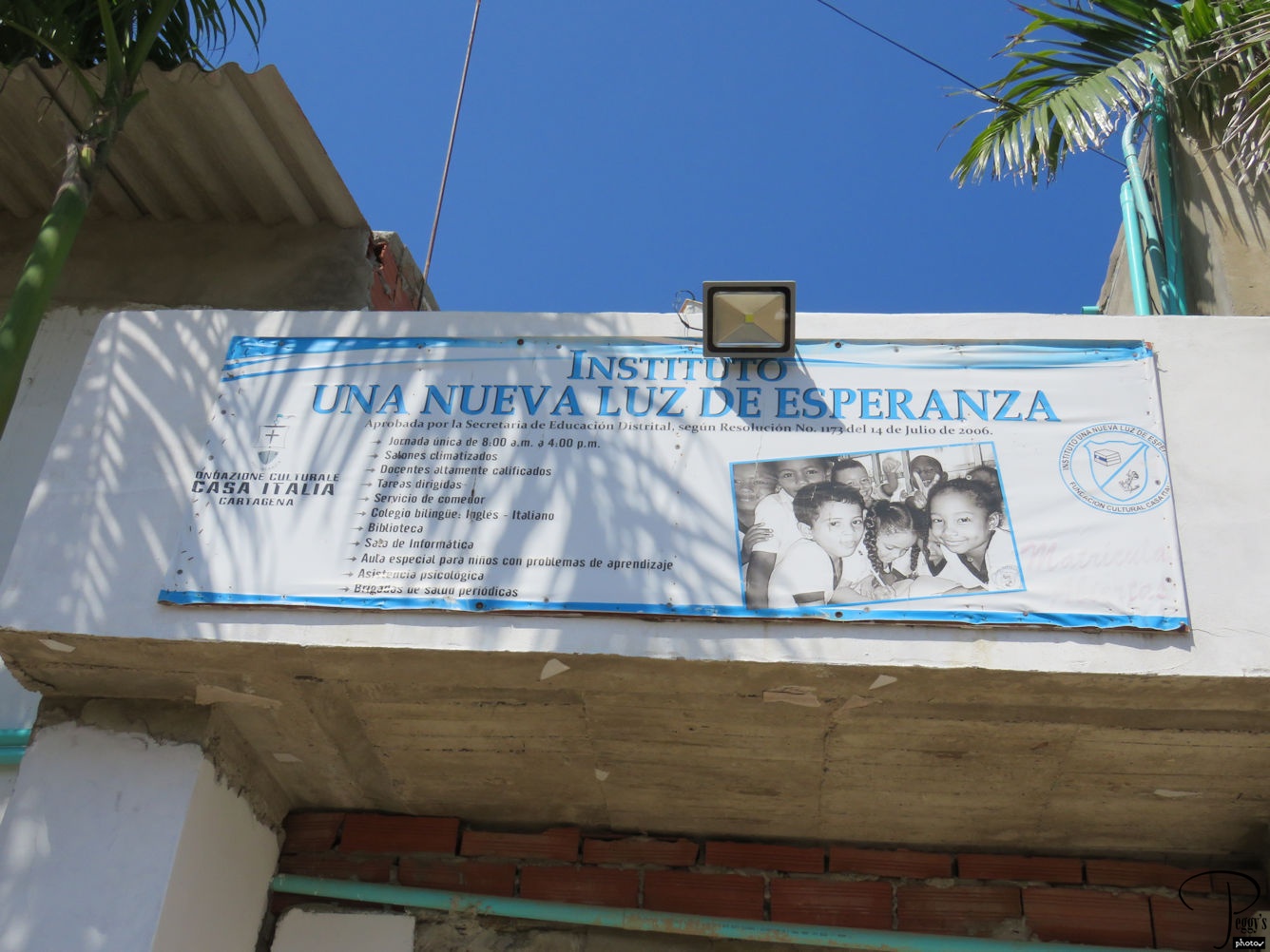 Our first stop after we arrived in Cartagena was at a school that Gate 1 Travel sponsors. The school, the Instituto Luz de Esperanza (Institute A New Light of Hope) was started so that children who live in the poorer area around the school will receive an education and also a place to be while their parents are working, mainly as some of the thousands of street vendors.

New Light of Hope
New Light of Hope–Movie
We didn't get to see any of the school's classrooms, but were treated to dances by some of the children. This movie is of one of the dances.
New Light of Hope–Movie
Hotel Caribe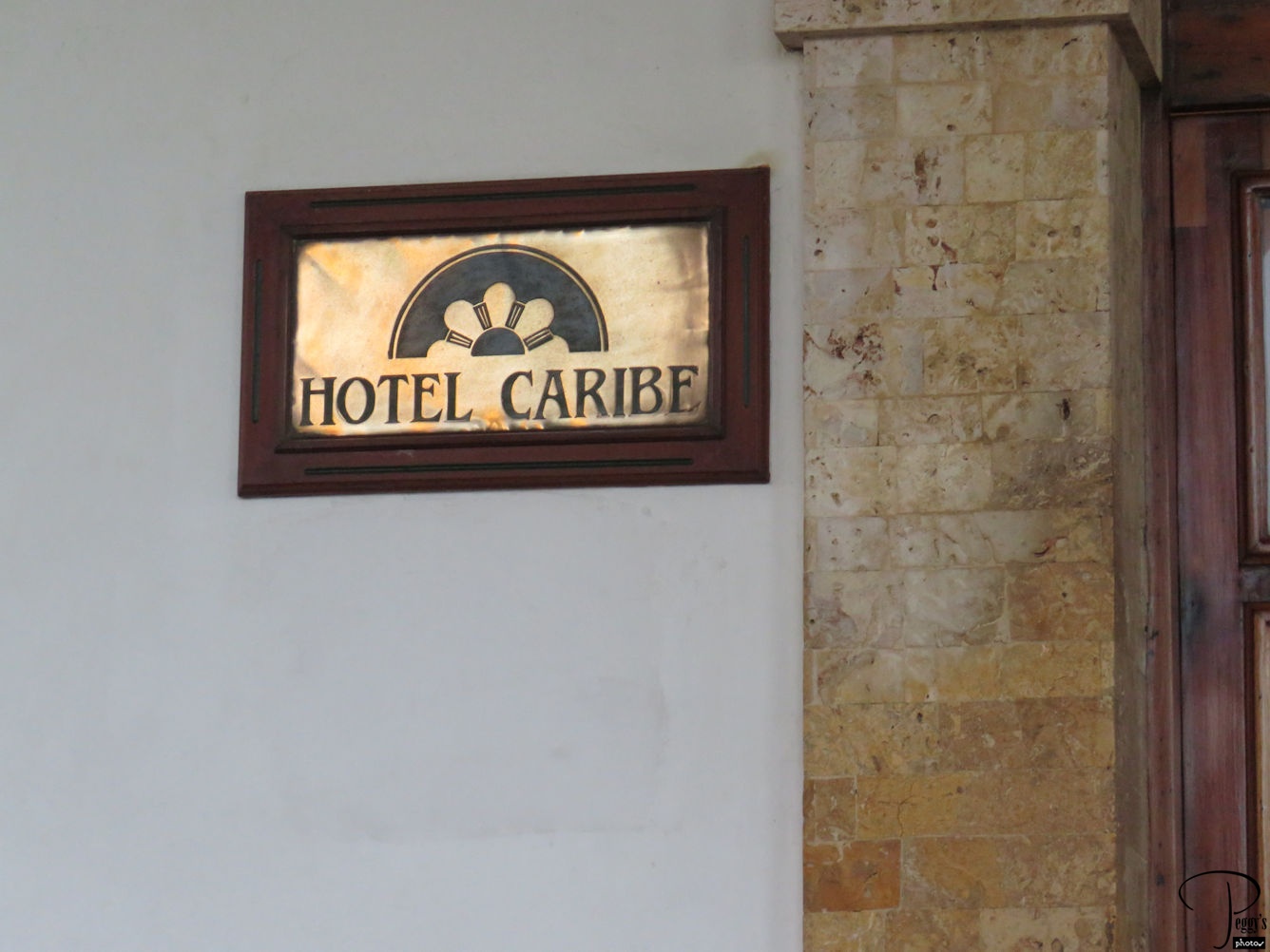 After visiting the school, we went to our hotel, the infamous Hotel Caribe, infamous because it was the hotel where the U.S. Secret Service hired prostitutes in 2013, causing a huge scandal. I think we felt a little risque staying there.
Hotel Caribe
Hotel Caribe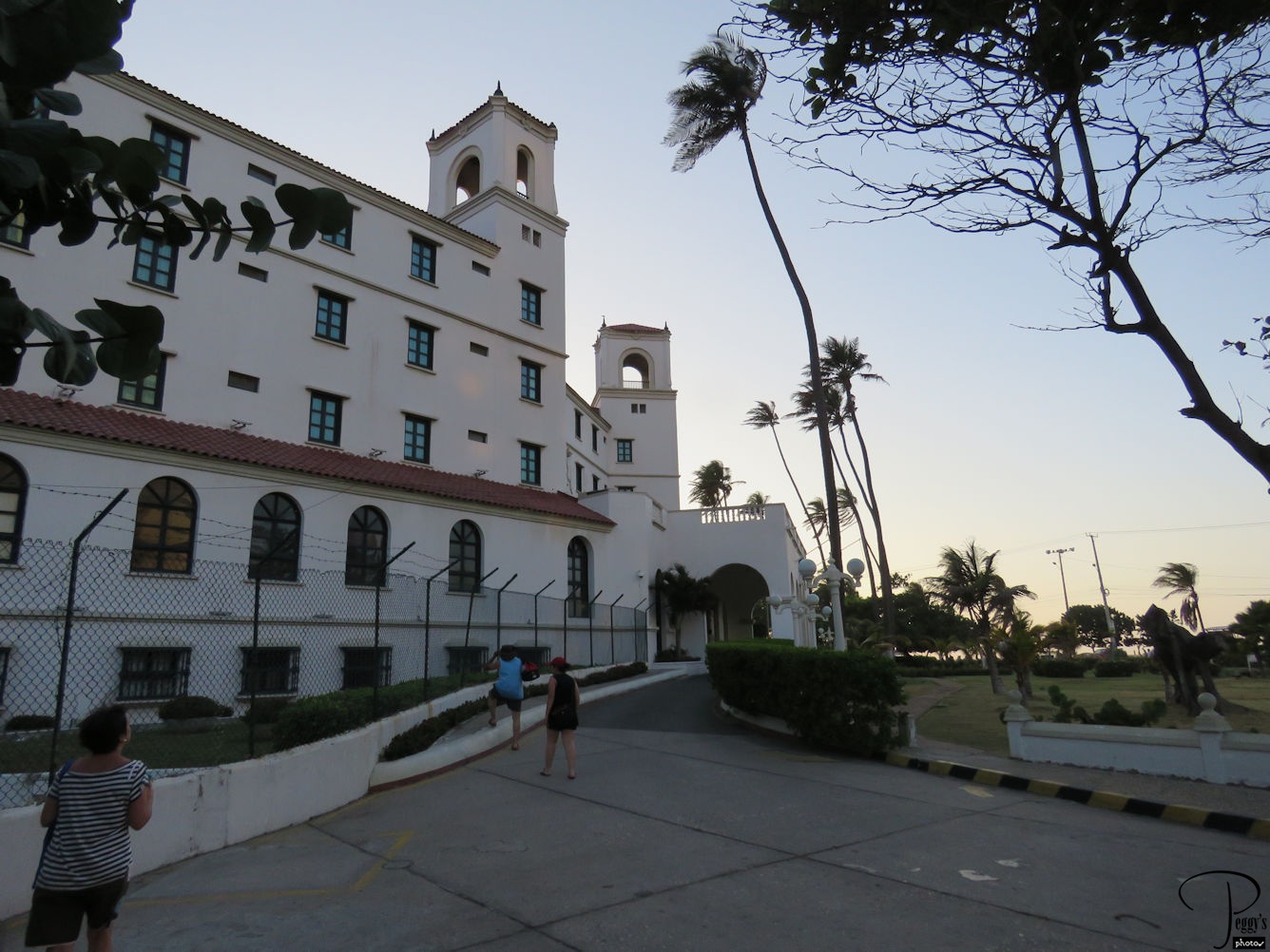 Our hotel, very nice.

Hotel Caribe
The Beach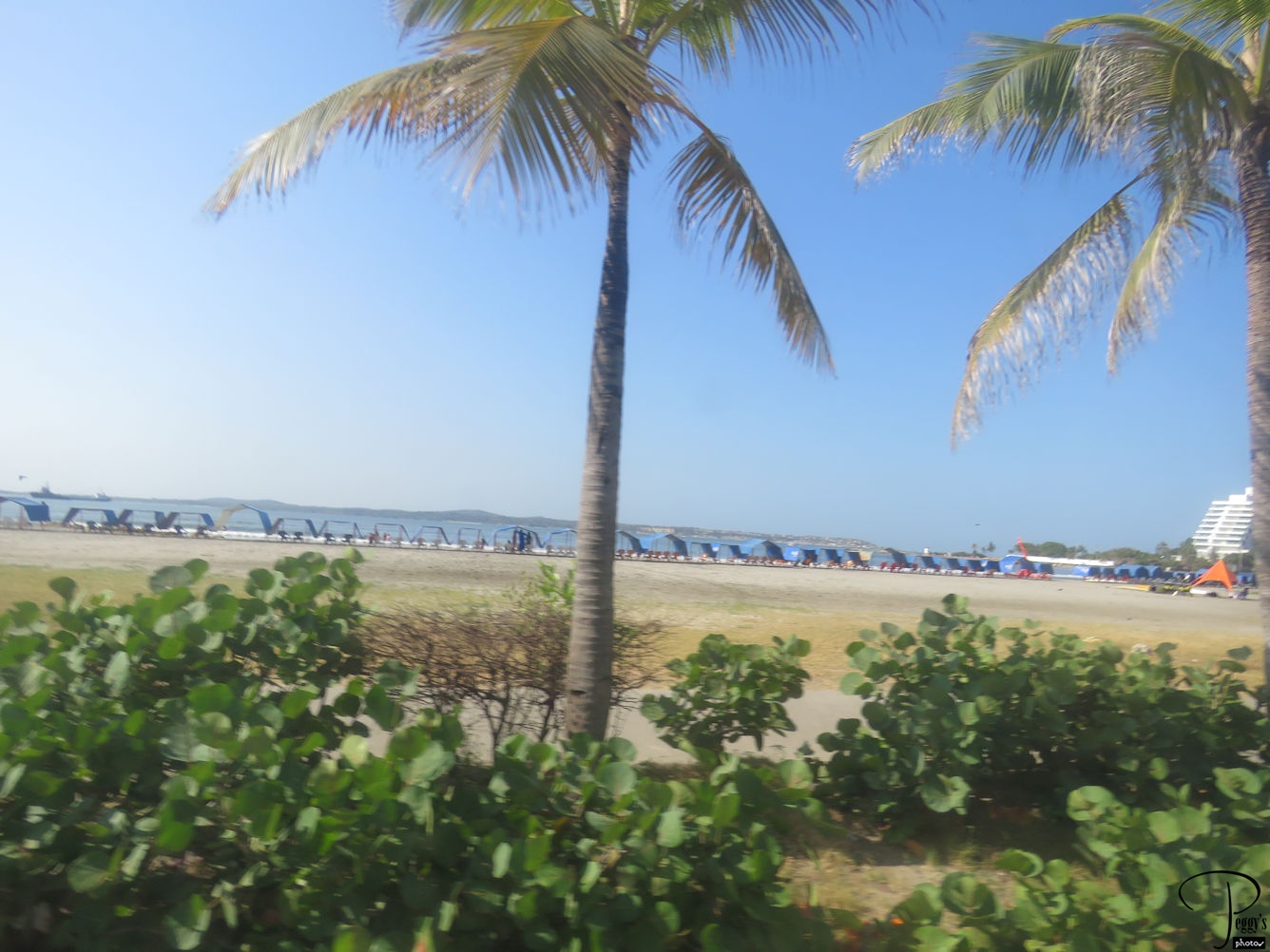 The beach across from our hotel.
The Beach
Hotel Caribe Deer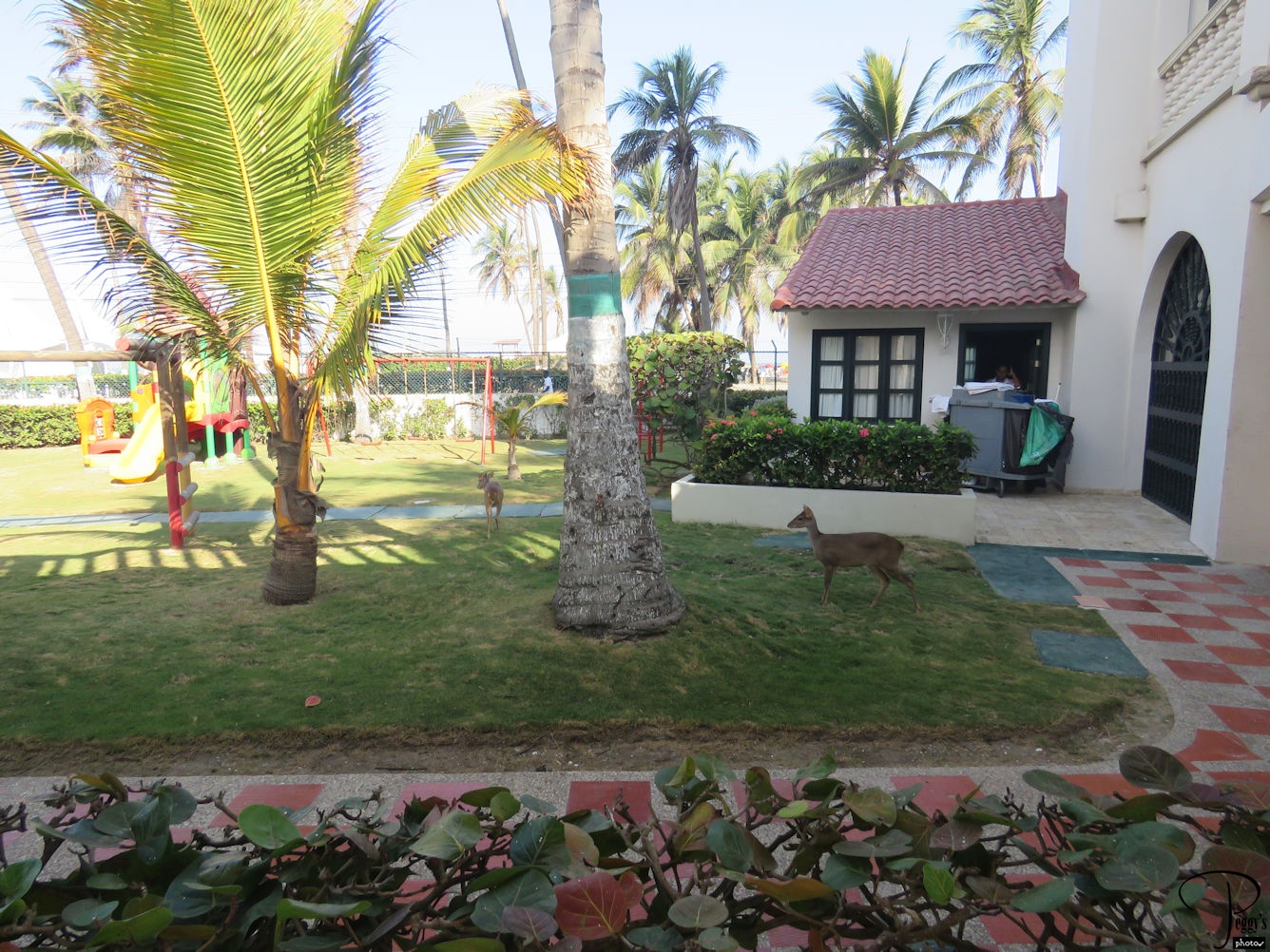 A group of deer made their home at the hotel. We would see them almost everytime we left our hotel rooms. Two of them are in the photo.

Hotel Caribe Deer
Hotel Caribe Deer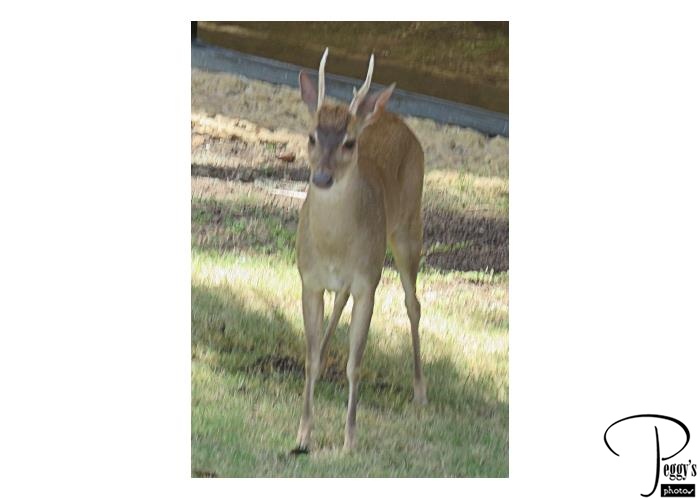 Close–up.

Hotel Caribe Deer
Hotel Caribe Deer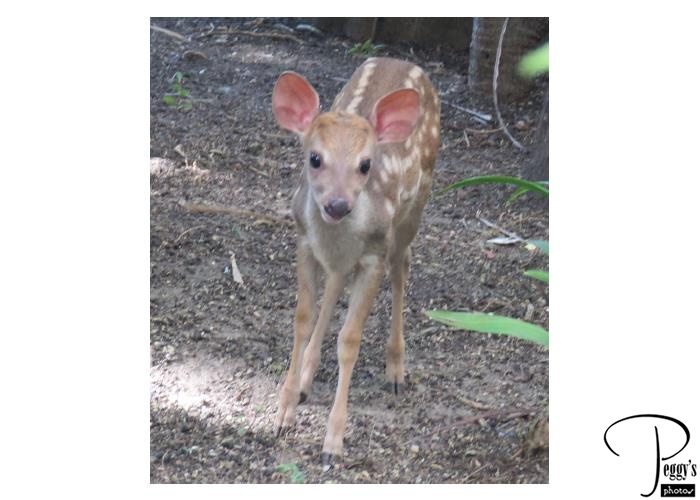 A photo of a fawn on the property.
Hotel Caribe Deer
Emerald Museum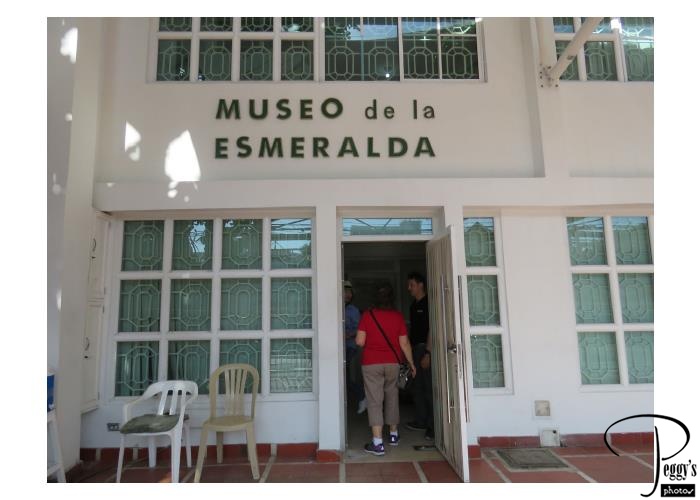 No tour activities were scheduled for the afternoon, so Leon, our tour director, asked us if we would want to visit the Museo de la Esmeralda. There are other emerald museums in other parts of Cartagena. Colombia produces 70–90% of the global market in emeralds, so emeralds are big here.

Emerald Museum
Emerald Museum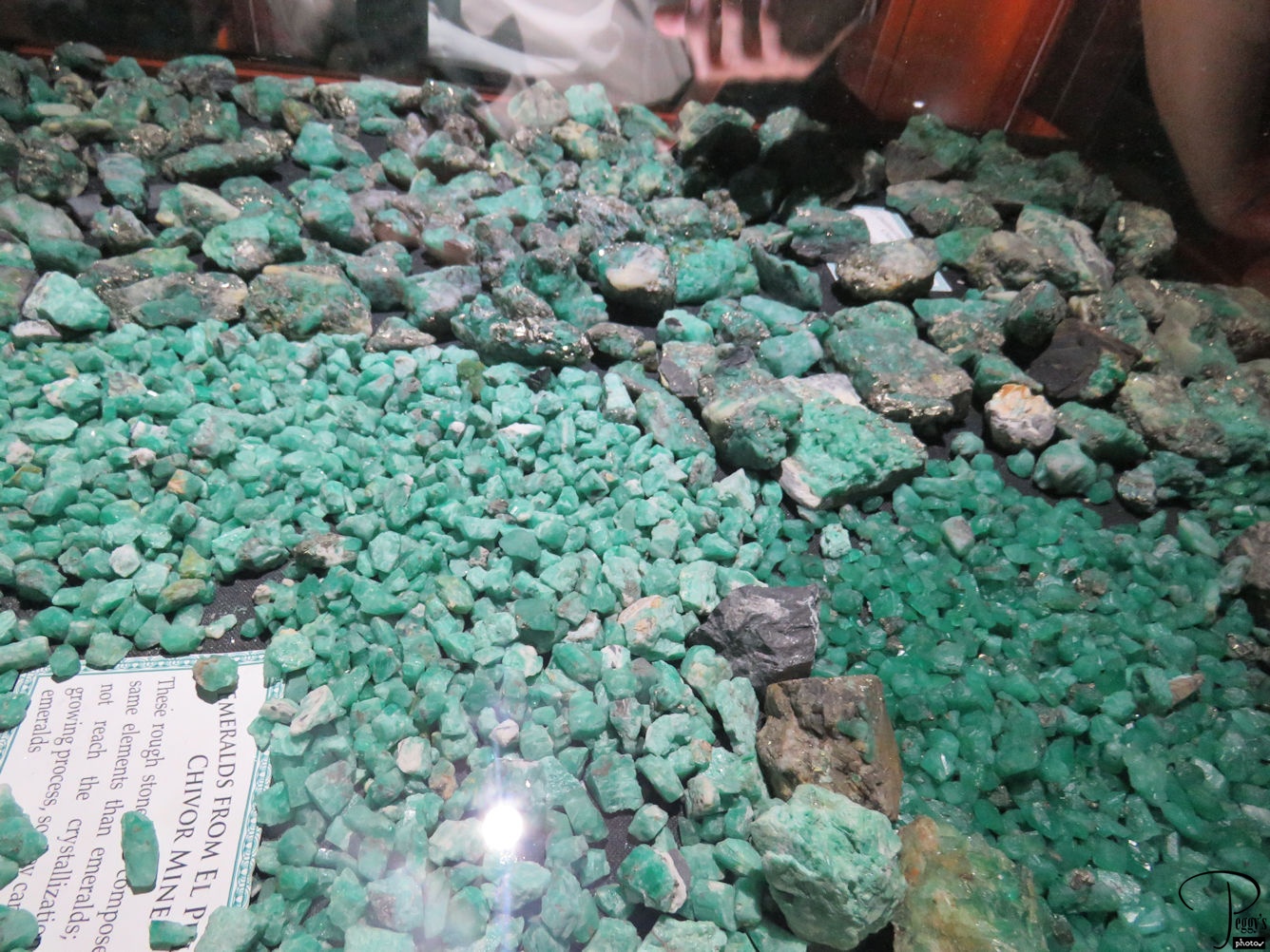 Unfinished emeralds. Emeralds come in different qualities, with the lower qualities being plentiful and the highest quality ones rare.
Emerald Museum
Castillo San Felipe de Barajas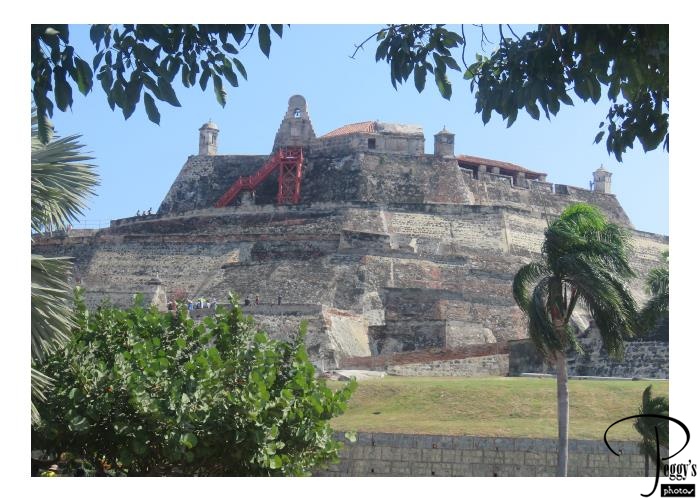 Day 12. This day we visited the Castillo San Felipe de Barajas, a Spanish colonial fort located on the Hill of San Lazaro, which was a strategic location that protected Cartagena. The fort was begun in 1536 and expanded in 1657 and 1763. The fort was the largest and most complex Spanish fort built in the New World.
Castillo San Felipe de Barajas
Castillo San Felipe de Barajas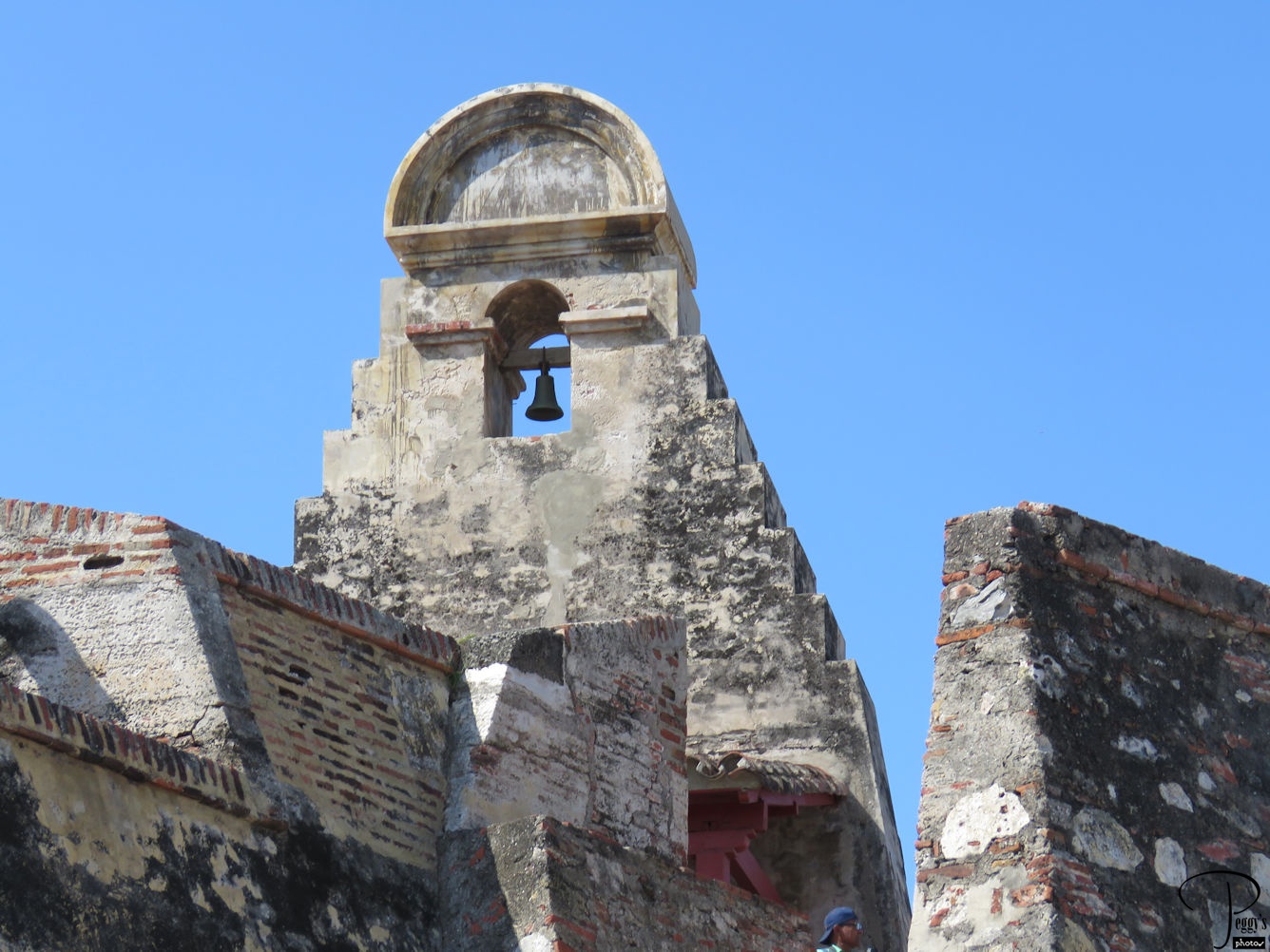 A very Spanish–design bell tower at the fort. It reminded me of some of the Spanish Mission architecture in California.

Castillo San Felipe de Barajas
San Diego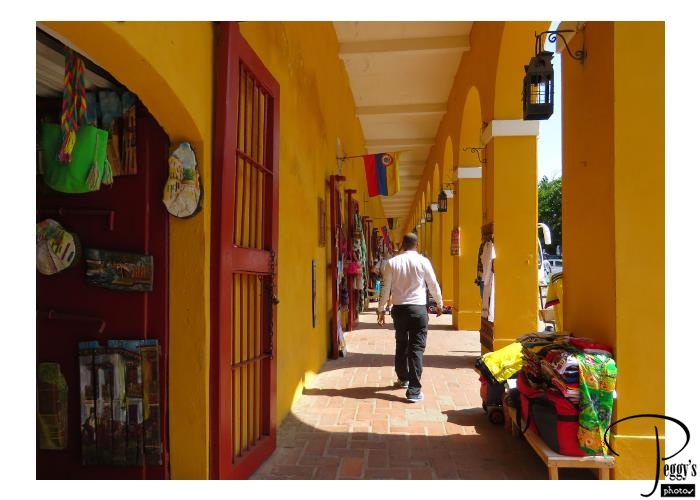 Our next stop was in San Diego, that is, the San Diego section of Cartagena. It is within the city walls which surround the Old City for almost 2 1/2 miles (4 km). There are numerous souvenir shops in this building.

San Diego
Old City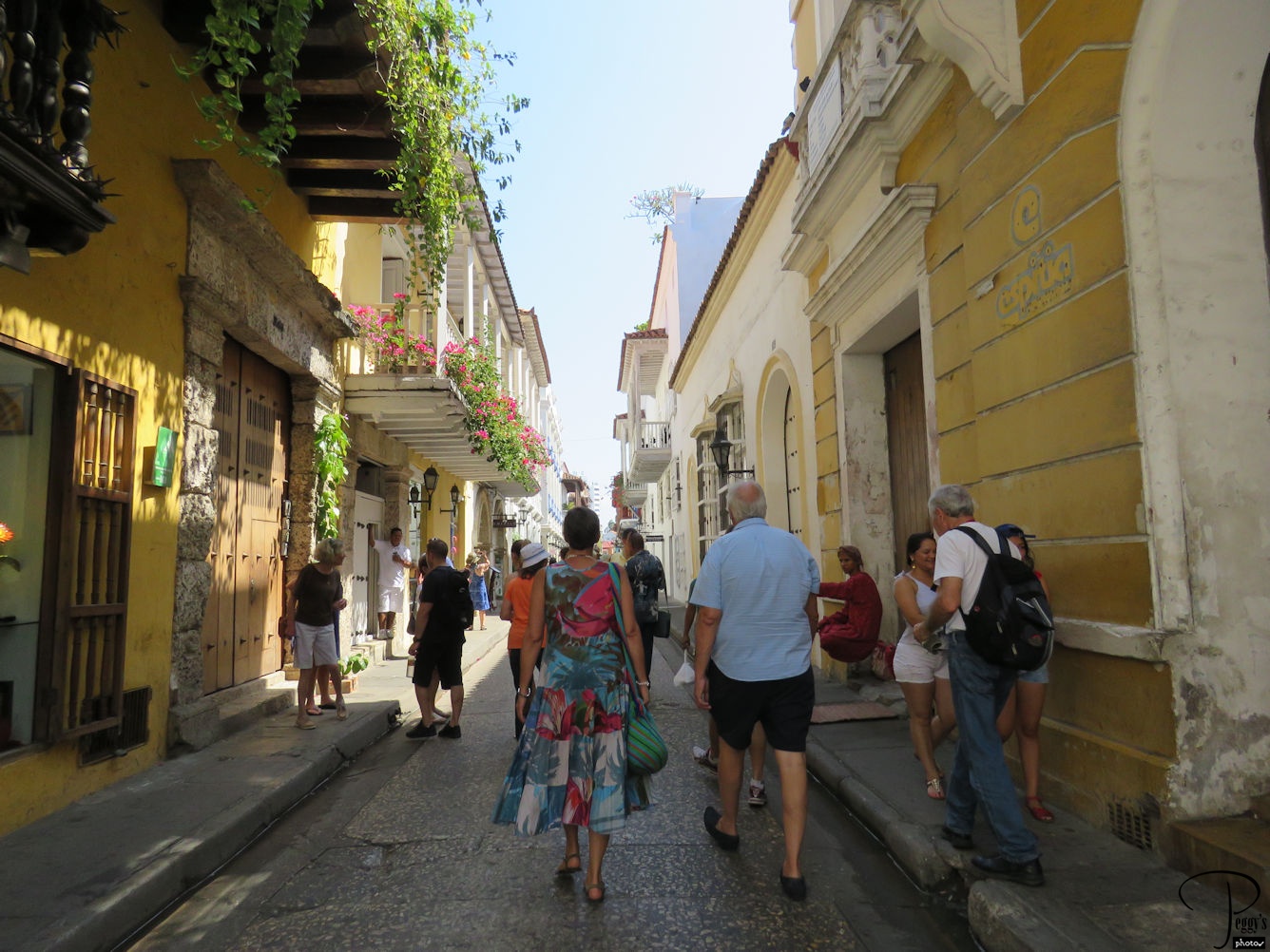 Our next stop was at Cartegena's Old City, filled with colonial churches, plazas, mansions, and palaces.

Old City
Old City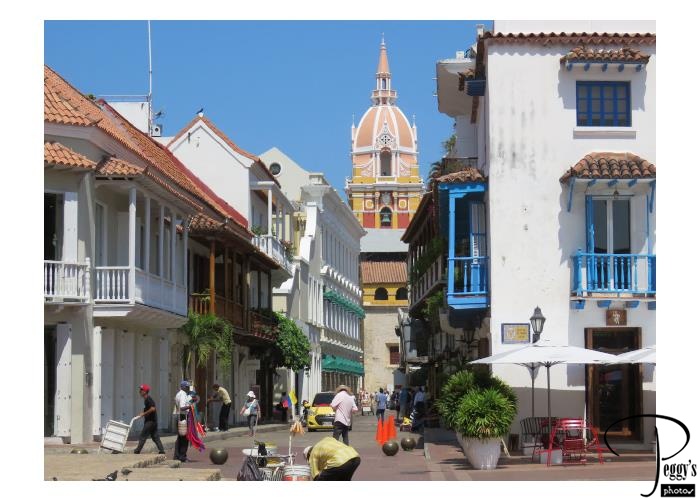 More of the beautiful Old City.

Old City
Old City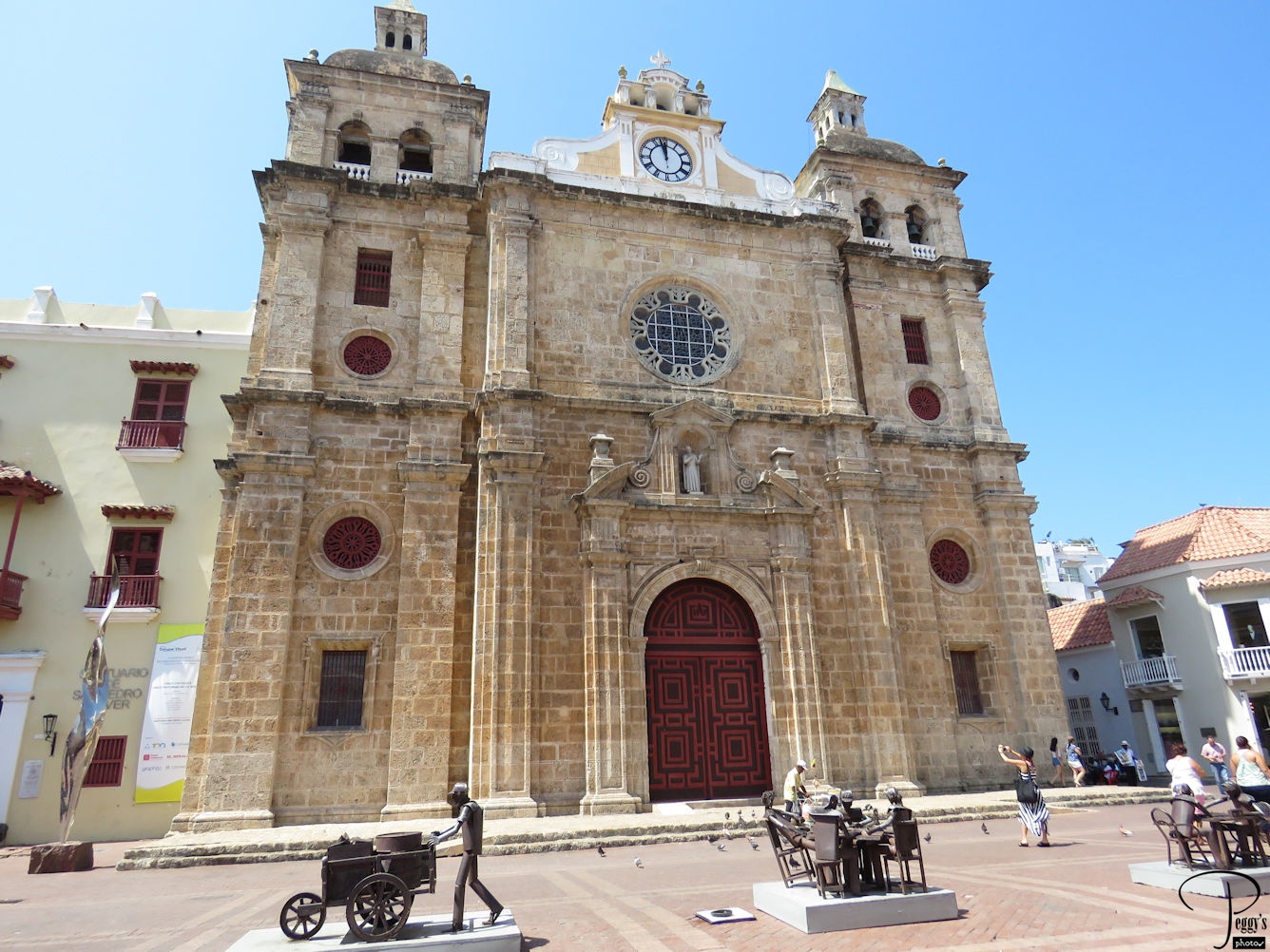 More of the Old City, the 16th–century Iglesia de San Pedro Claver.
Old City
Old City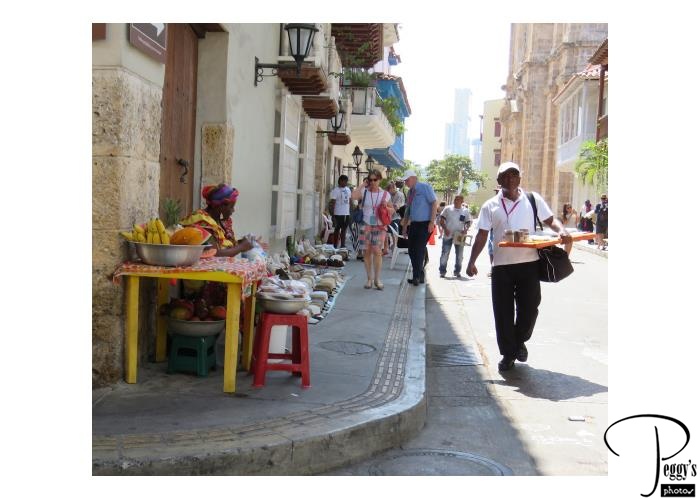 Many street vendors here. This woman is selling fruit which she will cut up for you and have you eat it sitting on the stools.
Old City
City Walls
I stayed in the Old City after our tour left to have lunch and to walk around more. The Old City is quite big and you could spend several days there slowly exploring it. I wanted to go back to the souvenir stores in San Diego. I took me a long time to figure out the direction to walk there as I found I was actually walking around in circles rather than heading in the direction I thought I should go. I knew I had to find the city wall to walk to San Diego, which I eventually found after asking a street vendor in my limited Spanish, "Donde esta San Diego?" He was so nice that I did buy a necklace from him. Photo of the city wall. It is more than 65 1/2 feet (20 m) wide.
A slideshow with photos of only the Old City is at Slide Shows, South America, Colombia–2, "Cartagena: Old City."

City Walls
Getsemani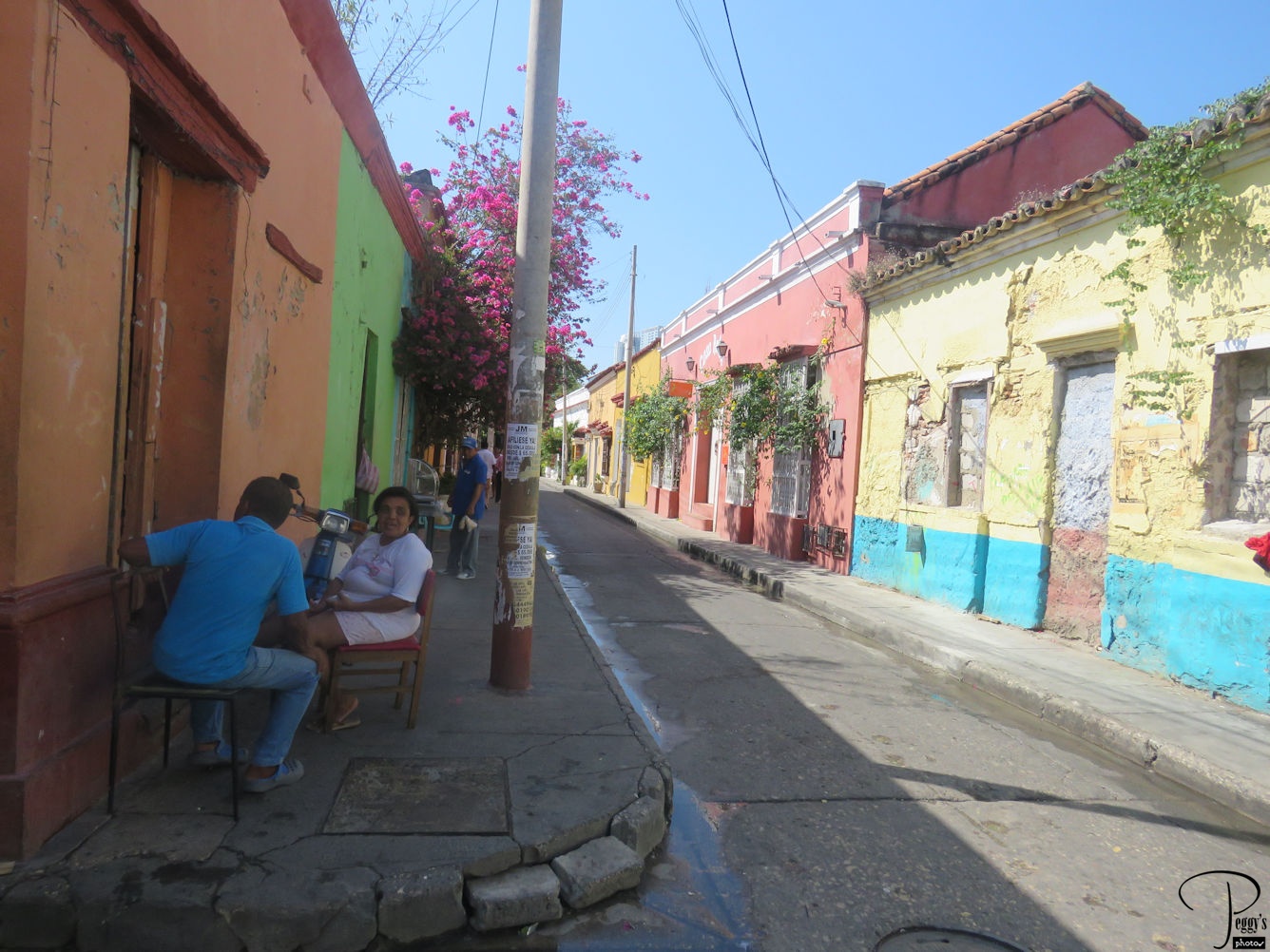 Day 13. Today was a free day. Leon asked us if we wanted to take a walking tour of the Getsemani section of Cartagena. This section is outside the city walls. Getsemani is called the "coolest, most invigorating and authentic up–and–coming neighborhood" of Cartagena. It was previously a slum area.

Getsemani
Getsemani
Walking through a Getsemani alley.
A slideshow just on Getsemani is at Slide Shows, South America, Colombia–2, "Cartagena: Getsemani Neighborhood."
Getsemani
Old City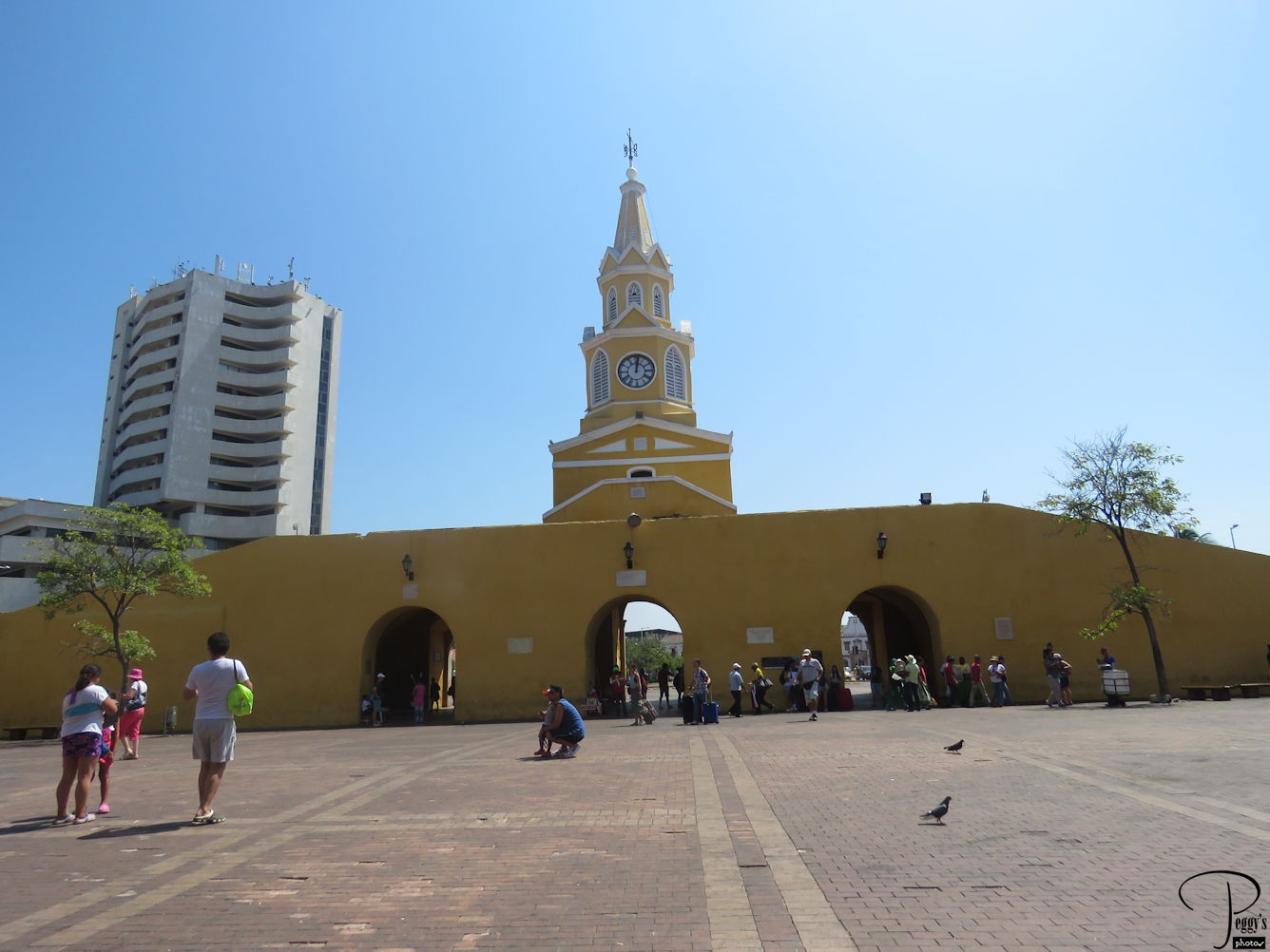 After our Gersemani tour, I went back to the Old City. Photo: the main entrance to the Old City.

Old City
Old City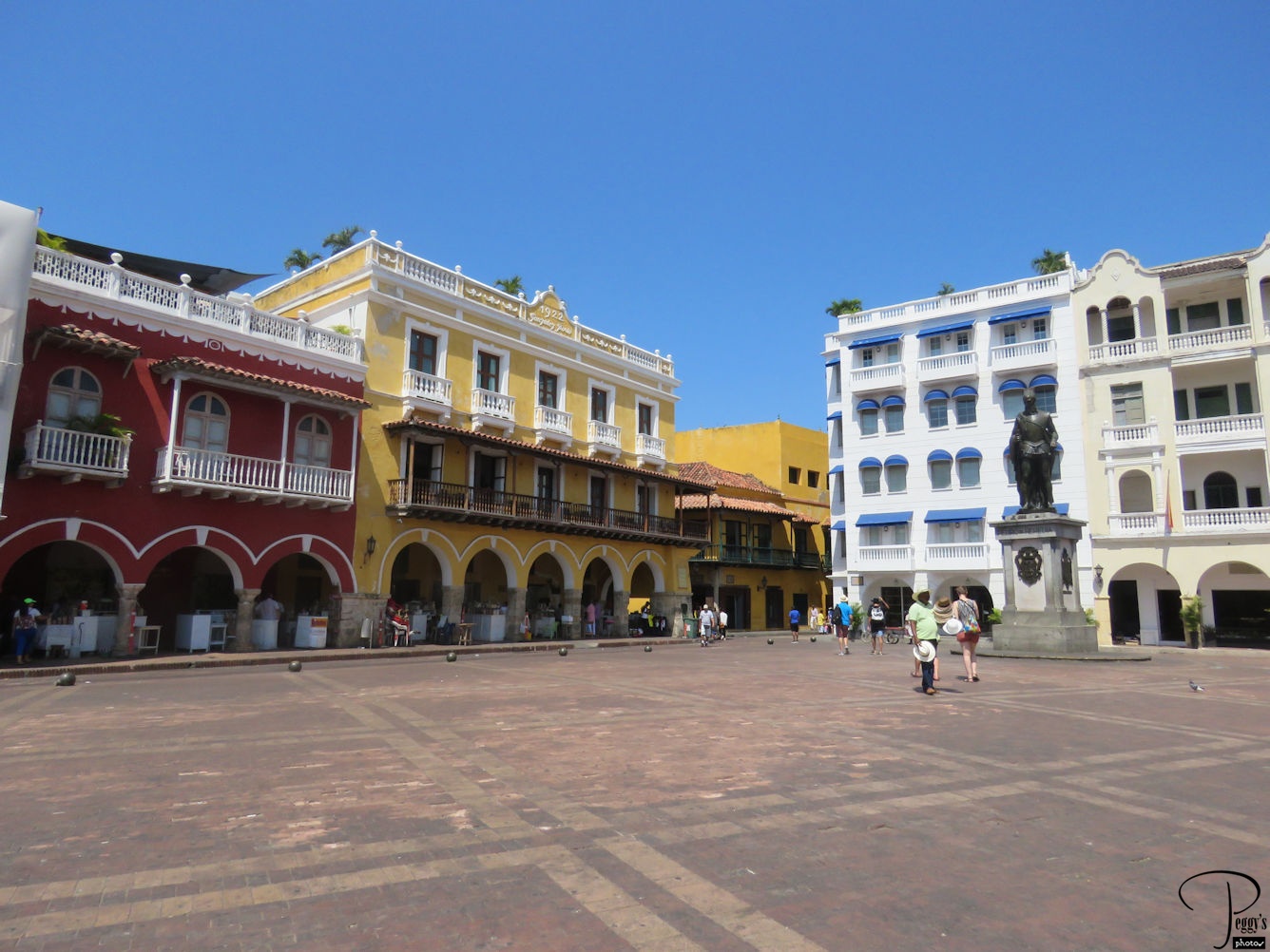 The plaza that you enter through the main gate, where I hadn't been the day before. I tried to find the restaurant where I ate lunch yesterday, but couldn't. The area is really too big to know just where you are.
For a slideshow on the school that we visited, the beach, the fort, and my second trip to the Old City, go to Slide Shows, South America, Colombia–2, "Cartagena: Beach, Emeralds, Fort, Old City."
I flew home the next day, first from Cartagena to Bogota, then from Bogota nonstop to Los Angeles. I really enjoyed my trip to Colombia––colonial architecture, beautiful scenery, very nice people, mostly good weather, and very good food.

Old City
© Copyright 2018 Peggy's Photos