Hotel Tryp Ambassador, Madrid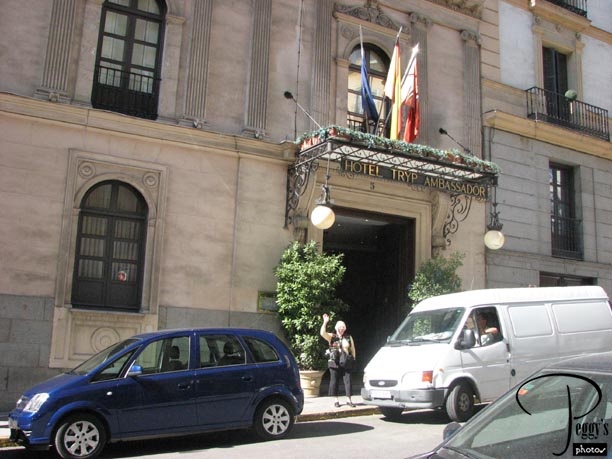 I left Los Angeles on time at 2:45 p.m. aboard a Lufthansa 747 heading first to Frankfurt, Germany. I assumed that the plane would land at the same location at the Frankfurt airport that my previous Lufthansa planes did. I had told a woman who I ate lunch with at the airport that I would help her find her transfer gate. But the plane landed at a different location, and instead of an escalator up to the main floor, there was only a steep flight of stairs and an elevator that didn't work. So we had to carry our carry–ons up the stairs. I was to leave from an A gate and we were in the A terminal, so it would be easy for me to find my gate. But my new friend and many other passengers were to leave from a B gate and there was no sign at the top of the stairs as to how to proceed to the B gates––only to the A, C, D, and E gates––and no official to ask questions of. I assume that they all eventually found their gates. We actually left Frankfurt a bit late, so I was quite surprised when I landed in Madrid that my checked–in suitcase did not arrive with me. I wasn't the only passenger with a missing suitcase and it took about an hour to be able to report mine missing––not a good day for German efficiency. Luckily, the driver who was at the airport to take me to my hotel waited for me. I was to meet my friend Merrie at the hotel––she arrived in Madrid from Portland, Oregon, much earlier in the day and was already at the hotel. We were staying at the Hotel Tryp Ambassador––Tryp is a hotel chain in Europe––as it was recommended by one of Merrie's friends. That is Merrie waving in the photo. We liked the hotel except I thought that it was somewhat hard to find as it was located on a side street, though convenient as it was between the Royal Palace and the Grand Via.
Hotel Tryp Ambassador, Madrid
Madrid Walk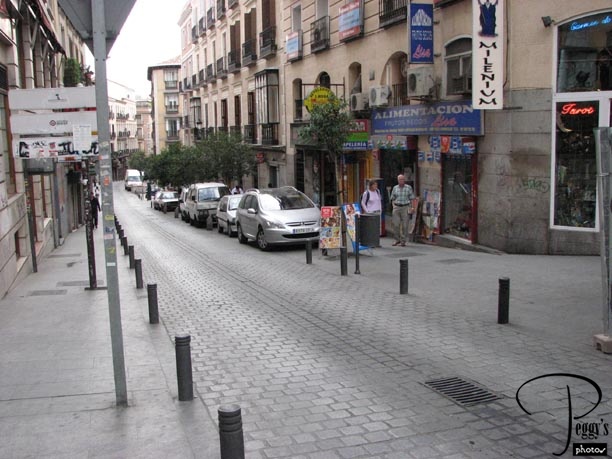 So instead of a nice after–flight nap before dinner, Merrie and I headed off to find El Corte Ingles, a major department store in Madrid where the hotel said I could find toiletries. Of course, all the toiletries that I needed I would have packed in my carry–on luggage if the carry–on regulations hadn't been recently changed. But I had thought ahead about the possibility of lost luggage and did pack a set of clothes for the next day in my carry–on luggage. Merrie had the hotel map and directions and she did get us to El Cortes Ingles. This photo was taken on the way.

Madrid Walk
Madrid Walk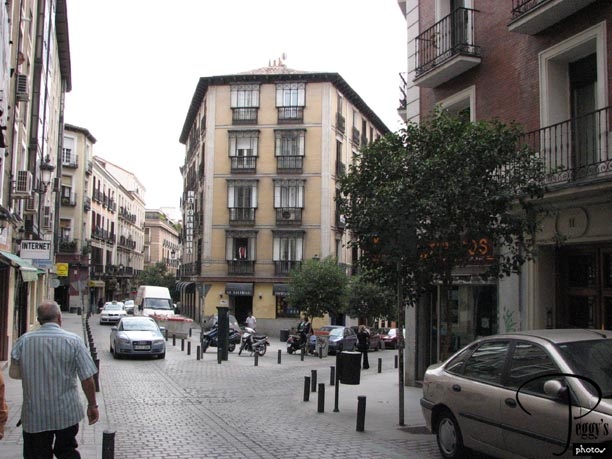 Also on the way to El Cortes Ingles. Every apartment in Madrid seems to have a balcony. Very pretty.

Madrid Walk
Madrid Walk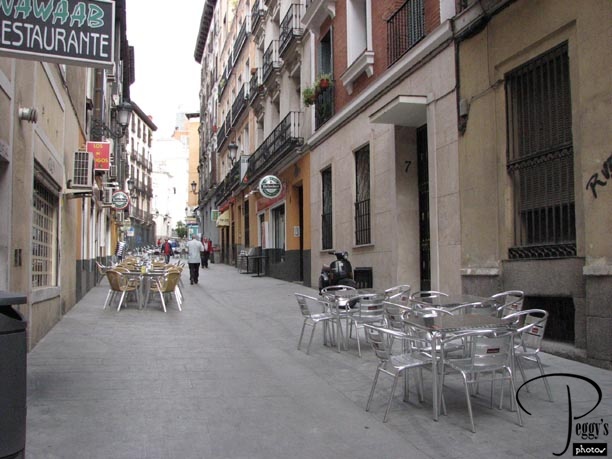 Also on the way. It is now about 5 p.m. and way too early for any diners to be at these tables. We were told that the earliest time that dinner starts to be served in Madrid is 8:30 p.m.

Madrid Walk
Madrid Walk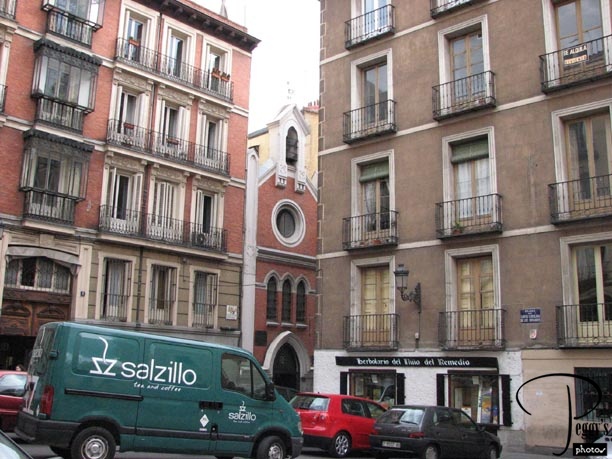 There always seemed to something unexpected of interest to be seen, such as the church between the taller buildings.

Madrid Walk
Madrid Walk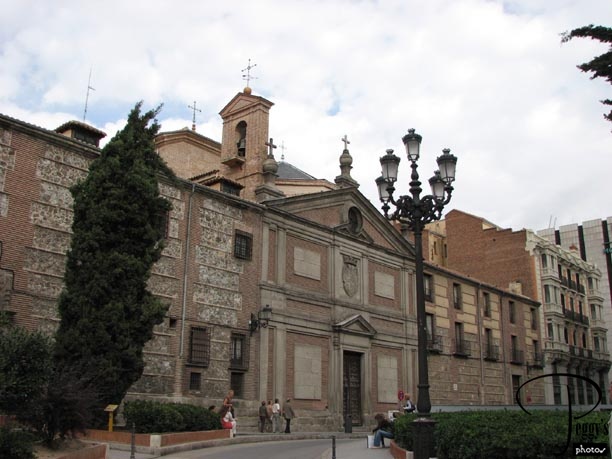 And the Maria de Austria Monstery built in 1603. You can visit it. We didn't.
Madrid Walk
Madrid Walk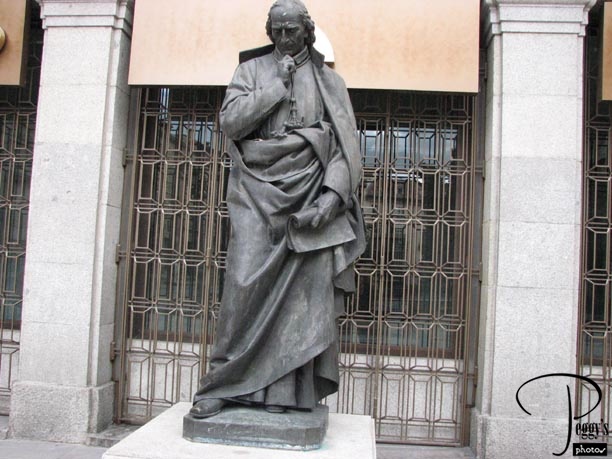 And the statue of Francisco Piquer y Rudilla, 1666–1739. He was a Franciscan monk who founded the Pawnshop in Spain to help families and individuals improve their lifestyles.

Madrid Walk
Madrid Walk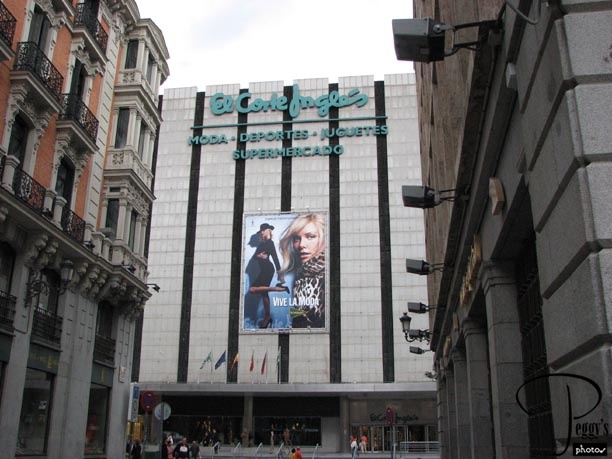 El Corte Ingles, a true supermercado. I had asked the hotel if they were sure that it would be open so late in the day. I needn't be concerned––it didn't close to 12 a.m. Also, I really didn't believe that a department store would have a large toiletry section––it did, as big as a Target's. Here, Merrie's impressive Spanish was greatly appreciated by me as the salespeople's English was muy poco. We also found out here how very nice the Spanish people are––not only did the salespeople help me buy what I needed but some customers also helped with some translations. After buying the toiletries, we went upstairs to the woman's clothing department as I wanted to buy a sweater as the jacket I had with me was not warm enough. I found one at a reasonable price and then checked the prices of a nightgown––the least expensive one was about 59 euros, so I skipped purchasing one.

Madrid Walk
Madrid Walk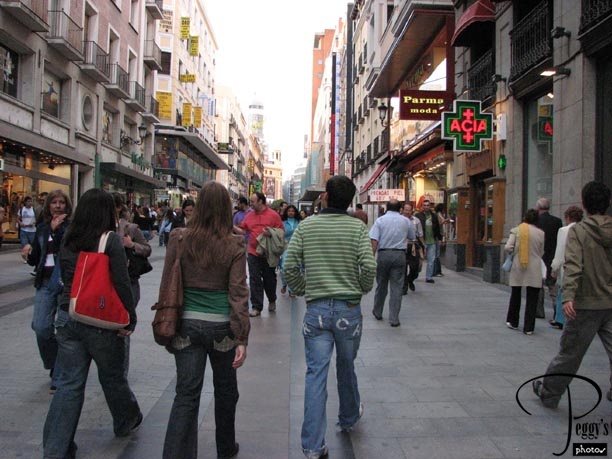 I remembered that I also wanted to buy some Advil and we were directed to a nearby pharmacy. Pharmacies in Europe are indicated by a green cross (which you can see in front of a store in this photo). This pharmacy only sold medicines––over the counter and prescriptions. No Advil, but they did have ibuprofen, which I bought. With everything bought, we were ready to go back to our hotel, BUT we had gone out a different door from El Cortes Ingles from which we entered in order to visit the pharmacy, which resulted in us walking in the wrong direction from where our hotel was located.

Madrid Walk
Madrid Walk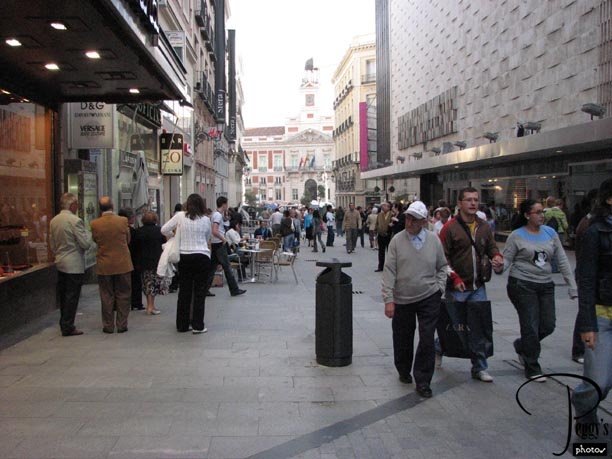 I don't know exactly when we realized that we were Lost in Madrid. Maybe when we saw the bell tower at the end of the street. We didn't know it then, but we were now approaching the Puerta del Sol––absolutely in the other direction of our hotel.

Madrid Walk
Madrid Walk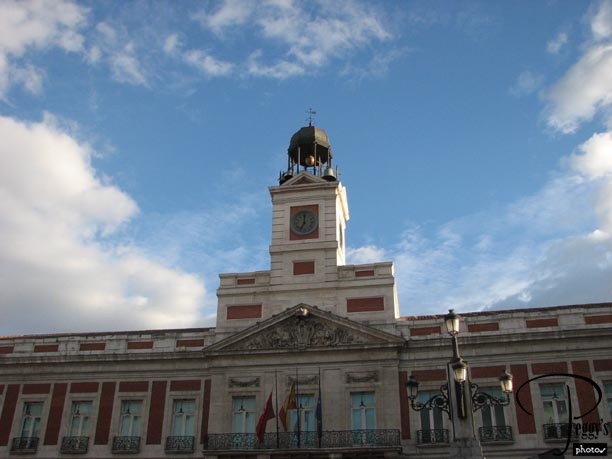 The Puerta del Sol is one of the major plazas in Madrid, though it is named after a medieval gateway (puerta) which now longer exists. This photo is of the governor's palace, which was built in 1760 as Madrid's first post office. It also served as Franco's police headquaters. We returned here on another day and took better photos.

Madrid Walk
Madrid Walk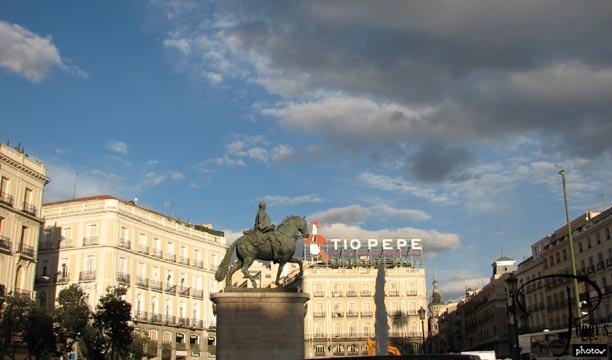 Another photo of the Puerta del Sol. The statue is of King Charles III and this Tio Pepe (sherry) sign was Madrid's first billboard.
Madrid Walk
Madrid Walk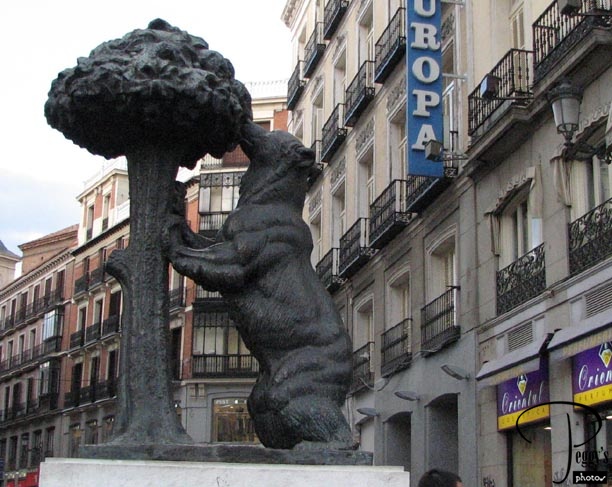 From my books on Spain, I recognized this bear statue on a side street off the Puerta del Sol. It is one of Madrid's major landmarks and is of a bear pawing a strawberry bush and of a madrano tree, which are all symbols of Madrid. The sun was quickly falling (it is dark in Madrid at about 8:30 p.m.) and Merrie asked two people for directions back to the hotel, one being a policeman. He told us we could walk up to the Gran Via and then make a left at Plaza del Callao and we would reach our hotel––eventually. But the street that we chose to get to the Gran Via held a real surprise for us––it was the streetwalker street. But we didn't realize this until we were halfway up the street, so we just continued on to the Grand Via. We found out other things on our Madrid walk––the people in Madrid walk very fast, their evening paseo seems to be a shopping paseo, and Madrid is very openly gay. We did finally reach our hotel and went out to eat at a tapas restaurant, which held another surprise of the day. My Spain books described tapas as small appetizers, which you can put together to make a meal if you so desire. I had tapas at a Spanish restaurant in Pasadena, my home town, before I left for Spain and the portions were very small. So I assumed that they would be in Spain as well. I picked out five tapas for myself and Merrie picked out some for herself. What we ended up with was enough food for 10 people. In the tapas bars that Merrie and I went to, there were only two sizes of tapas––a racion, a tapas portion the size of a meal, and 1/2 racion, or media racion, which is about 1/2 of a meal. We learned quickly, but what we had on our table was truly embarrassing. But the good news of the day was that at 10:30 that evening the hotel desk called that my suitcase had been delivered. My own clothes never looked so good to me.

Madrid Walk