To London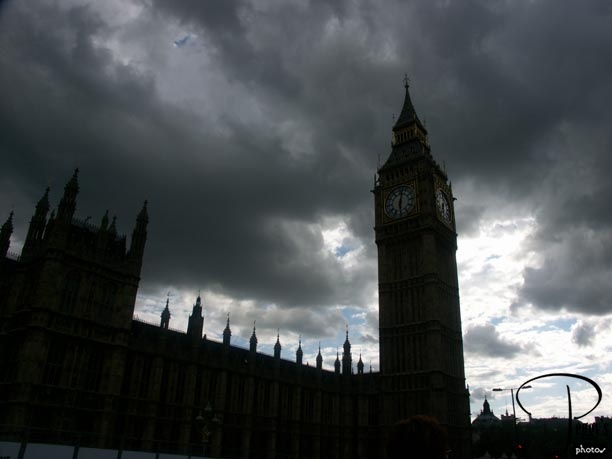 My son Brett dropped me off at LAX on his way to work and I was soon on my way to New York via United Airlines using some more of my mileage plus miles. We had about a two–hour layover in New York and then it was overnight to London. Both flights had the same flight number even though we changed planes in New York and dropped off passengers there and picked other ones up––this was a bit confusing. Food and service was good and I had interesting seatmates. However, even though we left New York after 9 p.m., we were still served drinks and then later dinner. It was hard to get much shuteye. For my time in London, I was on an extended Trafalgar London Week tour (I was going on their Scotland tour after my time in London). This way they booked my hotel and provided me with some extras––a three–day pass on London's Underground and buses; a 1/2–day sightseeing tour of London, which I didn't take as I had already seen all the sights on the tour last September when I was here with my daughter; and a free show ticket, which I also didn't take advantage of because of unforeseen events. Trafalgar also arranged for my transportation from Heathrow to my hotel in London––the Hilton Olympia, not a swanky Hilton but quite adequate. I got in early enough (already Day 2) to take a long nap and then set off for a London Showboat Cruise with dinner and entertainment on the Thames. I got directions from the hotel to the nearest Underground station––Keningston High Street––and then took a bus to the station and from there (with one change of lines) took the Underground to the Embankment station. This photo is of Big Ben and the Houses of Parliament that I took from near Embankment station. It actually wasn't dark yet though the photo looks like it was.

To London
Big Ben and Houses of Parliament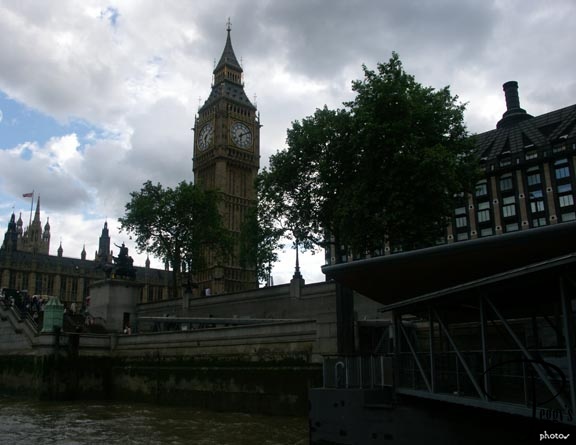 Photo: I got on the boat for the cruise here. I wanted to see the Thames at night and thought this would be an easy way to do it. I booked the cruise through Grayline Tours but it is run by another company, so it also can be booked through other tour companies. I had called up Grayline to get specific directions as to where I was to pick up the boat and also as to what the dress code was––"No jeans, no trainers." This seems to be a common British dress–code expression as I heard it several times again. I did already know that trainers is British for tennis shoes (that is, sneakers for those of you on the East Coast). There was another unaccompanied person on the cruise––an older Canadian man––and we found ourselves to be dinnermates. Don't worry––I am not looking for anyone and he was quite putoff when he started discussing American politics and I very strongly disagreed with him when he said that he thought that Condolezza Rice would make a great next American president. (When you travel, many non–Americans love discussing American politics with you and many times they are much more informed about our politics than we are, but they also often seem to assume that all Americans are Republicans––interesting).
Big Ben and Houses of Parliament
London Eye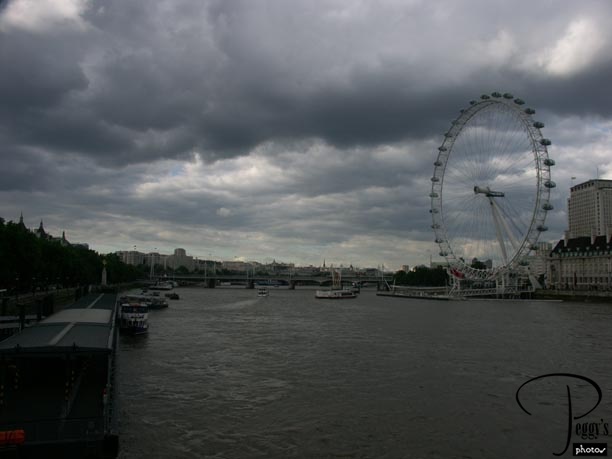 Our boat headed down the Thames, past the London Eye, all the way to Greenwich––this was quite a long cruise.
London Eye
Entertainment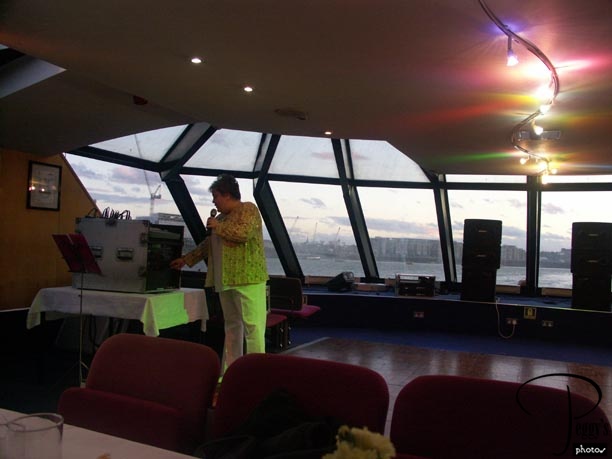 First dinner, which was quite good: four courses including wine. I think we were served salmon. Then, we were entertained by Jacqueline Faye, who sang selections from Broaday (London) shows. She was quite enjoyable and I put on three of her acts on this sight: Go to Movies, Wurope: Western Europe, England,  "London Showboat Cruise–1, –2, and –3"

Entertainment
Sunset on the Thames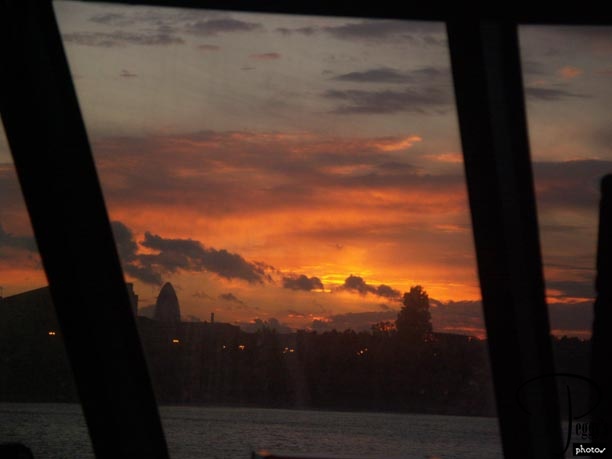 Very beautiful––taken through the boat window.
Sunset on the Thames
Tower Bridge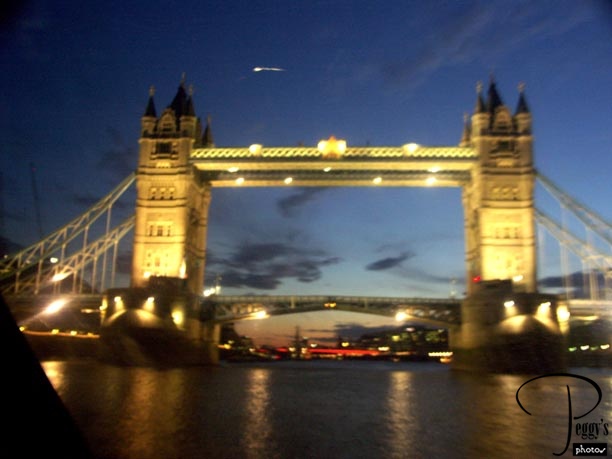 The Tower Bridge lit up at night.

Tower Bridge
Tower Bridge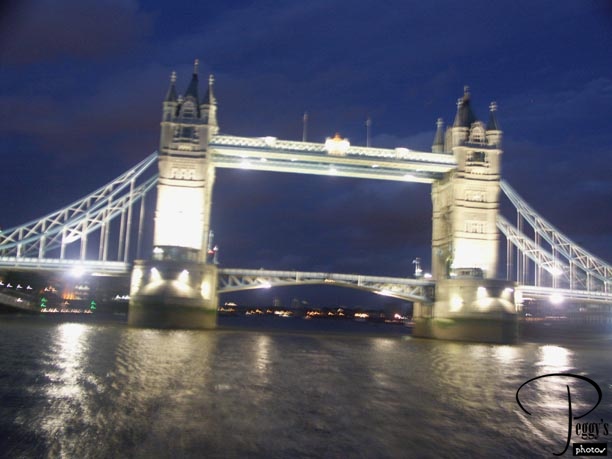 The Tower Bridge from the other side.
Tower Bridge
Tower Bridge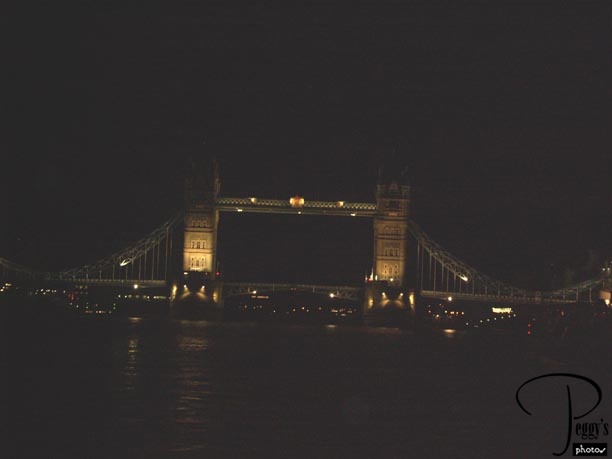 Another view of the Tower Bridge at night.

Tower Bridge
Bridge Over the Thames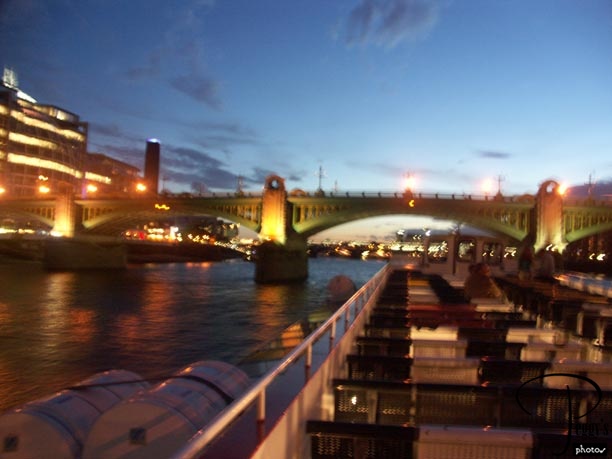 I'm not sure what the name of this bridge is, but it was pretty at night.

Bridge Over the Thames
Thames at Night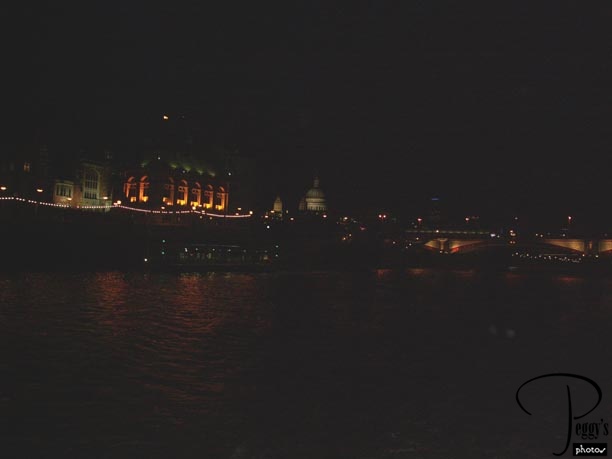 St. Paul's Cathedral and Blackfriars Bridge. E
Thames at Night
Big Ben and Houses of Parliament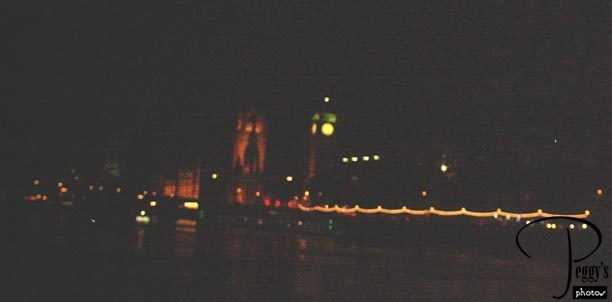 Note the reflection of Big Ben on the Houses of Parliament. Our boat docked and it was time for me to make my way back to my hotel. I had planned on taking a taxi back but there were no taxis in sight, so I did what Londerers do and took the Underground back the way that I came. I still am not used to taking public transportation at night in European cities as I would never do such in Los Angeles, but London is not Los Angeles and the Underground was crowded and seemingly safe. I got off at the Keningston High Street station and caught a bus back to my hotel. I got back about 10:30 p.m.

Big Ben and Houses of Parliament
London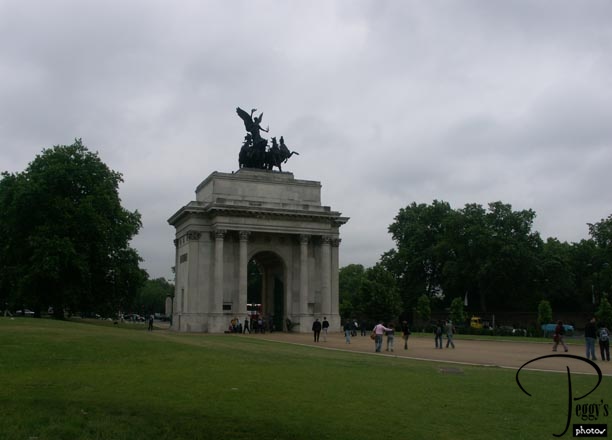 Day 3, 7/7/05. I had full day of London sightseeing planned for this day––Changing of the Guard at Buckingham Palace, taking photos of Piccadilly Circus and Trafalgar Square, picking up a free London show ticket at Leicester Square for Les Miserables for that night's show, revisiting Westminster Abbey, and visiting St. Paul's Cathedral. Some of you reading this received my e–mail as to why none of the above happened but I'll rewrite it for those you didn't receive that e–mail. That morning, I took a bus from my hotel to the Keningston High Street Underground Station. I got there before the 9:30 a.m. time when my Trafalgar bus/Underground voucher could be used on the Underground, so I spent some time looking at clothes at the Marks and Spenser next door to the station. When I went to the entrance to the station, I found it blocked off and was told that the entire London Underground was closed because of some type of electrical failure, perhaps a power surge. There was board there listing bus routes to the stations that we wanted to go to and where to catch the bus. I joined a hundred plus other people at the bus stop, and after many buses passed the stop without stopping because they were too full, I finally made it onto a bus after about an hour (which was about 25 minutes after the bus bombing) and took it to Hyde Point Corner, which is near Buckingham Palace. (While waiting for a bus, I began to realize that I could have taken one of two lines right from my hotel to where I wanted to go and I could have been where I wanted to go already, so I was feeling pretty stupid.) I recognized this arch from when my daughter and I were here last year so I knew I was in the right place.
London
London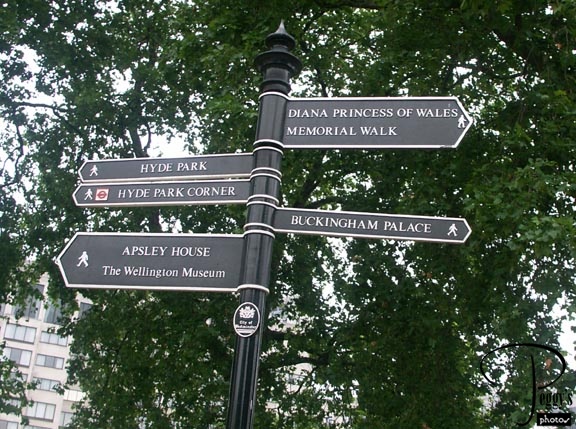 Sign past the arch directing tourists to the Diana Princess of Wales Memorial Walk, Buckingham Palace, etc.
London
London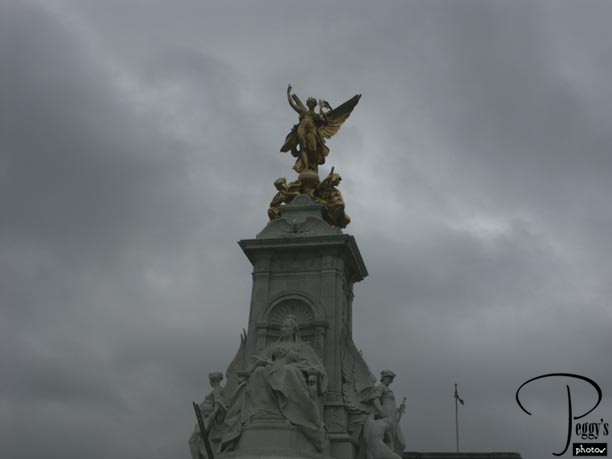 When I got to Buckingham Palace, I noticed that the usual large summer crowd wasn't there. I thought it was probably because of the Underground closure. I got a great seat right on the curb at the iron fence surrounding the palace. While sitting there, one police car, ambulance, and police motorcycle after another, all with their sirens blasting, passed by in both directions on either side of the palace. There was an attendant on the bus that I took here who told us that there had been an explosion at Kings Cross Station and that some people were hurt. All the police and ambulence activity seemed to me to be in response to more than just some people hurt. About 11:15 a.m., two policeman told us, for security reasons, to vacate the area around the palace (this is over two hours after the Underground bombings and more than an hour after the bus explosion). I asked the policemen what was going on and they told me that they didn't know (I found out later that they probably were instructed not to tell what they knew so nobody woud panic). I took this photo of a statue that is in front of Buckingham Palace.

London
London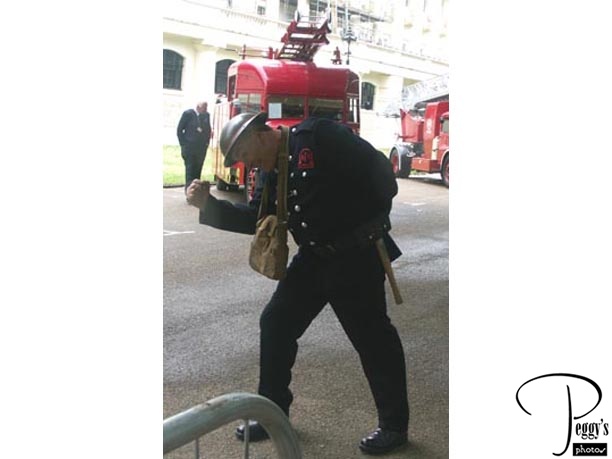 Since I didn't know what had occurred, I decided to just continue on with my plans for the day and walked toward Piccadilly Circus. On the way, I passed a museum with men dressed up in World War II uniforms (I think they were from this war as Commemoration Day––marking 60 years since the end of World War II––was to be celebrated this week) and with old war vehicles parked in front. This photo is of the man I asked if he knew what was going on. Here he is apeing for the camera, a real What Me Worry type of guy. He told me about the three Underground bombings and the bus explosion––"It ripped the top right off the bus." He didn't sound very concerned about these events and I don't think that he thought they were all related. To me, it sounded like a terrorist attack, but I really wondering if it was just my American paranoia that was making me think so.

London
London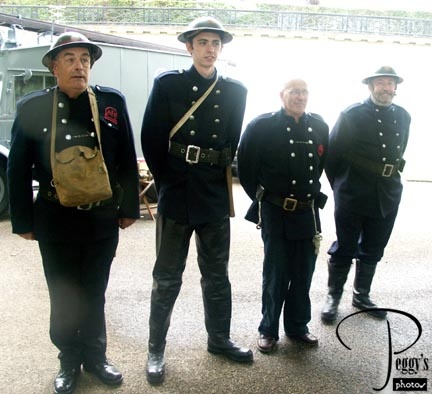 More of these guys were posing for photos.
London
London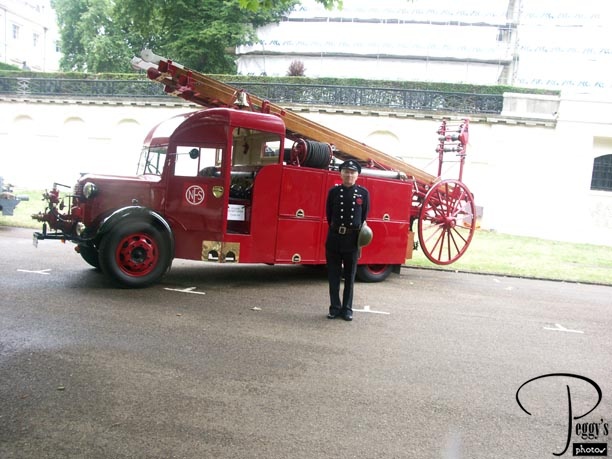 And another one. Except for all the continuous sirens, everything and everyone appeared very calm and normal here. There were even many World War II veterans being dropped off in taxis at the museum, probably for a pre–Commemoration Day event. I saw a man in a navy uniform who was greeting the veterans and asked him if he knew what was going on. He told me the same thing as the first man told me. I decided then to go back to my hotel to watch the news and to feel safe. Luckily, a taxi was just pulling up and dropping someone off and I asked him if he would take me back to my hotel. At first he didn't want to as he didn't think that he could get me there as many roads were closed off and there were numerous traffic jams. With some pleading on my part, he then said that he would try to take me back to my hotel but might have to just drop me off somewhere. Even though he knew what was going on (from his radio), he was very calm about it all and he referred back to the previous London IRA bombings––in other words, London has already been through this before. This time, he thought it could be the French who were angry that London got the Olympics, something to do with the G8 conference going on, or the Taliban. He told me that I really should just stay where I was and do the tourist things that I would have been doing. Otherwise, I am letting the terrorists win. For me, they had won and I wanted to go back to the safety of my hotel. There, I watched the news, e–mailed my children that I was okay, ate lunch at the hotel, took a very long nap, and saw when I got up that the buses on our street were running and people were walking around, although there still were almost continuous sirens. I joined the walkers and went up the street to have dinner. The whole experience seemed surreal––How could I have ended up in a city that was being attacked by terrorists? How could the British be so calm about it all? How could life in London return to almost normal so soon? I never did get my show ticket, but almost all shows were canceled that night anyway––this was the only night that I had free to have used the voucher.
London