Days 1 & 2, Night Tour of Rome
Trevi Fountain at Night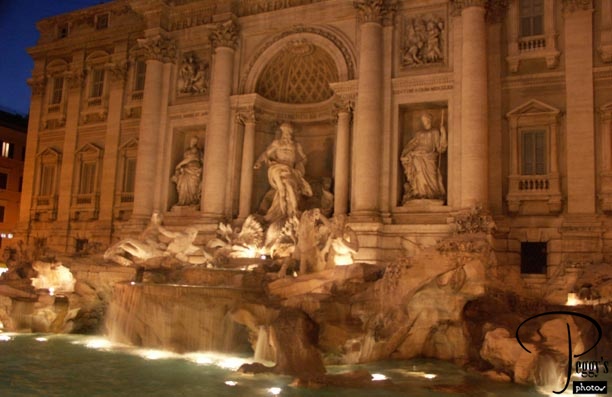 It is 5:30 a.m. on April 17, 2005, the day that my Italian adventure is supposed to start. I thought it would be a good idea to check whether my Air Canada flight from LA to Toronto and then to Rome would be leaving on time. I put in my flight number on the Air Canada site and all I got back was that either the flight number didn't exist or that the flight was canceled. A call to Air Canada––they told me that the times of both my flights were changed and that United Airlines should have called me (I was flying on United miles). My flight from LA to Toronto would now leave earlier but the Rome flight from Toronto would also leave earlier and I wouldn't make my connection. They said call United, which I did. United said that they tried to call me twice but couldn't reach me (they had an incorrect telephone number for me, but they DID have my e–mail address and home address). But luckily there was a seat available that afternoon on the Lufthansa flight from LA to Frankfurt, Germany, and then to Rome. I took it. Then, my Lufthansa flight left LA an hour late, which meant that I missed my connecting flight to Rome. Lufthansa rescheduled me on a flight two hours later. I finally arrived in Rome at Fiumicino (Leonardo da Vinci) Airport and had my suitcase in hand about 5:45 p.m. (I was to have arrived at 10:30 a.m.). I had a night tour of Rome with dinner booked at 7 p.m. Was I going to make it? I took a taxi from the airport to my hotel (70 Euros), checked into the hotel about 6:30 p.m., and was ready for the bus to pick me up at 7 p.m. The new pope had not yet been elected, so I asked my taxi driver who he thought would be the new pope––he said Cardinal Ratzinger of Germany. He guessed right.

Trevi Fountain at Night
Roman Wall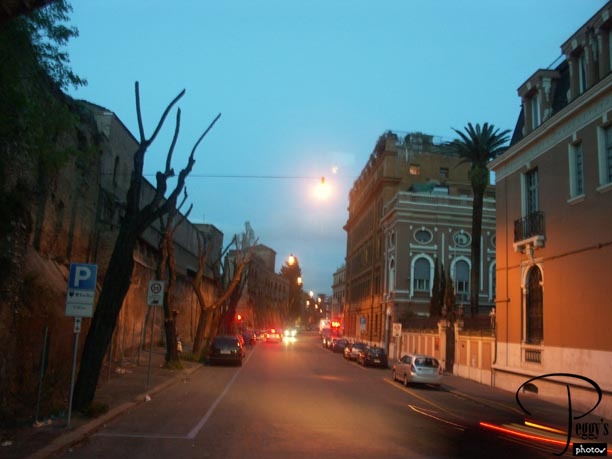 Rome at night is a sight not to be missed. Everything is lit up––the Colosseum, the Trevi Fountain, the Victor Emmanuel II monument, the Vatican, etc., etc. However, I was passing most of these places on a moving bus and there was too much light to get many good photos even when I was walking by them. So I will put on this site what photos came out okay. On the left of this photo are part of the original Roman Walls that are still standing around the city.

Roman Wall
Via Veneto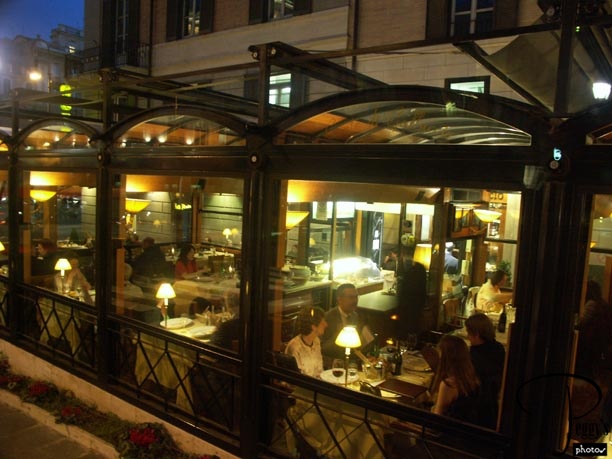 We passed by these diners eating along the Via Veneto, the upscale area of Rome where you go to be seen or go to see the people who go there to be seen.

Via Veneto
The Crowd at the Trevi Fountain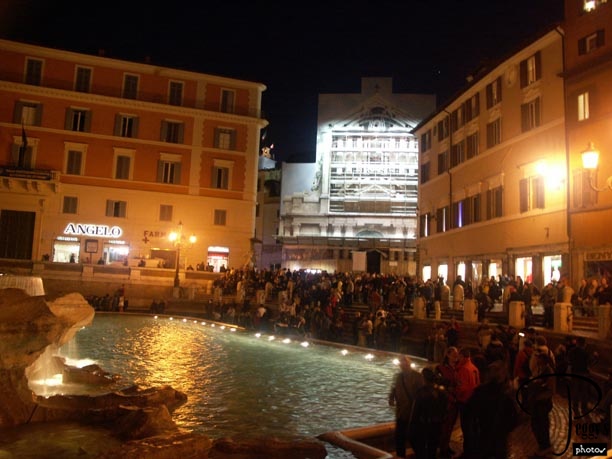 We got off the bus and walked to the Trevi Fountain. The crowd at the fountain was really light compared to the crowd several days later when I went there with my Trafalgar escorted tour group. The building in the background is under renovation, which is a common sight in Italy.

The Crowd at the Trevi Fountain
Another View of the Trevi Fountain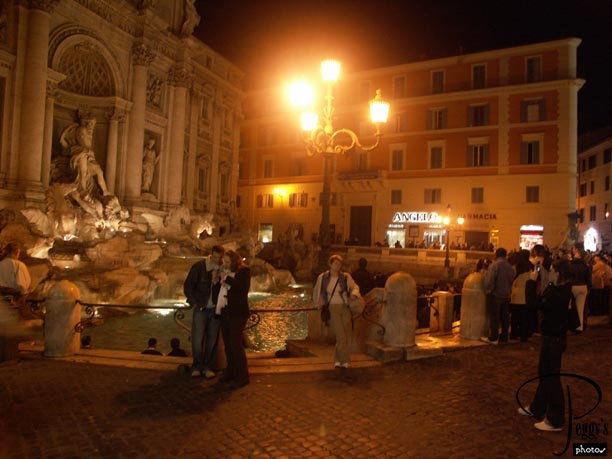 I threw a coin in the fountain, which is supposed to guarantee that you will someday return to Rome. I did this when I was in Rome when I was 12 years old, so I guess it must work.
Another View of the Trevi Fountain
Chestnut Seller at Trevi Fountain
Anyone for roasted chestnuts?

Chestnut Seller at Trevi Fountain
Gelato Store at Trevi Fountain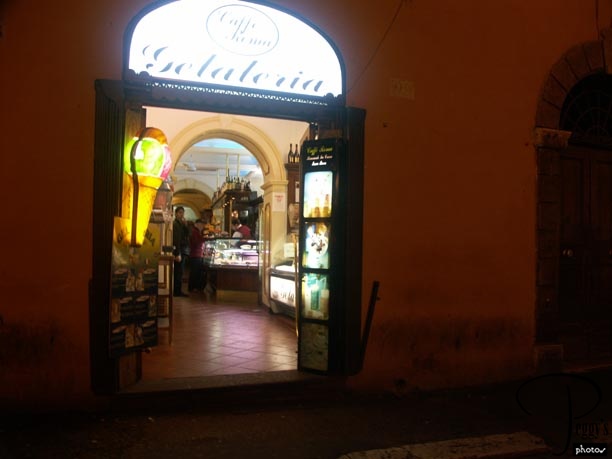 There are gelato stores everywhere in Rome and everywhere in Italy. Any flavor that you can imagine is available.
Gelato Store at Trevi Fountain
Street Scene Near Trevi Fountain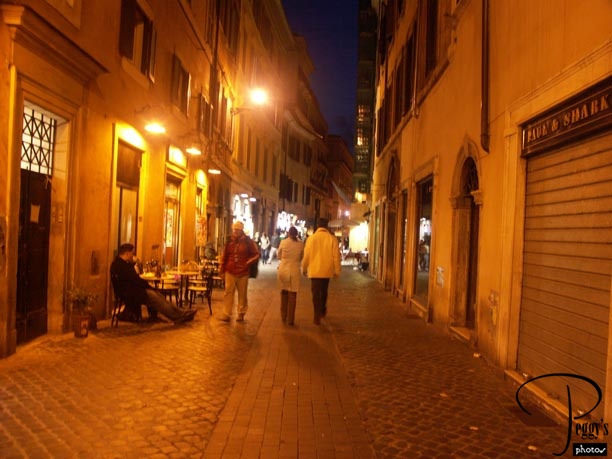 After you buy your gelato or your roasted chestnuts, you are to do some La Dolce Vita––the sweet life of just strolling around or sitting at a sidewalk cafe sipping an expresso or a cappuccino.

Street Scene Near Trevi Fountain
Horse Carriage Near Trevi Fountain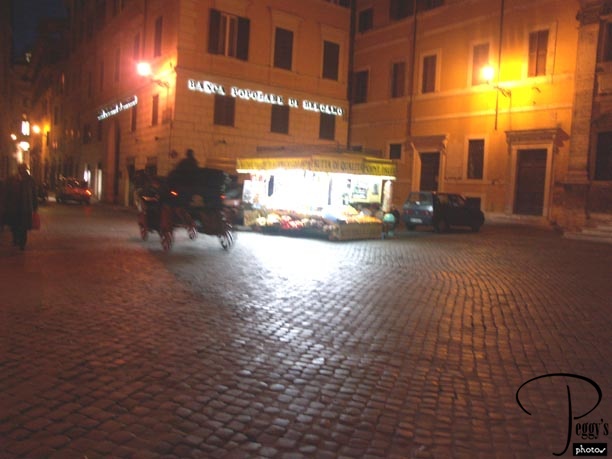 Or take a horse and carriage ride along the cobblestone streets. The store at the right sells fruits and vegetables, a common sight in Rome and Italy.

Horse Carriage Near Trevi Fountain
Forum Columns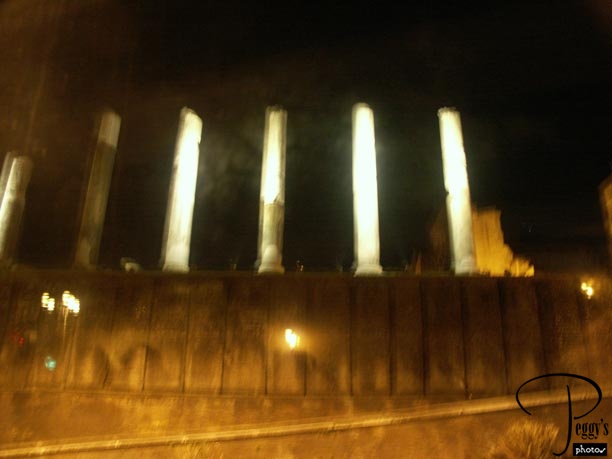 We walked from the Trevi Fountain to Piazza Navona (where my photos did not come out well) and then got back on the bus and passed the Colosseum lit up at night and the Forum. These columns are part of the Roman Forum.

Forum Columns
Castel Sant' Angelo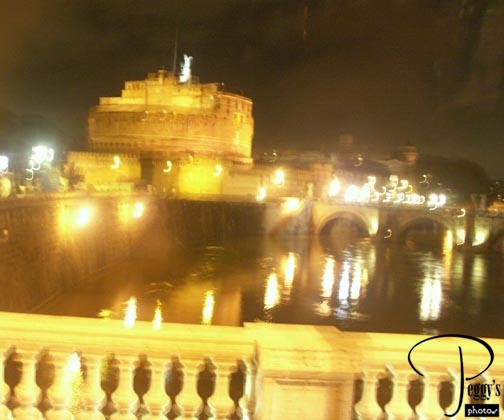 We next passed the Vatican and St. Peter's Square (it was empty) and then the Castel Sant' Angelo, which started being built in 139 A.D.

Castel Sant' Angelo
Papa Rex Restaurant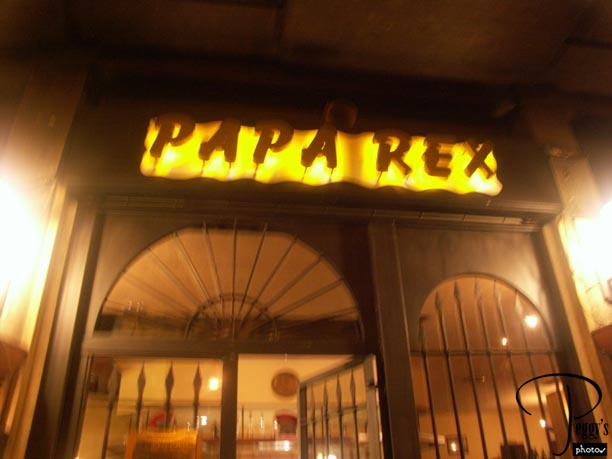 There were quite a number of people on this tour, but the tour dropped only a few of us off to eat at the Papa Rex restaurant. I ate dinner with two very sophisticated British couples who were dairy farmers in Somerset, England. They were in Rome for a long weekend. We were treated to two wonderful male opera singers––Go to Movies, Western Europe, Italy, for two movie clips of them ("Rome Opera Singers––1 and 2"). There was also a private party of American tourists in the restaurant. The British couples asked me if these Americans were from Los Angeles. I said no, as I looked at the way they were dressed (very preppy) and told them that people in Los Angeles didn't dress that way. I guessed they were from Boston. I didn't hear them speaking. After much discussion about where these Americans were from, I asked one of the American group where they were from. Can you believe they were from New Orleans and they were in Rome for a convention of New Orleans lawyers? I think they were very pleased that I thought that they were from Boston (more about this in another album). There are a number of restaurants in Rome that employ opera singers to entertain their diners. They also sell CDs of their singing. I bought a CD of the opera singers at the Papa Rex.

Papa Rex Restaurant
© Copyright 2018 Peggy's Photos