Day 9, Sarajevo: Tunel Spasa, Archduke Assassination Site, Old Town, Mosque, Synagogue, Bosnian Dinner
Tunel Spasa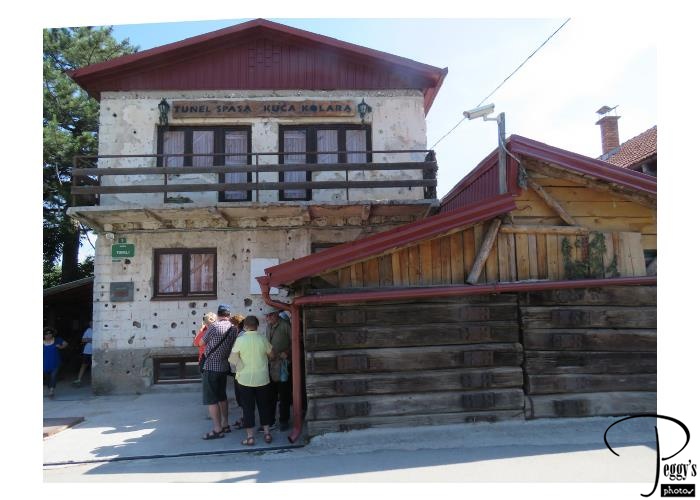 The Tunel Spasa, the Tunnel of Life or the Tunnel of Hope, was built by the Bosnian army in 1993 during the Siege of Sarajevo in the Bosnian War to provide a route to bring food, war supplies, and humanitarian aid into the city and also to allow people to escape from the city. One end of the tunnel was in the building attached to this house.
Tunel Spasa
Tunel Spasa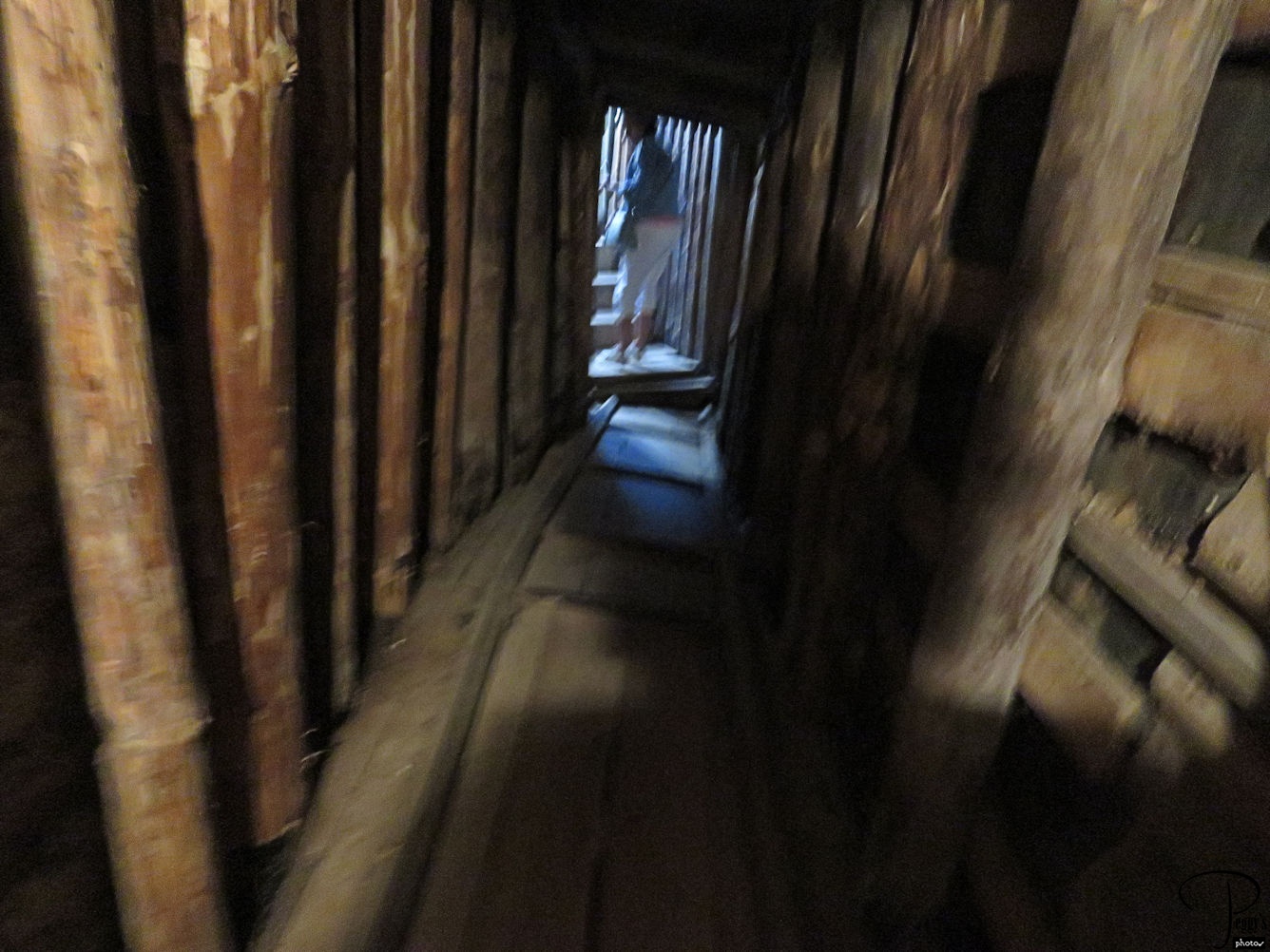 Inside the tunnel. The tunnel was dug from both of its entrances and took about 4 months to build. It consisted of 160 meters of covered trenches on one side, which ended in a garage of an apartment building, 340 meters of actual tunnel which went under the airport under UN control, and 340 meters of covered trenches ending at where we are now, for a total distance of a little over 1/2 mile.
Tunel Spasa
Holiday Inn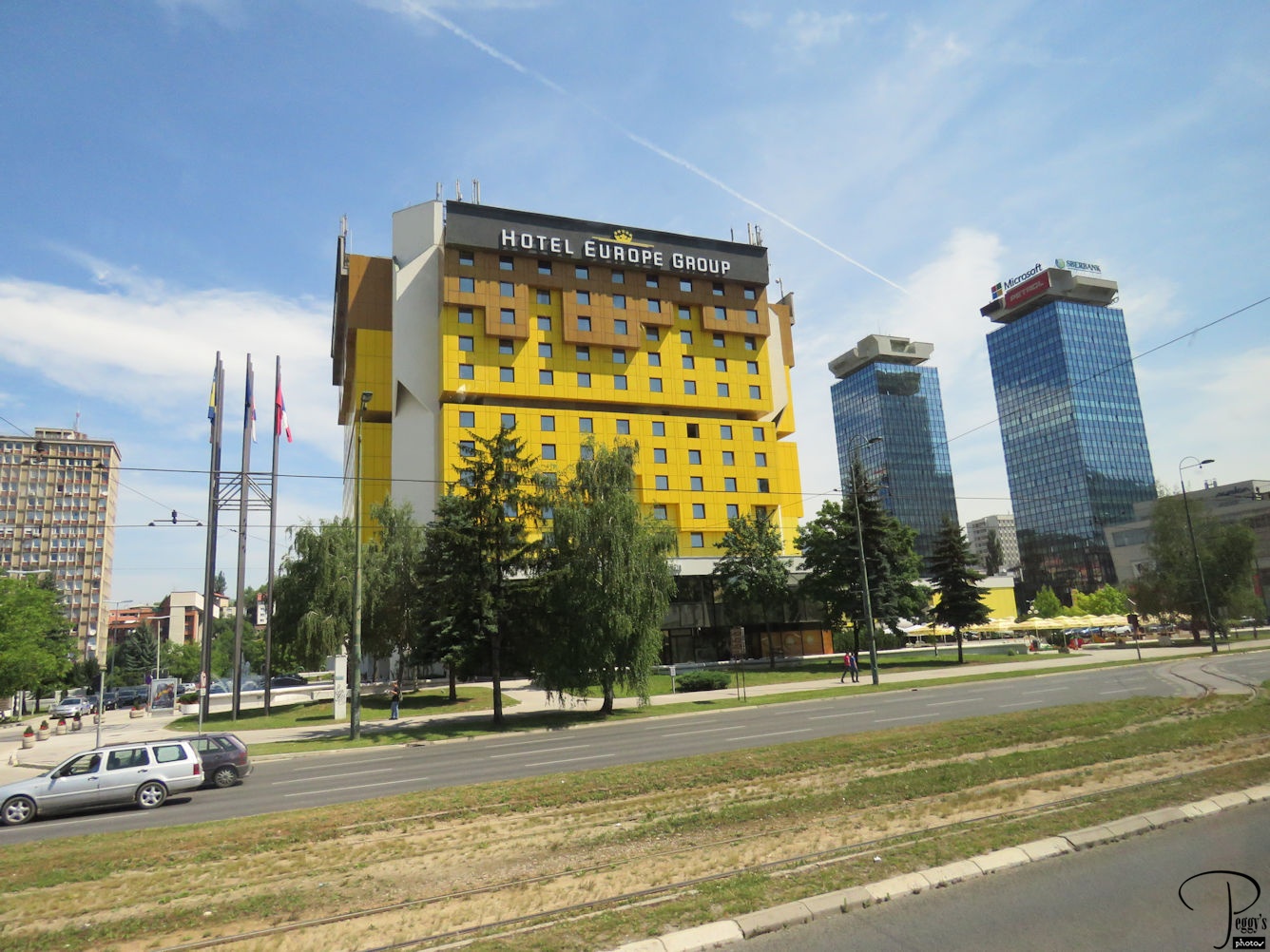 This Holiday Inn was built for the 1984 Winter Olympics held in Sarajevo. Reporters covering the Bosnian War stayed here. The hotel was regulary shelled. "From the hotel you didn't go out to the war, the war came to you," Martin Bell, former BBC correspondent.
Holiday Inn
Archduke Assassination
Our local guide is pointing out the exact spot where Archduke Franz Ferinand, nephew of the Emperior Franz Joseph and heir to he Austro–Hungarian Empire, and his wife, Sophie, were assassinated on June 28, 1914, which was the spark that ignited World War I.

Archduke Assassination
Gazi Husrev-bey Mosque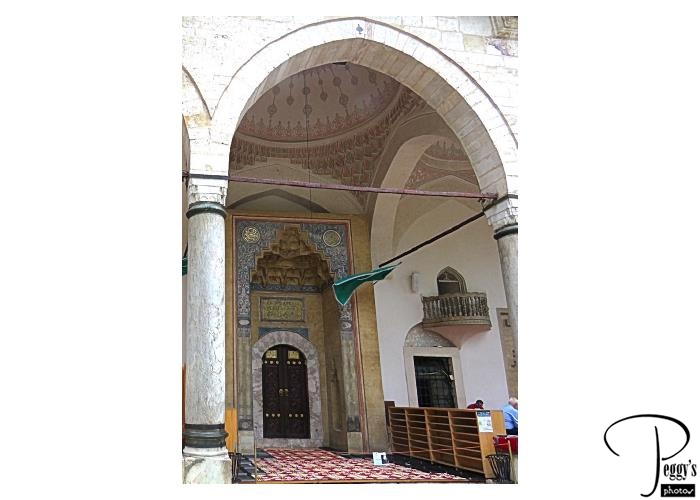 We visited the Gazi Husrev–bey Mosque in the Old Town of Sarajevo, built in the 16th century by the Ottomans. Much of it was destroyed during the Siege of Sarajevo. In 1996, Saudi Arabia provided much of the funds to restore the mosque.
Gazi Husrev-bey Mosque
Old Jewish Synagogue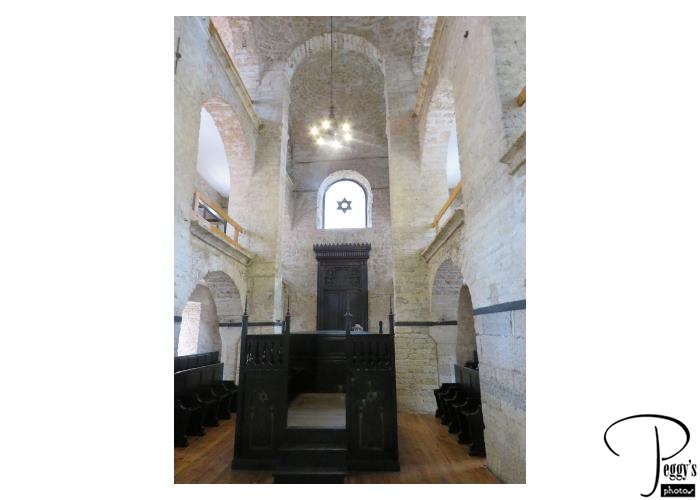 We visited the Old Jewish Synagogue, built in 1581.The synagogue houses the Jewish Museum.

Old Jewish Synagogue
The Marketplace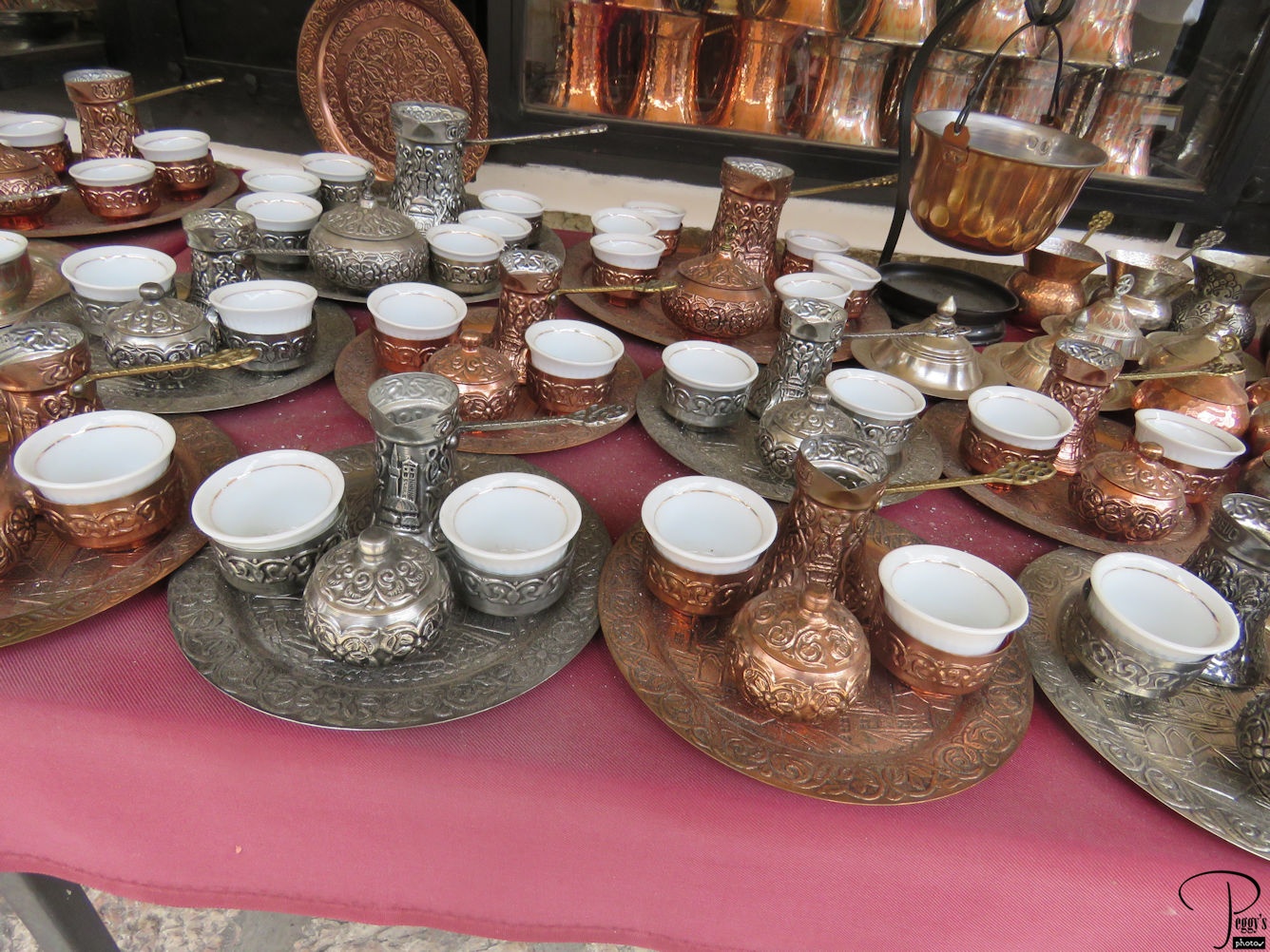 The marketplace in the Old Town sold many Turkish items such as these coffee and tea sets.
The Marketplace
Bosnian Dinner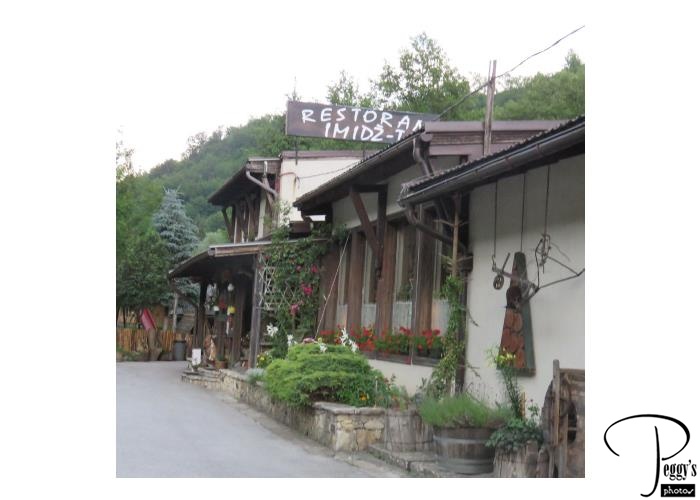 We had an optional Bosnian Dinner this night at the Restoran Imidz–T in the Sarajevo countryside.

Bosnian Dinner
Sarajevo Lit Up at Night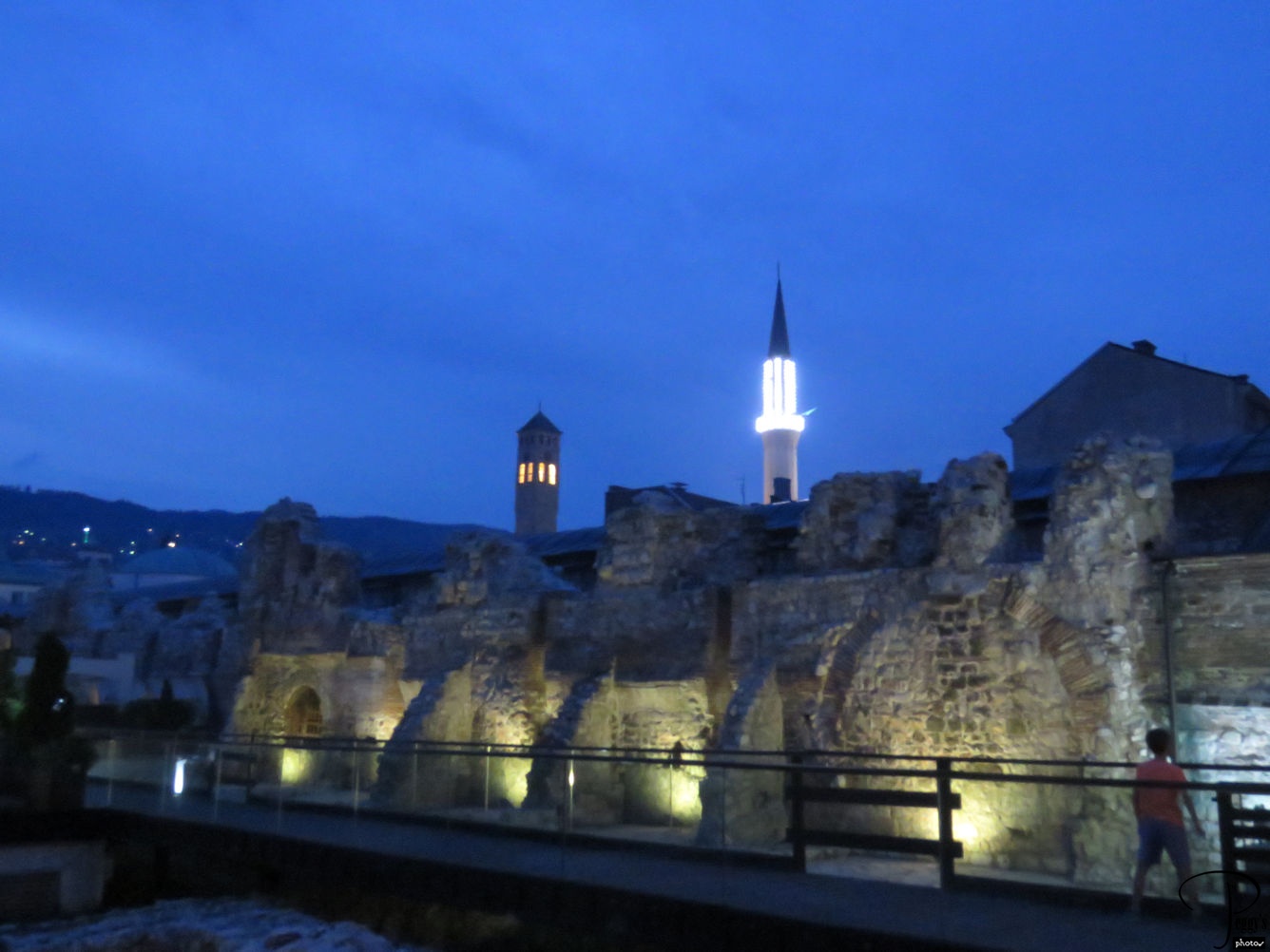 Coming back from our Bosnian dinner, we saw Sarajevo lit up, here the clock tower and minaret of the Gazi Husrev–bey Mosque in the Old Town.
I have put my photos of Sarajevo on two slide shows. Go to
http://www.peggysphotos.com/sarajevo–1/
and
http://www.peggysphotos.com/sarajevo–2/
(Slide Shows, Eastern Europe, Bosnia and Herzegovina, "Sarajevo–1 and –2").
Sarajevo Lit Up at Night
© Copyright 2018 Peggy's Photos