Bequia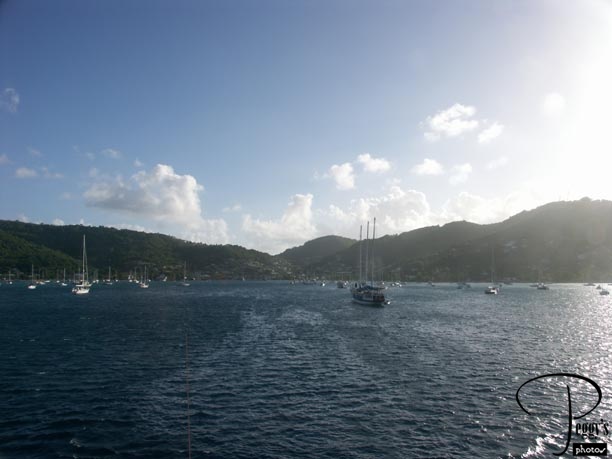 Bequia (pronounced "Beckway") is the second largest island (7 square miles) in the Grenadines and is 9 miles south of St. Vincent. The large cruise ships don't stop here––only a boat the size of easyCruise I or some of the large sailing ships do. This has kept Bequia quiet and uncomplicated (population 6000). Coming into Admiralty Bay.

Bequia
Bequia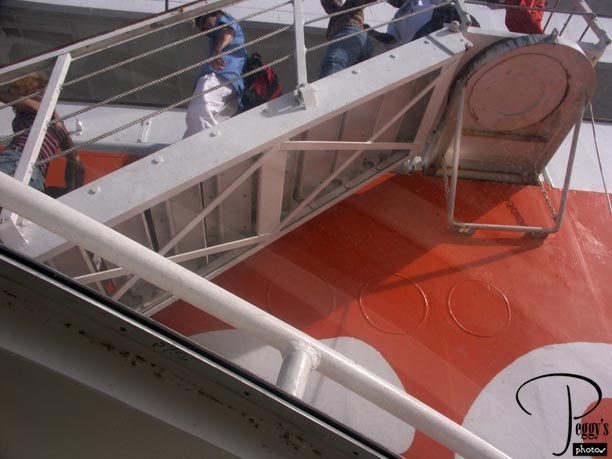 There were two tours offered today by the ship: "Speed Boat & Snorkel" and "Schooner Sail to the Exclusive Island of Mustique." I don't know if the first tour actually happened, but the second did as I went on it and so did a large number of our cruise passengers. First, we had to leave the ship via tender––interestingly, easyCruise I carries its own tender. But we had to walk down the gangplank into the tender––it wasn't as bad as it looks.
Bequia
Bequia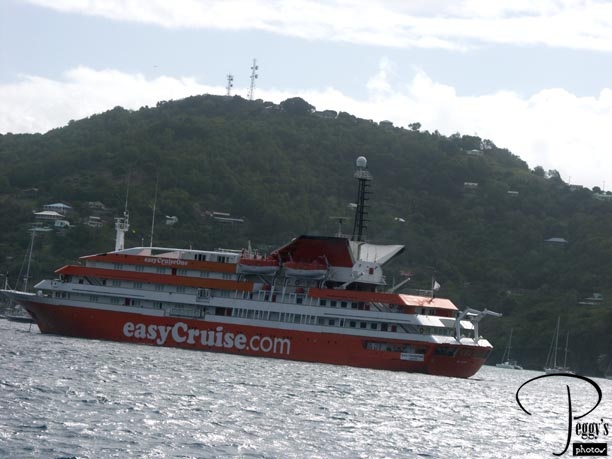 Tendering away from our ship.

Bequia
Bequia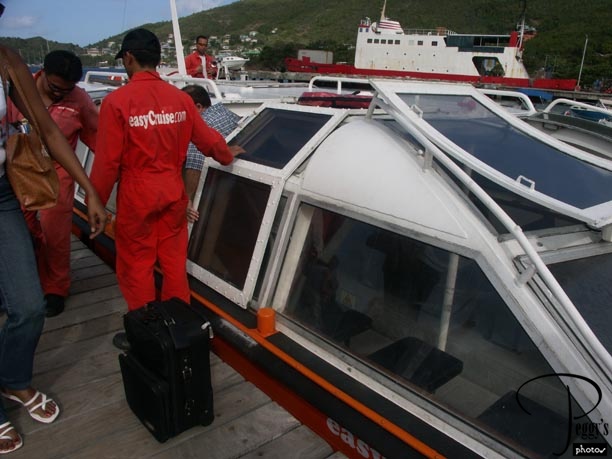 Arriving at a very small dock.

Bequia
Bequia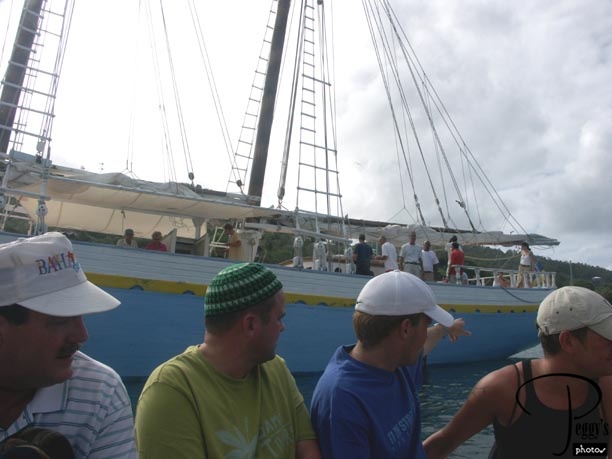 From this small dock, we got on a small boat that would take us to the schooner: the Friendship Rose. Of course, we had to climb on board the schooner from this small boat.
Bequia
Bequia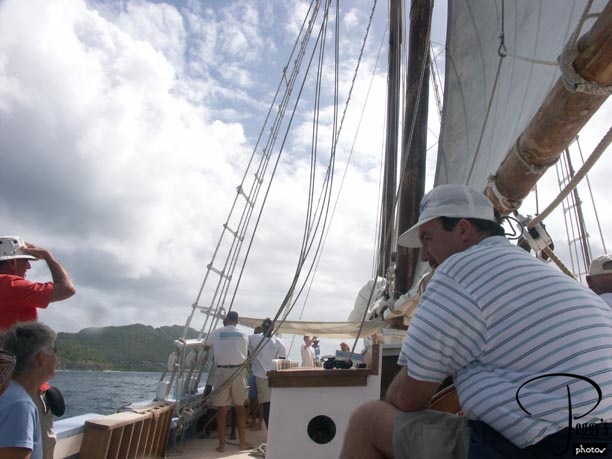 Aboard the Friendship Rose. A light breakfast was awaiting us.
Bequia
Bequia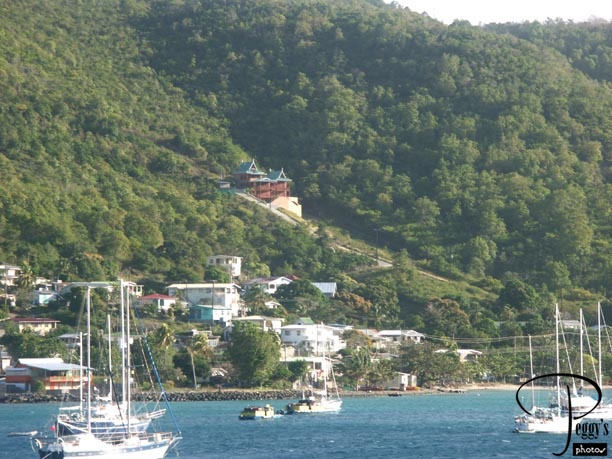 Sailing past houses on the hill overlooking Admiralty Bay.

Bequia
Bequia
Sailing past these odd old stone buildings.

Bequia
Bequia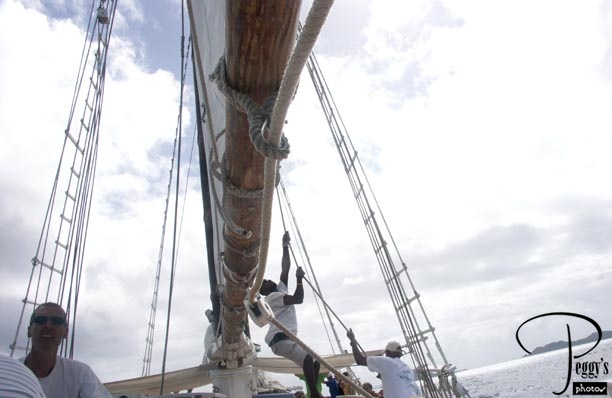 Hoisting the sails.

Bequia
Bequia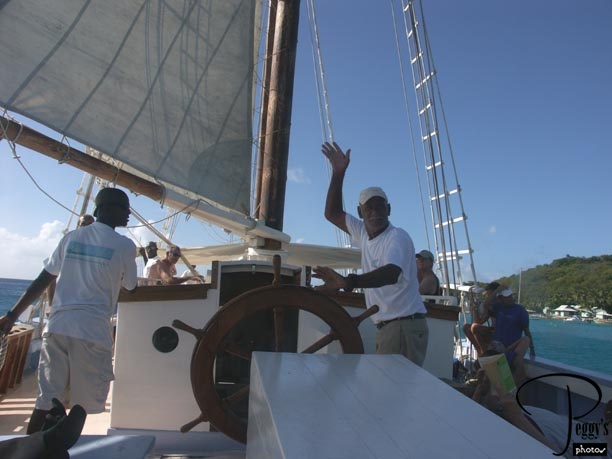 The captain and (as one of the passengers told me) the owner of the Friendship Rose.

Bequia
Bequia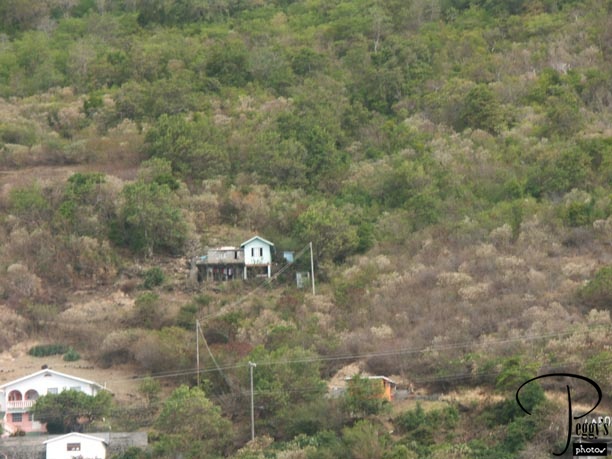 House on the hill.

Bequia
Bequia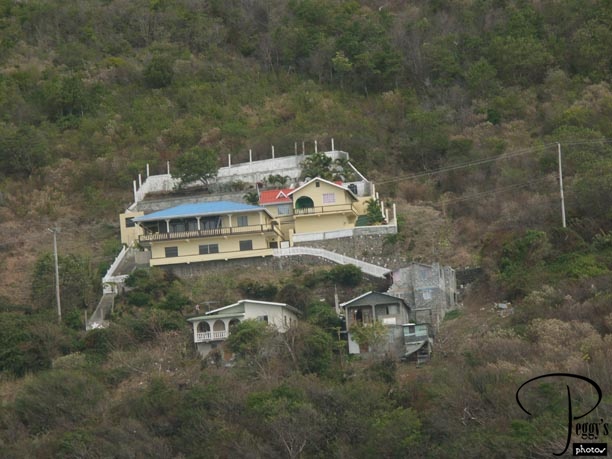 More houses.
Bequia
Bequia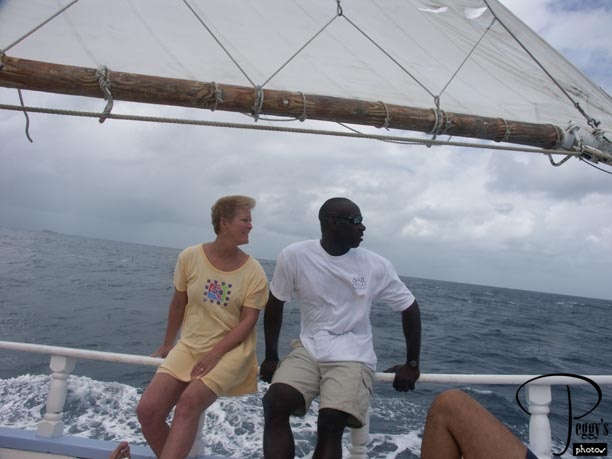 I had never been on a schooner before and didn't know what type of "ride" it would be. Going to Mustique, it was quite a ride––very rough water and we rocked back and forth. I just lied down on the deck on a mat and sunbathed. But this woman (not from our group) had nerves of steel and sat on the railing for the whole trip.

Bequia
Mustique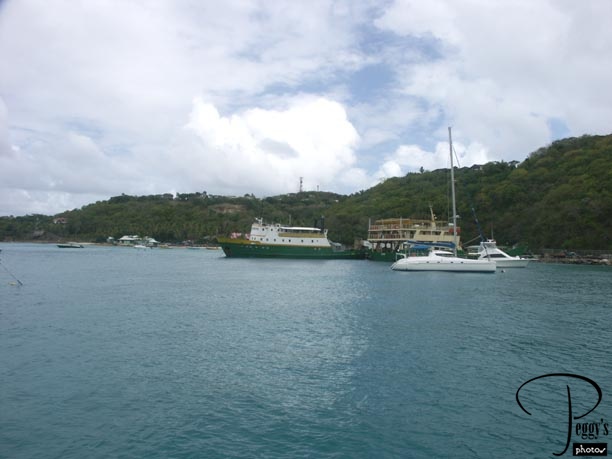 Arriving at Mustique. Mustique is a 1,400–acre island privately owned by the Mustique Company. The very rich and very famous have huge mansions on this island. There are only two small hotels and one restaurant. Upon our arrival, we were treated to champagne. But almost immediately, one of those unexpected very heavy Caribbean rain showers fell upon us and we had to escape to the lower hatch until it was over.

Mustique
Mustique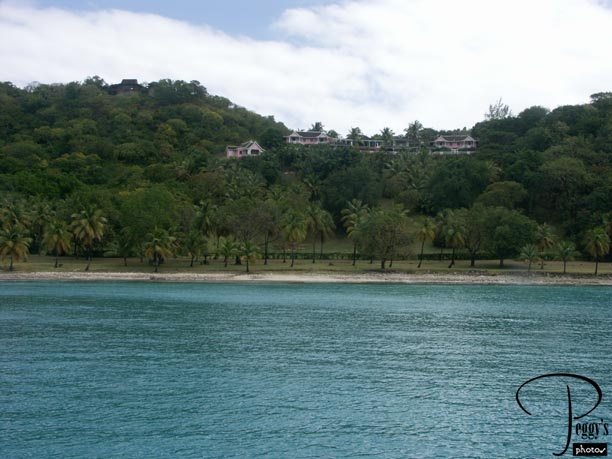 One of the mansions of the very rich and very famous. I was told that this one is owned by the Fiat family
Mustique
Mustique
Close–up of the Fiat mansion.

Mustique
Mustique
Photo of the beach taken from the schooner.

Mustique
Mustique
It was now about 12 noon. Lunch would be served on the boat at 1 p.m. This photo shows ones of the water taxis coming to take those who wanted to go ashore before lunch. I decided to stay on the schooner.

Mustique
Mustique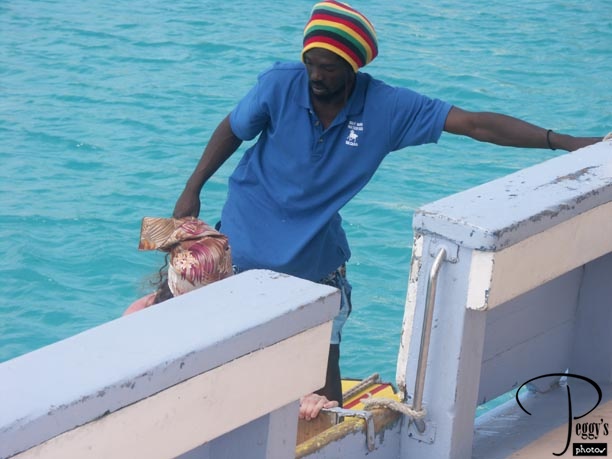 The water taxi came back in a hour to bring passengers back to lunch. The schooner would not leave to return to Bequia until 3 p.m., so if you didn't want to eat aboard the ship, you had about three hours on shore: to rent a car and see more mansions, to swim, or to visit the famous Basil's Bar and Restaurant on the beach, among other activities. Photo of boat taxi driver helping a passenger back on the schooner.
Mustique
Mustique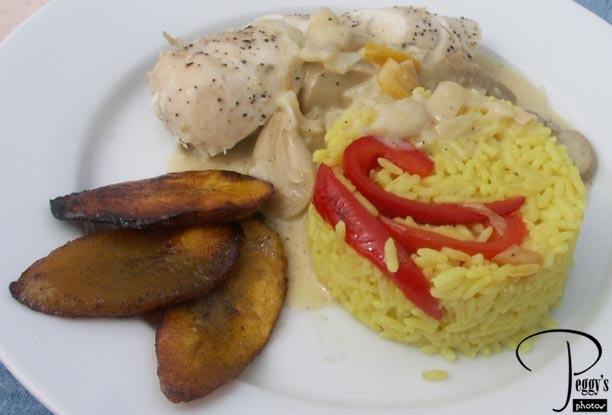 A photo of our very delicious lunch: chicken, rice, and plantain. Drinks were provided as well as desert.

Mustique
Mustique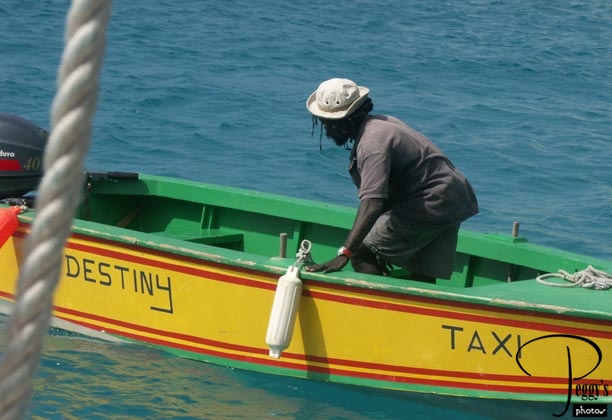 Second water taxi to take people ashore after lunch. I again didn't leave the schooner (okay, I really didn't want to go down and up the ladder from the schooner any more often than I had to), but I'm rather glad that I didn't as I was then able to have a very interesting long conversation with a retired British couple who had sold their house in England 8 years ago and bought 40–foot–plus sailboat which they now live on. In the last 8 years, they have sailed to ports halfway around the world. Their boat was presently anchored at Bequia.

Mustique
Bequia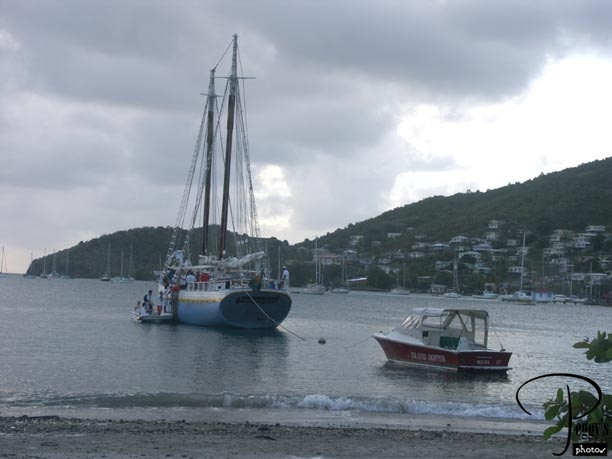 We left Mustique at 3 p.m. and arrived back in Bequia about 5 p.m. We had smooth sailing coming back. I took this photo from the dock after I got off the schooner. You can see that passengers are still getting off the Friendship Rose.
Bequia
Bequia

A closer–up view. I next walked around the small area of Port Elizabeth. I have put the photos that I took of this area on a slide show on this site: Go to Slide Shows, Caribbean, "Bequia:  Port Elizabeth Waterfront." After my walk, I took the tender back to the easyCruise I and had dinner aboard the ship. Lobster was again on the menu and it was delicious.

Bequia
© Copyright 2017 Peggy's Photos