Ait Benhaddous (See Slide Show)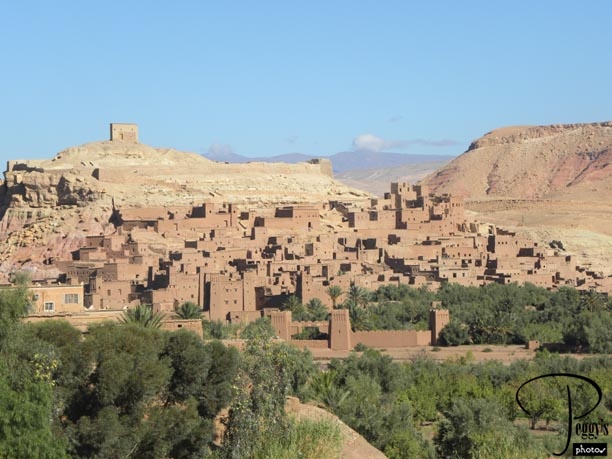 The photos in this album explain the photos on the slide show Ouarzazate to Marrakech on this website. Go to Slide Shows, Morocco. We first visited Ait Benhaddou, a "ksar" or "fortified city" made up many kasbahs. Some families still live in it.

Ait Benhaddous (See Slide Show)
Ait Benhaddous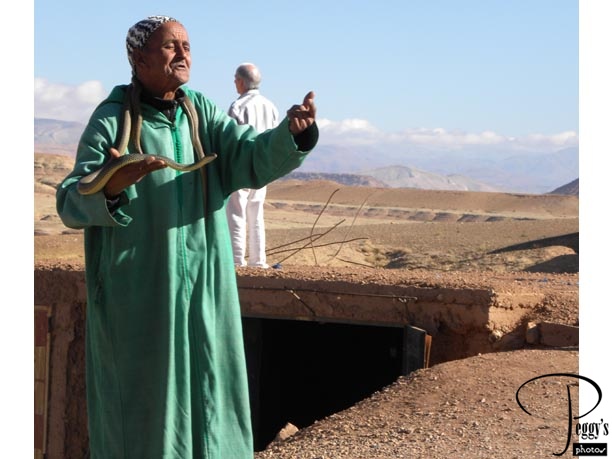 We were viewing Ait Benhaddou from a hilltop when all of a sudden we noticed a snake staring at us. The man in the photo came along carrying a satchel and took his snake out of it. I screamed: I was very near it, and then hid behind our bus assistant so I could take this photo. The snakeman wanted us to take a photo with us and his snake––no one took him up on the offer. If anyone had, the snakeman probably would have wrapped the snake around their neck for effect. I didn't realize the snake was as long as it was until I saw opened this photo on my computer.

Ait Benhaddous
Ait Benhaddous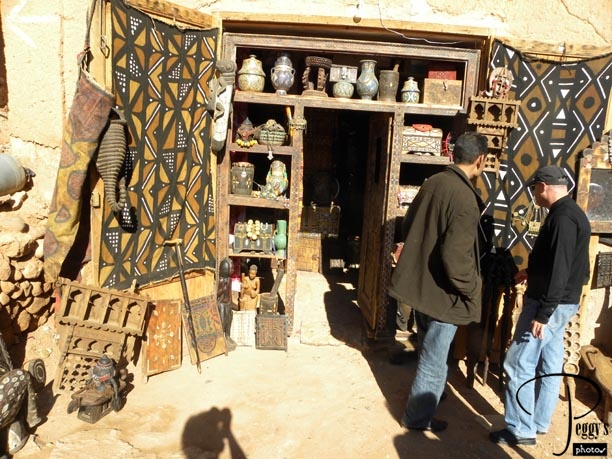 There were a number of stores at Ait Benhaddou. We were given a choice of whether we wanted to view the ksar or go shopping. I went to view the ksar but I wish we were also given time to shop. The stores were very interesting here. When I opened this photo on my computer, I saw the vases in it that I would have liked to have bought.

Ait Benhaddous
Ait Benhaddou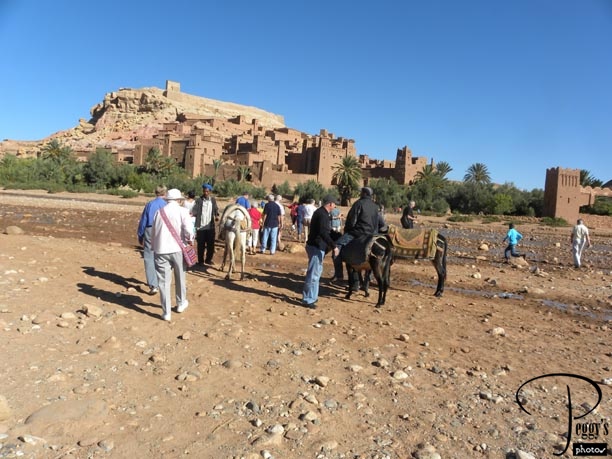 One reason some of our group decided to shop rather than sightsee was because we had to cross the Wadi (River) Mellah––you had your choice: either wade through it or ride a donkey over it.

Ait Benhaddou
Ait Benhaddou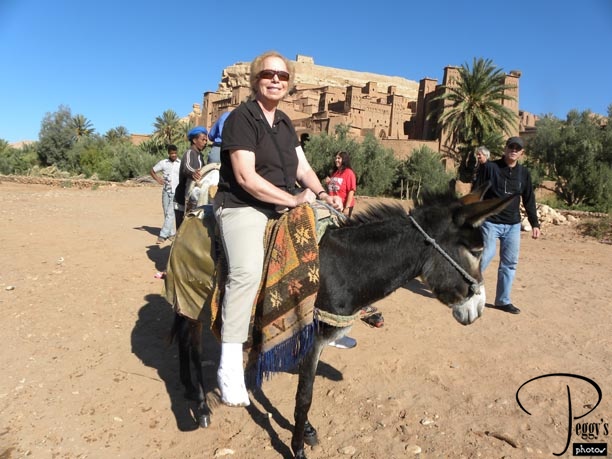 I chose the donkey option. I think it was 10 Dhs (about $1.20) one–way. I had not ridden a donkey before.

Ait Benhaddou
Ait Benhaddou
We walked through the Ait Benhaddou Ksar. Parts of a number of movies have been shot here: Lawrence of Arabia, Gladitor, and The Mummy among others.

Ait Benhaddou
Ait Benhaddou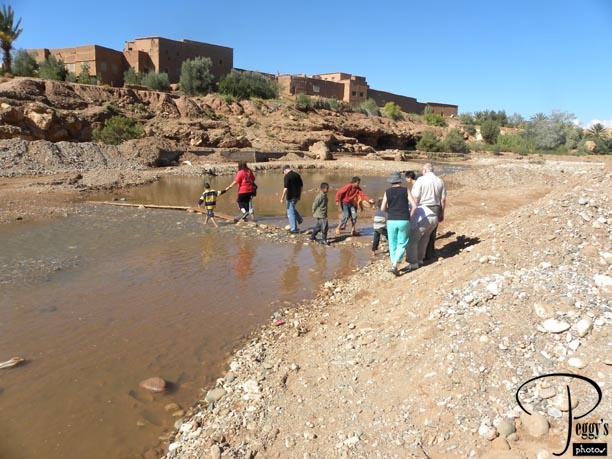 Going back to the village on the other side of the river. Some very enterprising kids set up a wooden plank bridge so we could cross back. They only charged if you wanted one or two of them to help steady your crossing––I did. I put the coins I had in my hand and Rachid picked some and paid the boys.

Ait Benhaddou
Tizi-n-Tichka Pass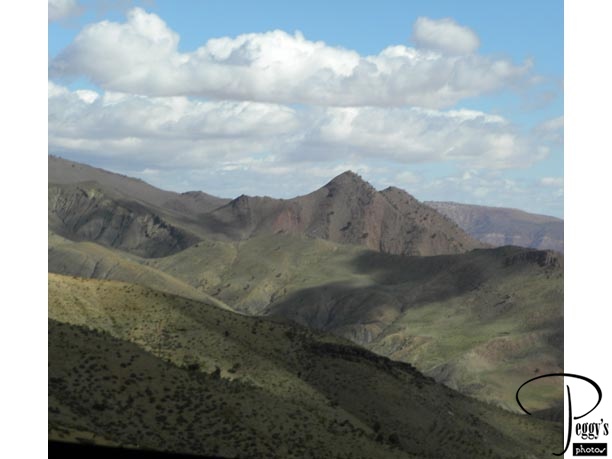 We next drove through the Tizi–n–Tichka Pass of the High Atlas Mountains to an altitude of 7,414 feet (2,260 meters)––a very winding road both up and down.

Tizi-n-Tichka Pass
Rest Stop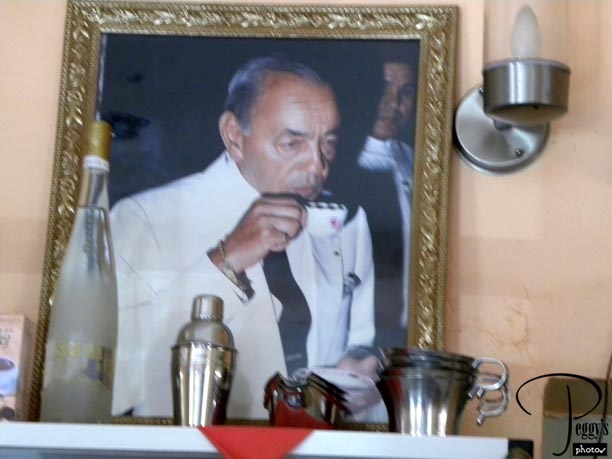 We stopped at rest stop for coffee. This is a photo of King Mohammed VI drinking a cup of coffee––very apt. However, the guys behind the counter didn't know how to work their new expresso machine, so they had to make about 25 or so cups of coffee, one by one, in an older machine––I think Rachid had to instruct them in how to operate this old machine. Rachid made sure that we all got our coffee––he even boiled the milk for our cafe–au–laits. What a great tour guide!

Rest Stop
Marrakech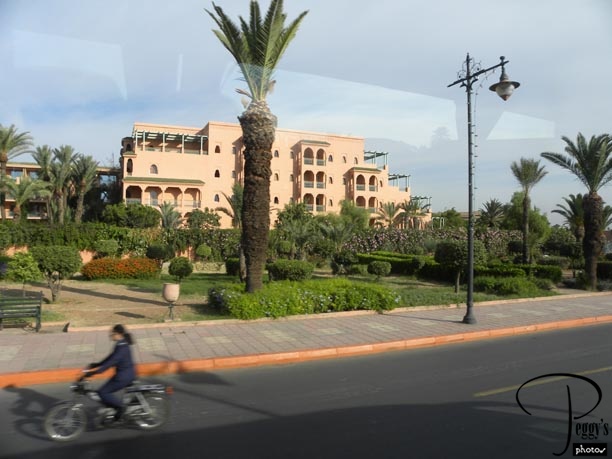 We arrived in Marrakech in the late afternoon and drove past much spectacular architecture including modern condo/apartment houses. Many French and other foreigners including movie stars have homes in Marrakech. It looks much different from other cities in Morocco.
Marrakech
Marrakech Hotel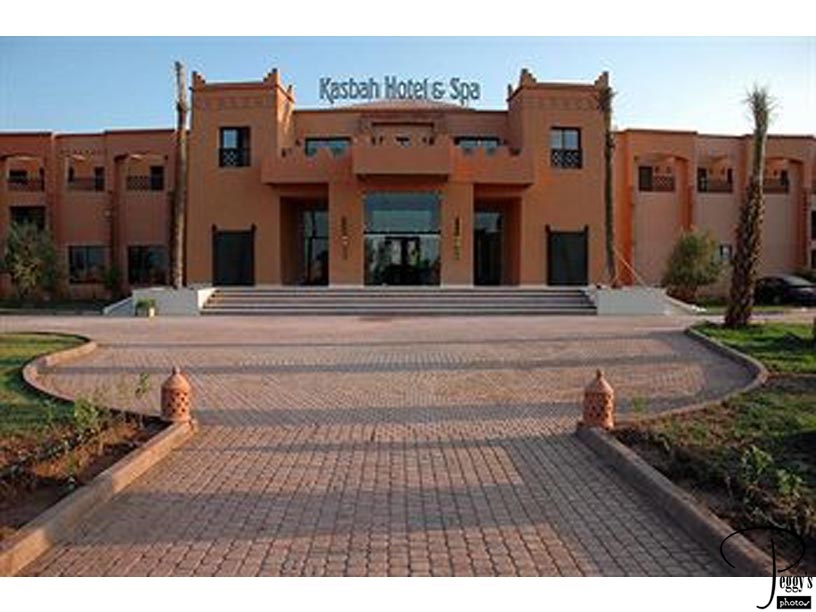 Our hotel, photo borrowed by the hotel's website. A very nice hotel.

Marrakech Hotel
"l001 Nights" Dinner and Show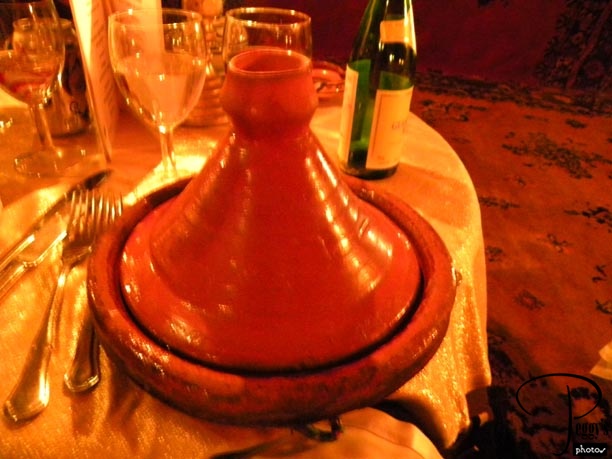 I went on an optional "1001 Nights" Dinner and Show. I took a photo of the menu but some of the words came out too blurry for me to read, but from what I could make out was this menu: herira Marrakehin soup, pastilla of chicken and fish, Moroccan leg of lamb with apricots, orange and cinnamon salad, and Moroccan pastries. Mint tea, wine, and water were also included.

"l001 Nights" Dinner and Show
Marrakech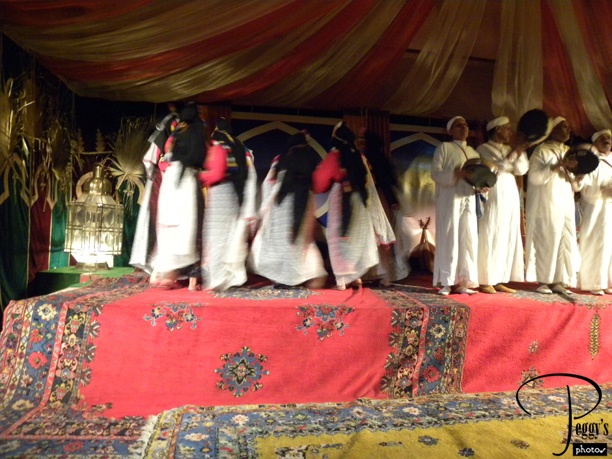 I was completely enjoying myself, both eating and watching the entertainment, until the snake charmer came on stage. I didn't know there was to be one in the show (Rachid said that he had told us but I don't listen that carefully). I made it through the first snake (I hid behind my camera and shot a video of it which I will not watch), but then the snake charmer took out snakes two and three. I grabbed my coat and bolted (I had a front row seat which made everything worse). After the snakeman was finished (he also brought out a scorpion, which from people's description was probably a tarantula––which upset many of the U.K. people, but I don't think would have bothered me), Rachid came out to find me to get me to come back in. Of course, as soon as I agreed to do so, the snakeman passed nearby with his box of scary things, so Rachid literally had to take me by the hand to lead me back to the horror chamber.
Marrakech
Marrakech (See Movies)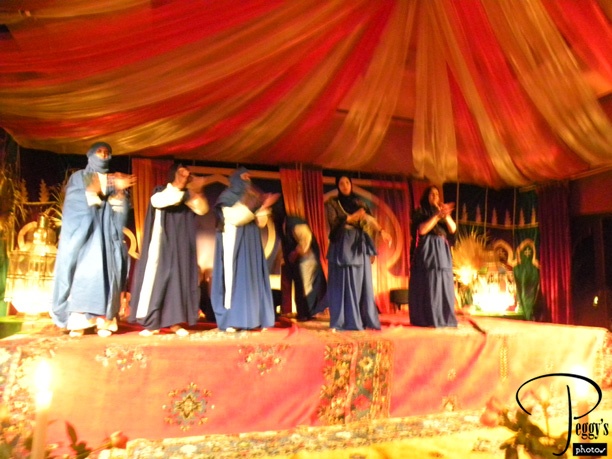 Some of the performers at the "1001 Nights" show. I have put five videos of our entertainment on this website: Go to  Movies, Morocco, starting on page 4: "Exotic Arabian Dancer," "Ahouach and Folk Dancers," "Guedra, of the Western Sahara," "Belly Dancer, "and "Acrobats."
Marrakech (See Movies)
© Copyright 2018 Peggy's Photos