Day 8: Copenhagen. City Tour, Tivoli Gardens, Christiania
The Little Mermaid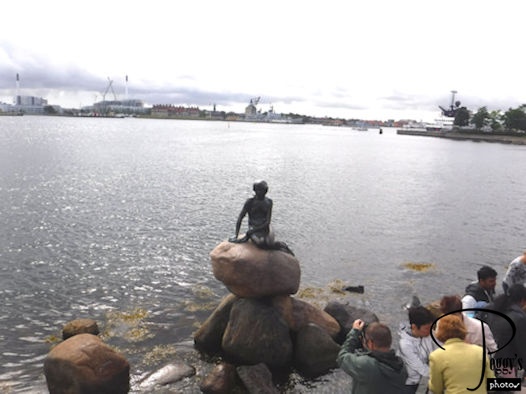 We arrived by car ferry from Oslo about 9:45 a.m. and immediately took a tour of Copenhagen by bus, stopping off at several places, the first one at the famous The Little Mermaid statue on the Langeline Pier. The statue was given to the city of Copenhagen in 1909 by Carl Jacobsen of Carlsberg beer fame. The statue was inspired by the Hans Christian Andersen's fairy tale "The Little Mermaid."
I had been to Copenhagen before, but a bit over 50 years ago, during an airport layover. I remember going to Tivoli Gardens, much changed since then, and being on a harbor area and that is about all I remember of my first visit.
Today, it drizzled at times, cleared up, then heavily rained for a time in the early evening but the temperature was mild.
The Little Mermaid
Amalienborg Palace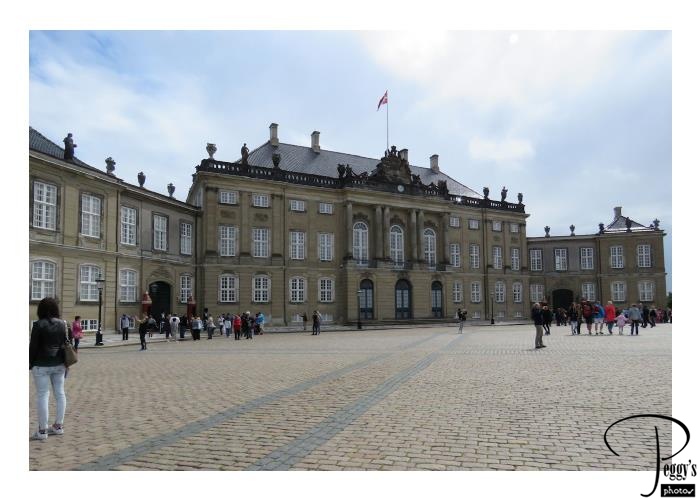 We stopped also at the Amalienborg Palace, constructed in the 1700s and the home of Queen Margrethe II and her family.

Amalienborg Palace
Nyhavn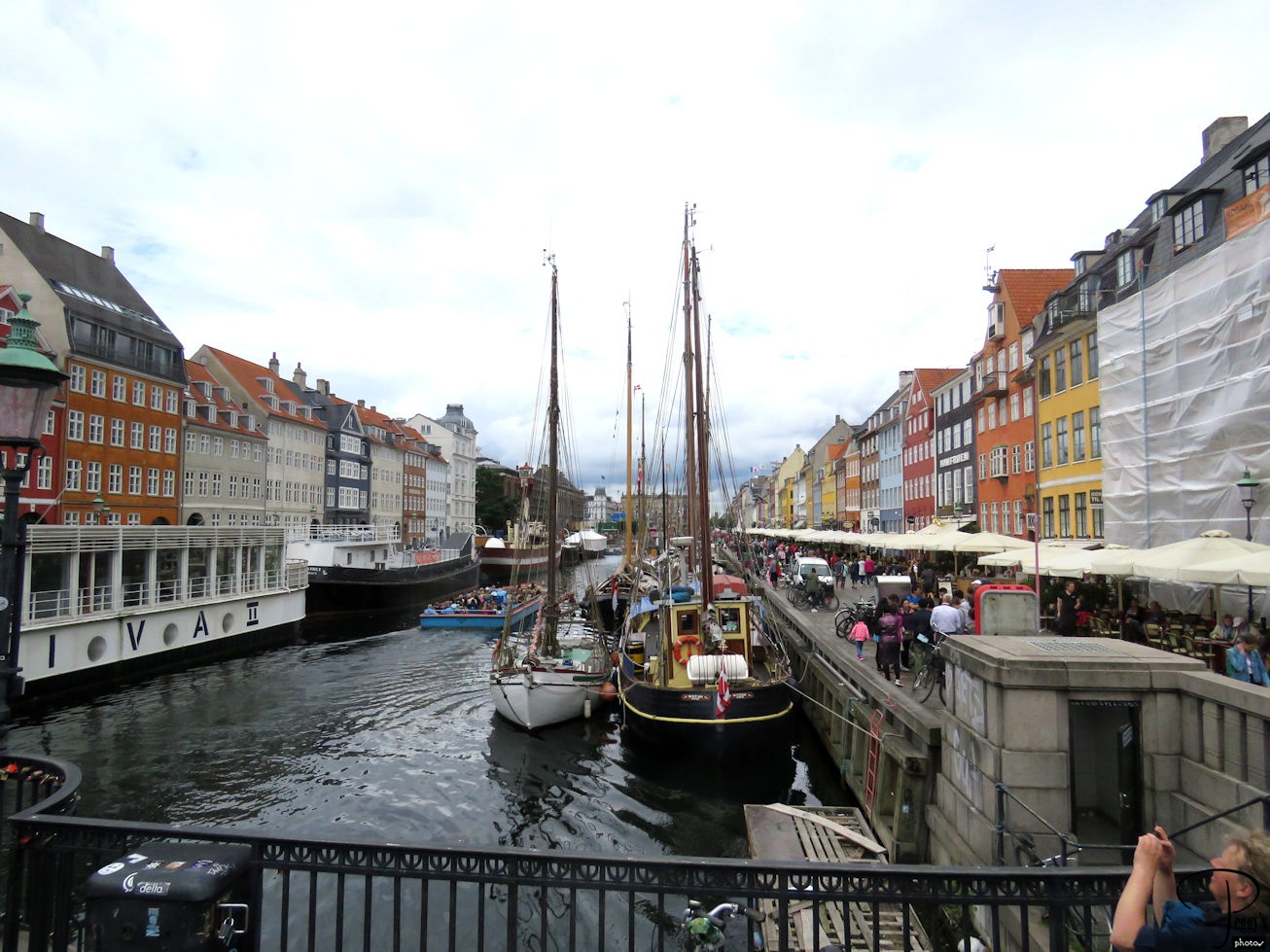 We drove past Nyhavn (New Harbor), a 17th–century canal with 18th–century townhouses. We had dinner there the next night.

Nyhavn
Town Hall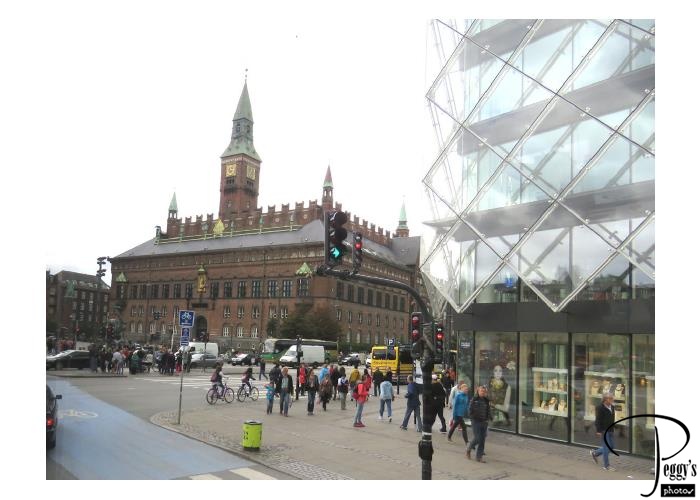 We also drove past the Town Hall, 1905, across the street from a very modern building. In some areas of Copenhagen, all the buildings are old, and in other area, they are all new, but in some areas they are mixed, sometimes with good results and often with not so good ones.
Town Hall
Carlsberg Brewery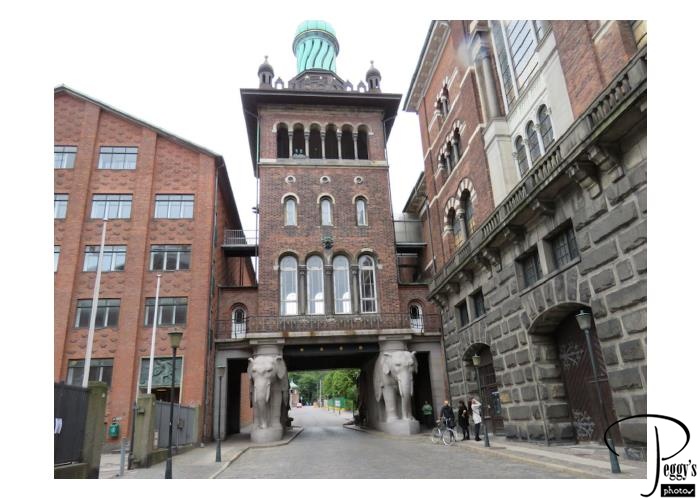 We stopped to take photos of the first Carlsberg Brewery, 1847. Beer is no longer brewed here, but tours of it are available complete with samples of beer.
I have put my photos of the Copenhagen City Tour on a slideshow. Go to
http://www.peggysphotos.com/copenhagen–city–tour/
(Slide Shows, Scandinavia/Estonia, Denmark, "Copenhagen: City Tour").
Carlsberg Brewery
Tivoli Gardens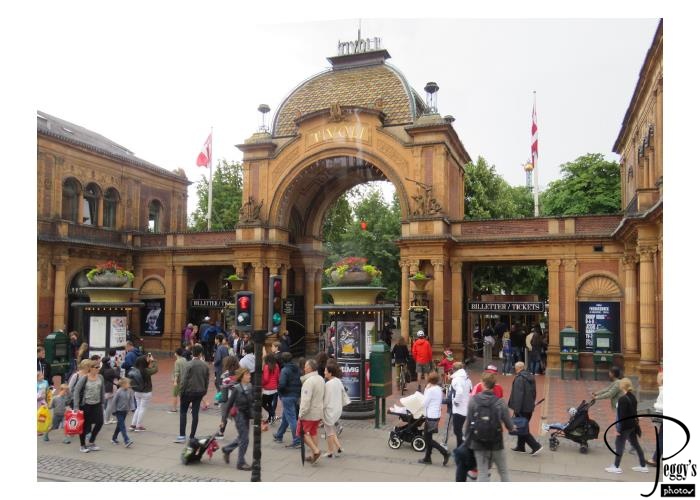 After our city tour, we checked into our hotel. We were close enough to the famous Tivoli Gardens to walk there and Lyn, tour mate Harry, and I did. I was very curious as to how much Tivoli Gardens had changed since I was last here. I would not have recognized it as the same place––it is a place, as its creator, Georg Carstensen, said "… will never, so to speak, be finished." Many of the rides in the park are quite recent additions while many of the old rides remain.
I have put my photos of Tivoli Gardens on a slideshow. Go to
http://www.peggysphotos.com/copenhagen–tivoli–gardens/
(Slide Shows, Scandinavia/Estonia, Denmark, "Copenhagen: "Tivoli Gardens").
Photo: the main entrance to Tivoli Gardens.

Tivoli Gardens
Christiania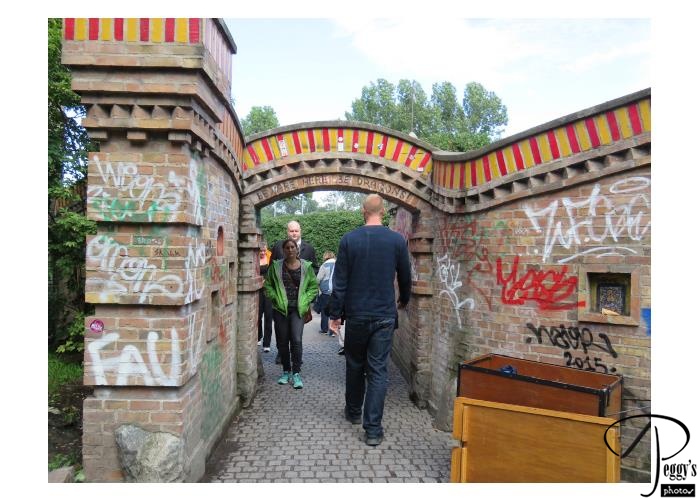 After walking around Tivoli Gardens, we took a taxi to Christiania, the hippie commune in Copenhagen. The commune dates back to 1971, and even though the government has tried to shut it down, it still remains and has become a tourist attraction. I thought that if you wanted to create a hippie–like area that would draw visitors this is much how it would look like. It had a copied–from–the–1960s' appearance (it could be that I am old enough to remember the 60s very well). This impression may be too harsh as we didn't take a tour of the whole of Christiania, and if we did, maybe I would have had a different, more positive impression. Anyway, I did get some good photos from our visit and they are at
(Slide Shows, Scandinavia/Estonia, Denmark, "Copenhagen: Christiania").
Photo: the entrance to Christiania.

Christiania
View from Our Hotel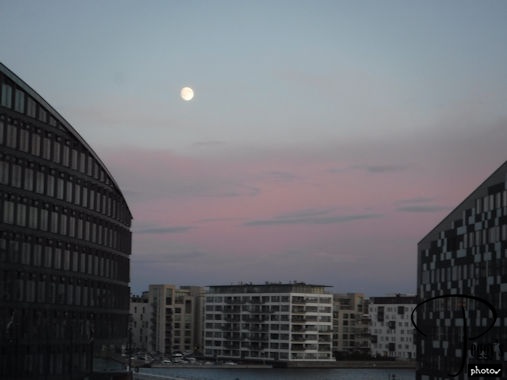 Our hotel in Copenhagen was on the water. After a very full day, I took this photo of the sunset.

View from Our Hotel
© Copyright 2018 Peggy's Photos