Bosnia & Herzegovina, From the Border to Mostar and to Sarajevo
Bosnia and Herzegovina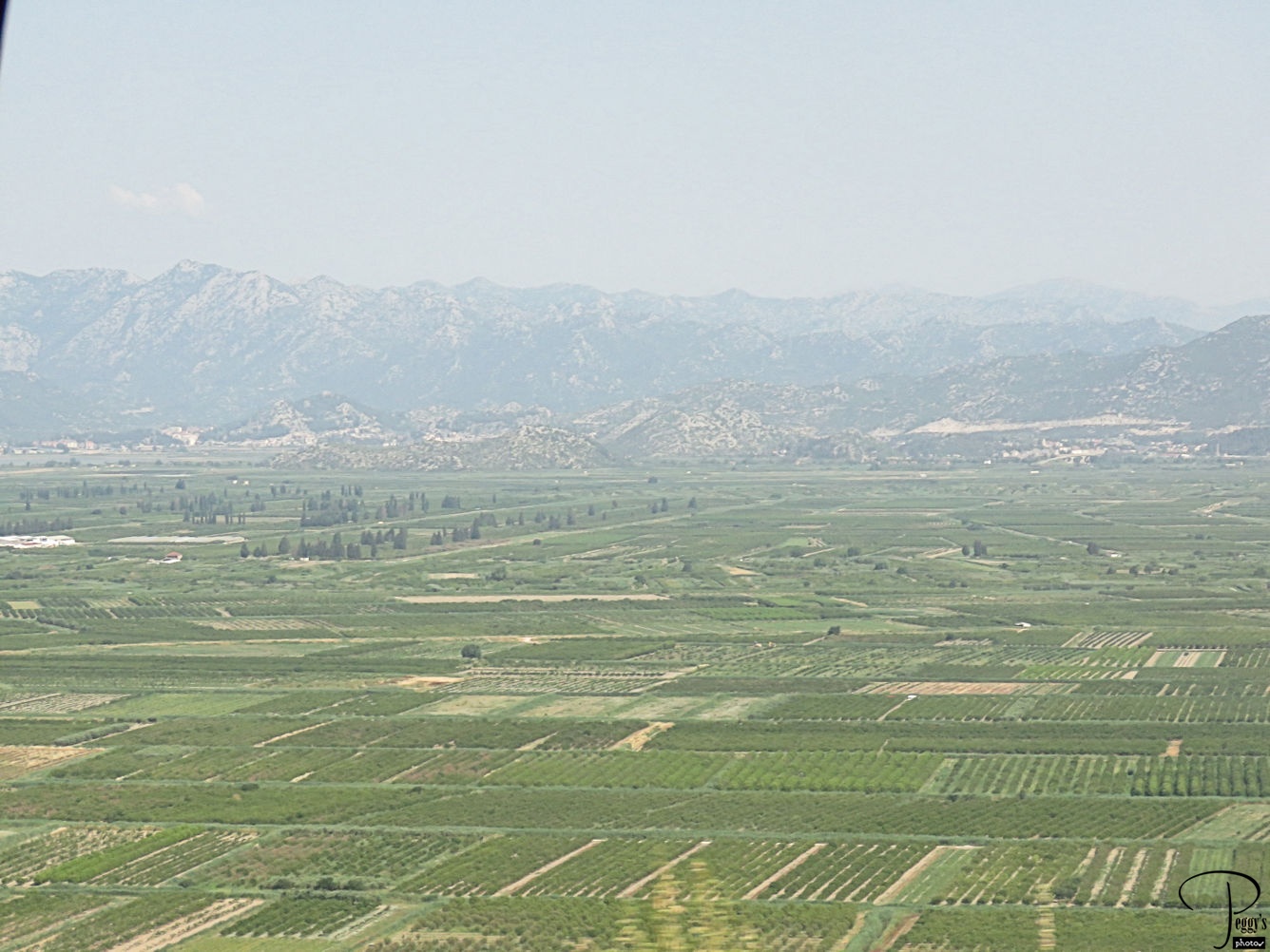 Today, we crossed the border from Croatia to Bosnia and Herzegovina (hereafter referred to as Bosnia even though we were headed to Herzegovina, the southern part of the country). We were heading first to Mostar. We passed many different types of scenery––farmland, vineyards, mountains, lakes, and rivers. Here is a photo of an area of Bosnia with extensive farmlands.

Bosnia and Herzegovina
A River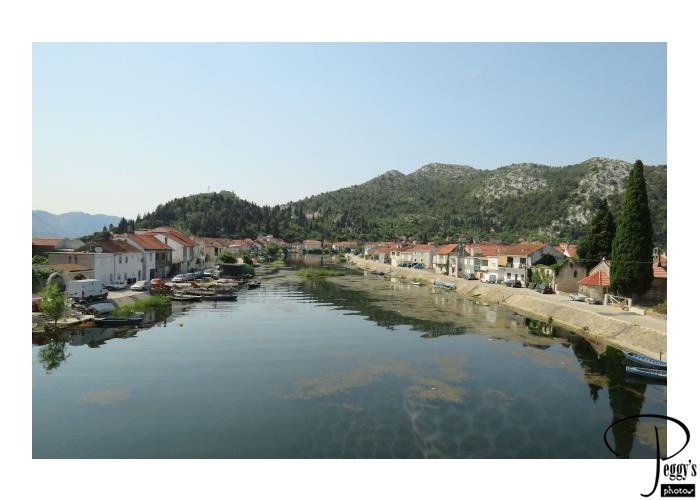 We passed rivers such as this one with houses on both sides of it.

A River
Vineyards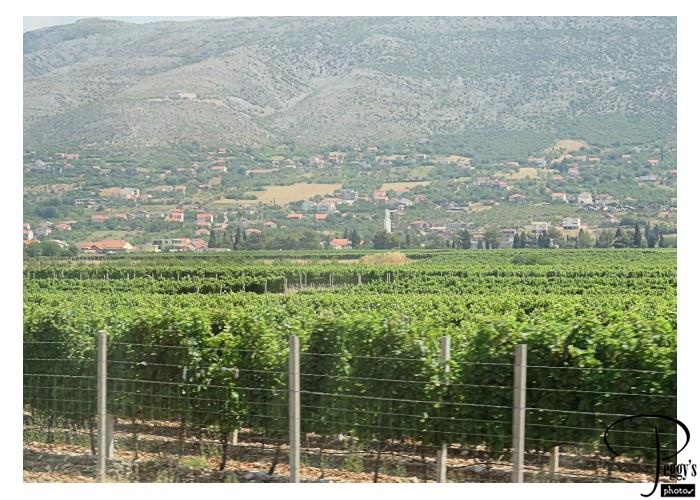 In this area, there were miles upon miles of vineyards.

Vineyards
Mostar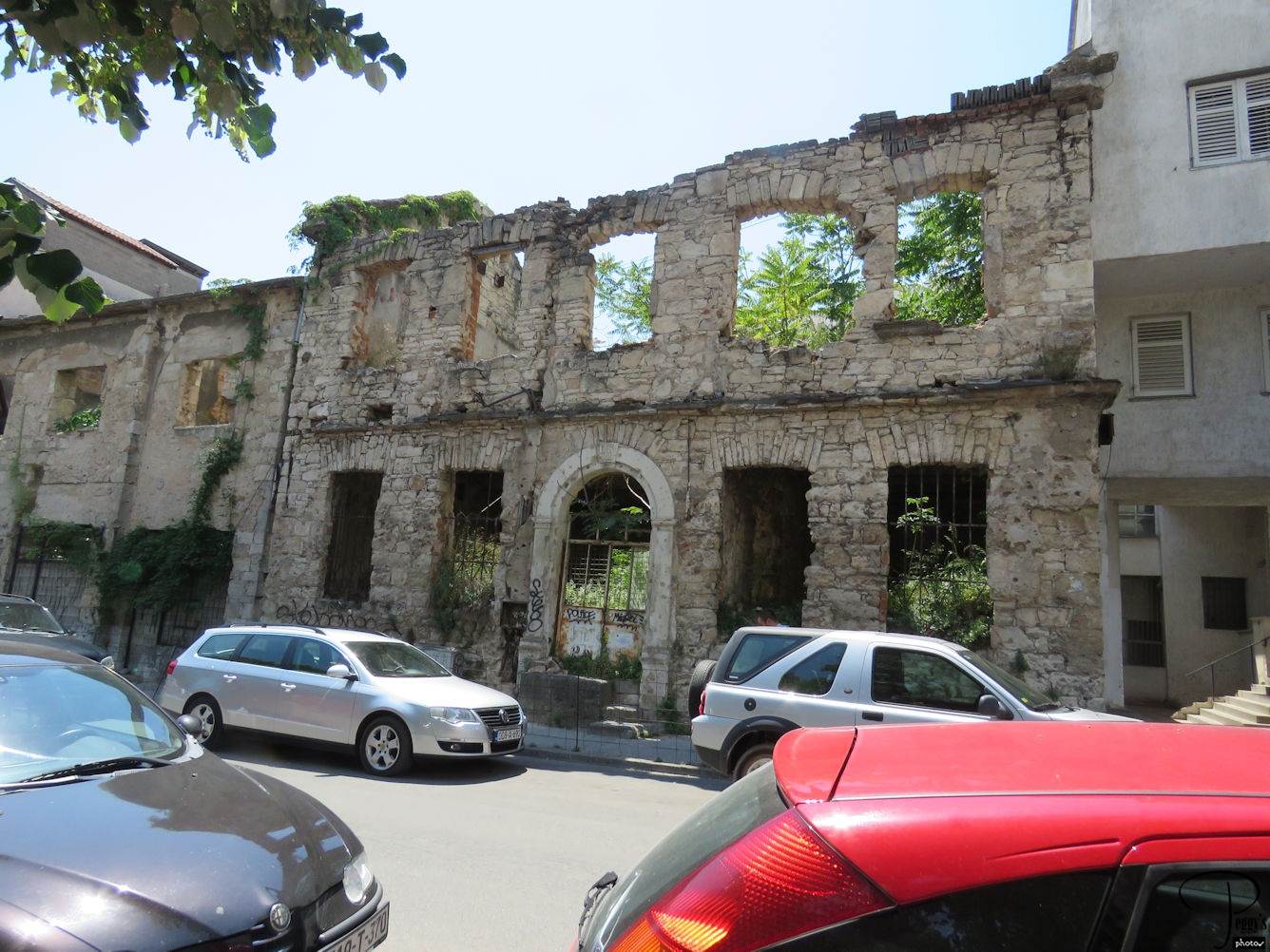 We arrived in Mostar, a city that dates back to prehistoric times. The city suffered much damage during the Bosnian War of 1992 to 1995. You will be see bombed–out buildings in Bosnia such as this one and also many buildings with uncovered bullet holes on them.

Mostar
Mostar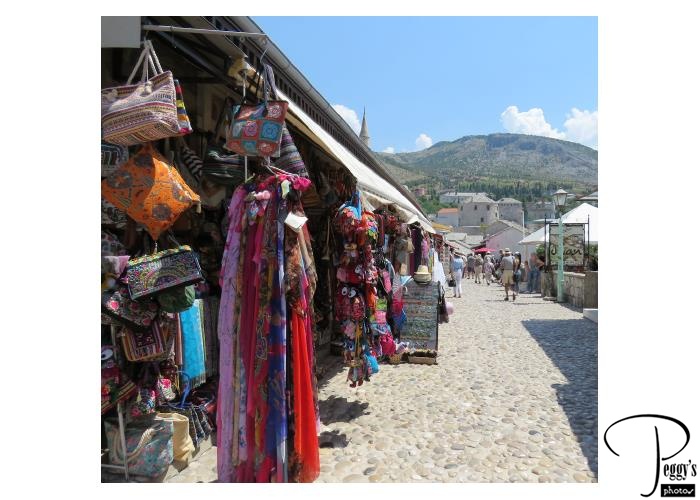 The marketplace in the Old Town of Mostar, dating back to Medieval Times. Turkish items can be found among the souvenirs. Bosnia has had a strong bond with Turkey since the Ottoman days and a Turkish community has been established in Mostar. At one time, Bosnia had flirted with becoming part of Turkey. The stones on the pathway was very slippery, shined from centuries of wear.

Mostar
Stari Most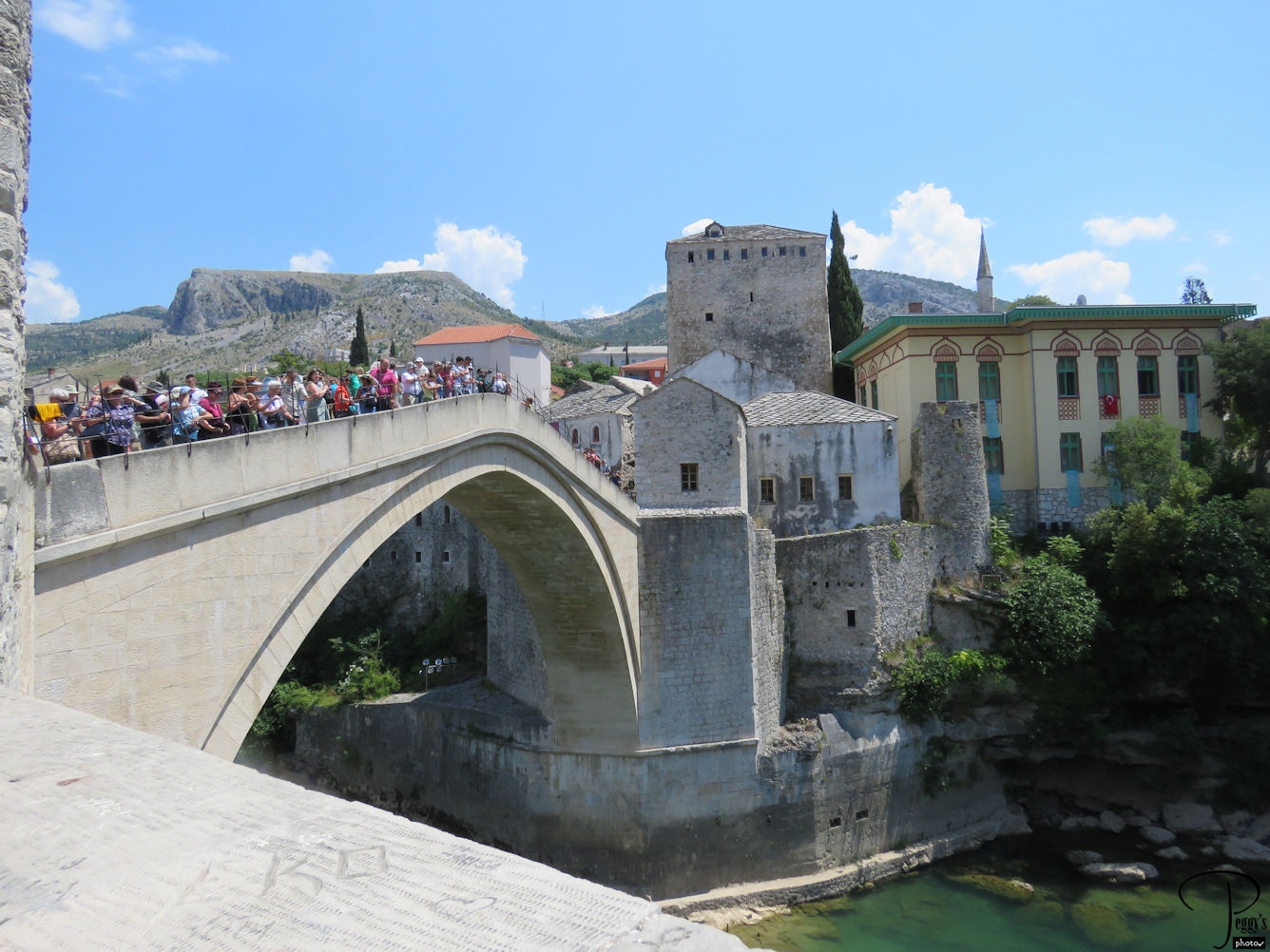 The Stari Most (Old Bridge) was originally built in the 16th century by the Ottomans. However, it was destroyed during the Bosnian War as well as were many of the old buildings in Mostar. The bridge was rebuilt in 2005. On one side of the bridge live Muslims, and on the other side, Croatians. Muslims make up 51% of the population of Bosnia, Orthodox Christians, 31%, Roman Catholics, 15%, and other, 3%. Ninety–six percent of the population of Bosnia are Bosniaks, Serbs, and Croats, who speak a variety of Stokavian dialects.

Stari Most
Mostar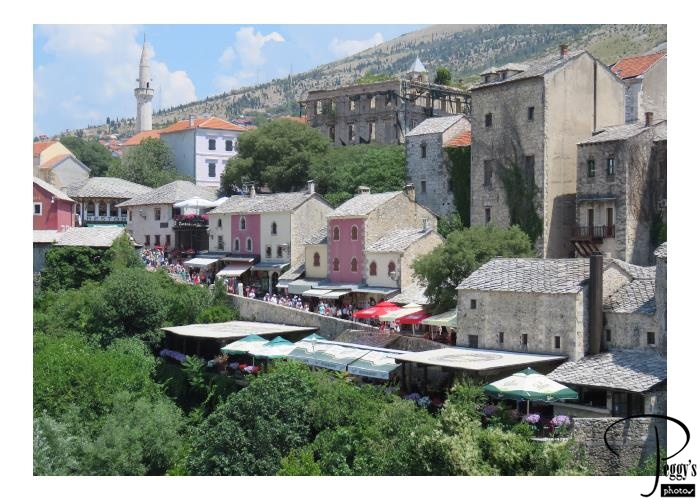 The old buildings of Mostar, some rebuilt after the Bosnian War.

Mostar
Turkish Restaurant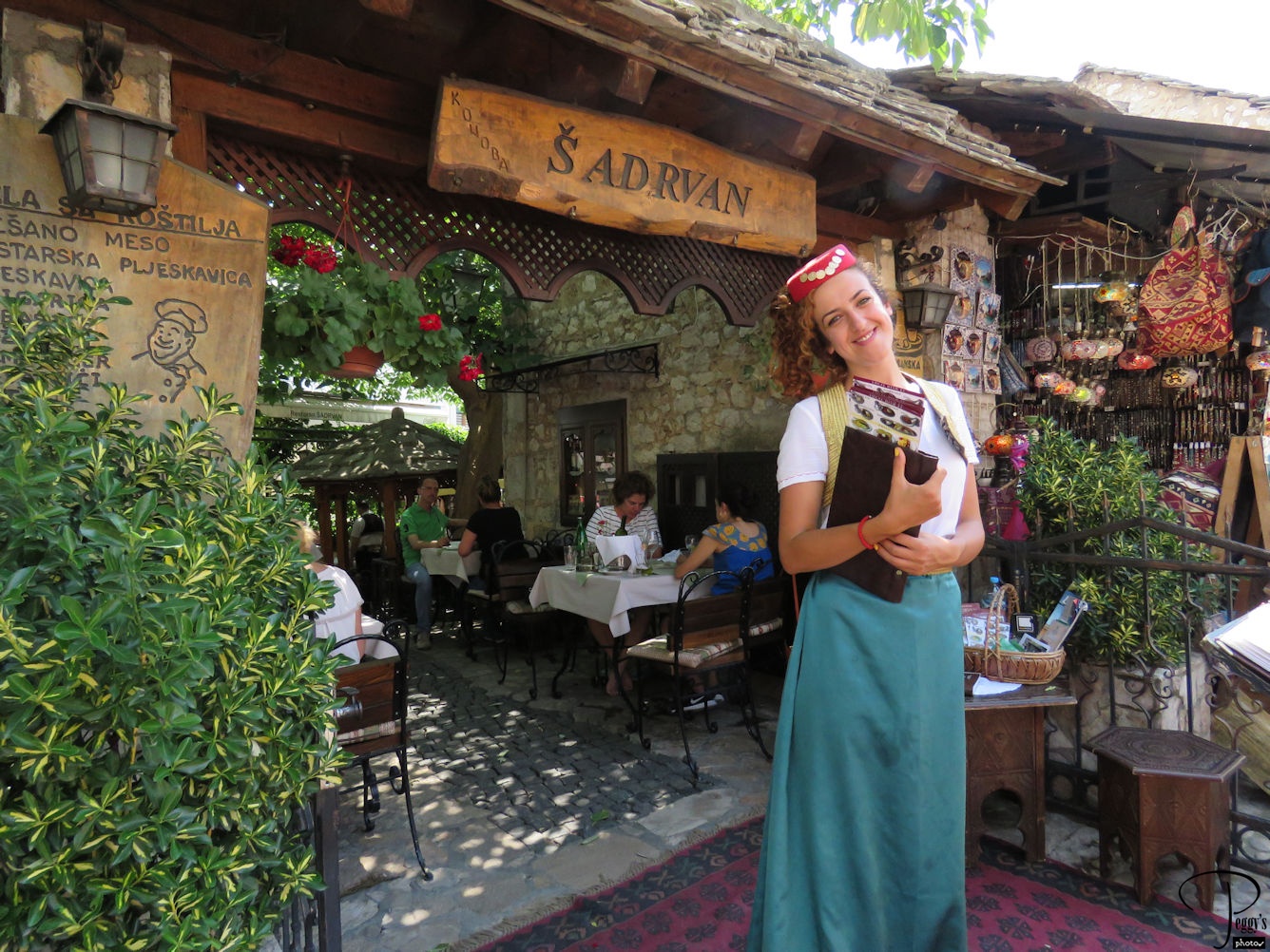 You can get Turkish coffee in Mostar as well as Turkish food such as in this restaurant.

Turkish Restaurant
The Bosnian Countryside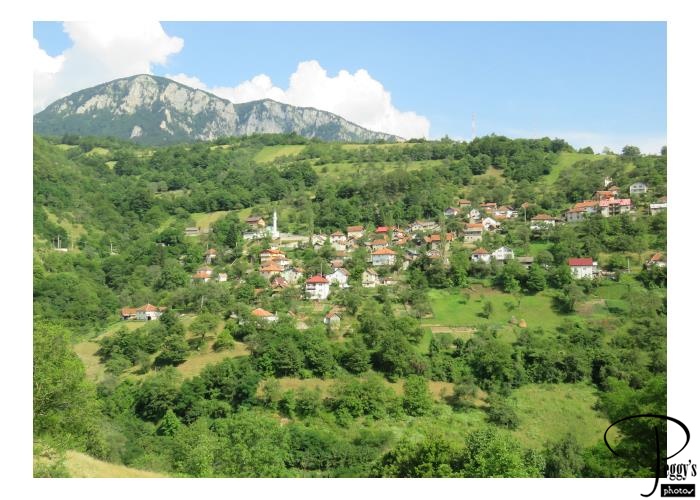 From Mostar, we headed to Sarajevo. The scenery along the way was beautiful. Here, a mountain village.

The Bosnian Countryside
Sarajevo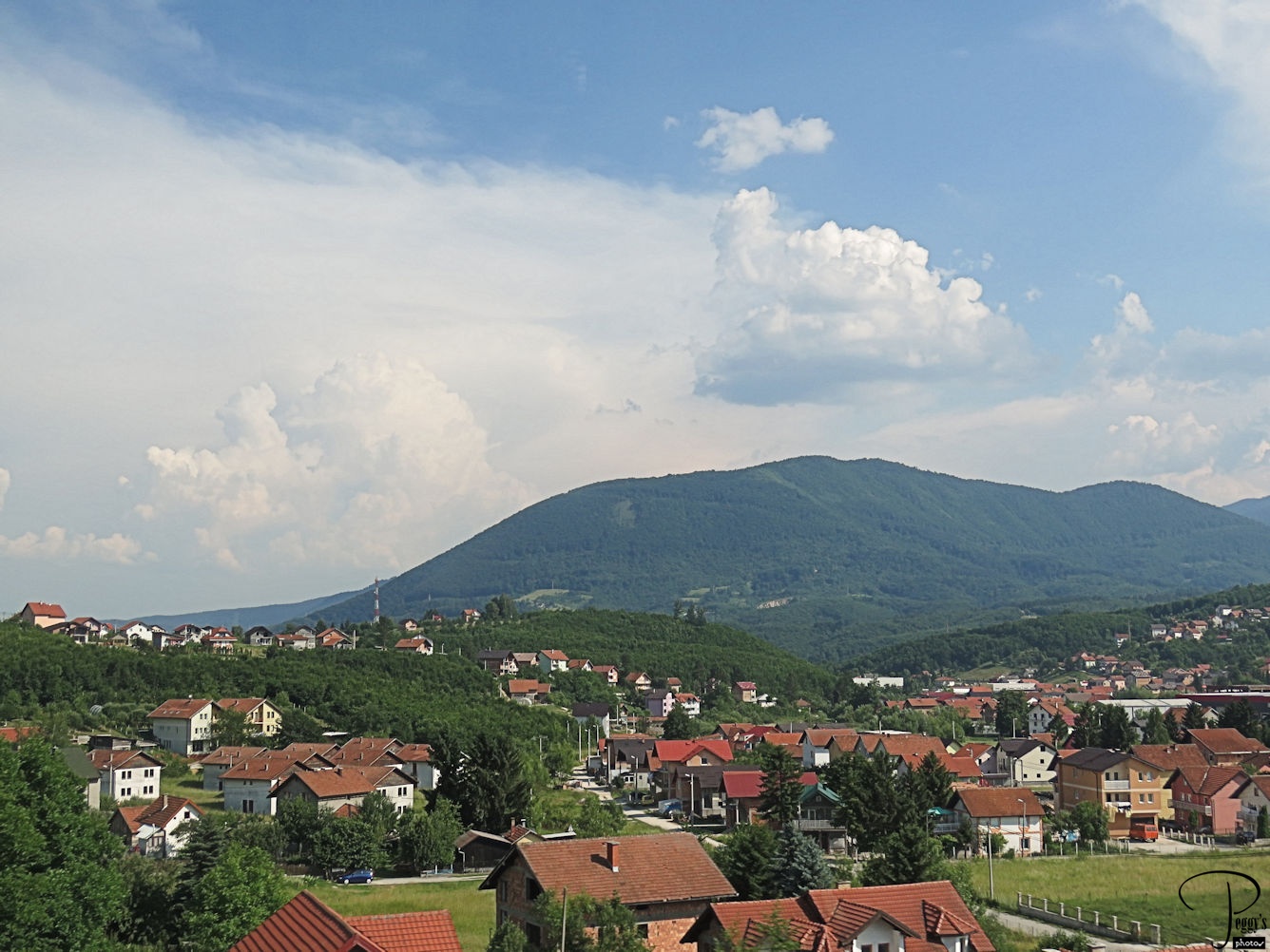 Coming into Sarajevo, where we would spend two nights.
I have put my photos of our trip from the Croatia–Bosnia border to Mostar and then to Sarajevo on a slideshow. Go to
http://www.peggysphotos.com/countryside–mostar/
(Slide Shows, Eastern Europe, Bosnia and Herzegovina, "Countryside & Mostar").

Sarajevo
© Copyright 2018 Peggy's Photos