Day 7: Melbourne. City Tour and Penguin Parade
Shrine of Remembrance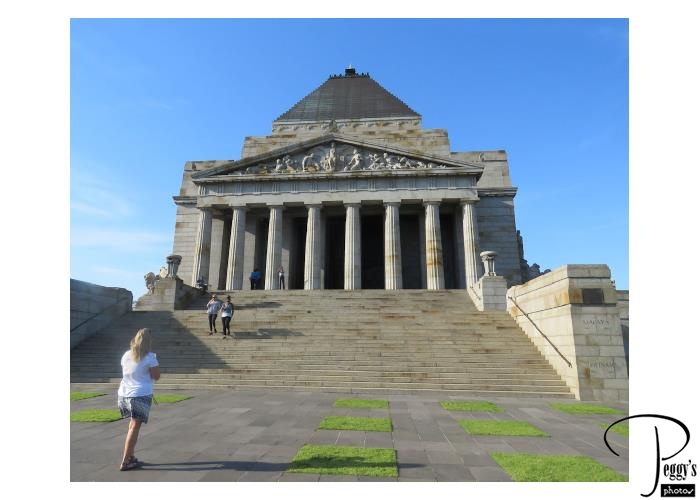 Our first stop was at the Shrine of Remembrance, 1922, a memorial to the Australians who have served in the wars that Australia has helped fought. It was originally built as a memorial to those of the state of Victoria who fought in World War I.

Shrine of Remembrance
ANZAC Day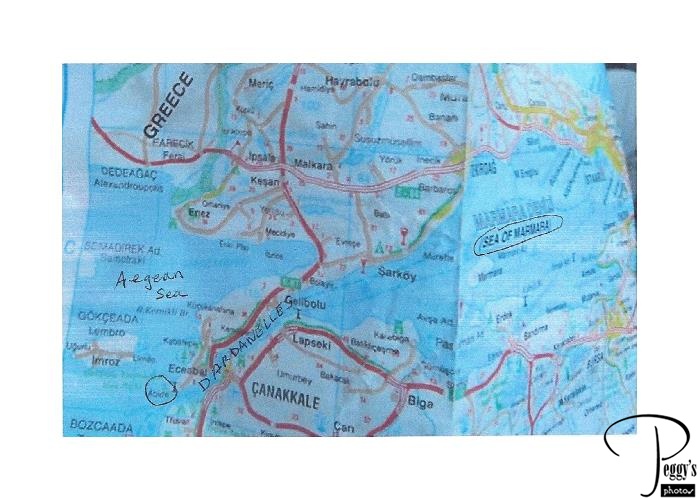 If you travel to Australia or New Zealand, you will hear about ANZAC Day, as it is a very important commemorative celebration in both countries. Our tour director told us that it a bigger celebration than is Bastille Day in France (she has been to both). The ANZAC celebrations on April 25 are held at the Shrine of Rembrance. April 25 is chosen for ANZAC Day as it is the date of the first major military action of Australia and New Zealand in World War I. It was the Battle of Gallipoli fought against the Turks to open up the passage from the Aegean Sea, through the Dardanelles, to the Black Sea. See map. The battle was fought near Abide (circled) on the Gallipoli Peninsula.
The map is Turkish, one passed around on a day tour I took from Istanbul to the town of Eceabat on the Dardanelles. It was a 5–hour drive from Istanbul. All the people except me went from Eceabat to visit some of the cemeteries on the Gallipoli Peninsula. They were from Commonwealth countries. I went with another group across the Dardanelles to the ruins of Troy.

ANZAC Day
Melbourne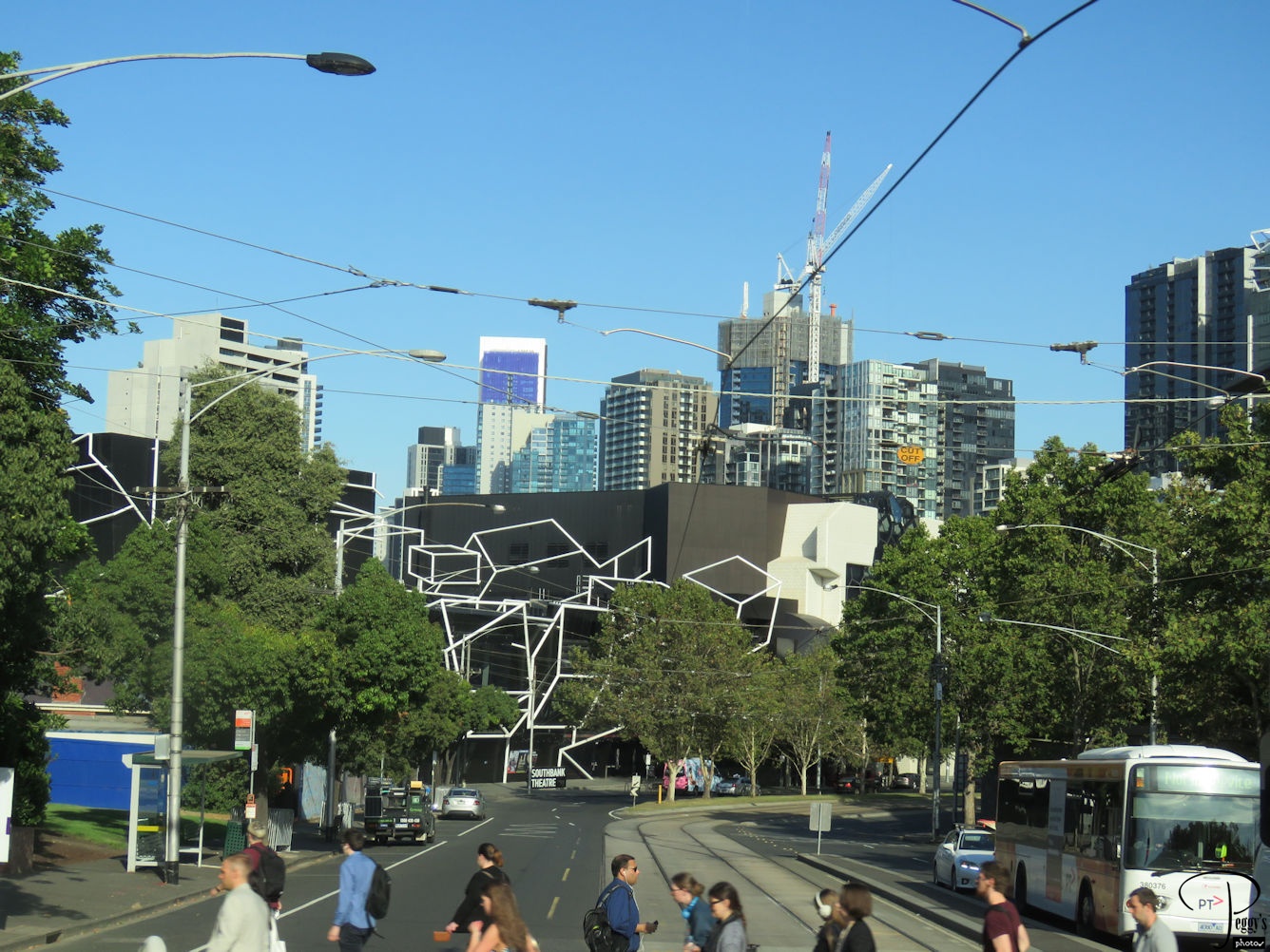 Melbourne has many high–rise buildings and many of them are spectacular in design. However, I was unable to take photos of them on the bus so I recommend that you Google "Melbourne Medical Buildings" and look at photos of the modern buildings. Some of the most spectacular buildings are medical buildings in a part of the city.

Melbourne
Finders Train Station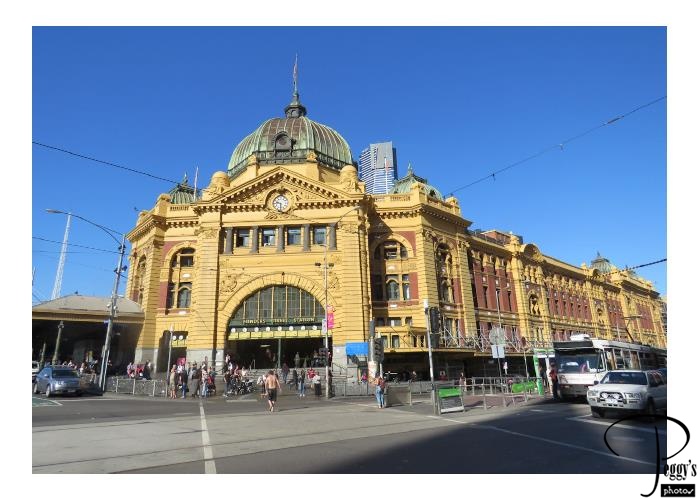 Many of the buildings in Melbourne are from around the turn of the century (19th to the 20th), such as the Finders Train Station, built in 1909.

Finders Train Station
Melbourne Street
I very much liked Melbourne––from what I saw of it, it is compact with wide streets, very clean, many both old and new buildings to look at, and great shopping. It also has a streetcar system that is free in the city center and which also extends out of the city center for a fee, making it easy to get around the city.
Melbourne Street
Shopping Street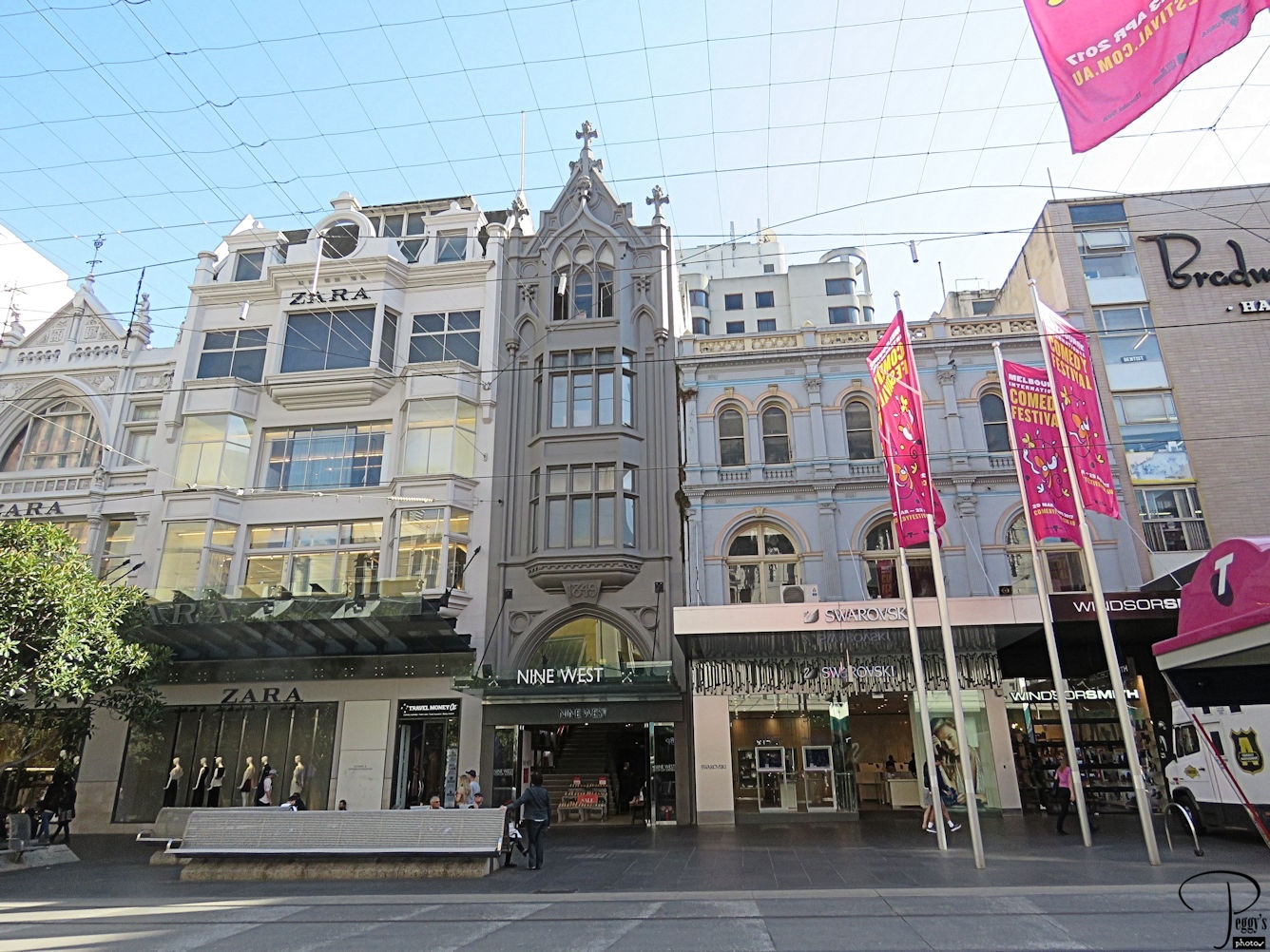 A shopping street with very interesting old buildings.

Shopping Street
St. Patrick's Cathedral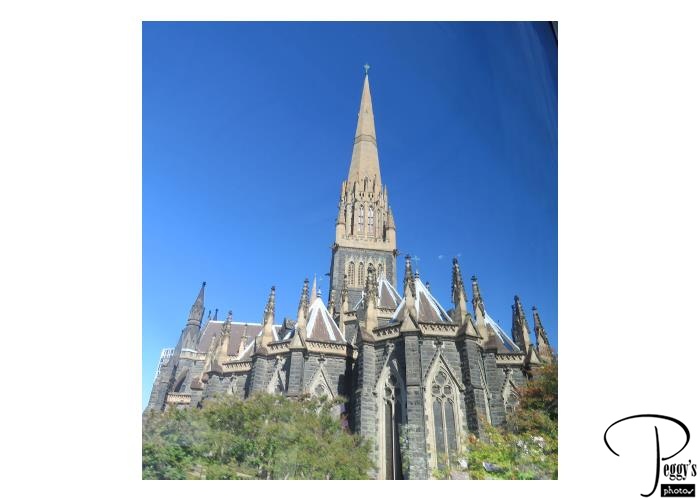 We stopped at St. Patrick's Cathedral, Roman Catholic, consecrated 1897. It was built in the Gothic Revival style.

St. Patrick's Cathedral
St. Patrick's Cathedral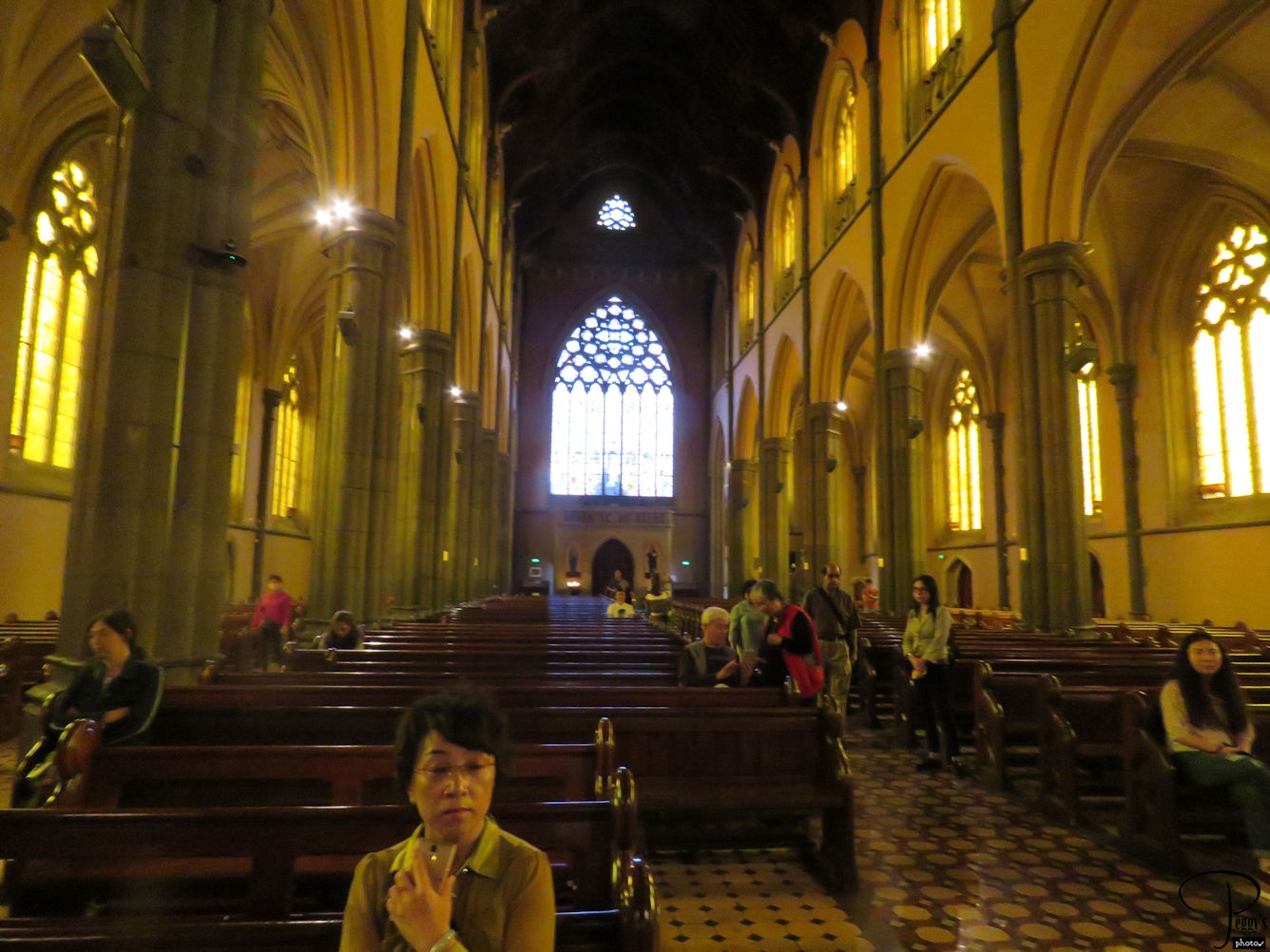 Inside St. Patrick's Cathedral.
St. Patrick's Cathedral
Terraced Houses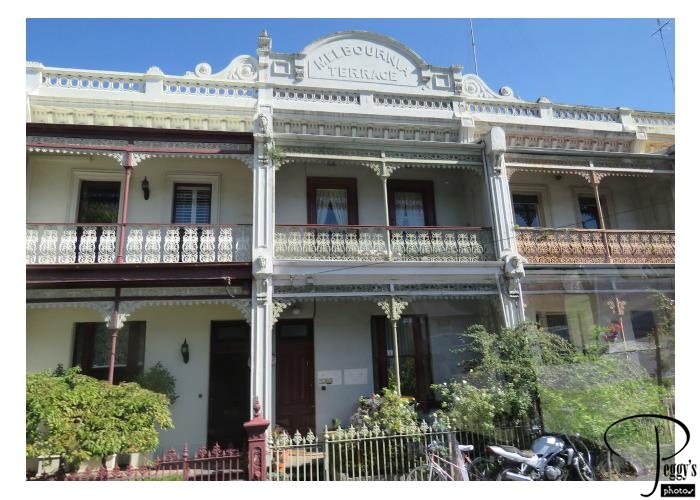 Back on the bus, we passed several terraced houses. Terraced houses in Australia are from the Victorian and Edwardian eras. They were introduced to Australia in the 19th century. More very nice buildings in Melbourne.

Terraced Houses
Queen Victoria Market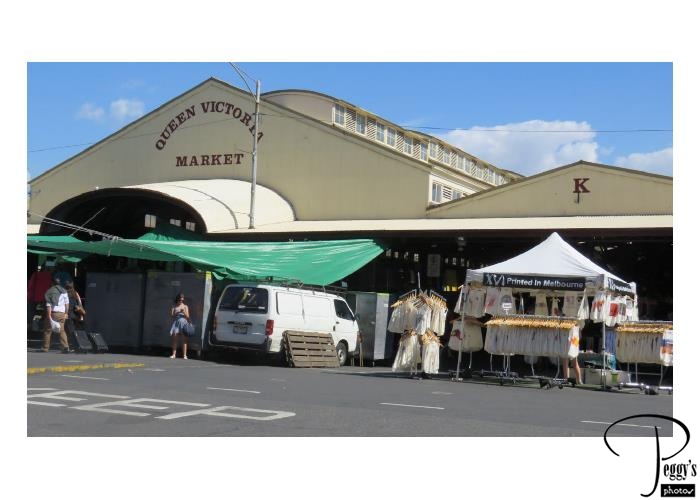 Another reason to really like Melbourne is its Queen Victoria Market. It is a 19th–century market, at 17 acres, the largest open–air market in the Southern hemisphere. You could spend much time in the market just going from deli to deli. We ate lunch at the market. We took a streetcar back to our hotel after visiting the market.
I have put my photos of Melbourne on two slideshows. Go to
http://www.peggysphotos.com/melbourne–1/ and
http://www.peggysphotos.com/melbourne–2/
(Slide Shows, Australia/New Zealand, Australia, "Melbourne–1 and –2").
Queen Victoria Market
Little Penguin Parade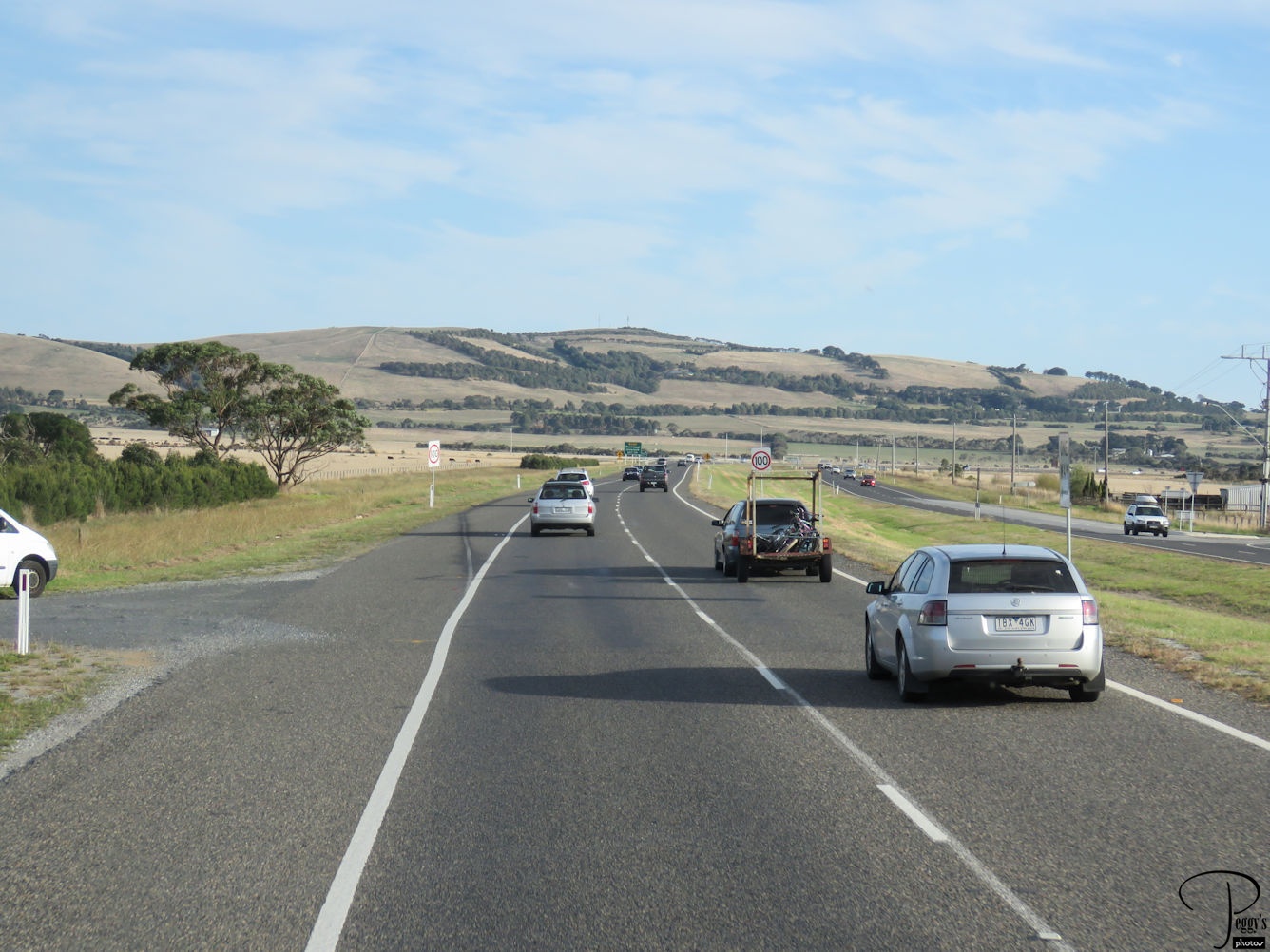 After seeing Melbourne, we had an optional tour to see the Little Penguin Parade about 1 1/2 to 2 hours from Melbourne. We drove there through the Melbourne countryside.
Little Penguin Parade
Phillip Island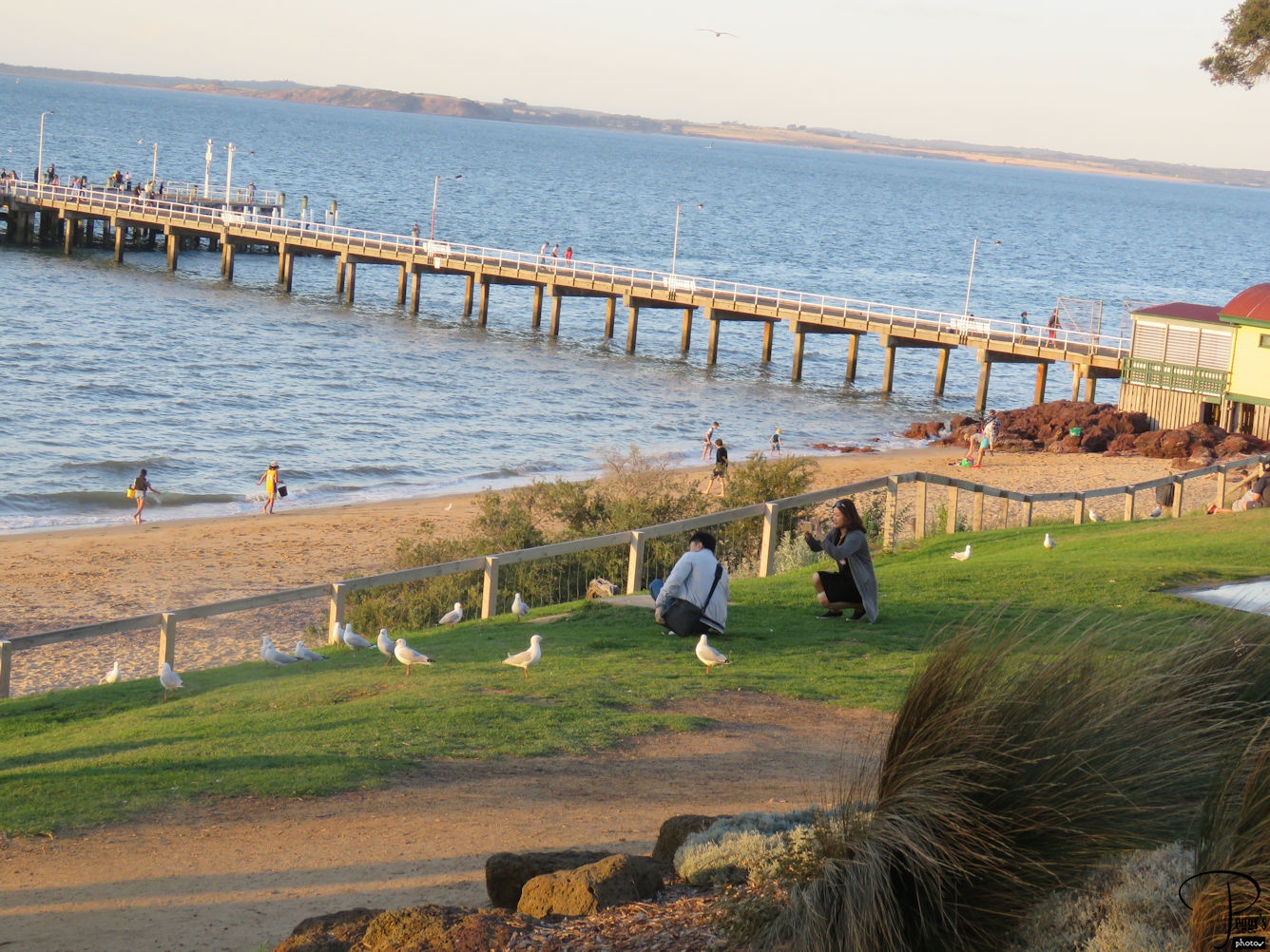 We ate dinner in Newhaven on Phillip Island, on which the Penguin Parade is located.
Phillip Island
Penguin Parade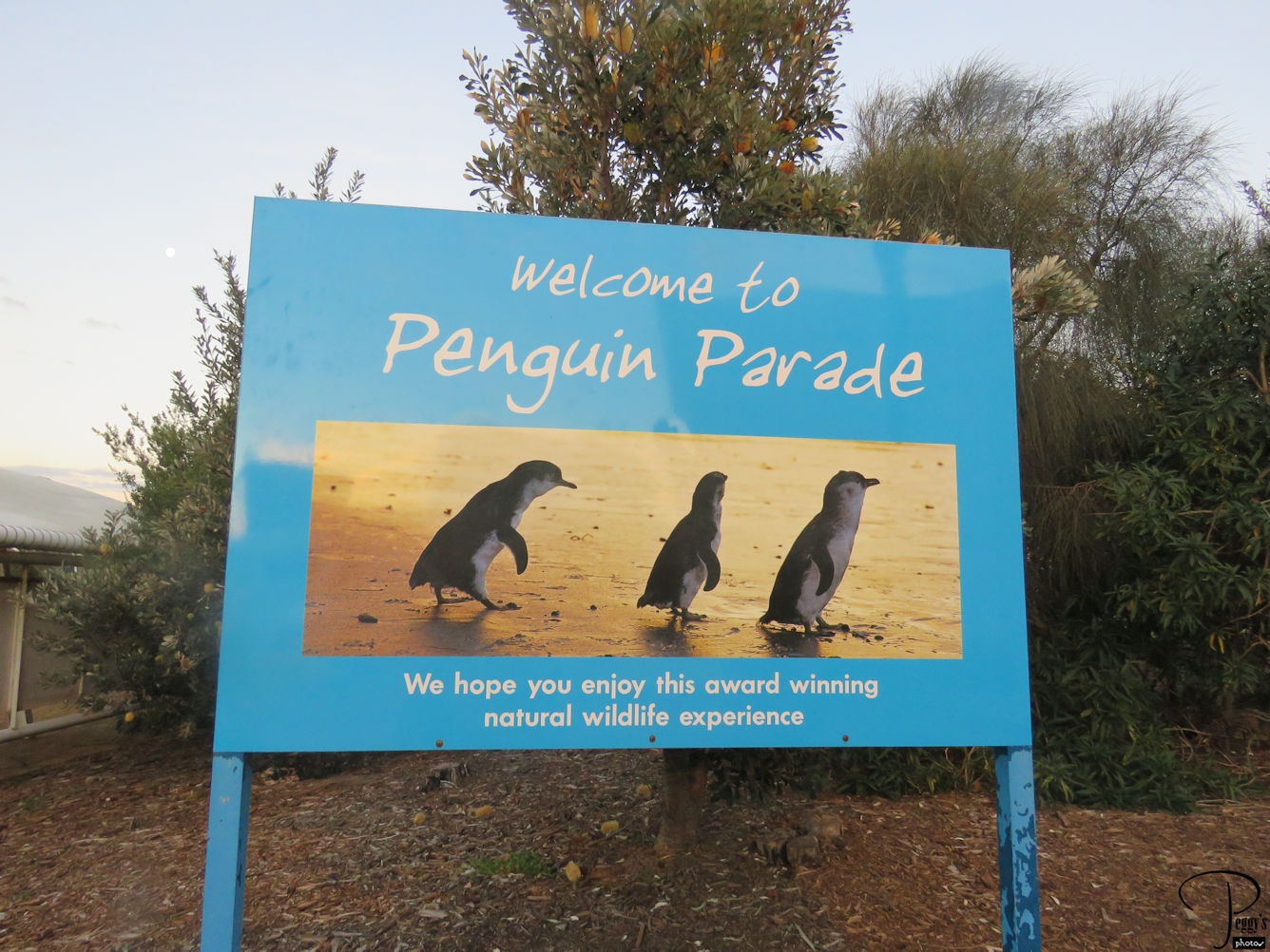 We have arrived at the Penguin Parade. Absolutely no photos of the penguins were allowed. It would be dark when the penguins got out of the water and camera flashes would spook them. But you can see almost what our group saw on a YouTube video: https://www.youtube.com/watch?v=WFkWfsUHtJw
I have put my photos of our trip to the Penguin Parade on a slideshow. Go to
http://www.peggysphotos.com/melbourne–penguin–parade/
(Slide Shows, Australia/New Zealand, Australia, "Melbourne (Phillip Island): Penguin Parade")>
This was the last day of our tour. We all flew the next day from Melbourne to Auckland and then to Los Angeles. I was lucky as all I had to do was to wait for the Supershuttle to take me to my house while the rest of my tour group either spent the night in Los Angeles before flying to their homes the next day or flew directly home from LA. I very much enjoyed my tour of New Zealand and Australia. It was a good overview of both countries.

Penguin Parade
© Copyright 2017 Peggy's Photos