Day 5, Santa Fe and Cinco de Mayo Party
Santa Fe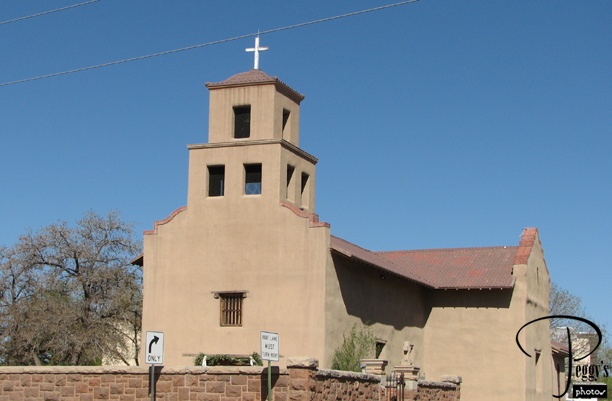 Photo:  The Old Mission Church of the Santuario de Guadalupe, built in 1781 in Santa Fe. Today I drove up to Santa Fe to have lunch with my friend Jill Norton Duvall. Some of you "met" her husband Jack from my website albums of my last two trips to New Mexico and others of you met him on our Italy 2005 tour. I am very sorry to have to tell you that Jack passed away in March from a brain tumor. He was one of my favorite people and that he would not be here today with Jill greatly saddened me.

Santa Fe
Santa Fe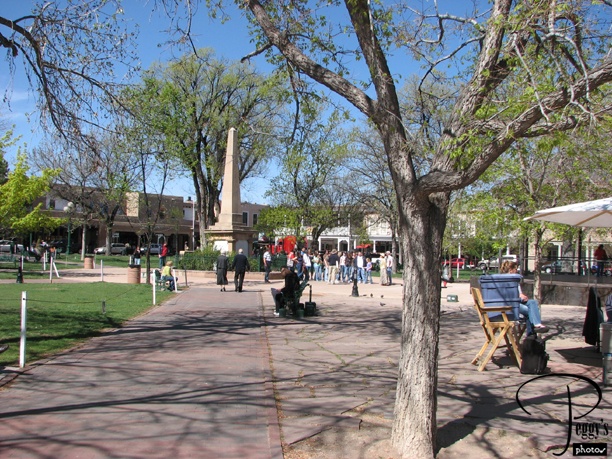 Next to the Plaza.

Santa Fe
Santa Fe
I purposely arrived in Santa Fe a bit early as I wanted to buy a pendant to go with the copper earrings that I bought from one of the Native Americans vendors in front of the Governor's Palace on my last trip. However, she wasn't here today.
Santa Fe
Santa Fe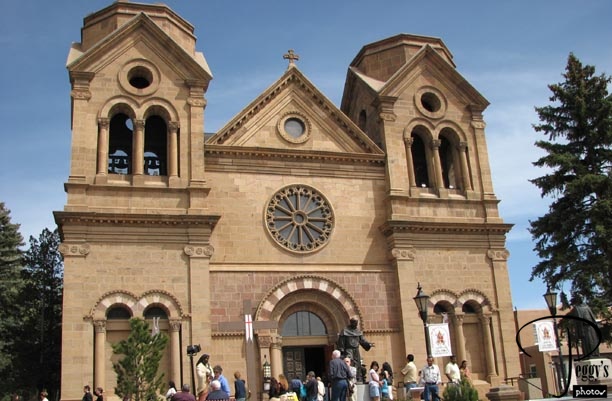 I didn't take many photos of Santa Fe today there are already many photos of Santa Fe on this website from a previous trip here: Go to Albums, New Mexico, April 18–25, 2007, Day 6 and Day 6(con't), Santa Fe. I was to meet Jill in front of the St. Francis of Assisi Cathedral.
Santa Fe
Santa Fe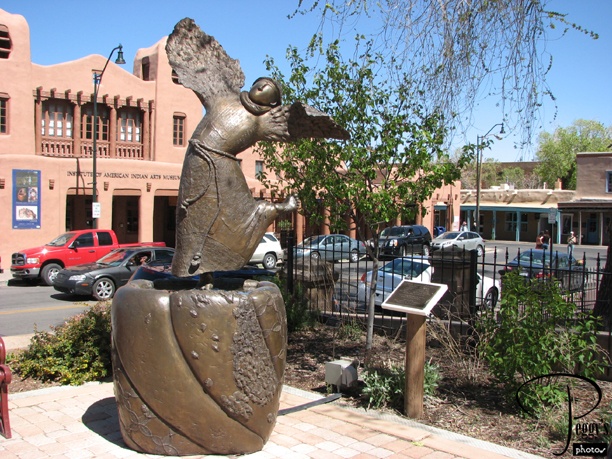 I don't remember taking a photo of this statue in the cathedral's courtyard: "Dancing on Water."

Santa Fe
Santa Fe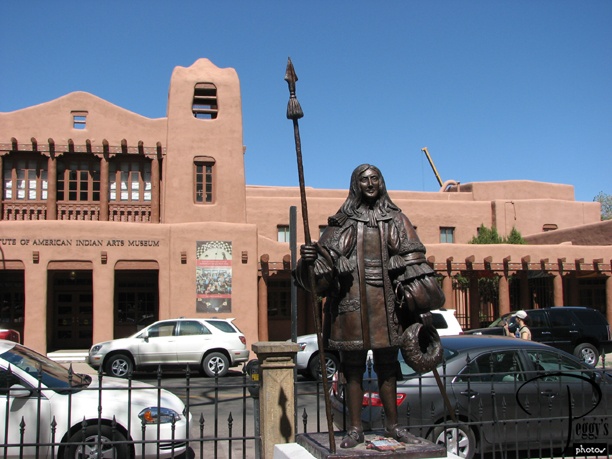 Or of this statue of Don Diego de Vargas Zapata Lujan Ponce de Leon, born in Madrid in 1643 and governor of New Mexico from 1691 to 1697 and from 1703 to 1704.
Santa Fe
Santa Fe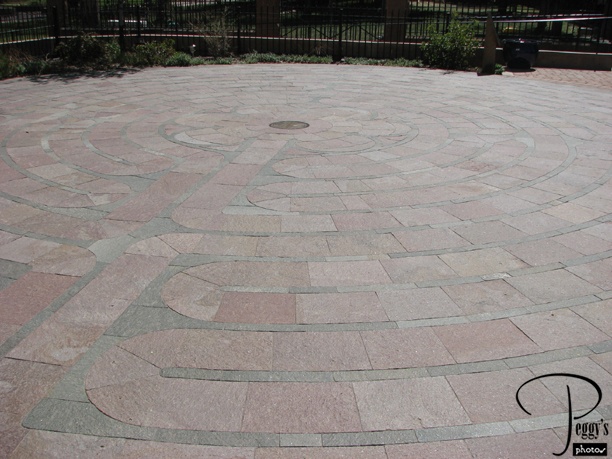 I've been in this courtyard several times before but this was the first time I realized there was a labyrinth on the ground. This labyrinth was built in the style of the one at the cathedral in Chartres, France, in honor of the French origins of Archbishop Lemy who was responsible for the building of the cathedral. On a plaque: "The Labyrinth is like the path of life. There are twists and turns, feelings of being lost, encounters with others on your path, the thrill of accomplishment at the center, and sometimes a flash of insight before returning." I didn't try to walk the labyrinth, but I did once at the Grace Cathedral in San Francisco, which also has a labyrinth based on the one at Chartres. It is quite an experience to walk one.
Santa Fe
Santa Fe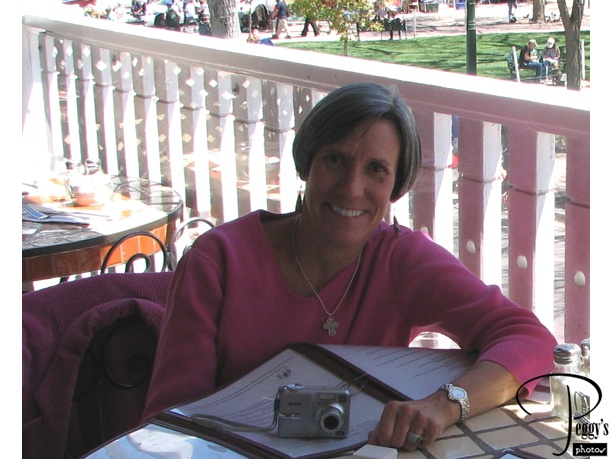 After Jill arrived, we went across the plaza to eat at the Ore House on its balcony overlooking the plaza. Jill looks very good and her spirit is also very good. A very good lunch and a very good visit.
Santa Fe
Cinco de Mayo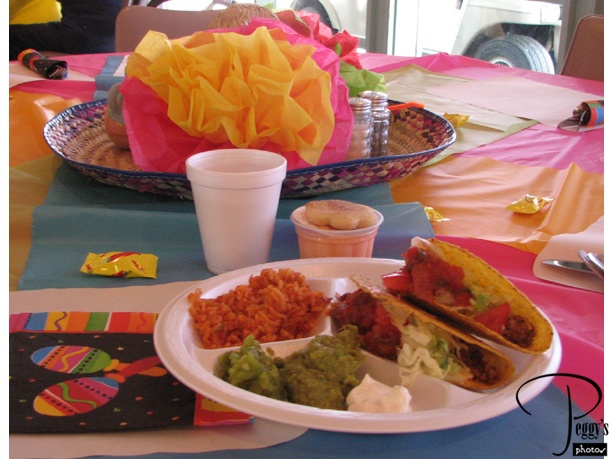 I drove back from Santa Fe to go with Linda to her complex's Cinco de Mayo Party. Cinco de Mayo (the 5th of May, which is okay to celebrate early on the 4th on a weekend day) is neither a Mexican holiday nor a U.S. holiday––it is just a day of celebration in various parts of the U.S. and some places in Mexico. It commenorates the battle between Mexicans and the French at Puebla, Mexico, won by the fewer number of and much less equipped Mexicans on May 5, 1862. At the party, our Mexican food consisted of tacos––hard shell corn tortilla, spicy ground beef, tomatoes, lettuce, cheese, and salsa with guacamole and sour cream on the side. Delicious. Also, Mexican rice and, if you wanted, either refried beans or regular beans.
Cinco de Mayo
Cinco de Mayo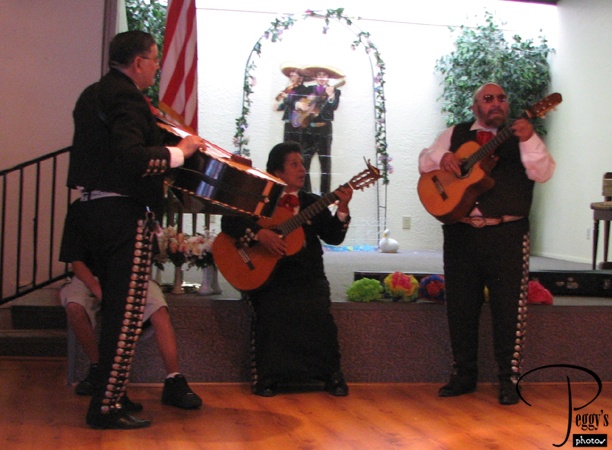 We were also treated to mariachi singers. One of the singers was a woman––somewhat unusual for a mariachi singer. I have put three movie clips on this website of the mariachi singers: Go to Movies, United States, New Mexico, "Cinco de Mayo Mariachi Singers––1, 2, & 3."

Cinco de Mayo
Cinco de Mayo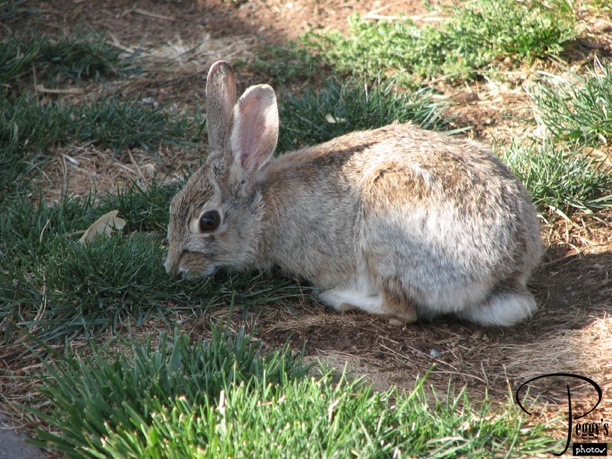 Outside the clubhouse, we saw this very cute bunny. Her complex has many bunnies––very cute if you are taking photos of them but not so cute if they are eating a resident's flowers.

Cinco de Mayo
Cinco de Mayo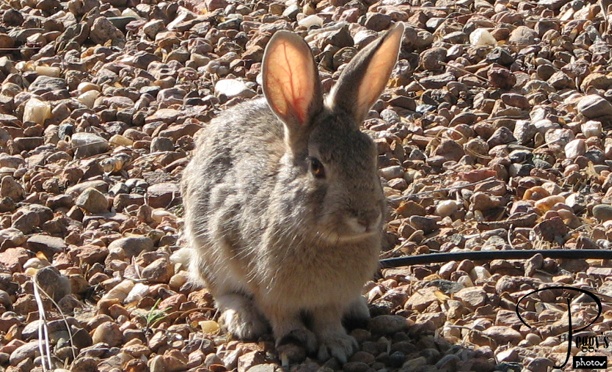 Another bunny photo.
Cinco de Mayo
© Copyright 2018 Peggy's Photos