Day 5, Petenchel to Antigua
On the Road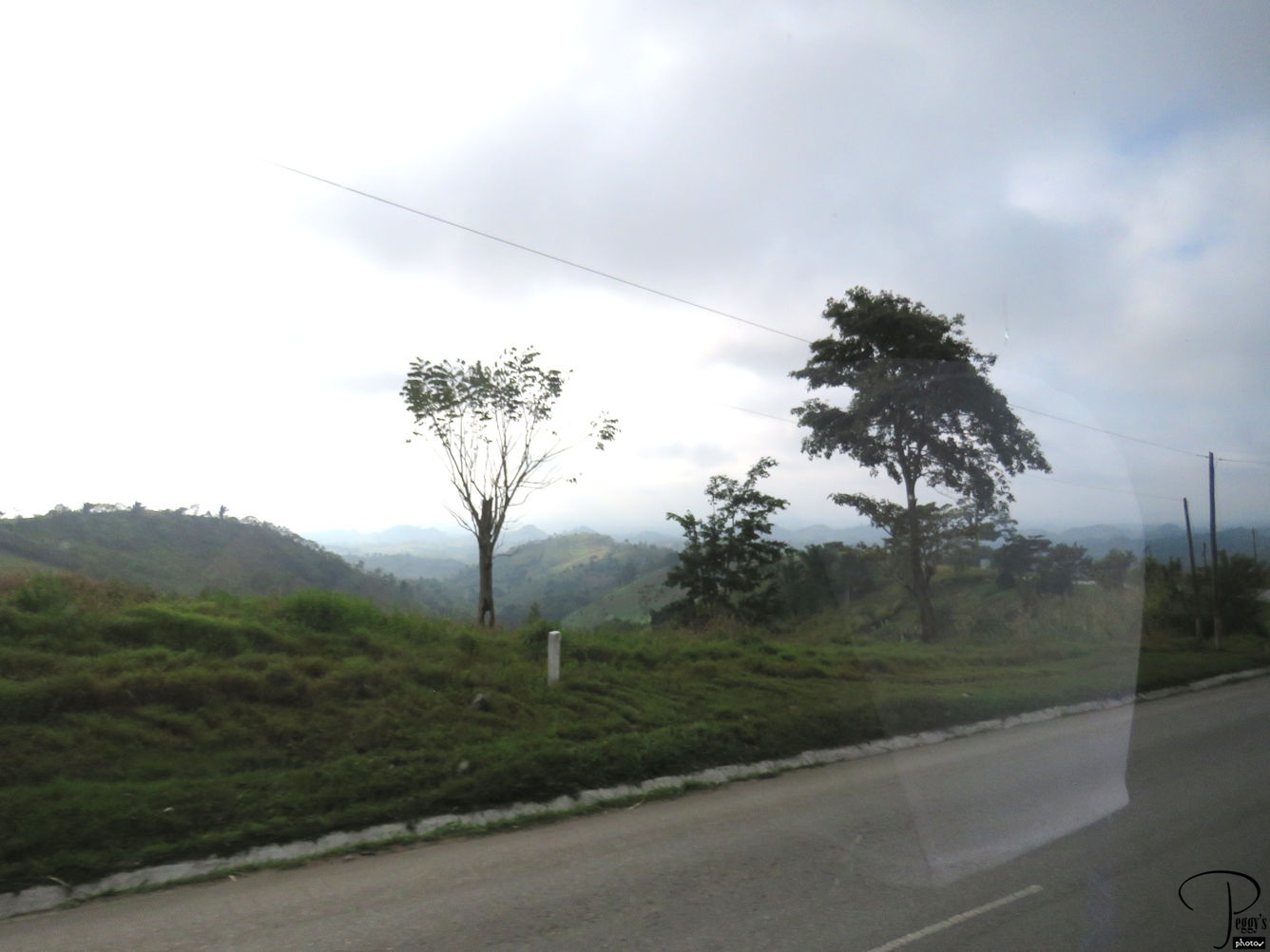 We had a very long drive today from our hotel in Petenchel, through Guatemala City, to Antigua, a Spanish colonial town. We left Petenchel at 6:45 a.m. and arrived in Antigua about 12 plus hours later. We took the same road that we took from Guatemala City to Petenchel as there is only one road between these two places. We were driving in the mountains again. This time no one came down with motion sickness as Virginia, our tour director, made sure anyone who could be affected had taken motion sickness pills.
On the Road
Pollo Frito for Sale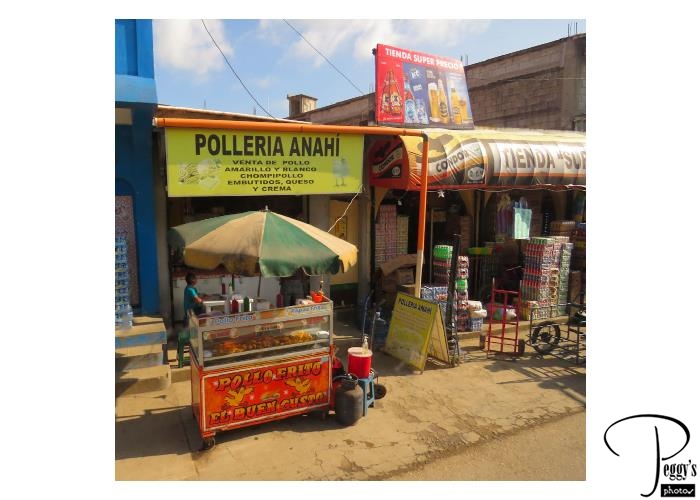 I was sitting on the opposite side of the bus to the side I was sitting on when we drove to Petenchel, so new photos of the drive. Photo: pollo frito (fried chicken) for sale. This seems to be popular in Guatemala.

Pollo Frito for Sale
Roadside Store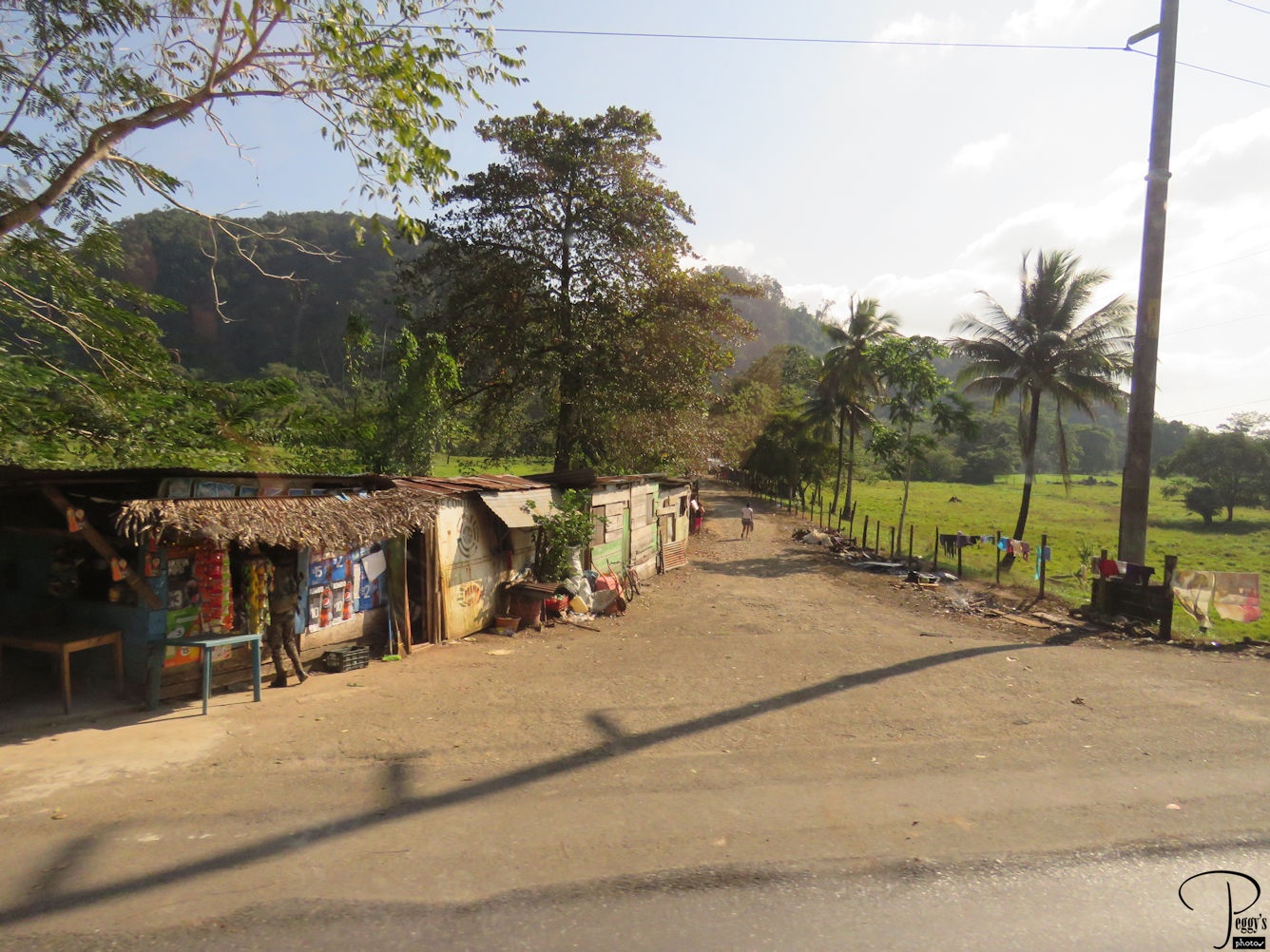 A store along the road.
Roadside Store
Evangelical Church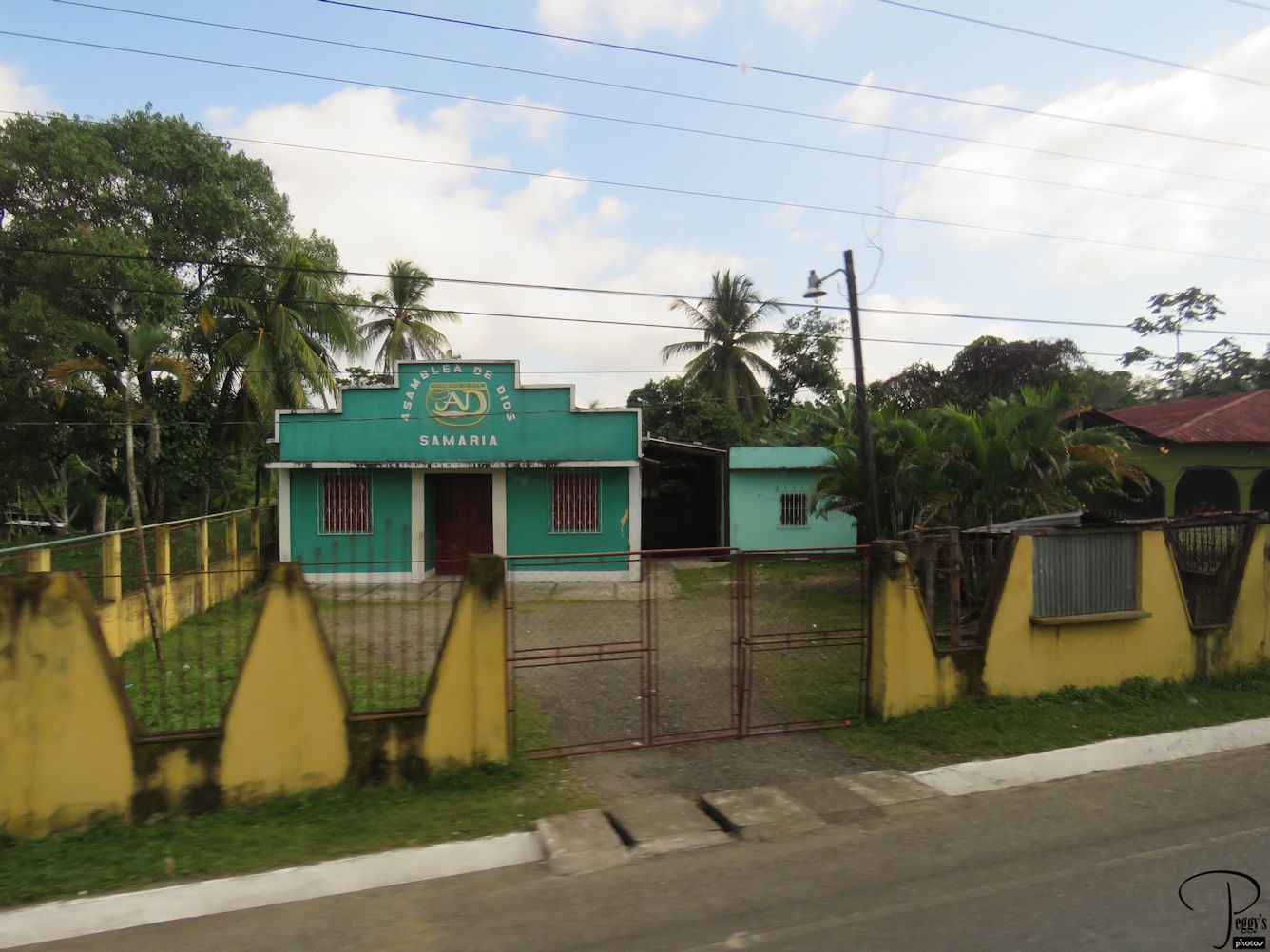 There were a number of Evangelical churches along the road.

Evangelical Church
A Town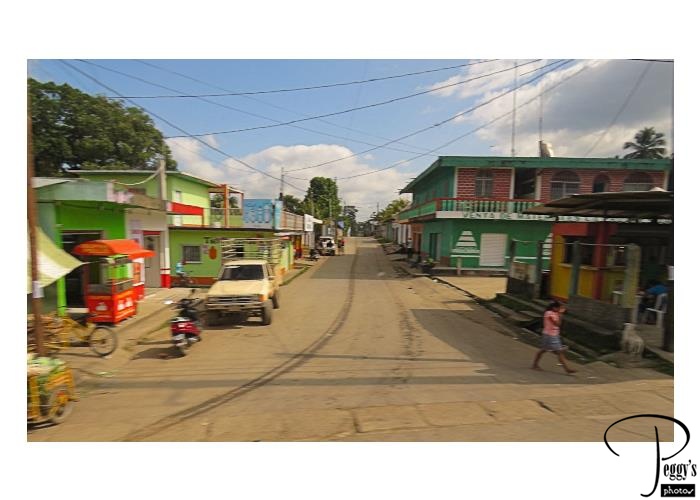 Passing a small town.

A Town
Rio Dulce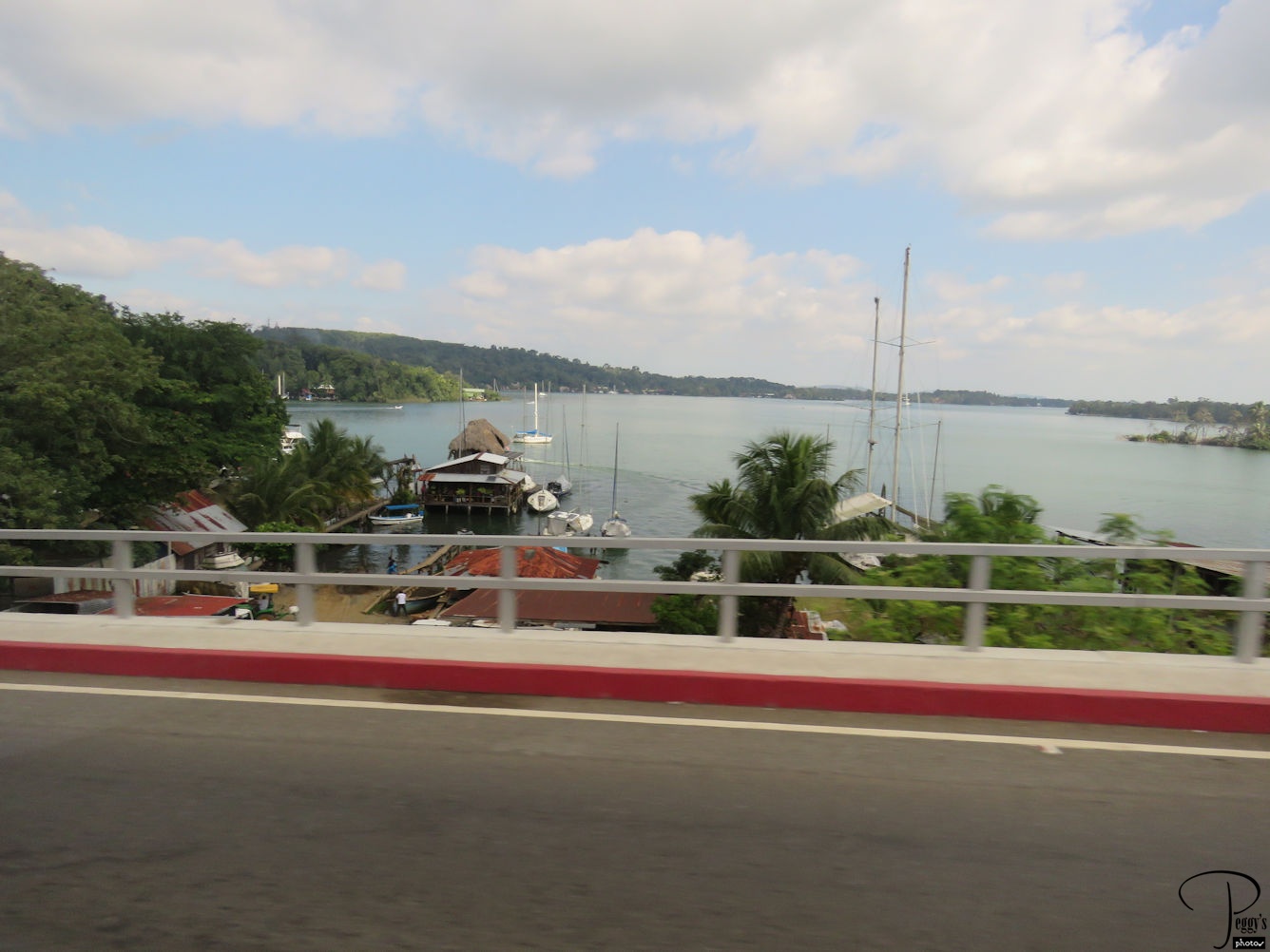 The Rio Dulce, on which we had lunch on our way to Petenchel.

Rio Dulce
Earthquake-proof House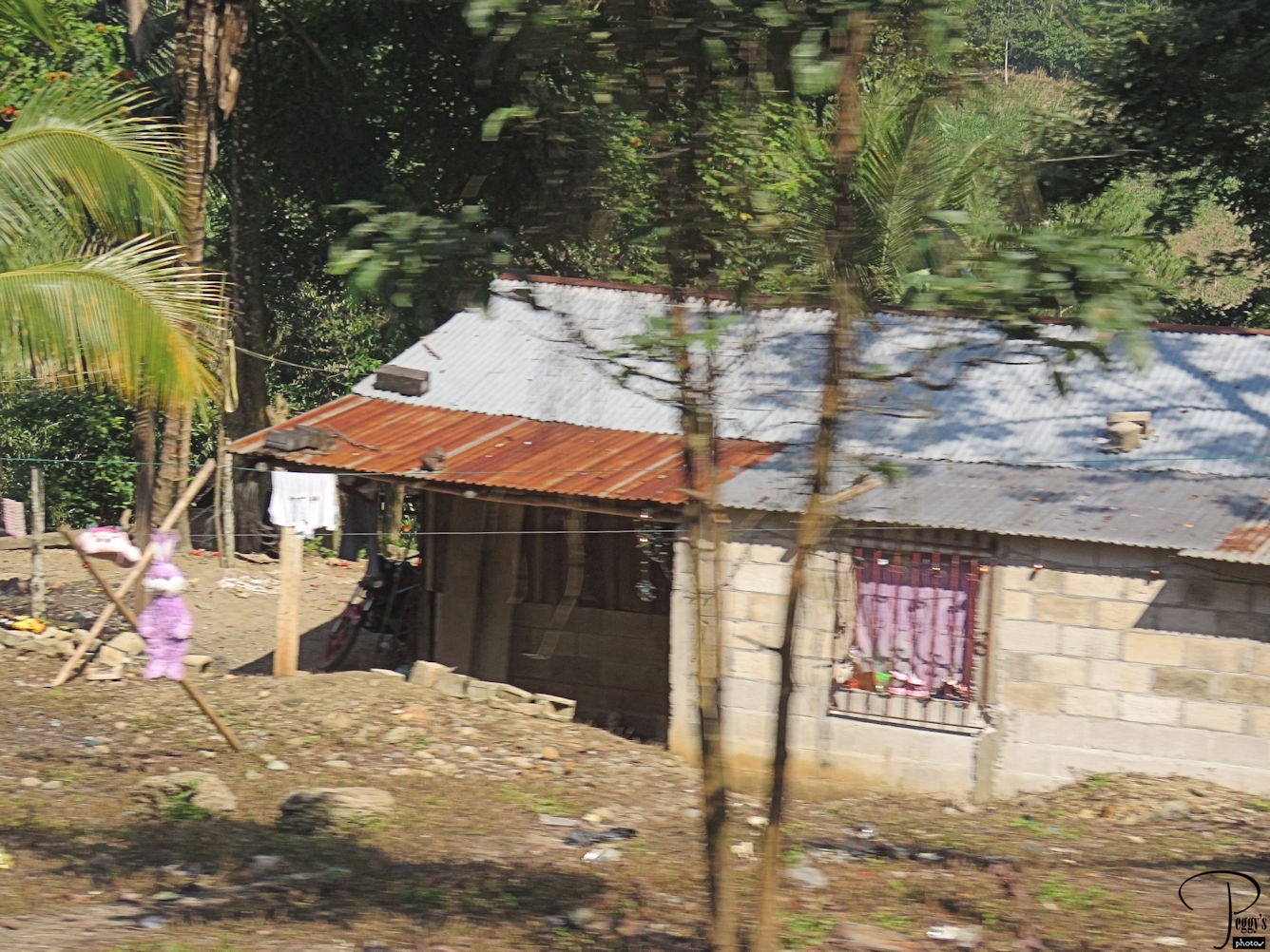 This house may not look like much but it would have taken money for its owner to probably take down his original house and to have this built. The theory in Guatemala that to build an earthquake–proof house is to use cement block with plenty of rebar and then to top it with a tin roof. The February 4, 1976 Guatemala earthquake had a magniture of 7.5/ The death toll was 23,000, 76,000 injured, and many thousands left homeless. Earthquakes are frequent in Guatemala.
Earthquake-proof House
Road Construction
We were held up for over an hour by road construction. The road here is being widened. To do this, the hills along the road are being cut into. On the way to Petenchel, we got through the construction zone quickly but not so coming back to Guatemala City.

Road Construction
Coming into Guatemala City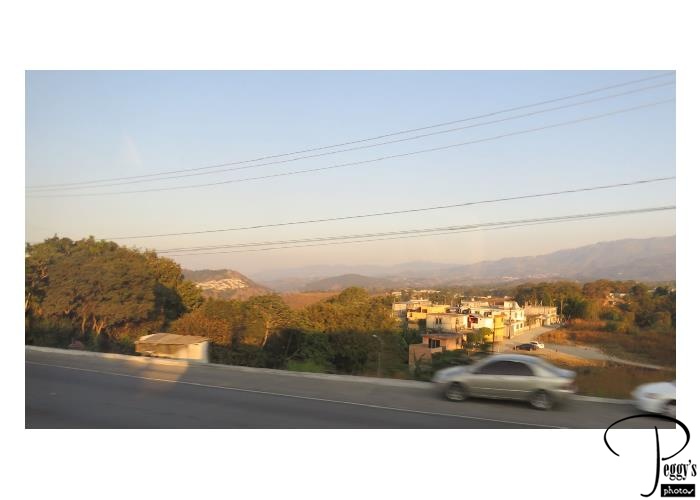 We are approaching Guatemala City. Since we were held up by the road construction, we had to drive through the rush–hour Guatemala City traffic, a slow ordeal.

Coming into Guatemala City
Guatemala City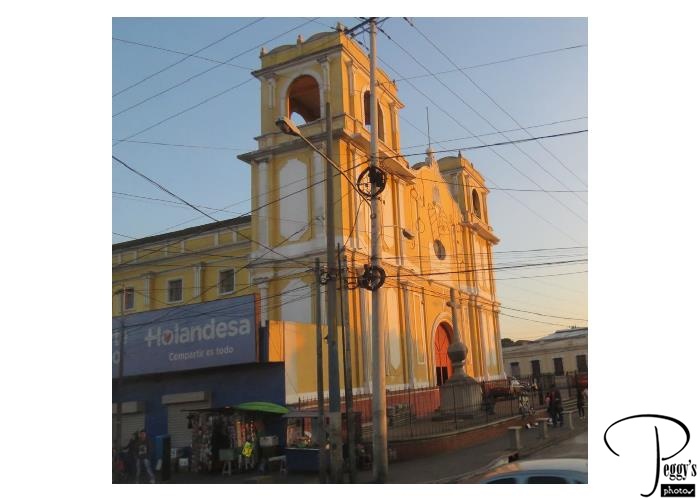 Passing an old colonial church.
Guatemala City
Guatemala City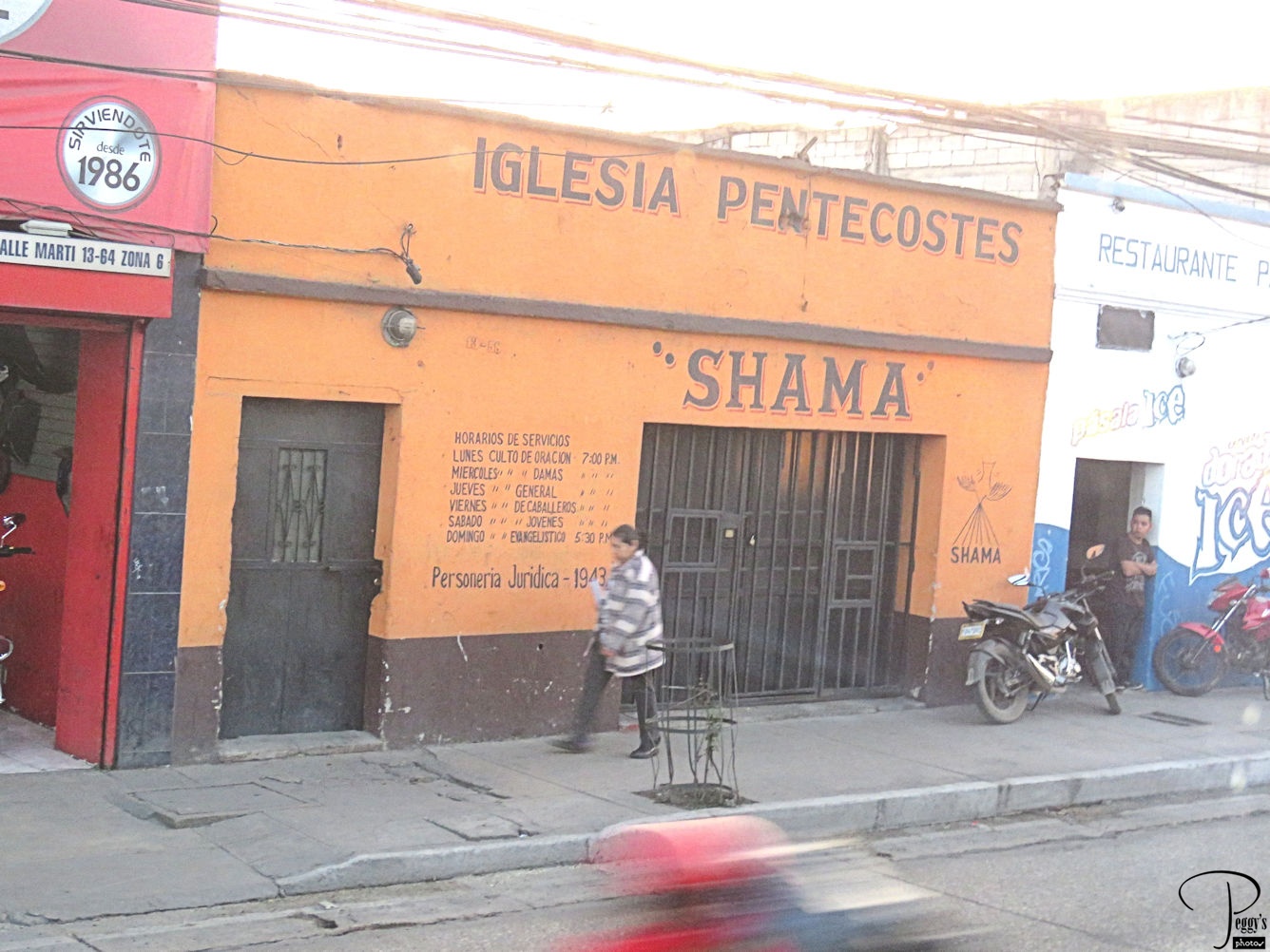 Passing an Evangelical church.
Guatemala City
Guatemala City
The last photo I could take in Guatemala City and on our drive to Antigua as the sun had begun to set. I have put my photos of our drive on a slide show. Go to
http://www.peggysphotos.com/petenchel–to–antigua/
(Slide Shows, Central America, Guatemala, "Petenchel to Antigua").

Guatemala City
Antigua–Porta Hotel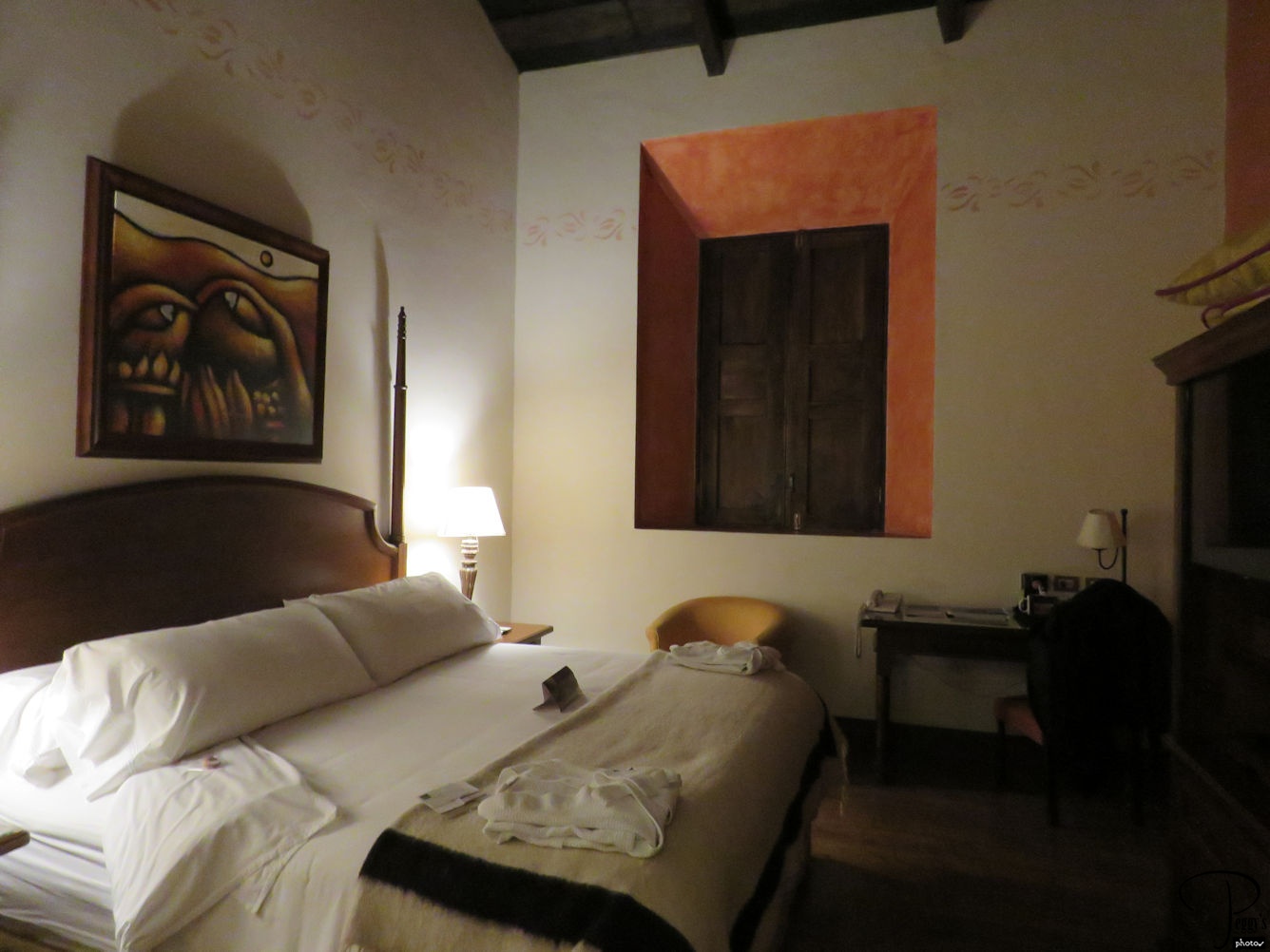 We finally arrived in Antigua in the dark. Antigua is a Spanish colonial town and was one of the capitals of Guatemala under the Spanish from 1543 to 1776 (other capitals were moved because of rebellions, earthquakes, and volcano eruptions and Antigua itself was mostly destroyed in 1773 by an earthquake).
We stayed at the beautiful Porta Hotel where I had a large and very nice hotel room. Photo of it.

Antigua–Porta Hotel
Porta Hotel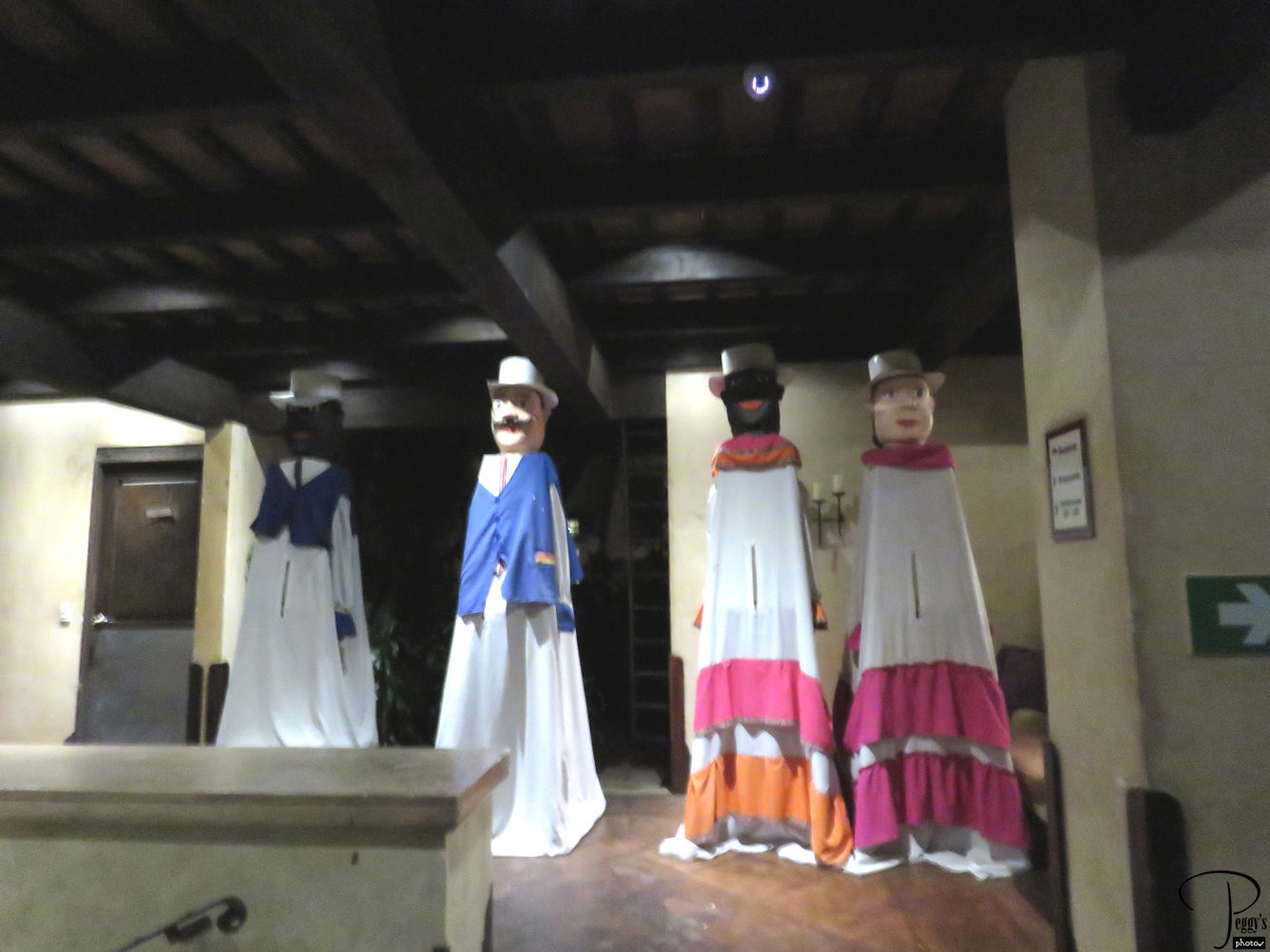 On the way to the lobby, these are used in dances.
Porta Hotel
Porta Hotel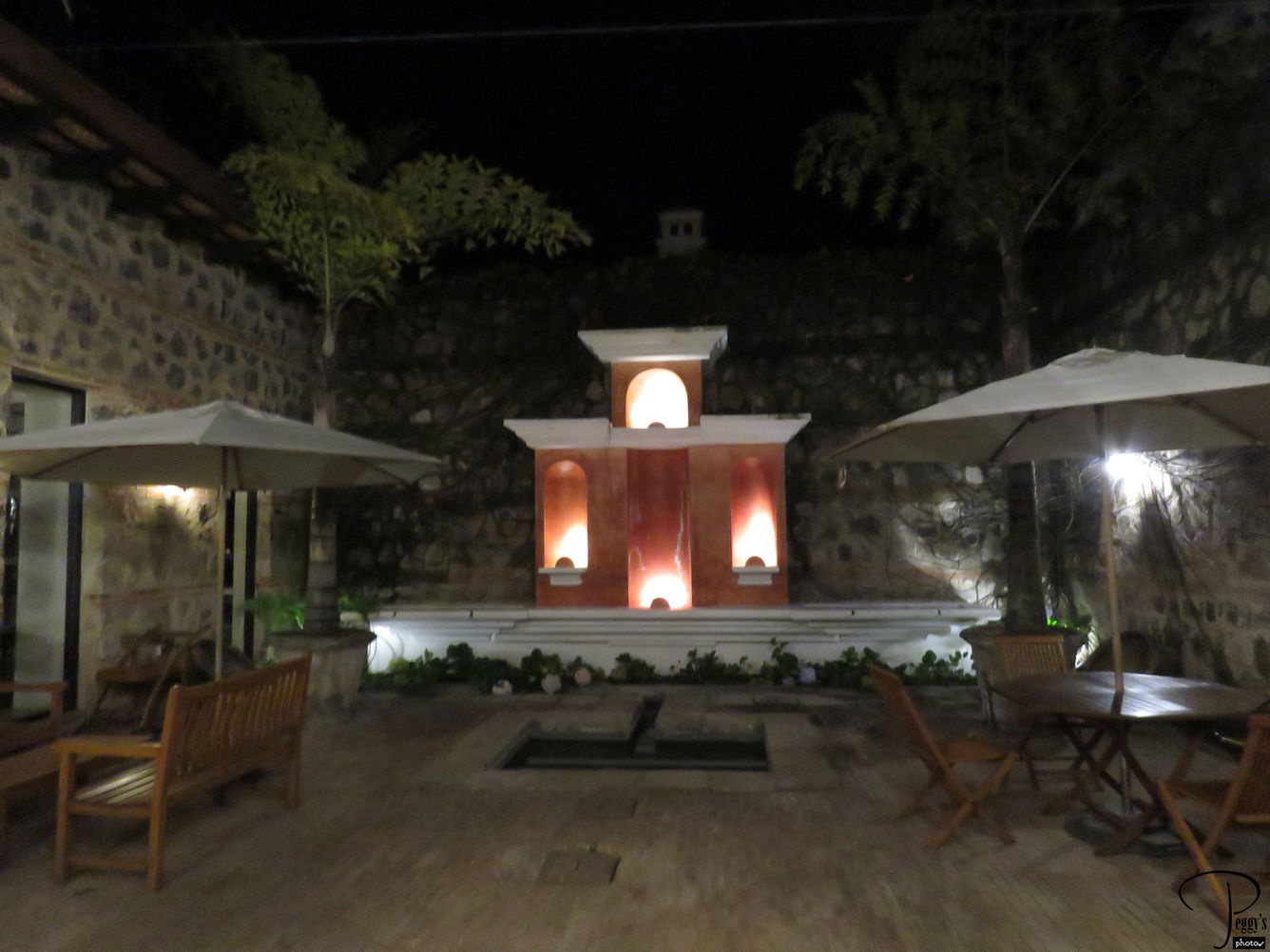 In the hotel's lobby.
Porta Hotel
Porta Hotel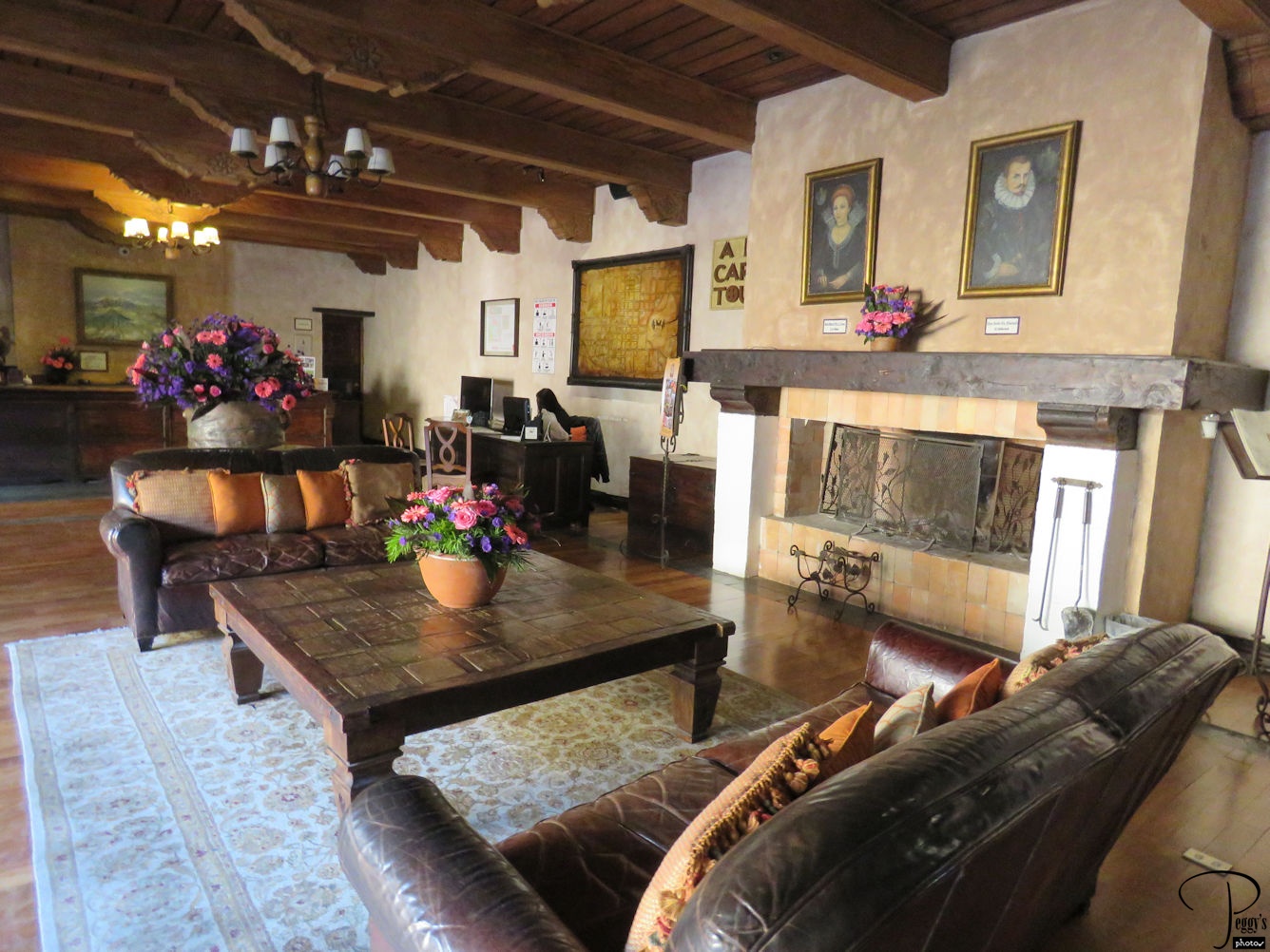 We had to take a short walk from the hotel (or you could take a tunnel) to the hotel's restaurant. The restaurant's Spanish colonial lobby.
Porta Hotel
Porta Hotel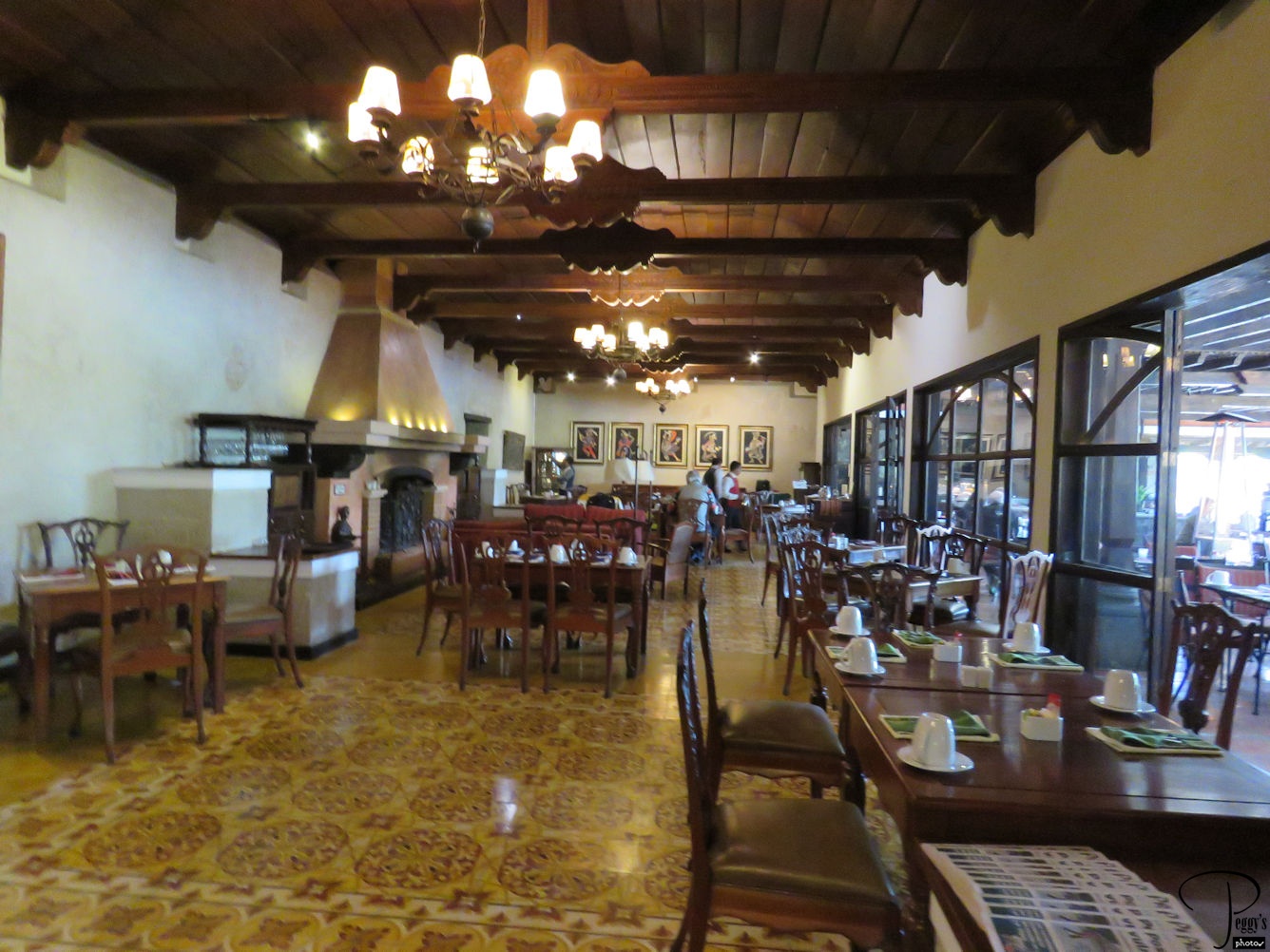 The hotel's restaurant. We were glad to sit down to dinner after our very long day.
Porta Hotel
© Copyright 2018 Peggy's Photos