Brussels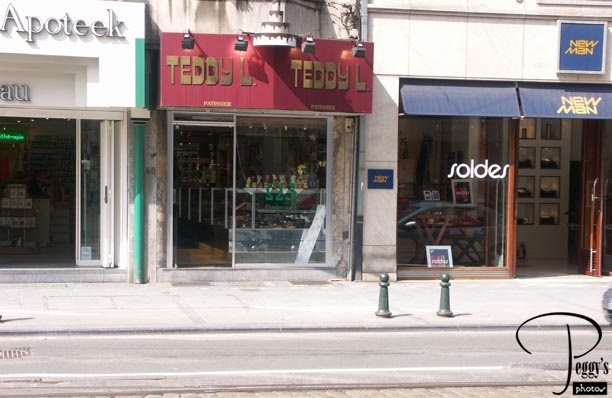 Today, I went on a secret trip to Brussels, secret because the only one who I told that I going to Brussels was my son Brett. Since I got my daughter and I so lost in Brussels last year, I didn't want her to worry if I went there by myself. The only reason I told Brett was that if no one heard from me for awhile then at least he would know what country they should look for me in. But it did turn out that, because of 7/7, she probably would have worried less about me being in Brussels than being in London that day. I'm not planning on making a yearly pilgrimage to Brussels, but since I was in the neighborhood––sort of––I decided to make another one. The concierge at my hotel arranged for a private car to pick me up at 5:15 a.m. to take me to the Waterloo International Station (cost: 20 pounds). I got there in plenty of time for my 6:27 a.m. Eurostar London to Brussels, by way of the Chunnel, train trip. I even had time to have breakfast at the station. The trip was uneventful; it arrived in Brussels at 10:07 a.m.––only a 2–1/2–hour trip, as you lose an hour when traveling from England to the Continent. I was able to find my way onto the right subway at Midi Station to get to Avenue Louise. First stop at Avenue Louise, Teddy L, the patissier where Eddie and I ate most of our breakfasts when we were in Brussels in June 2003.

Brussels
Teddy L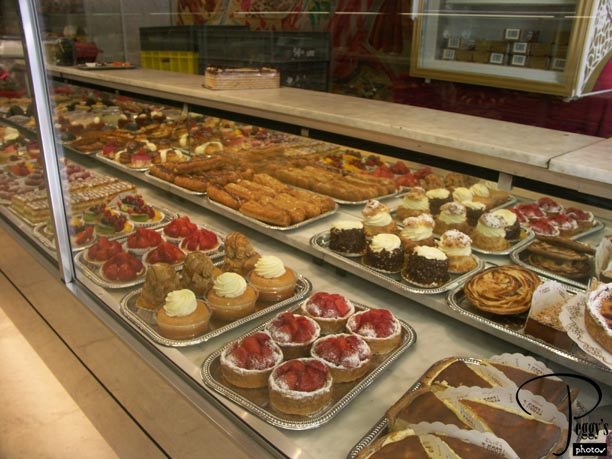 What a selection of pastries to choose from here, but I had my usual fruit tart––the fruit tarts here are the best in the world. I know because I keep trying fruit tarts in other bakeries and compare them with Teddy L's fruit tarts. The same woman was behind the counter as before but she had a new young assistant.

Teddy L
Restaurant Street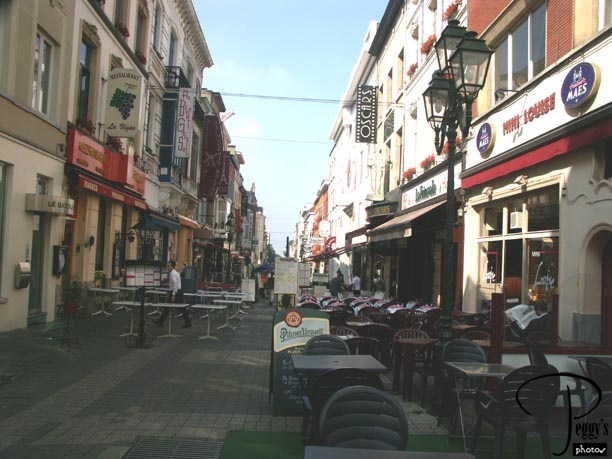 Next, I walked past the closed–to–traffic street of restaurants where Eddie and I ate almost every evening. This collection of restaurants was fabulous––you could just walk down the street and read the restaurants' menus that they put on boards on the street before deciding where you would eat that evening. It took awhile before Eddie and I tried one of the French restaurants––no menu translations and we didn't want to have to ask a waiter to read the whole menu to us. The Italian menus were easier for us as who doesn't recognize most of the usual Italian dishes. But after we did brave a French restaurant here, we didn't eat again at the Italian restaurants. The French restaurants were too good to resist.

Restaurant Street
Avenue Louise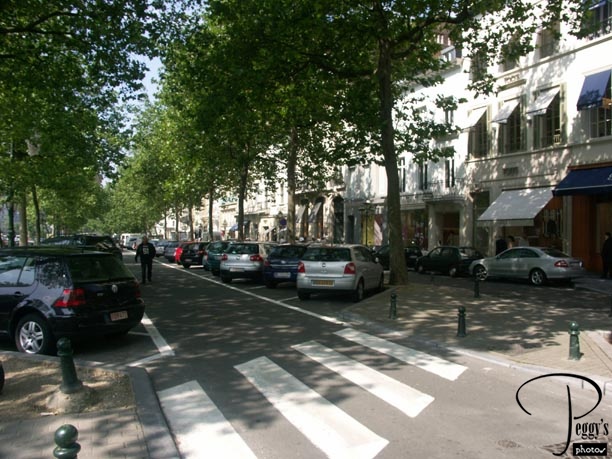 Teddy L and restaurant row were off the Avenue Louise, which is the designer shopping street of Brussels. Eddie and I didn't walk up it very far or look at the stores, so this was something new for me to do. The July sales were on and the street was crowded with shoppers. I didn't see anything of interest for me to buy even at 50% or more off. Brussels was sunny today and it was starting to get very warm, uncomfortably so, I was missing the cool overcast London weather.

Avenue Louise
Avenue Louise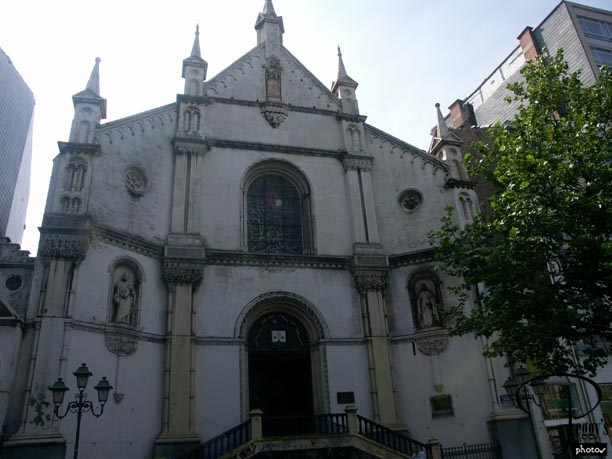 The interesting Eglise Des Peres Carmes on the Avenue Louise.

Avenue Louise
Avenue Louise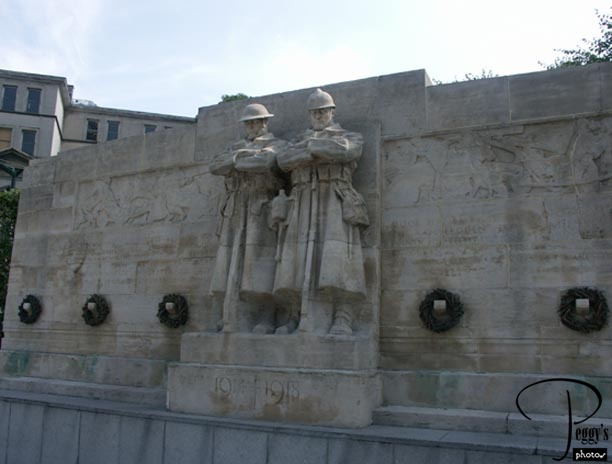 World War I memorial on this street.

Avenue Louise
Hall of Justice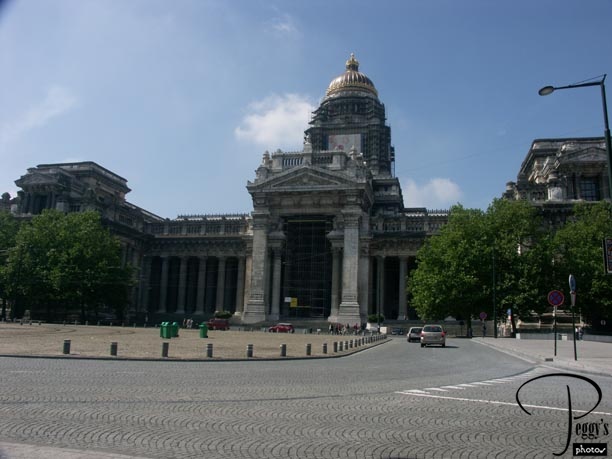 This is around the corner from Avenue Louise. Most of the scaffolding has finally been taken down and you can get a good view of its golden dome.

Hall of Justice
Another War Memorial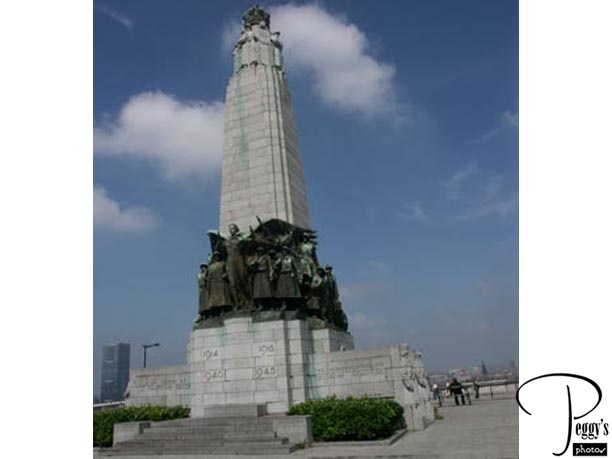 This is near the Hall of Justice and is a memorial to World Wars I and II veterans.
Another War Memorial
War Memorial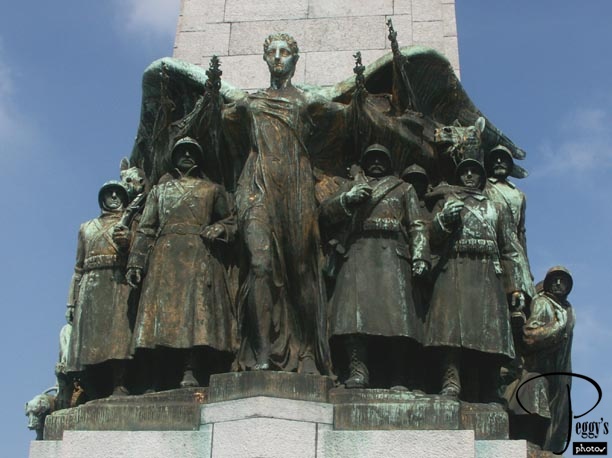 Close–up of the statues.

War Memorial
War Memorial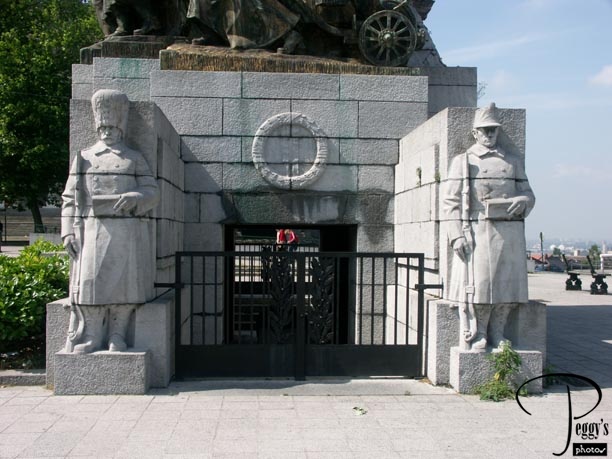 These statues are on the bottom of the memorial. I don't remember seeing them with Eddie as I don't think that we stopped to closely look at this structure.

War Memorial
View of Brussels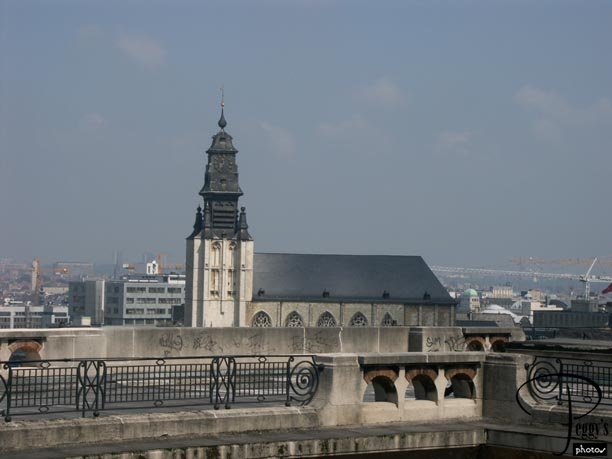 This view of the Lower Town of Brussels was taken from the Upper Town. The edge of the overlook is closed off, so you can't get any closer to the edge to take a better photo. I was interested in getting a better photo of the church in the photo and started a trek down to the Lower Town. When Eddie and I went down to the Lower Town, we took a tram from near our hotel and got off far from the Hall of Justice and then walked down the hill. But from where I was, I realized that there was actually a shortcut from here to the Lower Town––how did we miss this?

View of Brussels
Lower Town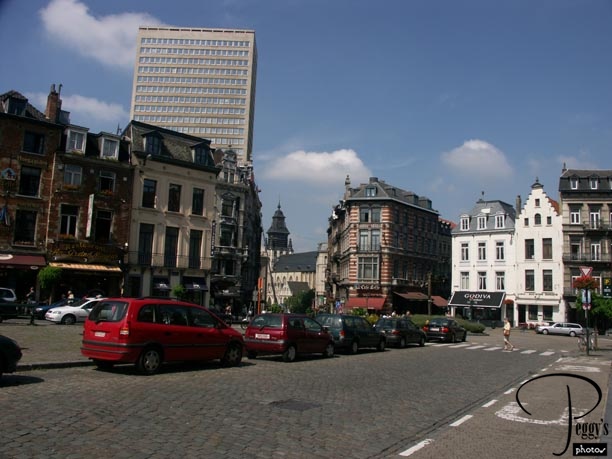 I took the shortcut and saw a bit of the church and then walked toward it.
Lower Town
Lower Town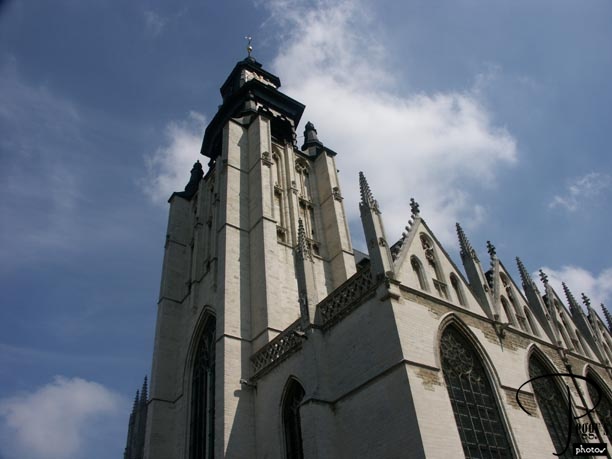 However, when I got to the church, I found that there were so many buildings around it that I couldn't take a good photo of it.

Lower Town
Lower Town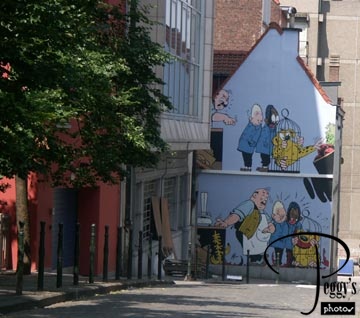 Then, I got a bit overconfident that I knew where I was. I thought that if I continued down the hill that I would find a cross street I could take over to the Grand Place. I saw this cartoon on the side of a building (Brussels is the cartoon capital of the world and you see many cartoons here on the side of buildings) and I knew that I was going in the wrong direction. I was right near a big street market––Eddie and I had been there.
Lower Town
Lower Town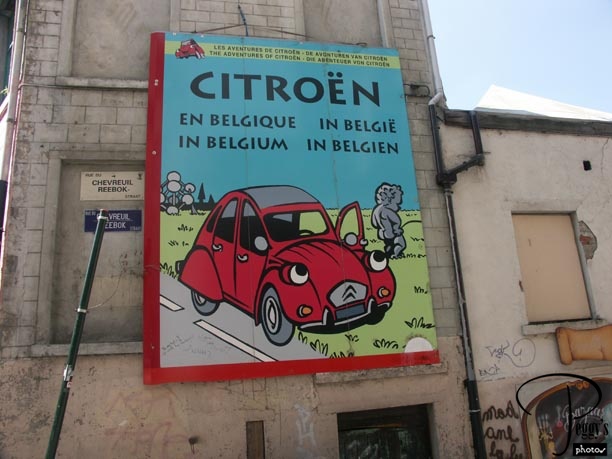 Another cartoon on a wall. I don't know if this was an advertisement or there really is a comic strip named The Adventures of Citroen.
Lower Town
Lower Town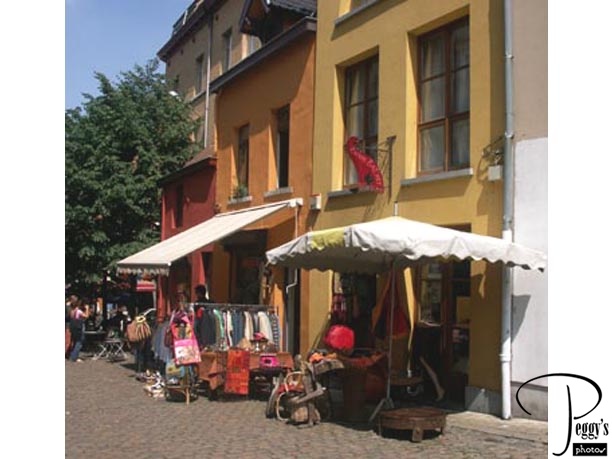 Colorful buildings on a side street off the outdoor market. I checked the bus map at a bus stop here, but I didn't think that the bus would get me to where I wanted to go next––the Grand Place. So I decided that I had better just walk back up the long hill that I had come down and start all other again.

Lower Town
Lower Town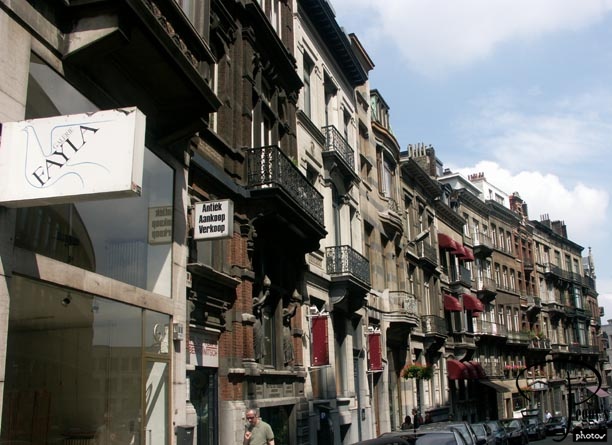 Interesting buildings that I passed on my walk.
Lower Town
Lower Town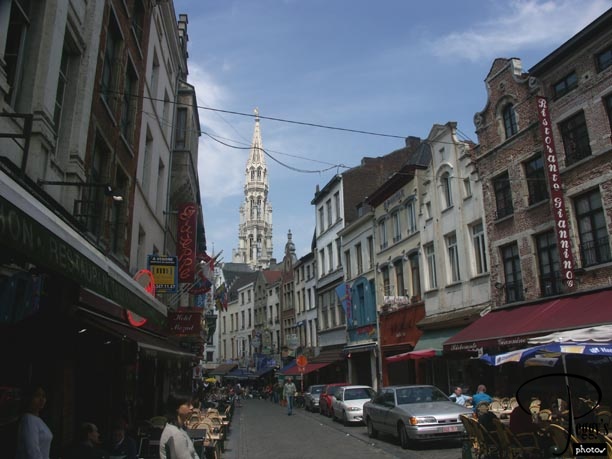 I was quite happy to see the spire of the Town Hall which is located in the Grand Place.
Lower Town
Grand Place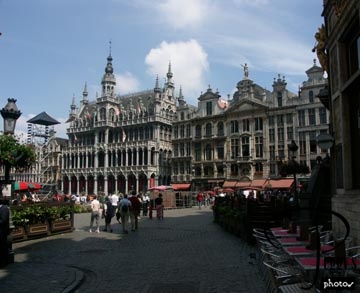 Entering the Grand Place. It was very crowded with tourists.
Grand Place
Grand Place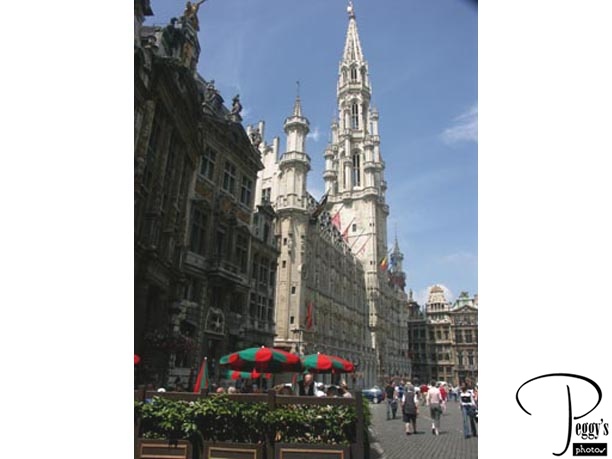 A large stage was set up for future events in the Grand Place, so taking photos here was difficult. I took this photo of the beautiful Town Hall from its side.
Grand Place
Grand Place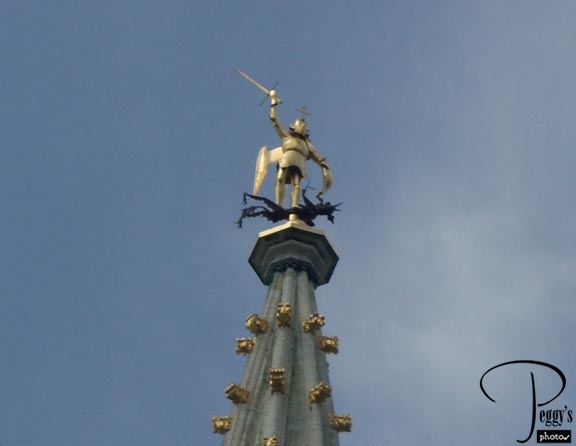 Statue on top of the Town Hall spire.

Grand Place
Grand Place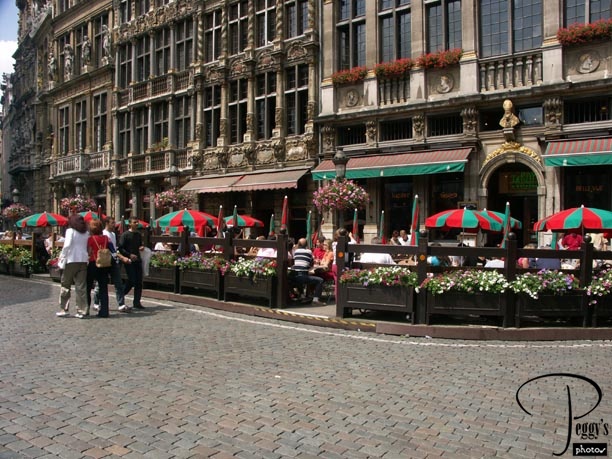 I ate lunch at this sidewalk restaurant. This is where I took the movie clip of Eddie, which is on this website: Go to Movies, Western Europe, "Eddie at Grand Place, Brussels."

Grand Place
Manneken-Pis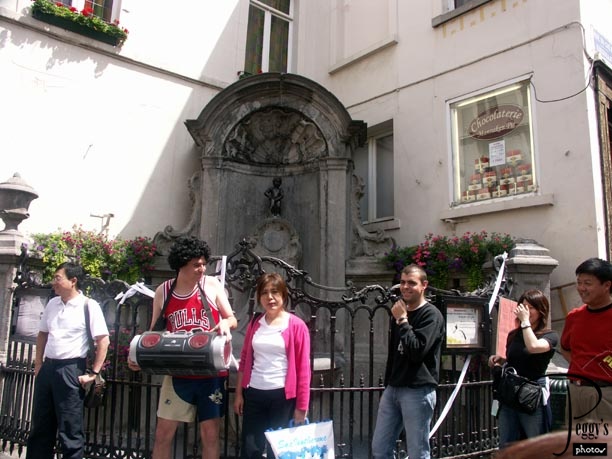 I walked down to see Mannekin–Pis, the famous Brussels statue commerating the military courage of the Belgians. Eddie and I saw him dressed in one of his many costumes––an army uniform. We saw him only naked last year and now again he appears without clothes. This guy was entertaining people with his boom box.
Manneken-Pis
Manneken-Pis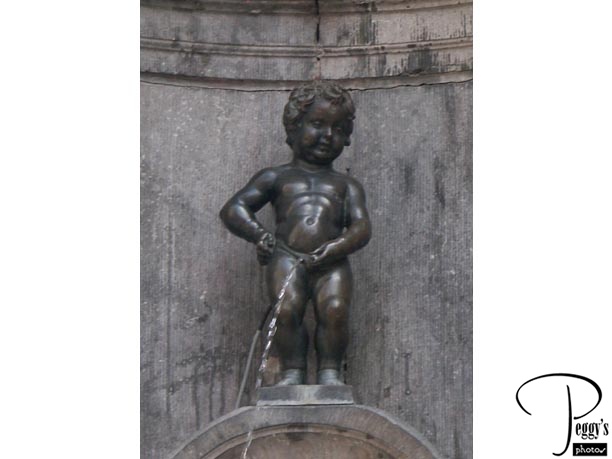 Close–up of Manneken–Pis.

Manneken-Pis
Manneken-Pis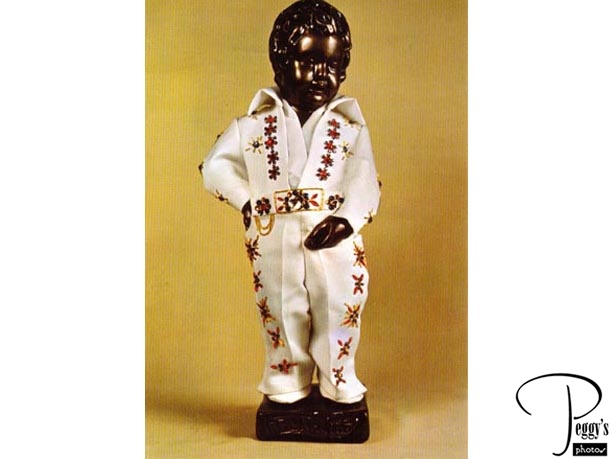 There is a Manneken–Pis museum in the Grand Place. I visited it and bought some Manneken–Pis dolls to add to a collection of them that I started last year. In the museum, he appears in his Elvis costume, but so far no doll of him in this costume has been for sale. However, the museum had a postcard of this costume and I have scanned it into my computer. (No photos are allowed to be taken inside the museum.)

Manneken-Pis
Van Gogh Impersonator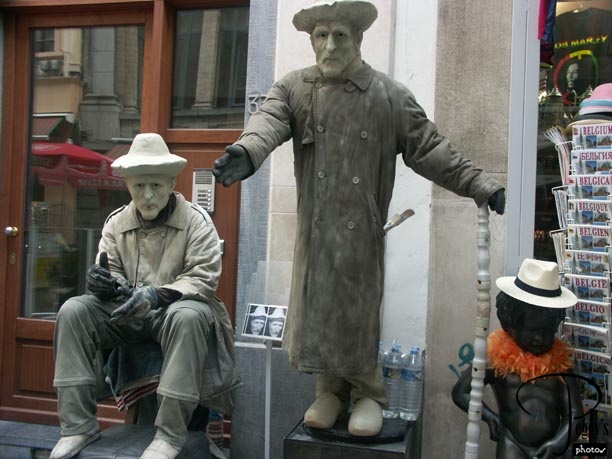 On my back to the Grand Place, I went in search for a tapestry pillow cover. Belgian is known for their tapestries. My daughter had bought some covers here last year, and I went from store to store to locate the place where she had bought them. I finally found the store and I bought a very nice cover. Then I headed back to the Grand Place on way to the Leonides Belgian candy store. (I had my Brussels shopping planned before I came here.) I passed this Van Gogh Impersonator on the way back to the Grand Place. Note the Manneken–Pis statue for sale on the right––he has some articles of clothing on here.

Van Gogh Impersonator
Grand Place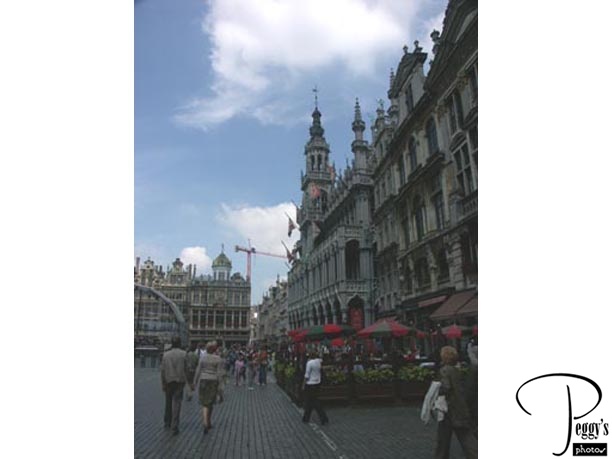 Another photo of the Grand Place. The crane in the background has been appearing in my photos for three years now. No change here. After picking up about a pound of Belgian chocolates (they are 1/3 the price in Belgium bt than they are in the U.S.), I realized how tired I was. I had some great European coffee and pastries at a sidewalk cafe and then hopped on the Hop On Hop Off bus for a needed hour of just sitting (my third trip so far on this bus on my trips to Brussels). Then I searched for an indoor place to have dinner––I had to get out of the very hot sun. I found a pizza place, but the pizza was not very good. It was time to head back to the Midi Station to catch my train back to London, but how to get back to the station? I was sure that Eddie and I took the Metro from this area––the Bourse, but I couldn't find the station. All that was here was an underground tram station. After great hesitation, I decided to brave a tram ride to the station. The board at the tram station indicated that all the trams stopping here went to the Midi Station, though some of the lines took more roundabout routes. I got on the tram with the shortest route and really prayed that it would stop at Midi Station and that I wouldn't be spending hours, like on my last trip here, riding around Brussels lost on their trams. Two stops and I saw the sign indicating it was Midi Station––what a great feeling! My train left at 8:25 p.m. and arrived at Waterloo Station in London at 9:56 p.m., as we lost an hour that we had gained traveling in the other direction. I took a taxi back to my hotel––another 20 pounds (taxis are very expensive in London). I am glad that I went back to Brussels one more time and I probably will go again if I am "in the neighborhood" again. There are many more photos of Brussels and Belgium that will be put on this site in the near future.
Grand Place