Waikiki Beach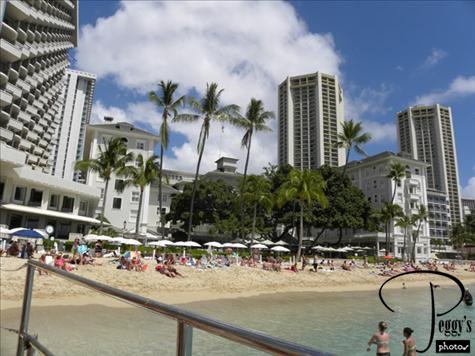 To be a lazy day today, our last day in Hawaii. First, the breakfast buffet at Duke's and then we hit the beach. The water was colder than I would have liked and you had to watch out for rocks in the water, but it was still very nice. Photo: Beach in front of our hotel.

Waikiki Beach
Catamaran Ride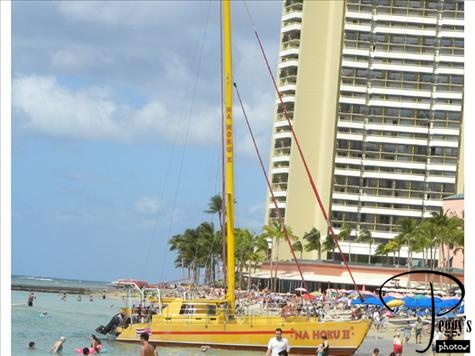 We were lucky to be able to get a 4 p.m. checkout of our hotel, so we had enough time to take the 1:30 p.m. trip on the catamaran in this photo. It was called a "booze cruise"––two drinks per person free plus music. I only had one––a mai tai. Two and I would probably have fallen off the boat.

Catamaran Ride
The Royal Hawaiian Hotel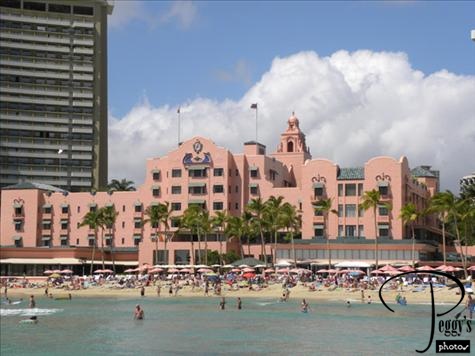 The Royal Hawaiian seen from the boat.
The Royal Hawaiian Hotel
Catamaran Ride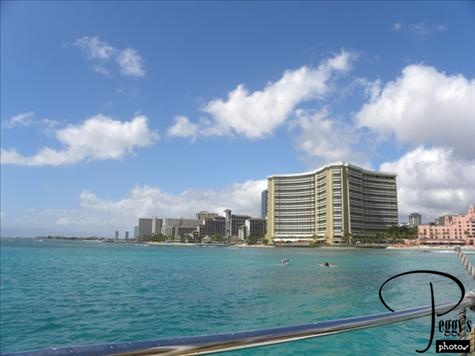 Using the distinctive pink color of the Royal Hawaiian as a reference, that is Waikiki Beach to the north.

Catamaran Ride
Catamaran Ride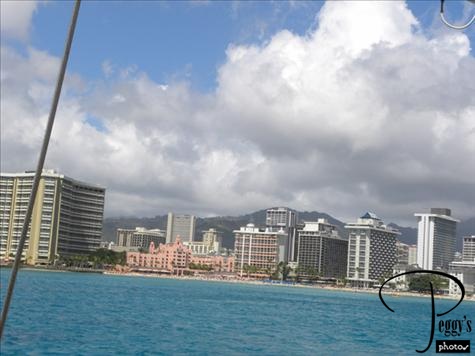 Now, Waikiki Beach to the south.
Catamaran Ride
Catamaran Ride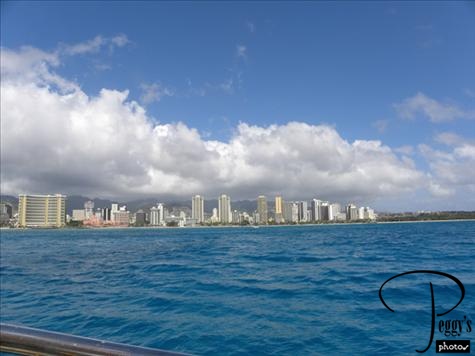 A wider view to the south.

Catamaran Ride
Diamond Head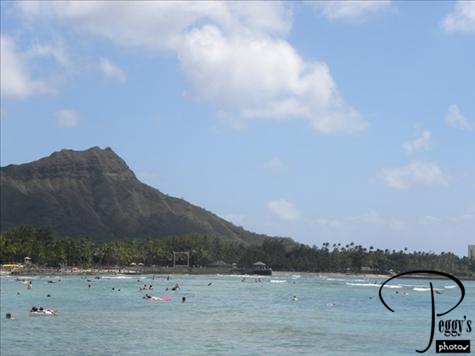 Approaching Diamond Head.

Diamond Head
Diamond Head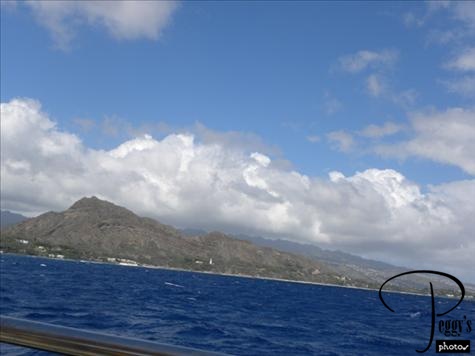 More of Diamond Head.
Diamond Head
Diamond Head
The lighthouse on Diamond Head.

Diamond Head
Catamaran Ride
The catamaran's sails are up. The boat ride was smooth until we got further out in the water where it was quite rough. We definitely were bounced around. The catamaran trip back and forth along Waikiki Beach took about one and one–half hours. There is a sunset cruise offered on it which should be quite nice to take.
Catamaran Ride
Duke's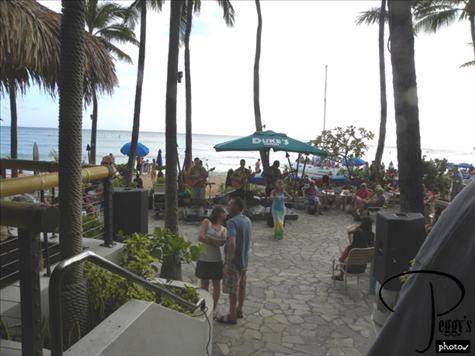 We checked out of our hotel and had the bell boy store our bags. The airport shuttle would pick us up at 6:15 p.m. Since all we had for lunch was alcohol, we were hungry. We tried to get into Duke's but it was so crowded with happy hour people that we ate at the bar of the Hula Grill above it (dinner was not being served yet). We could hear the music below us coming from Duke's. We went back to Duke's to see if we could now get a table but it was stil too crowded but I was able to take a video of the band and two hula dancers (one a male) performing there. I have put the video on this website: Go to My Videos, page 36, "Duke's Hula Dancers."

Duke's
Going Home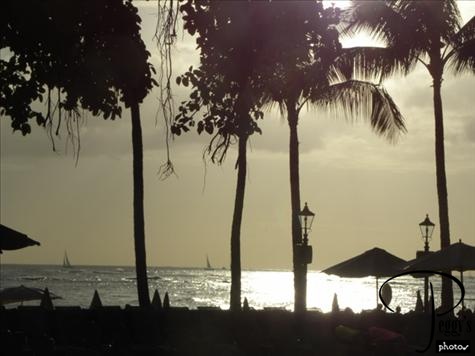 We said goodbye to Hawaii. Britt said we were saying goodbye to Paradise. I was happy to finally have made it to Hawaii. When we were on the airport shuttle, I asked the woman sitting next to me where she was flying off to––she said New York. Next question, "Do you live in New York." She said yes. Next question: "Where in New York?" She said Long Island. I told her that I grew up in Northport on Long Island. She said her husband––sitting next to the driver––also had. He was older than I am––I didn't know him back then, but after tossing names to each other, we discovered we knew many of the same people. His name was Bob Erickson, now living in Setauket. Small world. We flew from Honolulu to San Francisco (arriving there about 4:30 a.m.––2:30 a.m. Hawaii time), then on to Los Angeles.

Going Home
© Copyright 2017 Peggy's Photos