Restaurant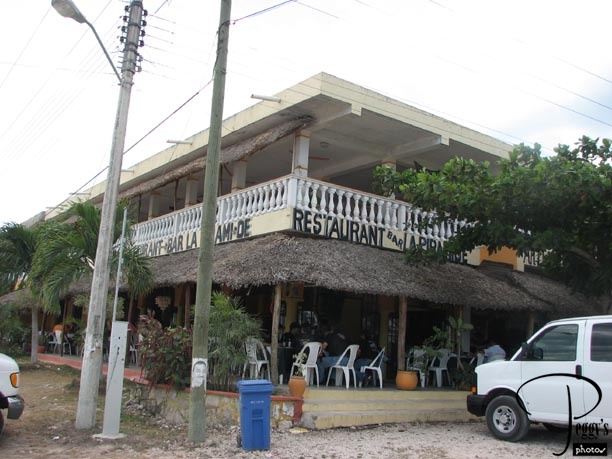 After visiting the Mayan village, we ate lunch at this restaurant. We had a choice of either fish or chicken. I chose the chicken––it was served fajita–style but without all the goodies with it: guacamole, sour cream, salsa, and tortillas. I kept thinking that I wanted to get back to LA where there is really good Mexican food. We were first served with a very hot, spicy soup. I saw my Spanish–speaking tour group squeeze limes in the soup to unspice it a bit, so I did the same (actually, I didn't know this was done).

Restaurant
Restaurant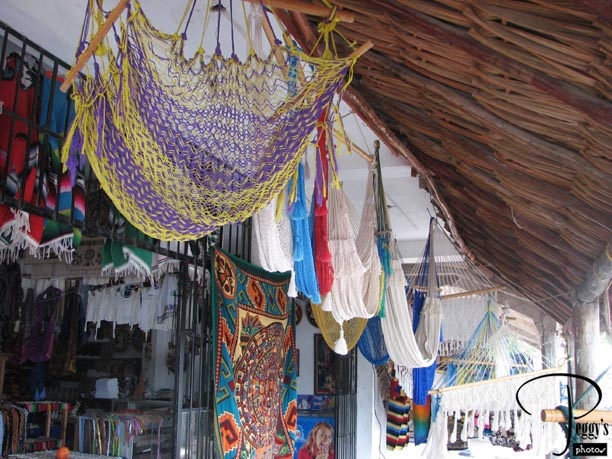 Hammocks for sale at a store next to the restaurant.

Restaurant
Restaurant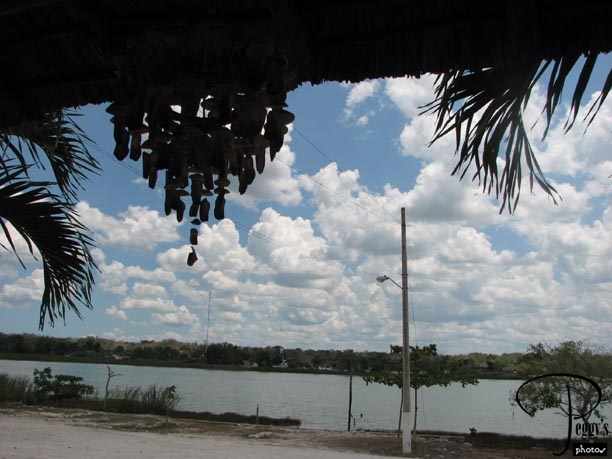 The restaurant faced a lake in which there were alligators. We didn't see any but were told that children come here and put chickens on sticks to entice the alligators out of the lake.

Restaurant
Coba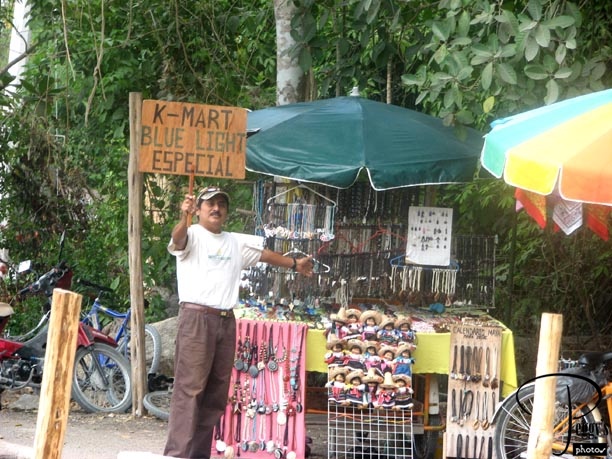 Our next stop was to see the Mayan ruins at Coba. Photo: souvenir stores at Coba.

Coba
Coba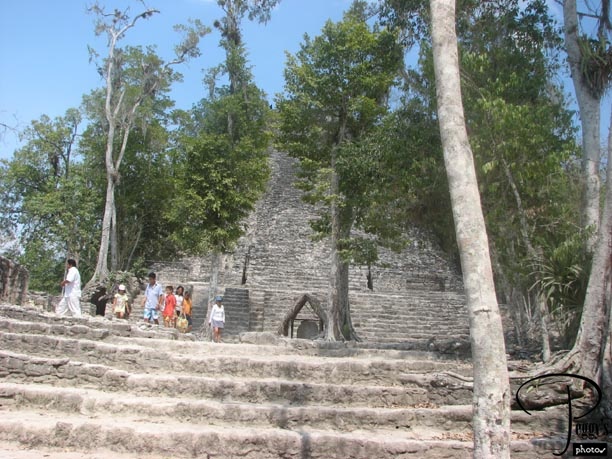 We were again divided into two groups––one a Spanish–language one with my original tourmates plus people from the other tour who spoke Spanish. They got my really nice guide. I was put into the English–language group and got the worst tour guide I ever have had. I was wondering why the group that had him all day had not strangled him yet. There goes the Spanish–language group (see photo)––I should have run after them to take me away from the guide from hell.

Coba
Coba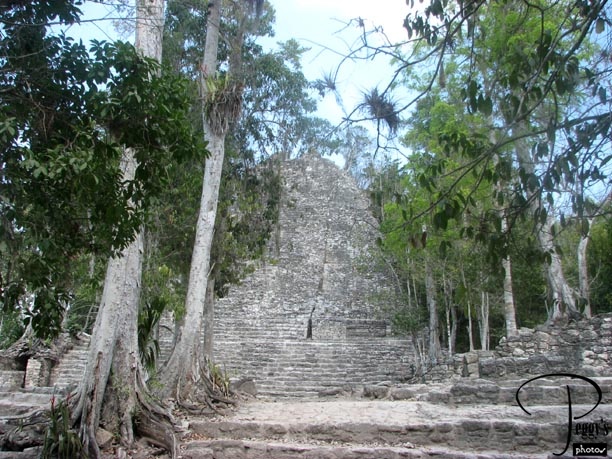 The English–language guide, who told us that he had a college degree and that he wasn't Mexican even though he was born in Mexico (his parents were European), insisted that we do not take off to take photos while he was talking––and he talked and talked and talked and talked. He never shut up. He told us that he would talk for 1 hour and 20 minutes and then we would have free time. However, I told him that I would leave to take photos as I was only being given 1 hour before I had to join my other group. He wasn't pleased, but so what. The photo shows La Iglesia, the Temple of the Church, built somewhere between 600 and 900 A.D. Coba was a major Mayan city with a population of about 60,000. In the straw hut in front of La Iglesia is Stella 11.

Coba
Coba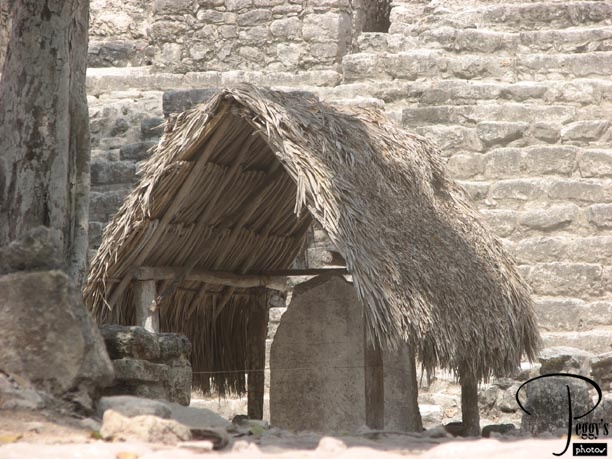 The stellas were writing tablets. Photo: closer–up of the stella.

Coba
Coba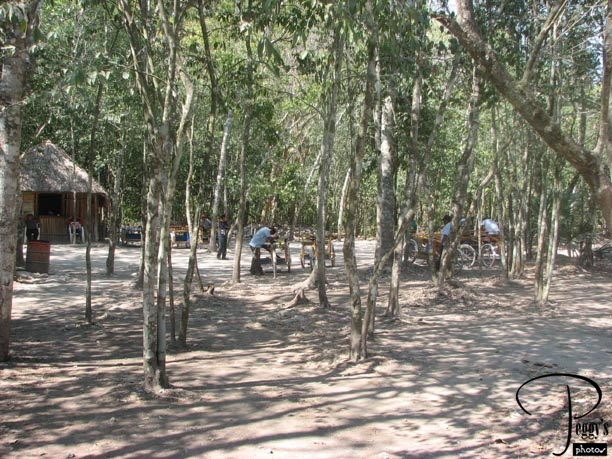 Looking to the right of La Iglesia.

Coba
Coba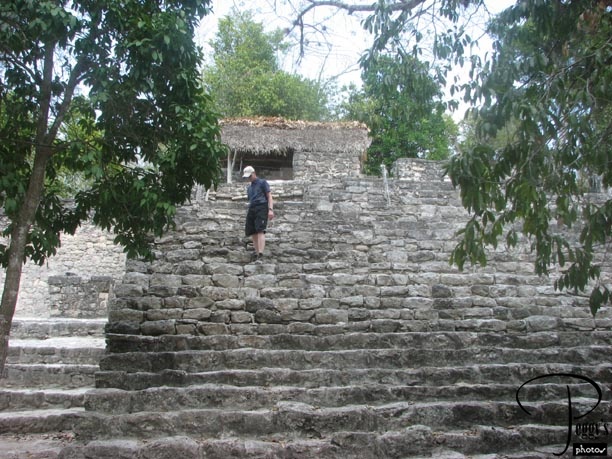 The Coba–B–castle. You weren't allowed to climb up La Iglesia, but there was no rope telling you that you couldn't climb up the castle, as this man did. He wasn't with our group.
Coba
Coba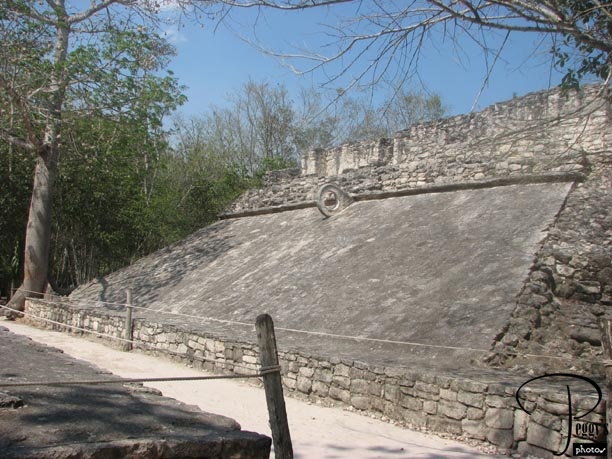 One side of the ball court. Two teams would try to put a ball into the ring at the top middle of the structure. No hands or feet could be used and the balls were heavy so many injuries occurred during these games. Sometimes the matches were between different tribes.

Coba
Coba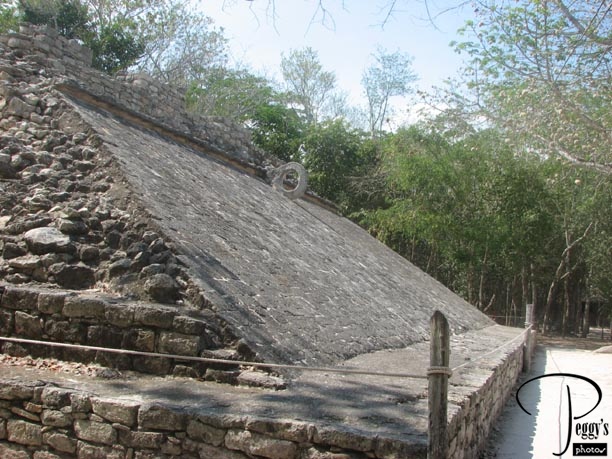 The other side of the ball court.

Coba
Coba
Both sides of the ball court and the most annoying guide I have ever had.

Coba
Coba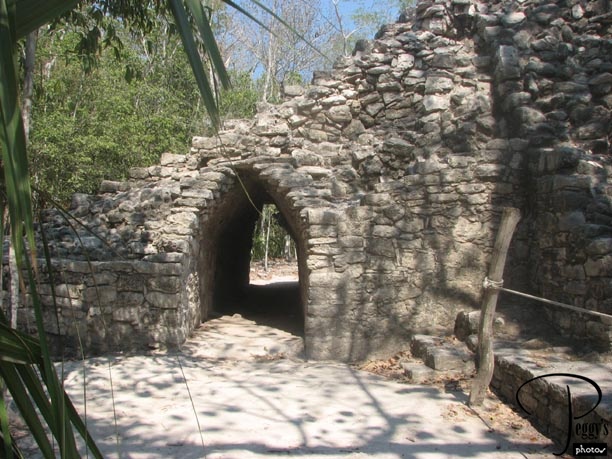 Onward through the arch.

Coba
Coba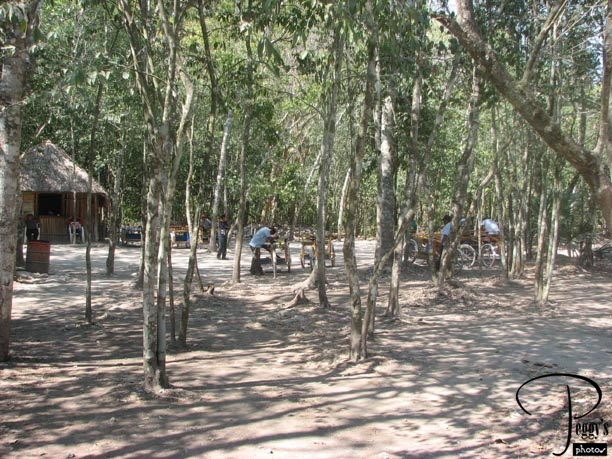 Now it was decision time. There were three ways to proceed: one, walking a long distance in the heat; two, ride a bicycle that you had to rent; or three, take a ride on what is called a Mexican limousine. Our tour guide warned us that if just one person did not want to lay out the money to rent a bike or for the limo ride, then we would all walk. I made sure that I was looking very sternly at the rest of my group. We all opted not to walk. Photo: the Mexican limousines lined up.

Coba
Coba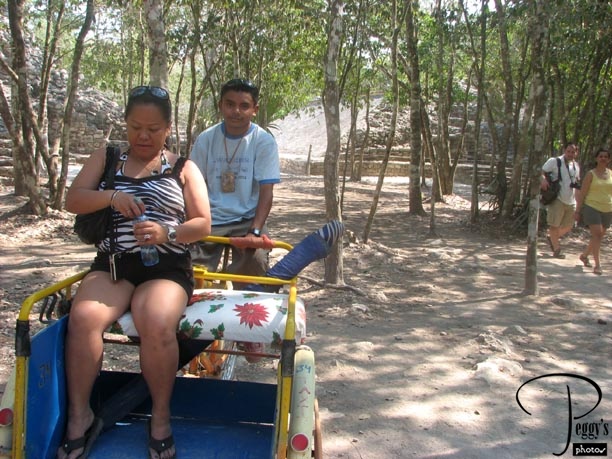 I shared the Mexican limousine with the girl from San Francisco. Cost: $9.00 round trip. It was worth the price and was a very smooth ride.
Coba
Coba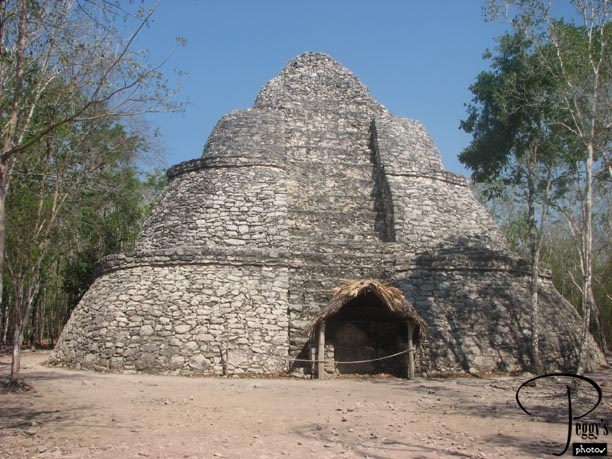 We stopped at the Crossroads (Oval) Temple.

Coba
Coba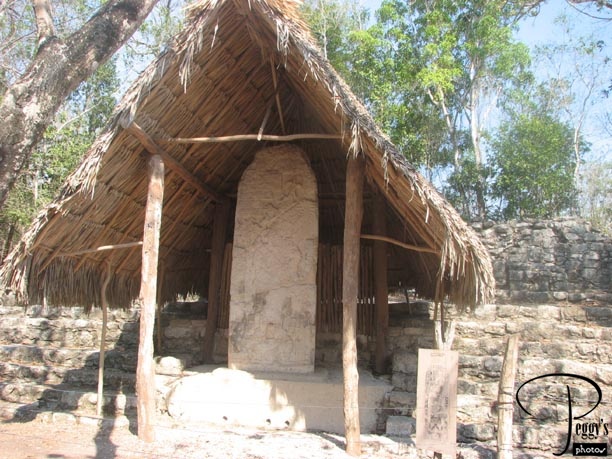 And stopped to view another stella.

Coba
Coba
Close–up of the stella. You can make out some designs on it.

Coba
Coba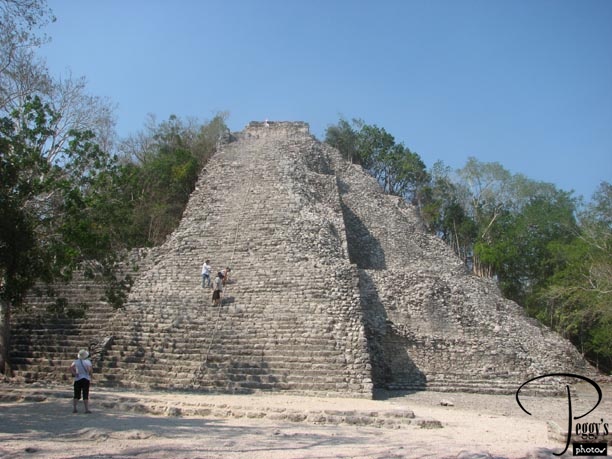 Then we reached the Great Pyramid––the Nohoc Mul. It is the tallest pyramid on the Yucatan Peninsula and this one you can climb (it is the second highest Mayan pyramid you can climb anywhere). However, I was told that the Mexican government keeps threatening to close it to climbers, but so far they haven't done so.
Coba
Coba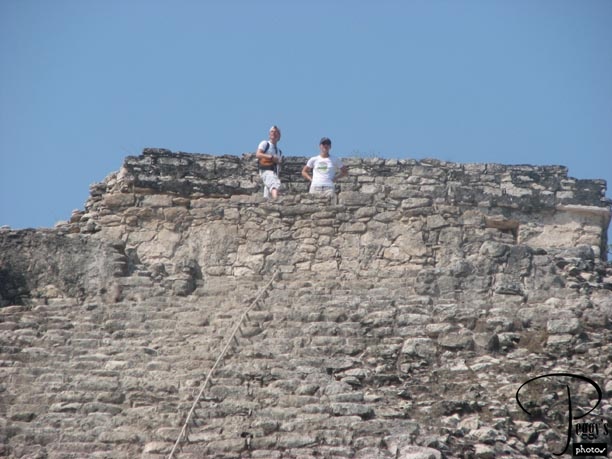 Two who made it to the top.
Coba
Coba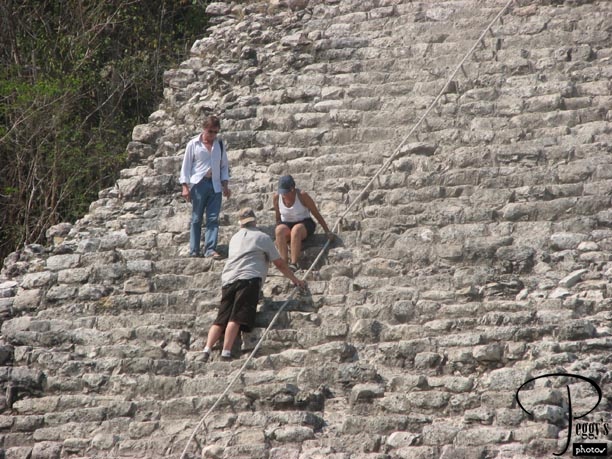 Climbers coming down. Some of our group climbed the pyramid. They said it was easy going up but very scary going down. One woman climbed down on her rear end––I told her that I have done this at least once.

Coba
Coba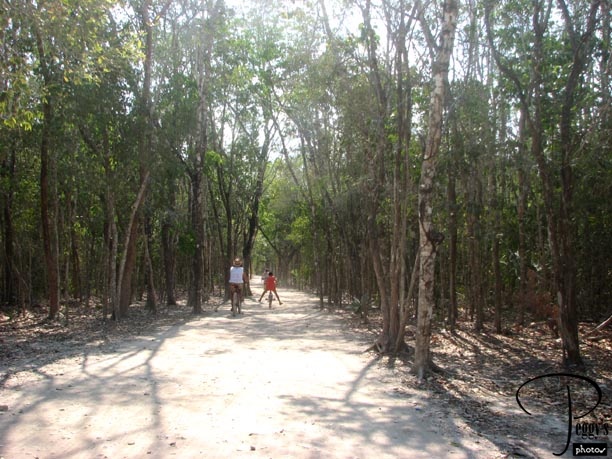 Going back on the Mexico limo.
Coba
Cenote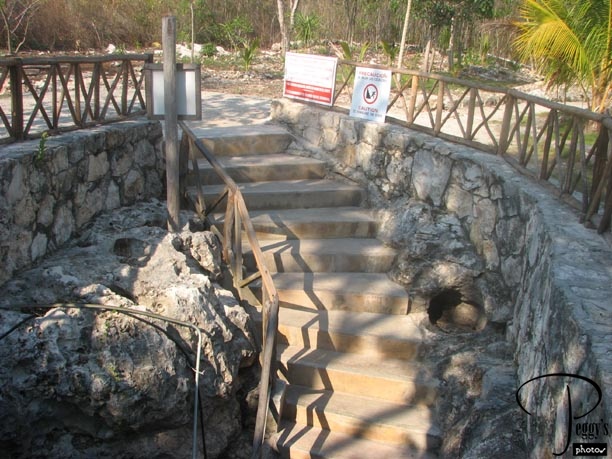 I was now back with my Spanish–speaking group to go to a cenote. I think they included me to go because someone pictured me climbing down into the cenote and taking photos. Ha! In this photo the steps down don't look too scary and I started down them (with the help of my guide) and then went right back up. I felt vertigo coming on.

Cenote
Cenote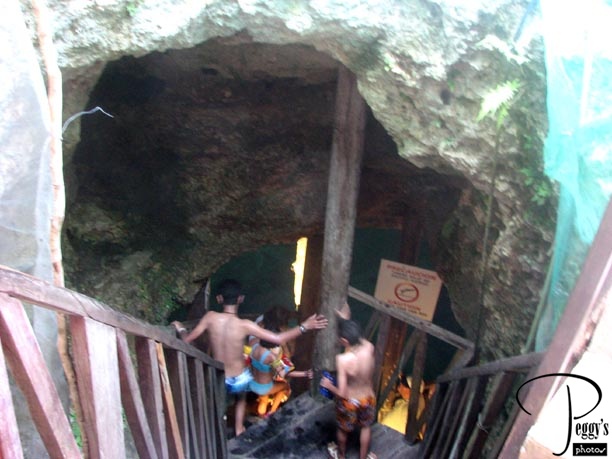 But I did take photos of the rest of the group going down. Before swimming in a cenote, you have to shower to remove any chemicals from your body such as sunblock. I think there is someone on duty in the cenote in case you need help.
Cenote
Cenote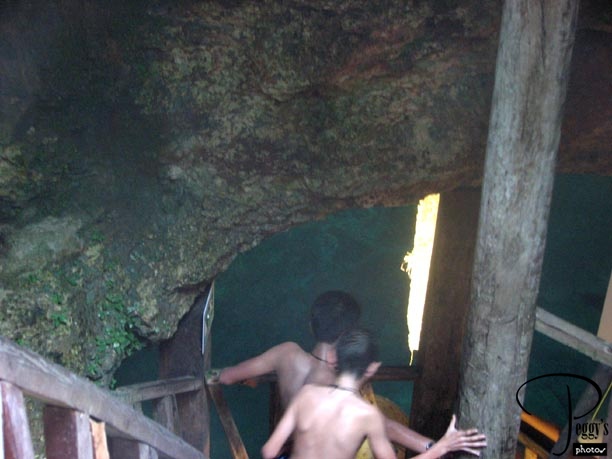 Farther down. There are some cenotes that are easy to get into and some others very deep. Someone told me of a cenote they went to that they had to climb down a rope ladder and which became quite scary coming up.

Cenote
Cenote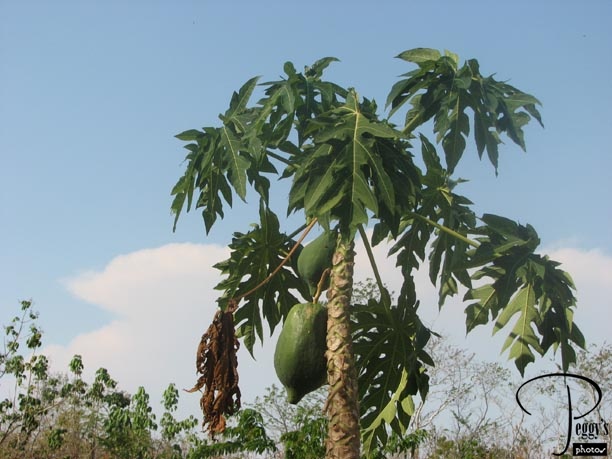 I stayed on top and looked for photos to take such as of this coconut tree. I also wish that I hadn't forgotten my bug spray. We went back to Coba to pick up the rest of our group and then headed back to Playa del Carmen.

Cenote
© Copyright 2018 Peggy's Photos