Day 4: Golden Circle and Northern Lights
Wool Outlet Store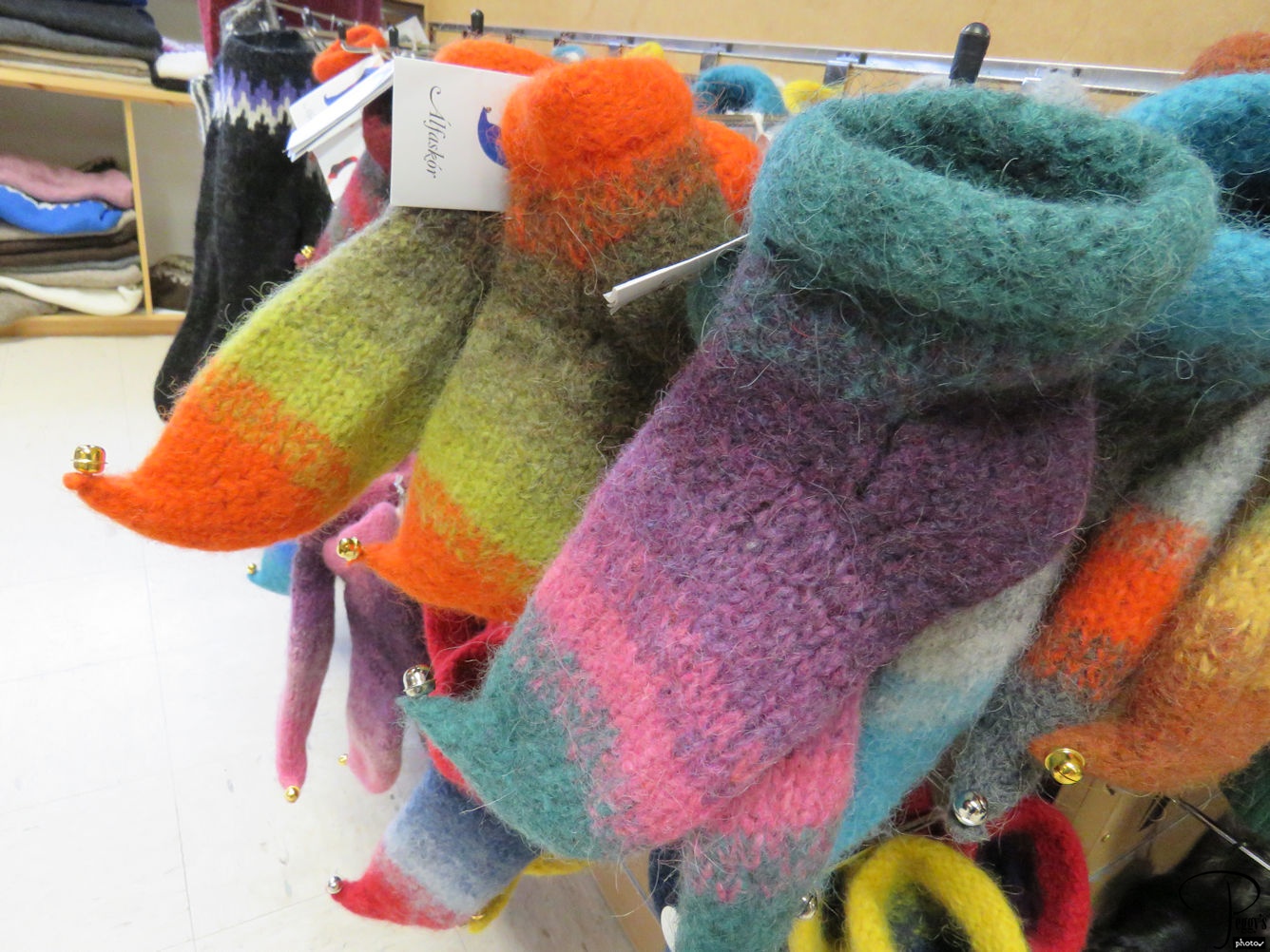 Our first stop of the day was at a wool outlet store where you could buy everything wool and pick up warmer clothes to wear if you didn't realize that Iceland was going to be SO COLD! Photo is of cute elf booties.

Wool Outlet Store
Thingvellir National Park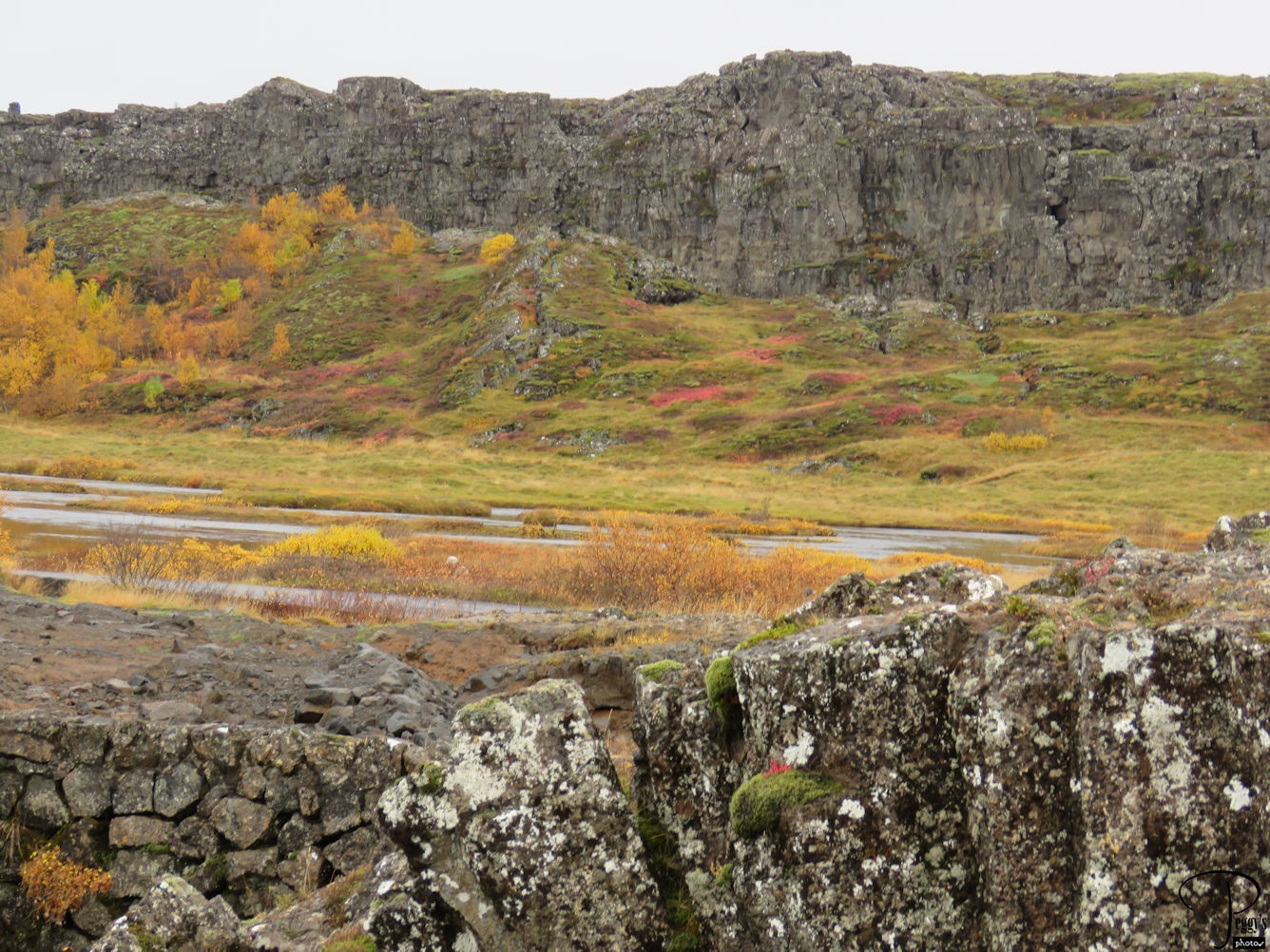 Iceland's Golden Circle includes the Thingvellier National Park, a World Heritage Site, the Geysir geothermal fields, and the Gullfoss waterfall. Some tours add other stops.
It was at Thingvellier that the early settlers of Iceland formed in the year 930 the Althing, which was an open–air assembly representing all of Iceland and the Commonwealth that was formed. It met once a year for two weeks to pass laws and to settle disputes. Thousands of people came to the Althing from all over Iceland.
Thingvellir National Park
At the Geysir Geothermal Fields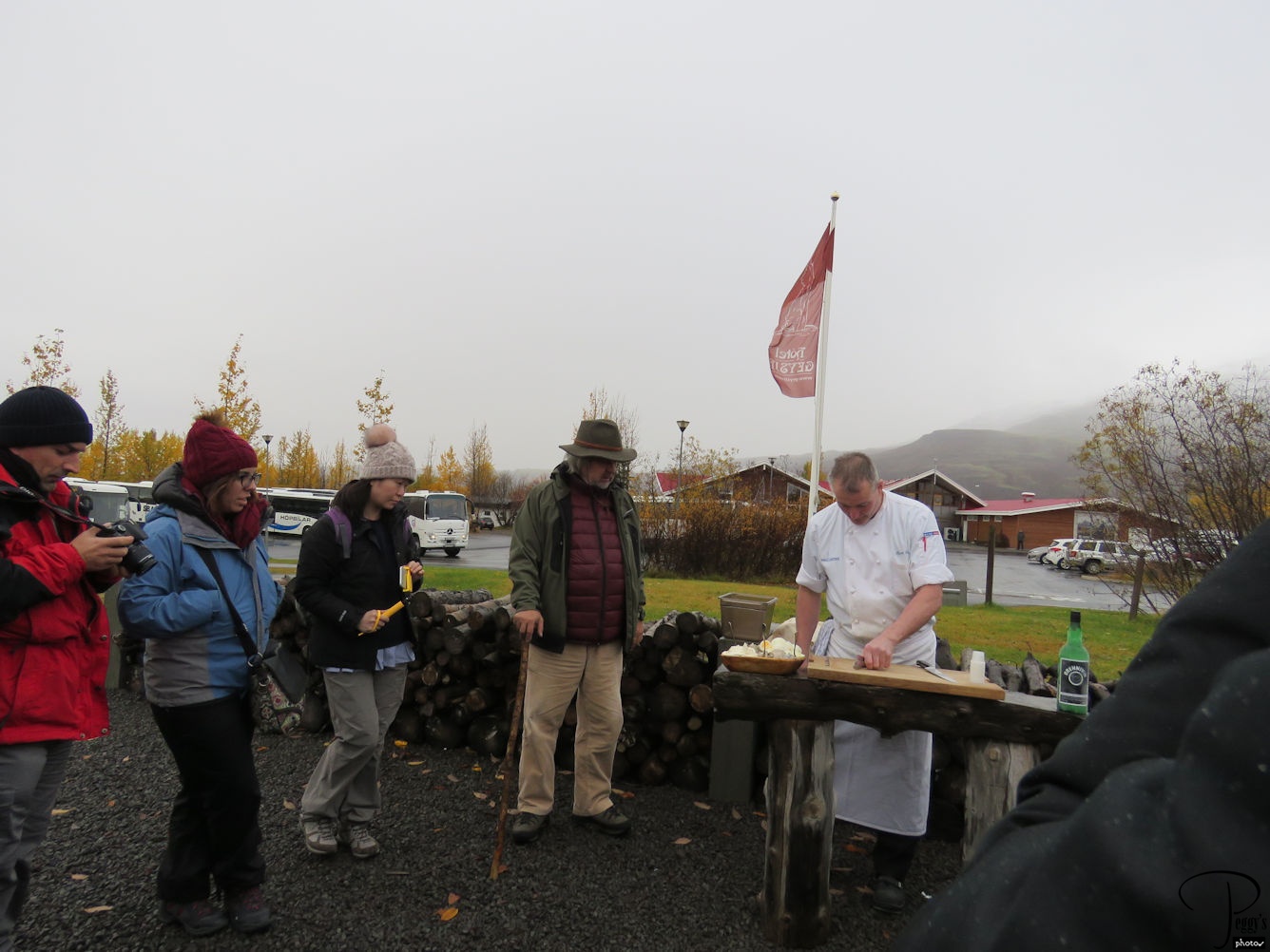 We next at the Geysir geothermal fields to view them and also to eat lunch, but first a Icelandic snack from the chef of the Restaurant Geysir. We were served bread that had been cooked in a hot spring, Icelandic butter, and herring.

At the Geysir Geothermal Fields
Geysir Geothermal Field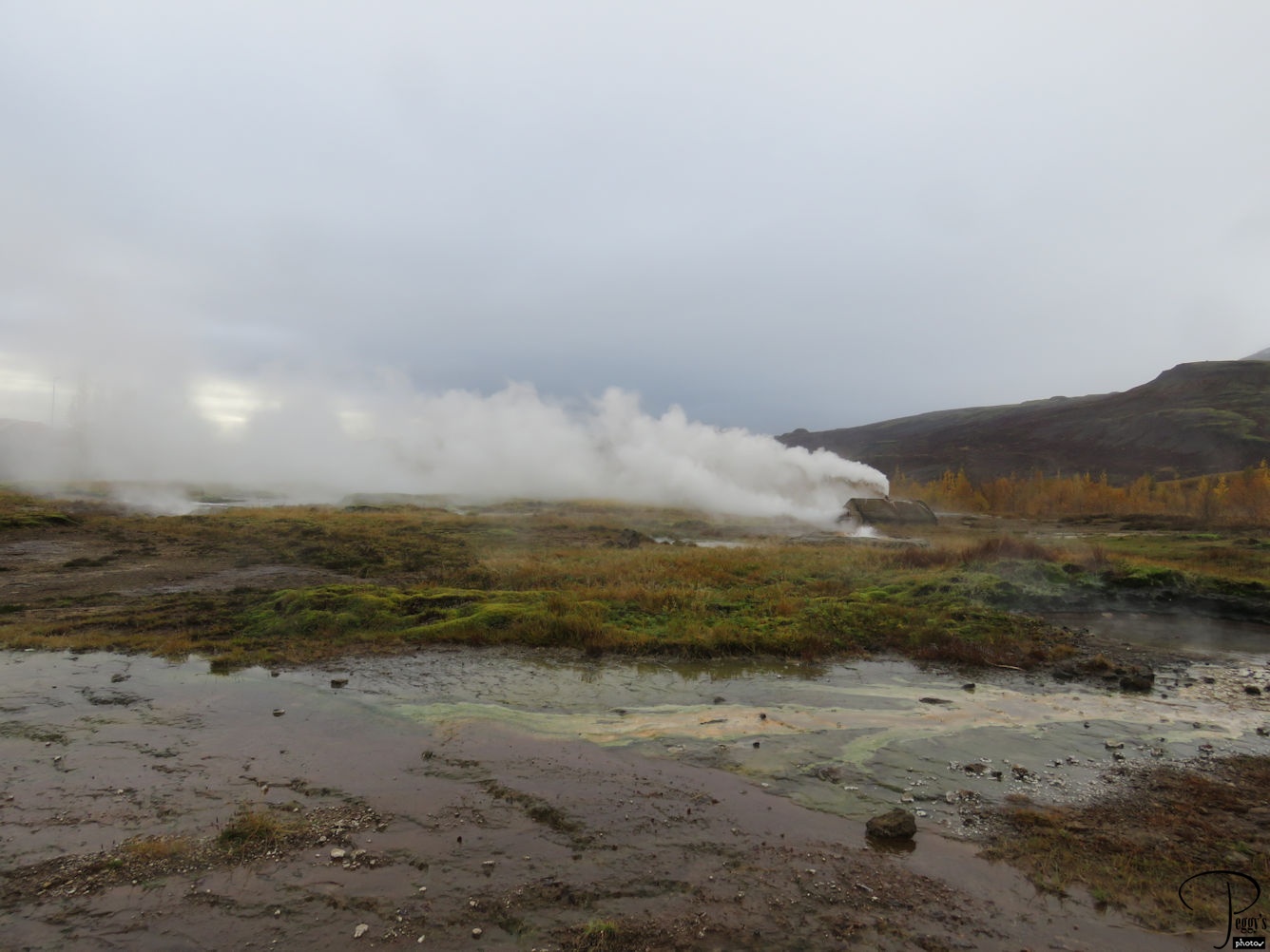 There are both geysers and hot springs here with warnings to be very careful not to get too close to the almost boiling water in them.

Geysir Geothermal Field
Strokkur Geyser–MOVIE
I had my camera turned sideways but didn't realize that the movie I took of the geyser would also be sideways. The Strokkur geyser pushes steam up 98 feet in the air and erupts every 4 to 8 minutes. While we were there, it erupted about every 4 1/2 minutes.

Strokkur Geyser–MOVIE
Little Geyser–MOVIE
A movie of the Little Geyser.
Little Geyser–MOVIE
Gullfoss Waterfall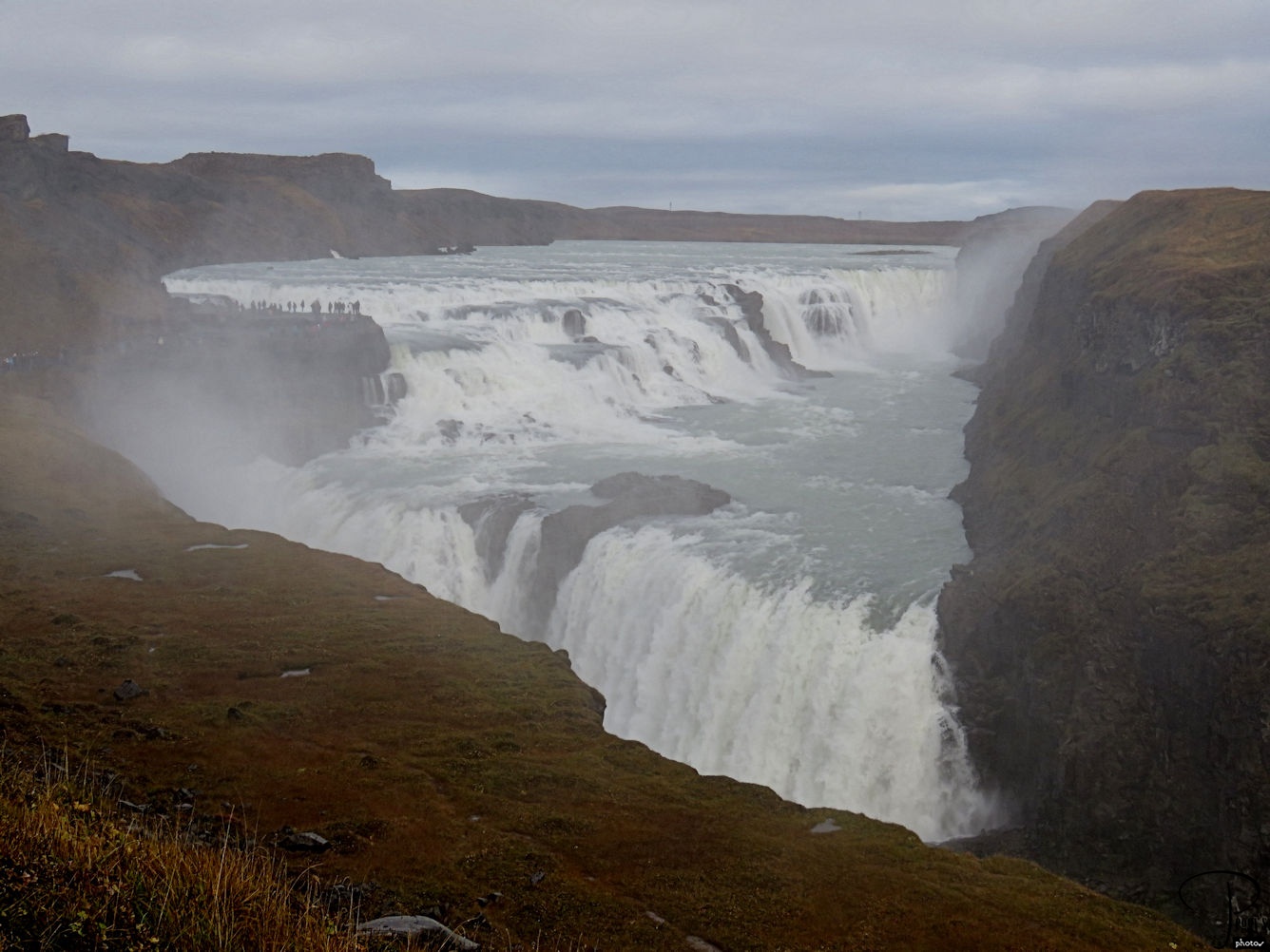 Gullfoss is a double waterfall that tumbles 111.5 feet (34 m) into the Hvita River.
Gullfoss Waterfall
Gullfoss Waterfall–MOVIE
The Gullfoss waterfall.
Gullfoss Waterfall–MOVIE
Frioheimar Geothermal Greenhouse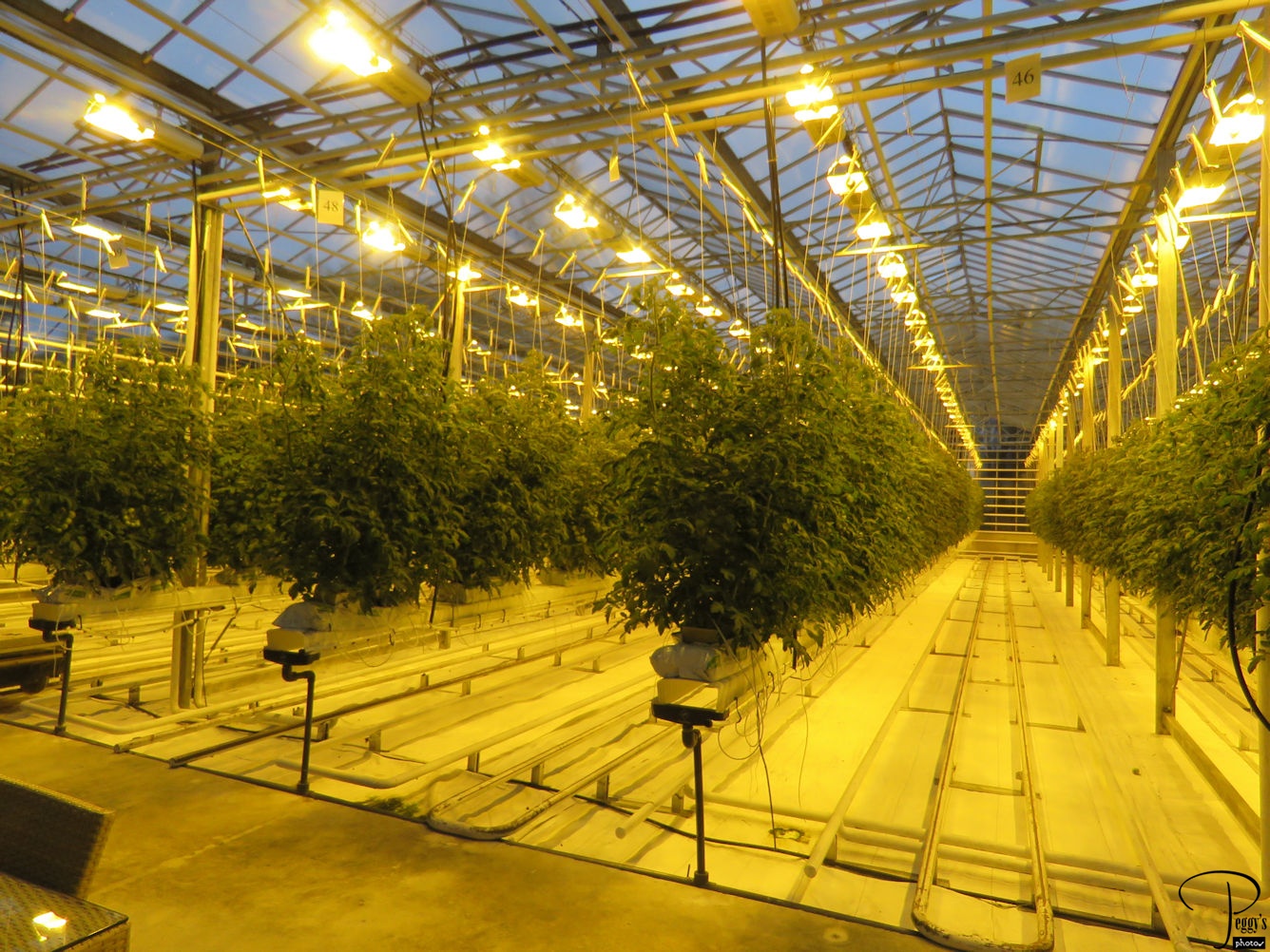 The Frioheimer geothermal greenhouse was our next stop. This was one of a number of greenhouses using geothermal power here that grow tomatoes. Its watering and feeding system is computer–controlled.

Frioheimar Geothermal Greenhouse
Icelandic Horse Farm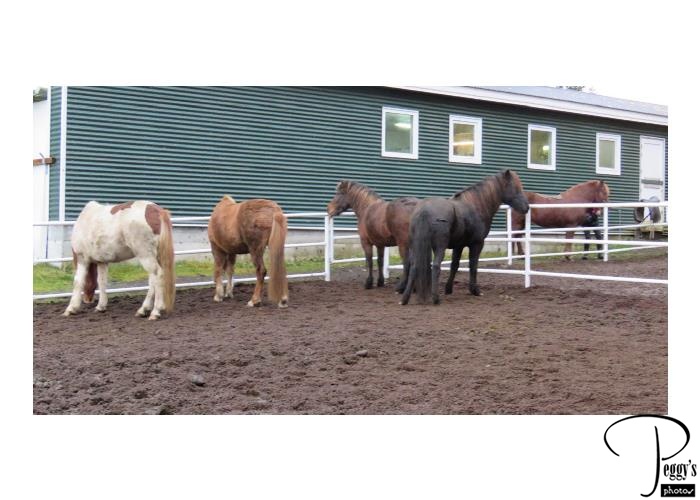 Next to the greenhouse was an Icelandic horse farm. The Icelandic horse was developed from the ponies brought to Iceland by the Nose settlers in the 9th and 10th centuries. They are raised for sheep herding, riding, and racing. No horses are allowed to be imported into Iceland, and if exported, the horses are not allowed back in.

Icelandic Horse Farm
Northern Lights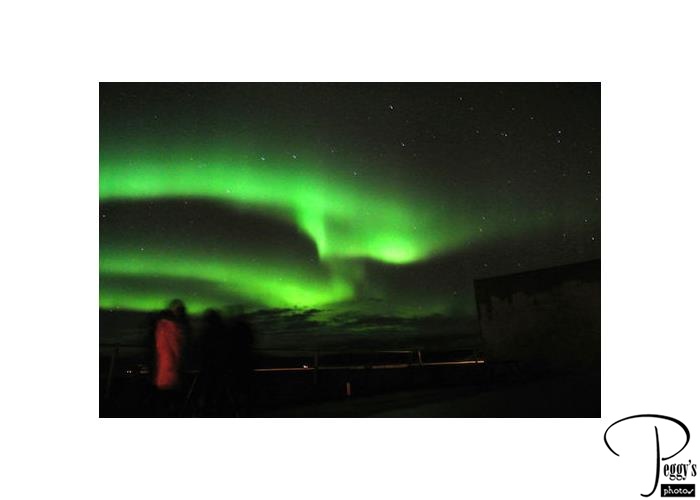 We were awaken by Erik, our tour director, about 11 p.m. by knocks on our doors to let us know that the Northern Lights, the aurora borealis, were visible in the sky. He originally didn't think the sky would be clear enough tonight so he didn't let us know earlier as to where to meet. I follow three people who thought they knew where to go. Two left and I followed them, but they went back indoors. Then I followed a woman from New Zealand, but I soon figured out she really didn't know where she was going. The man who had stayed put had it right. I finally found the group using my flashlight to see in the almost total darkness.
Tonight, to the naked eye, the Northern Lights looked white in color. A camera set correctly will pick up the real color of them––tonight they were green. I had three people work on the manual settings on my camera but there are three settings and my camera would only take two of them. The settings: F setting, shutter speed, and iso. So, the good photos of the Northern Lights on my website were very kindly sent to me by Erik and my Italian tourmate Massimo. See slideshow "Golden Circle." This photo is from Erik.

Northern Lights
Northern Lights
This photo is from Massimo.
The Northern Lights usually appear between 11 p.m. and midnight, though sometimes they reappear later. The lights are actually collisions between electrically charged particles from the sun that enter the earth's atmosphere. They can be red, yellow, green, blue, and violet, with green the most common color.
To see the lights, there has to be sun activity within the last 48 hours and a sky clear enough to see stars. You also have to be away from electric lights––that is why we are in the very dark, unlit countryside.
Auroral activity is rated on a scale of 0 to 9. Erik thought that tonight's activity level was about 1.5.
I have put today's photos, including more photos of the Northern Lights, on a slideshow. Go to
http://www.peggysphotos.com/golden–circle/
(Slideshows, Iceland, "Golden Circle").

Northern Lights
© Copyright 2018 Peggy's Photos