Day 3(A), Beijing:Tai Chi, Tiananmen Square
Snow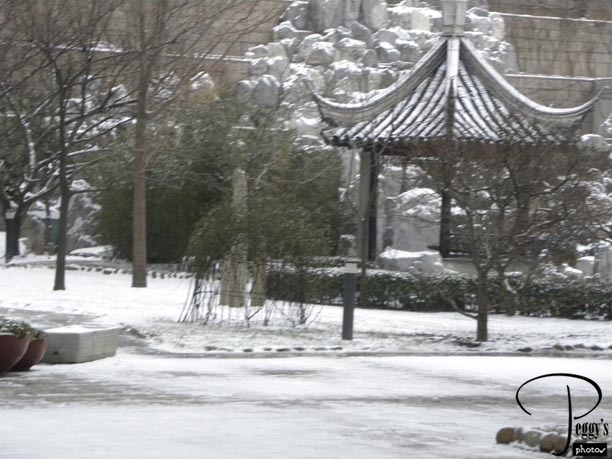 If I had gone downstairs for dinner last night, I would have known that it was snowing then. I really was surprised to see this scene outside the hotel restaurant's window. It looked beautiful but very cold.

Snow
Hotel Restaurant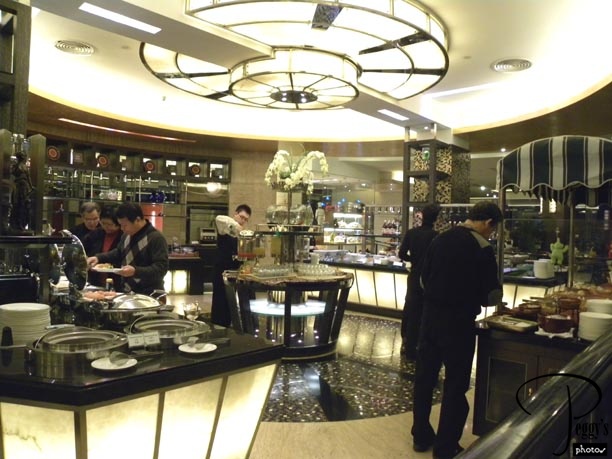 From this day on, we had breakfast buffets at our hotels. We had a choice of Western breakfast foods: bacon, eggs, hash browns, omelets, etc.; Italian food: spaghetti and salads; and all kinds of Asian foods including steamed buns. Since this was a Japanese hotel, you could even have sushi for breakfast. Your choice of dishes was almost endless.

Hotel Restaurant
Tai Chi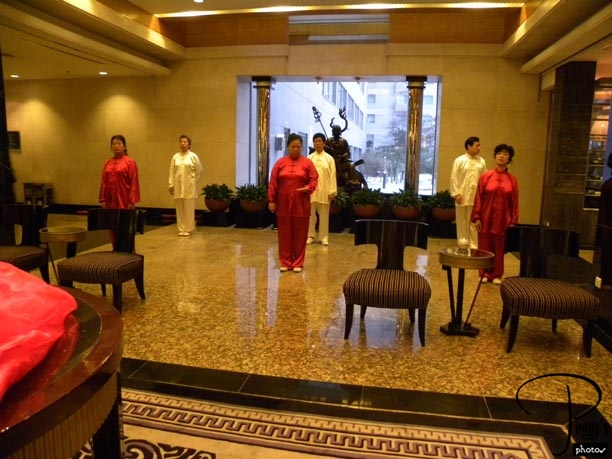 Every morning we were entertained by a group performing Tai Chi. Today, they were in the hotel's lobby as there was snow outside. On snowless days, they perform in the park area outside the hotel's restaurant. I enjoyed watching them as I had taken a class in Tai Chi last year. This group makes it look easy, but it is not easy to learn. I gave it up when my back starting hurting. I have put four videos of the Tai Chi performance on this website: Go to Movies, Asia, China, "Tai Chi, Beijing," "Fan Tai Chi, Beijing," "Tai Chi Sword (Women), Beijing," and "Tai Chi Sword (Men), Beijing."

Tai Chi
Seen at Our Hotel

I'm an early riser and had some time to waste before our tour group met in the lobby at 9 a.m. This is one thing I really appreciated of Ritz Tours––a morning meeting time at this hour. On other tours I've taken, it was much earlier. Photo: Sign left over from the time of the swine flu epidemic when your temperature would be taken when you entered the hotel. (For Chinese immigration, we had to fill out a health form but no one took our temperatures. However, there was a sign that someone was looking at you for signs of illness as you walked through the health area.)

Seen at Our Hotel
Seen at Our Hotel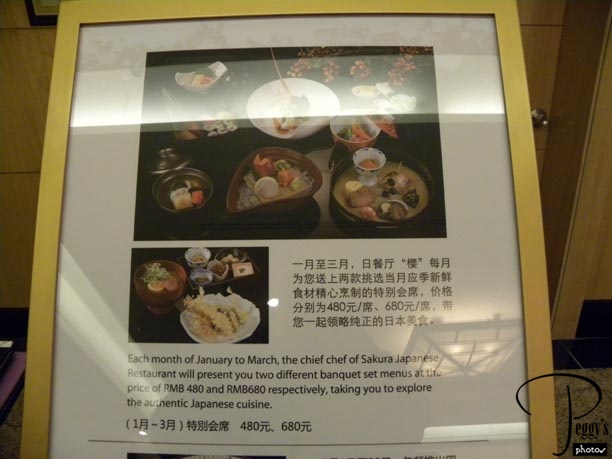 A special Japanese feast was being offered at one of the hotel's restaurant––for $72 and $102.
Seen at Our Hotel
Seen at Our Hotel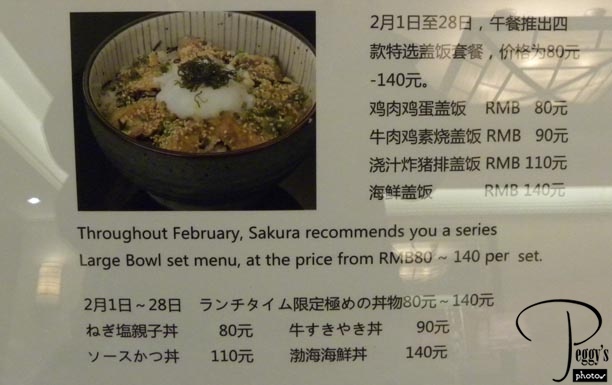 Also being offered was a Large Bowl set menu at $12 to $21––not a bad price. One thing I should mention is that even though our hotel was a 5–star hotel, we still could not use the tap water in our rooms for brushing our teeth, let alone drinking from it. The hotel supplied us with bottled water. You got used to wetting and rinsing out your tooth brush in a glass of bottled water.
Seen at Our Hotel
On Our Way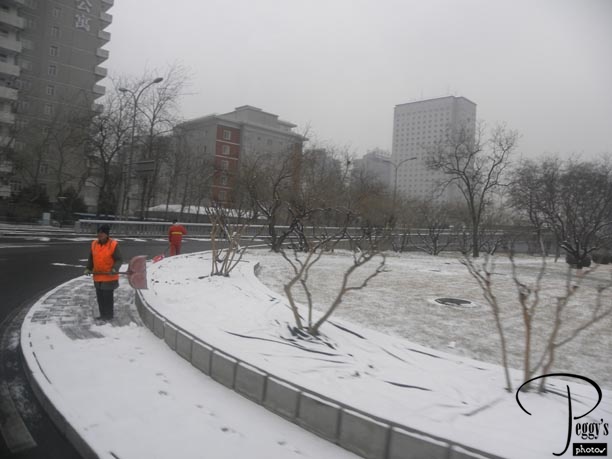 I met some of our tour group yesterday and the rest I met this morning. (Photos of the group later on.) We were only 13 in all: Me; Leng and Saieu; two professors of human sexuality who teach at a college in Florida, one of them who also teaches a course each year at Peking University, here at this time to present a paper at Peking University; a young girl from Milwaukee and her sister who teaches English in China; a couple from New Jersey and their young daughter who also teaches English in China; and a family from Canada near Niagra Falls––mother, father, and delightful teen–age daughter. A great group and one of great resource in hearing about modern China from those working here. We were told that before starting out each day to bring along a supply of toilet paper––some bathrooms on a day trips supplied it and others didn't. Photo: Here, shovels are being used to clear the snow from the pavement.

On Our Way
Back at Tiananmen Square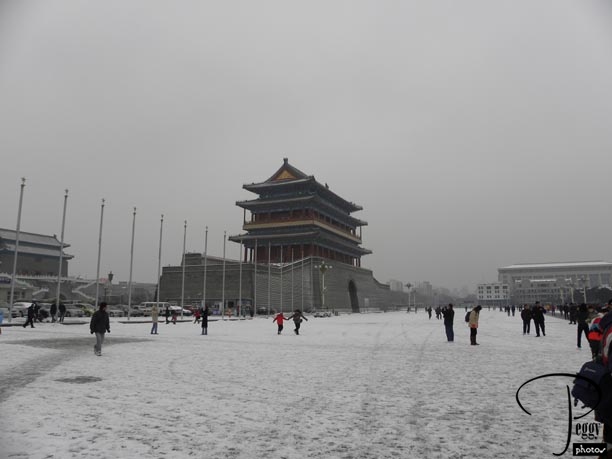 What a difference from the way Tiananmen Square looked yesterday. I was told that this was the coldest winter in Beijing (and I think also of all of China) in 30 years, and here I am. But I was dressed in so many layers that I was warm and toasty: silk sock warmers, either Cashmere socks borrowed from my daughter or heavy wool socks I haven't worn for 20 years, silk long johns, corduroy pants, either a wool or heavy weight cotton turtleneck, lightweight but warm wool crewneck sweather, heavy weight wool cardigan, down jacket, and winter hat. I had gloves that allowed me to expose my finger tips so I could take photos. Very warm and toasty except for occasionally frozen fingertips, but I felt like a walking balloon. I had on new warm boots but I exchanged them the next day for tennis shoes as they had a better grip on the snow and ice.

Back at Tiananmen Square
Tiananmen Square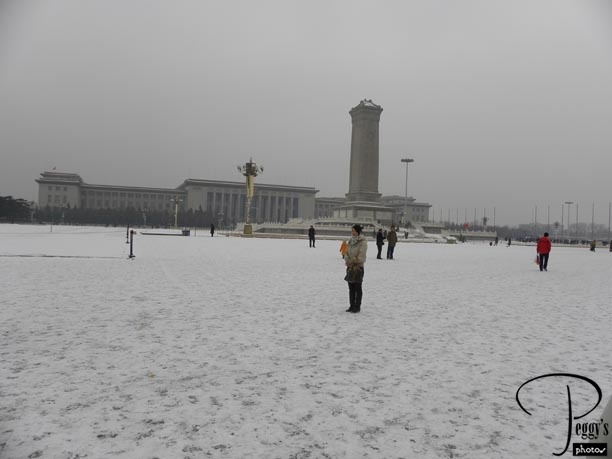 Snowy Tiananmen Square. Our group weren't the only ones here––there were also many Chinese tourists braving the weather.

Tiananmen Square
Tiananmen Square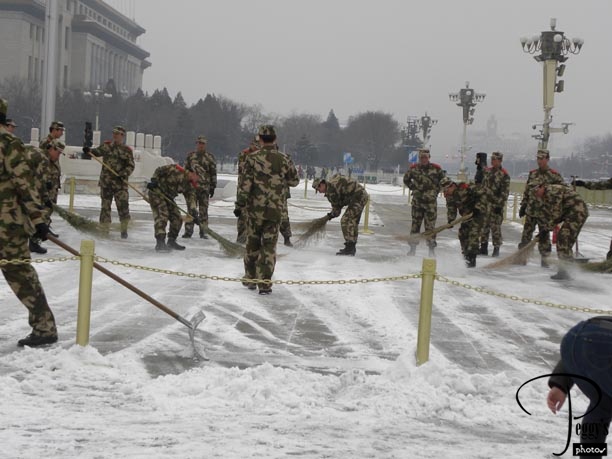 This was really a strange sight for Westerners to see. The soldiers lined up in a row and, in unison, sweep the snow from the ground with brooms.

Tiananmen Square
Tiananmen Square
Then, the snow would be shoveled into these carts and dumped elsewhere. I haven't lived in a snowy environment for sometime, but aren't there machines to do this?
Tiananmen Square
Tiananmen Square
This was the area being cleared of snow by the soldiers––where the national flag of China flies. It is raised at dawn and lowered at dusk everyday. You can watch the flag raising or lowering ceremony is you are here at those times.
Tiananmen Square
Tiananmen Square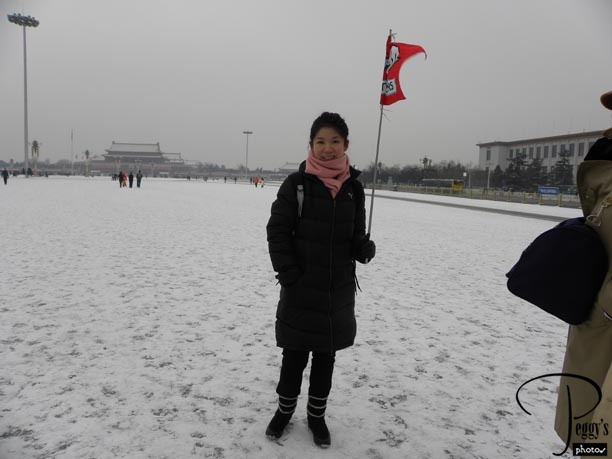 Our wonderful tour guide Kathy.
Tiananmen Square
Tiananmen Square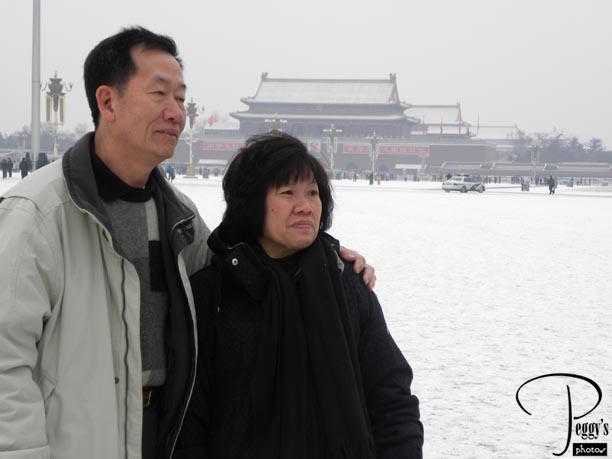 A good photo of Leng and Saieu with the Tiananmen Gate in the background.
Tiananmen Square
Tiananmen Gate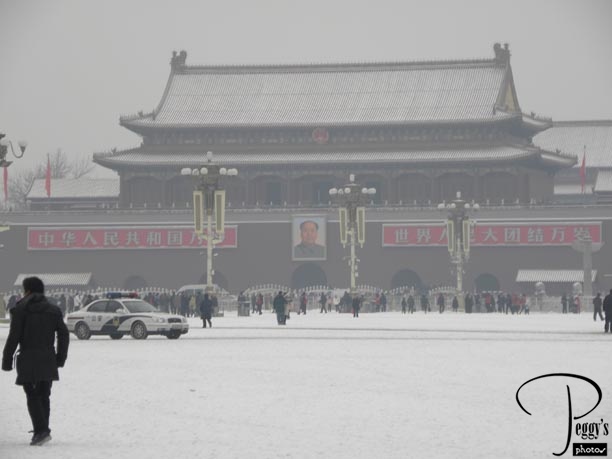 We needed to cross the street between Tiananmen Square and Tiananmen Gate by going through the tunnel under the street. Mao's portrait appears on the gate because this is where he proclaimed the formation of the People's Republic of China on Oct. 1, 1949.

Tiananmen Gate
Tiananmen Gate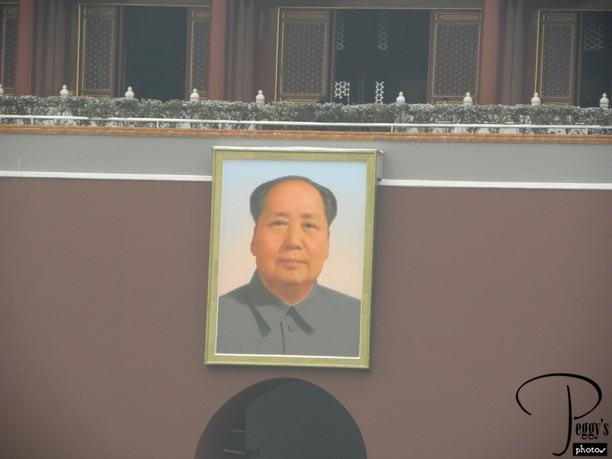 A close–up.
Tiananmen Gate
Tiananmen Gate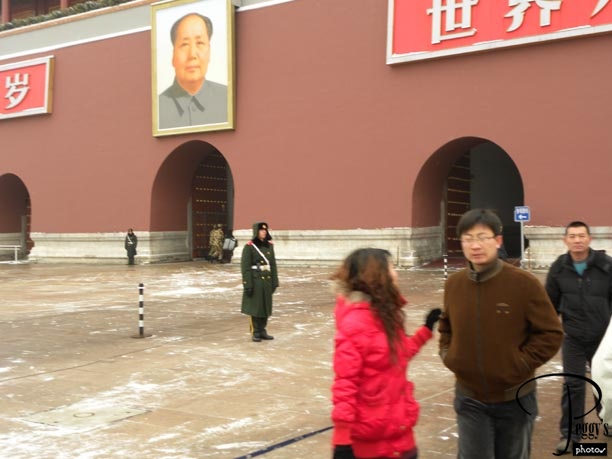 We are now in front of Tiananmen Gate.

Tiananmen Gate
Tiananmen Gate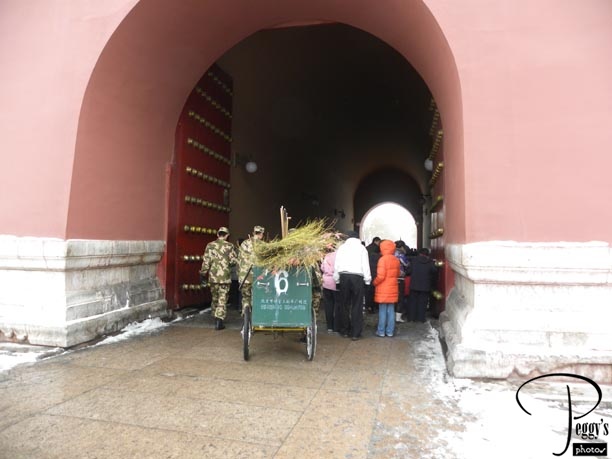 Soldiers carting their snow brooms through Tiananmen Gate.

Tiananmen Gate
Forbidden City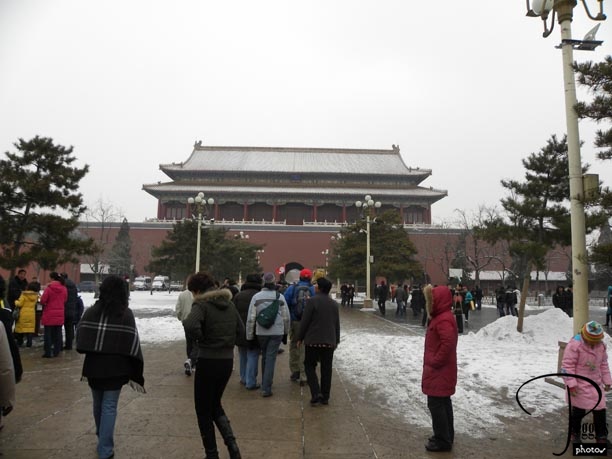 We have walked through Tiananmen Gate and are facing the first gate of the Forbidden City, which we will now visit. My Forbidden City photos will be on the next album.

Forbidden City
© Copyright 2017 Peggy's Photos