Pismo Beach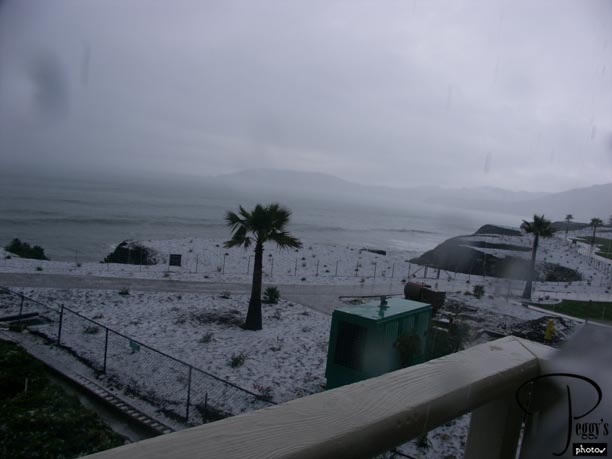 I got a very early wakeup call from Sharon this morning––"Get up and look outside" she told me. So I did and couldn't believe my eyes––snow in Pismo Beach? I took this photo from Sharon and Brett's balcony overlooking the Pacific Ocean. This entailed putting on my down parka over my PJs, a scarf on my head, and my tennis shoes on my bare feet, then grabbing an umbrella in my left hand and placing a plastic bag over my camera––it was raining. No time for makeup––and, of course, if you go outside looking like this, there is sure to be someone also just leaving their room to see you in this state, which there was. There was a great deal of excitement here at Pismo Beach over this winter wonderland––according to them, this had never occurred before. It looked like snow, but we found out later that it was just hail that hadn't yet melted.

Pismo Beach
On the Road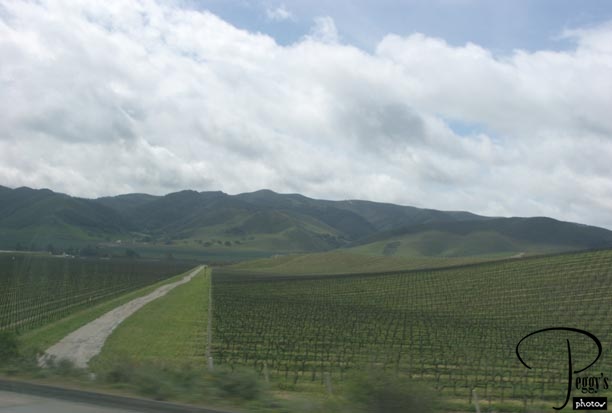 We checked out of our hotel before driving to the Apple Farm in San Luis Obispo for a hearty breakfast. Then, we headed back to Los Angeles. Scene of vineyards and rolling hills along the way.

On the Road
On the Road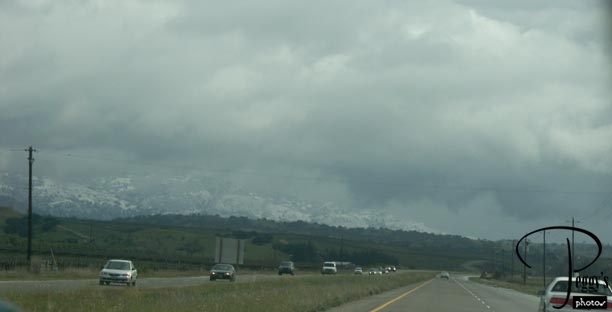 That is real snow in the foothills––snow in the foothills is not too uncommon, but a winter wonderland at the beach is.

On the Road
Solvang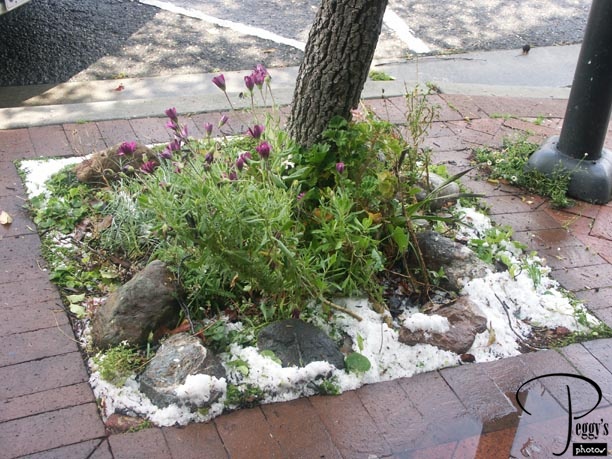 It looked like there also was a major hailstorm in Solvang as well––it must have been a beautiful scene before the hail started melting. I also heard that there were major hail storms in other areas of California last night. I call this photo "California snow flowers."
Solvang
Solvang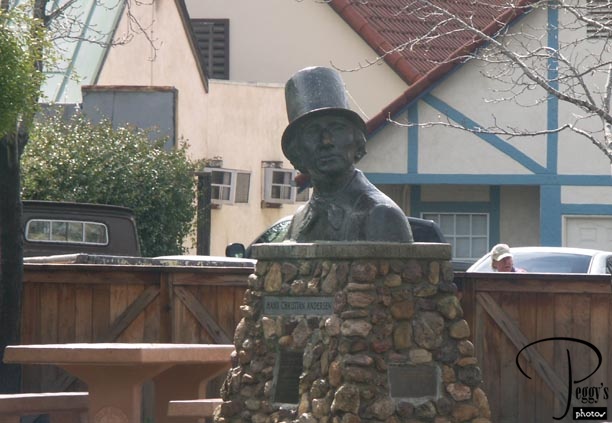 Seen on our walk around Solvang: a bust of Hans Christian Anderson.
Solvang
Solvang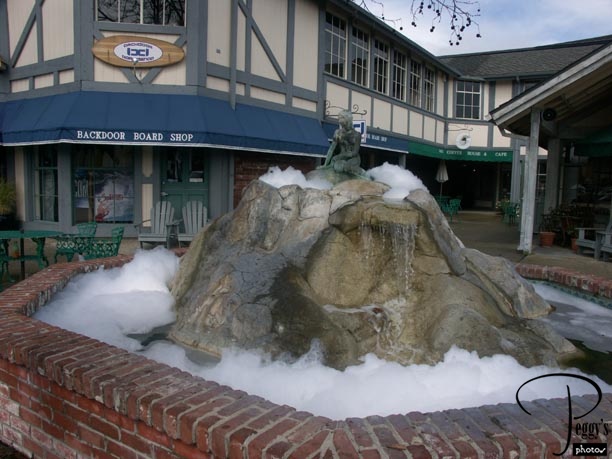 Someone must have put bubblebath in the Little Mermaid fountain. At first, it looked like snow.

Solvang
Solvang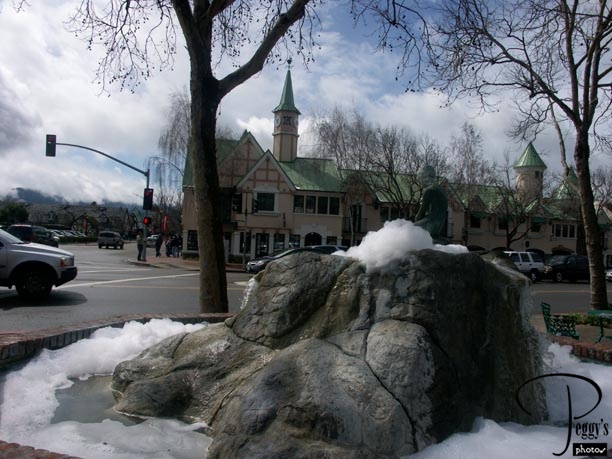 Street across from the Little Mermaid fountain.

Solvang
Solvang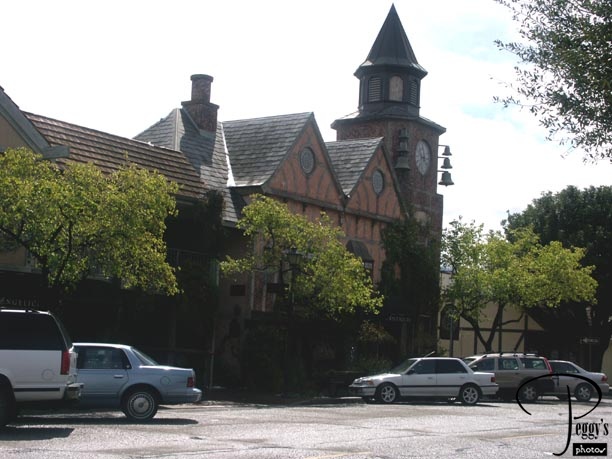 Solvang building.

Solvang
Solvang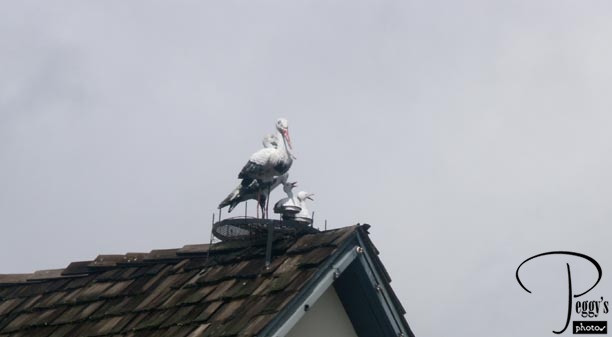 There was a bicycle convention here today and it was becoming too crowded with people and cars to take good photos of buildings, so I decided instead to take photos of the tops of buildings. Photo: Good luck stork family.

Solvang
Solvang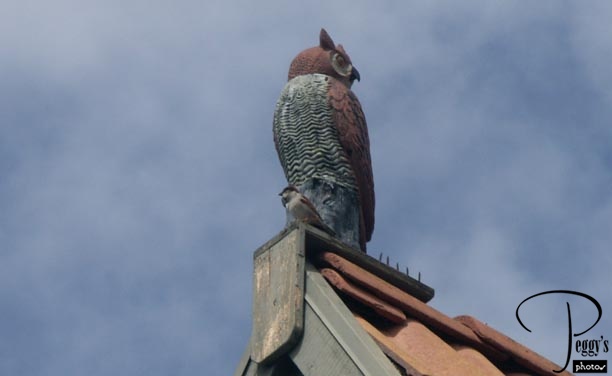 This little bird doesn't know that it is supposed to be afraid of the owl.

Solvang
Solvang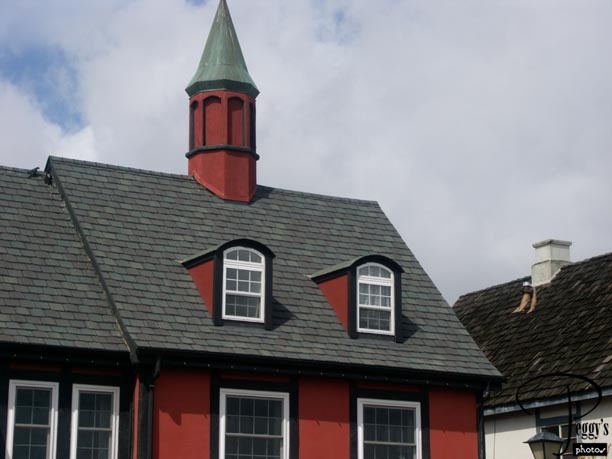 Many of the tops of the buildings had very interesting architecture.

Solvang
Solvang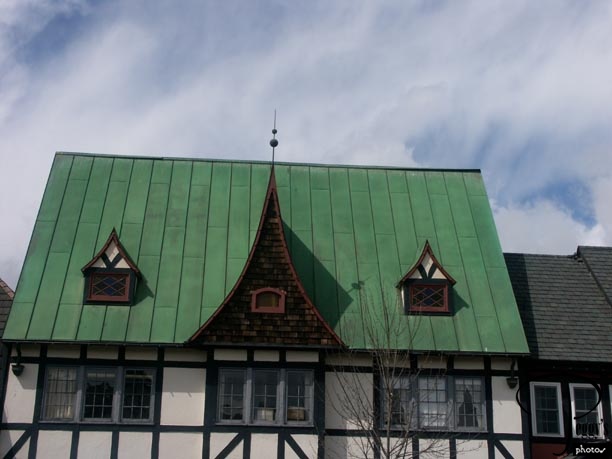 Top of another building.
Solvang
Solvang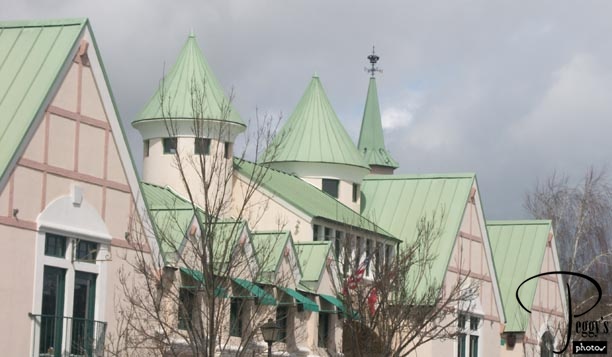 And another.

Solvang
Solvang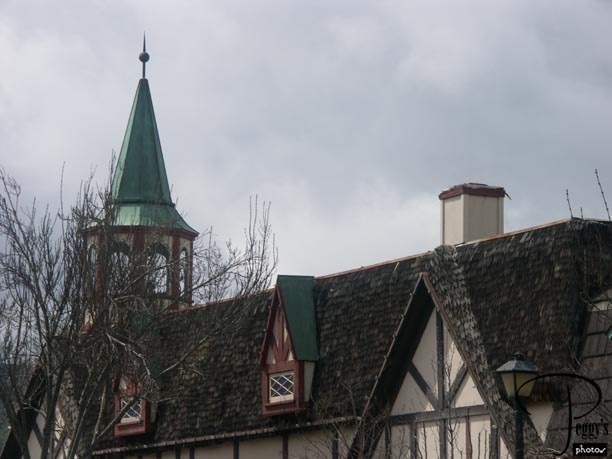 And another.
Solvang
Solvang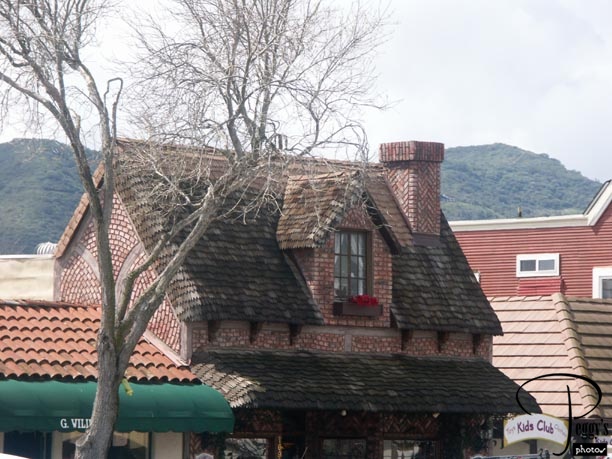 And another.

Solvang
Solvang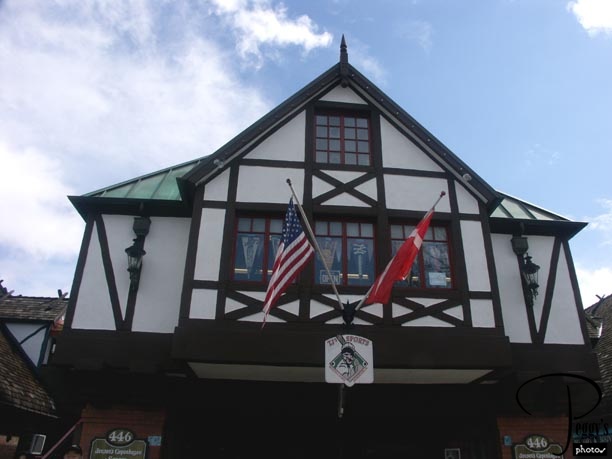 And another.

Solvang
Solvang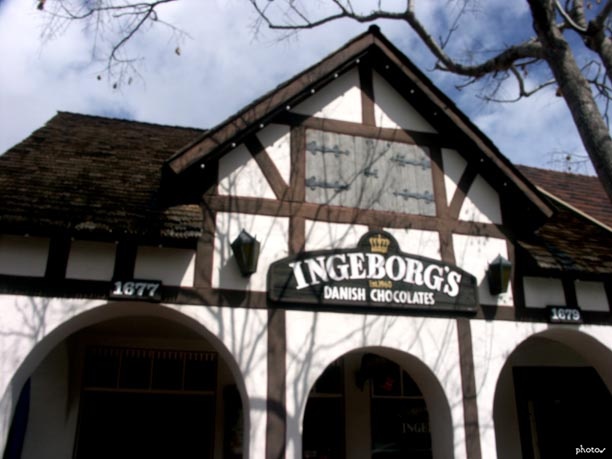 And another.

Solvang
Solvang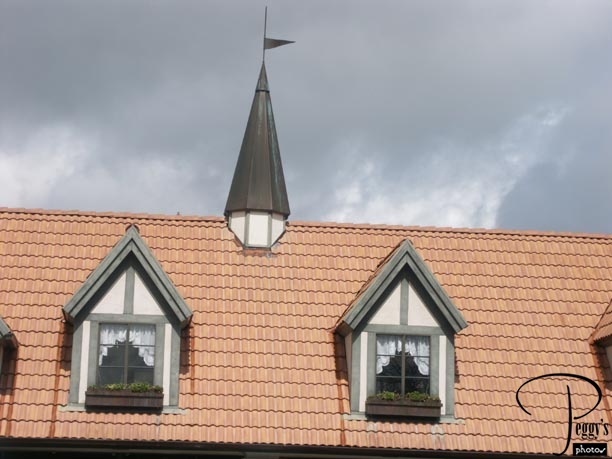 And another.

Solvang
On the Way Home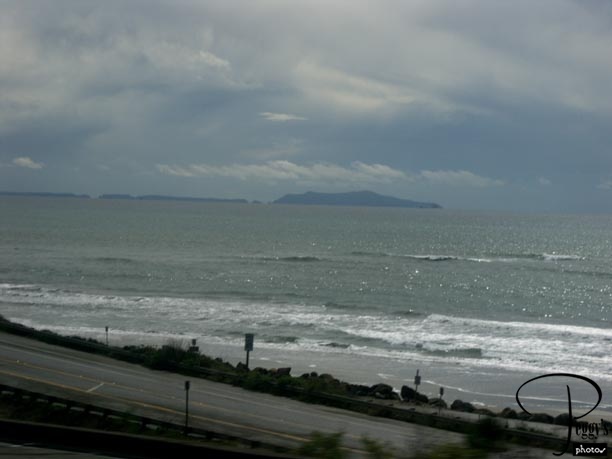 It was time to leave. A new rainstorm was coming in from the north and we wanted to get to Los Angeles before it started raining there. We again took the coast road back to Santa Barbara and then through Ventura. When it is clear enough, you can often see some of the Channel Islands from the highway. Today, we were in for a rare treat––not only could we see main part Anacapa Island, we could also see the smaller land masses to the south of the main island, a view that we have never seen before.
On the Way Home
On the Way Home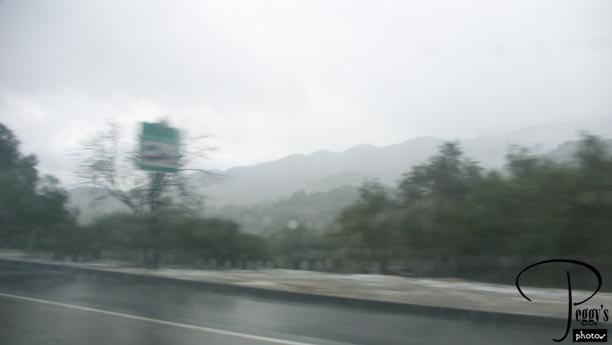 We didn't make it back to Los Angeles before the rain hit and it started coming down in buckets. Brett and Sharon have a temperature gauge in their car and on it we were watching the outside temperature falling rapidly (we were near the exit on the 210 for La Tuna Canyon Road)––36, 35, 34, 33––one more degree and the rain would be turning to snow, and it did. I have lived in Los Angeles for 45 years and this is the first time that I have ever seen it snow within the city limits. Quite a thrill except for witnessing three very bad rain/snow–caused accidents on the other side of the freeway. In the photo, you can see a small snow buildup on the side of the freeway. By the time we arrived in Pasadena, it had warmed up to the very low 40s, which is very cold for usually sunny, warm Southern California.

On the Way Home
© Copyright 2018 Peggy's Photos