Day 3, Phnom Penh, Discovery Tour
Cyclo Ride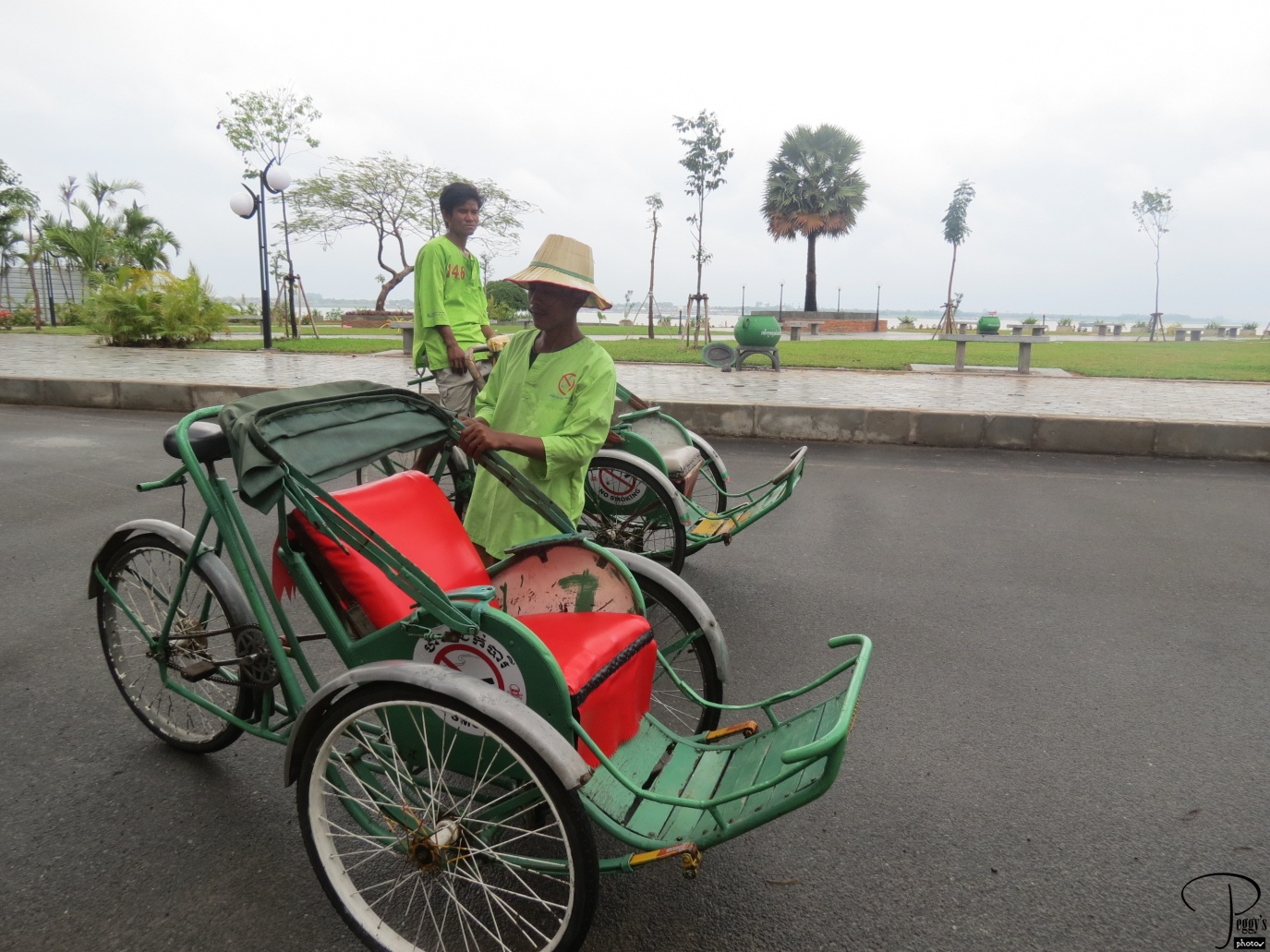 Today's tour started out with a cyclo ride around Phnom Penh. Cyclos can also be called cycle rickshaws or pedicabs. The ride was very smooth and it was easy to take photos while on it. The cyclos rode with the traffic except for wide streets when there was a slow lane for them. But they also had to cross traffic and this was done by the cyclo driver extending his arm in the direction he wanted to go (as we did in cars before they had blinkers) and then carefully crossing in front of cars and motor scooters. I was in the cyclo behind my tour guide's, so I was safer than he was, though I was a bit nervous.
I have put today's tour on two slideshows: Go to Slide Shows, Asia, Cambodia, "Phnom Penh: Discover Tour–1 and –2, Day 3" or directly to
http://www.peggysphotos.com/phnom–penh–discovery–tour–1–day–3/    and
http://www.peggysphotos.com/phnom–penh–discovery–tour–2–day–3/
Cyclo Ride
The Royal Palace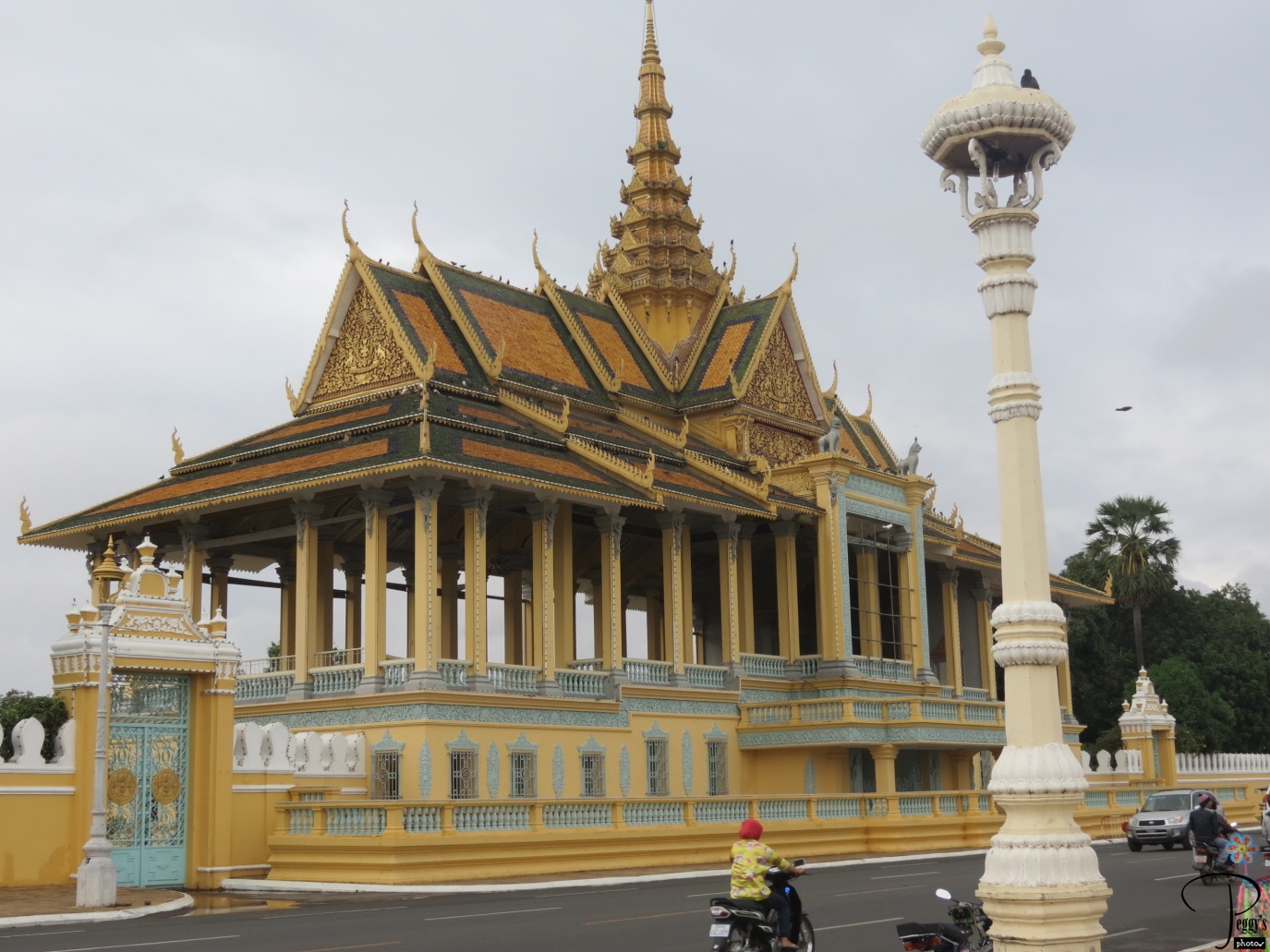 We only made a photo–stop outside the wall of the Royal Palace and didn't go inside the wall to view it. This was very disappointing as I thought this would be part of the tour. Since today's tour lasted all day, I would have to have stayed an extra day in Phnom Penh to visit the Royal Palace on my own. Now I wish I had done that.

The Royal Palace
Wat Phnom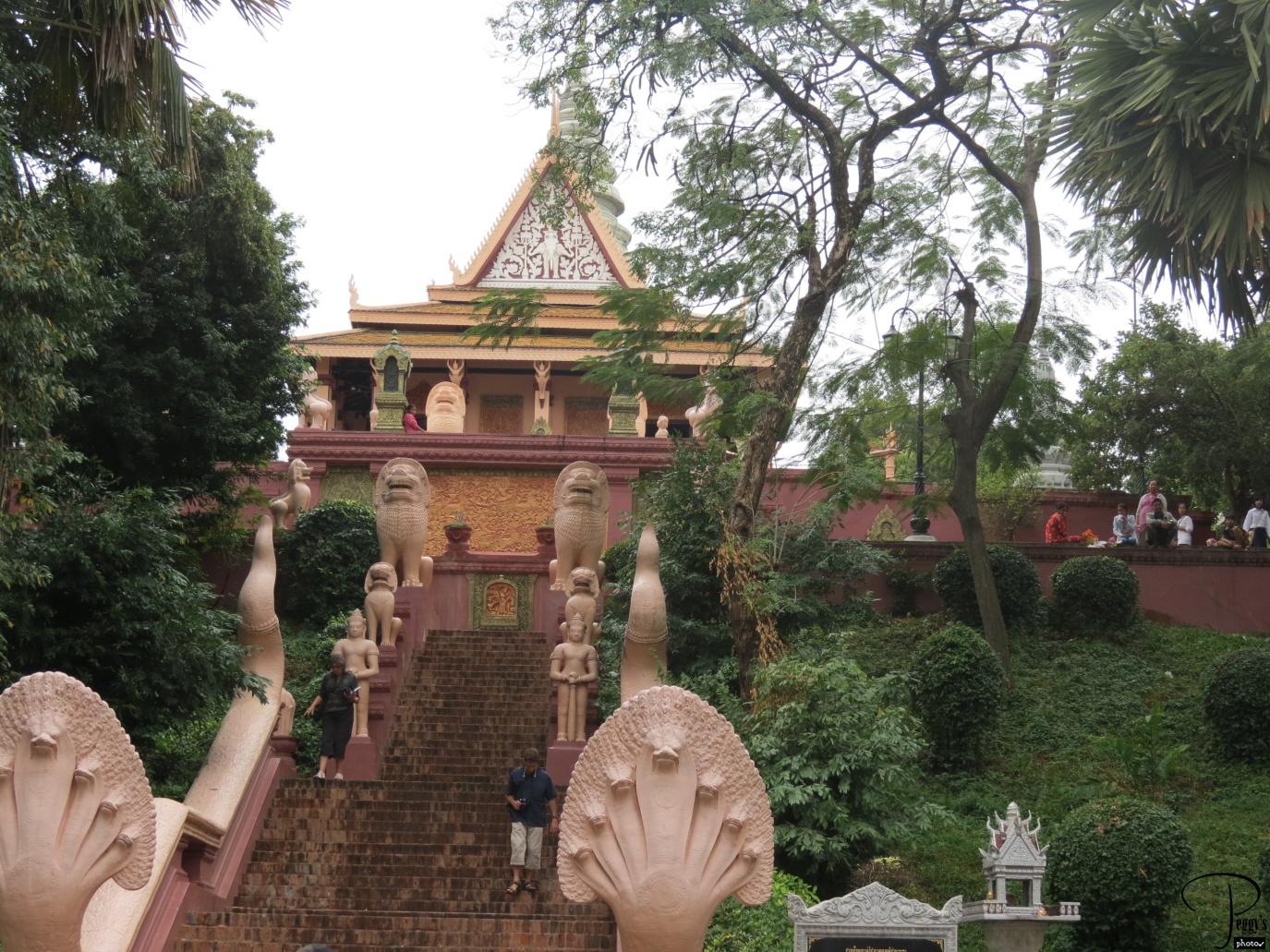 This temple was built either in 1372 to house four Buddha statues that a widow found in a tree or in 1422 by King Ponhea Yat when he moved Cambodia's capital from Angkor Wat to Phnom Penh. This was the last stop for our cyclo. We rode in a van for the rest of the tour.

Wat Phnom
Wat Phnom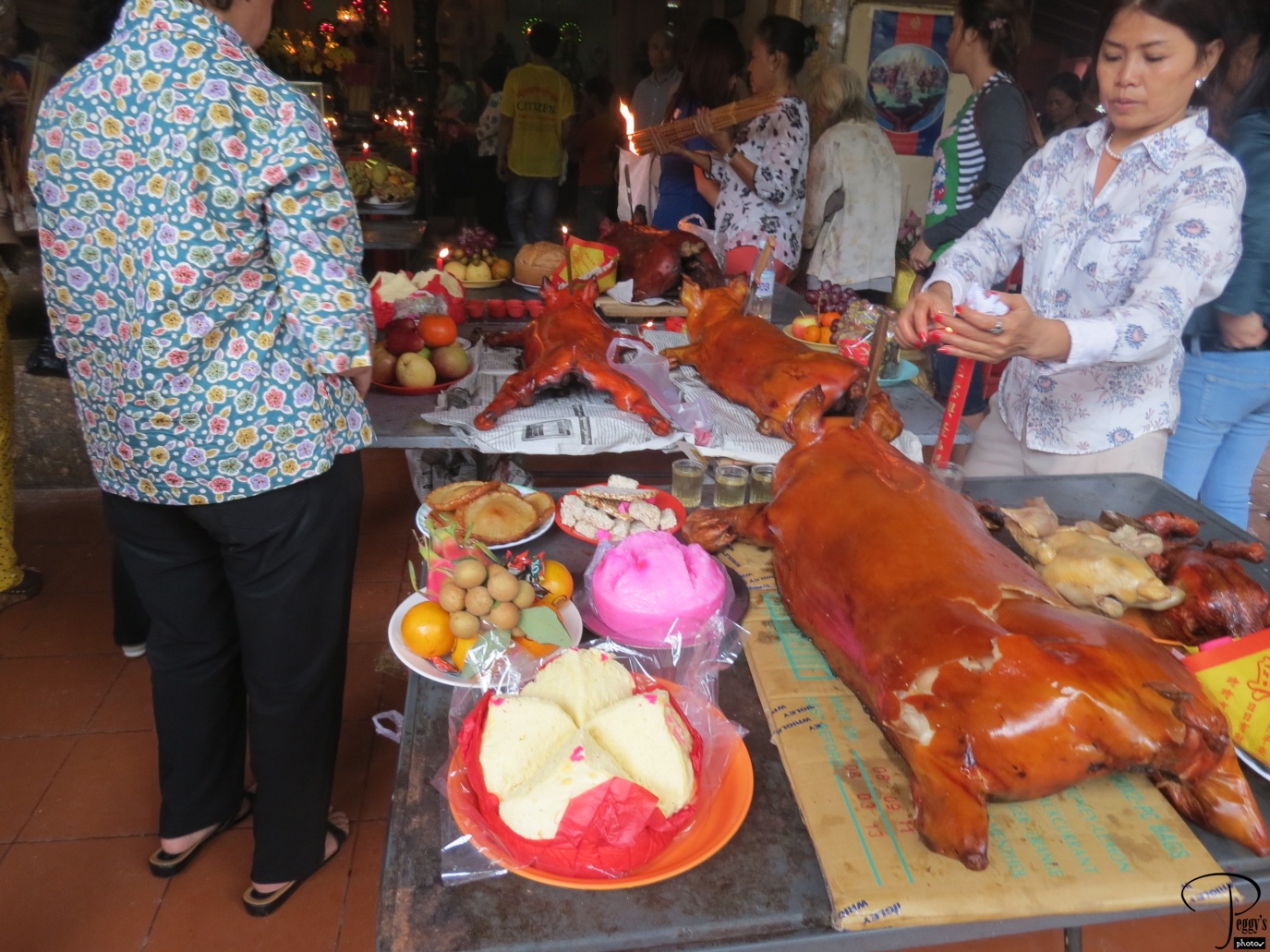 An unbelievable amount of food offerings for the woman believed to have built the temple and for the gods were brought Wat Phnom.

Wat Phnom
The Fish Market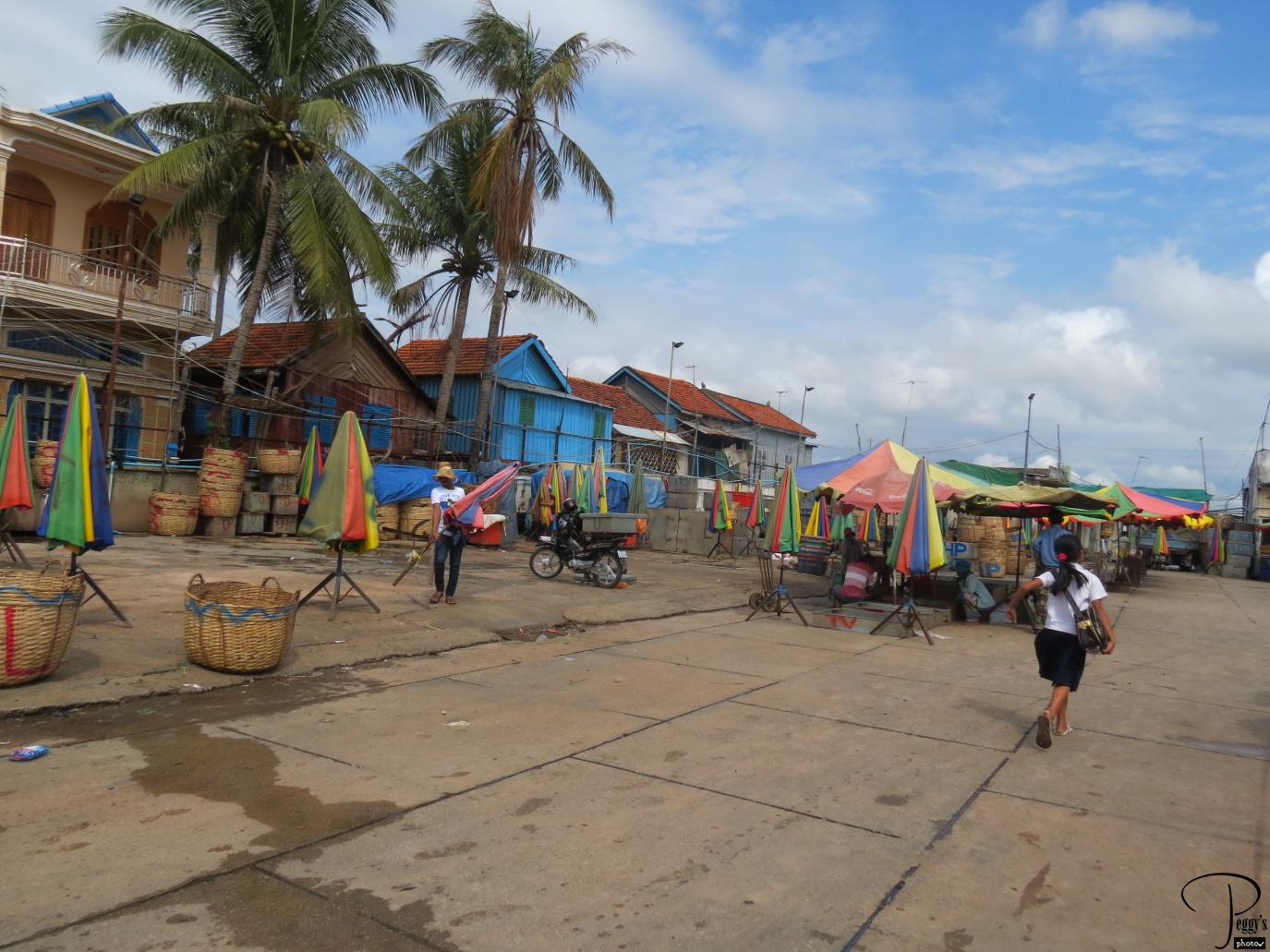 It is late in the day for the Fish Market as most of the activity of selling fish begins early in the day. There was a surprising amount of trash on the grounds of the market, much more than at other places in Phnom Penh. I do not know why the trash is not picked up more often. It is unsightly, but maybe this bothers people from more developed countries more than it does them. I saw similar trash accumulation in Egypt last year as well and we were to see it also in Vietnam.
The Fish Market
Central Market
This was a fun market––it was very clean and offered some very nice things for sale such as clothing and jewelry. A woman could spend much time here looking at just the shirts for sale.

Central Market
The Romdeng Restaurant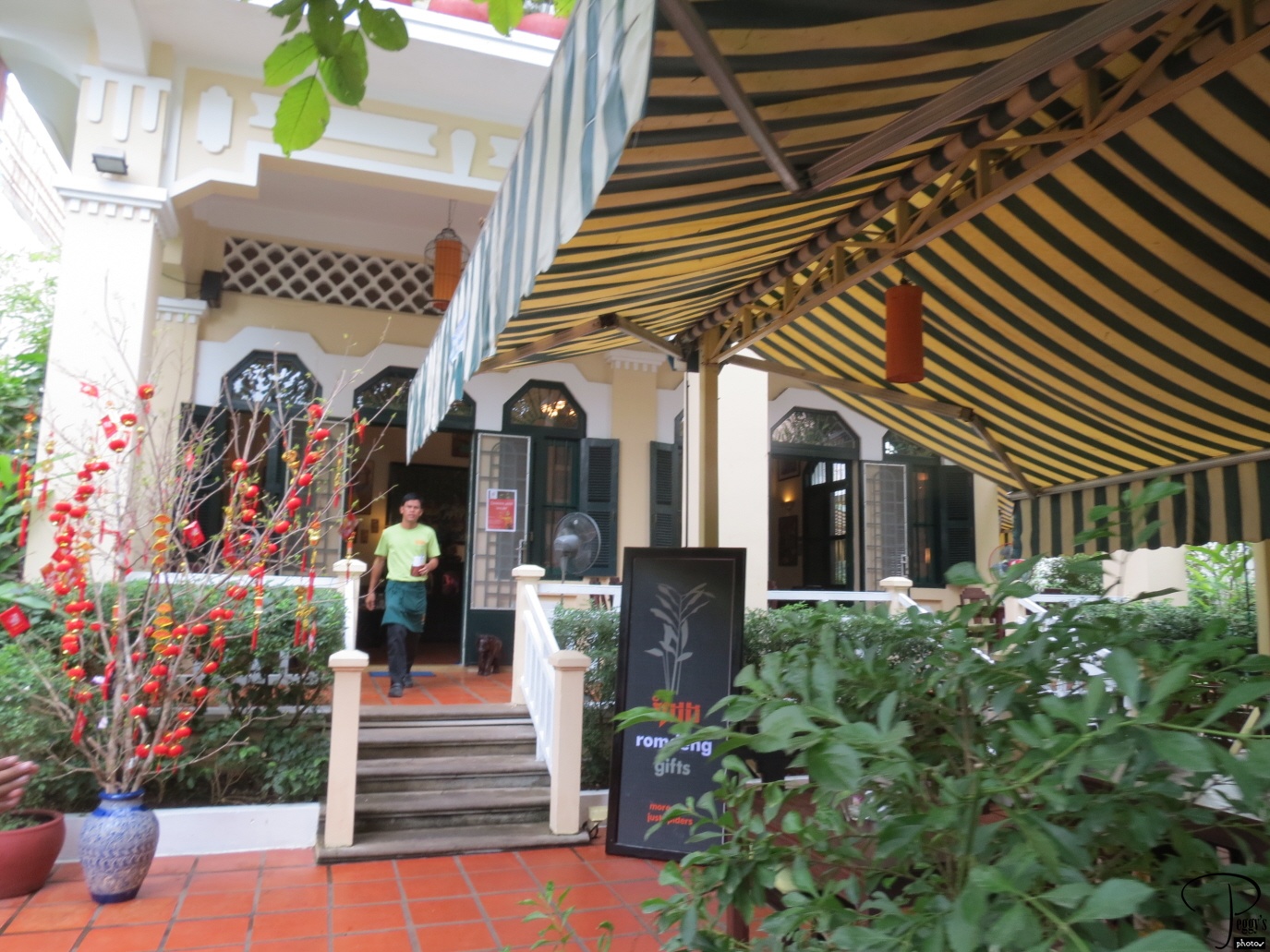 I was taken to the very nice Romdeng restaurant for lunch. On the sign in front of the restaurant: "A training restaurant run by former street youth and their teachers. Serving creative Cambodian cuisine." It had an extensive menu with some odd (to Westerners) offerings, such as tangarine and cinnamon diaquiri, lemongrass spice frog soup with makak leaves, coconut scented prahok and pork dip served with vegetable crudities and crusty French bread, lotus root salad with chicken and young lotus seeds in galangal dressing, and crispy tarantulas served with lime and pepper sauce. I had a chicken dish, which was very good.
The Romdeng Restaurant
The Russian Market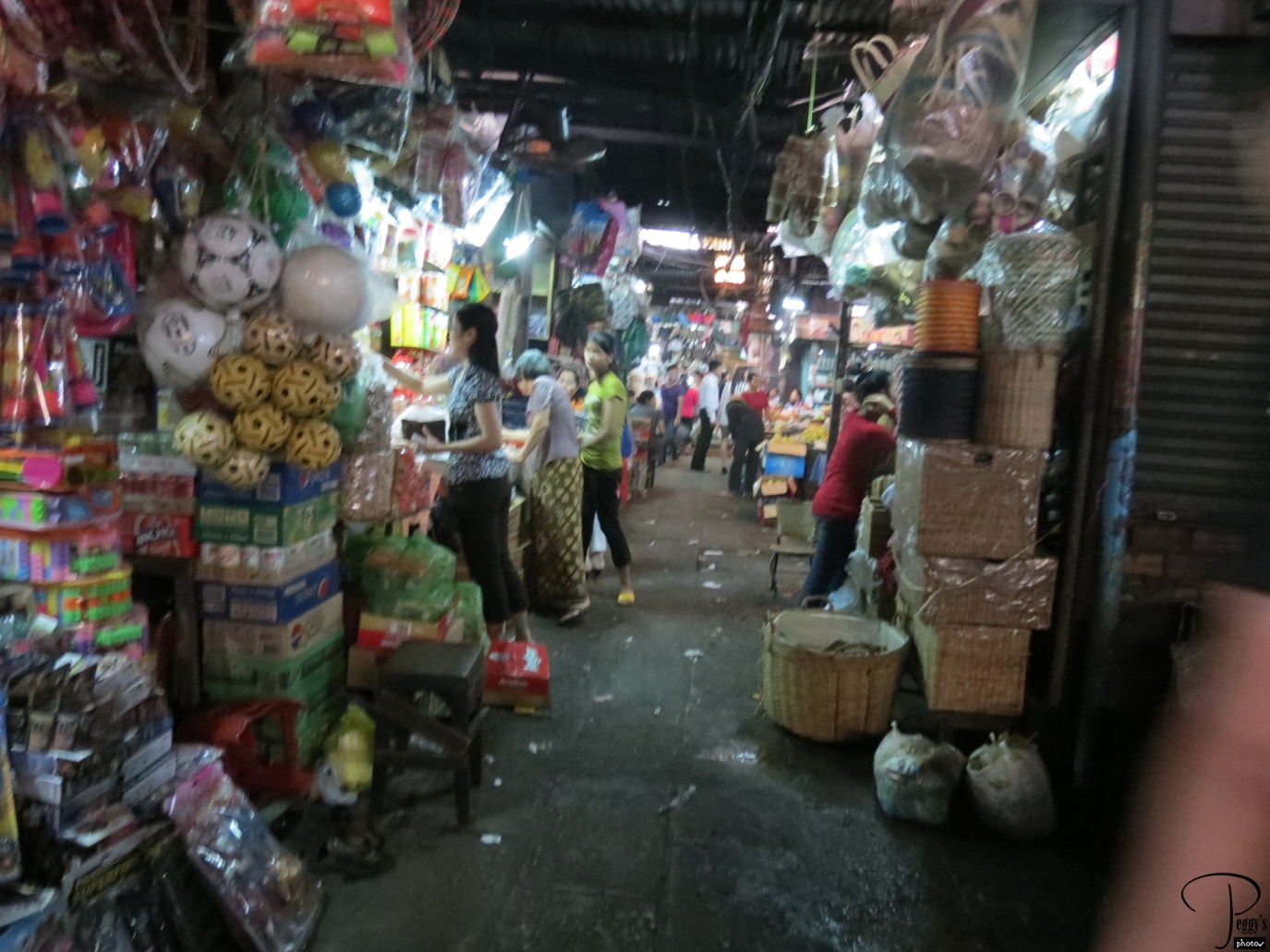 Foreigners came to this market in the 1980s, and since most of the foreigners in Cambodia were Russians, the market came to be known as the Russian Market. There was so much merchandise squashed into the market that I found it claustrophobic  and didn't stay long at it.
The Russian Market
The Apsara Arts Association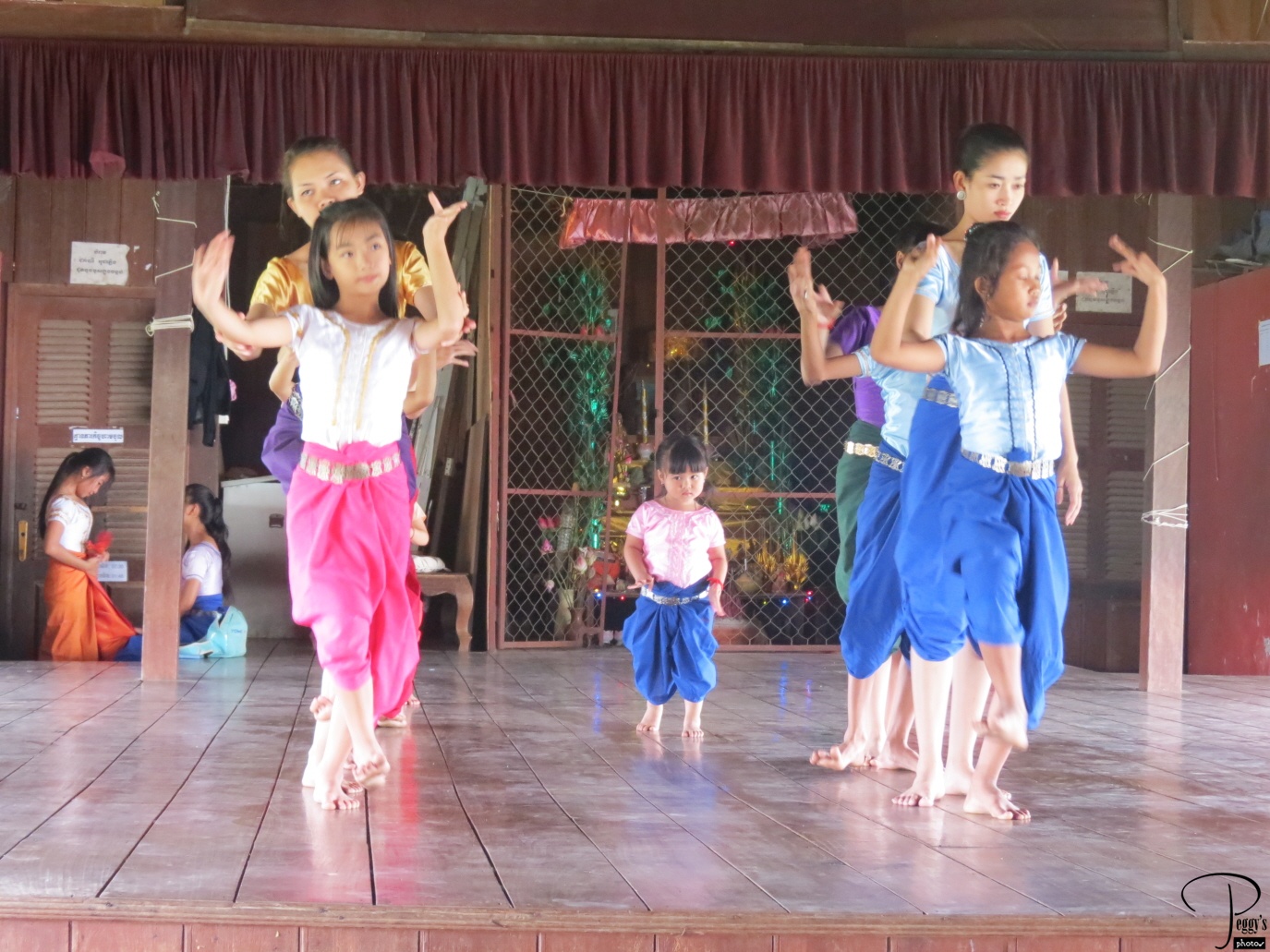 Our last stop: The Apsara Arts Association. Visitors are invited to the practices of Cambodian classical dance. The students of the association are mainly orphans and poor children. I took a movie of part of a practice session. Go to Movies, Asia Movies, Cambodian Movies, "Cambodian Dance Practice" or directly to
http://www.peggysphotos.com/cambodia–movies/
This was my last full day in Phnom Penh. Tomorrow morning I would join my Gate 1 tour and we would drive north to Siem Reap. Phnom Penh was definitely a travel experience. I felt that I was given an insider's view of Phnom Penh through the tours that I took. I am sure that there is much more to discover in the city.

The Apsara Arts Association
© Copyright 2018 Peggy's Photos