Day 17, Botswanna to Zambia to Johannesburg to London to Los Angeles
Leaving Botswana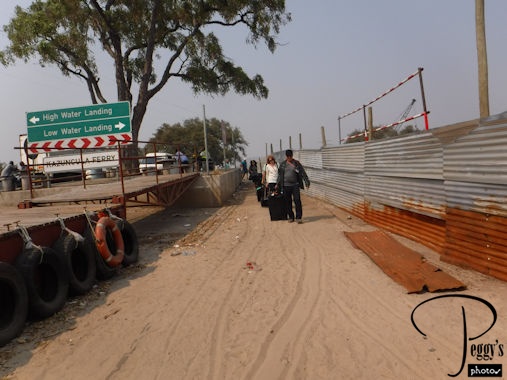 Our minibuses took us this morning to the Botswana border at the Zambezi River at Kazungula. Here we are dragging our suitcases down to the river bank. Some very nice person helped me with my big case. We would be crossing the river to Zambia rather than traveling from Botswana to Zimbabwe to Zambia.
Leaving Botswana
Our Passenger Ferry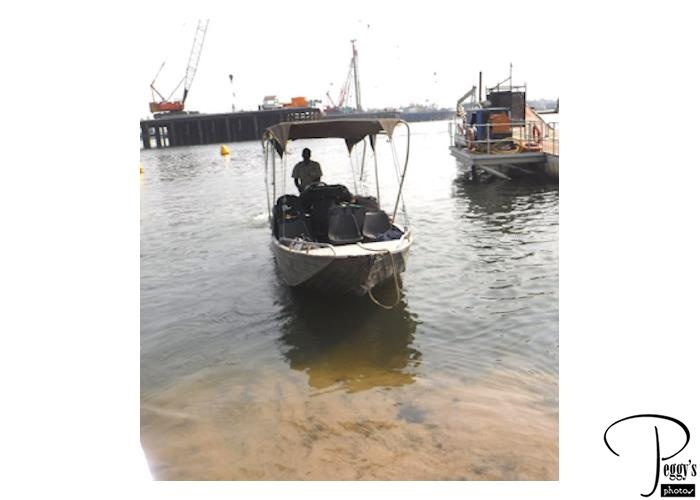 Barry, our tour director, told us as he was told that we would be crossing the river on a passenger ferry. Here in the photo is our passenger ferry. Well, it would ferry us across the river and we were passengers, so I guess you could call it a passenger ferry.

Our Passenger Ferry
Our Passenger Ferry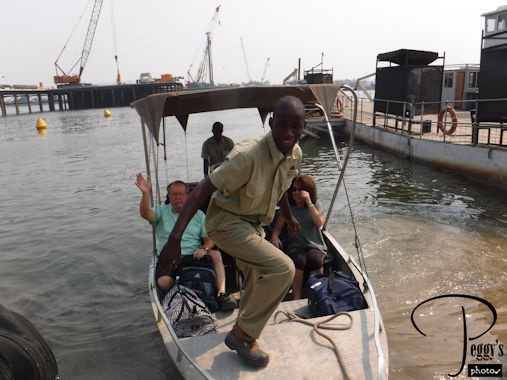 Even with all our luggage loaded, there was still room for two passengers. We waved good–bye to them. The boat would have to return two times to take the rest of us across the river.
Our Passenger Ferry
Our Passenger Ferry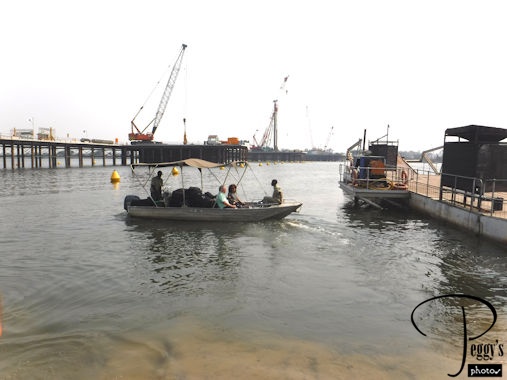 The boat in the water with our two tour mates.
Our Passenger Ferry
Our Passenger Ferry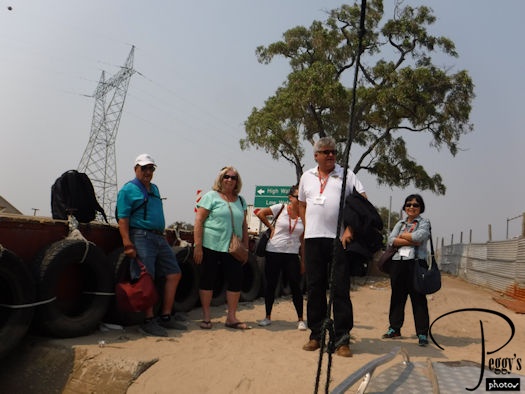 I and some of my other tourmates are now on the boat, leaving the rest of our group to wait for the boat to return for them. With some helping hands, it wasn't difficult getting into the boat.

Our Passenger Ferry
The Zambezi River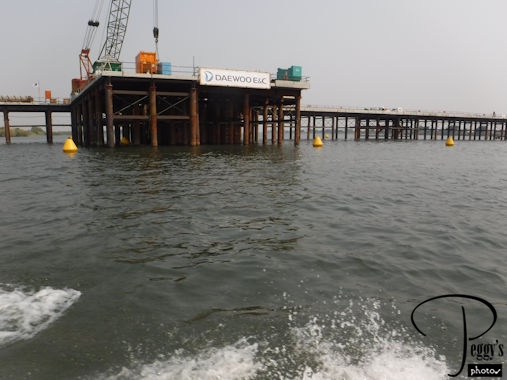 In the middle of the river. The ride to the other side of the river took only about five minutes. Not a bad ride if you didn't think about all the crocodiles swimming in the water. A railroad bridge with piers on it is being built between Botswana and Zambia so materials can be easily shipped between these two countries. Right now, trucks have to use ferries to cross and there is a very long wait for them to cross.
The Zambezi River
Zambia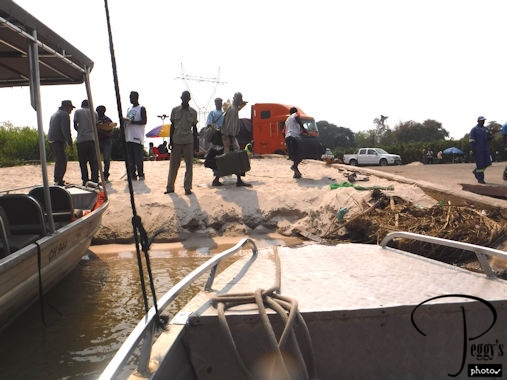 My passenger ferry coming into port. Well kind of.
Zambia
Zambia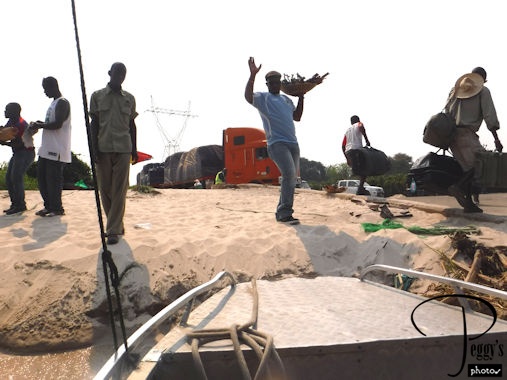 We have landed––in the sand. Not hard to get off the boat with some helping hands but harder walking in the sand. One of the souvenir sellers helped me and I bought two wood animals from him in return. They were really nice ones and nicer than I have seen so far, so I didn't regret buying them.
Zambia
Rest of Our Group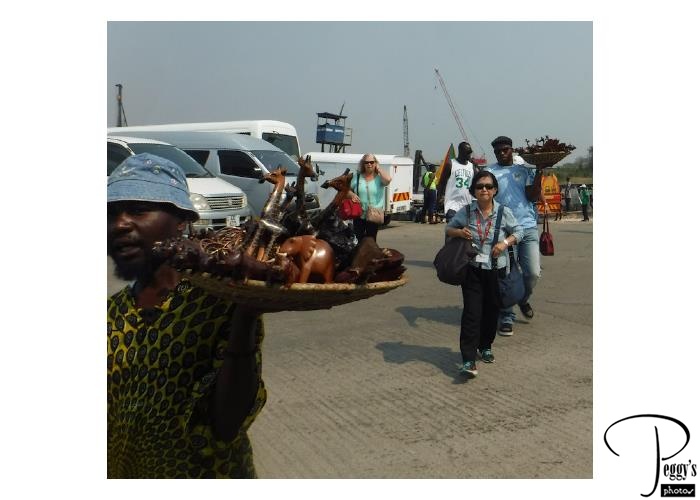 The rest of our group have arrived from across the river. The souvenir sellers were relentless here, even opening a window on our minibus so sales pitches could be made. But souvenir selling is their livelihood, and if they don't sell enough, it may be that they or their families may not eat that day.

Rest of Our Group
Zambia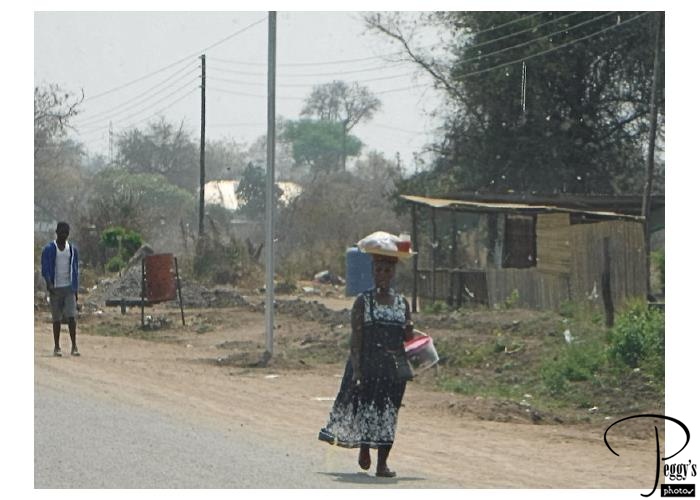 It didn't take long to go through Zambia immigration and then we were on our way to the airport in Livingstone, the one that we flew into a few days ago. Our driver's name was Elvis. We asked him how he got that name and he said his mother had named him that.A good answer to a silly question. We didn't get to ask him the next question of why his mother named him Elvis as he went on to talk about other things. Photo: seen along the way.

Zambia
Zambia
Seen along the way.

Zambia
Zambia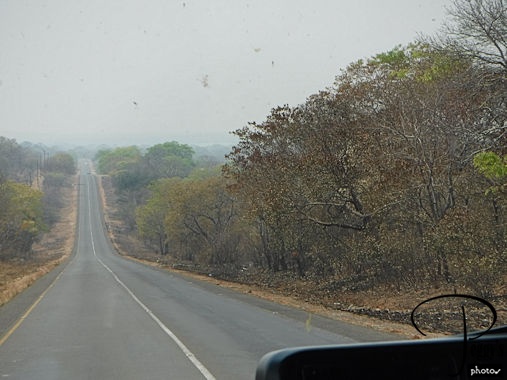 The road was quite good here but we still had a two–hour drive to reach the airport.

Zambia
Zambia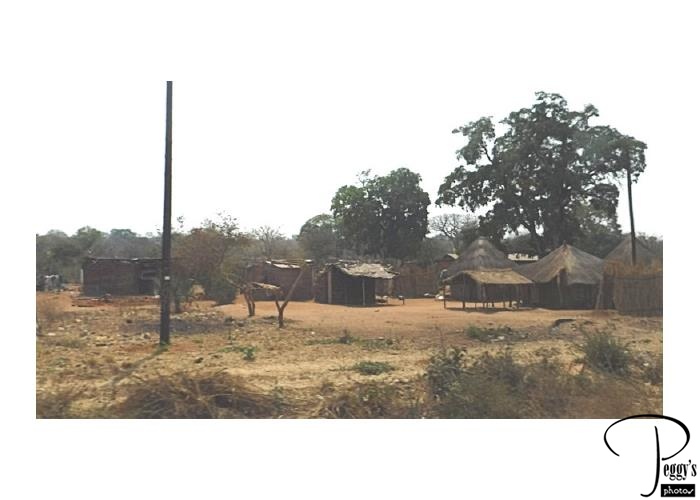 Passing a tribal village.

Zambia
Livingstone
That is Livingstone in the distance, so not much farther to the airport. We would fly British Airways from Livingstone to Johannesburg. At Johannesburg, we had to recheck our luggage in as Maida and I had to do when we flew from Johannesburg to Cape Town, so we already knew the system. We were both scheduled to fly on Iberia to London and then to Los Angeles, but Iberia was really British Airways and everything went through them. When we checked–in on the internet this morning, we found out that our reserved seats for both flights were given to someone else. We both wanted aisle seats and got them for the flight to London. But only one aisle seat remained, at the very back of a huge A380 on the top level. I got that one but Maida was able to get the seat next to mine. About 8 hours waiting at the Johannesburg airport for our flight, then about 11 hours to London with a two–hour stopover, and then 11 more hours to Los Angeles. A very good long trip to Southern Africa. I very much enjoyed our Gate 1 tour.

Livingstone
© Copyright 2018 Peggy's Photos