Day 14, Ljubljana and Lake Bled, Slovenia
Franciscan Church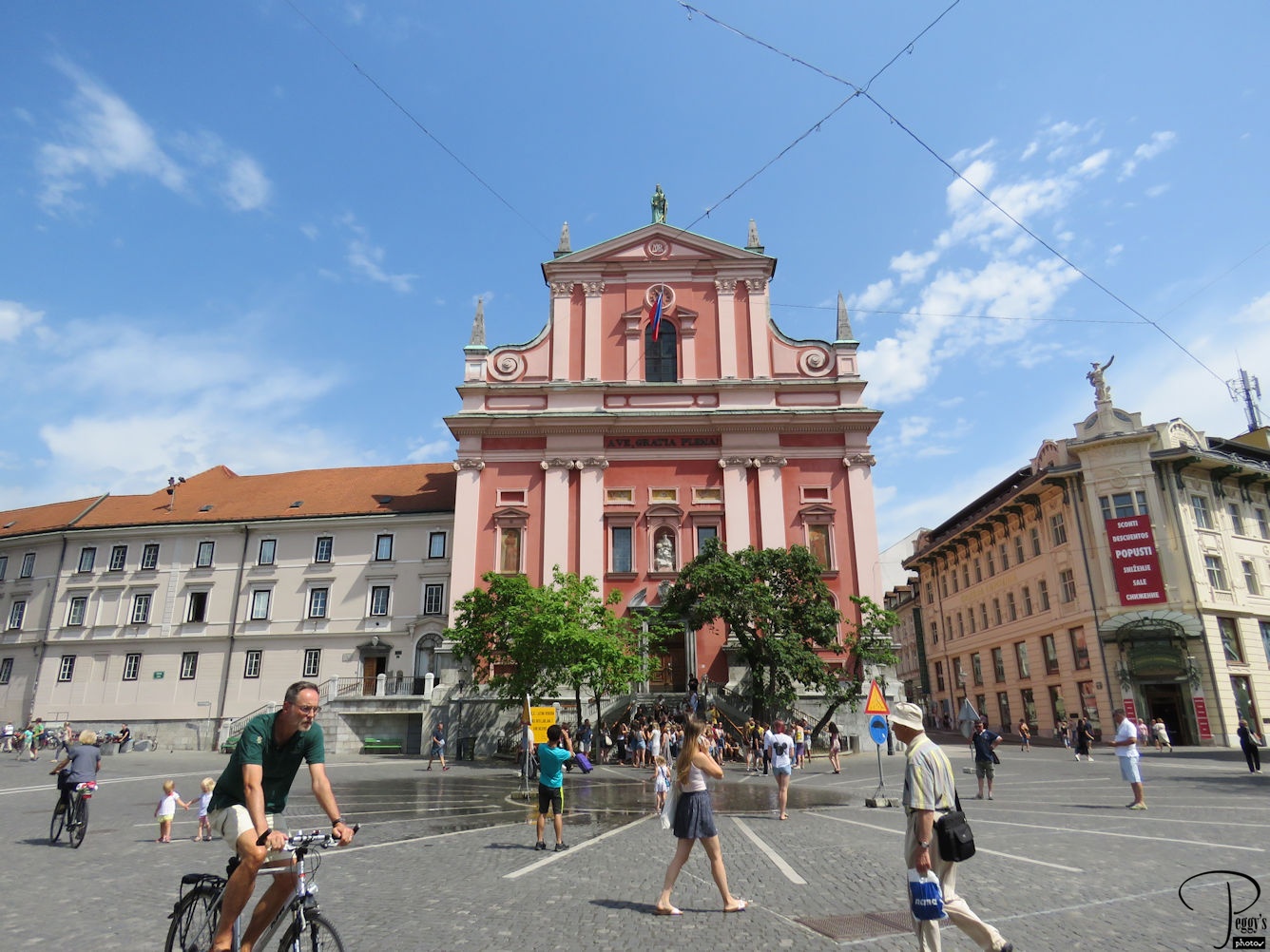 This day, we drove from Zagreb, Croatia, to Ljubljana, Slovenia, where we would spend two nights. Ljubljana (pronounced "Loob–lyah–nah) is the capital and largest city of Slovenia. Slovenia was a part of Yugoslavia before it broke up. Slovenia is part of the European Union and its currency is the euro.
We walked around the beautiful old section of Ljubljana with its Art Deco, Baroque, Venetian, and other architectural–style buildings. This is a photo of the Franciscan Church of the Annunciation, built between 1646 and 1660, with its front facade built between 1763 and 1706. Baroque. Red is a symbolic color of the Franciscan monastic order. A monastery is nearby.

Franciscan Church
Art Deco Building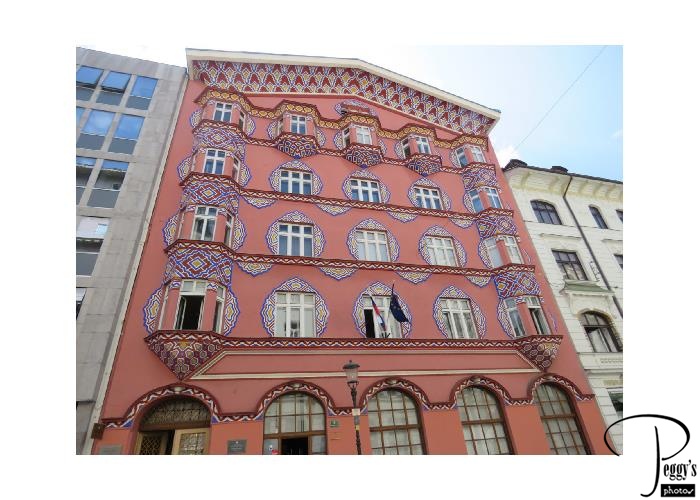 Ljubljana has many beautiful Art Deco buildings such as this one.

Art Deco Building
Hauptmann House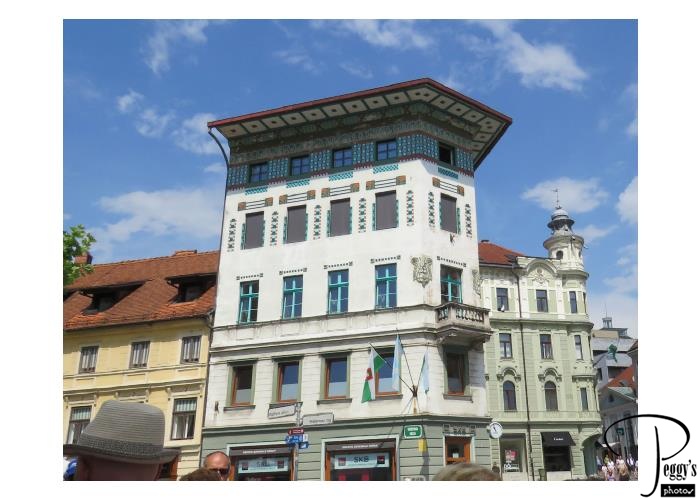 Another great building in Ljublijana: the Hauptmann House. It was built in 1873 and rebuilt in 1904 in the Viennese Secession style. Its facade is decorated with ceramic tiles in a geometric pattern.

Hauptmann House
Adam and Eve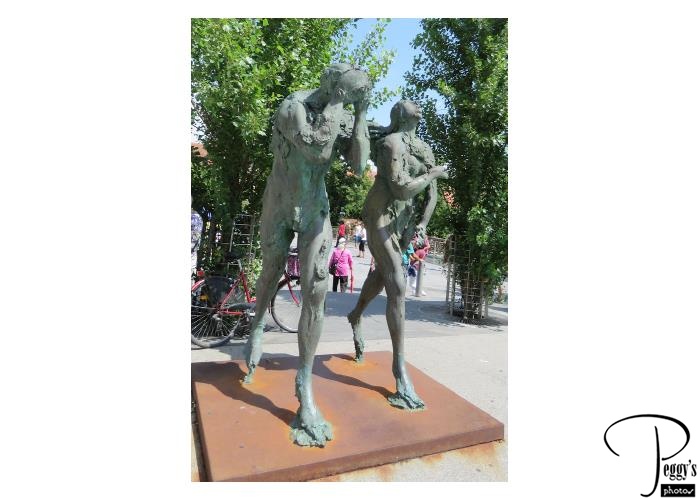 One of many sculptures in Ljubljana. This is of Adam and Eve being banished from Paradise.

Adam and Eve
Dragon Bridge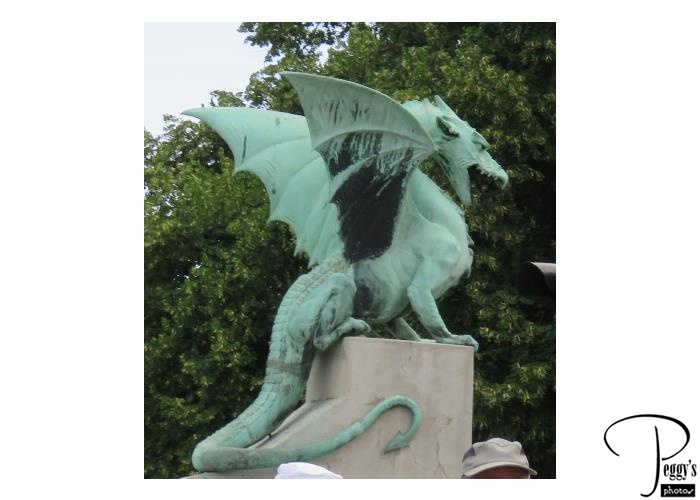 One of the dragons on the Dragon Bridge.

Dragon Bridge
Cathedral of St. Nicholas
Photo: inside the Cathedral of St. Nicholas with its fresco ceiling painted in the early 1700s.

Cathedral of St. Nicholas
Town Hall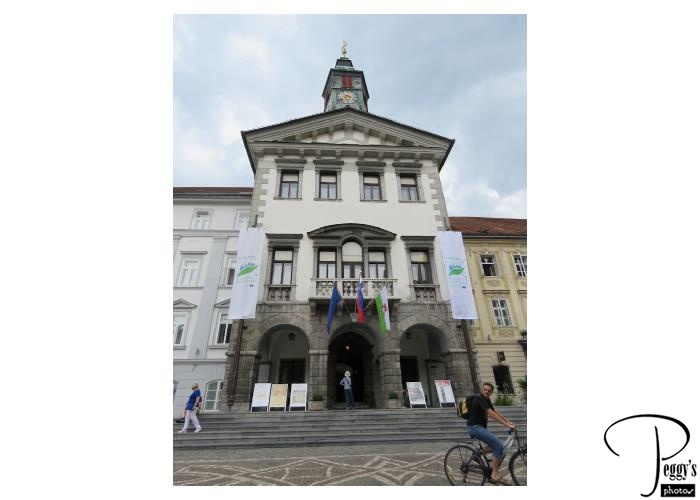 The Ljubljana Town Hall, built in the late 15th century with its present Venetian appearance from between 1717 and 1719.

Town Hall
Ljubljana Scene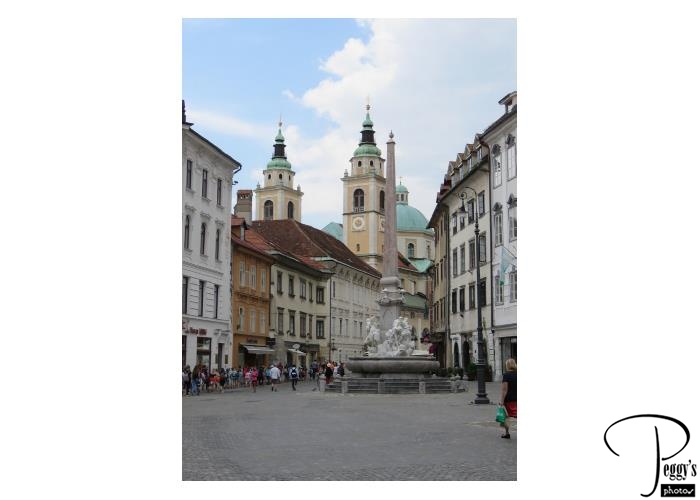 In the photo, the Robba Fountain and the steeples and dome of the Cathedral of St. Nicholas.

Ljubljana Scene
Rain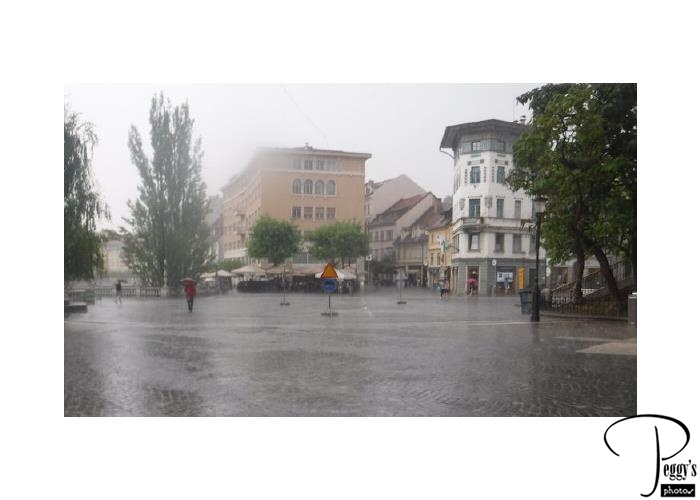 While we were eating lunch, the beautiful blue sky turned gray and we had a very heavy rain shower. We had to walk through the rain to get to where our bus was going to pick us up. Alison, our tour director, did warn us that it might rain. I brought along an umbrella but it was only a small travel–size one which did not protect much except my head as the rain was really coming down. We had a pretty much soaked tour group.
I have put my photos of Ljubljana on two slideshows. Go to http://www.peggysphotos.com/ljubljana–1/ and http://www.peggysphotos.com/ljubljana–2/
(Slide Shows, Eastern Europe, Slovenia, "Ljubljana–1 and –2").
Rain
Alpine Bled and Dinner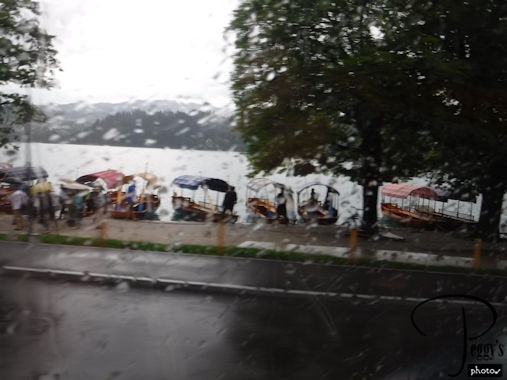 Later in the day, we had an optional Alpine Bled and Dinner in the Julian Alps. Lake Bled was pretty much a washout as it was still raining. Photo of boats on Lake Bled taken from the bus when we arrived.

Alpine Bled and Dinner
Lake Bled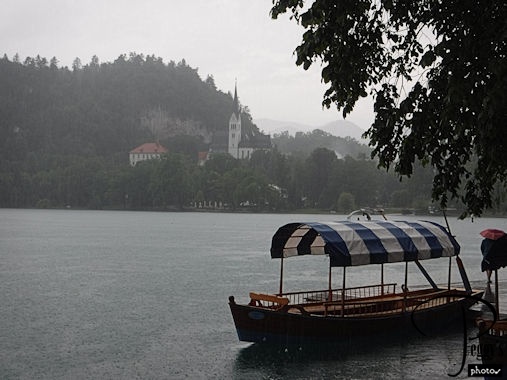 You can take one of these boats to view the lake and to go ashore. In the background, a church.

Lake Bled
Lake Bled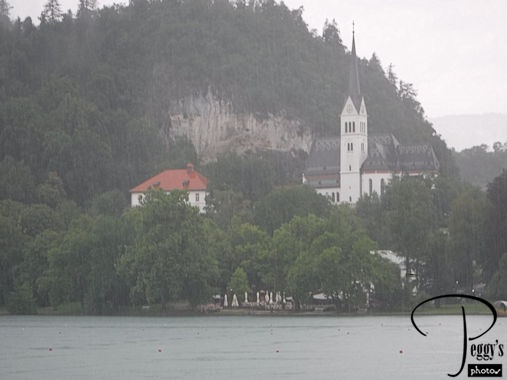 Closer–up of the church.
Lake Bled
Bled Castle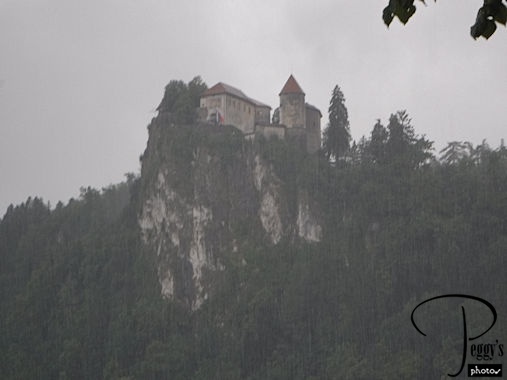 Bled Castle on a hill above the lake. It is the oldest castle in Slovenia, dating back to before 1004.
Bled Castle
Bled Castle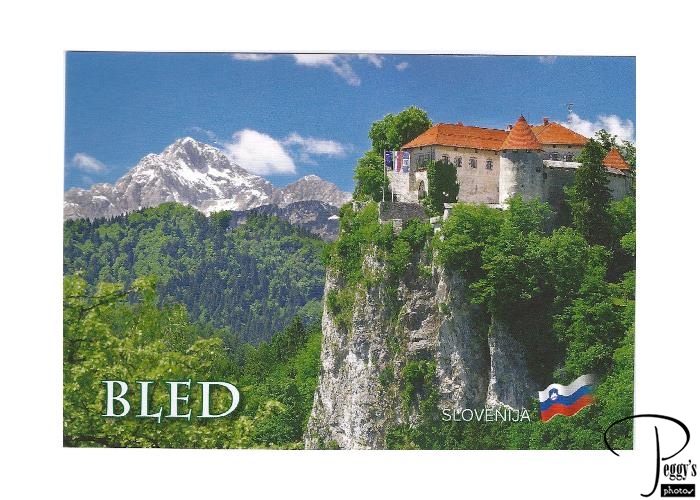 On a clear day, this is what Bled Castle would look like (from a postcard).

Bled Castle
Bled Island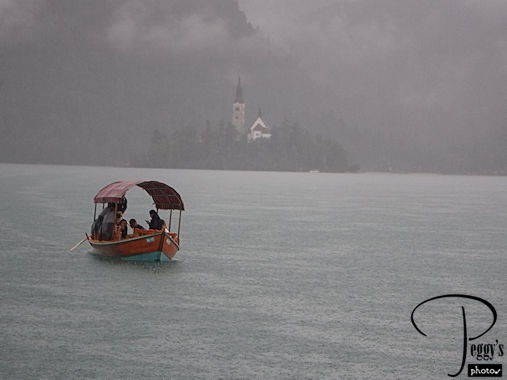 There are several buildings on Bled Island, the main one being the pilgrimage church dedicated to the Assumption of Mary, built near the end of the 17th century. You can take a boat out to the island.
Bled Island
Bled Island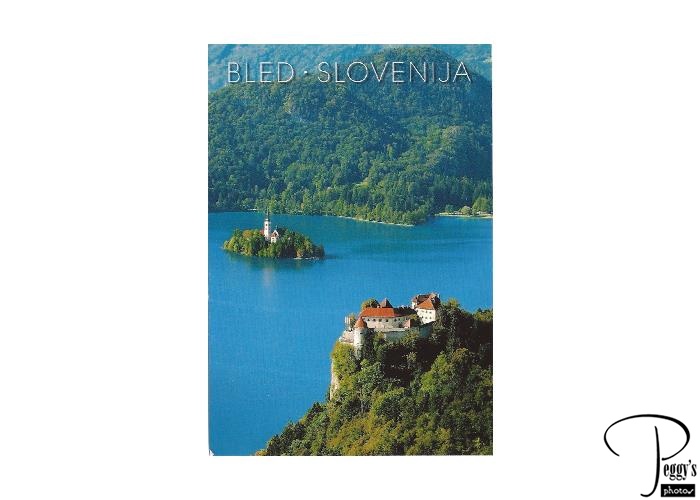 This postcard shows how the Bled Island looks like on a sunny day. It was very disappointing that we had such awful weather here as I had seen many photos of Bled Island and how pretty it is and what good photos it makes.

Bled Island
Ducks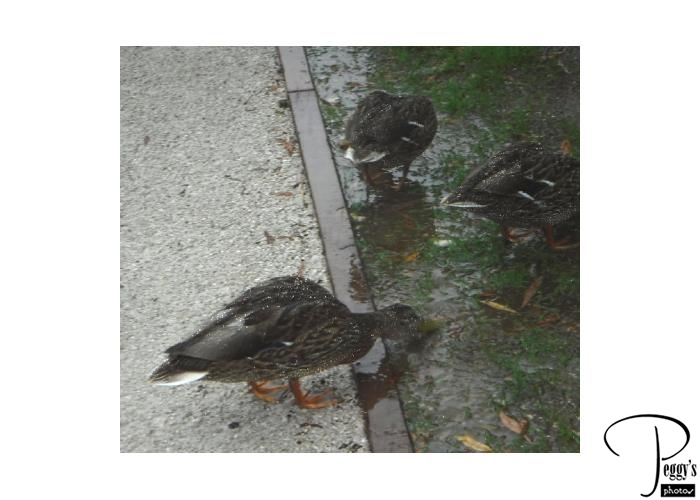 The ducks here were enjoying drinking from the rain puddles.
Ducks
Souvenirs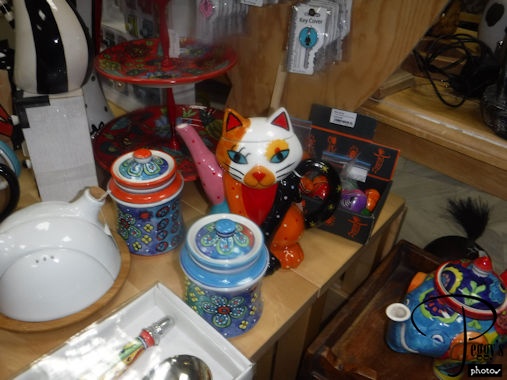 Inside the dry souvenir shop in the village.

Souvenirs
Souvenirs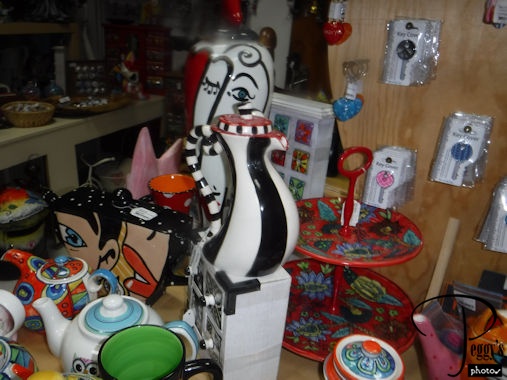 More souvenirs.

Souvenirs
Souvenirs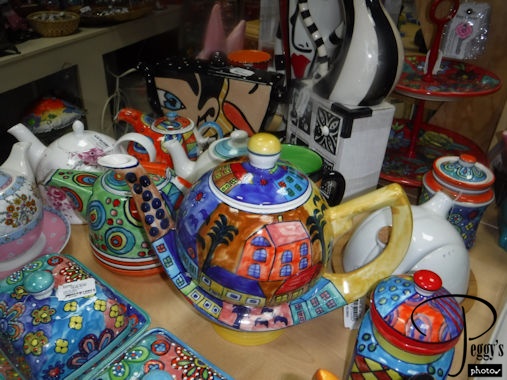 And more souvenirs.

Souvenirs
Radovljica Restaurant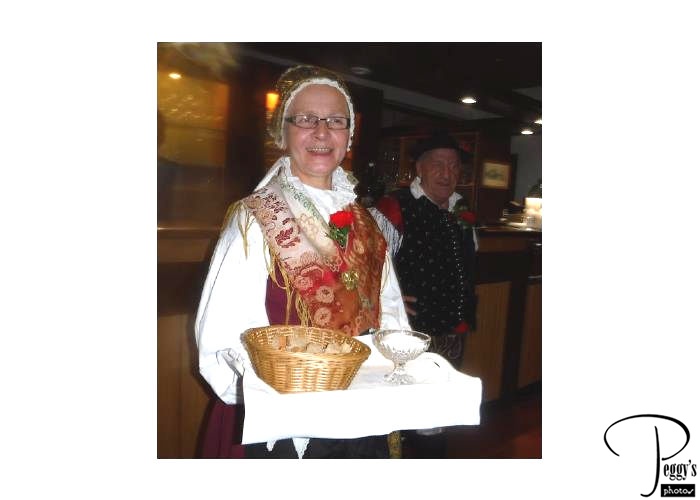 We next had snacks, dinner, and entertainment at a restaurant in Radovljica close to Lake Bled. This was our greeter with some snacks.

Radovljica Restaurant
Wine Cellar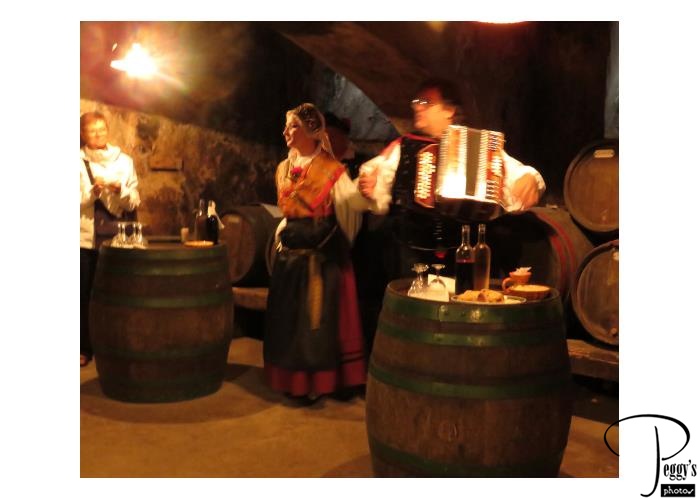 The first event was in the wine cellar with snacks, music, and dancing.
Wine Cellar
Wine Cellar Music & Dancing–MOVIE
A movie of music and dancing in the wine cellar. If you cannot view the movie on your computer, try viewing it on an iPod or tablet or go to YouTube: https://youtu.be/xg33TWuVENQ

Wine Cellar Music & Dancing–MOVIE
Snacks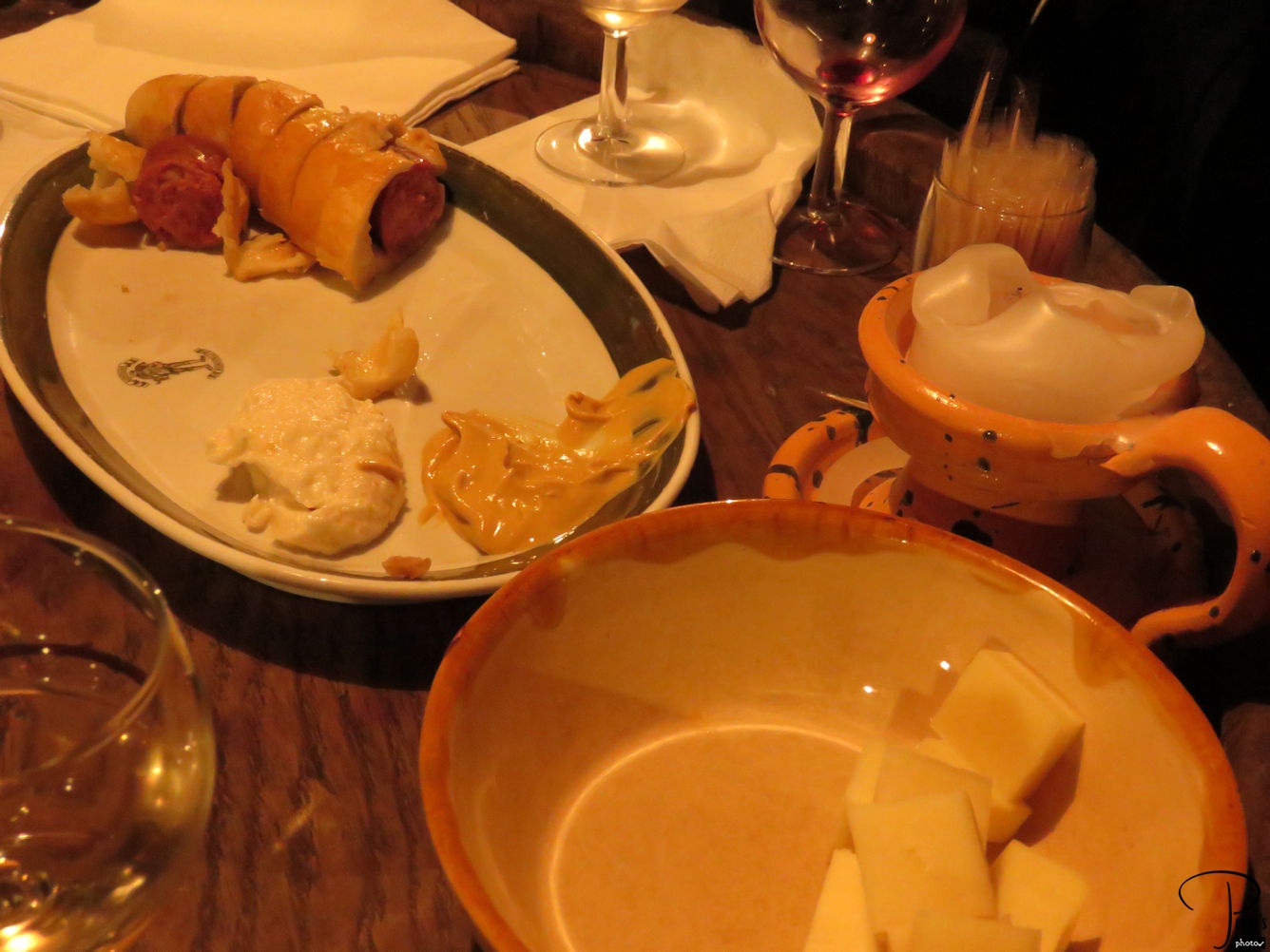 We had delicious snacks of sausage and cheese. Also, drinks.

Snacks
Dinner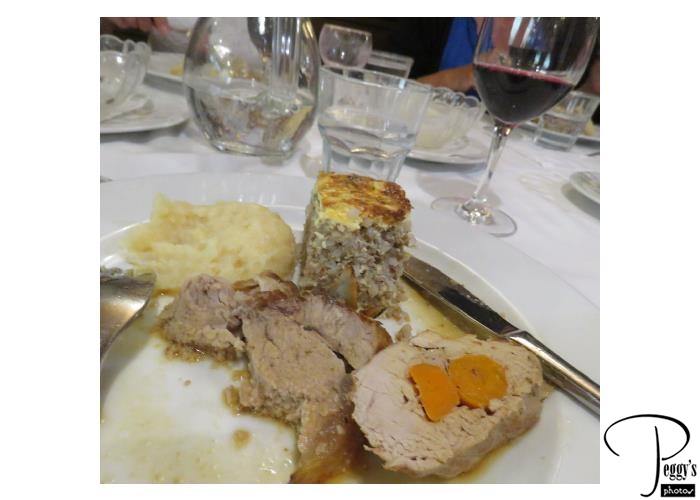 I had pork and potatoes for dinner.

Dinner
Entertainers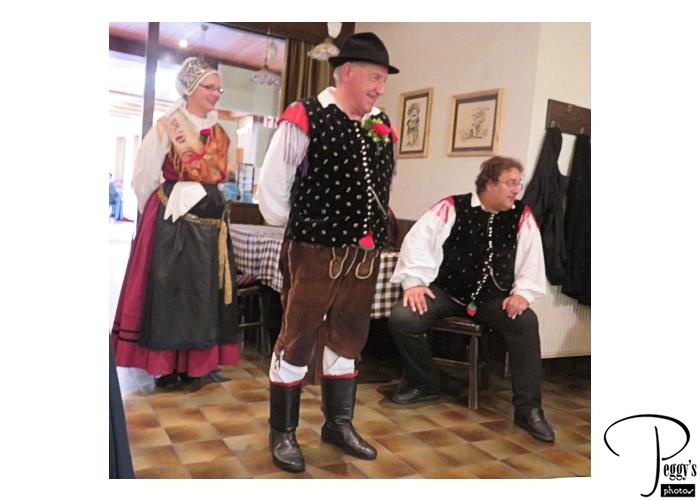 A photo of our entertainers. The woman on the left and the man in the center were the dancers. The man on the right played the accordion and sang.

Entertainers
Alison and Csaba–MOVIE
Alison and Csaba were polka partners of our dancers.
YouTube: https://www.youtube.com/watch?v=YlNBkQDnzh0
Alison and Csaba–MOVIE
Hat Game–MOVIE
Some of my tourmates joined in on a hat game to music.
Youtube: https://youtu.be/trGBwK5r0kc

Hat Game–MOVIE
© Copyright 2018 Peggy's Photos