Day 13, Zambia and Zimbabwe
Zambia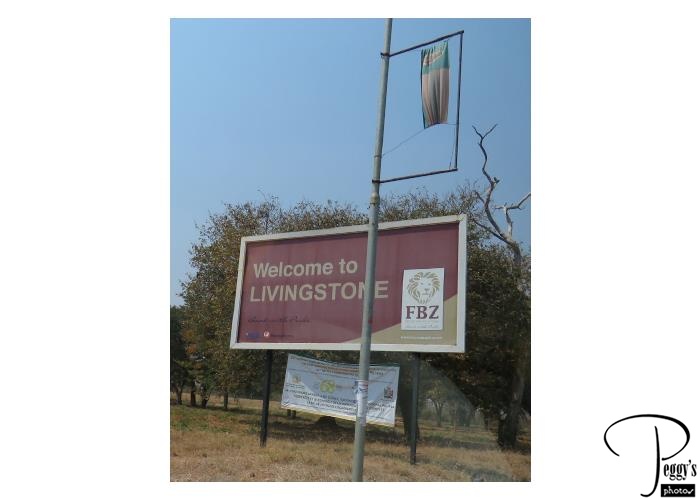 This morning, we flew from Johannesburg, South Africa, to Livingstone, Zambia, and then crossed the border into Zimbabwe. Our Zambia entry visas cost each of us $80 U.S. Sometimes, it is only $50 U.S. or somewhere in between––it changes. (U.S. money can be used in Zambia, Zimbabwe, and Botswana and the entry visas need to be paid in U.S. dollars.) We flew to Zambia rather than directly to Zimbabwe as Barry, our tour director, said that the planes from Johannesburg to Zimbabwe wouldn't be able to take our entire group on the same plane, thereby having to have one group wait for the rest of the group.

Zambia
Livingstone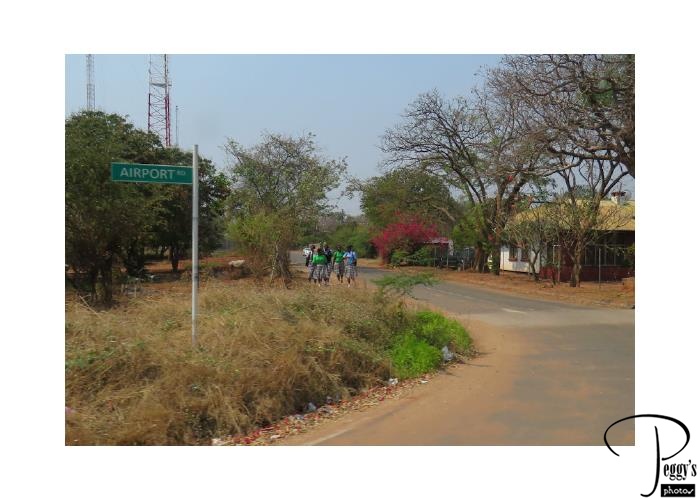 A pretty scene driving from the airport. Our group was in two minibuses with our luggage carried in carts attached to the back on them.
Livingstone
Livingstone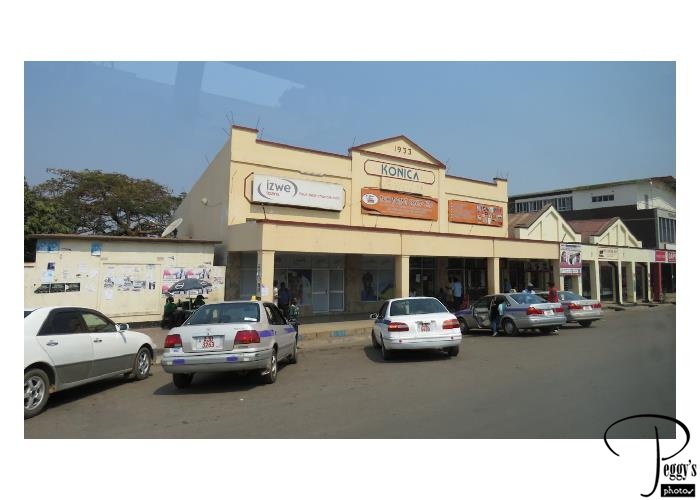 The town of Livingstone, named after David Livingstone, British explorer and discoverer of Victoria Falls. There are a number of British colonial buildings in the town. The building in the photo was built in 1933.
Livingstone
Outside Livingstone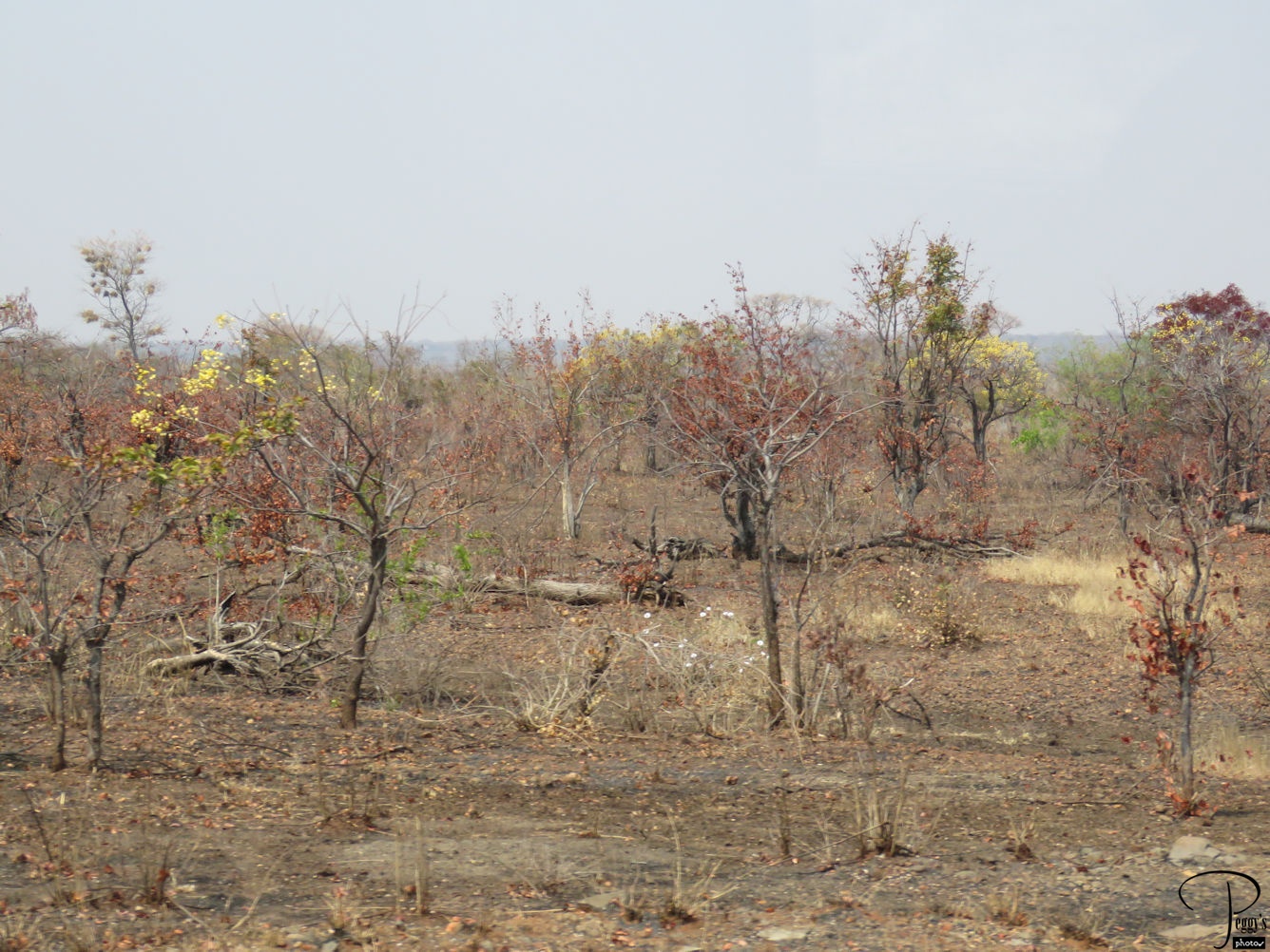 The flatland outside the town of Livingstone, possibly near a game reserve.
Outside Livingstone
Zambia Border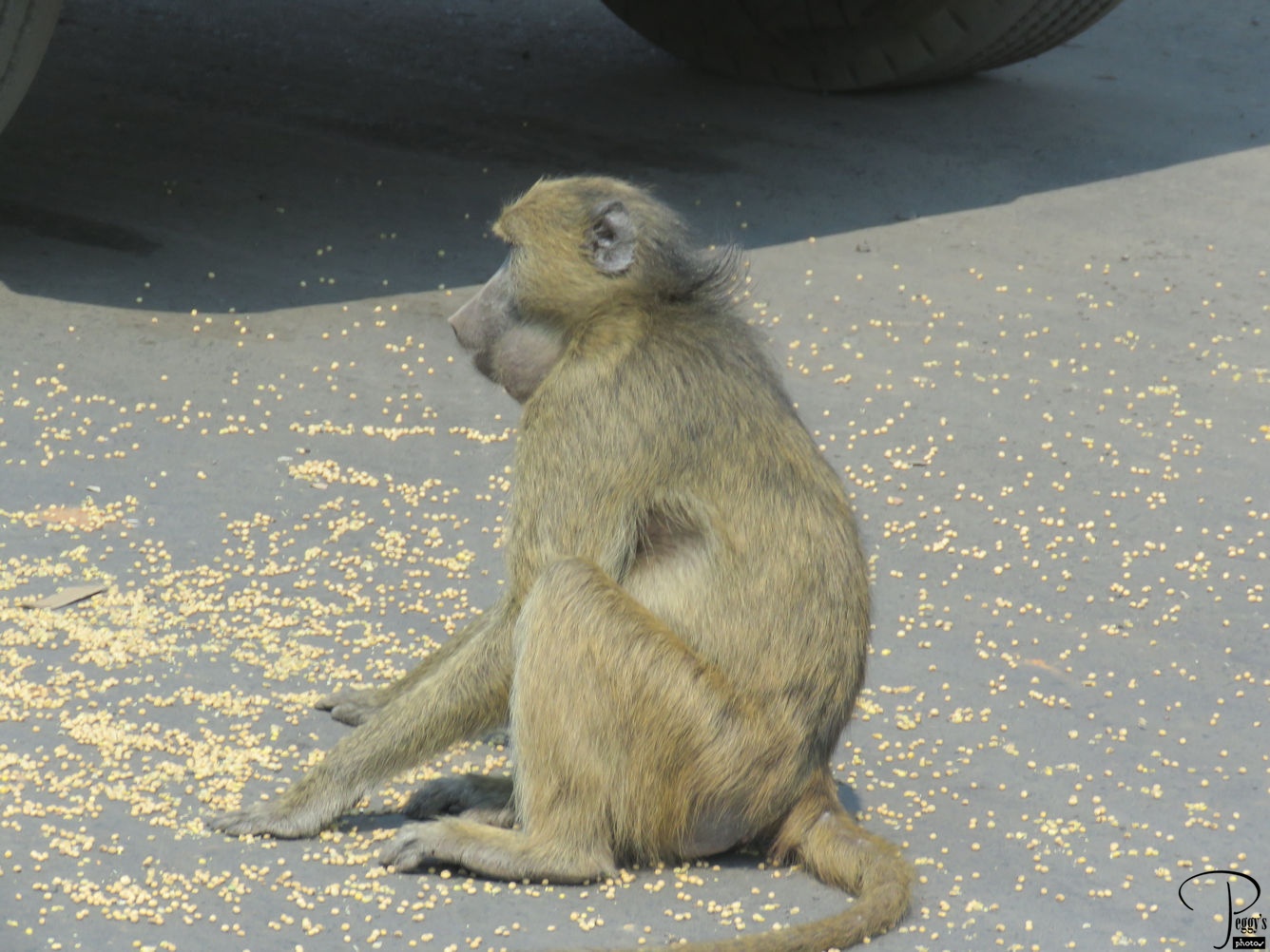 We did not spend much time in Zambia as we were only traveling through it to get to Zimbabwe. I don't remember that it took long to get through the Zambia border though we had to get out of our minibuses to go through an immigration line. There were many baboons at the border as people spread food on the ground for them.
Zambia Border
Zimbabwe Border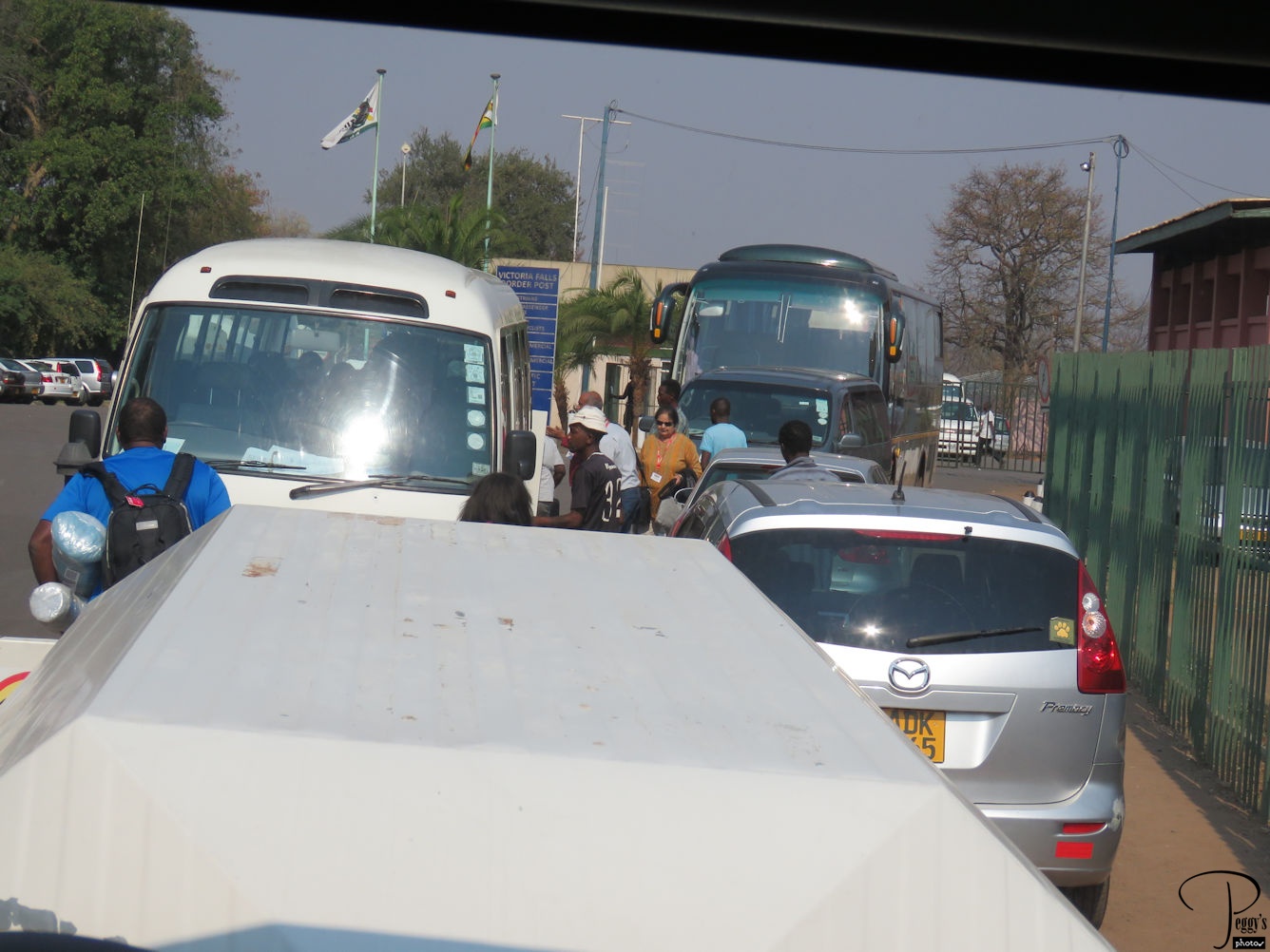 Getting through Zimbabwe immigration was a different story as all our entry visas had to be written out by hand (no computers here) and by only one immigration officer. The half of our group that was going to Botswana after Zimbabwe needed double–entry visas (as one plan was that we would get back to the Zambia airport for our return to Johannesburg via Zimbabwe)––$45.00 U.S.––and those visas took the longest time. The single–entry visas were $30 U.S. All together, we sat in the middle between Zambia and Zimbabwe for about three hours. We also had to have our luggage taken out of our minibuses, walk it across the border, and put into a new set of minibuses.

Zimbabwe Border
Zimbabwe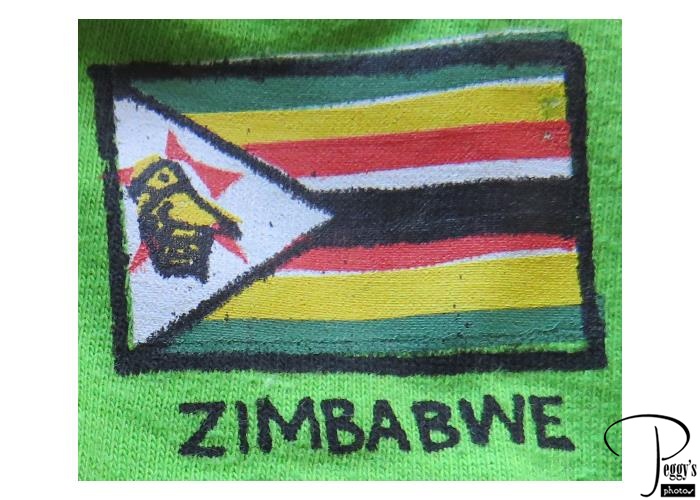 We made it into Zimbabwe.

Zimbabwe
Zambezi River Sundowner Cruise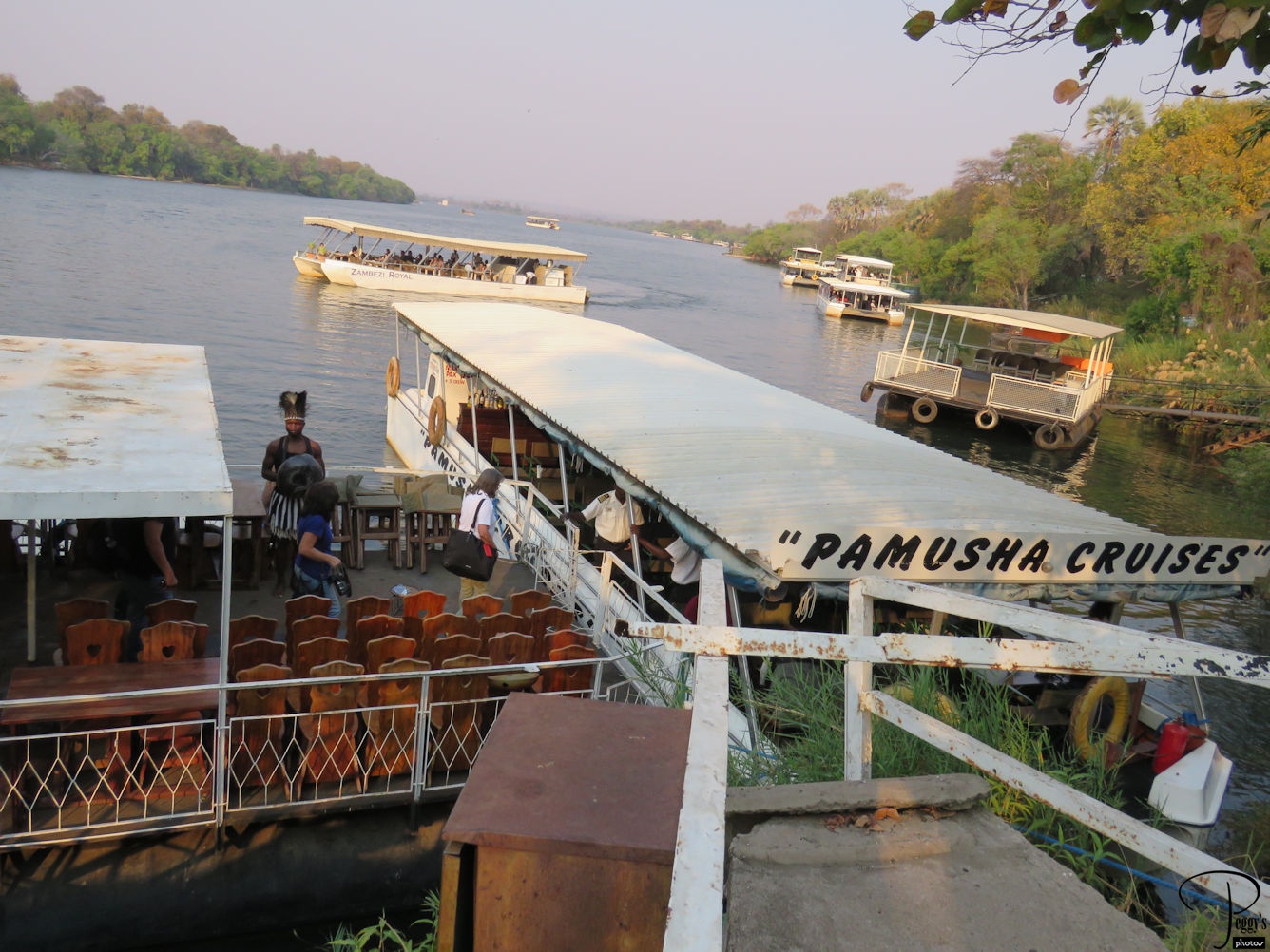 Before going to our hotel, we took a sundowner cruise along the Zambezi River, the fourth largest river in Africa at 1,599 miles (2,574 km) long. The river starts in Zambia, flows through Angola, and borders Namibia and Botswanna and forms the border between Zambia and Zimbabwe.
Zambezi River Sundowner Cruise
Impalas and Baboons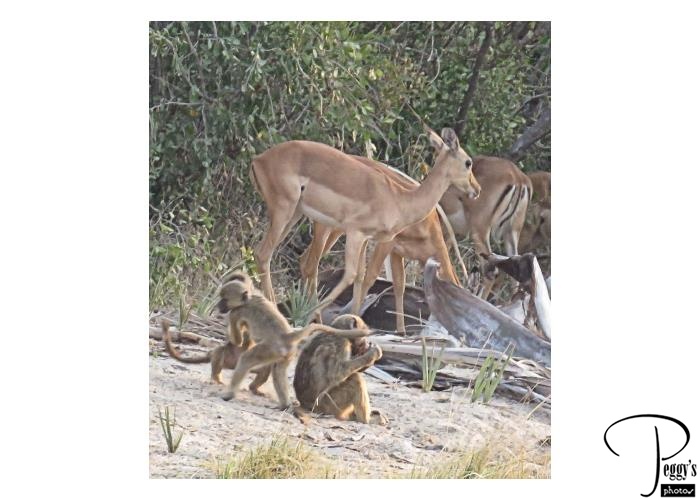 On the river's bank, we saw both impalas and baboons together.

Impalas and Baboons
Hippos
We also saw hippos staying cool in the river.
Hippos
Sundown over the Zambezi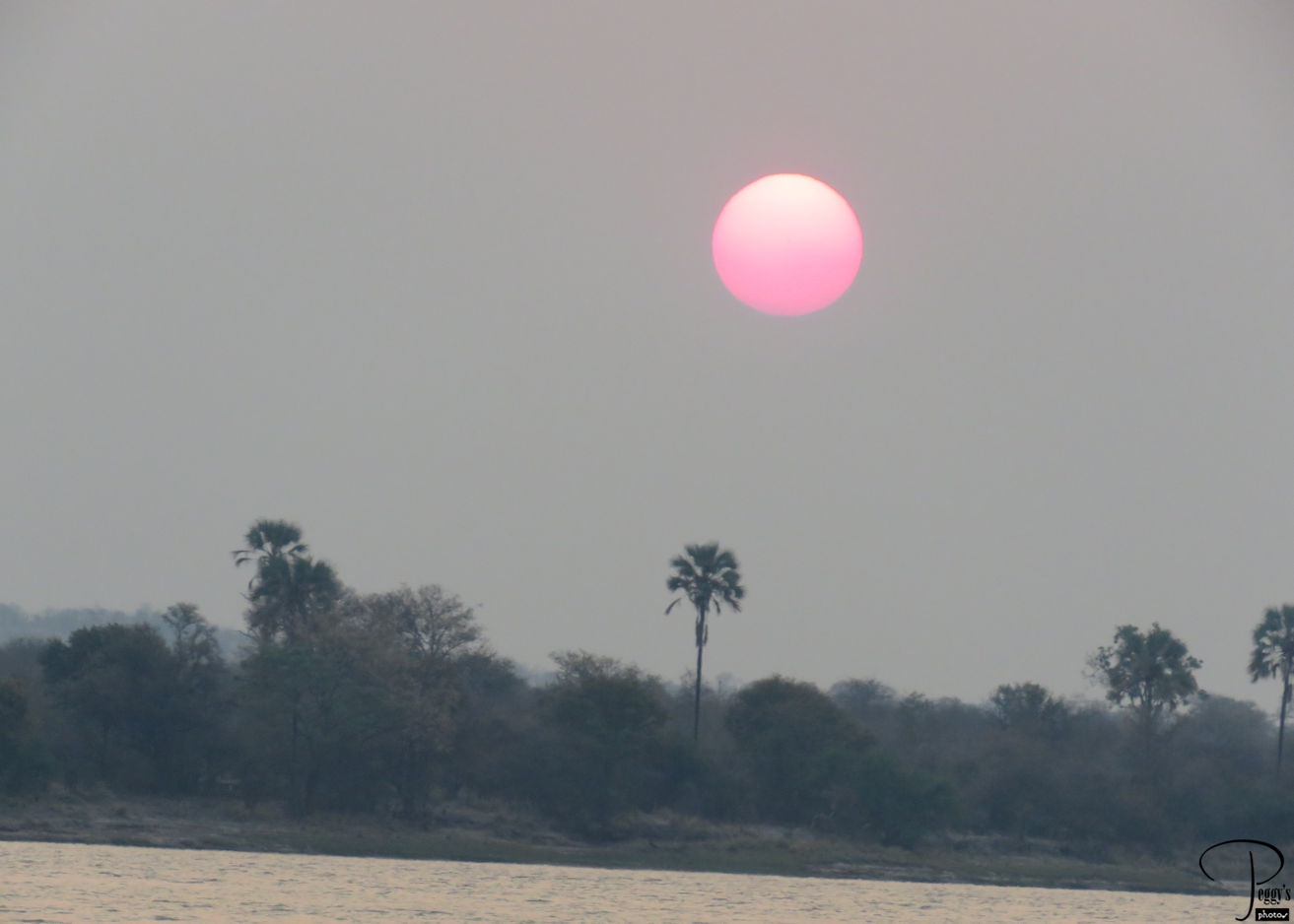 A beautiful sunset over the Zambezi River. We next went to our hotel.
I have put my photos of our trip through Zambia to Zimbabwe and our sundowner cruise on a slide show. Go to
http://www.peggysphotos.com/zambia–to–zimbabwe–sundowner–cruise/
(Slide Shows, Southern Africa, Zambia, Zimbabwe, Botswana, "Zambia to Zimbabwe, Sundowner Cruise").

Sundown over the Zambezi
© Copyright 2018 Peggy's Photos