Day 10, Kruger National Park, South Africa
Kruger National Park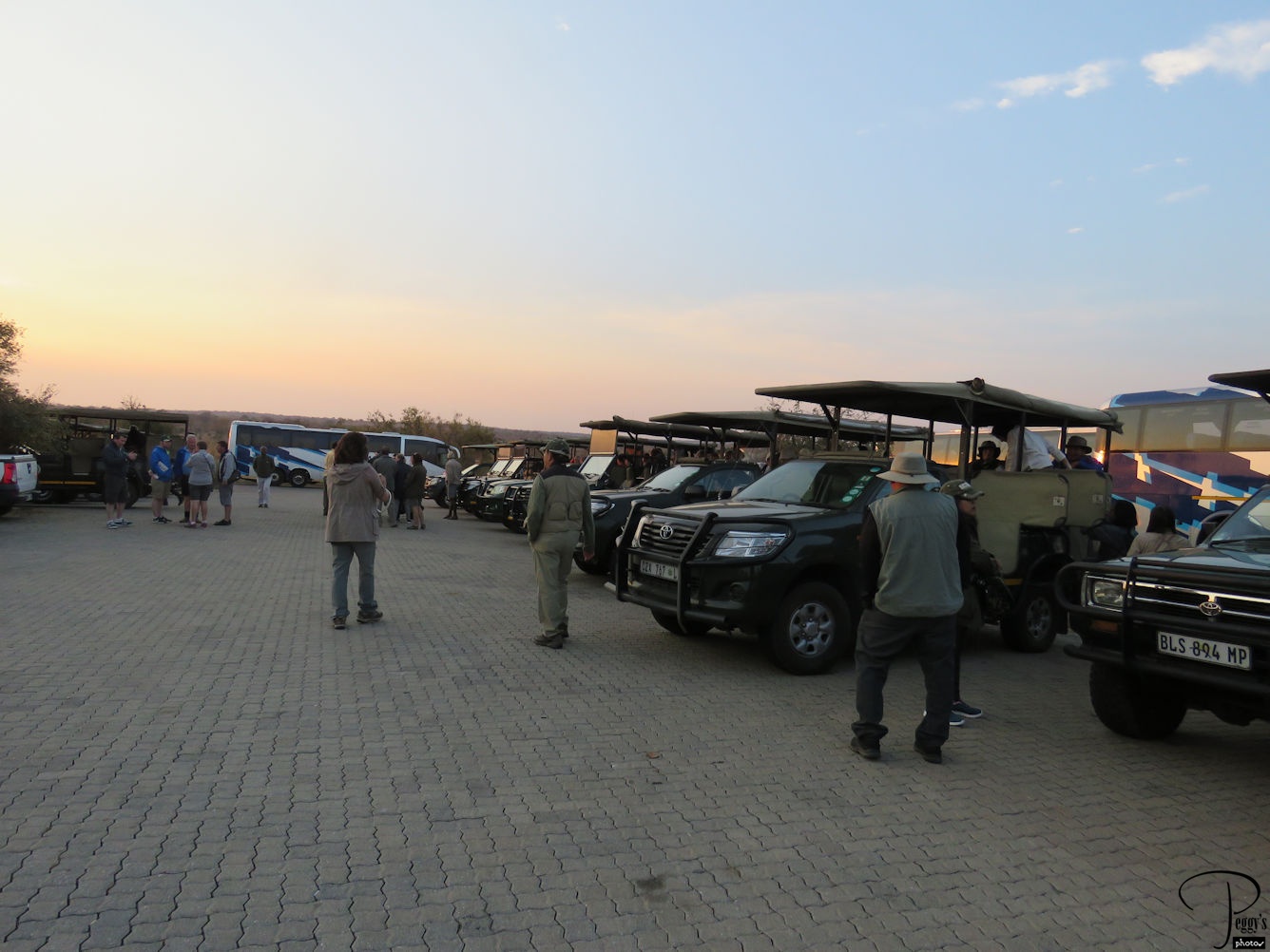 We left our hotel at sunrise this morning and were given boxed breakfasts as our hotel hadn't starting serving breakfast yet. The safari trucks were lined up to take us into the park. It was very cold at this time of day and even colder on the trucks as they were open and a strong cold breeze blew on us when the trucks were moving.
The Kruger National Park is one of the largest game reserves in Africa––220 miles (360 km) north to south and 40 miles (65 km) east to west, for a total of 7,523 square miles (19,485 sq. km.). It contains all the Big Five animals (lion, elephant, black rhino, cape buffalo, and leopard).

Kruger National Park
Impala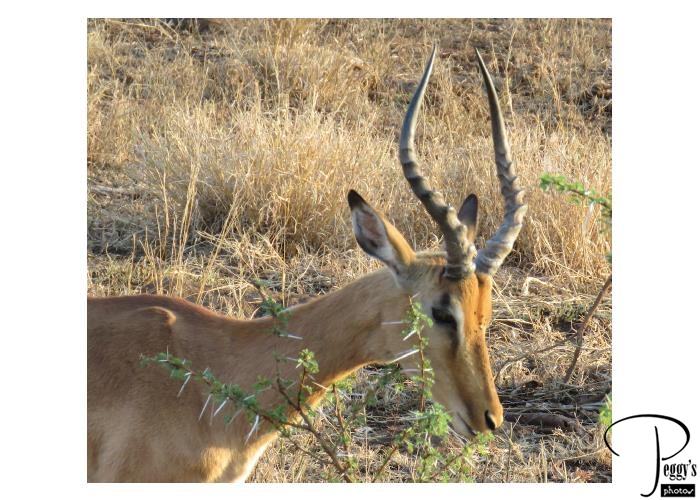 We saw a number of impalas on our game drive.
Impala
Lions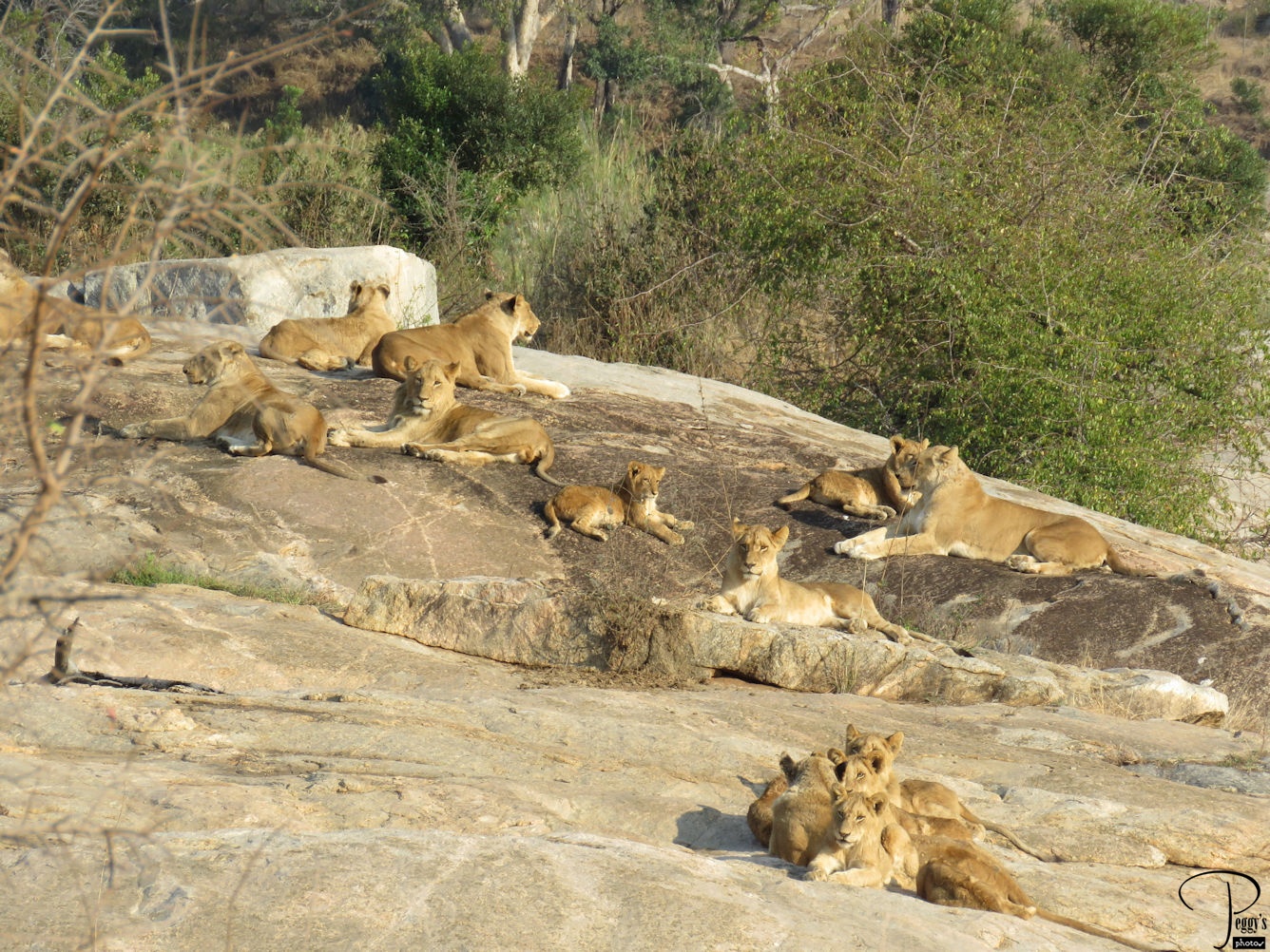 We were lucky to see a pride of lions on a rock. This is no. 4 of the Big Five animals that we have so far seen.

Lions
Saddle-billed Stork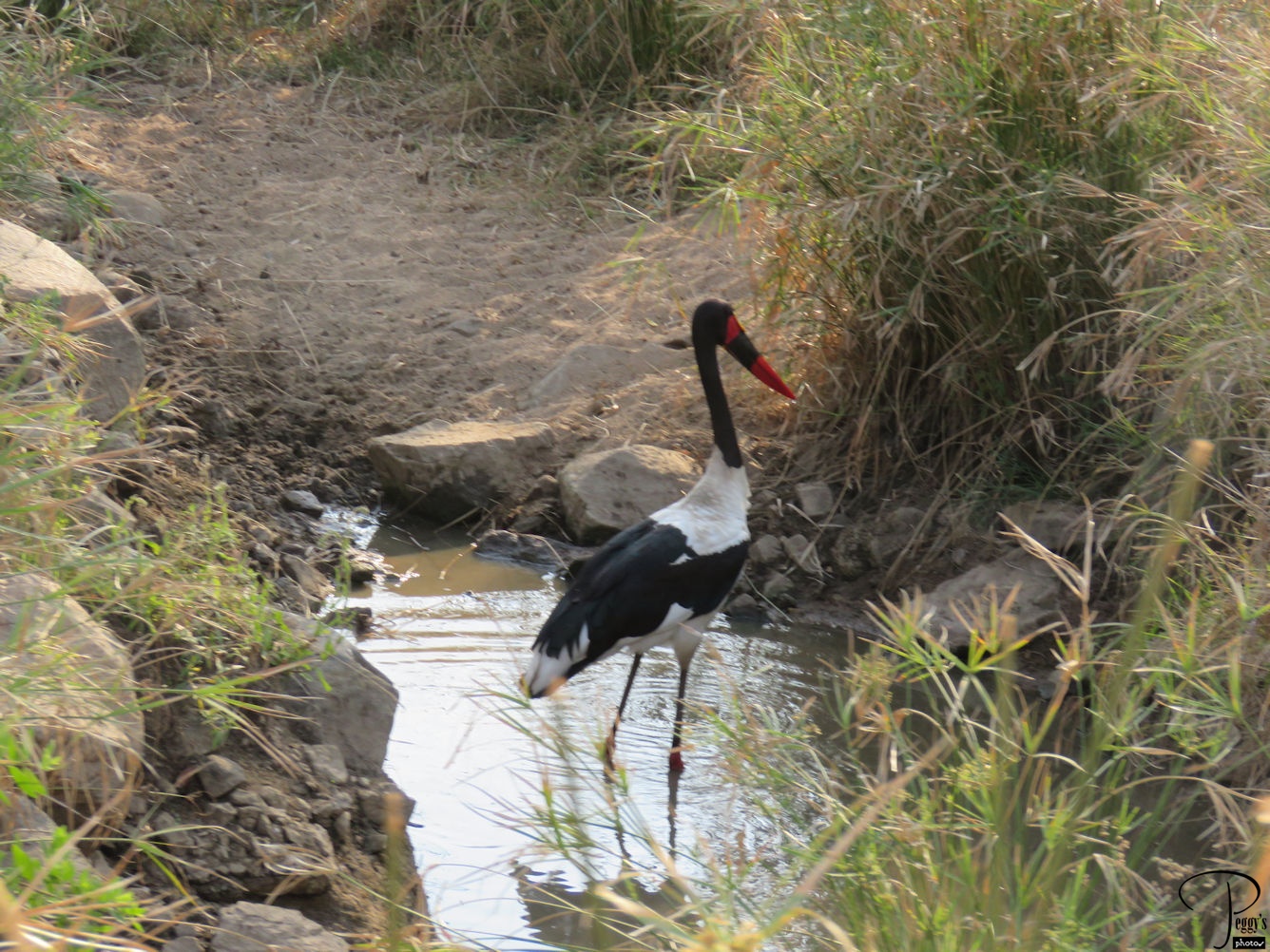 We were also lucky to see this saddle–billed stork not far from the side of the road.
Saddle-billed Stork
Giraffes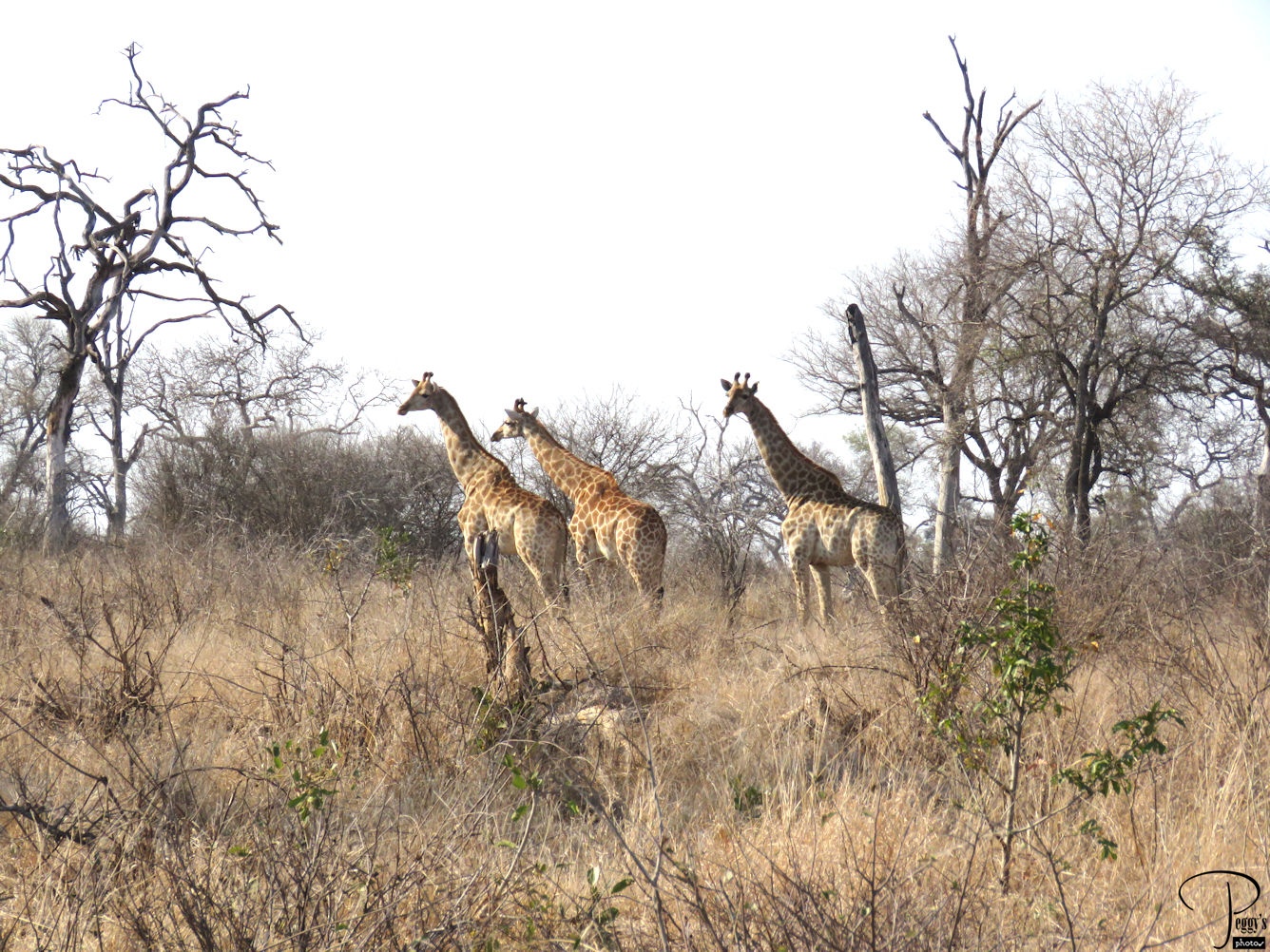 We saw a number of giraffes at the park.

Giraffes
Kudu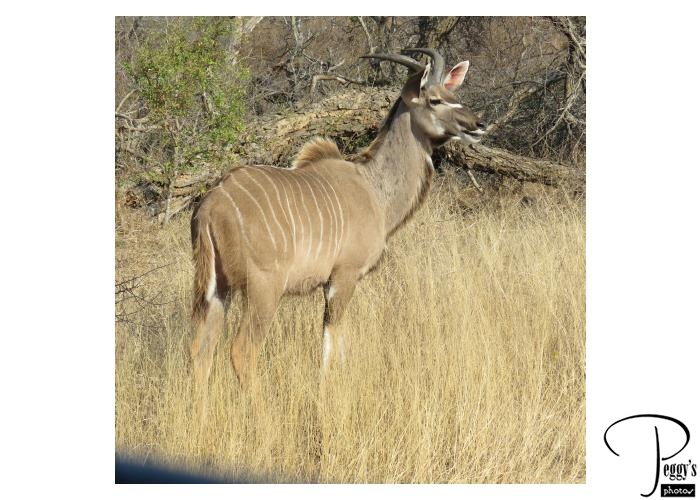 Also, some kudus were on view.
Kudu
Elephant Crossing
We were able to watch elephants crossing the road from their eating patches to the watering holes.
Elephant Crossing
Cape Buffalo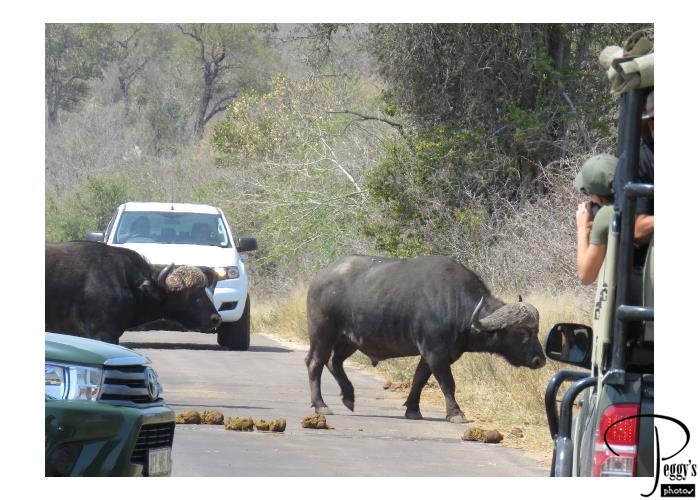 Cape buffalo also crossed the road to get to the watering hole. You can view a webcam of the watering hole at Kruger National Park at
http://www.kruger–national–park.de/pages/english/travel–guide/wildlife/webcam.php

Cape Buffalo
Baboons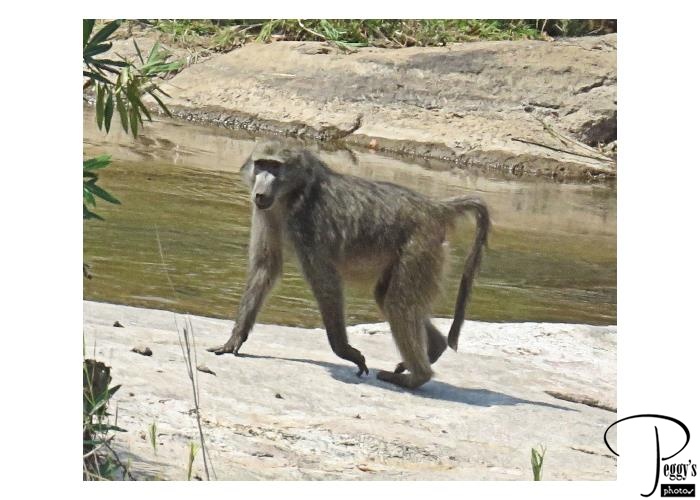 Baboons were playing on a rock.

Baboons
Zebras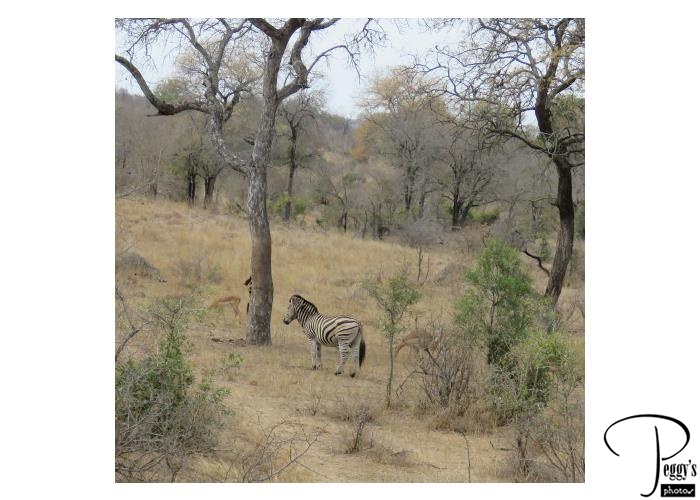 We also saw zebras and a number of other animals. We saw three of the Big Five on our game drive at the Hluhluwe Game Reserve and one more today. Left for most of us was seeing a leopard. However, people in our group in one of the other safari trucks did see a leopard running across the road but so fast that they couldn't get a photo of it. So they did see the Big Five. The rest of us would have another chance on our next game drive.
I have put my photos of Kruger National Park on a slideshow. Go to
http://www.peggysphotos.com/day–10–kruger–national–park–south–africa/
(Slide Shows, Southern Africa, "Day 10, Kruger National Park").
We stayed at our hotel in Hazyview, South Africa, for another night.

Zebras
© Copyright 2018 Peggy's Photos