Guatemala Map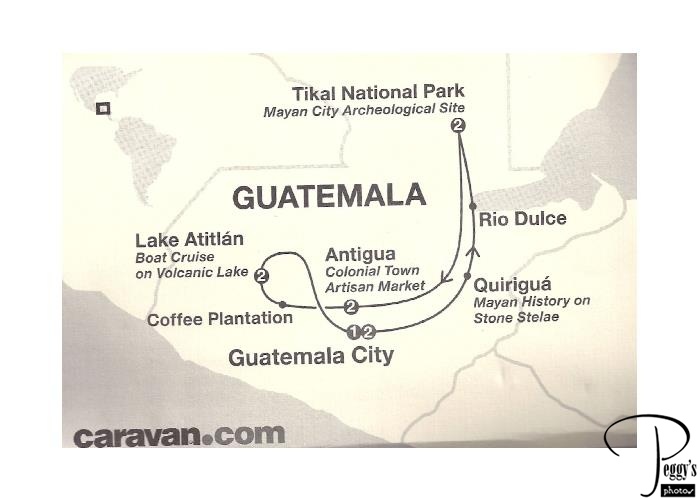 Days 1 & 2: My 10–day Caravan tour of Guatemala both started and ended in Guatemala City––see map. I flew from Los Angeles on Delta Airlines on miles––under a 5–hour flight. Others from the Los Angeles area did the same as it was the only airline offering nonstop flights from LA to Guatemala City. I had difficulty finding the Caravan representative at the airport as I must have gotten through immigration, etc., before others on my plane. I was approached by several beggars. I don't remember this happening outside an airport in other countries, so I was surprised. But few beggars elsewhere on our trip. Also, there were some stray dogs roaming outside and many vendors.

Guatemala Map
Hotel Barcelo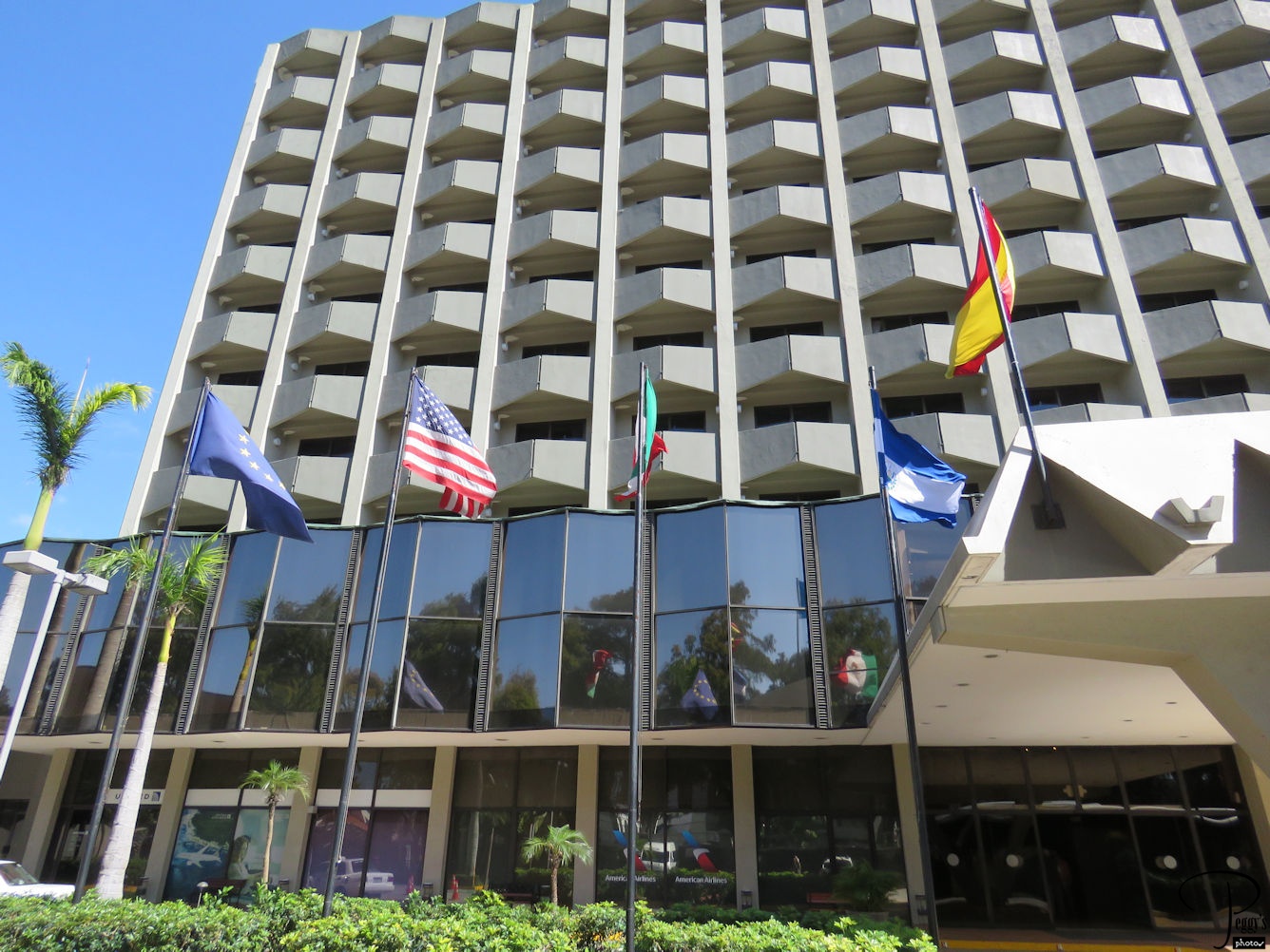 Our hotel in Guatemala City, the Hotel Barcelo, a modern, very nice hotel. All the hotels we stayed at in Guatemala were very nice. All meals, mainly buffets, were provided by Caravan. We were told that the hotels use purified water, so what was served, including salads, could be eaten. Anyway, I kept to cooked foods and fruit that could be peeled. But you should brush your teeth with bottled water, which was amply provided. There was always plenty to eat––fish, chicken, beef, and pork, plantains, fruit, bread, rice, beans, pastries, etc.

Hotel Barcelo
Virginia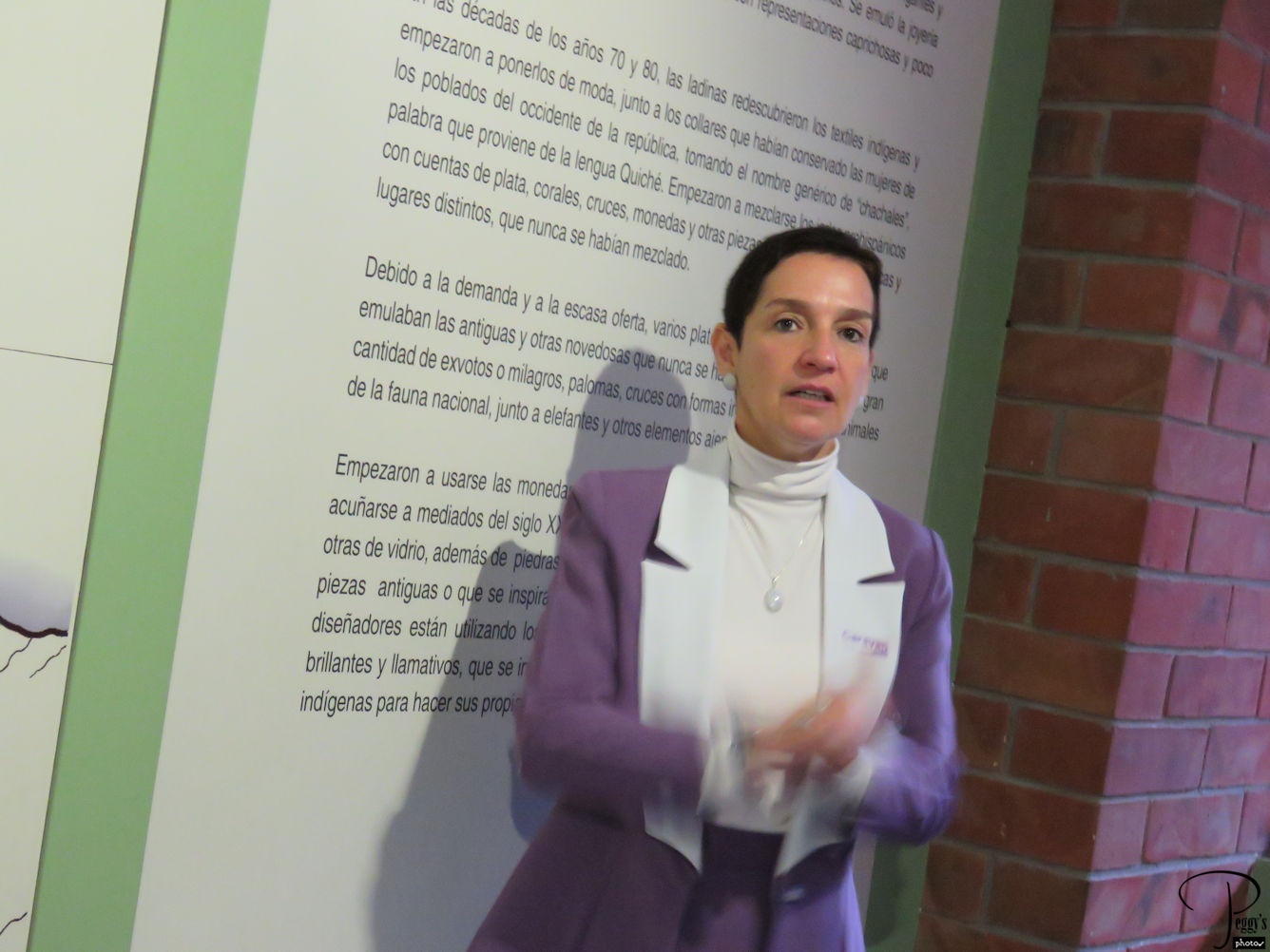 Virginia, our Caravan tour director, met us when we arrived at our hotel. She has an interesting background: she is a French–descent Algerian who left Algeria to live in France. She joined the French army but lost some of her hearing during her military service. Next, she moved to Guatemala to give lectures, then married a Guatemalan and stayed. She has a love of Guatemala. We had 42 people on our tour, including a 93–year–old man traveling on his own. He also is still working. All my tour mates were from the United States or Canada and were a great group to travel with.
This was my third Caravan tour. The first one I took with my parents in 1955 to Europe. My second was to Nova Scotia and Prince Edward Island in 2015––a great tour. From talking to my fellow tour mates, Caravan has a loyal following. I would recommend their tours.

Virginia
Ixchel Museum of Indigenous Textiles and Clothing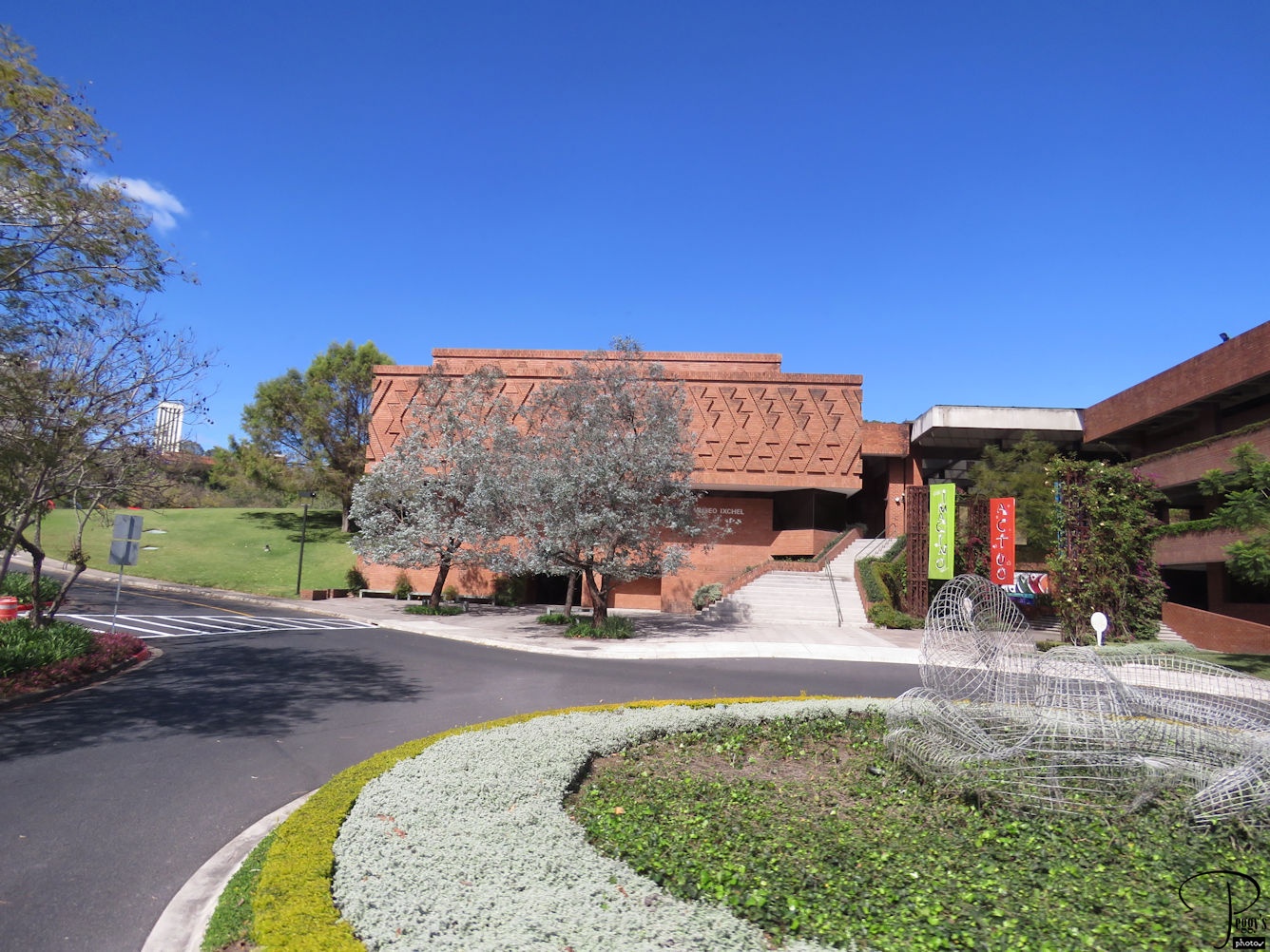 We visited two museums the first morning of our tour: the Ixchel Museum of Indigenous Textiles and Clothing and the Museo Popol Vuh next door to it.

Ixchel Museum of Indigenous Textiles and Clothing
Museo Ixchel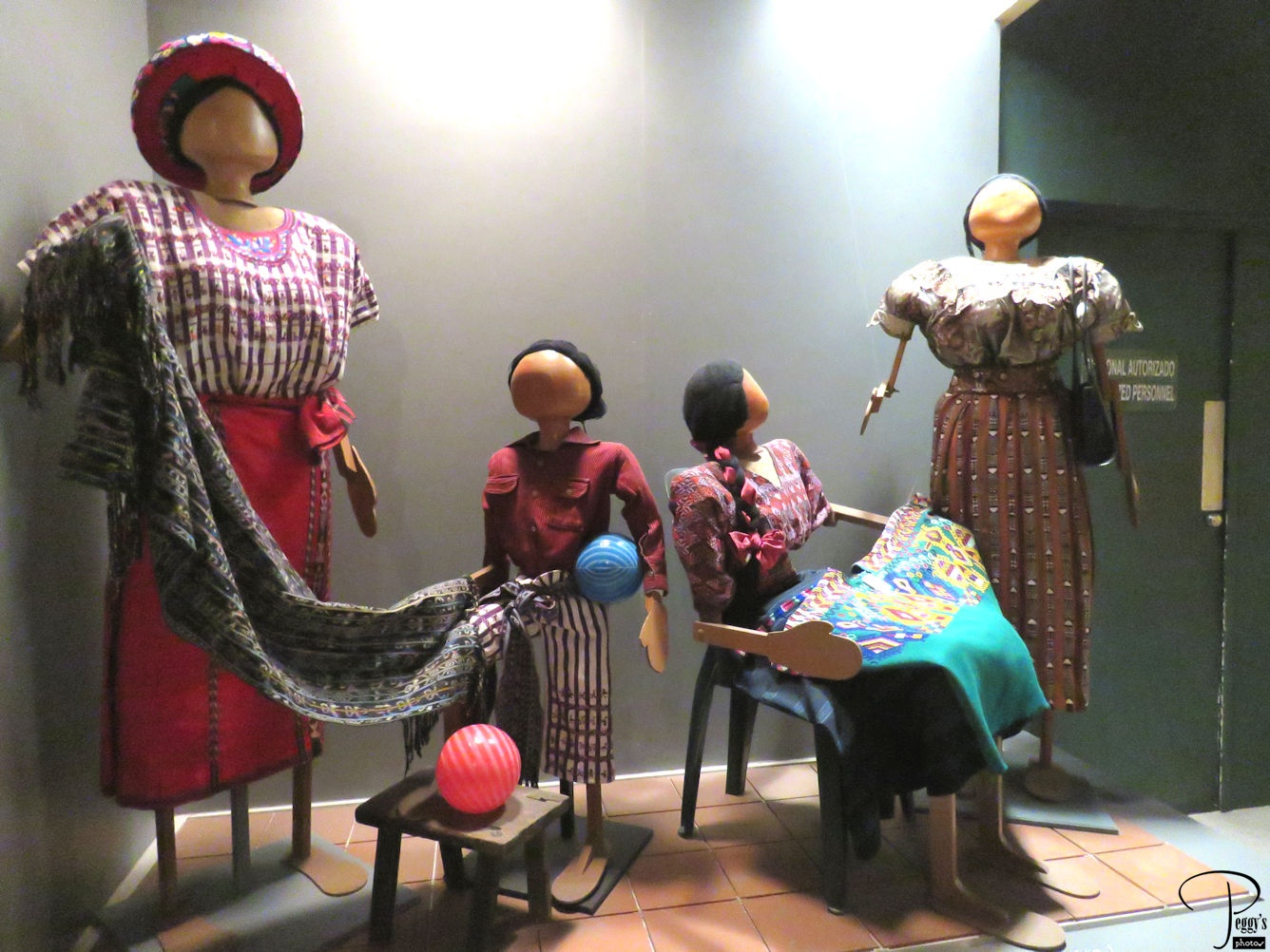 The Museo Ixchel emphasizes the Guatemalan tradition of dress and the handwoven fabrics of its indigenous people. Forty–one percent of the 16.6 million Guatemalans are indigenous people, mostly Mayan. Forty–one and 1/2 percent are metizo––indigenous mixed with European. One–half of Guatemalans are under 20 years of age, resulting in a small tax base and making Guatemala not an inexpensive country to visit as much is taxed for tourists.

Museo Ixchel
Museo Ixchel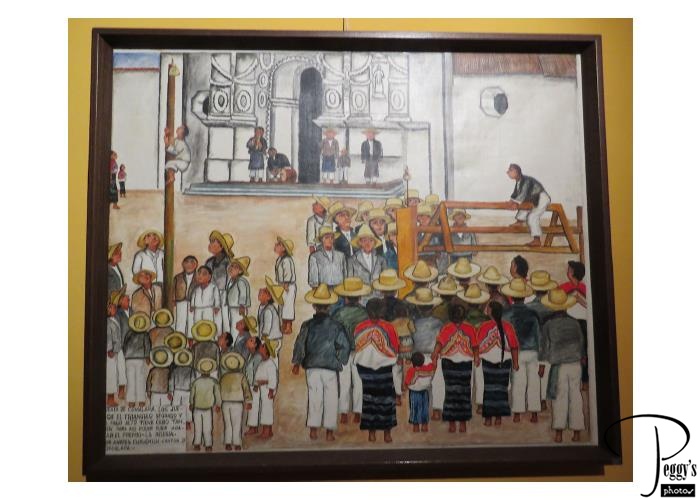 There also were a small number of folk paintings on the walls.

Museo Ixchel
Museo Ixchel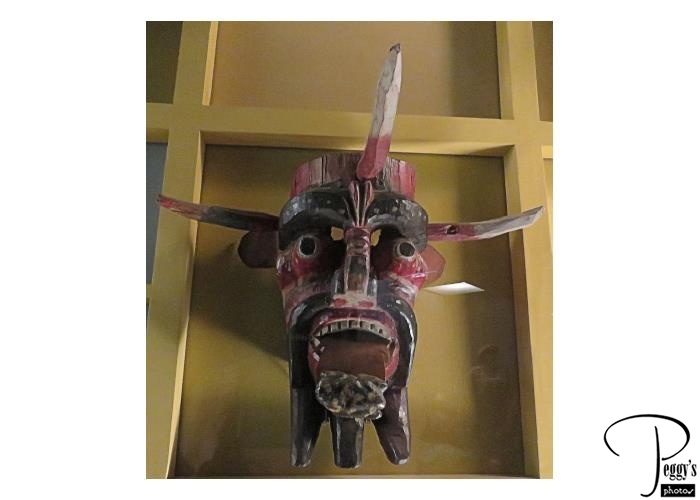 And a large display of masks.

Museo Ixchel
Museo Popol Vuh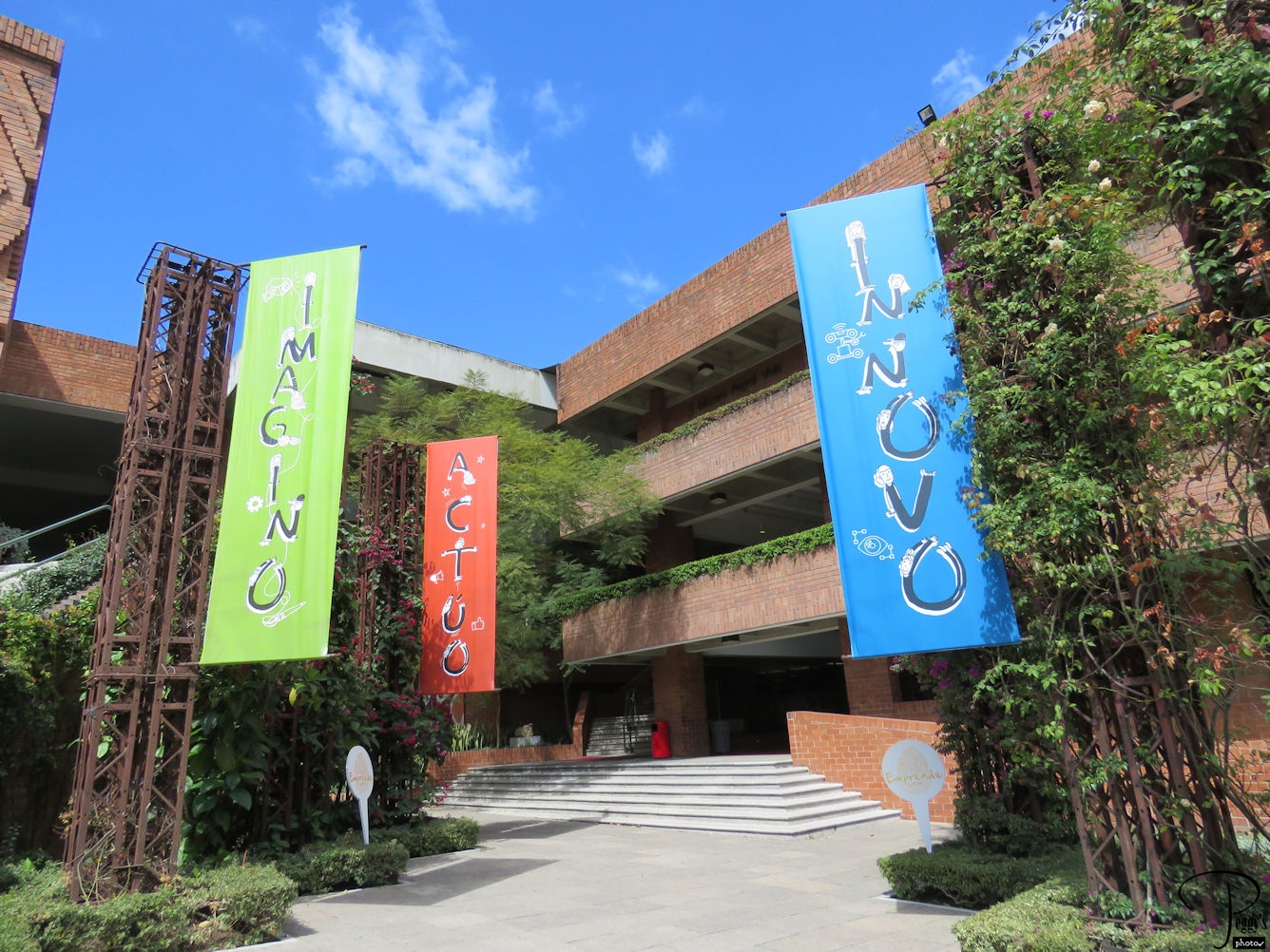 Next door to the Museo Ixchel was the Museo Popol Vuh which we also visited.

Museo Popol Vuh
Mesoamerica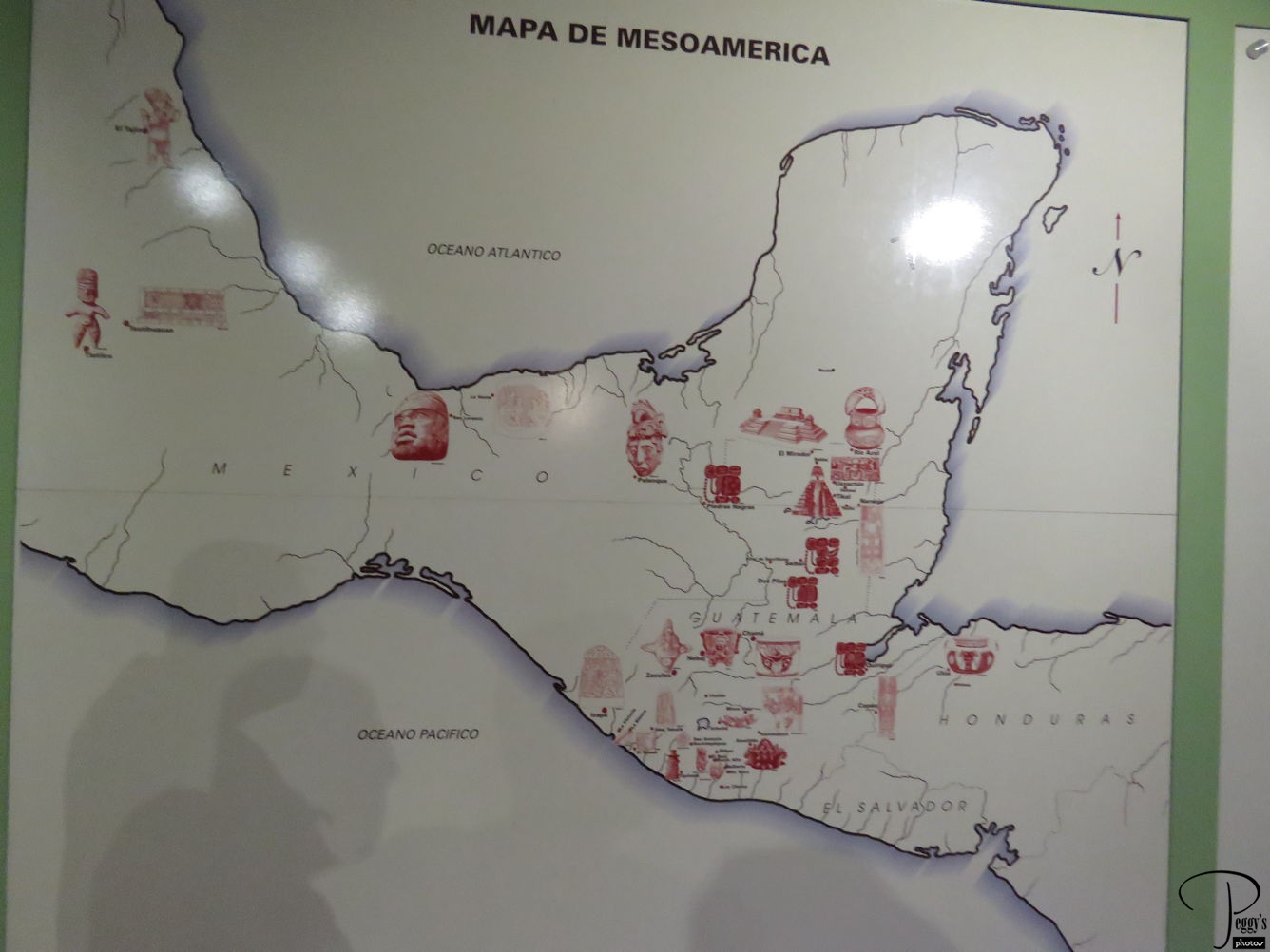 At the museum was this map of the Mayan empire in Mesoamerica of Mexico and Central America before the 16th century Spanish conquest. The Mayan empire was centered in present–day Guatemala and the Yucatan Peninsula in Mexico but also extended into other areas of Mexico and into Belize, Honduras, and El Salvador.
Mesoamerica
Mayan Codex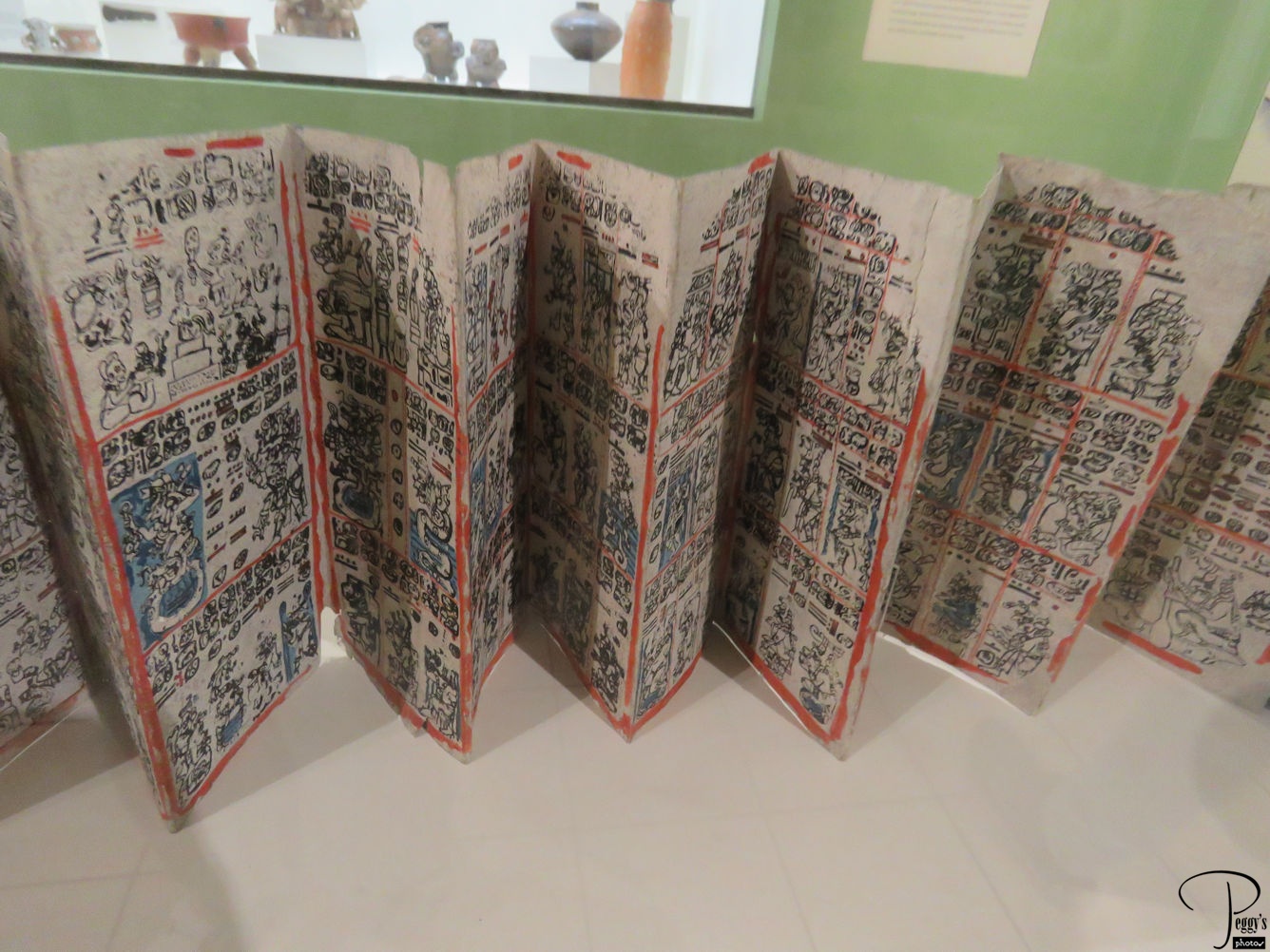 I thought this was the most interesting item in the museum as it was entirely new to me that the Mayans had a written language. This photo shows a copy of a Mayan codex––a folding book written on bark paper––of a hieroglyphic language. However, only three or four of the codices survive as when the Spanish came they destroyed the written Mayan works as they considered them pagan. Three are in European cities and one in Mexico City, but the latter one is still disputed as to authenticity. The codices are still being interpreted. Today, about 5 million people speak some 70 Mayan languages, though most are bilingual and also speak Spanish.
Mayan Codex
Pre-Columbian Artifacts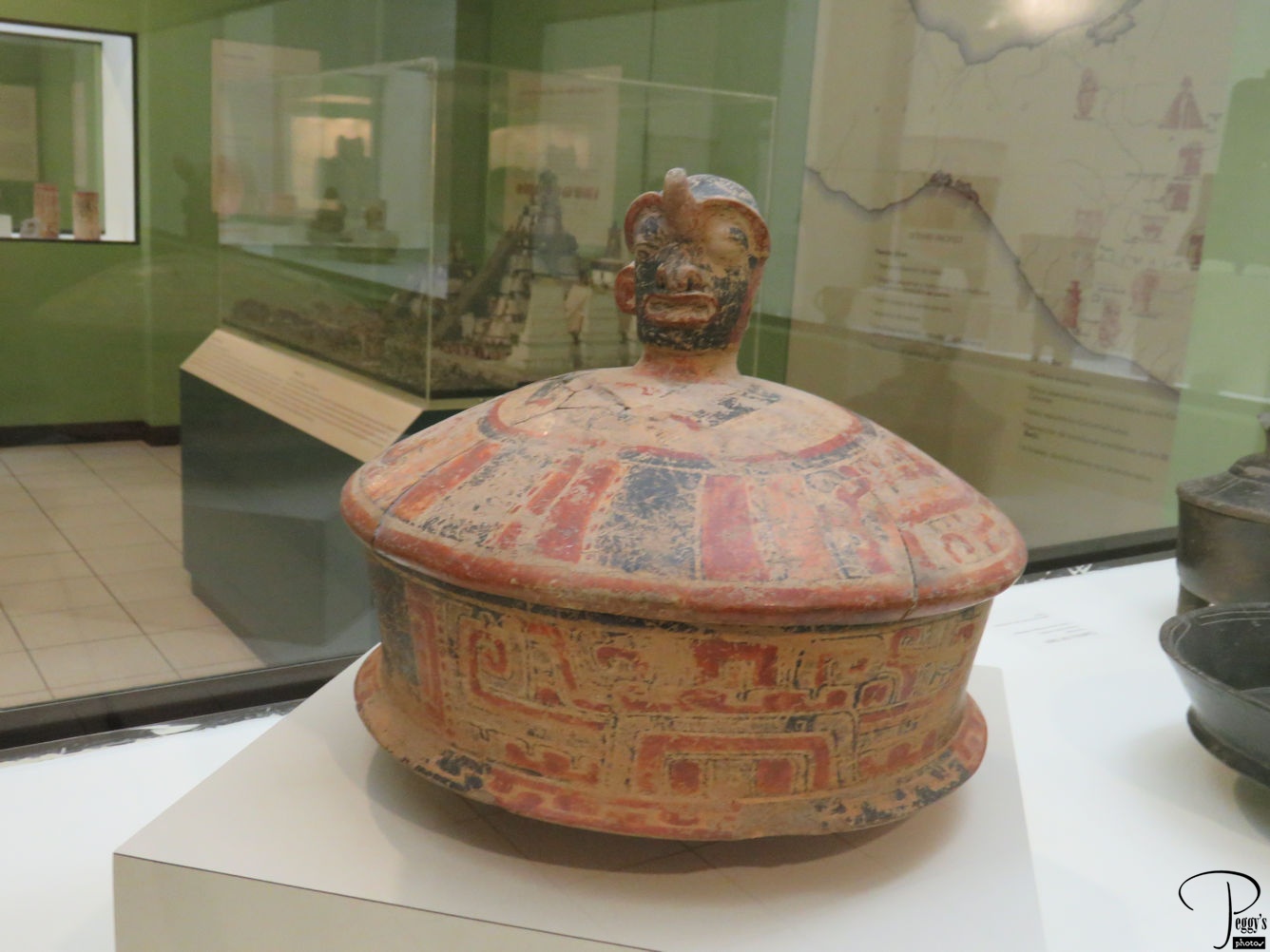 The musuem had an extensive collection of pre–Columbian artifacts.

Pre-Columbian Artifacts
Pre-Columbian Artifacts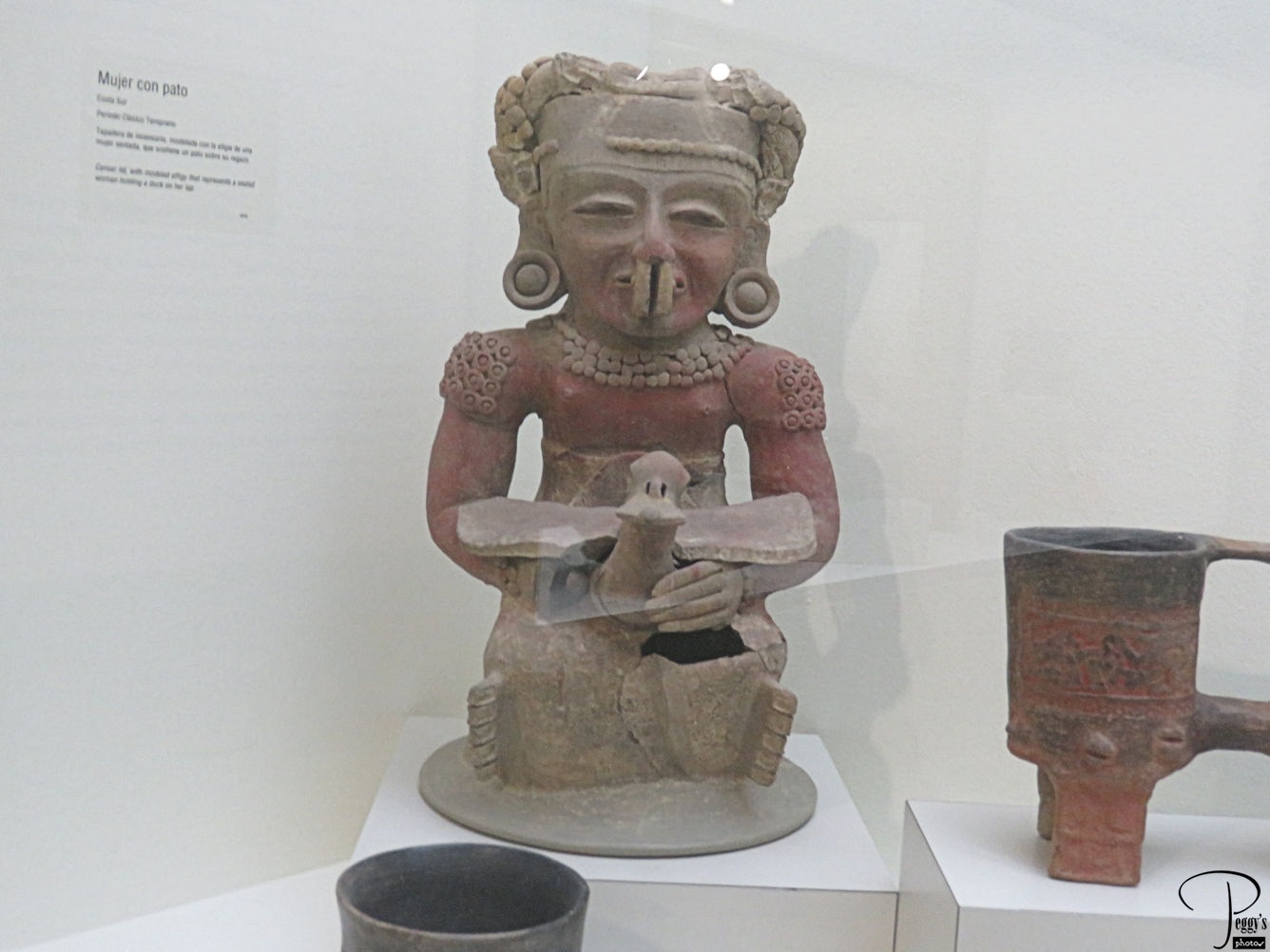 Pre–Columbian artifacts.

Pre-Columbian Artifacts
Funerary Ceramic Art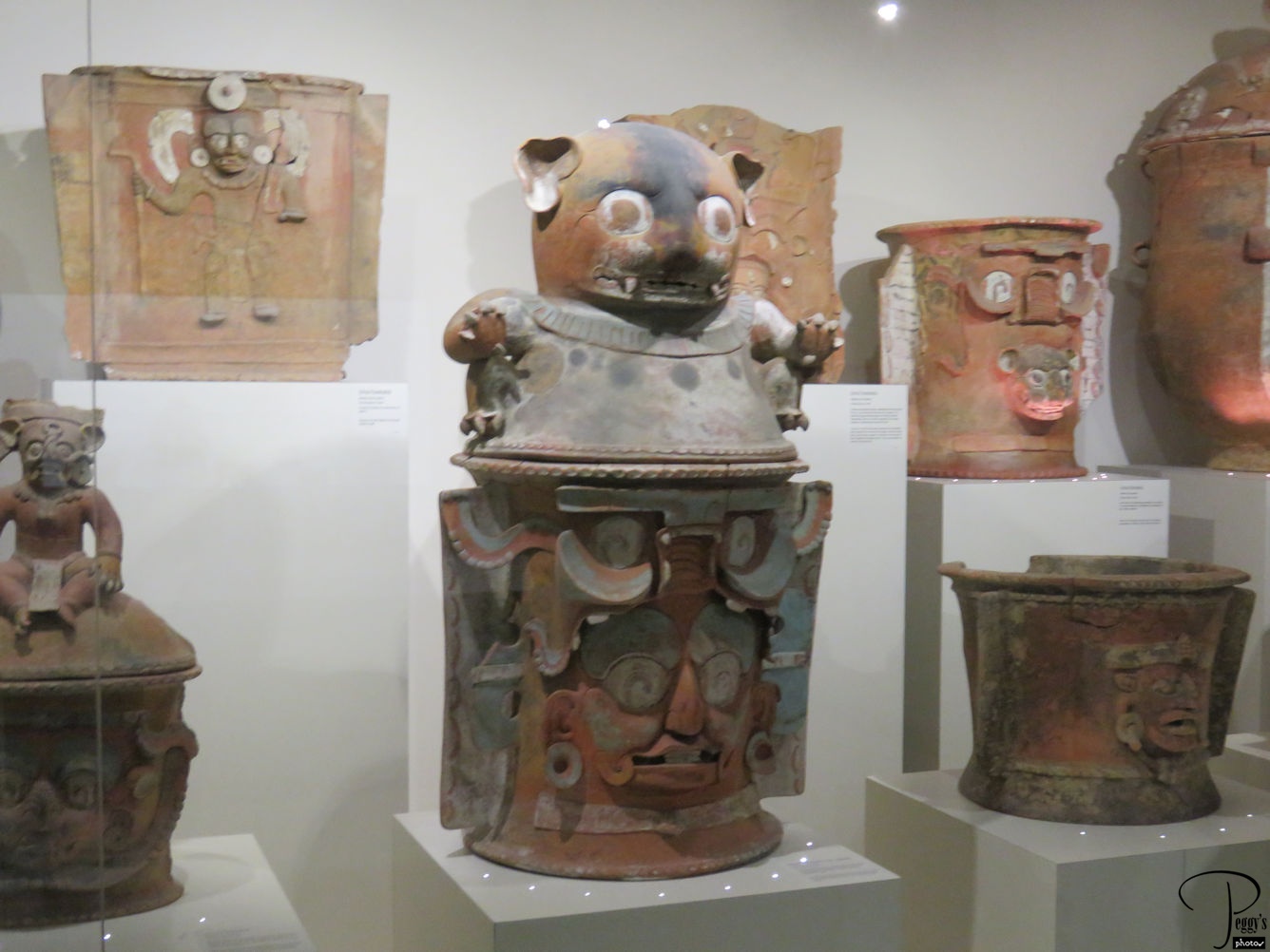 The museum also had a large collection of funerary ceramic art.
Funerary Ceramic Art
Spanish Colonial Art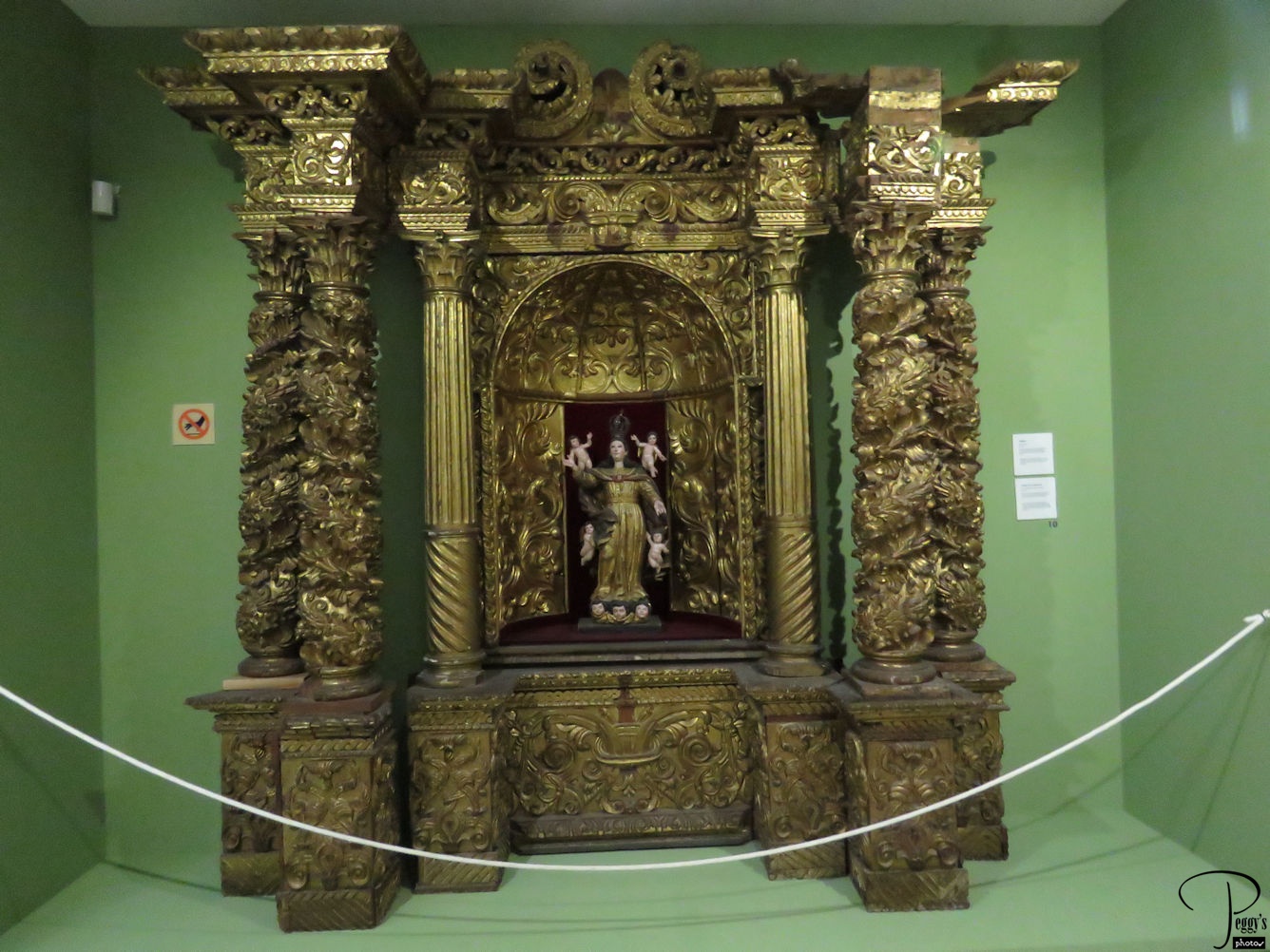 The Spanish Conquest of the Mayans occurred in the 16th century. In the museum, you quickly go from pre–Columbian artifacts to Spanish colonial artifacts and the difference between them in striking.
I have put my photos of both the Museo Ixchel and the Museo Popol Vuh on a slideshow. Go to
http://www.peggysphotos.com/guatemala–city–museos–ixchel–and–popol–vuh/
(Slide Shows, Central America, Guatemala, "Guatemala City: Museos Ixchel and Popol Vuh").

Spanish Colonial Art
Torre del Reformador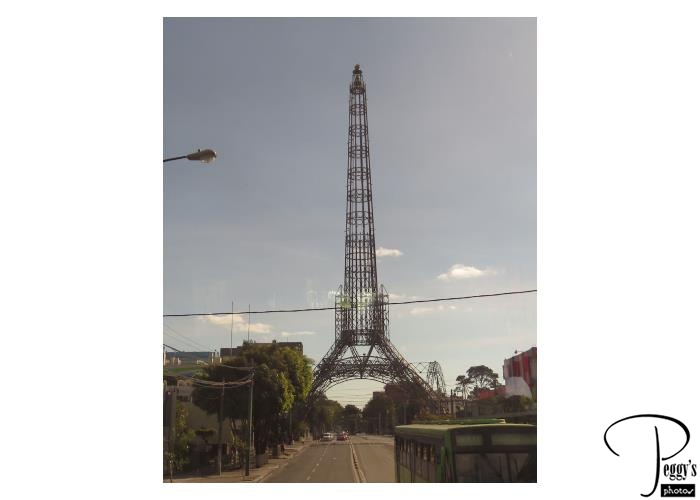 We went back to our hotel for lunch and then took a bus tour of Guatemala City. One of the first things that we saw was the Torre del Reformador, Guatemala City's Eiffel Tower. It was built in 1935 to commemorate the 100th anniversary of the birth of Justo Rufino Barrias, a president of Guatemala who instituted a number of reforms. There is an urban legend that this tower was part of a World's Fair in the United States, but there is no evidence that it was, even though you might hear this.

Torre del Reformador
People on the Street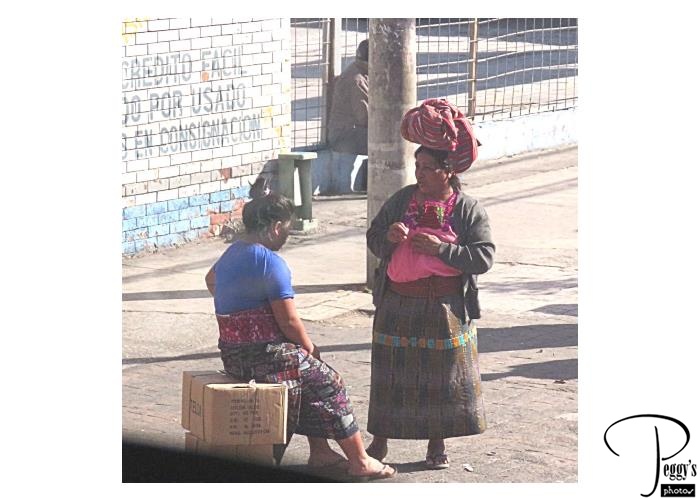 Indigenous women seen on our bus tour.

People on the Street
City Center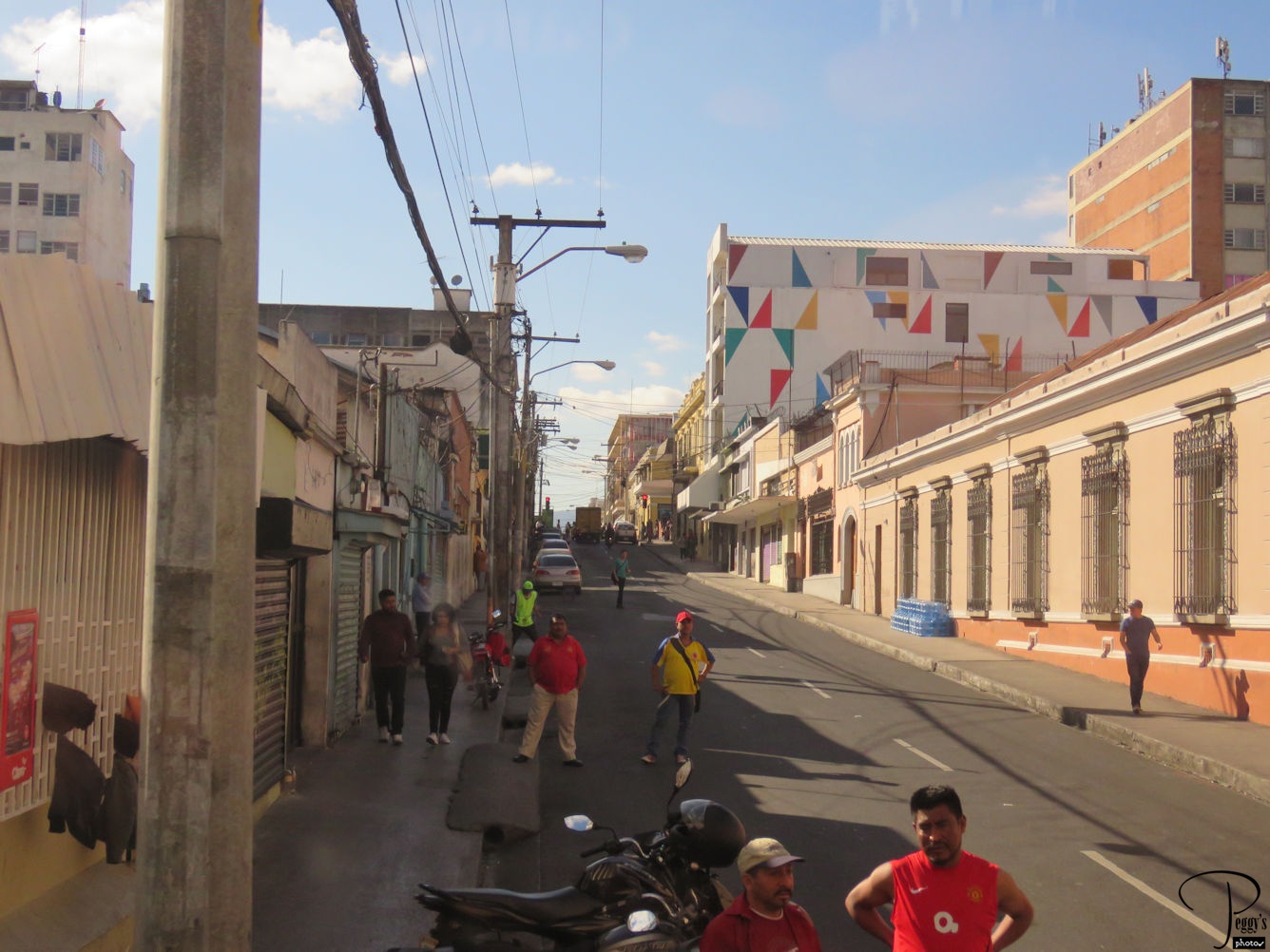 Seen on a drive through Guatemala City's City Center. Most of the buildings in this part of the city are in disrepair though some of the colonial buildings have been beautifully restored. Whether restored or in disrepair, their property values, because of their location, are quite high.

City Center
Plaza de la Constitucion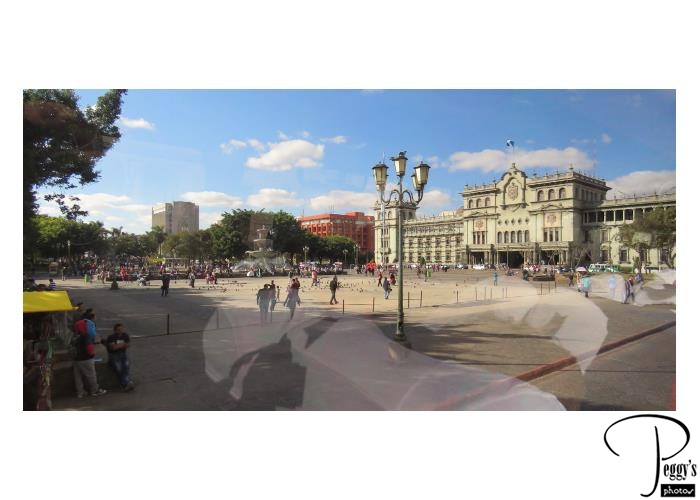 The Plaza de la Constitucion is striking. In the photo, the National Palace, built in 1943. It houses a museum.

Plaza de la Constitucion
Plaza de la Constitucion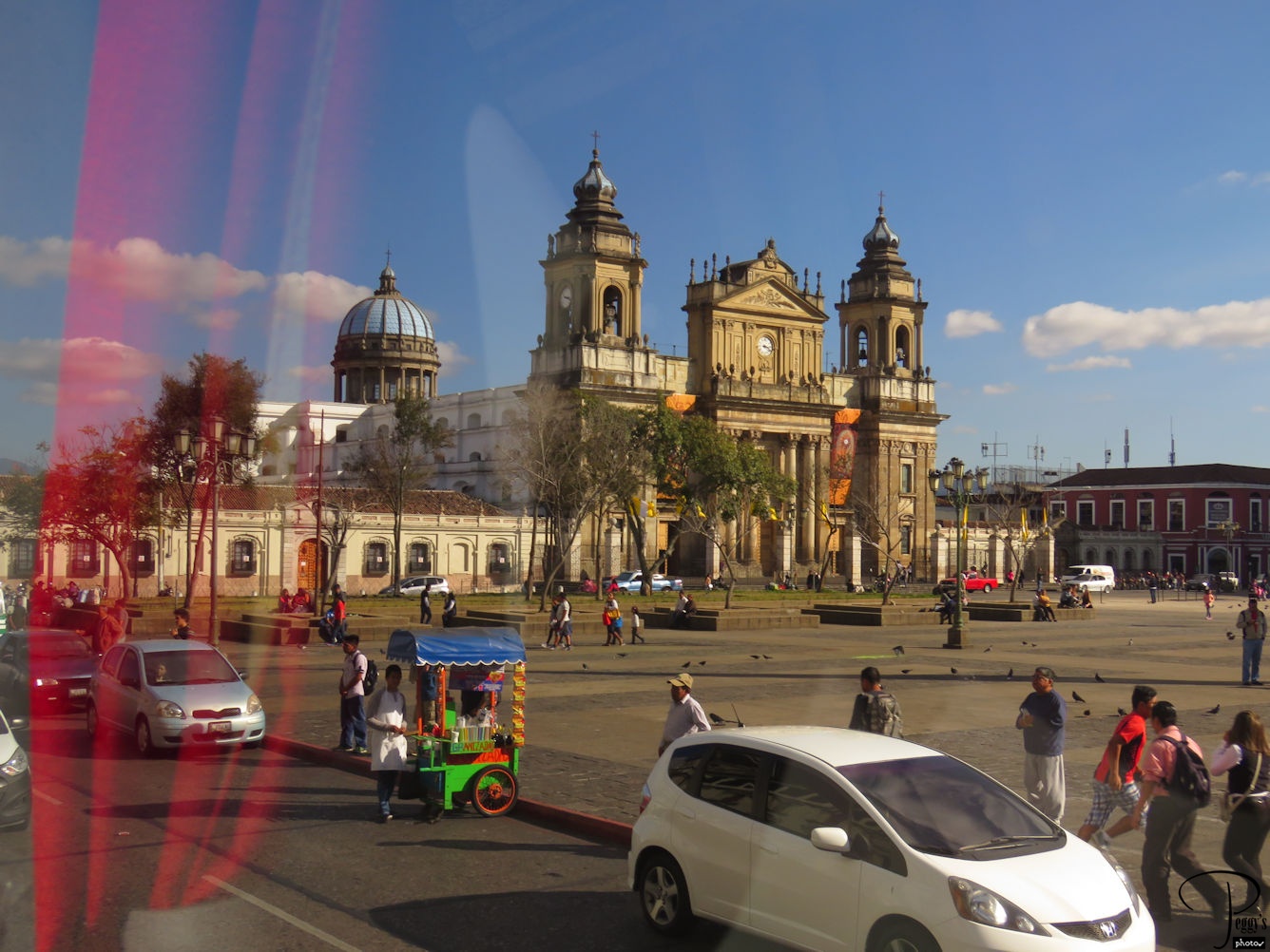 Kitty korner to the National Palace is the Cathedral of Guatemala, 1871. It is the main Catholic church in Guatemala City. We weren't given the opportunity to get off the bus to get better photos of either the National Palace or the Cathedral.

Plaza de la Constitucion
Plaza de la Constitucion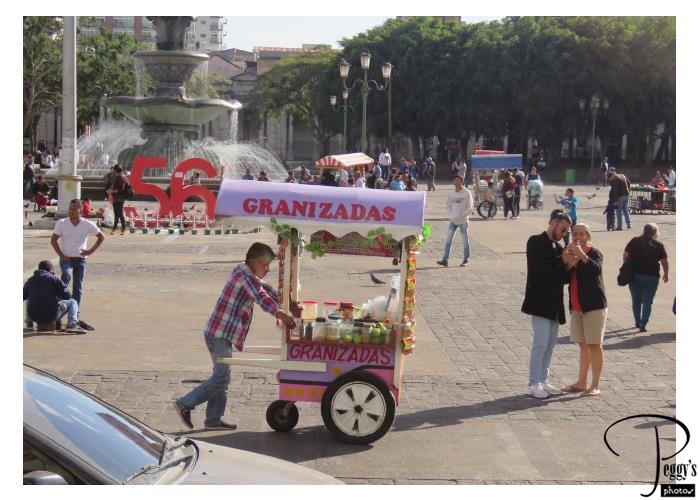 There was much activity in the plaza including the granizadas vendors. Graniazadas are shaved ice on which syrups, fruit, condensed milk, tamarind, etc., are added. Not recommended for tourists as they may have trouble with the bacteria that is present in the ice.

Plaza de la Constitucion
Pinatas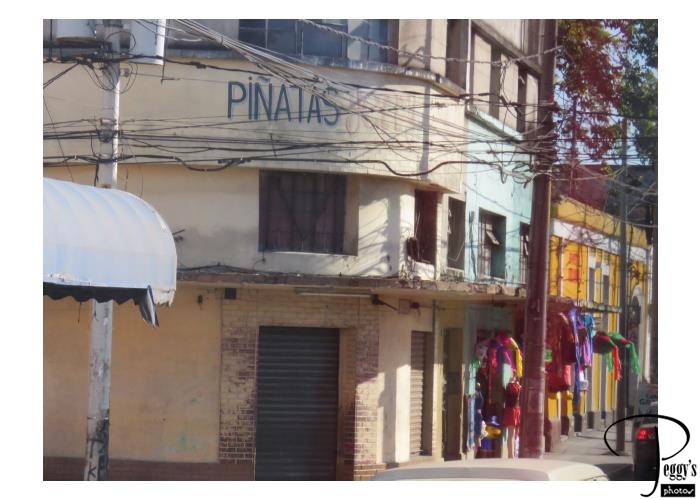 We passed by a whole street of pinatas plus a side street with more stores selling pinatas.

Pinatas
Avenida Reforma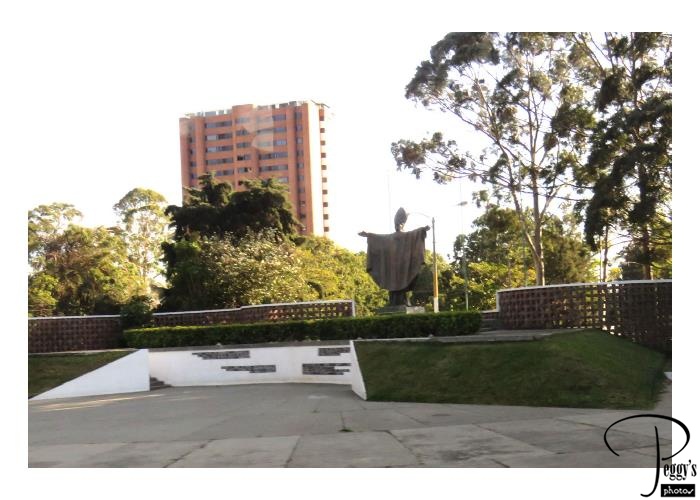 The Avenida Reforma is one of the main thoroughfares of Guatemala City. In the park area between the roadways are many statues and sculptures of such people as Henry Dunant, founder of the Red Cross, Mexican leaders, a Nobel Prize winner, one that honors motherhood, the Star of David, and statues of lions, bulls, and wild boars. In the photo is a statue of John Paul II.

Avenida Reforma
Iglesia Yurrita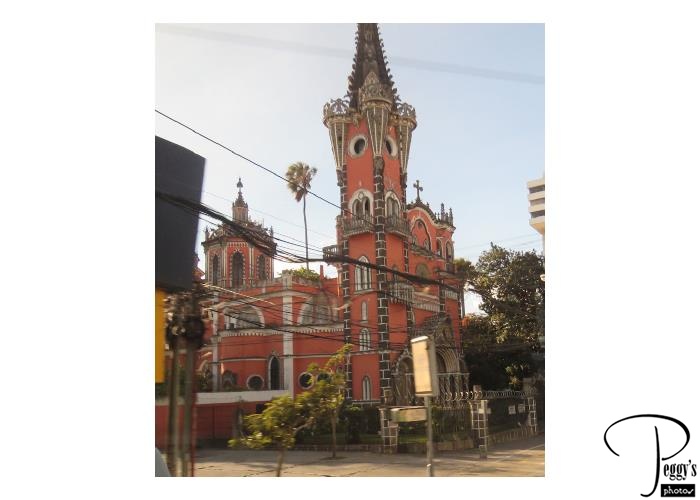 The Yurrita family built this unusual Catholic church in 1929. The inside is supposed to be as unusual and can be viewed during Sunday masses. It is also known as La Capilla de Nuestra Senora de las Angustias (the Chapel of Our Lady of Anguish). We just drove by it––no get–off–the–bus photo stop. I took a taxi back to it when we returned to Guatemala City at the end of our tour. More photos of the church to come later.
I have put my photos of our drive around Guatemala City on a slideshow. Go to
http://www.peggysphotos.com/guatemala–city–drive–around/
(Slide Shows, Central America, Guatemala, "Guatemala City: Drive Around").

Iglesia Yurrita
Pacaya Volcano
Back to our hotel and a view of the Pacaya volcano from my room window. It is one of Guatemala's most active volcanoes and has frequent eruptions though none that I know of when we were in Guatemala City.

Pacaya Volcano
Pacaya Volcano at Sunset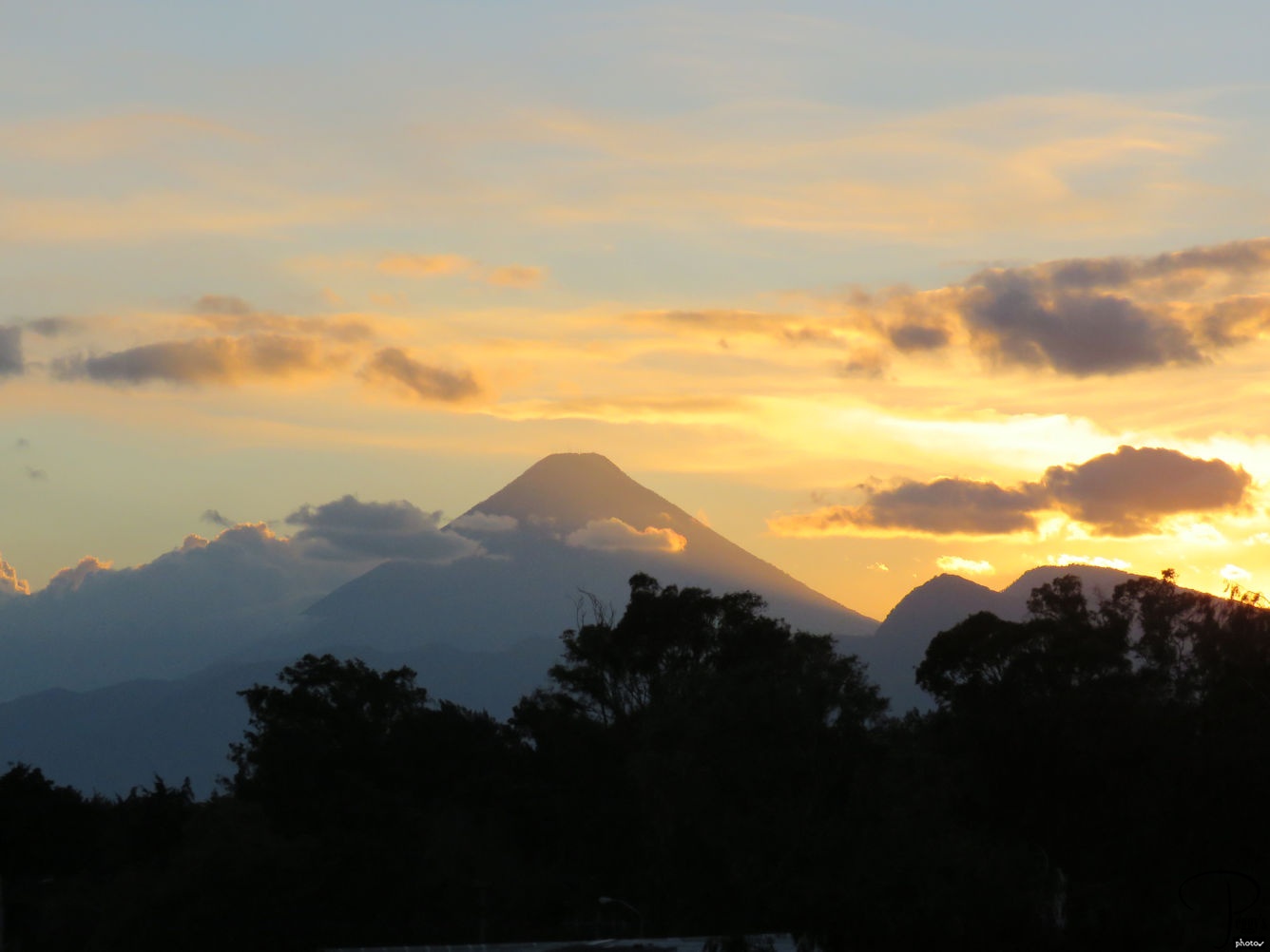 The setting sun over the Pacaya volcano.

Pacaya Volcano at Sunset